Top 10 assistant robots in 2017​
In no particular order, 10 of the best assistant robots in 2017 are as follows:
Echo by Amazon
The Echo is a cloud-based device built around the premise that being able to make some impressive noise and respond to voice commands while connected to the internet leads to all kinds of functionality. It's being advertised as a smart music player that can remind you about different things you want and search the Internet, but if utilized to its fullest it can become the central hub of your smart home, controlling lights and connected WeMo, Hue, and Wink devices. It's a DJ, a book reader, and a robust calendar, and its functionality is going to grow as Amazon continues development. One recent addition is live traffic reporting.
2. Pepper by Aldebaran
With a very humanoid look, Pepper is designed for companionship. During interactions, Pepper analyzes facial expressions, body language, and verbal cues, honing its responses and offering a dynamic and surprisingly natural conversation partner. Originally created for use in SoftBank Mobile's retail stores in Japan, Aldebaran released Pepper for home use.
3. Jibo
It's the world's first family robot, a combination of personal assistant, photographer, messenger, storyteller, and telepresence bot. Natural language processing and 360 degree microphones allow it to respond to conversational cues, and two high-res cameras track faces and enable the bot to recognize different users. It's best for scheduling, entertaining the kids, and providing companionship.
4. Buddy
It's the revolutionary companion robot that improves your everyday life. Open source and easy to use, BUDDY protects your home, entertains your kids, & helps you stay connected with the ones you love. Not content with being just a companion, BUDDY is also democratizing robotics. BUDDY is built on an open-source technology platform making it easy for global developers to build applications.
5. Moorebot Robot
A fully customizable voice interactive robot that delivers tremendous value, convenience and very cool fun to home, business and shops. In addition to being a full featured electronic assistant, Moorebot is an entertainer by itself. The simple compact design can fit almost anywhere. With an open platform, the robot behavior can be customized and upgraded, giving it ability to learn. From fun companion to welcome greeter to business assistant, make your own version of Moorebot.
6. Miko
Your child's new companion — a brain with loads of heart. You will be amazed with how much Miko can do — be it chatting away about the facts of the world or adapting and responding to your child's needs. Miko has a wide pool of knowledge and an even wider pool of fun.
7. Personal Robot by Robot Base
It will automate your home and life by connecting to your devices, fitness trackers, locks, switches, outlets, and thermostats. Not only will it keep your home secure, developers say it will also help significantly lower energy bills. The Personal Robot can also handle your scheduling, make calls and entertain your kids.
8. Cubic
According to ZDNet, the device's selling point is that it's the first AI system with a personality. The  Cubic ecosystem includes the home cube, a power badge that connects to ear buds, and a mobile app, so your new friend will always be with you. Cubic is still under development, so the extent of its capabilities remains to be seen, but you've got to give its makers points for comparing the power badge to the communicator in Star Trek.
9. Branto
Designed for the connected home, this sleek orb from Ukrainian start-up Branto uses Bluetooth, Wi-Fi, ZigBee, and infrared in a bid to pair with every connected device you could possibly own.  Branto also streams music and alerts you remotely if there's suspicious movement in the house.
10. Cozmo Robot
It's a gifted little guy with a mind of his own. He's a real-life robot like you've only seen in movies, with a one-of-a-kind personality that evolves the more you hang out. He'll nudge you to play and keep you constantly surprised. Cozmo's your accomplice in a crazy amount of fun.
As a bonus, we present you Project Kino.
According to TechCrunch,  Project Kino was inspired by 'living jewelry,' large bedazzled beetles and other insects worn as decoration in different parts of the world. "The MIT Media lab version is using palm-sized robots that cling onto clothing with magnets. The team has been demoing the work for about a year now and has come up with a wide range of functions for the little wheeled robots.For now, most of the robots' tasks are decorative. The project's name derives from the word "kinetic," referring to the their movement as they reconfigure into different patterns, keeping the clothing designs ever changing. On other surfaces, the robots can etch visible designs in the clothing, as they move around," writes Brian Heater.
Kino: Kinetic, "living" jewelry for dynamic fashion from Cindy (Hsin-Liu) Kao on Vimeo.
Must Have Gadgets of 2017
A long time ago the phrase "diamonds are a girl's best friends" became popular and known by everybody. The times changed and today a more suitable and true description, both for men and women, would be "gadgets are a person's best friends". In a world dominated by technology, each one of us has a least a gadget that keeps close to them and that would be the first thing they would care about in case of an emergency or a fire.
Therefore, we decided to take a look at the latest inventions in terms of gadget and present you the ones we believe to be the must-haves of 2017. In no particular order….
Dell 2-in-1 Laptops
Dell introduced several convertible laptops this year, and the most notable include its  Latitude 7285 and new XPS 13 models. The former is a Surface Pro 4 rival that includes a sharp screen, stylus, and a sturdy keyboard that more closely resembles that of a laptop than most hybrids. The latter is an updated version of Dell's already great XPS 13 that includes a flexible rotating hinge for use in different positions. Dell also offers the Inspiron 2 in 1, for home and home office. Stay connected with computing that's easy and inspiring. With the performance of a laptop and versatility of a tablet, you can count on Inspiron to deliver exactly what you need.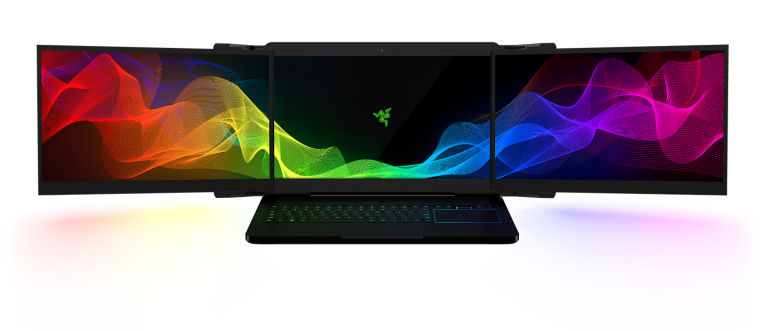 Razer Project Valerie
When you're using a laptop for doing work, playing video games, and streaming  Netflix, one screen isn't always enough. So why not include three? Razer's  Project Valerie concept does just that by adding two foldable displays that expand out from the primary screen in the center. Each display is 17 inches diagonally and supports 4K resolution, and Razer says they can be used independently or together as one giant display.  Project Valerie provides the most expansive viewing experience in a notebook. Powered by an NVIDIA® GeForce® GTX 1080 GPU, and natively supporting NVIDIA Surround View with a whopping resolution of 11520 x 2160, get a wider view of the race track or the battlefield for an unmatched immersive experience.
LG Signature W-Series "Wallpaper" TV
Picture-on-Wall design allows the television to lay virtually flat so it seems blend with the wall and disappear, only possible with the uniquely efficient technology of LG OLED TV. Beautiful on or off, it is the purest form a television can take and the ultimate in minimalism. With the same picture quality as the Wallpaper TV, every OLED in the 2017 lineup delivers perfect black for colors to come alive against. LG OLED pixels are what make it all possible, each turning on and off individually for truly infinite contrast.
Nintendo Switch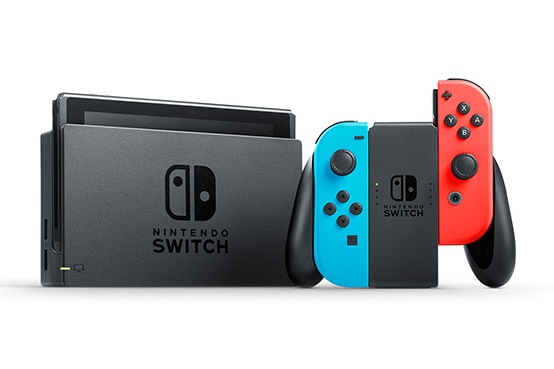 Nintendo Switch is designed to go wherever you do, transforming from home console to portable system in a snap. So you get more time to play the games you love, however you like. The Switch is both mobile and mighty, versatile and idiosyncratic. If the company can provide a steady stream of games over the next year, the Switch may be an exemplar of things to come in gaming. Use two Joy‑Con™ controllers to play face-to-face, or jump online for a 4v4 match. The more, the merrier.
HP Sprout G2 3D-scanning PC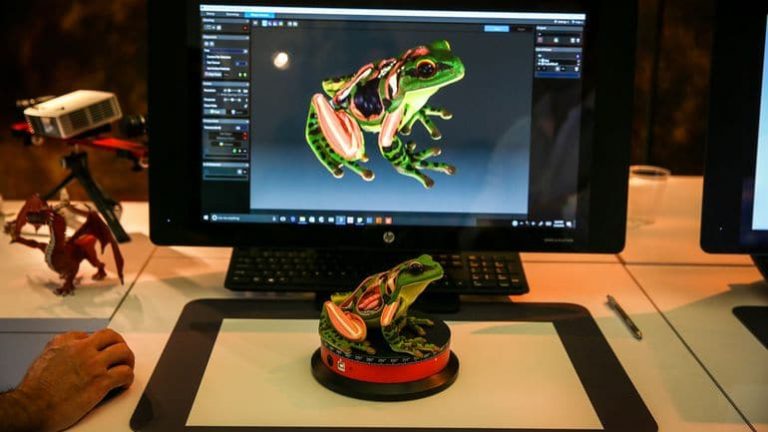 The Sprout G2, with its integrated 3D and 2D scanners, is perfect for product designers, CGI creators and other folks who can benefit from incorporating 3D models into their workflow. It's also got a stylus-enabled touch mat that acts as a second screen. According to ubergizmo.com, on the hardware side the main improvement is the new 21.3" diagonal Projected Touch Display with  full HD resolution on the 20-point capacitive horizontal Touch Mat surface, which is a perfect match for the full HD resolution of the vertical display. The previous HP Sprout Pro model featured a lower 1024×768 resolution, so users were losing the scale when dragging any drawing or graphics from the full HD vertical display onto the horizontal Touch Mat. The 20-point 2.2 mm thick Touch Mat allows two sets of hands to interact with the projected display. More to read here.
Toyota Concept-i

Toyota doesn't believe the future of the car is only about teaching vehicles to drive for us. While the  Concept-i vehicle shown at CES would be capable of driving autonomously, its biggest draw is the artificial intelligence that powers it. Toyota claims the car will be able to learn more about the drivers' preferences and needs over time, such as suggesting destinations after a driver chats with the vehicle's virtual assistant, called "Yui." "Cars are for people who want to go to more places safely and efficiently, and enjoy the thrill of the drive at the same time. We're excited to introduce you to a vision for the car of the future. Toyota Concept-i and its forward-thinking UX hold a mirror up to a future that is warm, friendly, engaging and, most of all—fun," it says on the company's website.
Chrysler Portal concept road warrior
The minivan, although Chrysler is not explicitly calling the Portal a minivan, considers The Verge, it appears to have gotten its name from its wacky door design that opens and closes like an elevator. Chrysler bills the Portal as "next generation family transportation designed by Millennials for Millennials," which is brand lingo for appealing to people with smartphones and money to burn. The carmaker also bills the Portal as a "third space" where these family-minded Millennials will chose to spend all their time outside their homes and offices. In other words, "an open and serene atmosphere that bridges work and home."
PowerRay Aquatic Drone
PowerVision's  new PowerRay drone is compatible with an optional FishFinder add-on that uses a sonar system to detect fish up to 131 feet (40 meters) away, lures them with a blue light and send images to the user. It operates in both fresh and salt water and includes a 4K camera that can shoot 12-megapixel stills. This underwater drone can submerge up to 98 feet (30 meters) and records 4K video streamed to your phone, which you use to navigate. Not impressed already? PowerVision will be offering VR goggles that allow you to robot around by tilting your head.
Snapchat Spectacles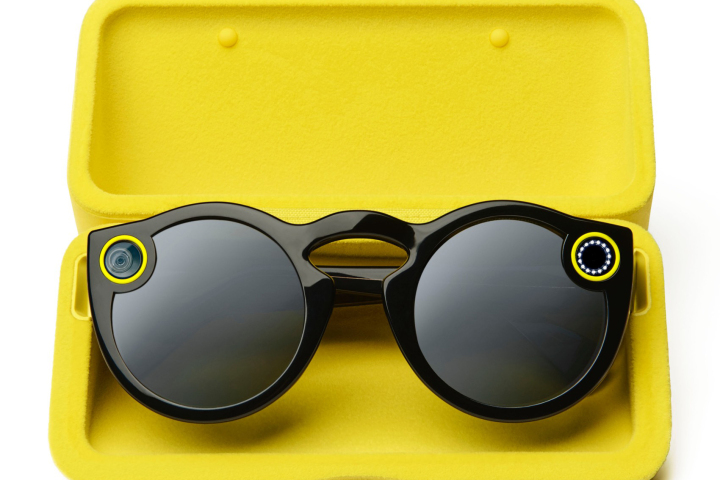 Snapchat parent company Snap Inc. demonstrated its mastery of artificial scarcity when it debuted its Spectacles video-recording glasses late last year. An easy setup process, good-enough video quality and stylish look made Spectacles a hit. But the company's distribution process—vending machines with limited stock that randomly appeared across the country—made them a phenomenon.
Superpedestrian Copenhagen Wheel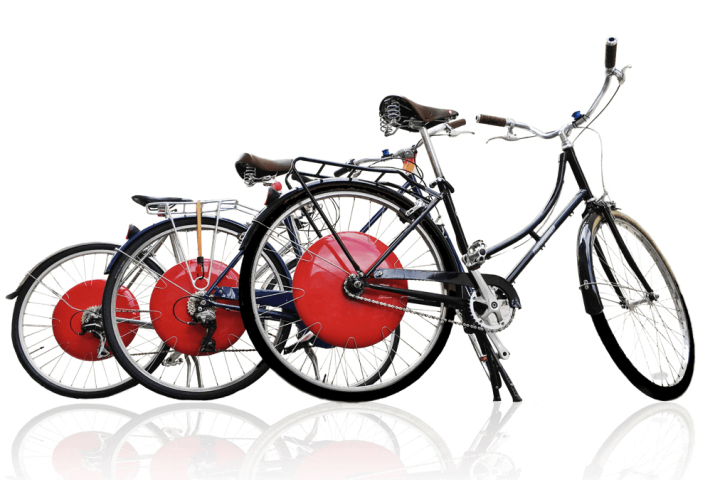 Superpedestrian's robotic bike wheel augments cyclists' oomph by powering their ride up to 20 miles per hour for over 30 miles. Though it looks like a simple bike wheel, the Copenhagen packs impressive technology inside. An integrated motor powered by a battery provides the giddyup, a wireless sensor connects to smartphones for data crunching, smart-locking hardware makes sure no one makes off with this $1,499 wheel, and regenerative brakes add to the efficiency.
LeEco smart bikes
Aimed at active users, these road and mountain bikes have GPS navigation and fitness tracking built-in. Though one is a road bike and the other is a mountain bike, both have a 4-inch touchscreen attached to their frames, which run a version of  Google's Android 6.0 Marshmallow operating system that's specifically tailored for bicycles. "In addition to on-screen directions that feature turn-by-turn navigation for bicyclists, you'll get a compass, a barometer and a speedometer. The bikes can also play music (both online and off), and you can talk to other LeEco smart bike owners via on-board walkie-talkie technology," writes www.cnet.com.
Sleep Number 360 smart bed
Designed to keep you and your partner effortlessly comfortable, the Sleep Number 360™ smart bed senses your movements then automatically adjusts firmness, comfort and support to keep you both sleeping blissfully, all night long. Sleep Number made a bed that knows when you've got cold feet and turns heat on at the bottom of the bed. You can both adjust to your ideal level of firmness, comfort and support—your Sleep Number® setting, and with Responsive Air™ technology, the bed will start to effortlessly adjust to both of you as you sleep. Moreover, according to the producers, the smart bed can be gently raised on either side to help prevent snoring.
Luke Roberts Smart Light light show
The world's first smart design lamp gives you the possibility to place light in any direction through simple paint gestures on your phone. Unlike conventional lamps, it is possible to illuminate only certain areas of a room. The lamp can emit direct and indirect light, allowing to create any light setting in your space with just one pendant lamp. In the living room, the light can be directed on the table for dinner with warm white direct light, while the remaining LEDs of the lamp emit a soft, ambient glow to the rest of the room. After dinner it is possible to illuminate, for example, the couch on the other side of the room and simultaneously adjust the color of the indirect light to create the perfect mood for your space.
Smart and Blue's Hydrao smart shower heads
French company Smart and Blue showed its Hydrao range of shower heads at CES. HYDRAO First lights up the water spray with different colors depending on the amount of water used. Powered by the shower's natural water-flow, no external power supply is needed. It therefore allows you to instantly control you water consumption and the energy needed to heat it. And you can turn it on without getting out of bed.
What medical technology brings new in 2017
CRISPR
According to CBS, at the International Summit on Human Gene Editing, hosted by the U.S. National Academy of Sciences in Washington, the Chinese Academy of Sciences and the UK's Royal Society, much discussion surrounded a newly developed  gene editing biotechnology called  CRISPR — derived from a bacterial protein — that lets scientists clip away or tweak specific portions of DNA. "It has the potential to help get rid of certain diseases by splicing out defective snippets of our genes. But because of the unknown long-term impact, some leading scientists are calling for a moratorium on its use," says CBS.
2. Wideband medical radar
Painful mammograms requiring the patient to stand while her breast is compressed in an X-ray machine might soon be a thing of the past. Current mammography techniques are not only painful but expensive, and may expose the patient and clinicians to harmful ionizing radiation. But  medical radar is now being developed for imaging breast cancers, using radio waves instead of sound or radiation. Medical radar uses electromagnetics similar to a microwave oven or cell phone, but at extremely low power. It is also a fast and easy-to-use technology. The process takes less than a minute, and both breasts can be scanned while the patient lies comfortably on a table.
3. 3D bioprinting of human tissue
The process is based on liquefying cells from either the patient or a donor in order to provide oxygen and nutrients. The cells are then deposited on a scaffold, layer by layer, based on a predetermined configuration customized to the patient. Then the bioprinted structure is incubated until it becomes viable tissue. Several universities have created their own bioprinters, and manufacturers such as the Swiss-based regenHU Ltd. and German Envision TEC are selling 3D bioprinting equipment and materials.
California-based Organovo and other companies are currently providing functional human tissue for pharmaceutical testing, and in December 2016 Organovo presented the first data showing survival and sustained functionality of its 3D bioprinted human liver tissue when implanted into animal models. Organovo aims to submit such therapeutic liver tissue to the FDA in as soon as three years. Moreover, Russian 3D Bioprinting Solutions printed a functioning thyroid in a mouse model and claims to be ready to do the same in humans.
4. Smart acupuncture
It might be  one of the oldest forms of healing, but  acupuncture has some innovations on the way. According to Forbes, Kiseok Song, a student at the Korea Advanced Institute of Science and Technology, has created a way to deliver " smart acupuncture"—a version of the ancient practice that uses electro-acupuncture to provide data on treatment. While the technology is still in development, this could potentially transcend multiple fields of study as a way of healing.
5.  Electromagnetic acoustic imaging (EMAI)
This is an emerging imaging technology that combines bio-electromagnetism with acoustics. The result is an ultrasound device that's safer than a CT and can provide images that approach MRI quality. It offers physicians the ability to distinguish between malignant and benign lesions at a fraction of the cost of higher-end systems such as MRI or PET.
The science is based on dissimilar tissues reacting differently to outside stimuli. Each layer of tissue will vibrate at its own unique frequency when stimulated. This can be measured and converted into an image by means of ultrasound detectors. Researchers have used light, ultrasound, and electromagnetic energy for stimulating tissue.
Cancerous tissue is 50 times more electrically conductive than normal tissue, and electromagnetic energy also has the ability to penetrate much more deeply into the body than light. This makes electromagnetic acoustic imaging an excellent technology for diagnosing a whole range of tumors despite their location. Studies have shown that the low levels of electromagnetic energy required for the body are safe, and can detect tumors as small as two millimeters in diameter. Not only is EMAI effective, less expensive, and safe, it's fast and the equipment is portable.
6. The Microsoft Kinect-powered physical therapy 
With the physical therapy industry being estimated at USD 30 billion, it has been changing rapidly, also with the help of Virtual Reality and motion-sensor technology, ready to improve the process. For example, in 2015, the FDA approved Reflexion Health to introduce an  at-home rehabilitation program using Microsoft's Kinect. Vera is a digital medicine software system that uses the Kinect technology in helping patients with musculoskeletal rehabilitation. When used, patients will see an avatar on their television screen that will coach and motivate them to perform the exercises at home. The sensor will track their progress and report the data back to the patient's physical therapist who is also monitoring their activity in real-time.
7. Headspace helping meditation
According to the  National Center for Complementary Integrative Health, meditation can have a profound impact on both your mental and physical health. It's becoming apparent that this is a great alternative to taking medication, and is something you should certainly consider if you experience anxiety. Though technology and meditation may not seem like a likely pairing, apps like Headspace can help you maintain your mental focus while on the go.
8. Nanobots treating strokes
Stroke is the No. 5 killer in the United States. Even when the patient survives the result can be long-term disability, which can be heartbreakingly painful and very expensive. Nanotherapeutics, treating disease on the molecular level, is already being used in the treatment of cancer and infections. Now emerging targets of  nanobots are breaking up stroke-causing blood clots and the precision delivery of drugs for reversing the effects of stroke.
Scientists have been studying platelet-sized nanobots coated with a tissue plasminogen activator (tPA), one of the most effective clot-busting drugs known. These nanobots are fabricated as aggregates of multiple smaller nanoparticles (NPs). The microscale aggregates remain intact when flowing in blood under normal conditions, but break up into individual nanoscale components when exposed to the blocked artery.
9. The Echopixel – A revolution in 3D medical imaging
EchoPixel renders patient-specific anatomy in an intuitive, interactive virtual reality format, leading directly to increased clinical knowledge, faster operations, and better care. True 3D, from EchoPixel, is an advanced medical visualization software solution. It offers physicians an unprecedented opportunity to view and interact with patient tissues and organs in a truly 3D form, as if they were real physical objects.
It takes data from CT and MRI scans and transforms it into 3-D holographic images so she can view and interact with patient tissues and organs as if they were real physical objects. Medical 3-D imaging is not new, but the way organs appear to pop out of the screen and the ease at which the anatomy can be manipulated has never been seen before in medicine.
10. Human head transplants
Sergio Canavero , an Italian neurosurgeon, intends to attempt the first human head transplant, though no successful animal transplants with long-term survival have yet been made. Because of the difficulty of connecting the spinal cord, Canavero has suggested improvements in the process using a special blade and polyethylene glycol, a polymer used in medicine as well as in everything from skin cream to the conservation of the Mary Rose, can help start growth in spinal cord nerves.
A special bio-compatible glue will hold the spinal cord together so it can fuse with the donor body. The patient will then be put in a drug-induced coma for four weeks while the connection between the head and body heals. Canavero says all the technology he needs is available, and estimates the procedure will take about 36 hours and require the services of 150 medical professionals. He expects a 90% chance of success, as in a 90% chance the patient is up and walking around a few months after the surgery. This all still sounds like science fiction, and medical professionals are mostly skeptical of Canavero's plan.
2017's fastest web browsers
Most of us tend to choose a web browser and stick with it for years. It can be hard to break away from your comfort zone – especially when you've become used to its quirks – but trying a different browser can greatly improve your experience on the web. Whether it's enhanced security, improved speed, or greater flexibility through customizable options and plugins, the right browser can have a huge effect on your online life.
Here are the best web browsers of 2017, in our opinion, in no particular order:
Google Chrome
According to techradar.com, if your PC has the resources, Chrome is 2017's best browser. "According to w3schools' browser trend analysis its user base is only rising, even as Microsoft Edge's install numbers are presumably growing. Why? Well, it's cross-platform, incredibly stable, brilliantly presented to take up the minimum of screen space, and just about the nicest browser there is to use. Its wide range of easily obtained and installed extensions mean you can really make it your own, and there's support for parental controls and a huge range of tweaks and settings to ensure maximum efficiency," writes techradar.com.
It's opinion is supported by www.digitaltrends.com, who considers that Chrome is fast, free and light. With a thriving extension ecosystem, it's as fully featured or as pared down as you want it to be. Everything is right where it should be, privacy and security controls are laid out in plain English, and the browser just gets out of your way. "If you're not sure which browser you should be using, you should be using Chrome."
When it comes to the pcmag.com's writers, The Chrome Web browser is beginning to dominate the category of software we use for consuming Web content, just as Google also leads in the fields of search, online video, maps, and more. "It has reached this position among browsers thanks to some excellent qualities, including speed, simplicity, security, and leading support for new Web-code standards. Though other browsers have caught up to it and in some cases surpassed it in speed and simplicity, Chrome is easy to use, fast in our testing, and still the most standards-compliant browser. But…. but it's no longer the fastest browser and it lacks some features found in the competition."
Still, Chrome remains the most popular browser in the world.
Microsoft Edge
TechRadar considers that in this case, integration with Windows 10's core gimmicks seems to be Edge's main strong point. It happily runs as a modern-skinned app on Windows 10's tablet mode, and works with Cortana. It's also highly streamlined for the current web age, doing away with insecure protocols like ActiveX and forcing you into Internet Explorer if you want to use them. "Using Edge is a perfectly pleasant experience. It's super-quick, hammers through benchmarks, its integrated reading mode makes complex sites more palatable, and by sandboxing it away from the rest of the operating system Microsoft has ensured that Edge won't suffer the security breaches of its older brother".
The default web browser that comes with Windows 10, is fast on benchmarks and compliant with modern web standards, but it also offers some capabilities not found in some big competitors. Edge started life with interesting tools like webpage markup, integrated Cortana features, and a clean Reading mode. "Windows 10's Anniversary Update brought Edge web browser extensions, tab-pinning, faster page rendering, and wider standards support. Creators Update, the latest Windows version, adds ebook reading and unique tab organization.Microsoft's Edge web browser has some nifty tab tools, aces JavaScript benchmarks, and has a clean interface. It even works as an ebook reader. But it still lacks some features found in more mature browsers and offers fewer extensions," considers pcmag.com.
Mozilla Firefox
Considered to be "the best of the rest" by digitaltrends.com, Mozilla has a good catalog of extensions and user interface customizations, but it's not quite as fast as a clean install of Chrome and the mobile integration hasn't quite kept up with the times. "Grab the mobile Firefox app and you'll be able to share bookmarks between devices, but you have to sign up for a Firefox account, and managing settings across platforms isn't as seamless as it is in Chrome. Firefox is a comfortable, familiar old standby. Having a separate URL and search bars is almost quaint, but if you're frequently jumping between search providers, having a separate bar could be a helpful feature," concluded the Digital Trends.
On its turn, TechRadar's editors believe Firefox tends to hit the middle-to-bottom end of benchmark tests, however, finding it a little sluggish to a barely noticeable extent. Recent additions like built-in support for Pocket and Hello aren't going to be to everyone's taste, but some will love them.
Still, PCMag editors' opinion is totally different, placing the browser as their Choice. "Firefox continues its trend of being the most privacy-concerned and customizable Web browser. Other unique features include  tracking protection in Private Browsing mode, Hello video chat, an ad-free Reading mode, and a social-sharing tool. It's also fast and makes frugal use of RAM. In features and customizability, Firefox is unmatched."
Vivaldi
Vivaldi can adapt its color scheme to the sites you're using, and indeed the structure of its interface is entirely up to you. There's a built-in note-taking system, you can dock websites as side panels while using the main window to do your main browsing, and we love its innovative tab stacking tech, which allows you to group up tabs and move them around to avoid the crowding that so often plagues other browsers. "It's not the fastest and it's not the most fully featured, lacking any official support for extensions, but Vivaldi is relatively new and we don't doubt it'll receive further expansion as time goes on. It's a refreshing and creative take on web browsing, and one to watch in the next couple of years," said techradar.com.
PCMag seems to like it as well, as the editors acclaim it fr being fast and highly compliant with all the latest Web standards. "It's very usable, and standard browser features and innovations alike are well implemented in a clear, efficient, and intuitive way. For the moment, however, it lacks some basic features that its more mature competitors offer, such as a Reading mode, Share buttons, a syncing service, and mobile versions."
Digitaltrends.com points out the fact that the browser is unique, as no two users will have the same set up. "This is a browser built from the ground up to deliver a unique user experience, and for the most part it succeeds. This browser excels at customization, you can choose from a variety of tasteful themes that don't feel dated or out-of-place on a modern PC, in addition to the aforementioned UI choices. If you're tired of the usual suspects, and want to try a browser that takes a different approach to web browsing, check out Vivaldi," said the editor.
Opera
The Opera browser has some new tricks up its sleeve or, as seen by pcmag.com, a long history of creating innovative in the web browsers.  Notable recent additions include a built-in VPN, an ad-blocker, and a battery-saver mode, all of which make it well worth downloading. "Perhaps the most distinctive part of the Opera interface, Speed Dial is at least as convenient and customizable as the home screen of a smartphone: You can add tiles, combine them in groups, and drag them where you want them. Not only can Speed Dial tiles serve as big, touch-friendly links to sites, but you can also install Speed Dial Apps from Opera's Extensions gallery," writes pcmag.com.
It launches fast, the UI is brilliantly clean, and it does everything its rivals can do with a couple of extras thrown in for good measure. "The key reason we'd at least recommend having Opera installed alongside your main browser is its Opera Turbo feature. This compresses your web traffic, routing it through Opera's servers, which makes a huge difference to browsing speed if you're stuck on rural dial-up or your broadband connection is having a moment.There's also an integrated ad-blocker – which can be switched off if you're morally inclined in that direction – and a battery-saving mode which promises to keep your laptop going for longer," said Tech Radar.
Apart from all that though, the final decision is yours and you can choose the one you like and it fits your personality and browsing habits better.
Best Marketing Ideas in 2017
Finding inspiration is something a marketer and creator should always be interested in.  We have some ideas that might give you a push to try something new and help your brand even more.
Paid marketing on untapped channels
Differentiation is key and clients need to understand that using only Facebook and Google for promoting themselves, even they bring huge volumes, is not enough anymore for achieving success. In an ever changing market, being among the first to tap into less used platforms and discover the ones that have the biggest change to rise (Snapchat, Instagram) is what brands' representatives should do.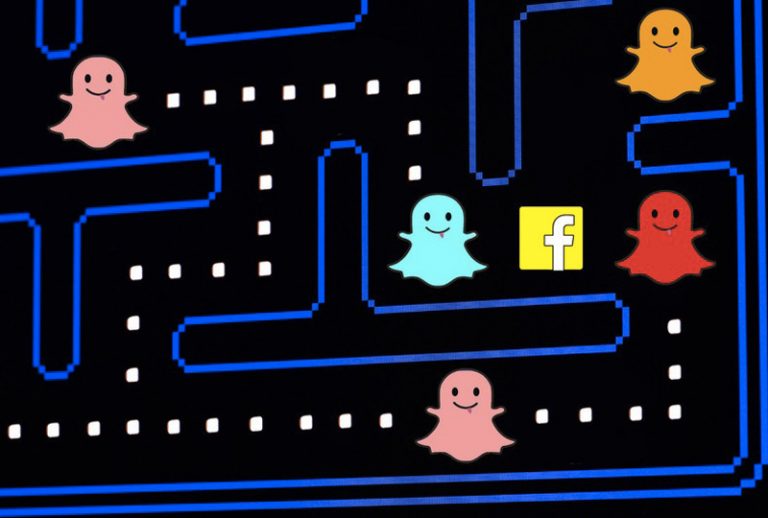 photo: wearevillage.com
Advertising is most successful when there is market inefficiency.
Choosing to communicate smartly on a channel that isn't very used or not put to its true value, may be the key to success. Moreover, the advantages occur on channels where there's a lot of volume, but less competition or no competition.
Content Multiplier Marketing and cross promotion
It's the time of the multi-channel communication, instead of using just one or two channels. Finding the perfect mix for the brand is a very important step to take. The content is one of the most important aspects these days and can take the brand in the direction you want it to. At the same time, the content can be produced in several ways of expression (articles, videos, audio recordings, a blog post) and by using different shapes and channels it will help the brand increase its awareness.
Moreover, it's really important for the brand's target to be able to find the content on several mediums and see its versatility. Also, it's another manner of gaining new fans that love different types of content.
Create content that's easy to replicate.
Making a smart and easy content can also help the fans create their own twist on it, share it and show their personality along. Who doesn't want a target involved in the brand's growth?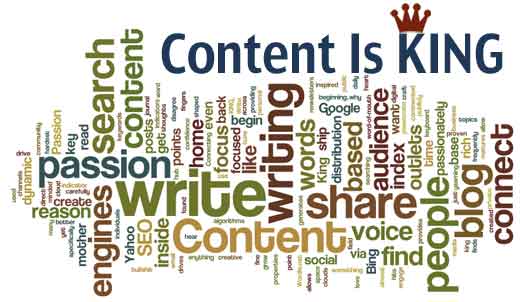 Go mobile
More than ever it's the mobile phones' time. Most of the people are using Facebook on the mobile phone instead of the desktop or the tablet, as well as checking and answering their emails and other important conversations and messages. Therefore, the brands' messages must the adapted to the medium, in order to create the best user experience possible.
Appeal to visual strategies
People understand better the messages and feel more connected to the visual side of the stories. By using video recordings and live-streaming, the brands are growing faster than ever. Recently live-streaming has taken the social media world by storm, Facebook reporting last year that 100 million hours per day of video are watched on their site. Therefore, the marketers should engage their audience with live-streaming at events or conferences that highlight them and their product.  It's a quick and effective way to connect with customers and build the brand.
Visual marketing effectiveness will also rely on engaging graphics. While graphic design has always been important, it will need more attention this year. Viewer engagement durations are shorter and social feeds are getting more crowded. Stand out with powerful graphic content.
Create an expertize blog
Making sure to optimize the brand's website for search engines and mobile, with quality blog posts, we'll have as a result the business' appearance at the top of search results for topics related to your service offering. The result will be definitely a larger number of visitors accessing the website, an increase in leads, etc. The effectiveness of the blogging will be based on exciting and informative content, therefore hiring an expert in your industry or scheduling your own time to draft a quality post each month might be exactly what the doctor ordered.
The best media mix for your brand in 2017
The media market is changing under our eyes, each year bringing something new. It's more than obvious that, even if you are representing a smaller brand, it's not enough to rely on a website or social media page alone if you want to be competitive in the marketplace. Moreover, the media channels that used to work very good for you two or three years ago may very well not be the best ones to use anymore.
According to Initiative and their report Media Fact Book 2016, in Romania the TV continued to be in 2015 the rising engine of the media market, having a push of volumes of 7 percent compared to 2014 and reaching the EUR 212 million margin. Other channels that grew were the online (a boost of 12 percent and reaching EUR 57 million) and the radio (a 5 percent boost, until EUR 19 million). The OOH remained stable at EUR 28 million.  Moreover, Initiative estimated that the media market would reach in 2016 EUR 351 million this year, following a 6 percent growth. The evolution on each channel is similar to the one in 2015 – the TV market will grow with 6 percent, the online with 12, the radio with 5, while the OOH will remain the same and the print would continue to drop still with 10 percent. In this context, the approaching of the digital next to the TV in the consumers' preferences are, the amplitude that the mobile took, the influence of the multi-screening or the forever bigger importance of the content's quality has over the rise of the media budgets.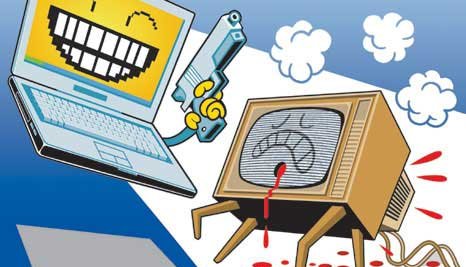 source: Linkedin
With a well-chosen media mix, you can build the kind of name recognition and buzz for your company that isn't possible with single-pronged approach. A mixture of owned, paid and earned media will help ensure your marketing efforts are reaching your target audience.
Consumers want brands that are useful and accessible, and most of all, entertaining. Marketers will continue to pull out all the stops to counter declining ad receptivity. In 2017, we'll see more branded content and less regular advertising. Get ready for more native content, short and long form video, branded filters, and emoji and PR stunts. But it won't end here. The specialists forsee that the marketers will forge ahead with new technologies such as 360 video, augmented reality, virtual reality and artificial intelligence (chatbots performing customer service and sales functions), making the landscape ripe for new creativity. Marketers will also closely monitor effectiveness as studies start to show which formats consumers find annoying and intrusive, particularly on mobile.
These advancements create new challenges for marketers. Far from a controlled consumer view of a brand (TV, outdoor, instore), marketers will face multiplatform, multi-device, in and out of walled gardens, all differently experienced by every consumer. Geotargeting will be seen as a commercial opportunity and Snapchat itself is using geofilters to let people know where to find a Snapbot vending booth. Brands will move quickly into customized/personalized creative content, delivered in a targeted way via programmatic buying. We will see more sequential content as marketers consider using retargeting for a more strategic and persuasive catenation of consumer messages.
In a media landscape of ongoing dramatic change, advertisers will more aggressively adopt multiple media alternatives to reach and connect with their audiences throughout 2017. Synergies will become more important than any single channel and the collective weight of all channels put together. Marketers will be focused on understanding the role each media plays within a broader plan and how they rub off to produce synergistic effects. The concept of synergies has been around for some time but what has changed is the planning aspect and the application of a discipline to the selection of channels to maximize its impact. Cross media studies conducted by Kantar Millward Brown show that globally 25% of media effectiveness has been attributed to synergies, and nearly 40% in APAC. These numbers are not only growing but increasingly we are seeing non-TV synergies emerging as advertisers and agencies start to get their heads around this. The two broad parameters needed to leverage synergies are – creative synchronization and media duplication and phasing.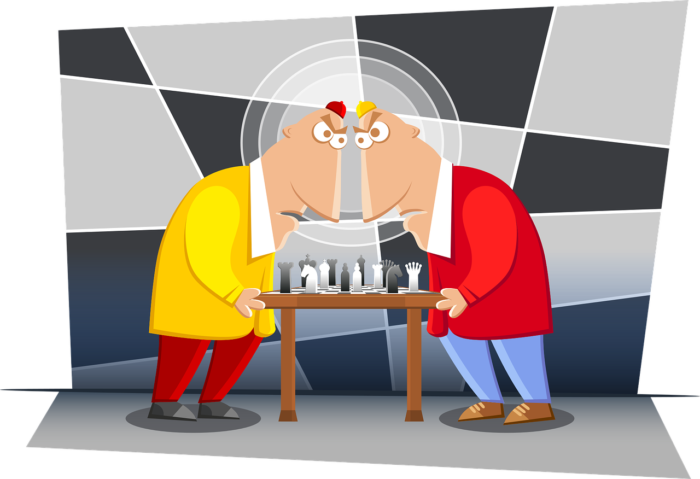 source: Digital Land
"A "big idea" is important for creative synchronization to occur, but it's also about adapting the message to the medium and following a common theme across a campaign. For example, it's unlikely that a 30 second TV ad will work as well on YouTube or Facebook because these media have different characteristics. But they offer opportunities for forming different kinds of relationships that meet consumer needs at different times and occasions. Optimising media duplication and phasing can go a long way in driving synergies but as a first step, marketers will need to ensure that every medium has a role to play within the broader media mix. Roles will be in terms of driving 'reach and or frequency' or various aspects of how people think, feel and make decisions about the brand," said Straford Rodrigues, Media & Digital Director, APAC at Kantar Millward Brown.
Therefore, every brand needs to create its media plan accordingly to its target, expectations and business plan. The strategy is more important than ever: setting clear objectives, finding the right opportunities, integrating your message and your true content, exploring, creating, producing and measuring.
Apart from the media planning itself, don't forget the fact that the content is the KING and it needs to be as powerful, sincere and creative as possible.
Worldwide technology trends in 2017
The technology is advancing nowadays even faster than the speed of light. Its advances and upgrades can seem overwhelming, thankfully though we have the specialists to help us understand where we are heading and how to handle it. The Deloitte's 2017 report outlines how companies presently must sift through the promotional noise and hyperbole surrounding emerging technologies to find those solutions offering real potential. To realize that potential, they should become 'kinetic' organizations—companies with the dexterity and vision required to thrive amid ongoing technology-fueled disruption.
While the report identifies key trends that will likely revolutionize enterprise technology in the next 18-24 months, the exponentials chapter looks even farther into the future, describing four key areas that blend science and applied technologies.
The 2017 trends identified by Deloitte, digitaltrends.com, Forbes and Gartner are as follows:
IT unbounded—The boundaries surrounding IT are fading as technology becomes integral to almost every business function and relationship.
IoT and Smart Home Tech
A multitude of wireless technologies now exist to serve your smart home needs — Zigbee, Z-Wave, Bluetooth, Wi-Fi, and more. And there's more smart home platforms to consider than ever before too — Wink, SmartThings, Iris by Lowe's, even systems from security providers like ADT and big brands like Comcast. While centralization in theory should make things easier, it's made it worse.
The AI world will have a head-on collision with the Internet of Things in 2017, too, Gartner predicts. IoT is where everyday items get chips or sensors, and apps, and join the internet — from your car to your toothbrush. It makes total sense that the apps that control IoT devices will also make use of machine learning.
In 2017, watch for devices to start to communicate and help each other make decisions. "As intelligent things, such as drones, autonomous vehicles and smart appliances, permeate the environment, Gartner anticipates a shift from stand-alone intelligent things to a collaborative intelligent things model," Gartner says.  Gartner estimates that six billion connected "things" will be actively requesting support from AI platforms by 2018.
The total IoT market is estimated to grow from $157.05 billion in 2016 to $661.74 billion by 2021,  predicts Markets and Markets.
Artificial Intelligence and Automation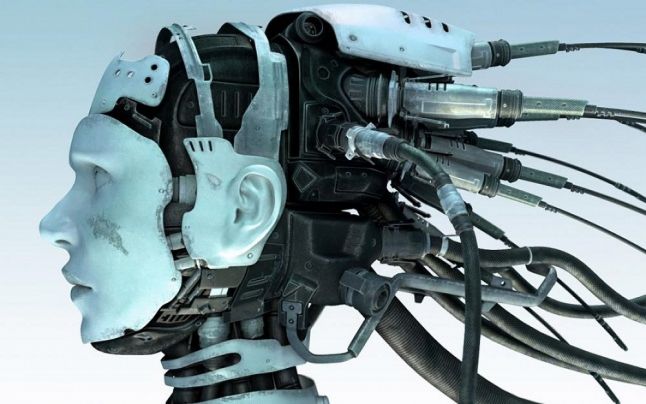 AI and  chatbots that understand context a whole lot better than ever before. More and more jobs will also be automated, we'll also see smart devices gain from increased automation, learning your patterns and preferences without you needing to tell them and making better and more accurate suggestions and recommendations.
Research firm  Markets and Markets estimates that the AI market will grow from $420 million in 2014 to $5.05 billion by 2020.
Artificial Reality and Virtual Reality
According to Gartner, virtual reality (VR) and augmented reality (AR) transform the way individuals interact with each other and with software systems creating an immersive environment.  For example, VR can be used for training scenarios and remote experiences. AR, which enables a blending of the real and virtual worlds, means businesses can overlay graphics onto real-world objects, such as hidden wires on the image of a wall.  Immersive experiences with AR and VR are reaching tipping points in terms of price and capability but will not replace other interface models.  Over time AR and VR expand beyond visual immersion to include all human senses.  Enterprises should look for targeted applications of VR and AR through 2020.
As forbes.com points out we've already seen some major steps forward for augmented reality (AR) and virtual reality (VR) technology in 2016.  Oculus Rift was released, to positive reception, and thousands of VR apps and games followed. We also saw Pokémon Go, an AR game,  explode with over 100 million downloads. The market is ready for AR and VR, and we've already got some early-stage devices and tech for these applications, but 2017 it's going to be the year we see things really take off. Once they do, you'll need to be ready for AR and VR versions of practically everything—and ample marketing opportunities to follow.
"Look for navigation services to get even more specific — maps in a store's app, for example, to direct you to a specific aisle to find exactly what you're looking for. So called "augmented reality," where virtual objects and information are displayed on top of the physical world, will make its way to our phones. Search engines are already expanding on image search, allowing you to point your camera at something and search for information based on what the lens takes in," said Ed Oswald for digitaltrends.com.
IDC predicts that worldwide revenues for the augmented reality and virtual reality (AR/VR) market will grow from $5.2 billion in 2016 to more than $162 billion in 2020.
Advances in computer vision and pattern recognition allow companies to unlock insights from unstructured data that until now, have been lost in the dark.
Machine intelligence is helping companies make better decisions, embed complex analytics into customer and employee interactions, and—with adoption of bots and robotic process automation—automate increasingly difficult tasks.
"Throughout 2017, I expect to see machine learning updates emerge across the board, entering almost any type of consumer application you can think of, from offering better recommended products based on prior purchase history to gradually improving the user experience of an analytics app. It won't be long before machine learning becomes a kind of "new normal," with people expecting this type of artificial intelligence as a component of every form of technology," predicts Jayson DeMers for Forbes.
Mixed reality (Physical-Digital Integrations)
Companies are exploring more immersive and engaging ways to combine the physical world and digital systems, creating a new, mixed reality that's more natural, intuitive and intelligent.
Mobile devices have been slowly adding technology into our daily lives. It's rare to see anyone without a smartphone at any given time, giving us access to practically infinite information in the real-world. We already have things like site-to-store purchasing, enabling online customers to buy and pick up products in a physical retail location, but the next level will be even further integrations between physical and digital realities. Online brands like Amazon will start having more physical products, like  Dash Buttons, and physical brands like Walmart will start having more digital features, like store maps and product trials.
Open standards, cloud-first designs and loosely coupled architectures are the norm in start-ups. Now, large enterprises have similar ambitions.
Traditional business products are being reimagined as services as organizations modernize core systems and the technology stack.
Digital Twin
According to Gartner, within three to five years, billions of things will be represented by digital twins, a dynamic software model of a physical thing or system. Using physics data on how the components of a thing operate and respond to the environment as well as data provided by sensors in the physical world, a digital twin can be used to analyze and simulate real world conditions, responds to changes, improve operations and add value. Digital twins function as proxies for the combination of skilled individuals (e.g., technicians) and traditional monitoring devices and controls (e.g., pressure gauges). Their proliferation will require a cultural change, as those who understand the maintenance of real-world things collaborate with data scientists and IT professionals.  Digital twins of physical assets combined with digital representations of facilities and environments as well as people, businesses and processes will enable an increasingly detailed digital representation of the real world for simulation, analysis and control.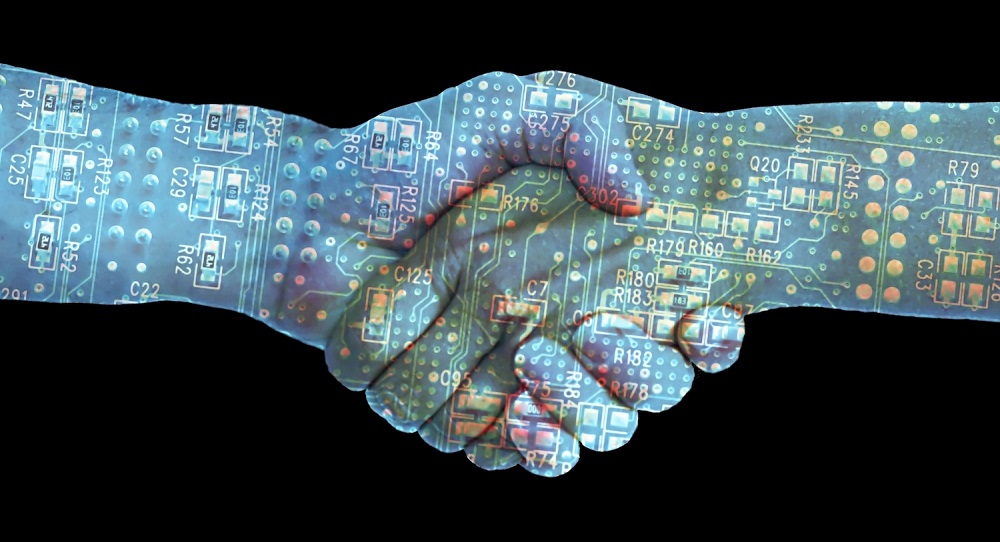 source: Blockchain Technologies
Blockchain, a way of distributing a database across many far-flung computers, is emerging as the mainstay for digital identities in the emerging trust economy.
Exponentials watch list – Advances in disruption forces like synthetic biology, energy storage, quantum computing, and nanotech could exponentially transform the way we do business. Remember the big Bitcoin phenom of 2015?  It turns out that the coins themselves could be far less valuable than the underlying technology, called blockchain, that created them.
Consortiums have sprouted up to create new blockchain apps for the  financial industry, for  health care, and so on.
Market Reports Hub believes the global blockchain technology market will grow from $210.2 million in 2016 to $2.3 billion by 2021.
Advances in disruption forces like synthetic biology, energy storage, quantum computing, and nanotech could exponentially transform the way we do business.
Humanized Big Data (visual, empathetic, qualitative)
Big data has been a big topic for the past five years or so, when it started making headlines as a buzzword. According to Forbes, the idea is that mass quantities of gathered data—which we now have access to—can help us in everything from planning better medical treatments to  executing better marketing campaigns. But big data's greatest strength—its quantitative, numerical foundation—is also a weakness. In 2017, I expect we'll see advancements to humanize big data, seeking more empathetic and qualitative bits of data and projecting it in a more visualized, accessible way.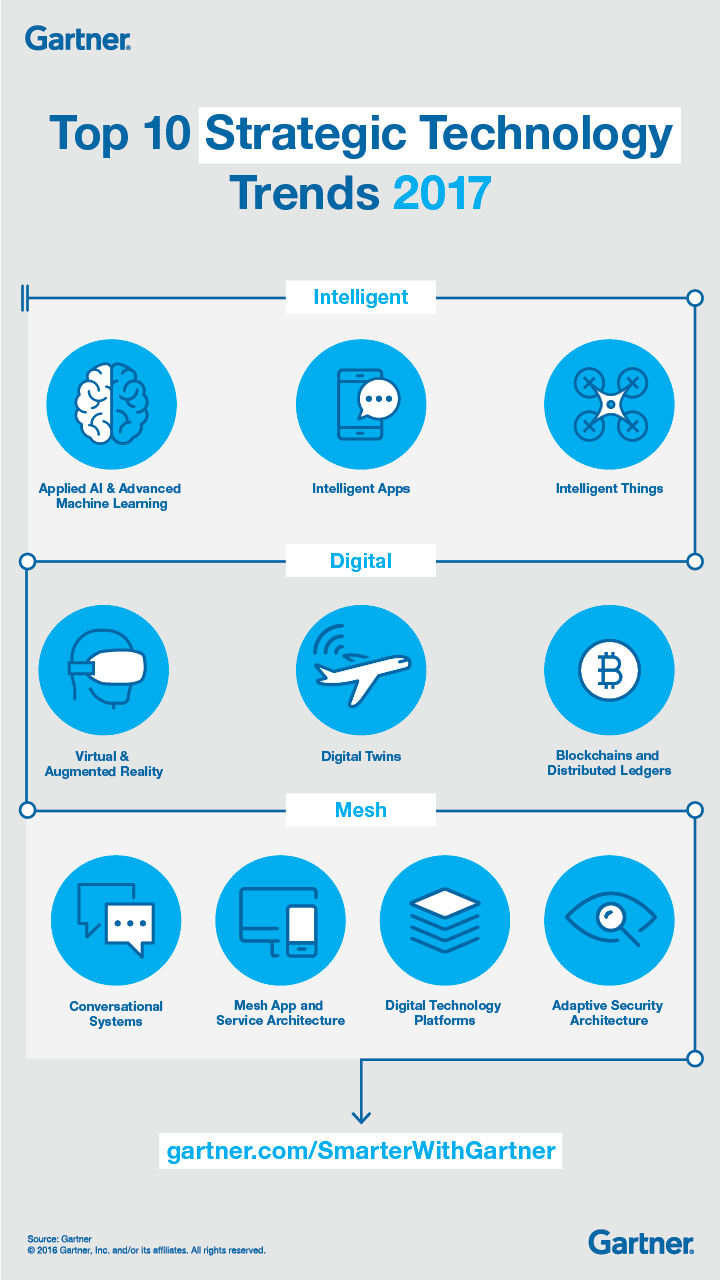 Adaptive Security Architecture
"The evolution of the intelligent digital mesh and digital technology platforms and application architectures means that security has to become fluid and adaptive. Security in the IoT environment is particularly challenging. Security teams need to work with application, solution and enterprise architects to consider security early in the design of applications or IoT solutions.  Multilayered security and use of user and entity behavior analytics will become a requirement for virtually every enterprise," points out Gartner.
Top Marketing Techniques in 2017
Smart Insights recently started a research asking its readers to give their opinion on the most important trends in 2017, asking them to choose the most important marketing activity that they think will give their business the biggest incremental uplift in leads and sales in 2017. After receiving 2,352 responses from marketers around the world, the results were:
Big Data (including market and customer insight and predictive analytics)
Content marketing Communities (Branded niche or vertical communities)
Conversion rate optimisation (CRO)/ improving website experiences
Display(Banners on publishers, ad networks social media including retargeting and programmatic)
Internet of Things (IoT) marketing applications
Marketing Automation(incl CRM, behavioural Email marketing and web personalisation)
Mobile marketing (Mobile advertising, site development and apps)
Paid search marketing, e.g. Google AdWords Pay Per Click
Online PR (including influencer outreach)
Partnerships (including affiliate and co-marketing
Search Engine Optimisation (SEO or organic search)
Social media marketing (including Social CRM and Social Customer Care)
Wearables (e.g. Apple Watch, activity trackers, augmented reality)
More information on the report can be read here.

You can find out more here.
Top 20 business people to watch for in 2017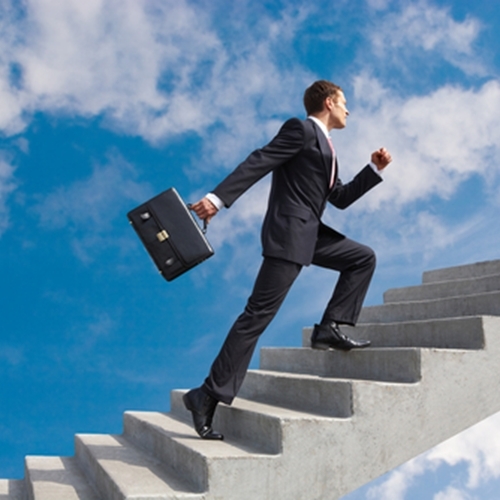 source: wisecareers
Each one of us needs to be inspired, to meet and read about inspirational people and success stories that truly show us that the sky is the limit. We compiled of list of great entrepreneurs, social media influencers, both men and women, that we believe deserve a look over their careers so far and that will still be a great inspiration in the years to come.
Neil Patel – an internet marketer and conversion expert, best known as the founder of Crazy Egg, Quick Sprout, and KISSMetrics. Recognized as a top 100 entrepreneur under the age of 30 by President Obama, Patel is also a regular, respected contributor for publications such as Inc., Fast Company, Forbes, Entrepreneur.com and TechCrunch. He helps companies like Amazon, NBC, GM, HP and Viacom grow their revenue.
John Rampton is a serial entrepreneur, connector, and the founder of Due.com. Rampton has hailed as No. 3 of the Top 50 Global Online Influencers and one of the Top 10 Most Influential PPC Experts in the World for 3 years running. Time Magazine recognized John as a motivations speaker that helps people find a "Sense of Meaning" in their lives. He currently advises several companies in the bay area. John loves helping others succeed online. It's all about helping and giving back. It brings me joy in my life.
Chris Stoikos is best known for his hilarious viral videos, which generated 130M views and $10.5M in sales in the past year alone as part of his venture Dollar Beard Club. Stoikos has also appeared on NBC's Shark Tank and generated millions in revenue for various product launches. is a highly regarded serial entrepreneur with two successful exits under his belt. He is an expert at creating and organizing dynamic teams that can execute business ideas quickly and effectively, and set them up to be self-sustaining organizations.

Ann Handley has been named by "Forbes" as the "Most Influential Woman in Social Media" and one of the Top 20 Women Bloggers. She is the chief content officer of MarketingProfs, a training company that empowers marketers internationally with the skills they need to drive success at their companies, and her book "Everybody Writes" is a Wall Street Journal bestseller. She is also the co-author of the best-selling book on content marketing, "Content Rules: How to Create Killer Blogs, Podcasts, Videos, Ebooks, Webinars (and More) That Engage Customers and Ignite Your Business."
Moreover, a pioneer in digital marketing, Ann is the co-founder of ClickZ.com, which was one of the first sources of digital marketing news and commentary.
Shradha Agarwal co-started  Context Media with a goal to help patients with chronic diseases better manage their health. She is now reaching more that 6+ million patients a month. Shradha co-founded JumpStart Ventures in 2011 to fund other passionate entrepreneurs who are executing ambitious solutions in healthcare, education and media communications, and has since backed more than 40 companies with over $10 million in venture investments. She mentors entrepreneurs at Techstars, Impact Engine & Blueprint Health, but is equally invested in the venture philanthropy model for scaling nonprofit solutions through SVP Chicago and The Chicago Public Education Fund. She serves on the boards of OneGoal and Chicago Children's Choir and spiritedly supports youth education, women leadership, and civic engagement. The CEC recently honored the two ContextMedia co-founders with the "2015 Chicagoness Award" for their deep commitment to developing the city's ecosystem. Agarwal was honored as a Champion of Change by the White House, recognized as Best Female Founder at the United Nations, and won a Moxie Award as "Tech Woman of the Year" in Chicago.
Anthony Smith is Founder and CEO of  Insightly, a San Francisco-based company that provides customer relationship management (CRM) cloud-based software to more than 1.2 million customers in 200 countries. After identifying a market need for a CRM solution for small businesses, Anthony built the first version of Insightly himself, using his previous experience of designing, constructing, and implementing CRM software for enterprises.
Julia Taylor Cheek isn't new to business, but the Harvard Business grad's new company is literally changing the way we live. Cheek's company,  EverlyWell (of which she is both co-founder and CEO) is simplifying health testing and putting it into words and charts that everybody can understand.
Branden Hampton is the king of social media, having built over 33M followers across Instagram, Twitter and Facebook. He's also the CEO of the social media marketing company One Penny Ad Agency and co-author of " How to Set Up Your Business for Under $1000".
Brian D. Evans is an Inc 500 entrepreneur and the founder and CEO of Influencive, an online publication read by millions of young entrepreneurs. His company, BDE Ventures had 2,388% growth in 3 years and was the 25th fastest growing advertising and marketing agency in America.
Ekta Sahasi is the vice president of the  U.S .Business Innovation Center (BIC) for Konica Minolta, where her team seeks out new places to invest in disruptive technology that can advance the company's competitive advantage. When not investing in startups and overseeing innovation at Konica Minolta, Sahasi helps startups understand how they can enter Asian markets and work within those cultural parameters. Prior to joining Konica Minolta, Ekta spent 10 years at eBay Inc. where she co-founded and led both eBay and PayPal's Research and Innovation Labs. She successfully developed one of the largest corporate innovation programs, and experimented with emerging technologies for enhancing existing technology stack and M&A. As Director of Innovation Products and Research at PayPal she built and scaled a global cross-functional team and led the strategic vision and execution of high-impact projects.
Russ Ruffino: Founder and CEO of  Clients on Demand, the most reliable client attraction system in the world, Ruffino has helped coaches and thought leaders all over the world build six-figure monthly businesses from scratch. His massive success in marketing and as a business owner has allowed him to become one of the most respected business coaches in the industry.
Pejman Ghadimi is a self-made multi-millionaire, serial entrepreneur, best-selling book author and currently the CEO and Founder of  Secret Entourage. The platform was started in 2009 to help bring together some of today's greatest and brightest CEO's, business owners and innovators in an attempt to help bridge the gap between formal and self-education by providing current, relevant, as well as affordable coaching and mentorship. Secret Entourage presently is home to over 280 accredited entrepreneurs covering more than 100 industries, over 30,000 students and reaches millions through social media. Since its launch, Secret Entourage has expanded its reach to over 1,200,000 new individuals each month and has grown as an accepted brand in the business and lifestyle community. The organization has to date aided tens of thousands of individuals and organizations in reaching their full potential. Secret Entourage has also helped unify accredited Entrepreneurs with the mission of bringing back the true meaning of entrepreneurship, and to be an inspiration to all. In 2012, Pejman authored Third Circle Theory, Gen Y's blueprint to Entrepreneurship which had sold over 50,000 copies by mid 2013.
Pejman is also the owner and founder of VIPMotoring.net, a unique luxury lifestyle concierge service which currently was said to be "one of the best sources of education for today's modern millionaires" by Forbes in 2012.
Roger Bryan is a serial entrepreneur with two successful exits: a marketing agency and an ecommerce business. His current venture,  Enfusen, named a Top 10 Tool Entrepreneurs Can Use to Automate Their Business by Inc., is a machine-learning analytics platform that helps digital marketing agencies drive increased traffic and conversion for their clients.
Sam Ovens: Ovens has told the story how he started completely broke, working out of his parents' garage in New Zealand, and in five short years, started a  consulting business, moved to New York and made over $20 million. Ovens helps everyday people quit their jobs and "job-like" businesses to start their own highly leveraged consulting business. His methods are shaking up the consulting industry. Since 2011 he has created 14 millionaires and 340 six-figure earners with his training programs.
John Sculley and David Steinberg, ZetaGlobal – Former Apple and Pepsi CEO John Sculley and David Steinberg have become darlings of the marketing tech world, creating a business that provides analytics-driven platform that can also both see the customer's life-cycle, measure ROI and understand your audience for intelligent marketing across the board. The company remains profitable, and made over $300 million in revenue the last year. Considering the cutthroat nature of the business, marketing tech leaders should pay real attention to Sculley and Steinberg as Zeta continues to grow.
Raviv Turner, CaliberMind, is a serial tech entrepreneur and former Israeli intelligence of CaliberMind, stands out. The company plugs into your CRM and content pipeline and uses psychographic ( a huge secret weapon in marketing) profiling of your sales and marketing calls, emails and customers' social feeds to intelligently inform you both how to communicate with them and what content to feed them, such as security content for a security-minded person.
Amanda Signorelli, CEO of Techweek, is building tech-based entrepreneurial communities in major cities across North America, helping local business break through.
Danielle Morrill, CEO and co-founder of  Mattermark, is improving the way that businesses find and connect with the ideal customers, simplifying the process of finding leads for businesses of all sizes. Small businesses will want to keep Morrill's company on their radar in 2017.
Natalya Brikner – Founder and CEO of Accion Systems Inc., brings her MIT rocket science knowledge and experience to help push space-travel forward – all before the age of 30.
Best packaging ideas for 2017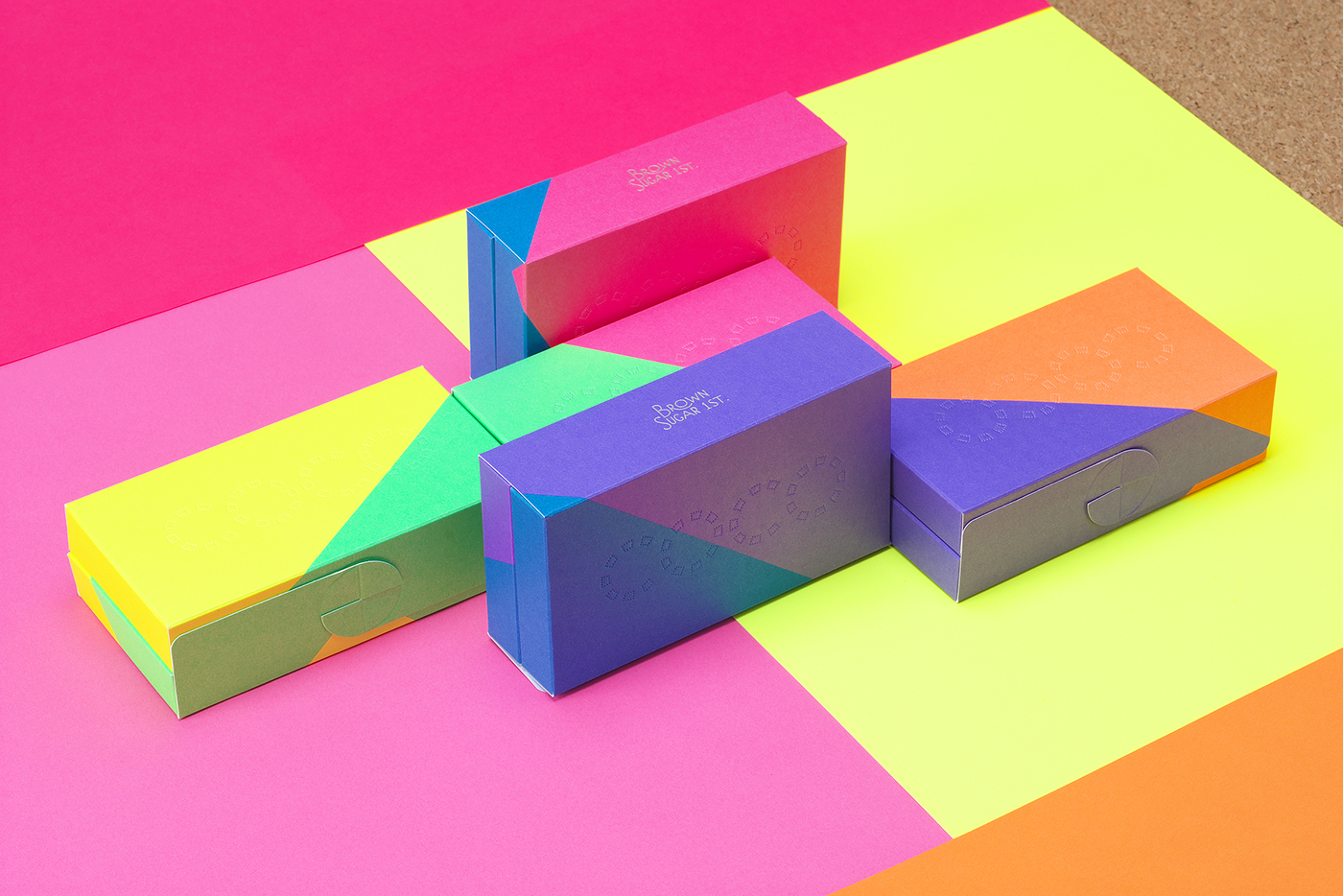 In the very competitive and full of inspiration and imagination year such as 2017, a good product is not enough for it to become a brand and capture the consumer's attention. Let alone make him/ her choose it from the numerous similar products on the shelf and lead to a future buy. Therefore, a great packaging design, in sink with the product's qualities, characteristics and what it stands for, will mark the path to a successful rise and growth of a brand.
Here are some of this year's main packaging design trends and ideas:
1. Back to basics. Simple, bold and clear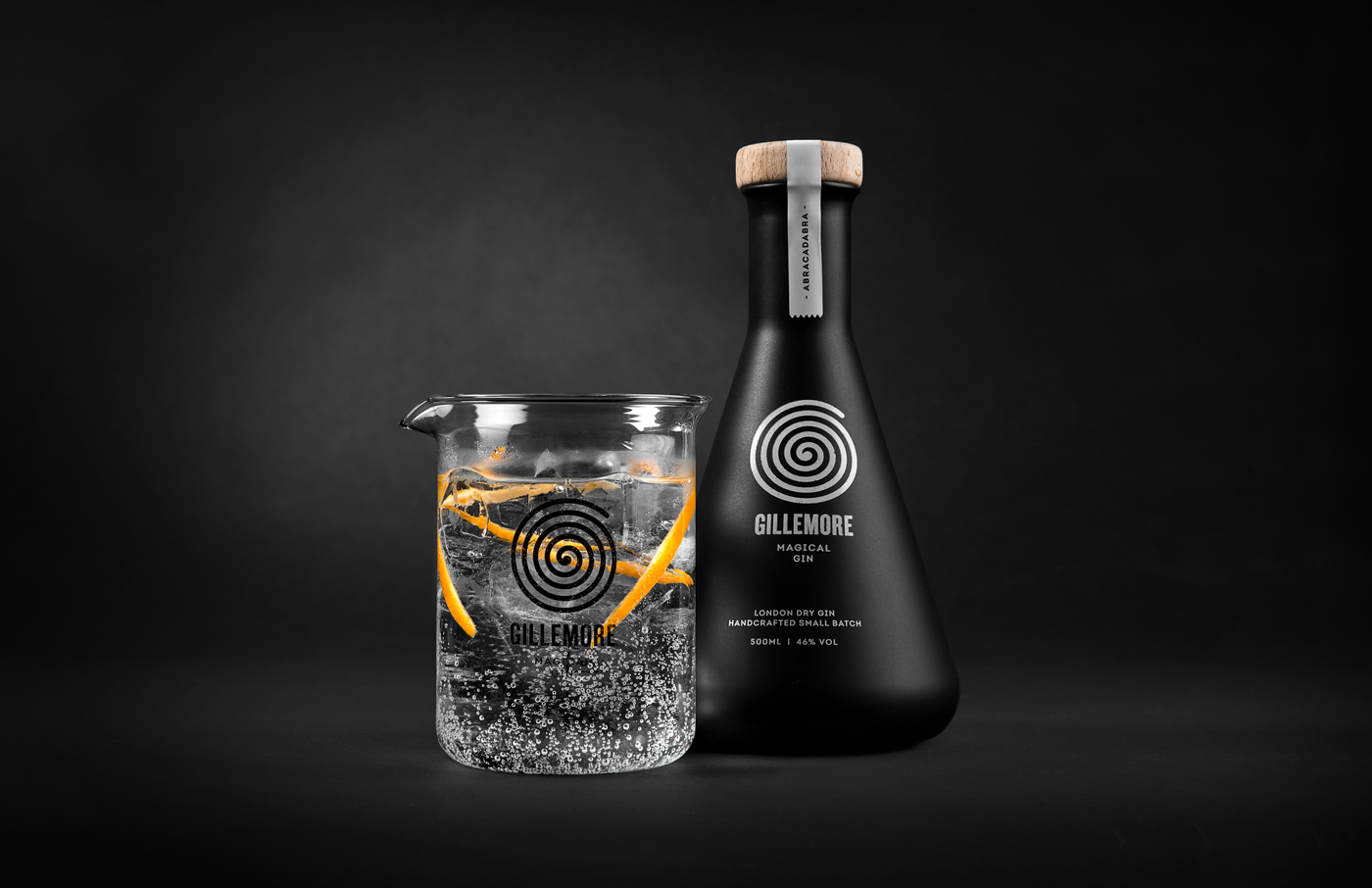 source: skinn.be
This year, the trend is better articulated and more compelling to the customer. Minimizing the elements used in a package design can elevate a product… as long as it gets the point across. In our fast-paced world, shoppers don't always have the time to study each and every product detail. Sticking to the essentials and making sure the buyer will make a more informed decision, a clean-cut design can convey information and make a product shine using simplicity.
According to thedieline.com, the designers understood the purpose of the object and the thought process of their audience. In service of this, they simplified the message and stated it clearly and boldly across the face of the packaging. These designs are text-based and say what they are in no uncertain terms. They realize the value of a simple message in today's crowded world. The simplicity does not come off as lazy or incomplete but refreshing and honest. This is the manifestation of the idea: clarify not simplify. These designs identified exactly what the customer was searching for and expressed it simply. It comes off as powerful and trustworthy.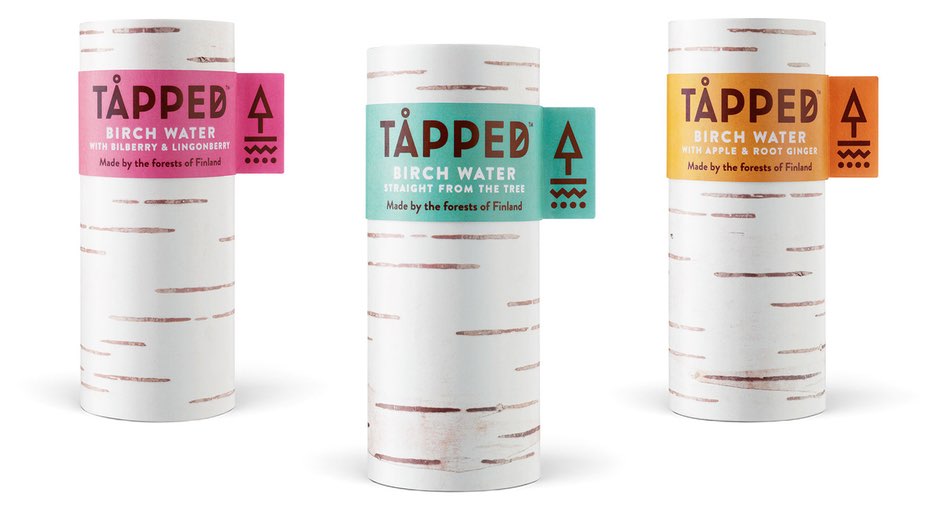 source: tapped
2. Putting focus on the custom lettering
Almost every designer loves to get crafty and create some of their artwork by hand.  According to Martin Lupus of 99designs.com this thing happens in order to get the organic effect: fluid imperfections—like irregular lines or natural texture fills— that can make a product stand out through warmth and set it apart from digital designs. "This warmth can create an emotional tie to the product, making it feel handmade and wholesome, or communicating a feeling of nostalgia. Either way, for 2017, we are seeing a massive comeback of hand-lettering," added Lupus.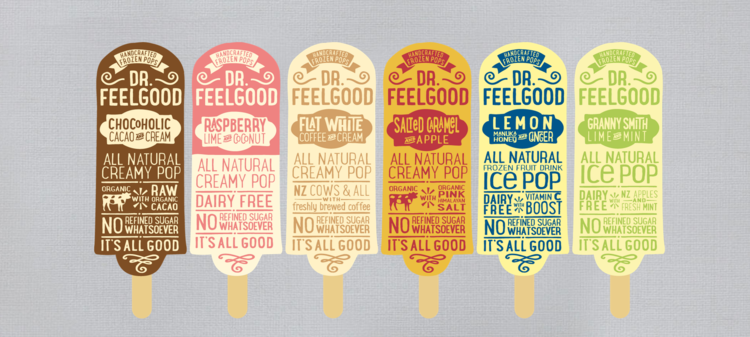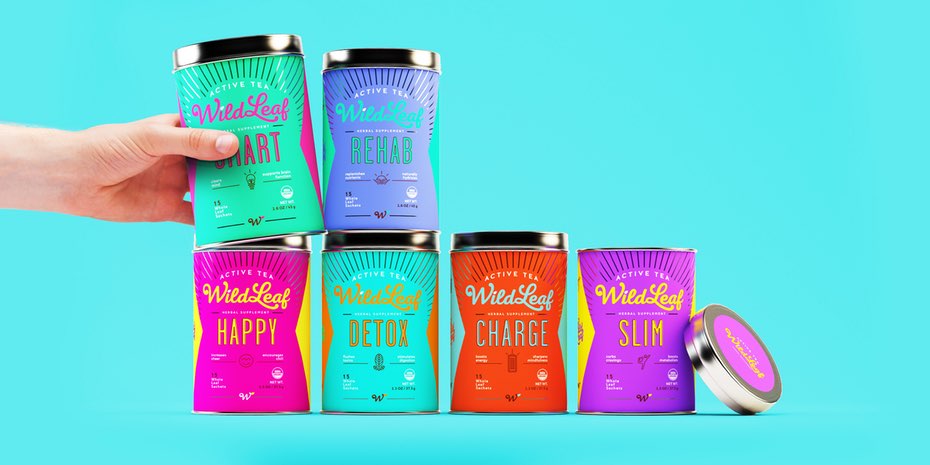 source: sweetyland
3. Letting geometry rule!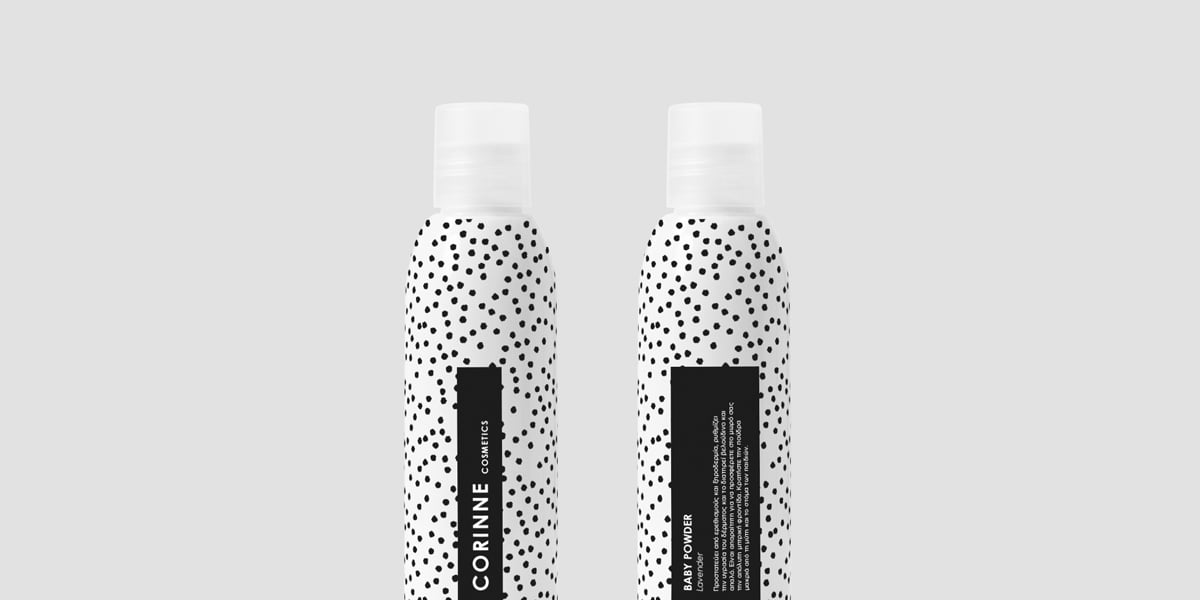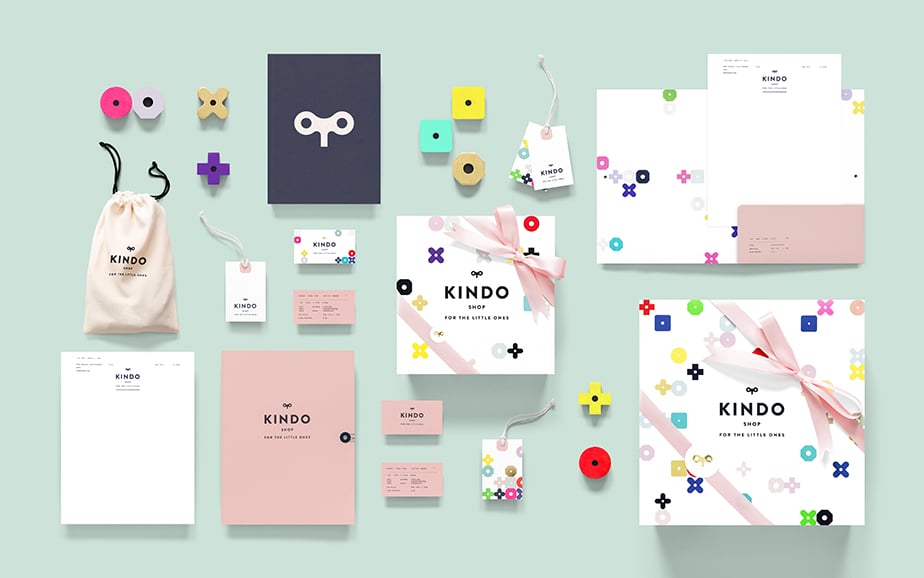 source: thedieline
Hand in hand with the previous trend, this theme is centered around expressing simplicity, approachability, and honesty through patterns and shapes. Circles, triangles, and squares are, as the specialists consider, an attempt to treat the mindset of a weary, overwhelmed consumer. Particularly in industries with over-the-top design, these reduced approaches standout. Familiar shapes, colors, and patterns communicate an awareness of the world and a sensitivity to the consumer.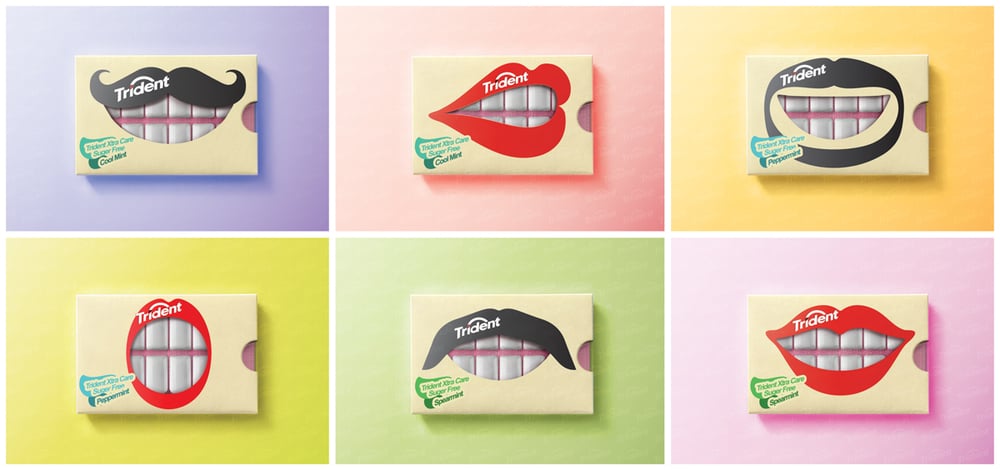 Old school with a twist
The past is haunting us, but in a good way, through a "idealization of the past—a longing for simpler times when things were cared for, made by hand, and detail-oriented", as Grant Wenzlau from dieline.com would say. But these designs are not simply regurgitating old forms and techniques, they are modernizing them and combining them in new ways. "This new take on what is old is refreshing because it selects the best parts of different periods of our history and juxtaposes them. These designers realize the increasing rareness of endangered techniques like calligraphy, letterpress, and foiling. These artisanal practices grow more and more desired each year. In the mind of the consumer, they are increasingly novel and related to greater value. But far from merely being historical, these techniques are being re-imagined in the context of mid-century layouts and applied to a 21st Century, cutting-edge materials".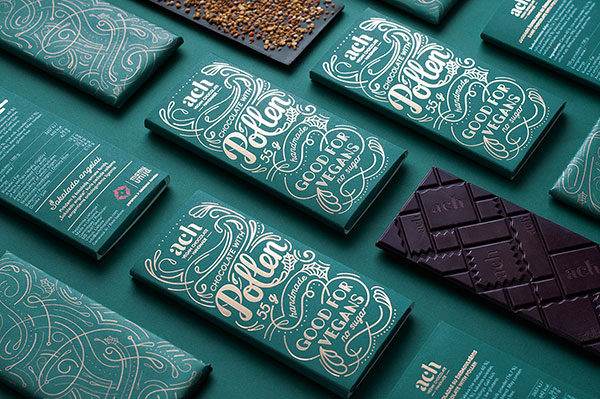 source: ACH Vegan Chocolate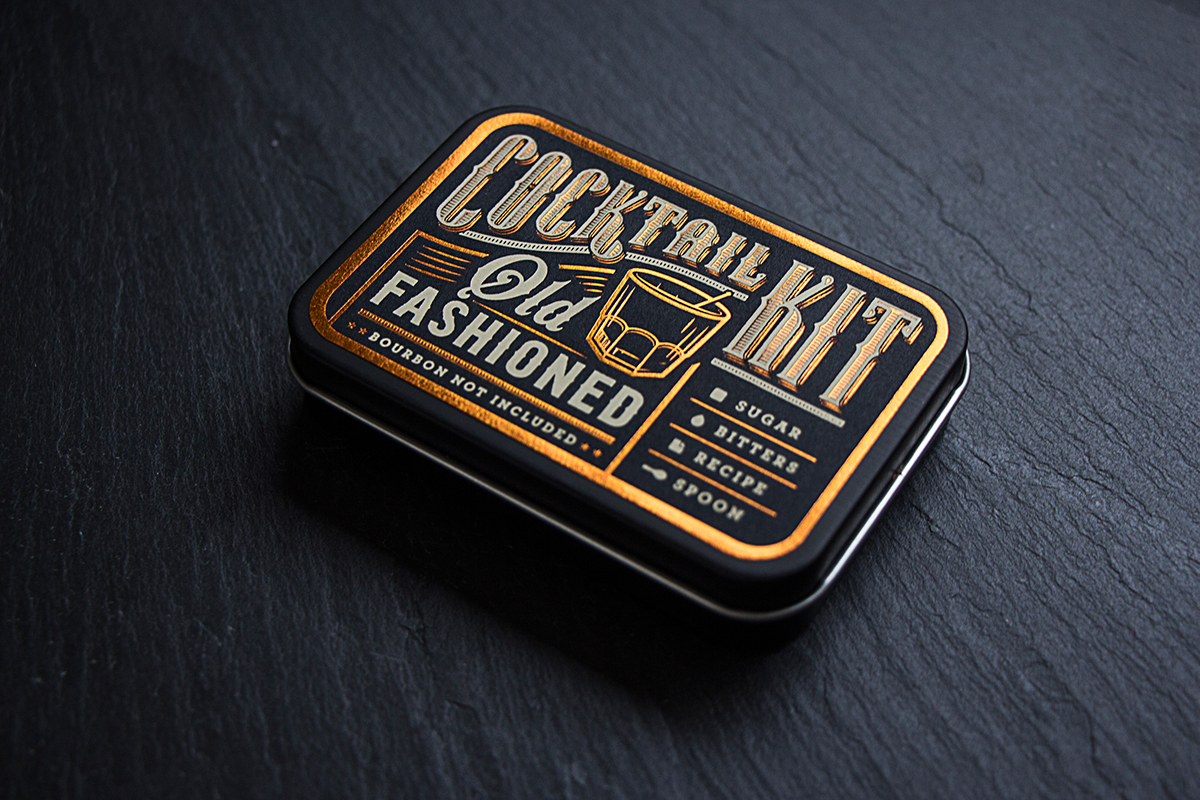 source: cocktail kit
Moreover, vintage package design brings back memories for people who lived through the original era and satisfies the curiosity of younger generations eager to explore the past. The key to going vintage is to find a balance. 
5.      Making the color a focus and priority
Colors evoke emotions and affect purchasing decisions. Because of this, color has always been one of the most important choices in packaging design, presenting in new, exciting ways. Bright colors and vibrant associations are beginning to make a scene on store shelves. More than that the colors and their special use are able to differentiate the packaging and the product at the shelf, making it to stand out and attract the consumer that will always choose exciting over common and boring. Also, it is proven that the consumer will always remember a product that is interesting and has the wow visual factor.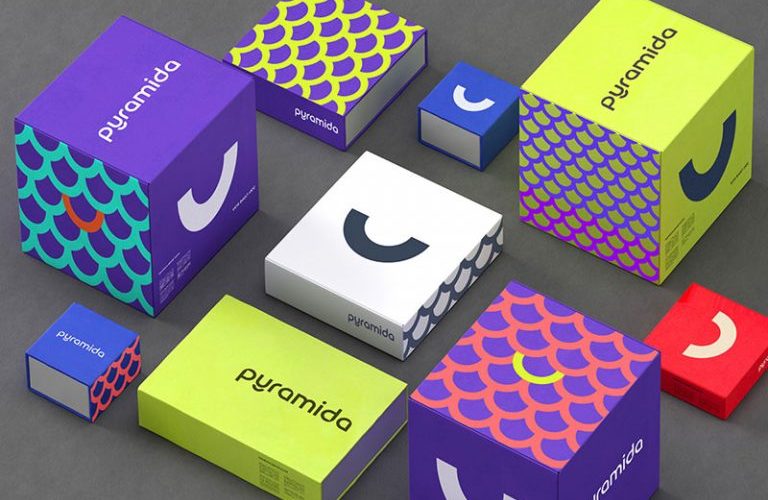 source: Pyramida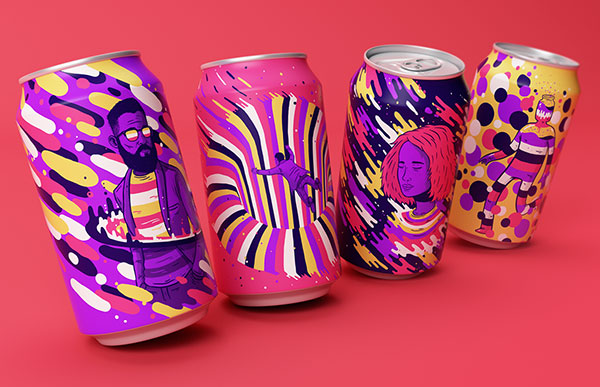 source: Resonance
6.     Be playful and multi-functional!
In each of us lays a child and we love to be given the opportunity to loose ourselves from time to time. So does the consumer. He appreciates a good, interesting packaging that can be joyful, playful and multi-functional.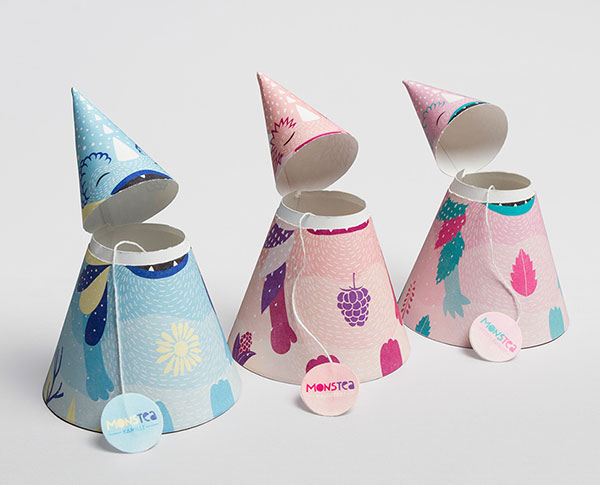 source: Monstea
7.     Repeating a pattern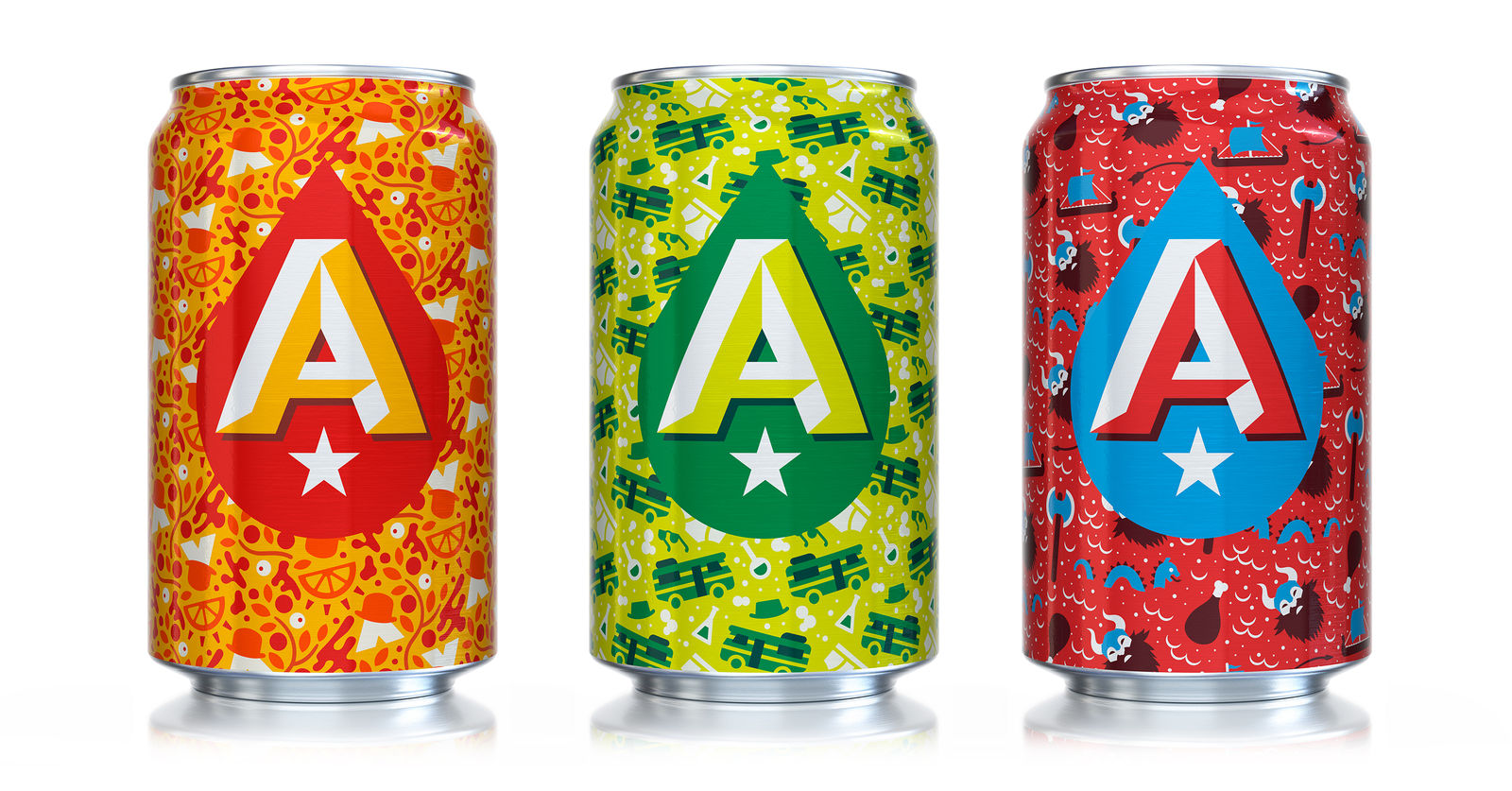 source: Helmes Workshop
We learn and remember through patterns, as our brain is built that way. Using well-chosen and beautiful patterns can also elevate a package design from ordinary to ethereal. Although the idea of repetitive shapes might seem simple, the technique can be dynamic and compelling when used correctly. Moreover, as it happens in writing a book or a play or a song, repeating a visual motif that captures the essence of the brand sends a strong message. Whether the pattern is bold or playful, patterning the package can create a strong identity that customers will always remember.
8. Storytelling & narrative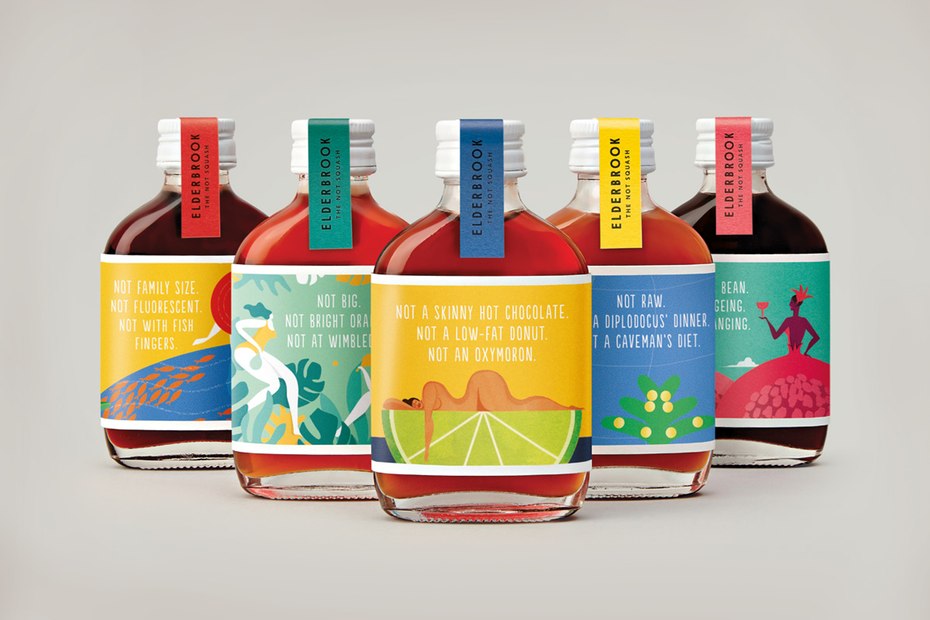 source: Smith & We All Need Works
People love stories and, as previously said, having a story behind everything one does it's always a plus, giving it authenticity and creativity, at the same time. We seek out and cherish the stories that feel closest to our hearts, therefore the packaging design are starting also to incorporate narrative illustrations, trying to get closer to the consumer's empathies and emotions. The place where the real sale and conviction start.
9. Putting it in the mail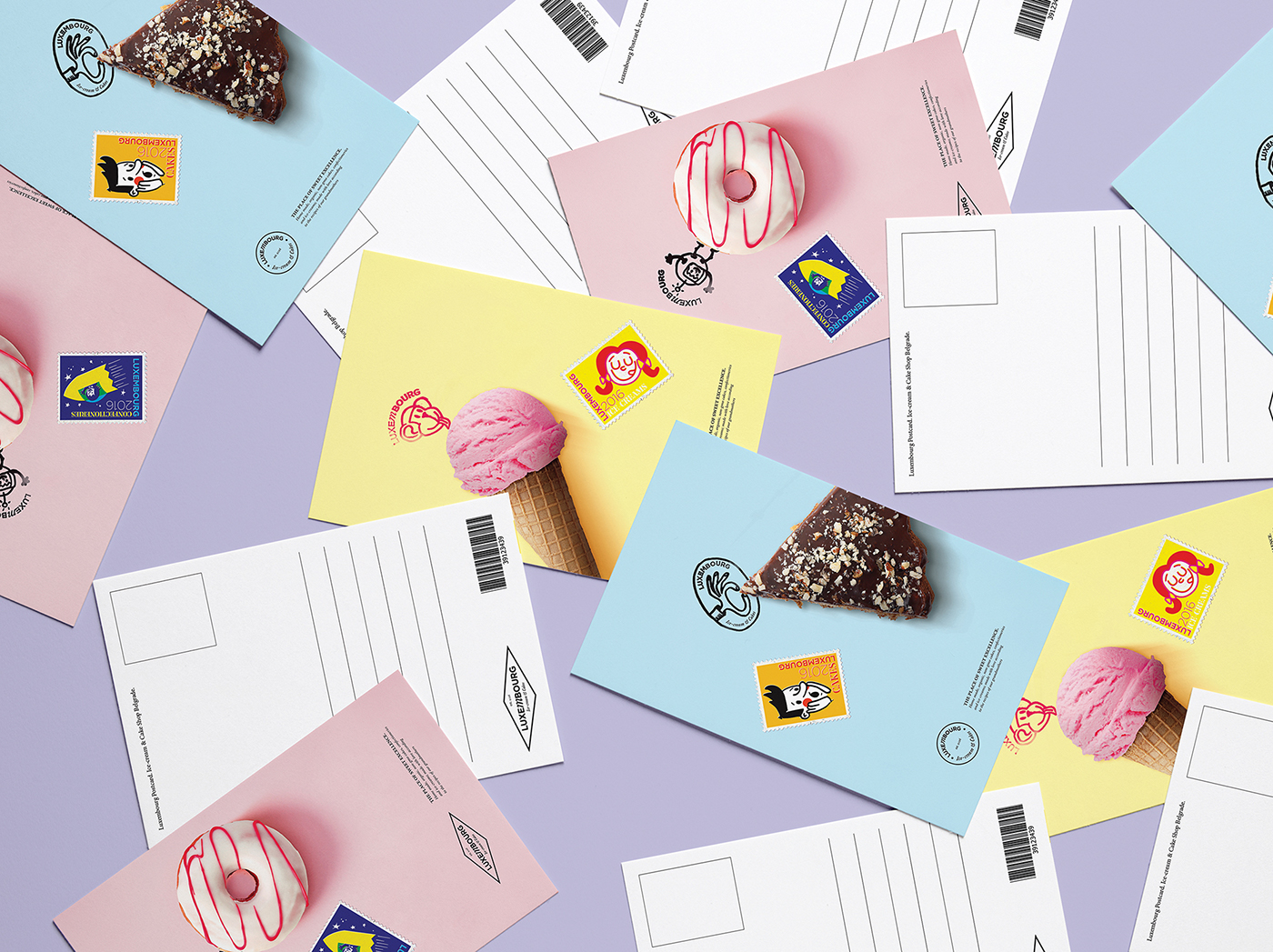 source: Luxembourg
Internationally, there's a strong comeback for the print and its values, for going to back to the roots, the life before the online. Coffee shops that are inviting their costumers to stop using the wifi and talk to each other, online magazines that are starting to get their first printed versions, people choosing books over kindles, etc. With faster, more efficient ways to communicate, the joy of receiving a letter via the post, in the real mail, not online, has started to disappear over the years. But there is a new trend that will take people back to that feeling. According to the specialists from 99designs.com, the packaging design is here to save the day with an emerging postal trend.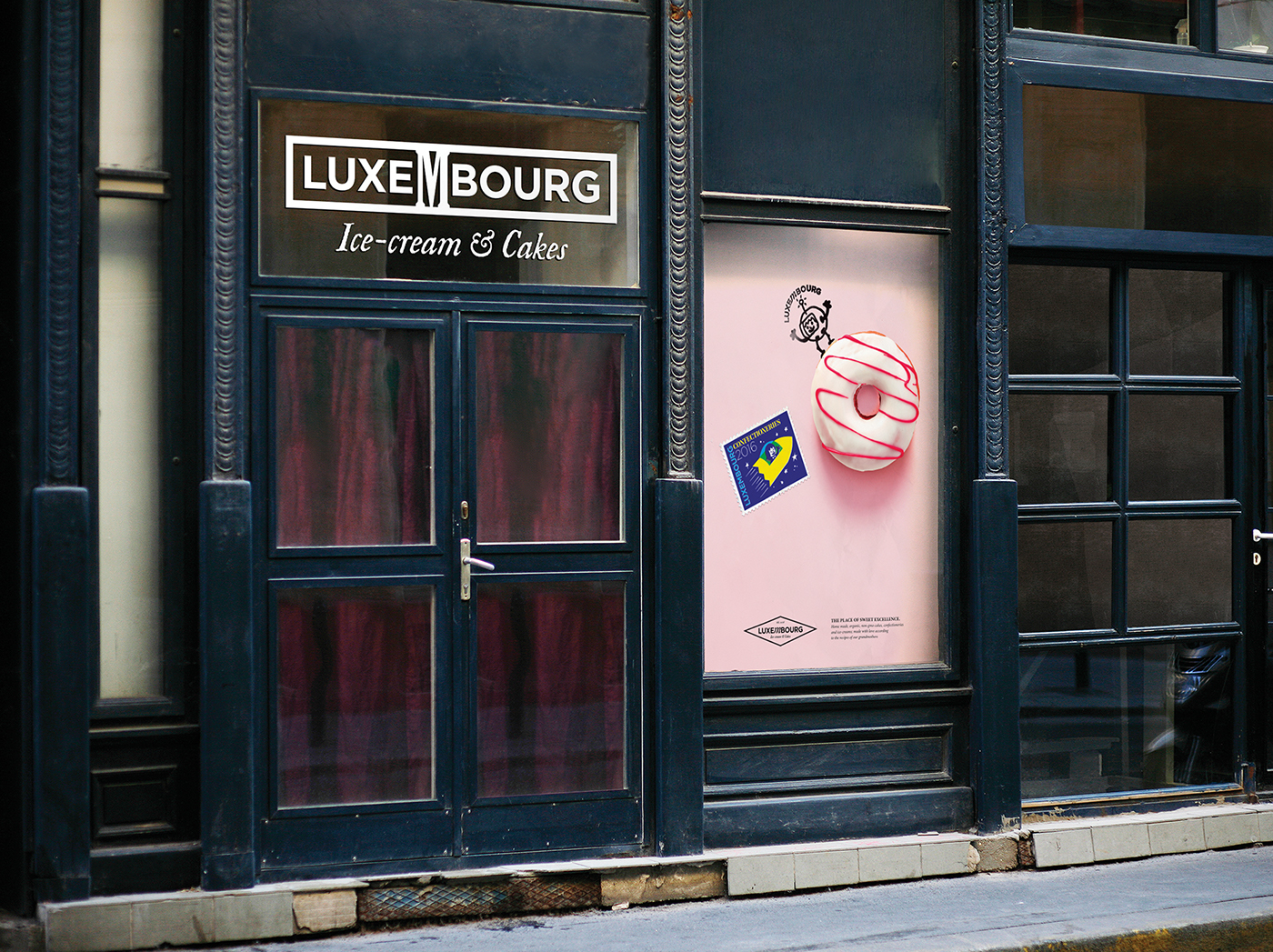 10. Going eco-friendly
The years to come will be more and more about sustainability. According to packaginginnovation.com, the new trends are about using green padding materials, with biodegradable bubble wrap and recycled paper being perfect eco-friendly alternatives. "One of the leaders in sustainable design, method sells bottles made with recycled ocean plastic. From using more renewable resources to keeping materials recyclable, more consumer brands are integrating eco-friendly design into their business. This is a trend that we hope to see grow with each year because it benefits everyone," also added and concluded Martin Lupus.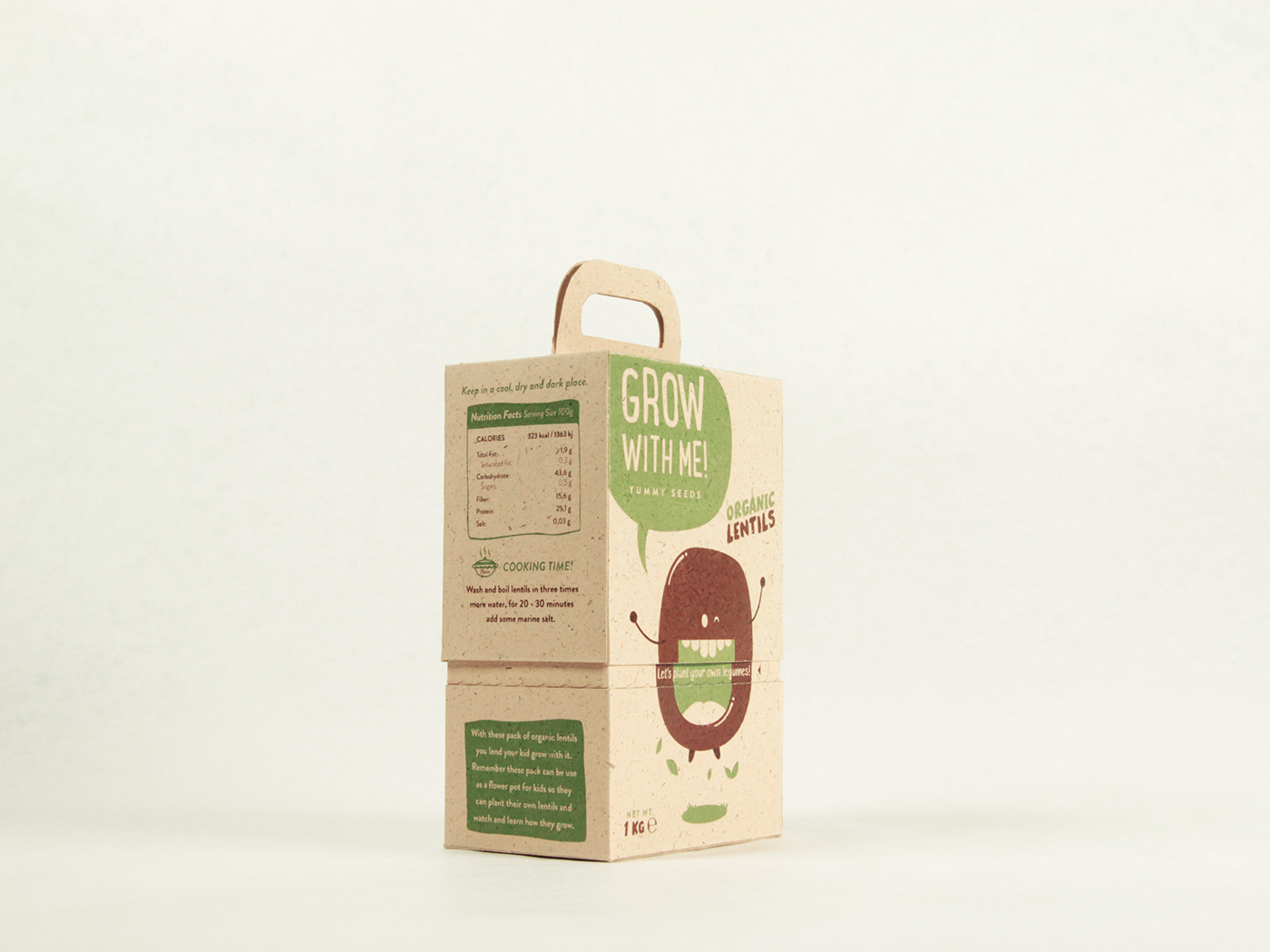 source: Grow With Me
Best Apps for Productivity in 2017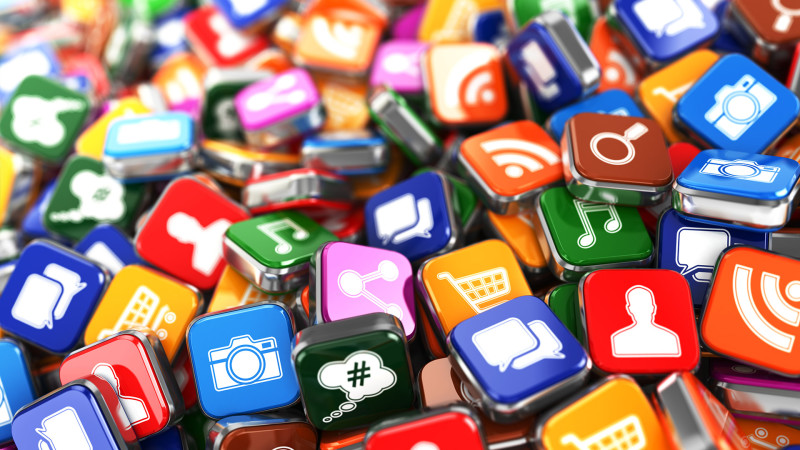 Every day we are bombarded by tons of emails, information and social media that is really hard to keep track of what is truly essential or not. Moreover, they are eating up a lot of precious work time, preventing one from being as productive as it could be and leaving the office at the right hour. Therefore, taking all this context in consideration, all the major app and technology providers are constantly looking for ways of improving the productivity and helping you have a proper balance work-life. We selected some of the most interesting and useful apps and extensions out there on the market, that are ready to help you achieve the productivity goal.
This browser extension measures your time. Being successful means being brutally honest with how you spend your time. You can set a timer for each activity you do and label what you are doing. At the end of the day, you can check how long you spend on each activity and adjust from there. It also syncs in with other productivity apps like Asana. Harvest's powerful reporting gives you real-time access to keep your projects on time and on budget. Get the insight you need to estimate future projects, and ensure your business's profitability.
Workflow lets you customize your phone so that you can skip time-wasting tasks. By telling your phone what to do when it notices a certain action, you can instruct your phone to call a taxi before your next calendar appointment, upload your latest photo to Instagram, and any other string of actions you can think of.  You can build your own workflows with a simple drag-and-drop interface. Mix & match hundreds of actions to create quick shortcuts, manage your media, share content, and much more.
Under the headline, "Remember everything", Evernote is an online collection of everything you want to remember. It's like a digital notebook that stores photos, web pages, notes, PDF files, audio clips, and to-do lists. Once you add things to your notebook they're completely searchable and can be accessed on your desktop, the Web, or your mobile device.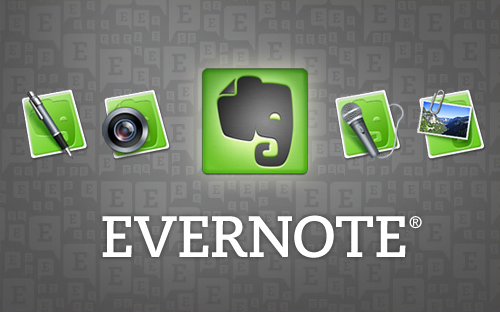 It allows you write and store documents, sketches, memos, pictures, and more online through the cloud. You can access it on your phone or on a computer. It proves to be very useful, especially when you have long materials or analysis to write, as you can start on your phone and continue the work at your laptop or desktop and vice-versa.
Moreover, Evernote makes sure the notes you've saved are easy to find. You can even search for handwritten words buried deep within your notes.
Slack is a great way for keeping in touch with your team at work without sifting through dozens of emails. You can tag users and create multiple channels for smaller team projects. The desktop client sends nonintrusive desktop notifications to the corner of your screen, allowing you to stay on top of what's happening while keeping your eyes on your work.
When you are loaded with emails and you need order, Slack solves this by being something in between email and instant message. Messages and files sent to a group of people or a single person are neatly organized and clear as day.
On top of that, there are customizations you can add to make it your own. You can have it alert your phone with the app or pull up a GIF if you're feeling funny.
If you want clear and easy, Clear is one of the simplest ways to keep track of what you need to do. You can easily drag and reorder your to-dos, and adding a new item is as easy as pulling down your list and typing it in. When you're done with a task, just swipe right.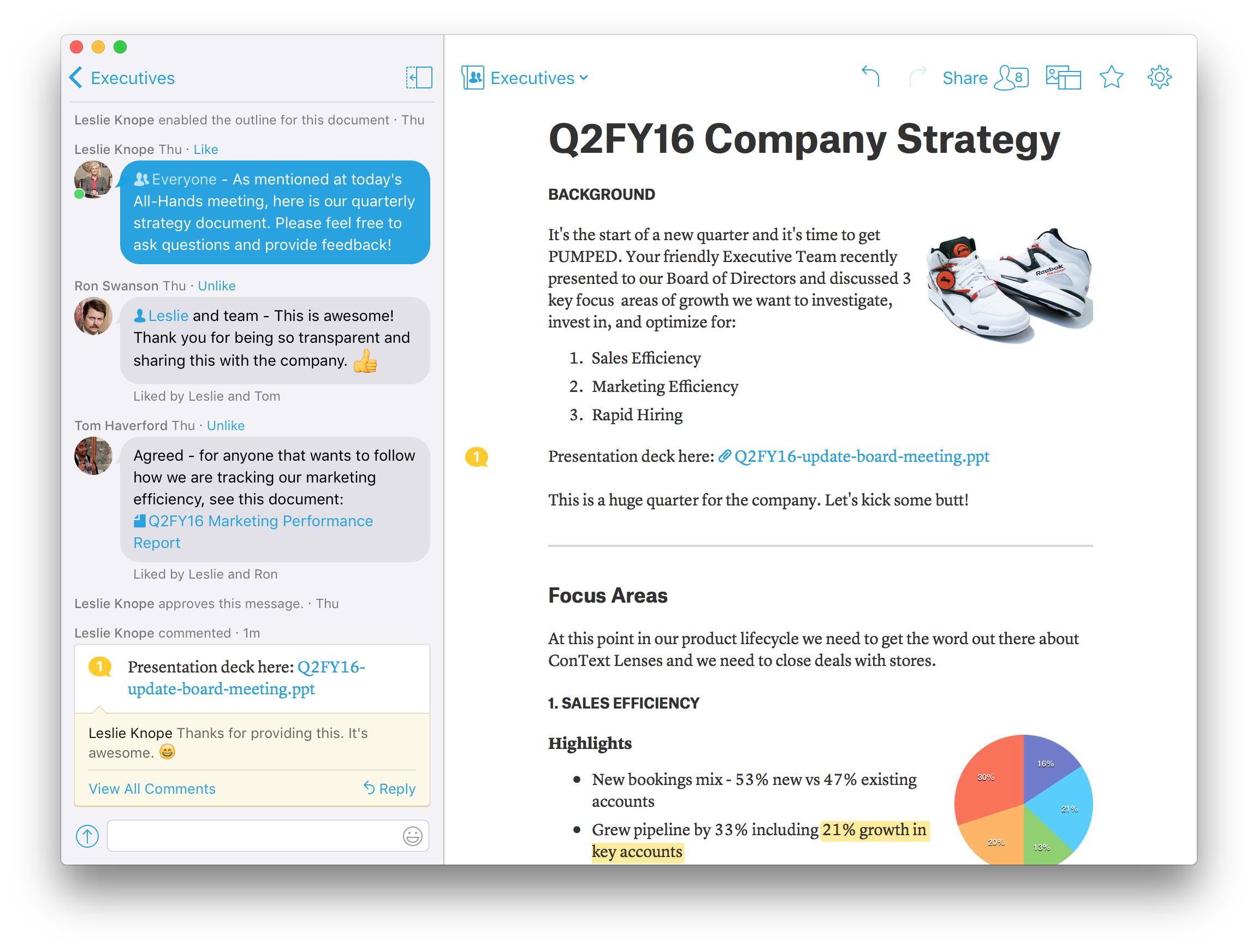 Quip is a mobile word-processing app created by Facebook's former chief technology officer, Bret Taylor. Quip infuses a messaging element into the app to make collaboration a breeze. You can use the app to create documents, spreadsheets, and presentations. You can also use the app to collaborate on blog posts, manage projects, or even share a grocery list. Photo source: https://www.g2crowd.com/products/quip/details
According to thenextweb.com, if you find yourself bombarded with cute videos all day, Pocket might help you save those for later. If you frequently come across things you'd like to read "at some time" then Pocket can, again, help you out. With the requisite bookmarks, apps and extensions, it's easy for you to save stuff to check out whenever you like.
The service lets you bookmark anything on the Web; articles are stored in your personal library, where they can be easily located and read when it's most convenient. It doesn't matter if you have a connection either, as Pocket can download (almost) everything to your device automatically.
Google Keep is a bit like Google's version of Evernote, and it's now available on both iOS and Android. You can use the app to take notes, make to-do lists, set reminders, and record audio. And one of its main qualities is the ability to organize your notes with colored labels.
Moreover, it's stored online, so if you lose your phone or computer, your information is safe. It's also accessible anywhere with Internet access. It's intentionally made to be a very simple platform with few options. Therefore, you cannot format your text in any way.
Wunderlist is an easy-to-use to-do list app. It lets you set due dates and reminders and share lists or have conversations about them. Wunderlist can help you organize your grocery list, remember movies you want to see, or collaborate to help plan a vacation.
Besides keeping you organized, Fantastical 2's best feature lets you enter simple phrases, which it will then translate into a calendar appointment automatically. Even better, the DayTicker and the event list are connected. Swipe the list and the DayTicker will update automatically. Fantastical lets you see your events and reminders like never before.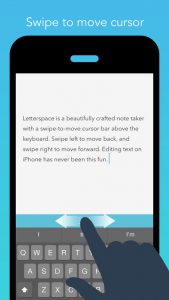 Letterspace is a note-taking app that uses hashtags to organize your thoughts. It also has a handy swipe bar that lets you move your on-screen cursor without moving your hands from the keyboard, which makes editing your notes much easier. Letterspace doesn't distract you. It provides a noise free space to jot things down. To create a To Do List start a new line with a dash and a pair of squared brackets. On iPhone & iPad, Letterspace smart symbol suggestion also presents these characters when you start a new line. To mark it as completed just tap on it like a checkbox. Use #hashtag and @mentions anywhere in your notes. Letterspace automatically indexes and groups them together. In case you forgot to tag, we also have Full-Text search that support Asian languages right from the start.
The Internet is filled with interesting, crazy and new information (and sometimes so much we cannot handle it all). Driven by curiosity and personal development, you can spend a lot of time at work reading trivial articles. If you want to fix this, Instapaper is worth looking at. With one click, you can save it to be read later. It also suggests topics and articles through what you have saved already. Instapaper syncs the articles and videos you save so that they're waiting for you on all your devices –  iPhone,  iPad,  Android, or Kindle. You can read anything you save, anywhere and anytime you want, even offline.
This extension does what it says as well: it tracks your time. What's great about this one is that it logs every different website you go to. You can check it out in detail to see where you spend your time. You will be surprised sometimes how much a certain website sucks your time and adjust.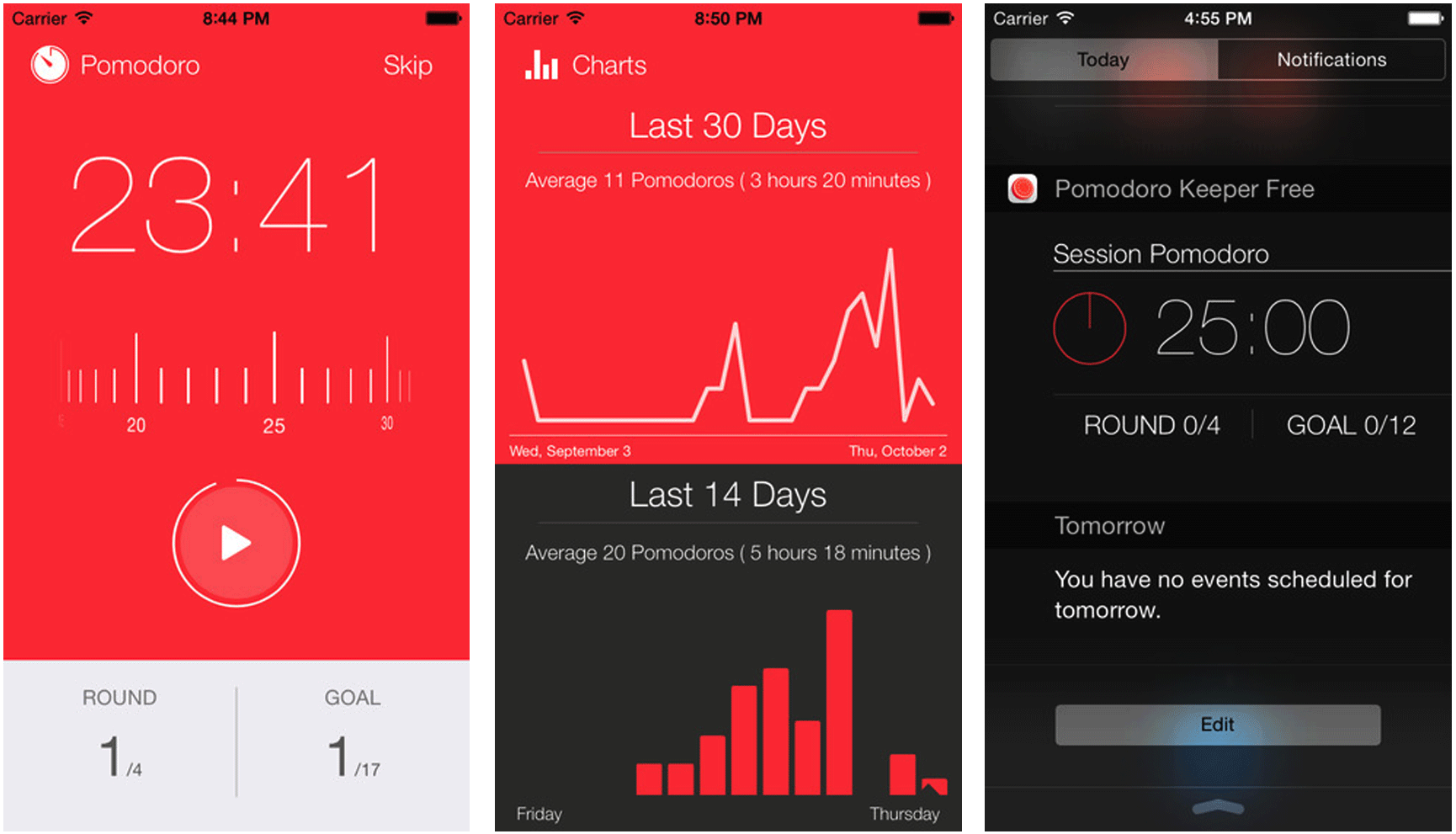 One of the most well-known productivity techniques is the Pomodoro Technique. Basically, you focus on just one task for 25 minutes and then take a forced 5-minute break. This extension is just like the Forest App but there is no animated tree involved (just a timer). Photo source: https://zapier.com/blog/best-pomodoro-apps/
Have you ever wondered if you are being less productive than you could be because you don't know much about the science of sleep or sleep cycles? If not, it's true. This site solves this problem for you by letting you know when you should sleep and wake up based on your personalized sleep cycles. If you don't like this one, there are plenty of other tools and apps that do similar tasks. Sleep is a crucial, but often overlooked part of everyone's life. Having the right amount can literally double your productivity.