Top 7 biggest tech acquisitions of 2020
(UPDATED) What are the top 7 biggest tech acquisitions of 2020?
1. Oracle to take a 12.5% stake in TikTok Global
TikTok became available in the American market in 2018 after merging with another social media service Musical.ly.
Within two years, TikTok US has increased its monthly user base to 100 million, up 800%.
According to SensorTower, TikTok was the most downloaded app in 2020 with 82 million downloads globally.
Was TikTok's global surge in downloads a result of Donald Trump's threat to ban the US operation of the Chinese social app? Most likely.
Was the pandemic lockdown a contributing factor? Definitely yes.
In September 2020, Oracle announced that it was chosen to become TikTok's secure cloud technology provider.
The company's press release also reports that the decision was heavily influenced by Zoom moving a large portion of its video conferencing capacity to the Oracle Public Cloud.
According to Oracle Chief Technology Officer Larry Ellison, the cloud infrastructure is "much faster, more reliable, and more secure than the first generation technology currently offered by all the other major cloud providers".
As part of the agreement, Oracle will become a minority investor in TikTok Global with a 12.5% stake in the company. How much is that worth? Well, it was estimated that ByteDance, TikTok's parent company is valued at $100 billion and that TikTok's US operations account for about 40% of ByteDance's valuation, or about $40 billion. This means that Oracle's stake is worth $5 billion.
However, the agreement is yet to be finalized with the American government granting TikTok an extension of its forced sale deadline until December 4, 2020.
2. Salesforce to acquire Slack for $27.7 billion
Salesforce is the top CRM providers worldwide empowering companies of every size and industry to digitally transform and create a 360° view of their customers. It is one of the fastest-growing enterprise software companies of all time with over 150,000 customers ranging from small businesses to FORTUNE 500 companies.
In 2019, Salesforce increased its market share to 18% followed at a distance by its competitors SAP, Oracle, Microsoft and Adobe.
In December 2020, Salesforce announced that the CRM provider has entered into a definitive agreement with Slack under which it will acquire the latter for $27.7 billion. Slack is one of the most innovative enterprise communications platforms. You can learn more about its growth story here.
This is a match made in heaven. Together, Salesforce and Slack will shape the future of enterprise software and transform the way everyone works in the all-digital, work-from-anywhere world. I'm thrilled to welcome Slack to the Salesforce Ohana once the transaction closes.

Marc Benioff, Salesforce CEO
3. Microsoft to acquire games developer ZeniMax Media for $7.5 billion in cash
Two years ago, Microsoft acquired seven games developer studios.
Today the market has grown to 3 billion gamers from 1 billion in 2018 and is expected to bring more than $200 billion in annual revenue in 2021. The gaming industry is one of the fastest-growing industries worldwide registering a CAGR of 9.17% over the forecast period (2020 – 2025).
With the acquisition of ZeniMax Media, the parent company of Bethesda Softworks, one of the largest, privately-held game developers and publishers in the world, Microsoft consolidates its foothold in the gaming industry. Under the terms of the agreement, Microsoft will acquire ZeniMax Media for $7.5 billion in cash.
ZeniMax Media are the creators of critically acclaimed and best-selling gaming franchises including The Elder Scrolls and Fallout among many others.
With unique investments in content, community, and the cloud, Microsoft's gaming strategy differs from others by empowering people to play the games they want, with the people they want, anywhere they want. Games are the primary growth engine in gaming, and games are fueling new cloud-gaming services like Xbox Game Pass, which has reached a new milestone of over 15 million subscribers. With the addition of Bethesda, Microsoft will grow from 15 to 23 creative studio teams and will be adding Bethesda's iconic franchises to Xbox Game Pass.

Microsoft Press Release
4. Adobe acquires work management platform for marketers Workfront for $1.5 billion
In November 2020, Adobe announced it has entered into a definitive agreement to bring Workfront, the leading work management platform for marketers, to Adobe Experience Cloud for $1.5 billion.
Founded thirty-eight years ago, Adobe continues to deliver award-winning software and technologies that have redefined and advanced business and personal communications.
Adobe Illustrator® and Adobe Photoshop® are groundbreaking software used by more than 90% of creative professionals worldwide for digital image editing and creation.
Adobe Experience Cloud is the most comprehensive solution for content and commerce, customer journey management, and customer data and insights, all built on an open platform, enabling businesses of every size across every industry to deliver exceptional customer experiences at scale.
With the acquisition of Workfront, Adobe makes the digital transformation easier for its customers.
Workfront has more than 3,000 customers and 1 million users and deep leadership in orchestrating marketing workflows. Workfront's platform is agile and uniquely architected for the enterprise, with extensive integration capabilities that can be easily configured to meet the varied needs of companies of all sizes.
Together, Adobe and Workfront will provide our customers access to a single system to support planning, collaboration and governance that will unlock organizational productivity. Now marketers will not only create and deliver the best customer experiences but also efficiently and seamlessly manage the workflows that bring these experiences to life.

Adobe press release
5. Amazon to acquire self-driving tech startup Zoox for an estimated $1.2 billion
With a market capitalization of $1.7 trillion, Amazon is the third most valuable tech company in the world following Microsoft and Apple.
In June 2020, Amazon has signed an agreement to acquire Zoox, a self-driving tech startup designing autonomous technology from the ground up with passengers front-of-mind.
Amazon's support will get the startup closer to its mission of delivering safe, clean, and enjoyable transportation to the world. Founded in 2014, Zoox's tightly integrated features are designed to provide a revolutionary passenger experience. The startup has raised $955 million in venture-backed funding.
Amazon hasn't disclosed the purchasing value of the agreement but industry experts estimate it is a little over $1.2 billion.
What are Amazon's plans for Zoox?
Some experts say the company will more likely integrate Zoox's technology into its distribution network than building a fleet of autonomous driving cars. This might happen in the near future.
For now, Zoox is sticking with its mission and is preparing to unveil its ride-hailing vehicle on December 14 under the tagline The future is for riders, not drivers.
6. Facebook to acquire customer-focused platform Kustomer for a reported $1 billion
In November 2020, Facebook announced that it reached an agreement to acquire Kustomer, a top-rated CRM that enables businesses to effectively manage all customer interactions across channels.
The goal of the platform with over 2.7 billion monthly active users is "to give businesses access to best-in-class tools that deliver excellent service and support."
Facebook reports that more than 175 million people contact businesses via WhatsApp every day. Kustomer helps businesses optimize their time and quality of interactions with customers by bringing customer conversations from various channels together into a single-screen view.
Facebook plans to support Kustomer's operations by providing the resources it needs to scale its business, improve and innovate its product offering, and delight its customers. That way, more people will benefit from customer service that is faster, richer and available whenever and however they need it, whether it's phone, email, web chat or messaging.

Facebook press release
7. Cisco to acquire audience interaction company Slido for an undisclosed amount
In December 2020, Cisco announced its intent to acquire privately-held Slido, a technology company that provides a best-in-class audience interaction platform.
Cisco's acquisition is a strategical business decision which allows the company to stay competitive with Zoom. Webex, Cisco's video conferencing solution had 600 million participants in October 2020.
Slido developed a Q&A and polling platform designed to bridge the gap between speakers and their audiences. The company's platform provides for its 7 million participants monthly a web-based application to actively engage people and get real-time feedback before, during, and after events and meetings.
With Slido's technology, Cisco will integrate even more insights into the Webex platform to help everyone work smarter and be more productive whenever and wherever work happens. We are going to enable companies around the world that have traditionally relied on in-person events like townhalls, all-hands meetings and major user conferences to make sure everyone is engaged and included.

Cisco press release
The most recent of Google's top 10 acquisitions
Fitbit announced it has entered into a definitive agreement to be acquired by Google.
Find out more about Google's top 10 acquisitions in the video below!
Biggest Tech Acquisitions of 2018: Apple, Amazon, Google, Microsoft
The future in technology is built by these top 4 tech giants: Apple, Amazon, Google and Microsoft. These companies take leaps by developing new products and maintaining a steady flow of innovations.
But when they wish to meet business goals which are time and resource consuming, they sometimes turn to acquisitions.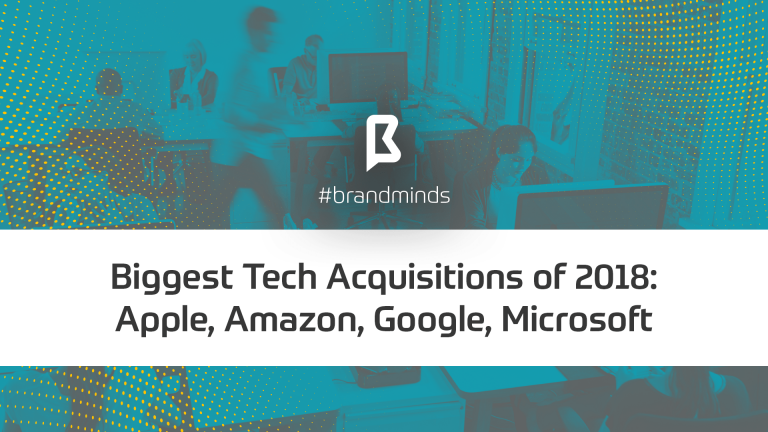 Here are the acquisitions made by these tech giants in 2018: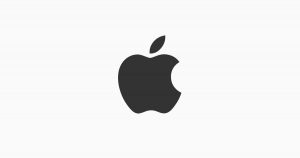 Apple current market valuation – $915b
Platoon is a talent-scouting and development startup that provides artist development as well as video, audio, and marketing services to singers and bands. Apple acquired Platoon in 2018 in a move to integrate even further with the music industry.
Another company that Apple acquired in 2018 is Silk Labs, a machine learning company using on-device AI to empower businesses to build the next generation of intelligent connected devices. This acquisition shows Apple's desire to double down and speed up development of the next-generation AI-powered Apple products.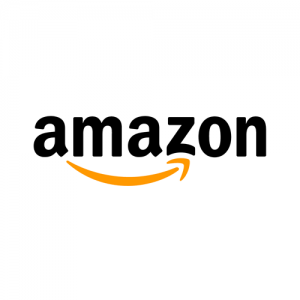 Amazon's current market valuation – $828B.
In 2018, Amazon acquired Ring, an outdoor home security which provides homeowners with smart doorbells with cameras for $1B. Following this acquisition, Amazon sets a foothold on the smart-home market, extending its services at the same time.
PillPack is a full-service pharmacy that sorts medication by the dose and delivers it to your door. Sources said Walmart was in the process of acquiring PillPack when Amazon swooped in and sealed the deal for $1B. Is it a surprising move? Not to Amazon! The platform's combination of pharmacy experience and technology focus is what attracted Amazon to close the deal. With this acquisition Amazon sets out to enter the healthcare industry.

Google's current market valuation – $781B.
Education is one of Google's areas of focus alongside economic opportunity, inclusion, crisis response and impact challenge. Google Classroom is Google's tool to make teaching more productive, collaborative and meaningful. The acquisition of Workbench, a comprehensive platform for project-based learning supports Google Classroom to achieve its goals.
It is estimated that India operates around 14,000 trains on a daily basis across the country so the popularity of the Where is my train app is understandable. The app helps commuters track arrivals and departures as well as buying seats and it claims 10 million registered users. Google acquired Where is my train in 2018 after the big tech company reportedly beat Xiaomi, the Chinese smartphone maker to the deal. This acquisition shows Google's interest in tapping the million user market in India.
DORA, short for DevOps Research and Assessment is a digital transformation research company which collaborated with Google Cloud in the past. The acquisition of DORA was a natural step for Google towards achieving its purpose of catering to the developer and the open community.
We are excited for DORA to join the Google Cloud family to help strengthen our data-driven approach to understanding what makes developers and operators productive and happy.

Melody Meckfessel, vice president of engineering for Google Cloud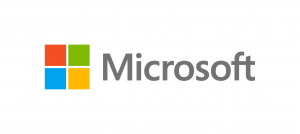 Microsoft's current market valuation – $771B.
We're mobilizing to pursue our extensive opportunity in a 100-plus-billion gaming market. This means broadening our approach to how we think about gaming end to end, about starting with games and how they're creating and distributed, and how they're played and viewed.

Satya Nadella
Beginning with 2017, the gaming industry became world's favorite form of entertainment with $116B revenues, jumping ahead more traditional mediums such as TV, movies and music.
In 2018 Microsoft acquired a total of 15 companies, out of which seven were games developer studios: PlayFab, Compulsion Games, Undead Labs, Playground Games, Ninja Theory, inXile Entertainment and Obsidian Entertainment. We can definitely say that Microsoft's interests are turning towards the gaming industry.
In a post published in January 2018 on the Microsoft blog, Kareem Choudhry – Corporate Vice President, Gaming Cloud expressed Microsoft's goal of becoming the top player in the gaming industry:
Over 1 billion people play games, fueling a thriving industry whose ecosystem is evolving and growing quickly. Many industries are moving to the intelligent cloud, and this trend is true in gaming as well. This means an increasing number of developers are looking to create connected games for mobile, PC and console devices that have a significant emphasis on post-launch operations.
Given the acquisitions that followed throughout 2018, I'd say the giant tech company is on the right track.
Here are other directions Microsoft is developing through its latest acquisitions: conversational AI, video-based social learning, machine learning for autonomous systems and bot development.
Join the Conversation
We'd love to hear what you have to say.
Get in touch with us on Facebook and Twitter.
---
sources: 
appleinsider.com/articles/18/12/07/apple-acquires-ar-startup-platoon-with-focus-on-new-emerging-artists
crn.com/news/cloud/google-cloud-buys-digital-transformation-devops-research-firm-dora
gamecrate.com/statistically-video-games-are-now-most-popular-and-profitable-form-entertainment/20087
techcrunch.com/2018/12/10/where-is-my-train-its-with-google-now/
techcrunch.com/2018/11/21/apple-silk-labs/
The Story of Instagram and WhatsApp Founders Leaving their Facebook-acquired companies
The Story of Instagram's Acquisition
In 2010, co-founders Mark Krieger and Kevin Systrom had a great product – Instagram, where users can tell their stories through photographs.
One week following its launch, Instagram had 100.000 users and by December, 1 million users.
There's no doubt – Instagram was the rising star of photo-focused apps. The powerful duo worked by having complimenting skills: Krieger loved working on the technology and engineering side while Systrom focused on product and design.
They knew the future of Instagram was bright so they came to the conclusion they needed help to grow faster. Facebook monitored Instagram's meteoric rise closely with good reason – its position as the heavyweight of the social media landscape was coming under threat. When the occasion presented itself, Facebook didn't miss it and moved to acquire Instagram in 2012 for $1 billion. Both parties were happy with this acquisition: on one hand Facebook's almost endless resources and infrastructure provided the fuel for Instagram's growth and on the other hand Facebook managed to eliminate a powerful competitor while gaining access to a large pool of young users.
"The whole idea of joining Facebook was that we could scale way more quickly than we would independently. So if that is your goal, I think we've fulfilled that, and then some. If your goal, on the other hand, is not to have a billion dollars but two, or three, or four or whatever, well, good luck spending it. That's not what makes you happy in life."

Kevin Systrom via cnbc.com
Both Krieger and Systrom anticipated that, by selling to Facebook, they could let Facebook handle the tedious organisational aspect of running a company, while they focused on the parts they loved most: building products.
The acquisition took Instagram to a whole new level. The number of employees grew from 13 to 550+. They launched new products and features and monetized the platform by running ads. Instagram soon generated close to $8 billion in ad revenue. The Stories feature launched and it quickly overtook Snapchat Stories, which served as inspiration.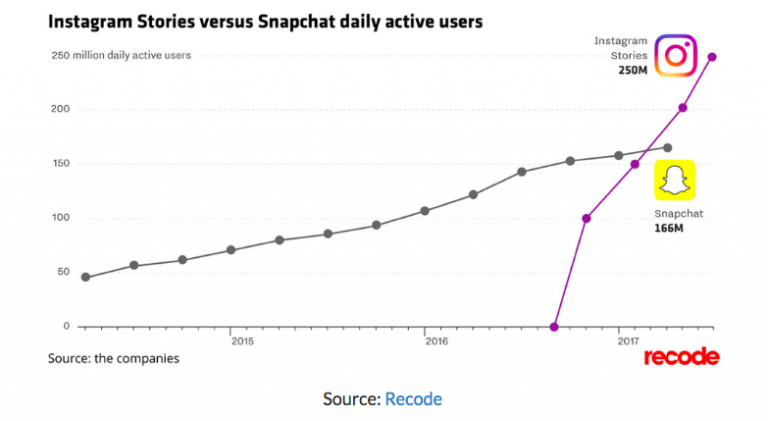 In early 2018, Instagram announced it had finally hit a billion users worldwide.
At the time of the acquisition, Zuckerberg declared his commitment to running Instagram independently.
Recently, Krieger and Systrom became reportedly frustrated due to their creative independence being eroded. Although neither one of them went public on this subject, they may have felt Facebook was changing its story: instead of sustaining Instagram's growth, the social media giant was apparently using the platform to slingshot itself.
Sources estimated Instagram was currently worth more than $100 billion and on track to provide Facebook with $20 billion in revenue by 2020. The decision of both co-founders to leave the Facebook-owned Instagram was not surprising to those looking beyond Mark Zuckerberg's lofty words of "connecting the world".
What does the future of Instagram look like?
Analysts are saying that Instagram's bright star is growing colder – the platform is most likely to become "a product division of Facebook than an independent operation".
The story of WhatsApp's Acquisition
Jan Koum started WhatsApp in 2009 after he got annoyed that he was missing calls when he went to the gym. Later that year, he brought Brian Acton to the company. By 2013, WhatsApp had 200 million active users and a staff of 50. The company's values are heavily influenced by Koum's childhood life in communist Ukraine:
• Protection of users' privacy through powerful encryption codes (the company doesn't have any information on its users);
• It doesn't read users' messages;
• No adds-policy.
Because WhatsApp doesn't store its users personal information, delivering adds to them is out of the equation. In our world, the world of giant tech companies (Google, Facebook) which store users' personal data and sell it to advertisers, such company values seem quite odd and very out of place, while terribly correct.
In 2014, WhatsApp was acquired by Facebook for $22 billion.
When the Facebook acquisition of WhatsApp was announced, many questioned the company's capacity to remain true to its values. Here is Jan's statement on the WhatsApp blog:
"Respect for your privacy is coded into our DNA, and we built WhatsApp around the goal of knowing as little about you as possible: You don't have to give us your name and we don't ask for your email address. We don't know your birthday. We don't know your home address. We don't know where you work. We don't know your likes, what you search for on the internet or collect your GPS location. None of that data has ever been collected and stored by WhatsApp, and we really have no plans to change that."
As with Instagram, Facebook promised WhatsApp autonomy and independent operation. Both Brian Acton and Jan Koum were assured that WhatsApp wouldn't have to run ads or merge its data with Facebook's earlier than 5 years. But apparently Facebook changed its mind.
In its interview with Forbes, Acton claims Facebook used him to get the acquisition past EU regulators by convincing them that a data merge between the two platforms would not take place. Two years later, Facebook managed to connect WhatsApp and Facebook user accounts, which lead to a $122Million fine from the EU.
In 2017, WhatsApp announced the introduction of new features to make it easier for people to communicate with businesses over the messaging platform: the WhatsApp Business App. Business looking to use the new app will pay to send certain messages.
Talking about Mark Zuckerberg and Sheryl Sandberg, Acton said:
"They are businesspeople, they are good businesspeople. They just represent a set of business practices, principles and ethics, and policies that I don't necessarily agree with".

Brian Acton via forbes.com
Brian Acton left in late 2017 due to disagreements over how to monetize their anti-ads messaging platform. Acton said he tried to push Facebook towards an alternative, less privacy hostile business model for WhatsApp. He suggested a metered-user model in which the user is charged a tenth of a penny after a certain large number of free messages were used up. Mark Zuckerberg and Sheryl Sandberg were dissatisfied with his proposal. Consequently, Brian chose to leave the Facebook-owned messaging platform, losing $850 billion. He later joined the #deleteFacebook movement. The same year, WhatsApp reached 1 billion users daily.
"Dealing with ads is depressing . . . You don't make anyone's life better by making advertisements work better."

Jan Koum
In early 2018, a few months after Acton had left, Jan Koum followed suit and left WhatsApp over conflicts related to WhatsApp user data privacy and weakened encryption.
Media reported on Jan being angry with Facebook executives who pushed for a weakening of WhatsApp's end-to-end encryption in order to facilitate its new WhatsApp For Business program. The next step in the foreseeable future is Facebook allowing businesses to upload lists of phone numbers to target people with ads.
Opinions in the media
Time says the Instagram founders leaving the platform is really bad news for Facebook, The Verge casts a gloomy conclusion saying this is the end of Instagram as we know it while The Guardian names Zuckerberg the Supreme Leader and suggests the co-founders' have left because they must have realised that what they were trying to do within the Facebook empire was doomed to fail.
Conclusion
Some may say Facebook looks a lot like the witch in Hansel and Gretel who was luring the children lost in the woods with candy and chocolate to enter her house, kill them and eat them.
Maybe it's good to remind the supporters of this opinion that the founders are not the children in Grimm's tale.