8 Millennials running billion-worth tech companies (part 2)
Check Part 1 of this article featuring Millennials Adam D'Angelo (QUORA), Alexis Ohanian (REDDIT), Melanie Perkins (CANVA) and Ben Silbermann (PINTEREST).
8 MILLENNIALS RUNNING BILLION-WORTH TECH COMPANIES (PART 2)
5.
BRIAN CHESKY

, co-founder and CEO of AIRBNB ($26 billion)

Brian Chesky (38) is the co-founder and CEO of Airbnb, the vacation rental online marketplace which disrupted the hospitality industry.

Brian launched Airbnb in 2008 after he and his co-founders rented out an air mattress in their living room, effectively turning their apartment into a bed and breakfast, to offset the high cost of rent in San Francisco. Airbnb is a shortened version of its original name, AirBedandBreakfast.com.

The company's mission is to connect people to unique travel experiences and create a world where anyone can belong anywhere.
AIRBNB STATISTICS
Airbnb offers over 7 million accommodations and 50,000 handcrafted activities, all powered by local hosts. The platform helps them monetize their spaces while keeping the financial benefits of tourism in their own communities.
The company brands itself as an economic empowerment engine promoting people-to-people connection, community and trust around the world.
The top 3 countries where Airbnb has had the highest impact are the U.S. ($33.8 billion), France ($10.8 billion) and Spain ($6.9 billion).
2 million people are staying on Airbnb per night on average with an all-time number of arrivals of 750 million people.
There are 2.9 million hosts in 200 countries worldwide. The company charges a 3% service fee for hosts and provides a $1 million protection for property damage.
With the travel and hospitality industry affected globally by the coronavirus pandemic, the company was forced to take drastic measures to adapt to new circumstances.
In a letter sent to Airbnb employees in May, Brian announced that he had to reduce the size of the Airbnb workforce.
The company laid off nearly 1,900 employees (around 25% of its staff) and expects its 2020 revenue to amount to half of last year's, around $2.4 billion.
Brian also mentioned that in order to survive, the company will need to evolve accordingly and reduce the investments in activities that do not directly support the core of its host community.
"We don't know exactly when travel will return and when travel does return, it will look different", says Brian.
As of 2020, the company's valuation has dropped to $26 billion.
6.
EVAN SPIEGEL

, co-founder & CEO of SNAPCHAT ($32.29 billion)

Evan Spiegel (30) is the co-founder and CEO of Snapchat. He launched the famous app while still a student at Stanford University. Although his idea of an app with ephemeral messaging was ridiculed by his classmates, the undeterred Evan launched it in 2011. It was a prototype named Picaboo and within just one year, the app now renamed Snapchat had reached 1 million daily active users.

Facebook and Google offered Evan and his co-founders $3 billion and $30 billion respectively to buy Snapchat. Both offers were turned down. Snapchat is now valued at $32 billion.
SNAPCHAT STATISTICS
In 2019, Snapchat had almost 300 million monthly active users and generated $1.7 billion in revenue.
A pioneer of augmented reality, Snapchat brought the technology to the mainstream via its filters.
Over 75% of Snapchat users engage with augmented reality daily (180 million in Q2 2020).
The average Snapchat user sends 34 snaps per day and spends 30 minutes daily using the app.
Snapchat daily video views average of 10 billion.
In 2018, the company launched Snapchat Originals featuring original video content shot for Snapchat specifically by established names such as NBCUniversal, the BBC, ABC and Metro-Goldwyn-Mayer. For 2019, Buzzfeed was announced as one of the app's contributors. Seeing that one of the Snapchat Originals series, Endless Summer counted 28 million viewers over its first series, it looks like this type of offering was a good business decision.
Last year also saw the launch of a new product, Snap Games – a new social gaming platform within the app. According to Phil Larsen, head of Snap Games, more than 100 million Snapchatters have played Snap Games globally.
7.
PATRICK COLLISON

, the co-founder of STRIPE ($36 billion)

Stripe is a technology company that builds economic infrastructure for the internet. Businesses of every size use the company's software to accept payments and manage their businesses online. The company's mission is to increase the GDP of the internet.

Patrick Collison co-founded Stripe in 2010 after receiving investment from PayPal co-founder Peter Thiel, Elon Musk and Sequoia Capital whose investments focus mainly on tech companies.

Stripe provides solutions for eCommerce & retail, B2B platforms, software as a service, B2C marketplaces, non-profits & fundraising.
STRIPE STATISTICS
Millions of companies in over 120 countries use Stripe to start, run, and scale their businesses. Some of the largest companies in the world are Stripe users such as Google, Amazon, Uber, Microsoft, Nasdaq, National Geographic, Facebook, Zoom and Salesforce.
More than 100,000 platforms are using Stripe Billing to manage subscriptions and invoices and 90% of US adults have bought from businesses using Stripe.
Stripe-hosted invoices get paid 3x faster than typical invoices.
Businesses recover 41% of failed payments through Stripe's automatic card updates and smart retries.
For businesses that launched on Stripe since the onset of the coronavirus in the US, Stripe will shortly have facilitated $1 billion in sales.
The company's machine learning models train on billions of data points and help increase revenue across conversion, fraud, revenue recovery, and more.
The company is also running an environmental program aiming to mitigate the threat of climate change. To this goal, Stripe announced this year its Negative Emissions Commitment by pledging at least $1 million per year to pay, at any price, for the direct removal of carbon dioxide from the atmosphere.
With $2 billion on its balance sheet, Stripe is valued at $36 billion.
8.
DREW HOUSTON

, co-founder & CEO of DROPBOX ($8 billion)

Drew Houston (37) co-founded Dropbox in 2007 while a student at MIT when he got fed up with the lack of seamless storage solutions for his files.

Although Dropbox began thirteen years ago as a file hosting service provider, today the platform defines itself as a smart workspace which limits the noise and complexity so users can focus on work that matters.

Dropbox brings together content, tools, people and conversations in a single digital environment.

Also, the platform uses Artificial Intelligence to suggest users which content they will need for a meeting or which content might be relevant to a document they are editing. Users are provided with a new way to work where they can stay focused and manage their team efficiently.

What type of work do Dropbox users accomplish with the platform's tools? One example is filmmaking.

I was surprised to learn that Dropbox was an essential part of the process of shooting Motherless Brooklyn, the latest film of Oscar-nominated Edward Norton.

Dropbox also helped the creators of McMillions, the HBO documentary series, with organizing a massive amount of information that piled up over years of investigation.

And partnered with visual artist Solange, Beyonce's sister to bring to life Bridge-s, her curated, programmed, and creative-directed series of performances, films, and artist talks.

The company's business model is based on free, individual and business subscription plans. Dropbox offers two plans: for freelancers and solo workers and for business and teams of any size.

For 2019 the company generated $1.7 billion in revenue.
DROPBOX STATISTICS
More than 450,000 teams use Dropbox Business;
4.5+ billion connections have been created through Dropbox shared folders and links;
56% of the Fortune 500 have at least one Dropbox team within their organisation;
Over 600 million registered users;
14.6 million paying users;
80% of subscribers use Dropbox for work.
Join the Conversation
We'd love to hear what you have to say.
Get in touch with us on our LinkedIn Group, Facebook Group or Twitter.
Blue Ocean Strategy: How to differentiate from the competition
On this page:
Definition of Blue Ocean Strategy – What is Blue Ocean Strategy? Who created Blue Ocean Strategy?
Differences between Red Ocean Strategy and Blue Ocean Strategy in business and leadership
3 brands that have differentiated from the competition, generated new demand and found a new market
How to create a blue ocean for your company through value innovation
What is Blue Ocean Strategy?
Every entrepreneur wishes their company was the only one in the market. No competitors, having all the customers to themselves. King of the castle ruling unchallenged over the country.
While for most entrepreneurs this dream is only wishful thinking, for some it's reality.
These entrepreneurs (and we will talk about three of them later) have led their companies to great success by applying Blue Ocean Strategy.
Blue ocean strategy is the simultaneous pursuit of differentiation and low cost to open up a new market space and create new demand. It is about creating and capturing uncontested market space, thereby making the competition irrelevant. It is based on the view that market boundaries and industry structure are not a given and can be reconstructed by the actions and beliefs of industry players.
Who created the Blue Ocean Strategy?
Blue Ocean Strategy was created by management thinkers Chan Kim and Renée Mauborgne.
Both Chan and Renée are Professors of Strategy at INSEAD, one of the world's top business schools, and co-directors of the INSEAD Blue Ocean Strategy Institute in France.
In 2005, Chan Kim and Renée Mauborgne co-authored Blue Ocean Strategy. The book shows the results of a study of 150 strategic moves spanning more than 100 years across 30 industries. The authors' conclusion is that lasting success comes not from battling competitors but from creating blue oceans – untapped new market spaces ripe for growth.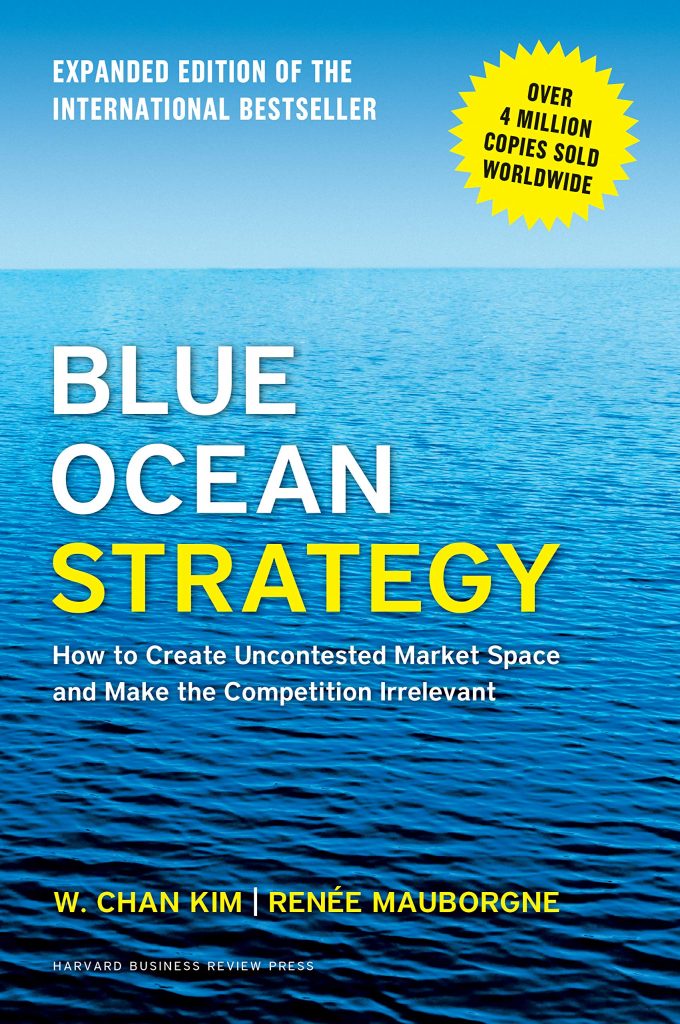 Since its first edition, Blue Ocean Strategy has been revised and expanded in 2015 and has become a bestseller with over 4 million copies sold in 46 languages.
The book is recognized as one of the most iconic and impactful strategy books ever written and is the recipient of numerous distinguished awards. Both authors received widespread recognition for their work in the form of various awards and distinctions.
Apart from their careers in academia, Chan and Renée have been employed in an advisory capacity by prestigious organizations. Kim is an advisory member for the European Union and serves as an advisor to several countries and Renée served on President Barack Obama's Board of Advisors on Historically Black Colleges and Universities (HBCUs) for the president's two terms.
In 2019, Thinkers50 named Chan Kim and Renée Mauborgne the #1 Business Thinkers in the World.

How to grow your business with 1 strategy framework
Differences between Red Ocean Strategy and Blue Ocean in business and leadership
In Blue Ocean Strategy, red ocean is a metaphor for the known market space encompassing all the industries in existence today. Remember the documentaries that showed the audience what happens when a large number of sharks feed at the same time, in the same place? It's called a shark feeding frenzy event and it turns the ocean water red with the blood of the fish the sharks are feeding on.
Blue ocean is the metaphor for the unknown market space and all the industries that are not in existence today. It's the unchartered land that courageous explorers venture in to discover unimaginable riches and opportunities.
Red ocean strategy is about competition
Blue ocean strategy is about creating new demand
Red ocean strategy is a market-competing strategy where profit and growth decline while competition increases
Blue ocean strategy is taking the opportunity to grow rapidly and profitably
Red ocean strategy competes over customers
Blue ocean strategy turn non-customers into customers
Conventional leadership focuses on the cognitive and behavioural skills of leaders
Blue ocean leadership focuses on actions and activities tied to market realities
Conventional leadership has resulted in 87% global average in employee disengagement
Blue ocean leadership's goal is to unlock unrealized talent and energy in the organization fast and at low cost

3 Brands that have differentiated from the competition, generated new demand and found a new market
Cirque du Soleil
Founded in 1984 in Canada, Cirque du Soleil is an entertainment company and the largest contemporary circus producer in the world.
There's circus in the company name but the performances are not your usual live animal children focused shows.
By taking out live animal acts from their performances and focusing on creating storyline-based shows with live music and amazing acrobats, Cirque du Soleil has created a new market space and new demand: circus entertainment for adults.
More than 180 million spectators have seen a Cirque du Soleil production since 1984 worldwide. The company generates annual revenue of approximately $1 billion and its creations have received numerous prizes and distinctions, including seven Primetime Emmy Awards and a star on the Hollywood Walk of Fame.
Uber & Airbnb
Both Uber and Airbnb are great examples of the blue ocean strategy.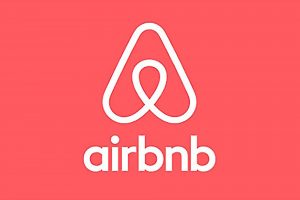 Airbnb launched in 2008, Uber – one year later.
Although operating in the hospitality industry, Airbnb doesn't own any property, it manages an online travel platform. By allowing homeowners to monetize their spaces and travellers to book them instead of hotels, Airbnb has found a new market, a big one.
The numbers speak for themselves: 7+ million listings worldwide, 2+ million people staying on Airbnb per night on average, 750+ million all-time Airbnb guest arrivals. In Q1 of 2019, Airbnb registered $9.4 billion in the total booking value.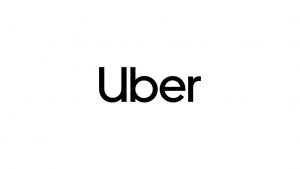 Although Uber is operating in the people moving industry, it is not a taxi company, but a ridesharing service.
The latest stats say there are 21 million trips a day taken by 111 million monthly active platform consumers located in over 900 cities across 69 countries. In 2019, the company registered $65 billion in gross bookings across all platforms.
How to create a blue ocean for your company through value innovation
Value innovation is one of Blue Ocean Strategy's tools and is defined as the simultaneous pursuit of differentiation and low cost, creating a leap in value for both buyers and the company.

10 questions to increase employee retention
The concept of Value Innovation is the cornerstone of the market-creating strategy.
Because value to buyers comes from the offering's utility minus its price, and because value to the company is generated from the offering's price minus its cost, value innovation is achieved only when the whole system of utility, price, and cost is aligned.

Chan Kim and Renee Mauborgne
But how does one achieve value innovation?
To achieve value innovation, the company looks at two factors: cost savings and buyer value.
The company makes cost savings by eliminating and reducing the factors an industry competes on and lifts buyer value by raising and creating elements the industry has never offered.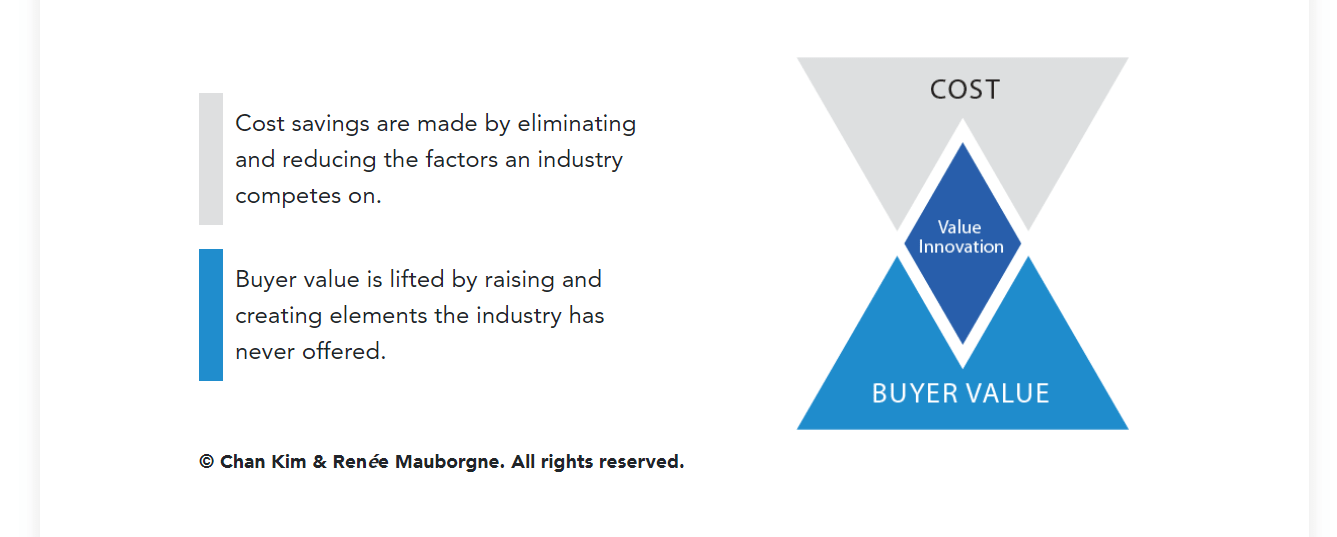 Many businesspeople believe that lowering costs and increasing value is a trade-off. It's either creating greater value for customers at a higher cost or creating reasonable value at a lower cost. Blue Ocean Strategy allows companies to pursue differentiation and low cost simultaneously.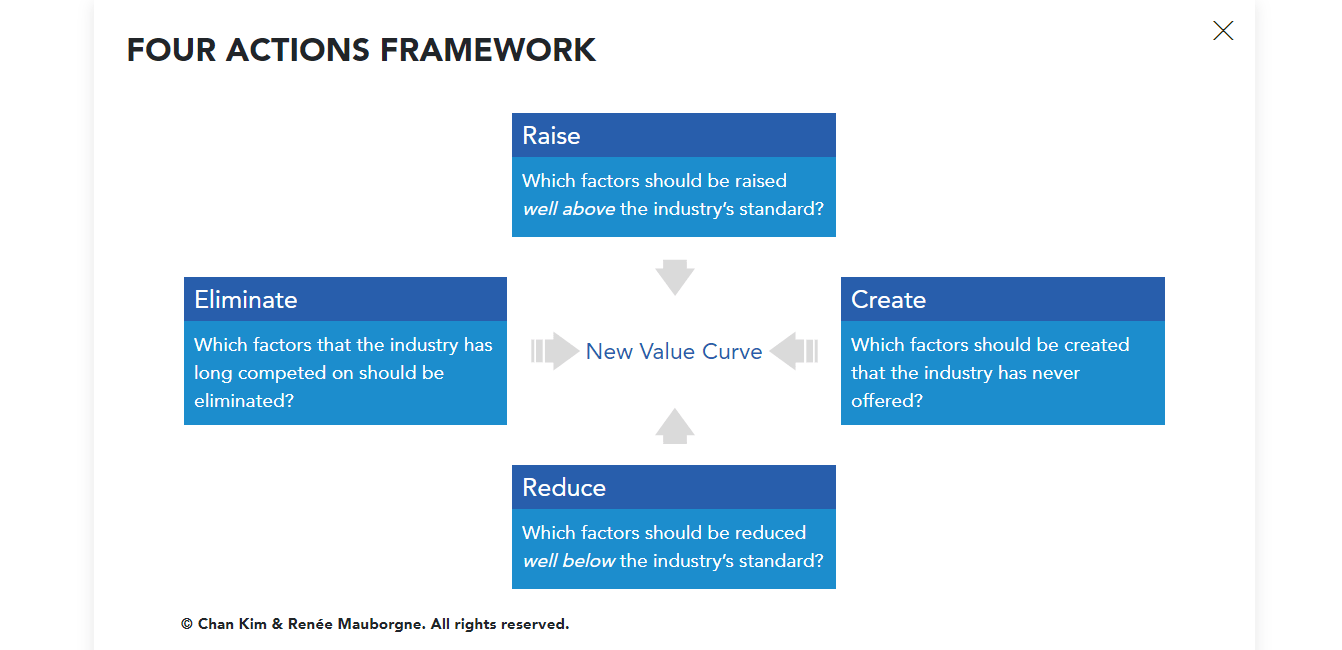 A great starting point for achieving value innovation is to answer the following questions devised by Chan Kim and Renee Mauborgne in the Four Actions Framework:
Which of the factors that the industry takes for granted should be eliminated?
Which factors should be reduced well below the industry's standard?
What factors should be raised well above the industry's standard?
What factors should be created that the industry has never offered?
In conclusion, to find your blue ocean, namely to tap into a new market, you need to perform an innovative leap in customer value at lower costs thus making the competition irrelevant.
Join the Conversation
We'd love to hear what you have to say.
Get in touch with us on our LinkedIn Group, Facebook Group or Twitter.
10 Growth Marketing Tactics To Grow Your Business
Are you looking to grow your business?
Read on to discover 10 growth marketing tactics!
10 Growth Marketing Tactics To Grow Your Business
Growth Marketing Tactic #1 – Sniply
Would you like to increase your conversion rates? Sniply is a great tool to achieve this goal.
Sniply is a simple tool that allows you to overlay your own custom message onto any piece of content, creating an opportunity for you to include a call-to-action with every link you share.
People use Sniply to drive conversions from every piece of content they share. You can drive traffic to your website, downloads of your app, registrations for your event, customers for your service, and more.
I created my first snip in 2 minutes and I chose to place it on one of Seth Godin's blogs as you can see below: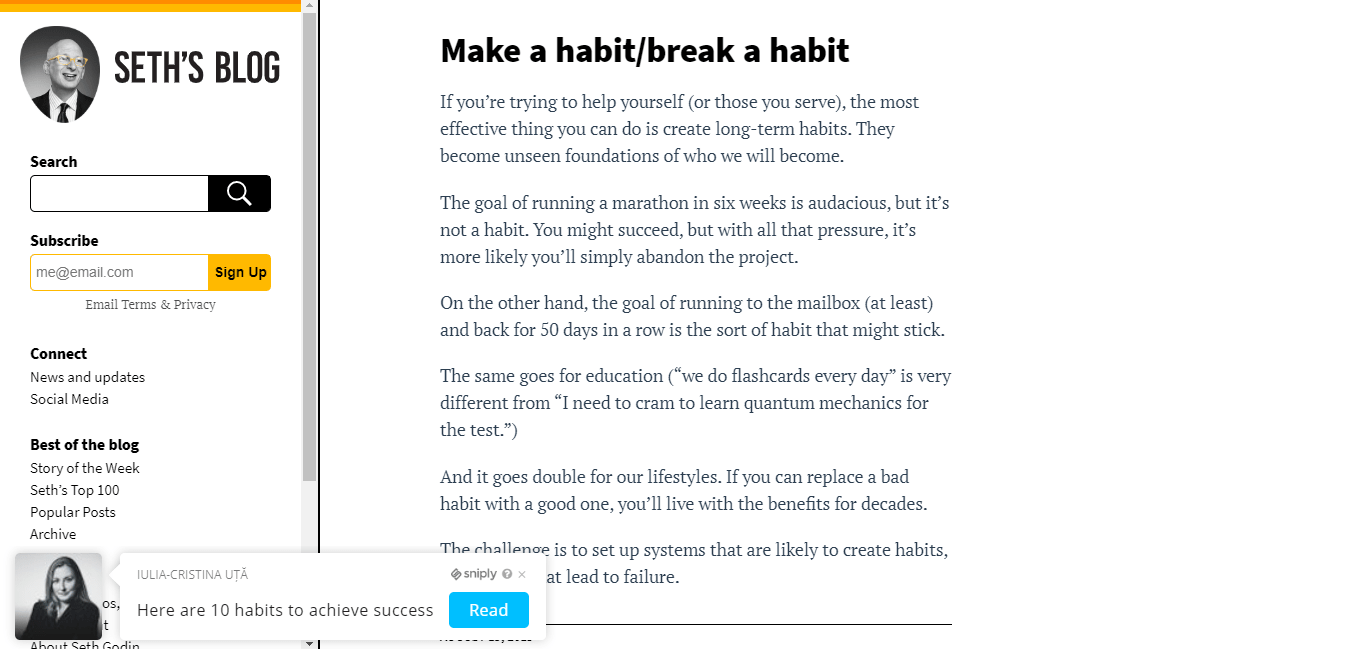 Key takeaways:
Make sure the page which hosts your snip and the page your snip sends visitors to match ie your content is relevant to the visitors of the host page;
Create a clever CTA.
Growth Marketing Tactic #
2 – LinkedIn Engagement Pods
Engagement pods started on Instagram and in recent years migrated to LinkedIn.
What are LinkedIn Engagement Pods?
LinkedIn Engagement Pods are private groups of Linkedin users who are all focused on engaging in and sharing other people's LinkedIn content.
It's a way to boost your post's visibility on LinkedIn. This engagement gives your post a little nudge in the right direction but only if it's high-quality content.
LinkedIn Engagement Pods can amplify your brand's reach and provide you with opportunities for improved networking and/or collaboration.
If your company employs a large number of people, creating a Company LinkedIn Engagement Pod could empower your employee to become advocates on social.
Key takeaway:
Choose your LinkedIn Engagement Pod carefully;
Write content relevant to the pod's members.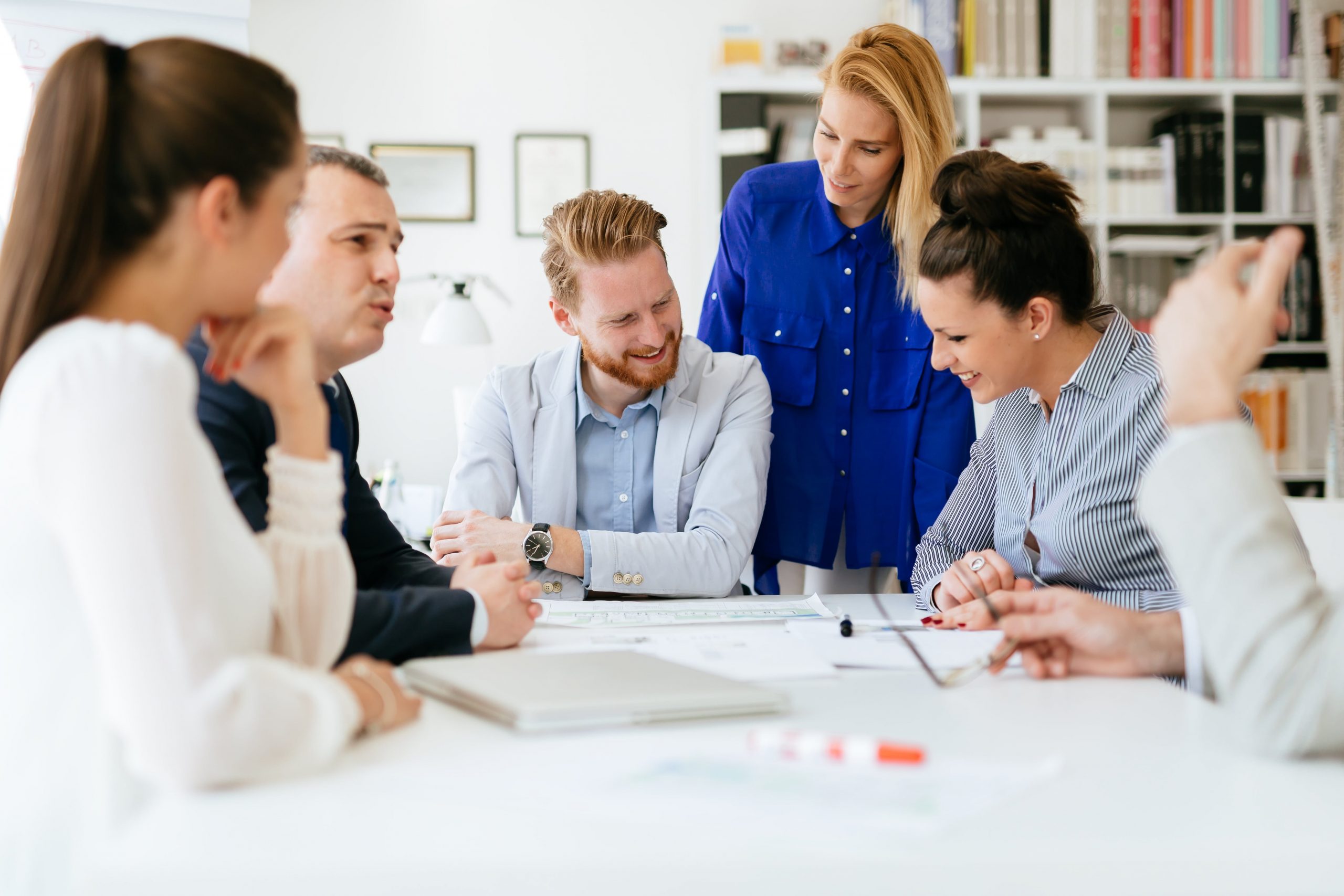 Growth Marketing Tactic #
3 – Thank-you tags or coat-tailing
You post your piece of content and it starts receiving likes from the people in your network. What do you do when someone gives you something? You say 'Thank you!'.
The same courtesy should apply online too. Growth Marketer Jeff Deutsch encourages marketers to say 'Thank you' in the comments of their posts and tag the people who liked them.
Why is it a growth tactic?
Because LinkedIn or Facebook or Twitter will show the posts where these people are tagged to other people in that person's network which leads to increase visibility.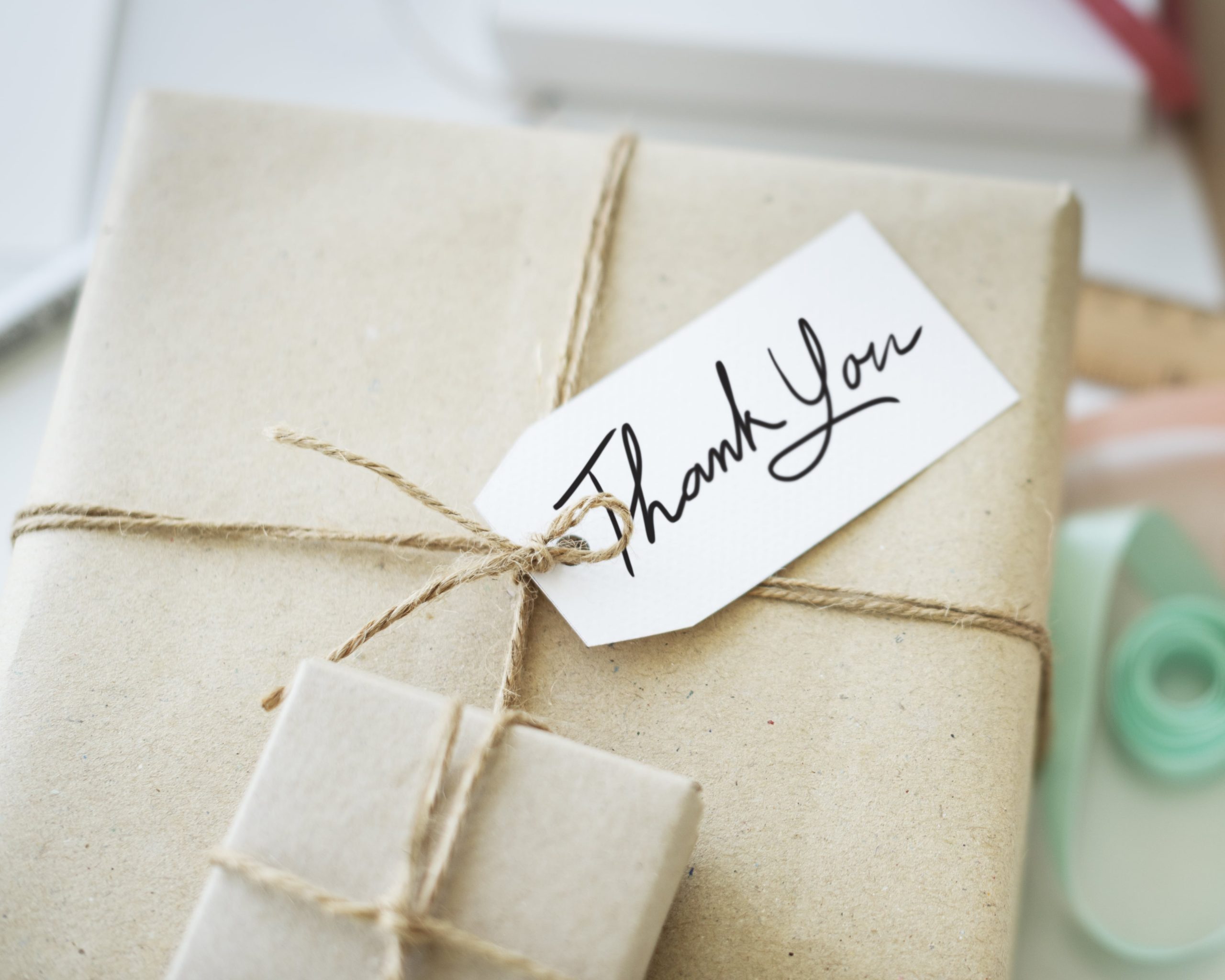 Growth Marketing Tactic #
4 – Place the link to your article in the first comment
Every social network wants to keep you connected on its platform. That's why all social platforms encourage and value engagement (likes, comments, shares) and frown upon posts with links that allow users to leave their digital space.
Posts with links receive less visibility than posts with no links. You have spent three to four hours carefully crafting your blog and you would like people to read it and rightfully so. But if you cannot place the link in your post what can you do?
You have two options:
Publish the post with no link then edit it to include the link;
Publish the post with no link but place the link in your first comment.
It's been a week since I implemented this tactic and my posts with links in the first comment received increased visibility jumping from 50 views to over 400 views overall. That's a 6x increase in visibility!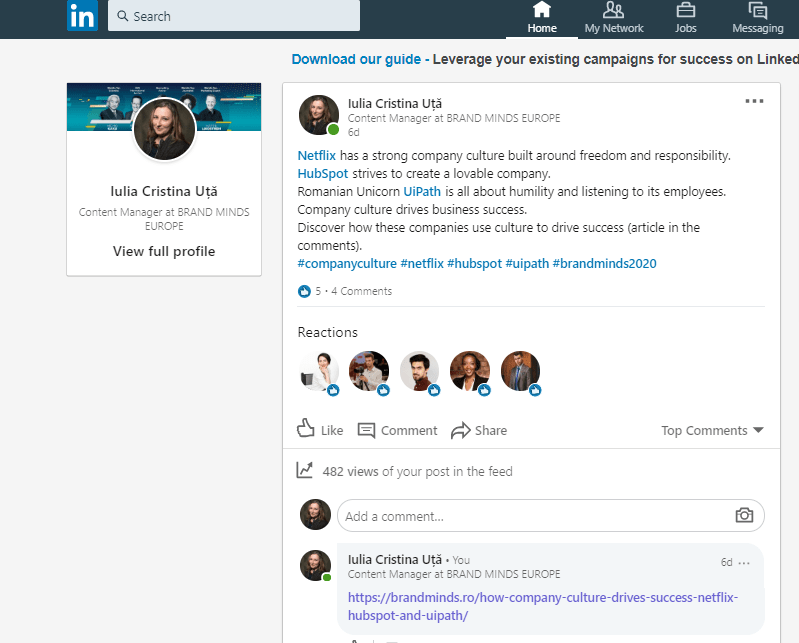 Growth Marketing Tactic #
5 – Post native video on LinkedIn, Facebook, YouTube, Instagram and Twitter
Video is the best way to engage authentically with your customers. Although not everyone feels comfortable talking in front of the camera it's a great way to get your customers to know you and build a connection.
All social media networks now allow users to post native videos. They encourage users to upload videos directly or go live on their platforms. As a result, video posts receive increased visibility.
Here are 10 smart ideas for video content you can use on LinkedIn and 10 Ideas to use Facebook Live in your Communication Strategy 
Growth Marketing Tactic #
6 – Pixel your visitor
Growth marketer Jeff Deutsch has this tip for marketers running Facebook ads: pixel your visitor, not your landing page.
Instead of placing your Facebook pixel on your landing page, place it on a blank HTML page. This page will pixel your visitors and redirect them to your landing page.
What does this tactic solve?
It tags people who leave before your landing page has loaded because they either lack patience or your landing page has a number of scripts that extend the loading time.
Jeff states this tactic is a way to stop losing 30% of your ad traffic.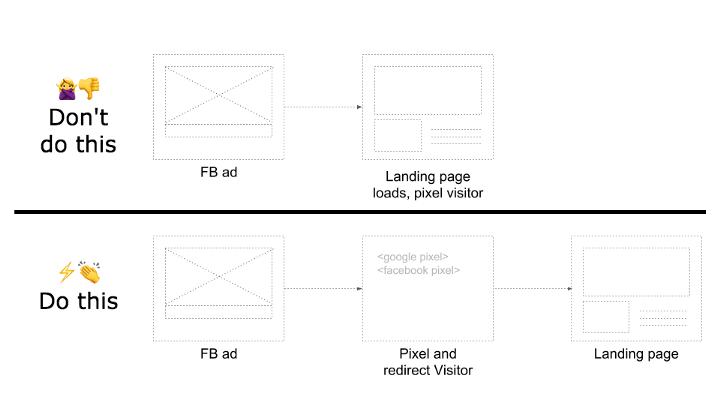 Growth Marketing Tactic #
7 – Facebook Messenger hack – the Auto-responder
Over 1 billion people use Messenger to connect with businesses every month.
Messages delivered through Messenger receive better open and click-through rates than the messages delivered by email.
MobileMonkey CEO Larry Kim found a way to take this opportunity to the next level: auto-responders.
In his article, Larry shows how to grow your Messenger subscription base with an auto-responder chatbot called Comment Guard.
Growth Marketing Tactic #
8 – Gamification
Famous marketer Neil Patel lists gamification as a growth marketing tactic.
He recommends marketers to use gamification to their advantage by pulling their audience in with quizzes and polls to spark engagement and brand awareness.
To leverage gamification, marketers have to make content entertaining while also providing value.
According to Neil, gamified systems must tick three boxes:
Give users motivation to do something (emotional investment, the promise of reward, etc.);
The ability to complete the action;
Provide a trigger or cue to complete the action.
Growth Marketing Tactic #
9 – Piggyback on a thriving network
In 2016, Spotify integrated with Facebook Messenger allowing people to share their Spotify songs or playlists directly within a chatbox. This integration accelerated Spotify's growth through referral traffic. Ultimately, millions of Facebook users also became advocates of the music platform because it filled the users' desire to share their music socially.
Airbnb's integration with the Craiglist platform is now the company's most famous growth hack. In 2010, looking to access Craiglist's huge user base, Airbnb built a bot to piggyback the platform. Check out the Airbnb growth case study.
What is the secret of successful integration with another platform?
Start with the perfect experience and work backwards.
Growth Marketing Tactic #
10 – H.A.R.O
H.A.R.O. stands for Help A Reporter Out.
Help A Reporter Out is a media services company with over 35,000 journalists and 800,000 source members which started out as a Facebook group.
HARO allows sources to find topics related to their expertise, industry or experience while allowing journalists and bloggers to spend more time writing and less time sourcing. Subscribe as a source and you could be featured in mainstream media.
It's a long-term effort but the potential benefits are worth it: increased brand awareness, augmented SEO, building business opportunities, establishing leadership credibility and garnering high levels of engagement on social.
What growth marketing tactics do you employ to grow your business?
Join the Conversation
We'd love to hear what you have to say.
Get in touch with us on Facebook Group and Twitter.
Wingly – the Airbnb of flights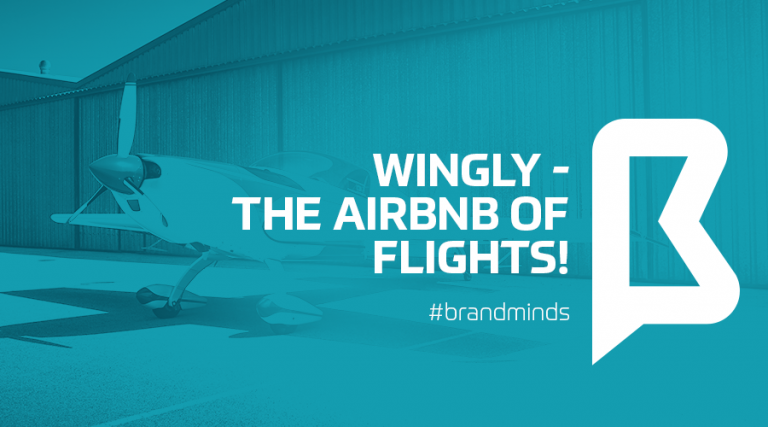 2017 proved to be a really good year for Airbnb as the company "blew by its own internal forecasts to bring in $93 million in profit on $2.6 billion in revenue", as reports Bloomberg's Olivia Zaleski. The 2017 year marks the first full year of generating income for the San Francisco-based company, which became profitable in the second half of 2016, as it managed to defy some of the disruptions in global travel last year.
The Airbnb story has been an inspiration from its beginnings. The company began in 2007 when roommates Brian Chesky and Joe Gebbia started AirBed & Breakfast on the living room floor of their San Francisco apartment. The friends provided three air mattresses and homemade breakfast to guests who were unable to find alternative accommodation in the city. In 2008, Nathan Blecharczyk joined AirBed & Breakfast and Airbedandbreakfast.com was launched (the website name was shortened to Airbnb.com shortly afterwards). In 2011, the company started its overseas expansion, opening its first international office in Hamburg, Germany.
More statistics about Airbnb you can find here.
Taking inspiration from its success, Wingly, a flight sharing platform connecting private pilots with passengers to share the cost of a flight,became the winner of TechCrunch's Startup Battlefield Europe 2018.
Wingly aims to connect aviators with amateurs like me who need to get from A to B but have some flexibility about where A and B happen to be, and can work around the pilot's timing. For the passenger it promises an exhilarating experience along with transportation. And for the pilot? Carrying one or more passengers helps keep the cost of their indulgence down. It's the Airbnb of aviation.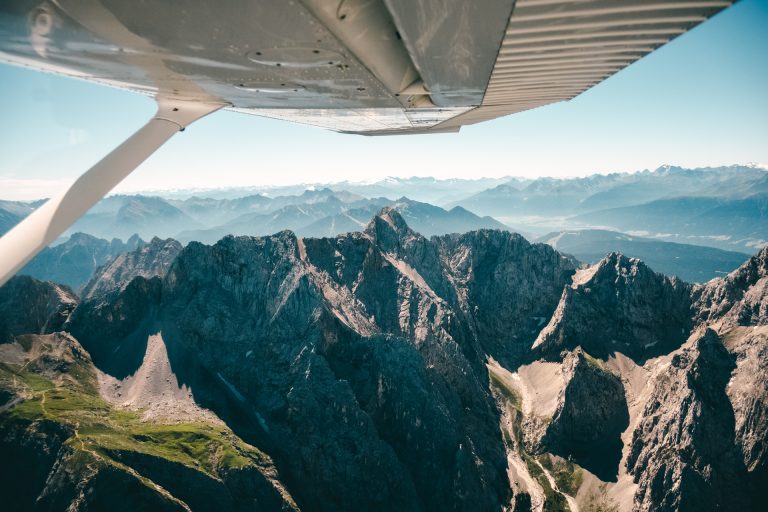 You can also bid for a flight — saying roughly where you need to be, and when, and hoping that one of the flying community is willing to help.
The organisation also requires a scan of your passport, even if you are going no further than the west of England. Unlike commercial flights, you have to specify your weight, and that of your baggage, in advance, so the pilot can make weight-and-balance calculations. It currently offers thousands of flights throughout Europe, and is also opening up routes in the Caribbean.
Both pilots and passengers have the option to review each other and the experience once the flight is over. Pets are permitted as long as the pilot you're flying with allows them, and flights can be cancelled or rescheduled in poor weather conditions.
How it works is that pilots post their planned route, amount of seats available and cost-sharing price on the app. Passengers book if interested and depart from a private airfield on the day. Potential passengers can also request trips that are not currently listed, and if a pilot sees a proposed route that works for them, they can get in contact and arrange it. Wingly also offers sightseeing flights that allow passengers to enjoy a beautiful landscape from the sky, or excursion flights for a day trip or weekend away. – Lonely Planet
In March this year, Wingly closed a seed funding round of €2 million to strengthen its leader position on the European market and expand in new countries. Only 8 months after receiving its certification to operate all over Europe, well known angel investors such as Philipp Rösler (former vice chancellor of Germany and private pilot) or Stephane Mayer (former CEO of Daher Socata & ATR, private pilot) invested in this round alongside the VC fund Howzat Partners.
Wingly was founded in 2015 and is based in Paris, Berlin and London. With the fresh capital the young company wants to double its size and grow to a team of around 30 people to scale and develop its technology to new markets.
Virtual Reality and Airbnb make it more real and fun
Airbnb is developing virtual and augmented reality features to help guests find and navigate rental listings, the company announced recently on its blog.  Three-dimensional scans and 360-degree photos would allow users to get a better sense of a listing, and augmented reality overlays could help guests better understand the homes on a smaller scale once they're in it. The company has been looking into VR to build trust between guests and hosts since last year, and this announcement confirming experiments and prototypes could mean a feature is coming soon.
"Mobile technology took this a step further, allowing people to be more adventurous when they arrive. Rather than being locked into a rigid tourist flow, travelers can get lost (and found, thanks to GPS-based map apps), explore, and enjoy the serendipity of last-minute decisions. Today, when traveling, people can live like locals in a downtown apartment in the arts district, eat at local cafes and take classes from homegrown artists—today's travel is experiential travel. As mobile technology progresses, immersive technologies like virtual reality and augmented reality are giving us new and powerful tools to reduce the barriers to travel and the inherent friction that comes with it," said the Airbnb press release.
Therefore, Virtual reality gives Airbnb an opportunity to reshape where inspiration is drawn from, and take travel planning to the next level. It can also allow people to connect with their destination, host, and co-travelers. Capabilities like 360 photos and 3D scans allow a person to step inside a home or city and understand what to expect and how to orient themselves before they leave the comfort of their own home.
"With augmented reality, we're looking at ways to make travel more seamless, reducing obstacles to having a transformative experience. The more immersed a traveler is in a new place, the more they'll learn about the people and culture. While this is often delightful and transformative, it can also be stressful when someone doesn't know how to unlock the door or turn on the hot water for a shower, or when they're hopelessly lost and everything is in a foreign language," adds Airbnb on the blog.