15 Things you might not know about Seth Godin
Seth Godin is one of the world's most renowned marketing experts and a bestselling author. He was a keynote speaker at BRAND MINDS 2018.
BRAND MINDS is The Biggest Business Event in Central & Eastern Europe.
Seth Godin is the author of 18 books that have been bestsellers around the world and have been translated into more than 35 languages. He writes about the post-industrial revolution, the way ideas spread, marketing, quitting, leadership and most of all, changing everything. You might be familiar with his books  Linchpin,  Tribes,  The Dip and  Purple Cow.
More things about him that you might not know:
1. He received degrees in computer science and philosophy from Tufts University, followed by an MBA in marketing from the Stanford Graduate School of Business.
2. From 1983 to 1986, he worked as a brand manager at Spinnaker Software. After leaving Spinnaker in 1986, he used $20,000 in savings to found Seth Godin Productions, primarily a book packaging business, out of a studio apartment in New York City. He then met Mark Hurst and founded Yoyodyne. After a few years, Godin sold the book packaging business to his employees and focused his efforts on Yoyodyne, where he promoted the concept of permission marketing.
3. In addition to his writing and speaking, Seth founded both Yoyodyne and Squidoo. His blog (which you can find by typing "seth" into Google) is one of the most popular in the world.
4. He was recently inducted into the Direct Marketing Hall of Fame, one of three chosen for this honour in 2013.
5. Godin once again set the book publishing industry on its ear by launching a series of four books via  Kickstarter. The campaign reached its goal after three hours and ended up becoming the most successful book project ever done this way.
6. In April 2016, Godin's book, All Marketers Are Liars, was selected by Forbes contributor Carine Alexis as one of six essential books every marketer should have on their shelf.
7. His newest book,  What To Do When It's Your Turn, is already a bestseller.
8. "Seth Godin may be the ultimate entrepreneur for the Information Age," Mary Kuntz wrote in Business Week nearly a decade ago.
9. "We need to care enough to connect, care enough to put ourselves at emotional risk to touch other people and play one note that's worth hearing," Godin said for TEDx.
10. According to entrepreneur.com, Godin has one of the most-loved marketing blogs on the internet.

11. In 2005 he launched Squidoo, a website that helps hobbyists publicize and monetize their personal passions and now attracts more than 53 million unique visitors a month.
12. Still, according to entrepreneur.com, he is not a Facebook fan or Twitter and has no publicist. Books from his publishing venture The Domino Project, launched in conjunction with Amazon, did not have major publicity pushes or wide releases at bookstores.
13. As a child, Seth Godin played the clarinet.
14. Godin is aiming to connect with should-be, almost-are or want-to-be artists.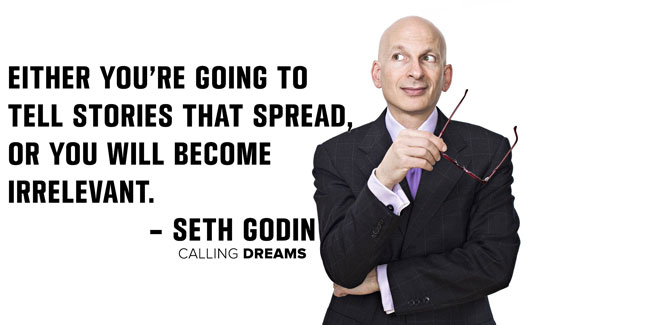 15.  He created a ten-book series for children titled 'Worlds of Power', which was written by various writers and in each series a plot of a video game is explained.
Are you a #worldchanger?