How to inspire innovation in your employees
According to McKinsey & Company and its global innovation survey, innovation is critical to growth, particularly as the speed of business cycles continues to increase. Most companies understand the importance of innovation, but fall short when it comes to execution. "We define innovation as creativity plus delivery, helping our clients transform their innovation performance by focusing on four requirements for innovating at scale: strategy, pipeline of ideas, execution, and organization."
Following a multiyear study comprising in-depth interviews, workshops, and surveys of more than 2,500 executives in over 300 companies, including both performance leaders and laggards, in a broad set of industries and countries, the company discovered the ingredients that lead to innovation.
Since innovation is a complex, company-wide endeavor, it requires a set of crosscutting practices and processes to structure, organize, and encourage it. The first four, which are strategic and creative in nature, help set and prioritize the terms and conditions under which innovation is more likely to thrive. The next four essentials deal with how to deliver and organize for innovation repeatedly over time and with enough value to contribute meaningfully to overall performance.
Who are those essentials? Aspire,Choose, Discover,Evolve,Accelerate, Scale, Extend, Mobilize.
Even there is no proven formula for success, particularly when it comes to innovation, McKinsey & Company's representatives firmly believe that if companies assimilate and apply these essentials—in their own way, in accordance with their particular context, capabilities, organizational culture, and appetite for risk—they will improve the likelihood that they, too, can rekindle the lost spark of innovation. In the digital age, the pace of change has gone into hyperspeed, so companies must get these strategic, creative, executional, and organizational factors right to innovate successfully.
One can read more on the subject here.
How this transfer to the employees? According to Forbes, there are three tools that can inspire innovation to the employees: giving employees the permission to learn, motivating people to go places they wouldn't otherwise go and sharing experiences across management lines. "Asking employees to keep a Best Practice Journal is another way to inspire employees to learn by observing what's happening around them. Ask your people to document examples of great performance as they see it happening out in the world and make time for sharing these observations at regular staff meetings," added Mark Murphy for Forbes.
Another set of great ideas may be found here.
10 Things You Might Not Know About Gary Vaynerchuk
BRAND MINDS is The Central and European Business Summit taking place in Bucharest, Romania.
Here are 10 things you might not know about Gary Vaynerchuk
American serial entrepreneur, four-time New York Times bestselling author, speaker and internationally recognized internet personality. First known as a leading wine critic who grew his family's wine business from $3 million to $60 million, Vaynerchuk is now best known as a digital marketing and social-media pioneer at the helm of New York-based VaynerMedia and VaynerX.  Angel investor or advisor for the likes of Uber, Birchbox, Snapchat, Facebook, Twitter and Tumblr, he is a regular keynote speaker at global entrepreneurship and technology conferences.
1.No matter the amount of success and money he has at this point he is still working 13-15 hours a day.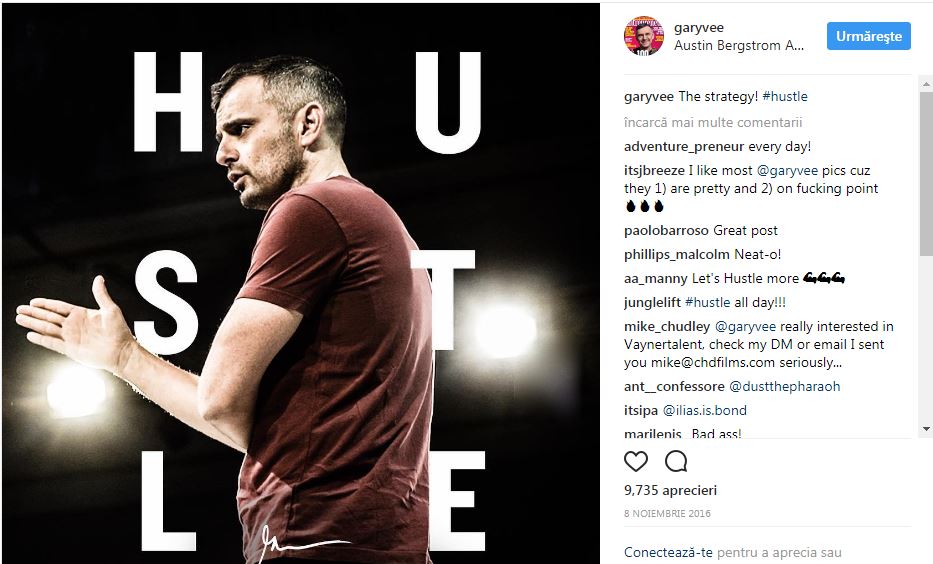 2.  He is into every aspect of his life 100 %, ready to give 51 % of the value to the other person.
3. He tries to figure out what you are going to do, before you do it
4. He's passionate with the New York Jets. His dream as a child was to become the owner of the New York Jets and it still is.
5. He's an HR Driven CEO. He is very interested in his employees' ideas and opinions and their feedback on everyday work.  He uses empathy and tries to understand "why". 
6. He believes it's in his DNA to be an entrepreneur. It's the life he breaths and loves to, every day. 
7. He doesn't care about others' opinion on him, as he knows very well who he is. "I put zero weight into anyone's opinion about me because I know exactly who I am. Can you say the same?", quotes medium.com
8. He believes that a person's friends and family can influence their success. "Maybe if you got rid of one friend or spent a lot less time with one friend who's a real drag and a negative force and added a positive person in your office … If you switched it from 80 days hanging out with your negative friend and one day with your office acquaintance who's super positive, to four days with your negative friend and 12 with this new person. I've physically watched I mentor in my organizations have a totally different life on that thesis……I think that people are keeping very negative people around them and if they aspire to change their situation, it's imperative to audit the seven to 10 people who are around you," Vaynerchuk told Business Insider.
9. He is a Judge and Adviser at the Apple's show " Planet of the Apps", alongside Jessica Alba, Gwyneth Paltrow, Will I.AM.  More on the program you can read here.
10.  In #AskGaryVee he cuts straight to the heart of the question and what it says about the person asking the question — their motivations, their fundamental assumptions and what their real question should actually be.
Are you a #worldchanger?