2021 Cannes Lions Awards: 3 winning campaigns
The 2021 edition of the prestigious Cannes Lions Awards competition is underway. Here are 3 winning campaigns.
1. Tennessee Tourism –
Laugh Tracker
Gold Lion – Data-Enhanced Creativity category
Data is the oil of the digital era, said The Economist in a 2017 article on antitrust rules.
Exchanging free access to services provided by tech giants like Facebook and Google for personal data didn't seem to mind users very much back in the early 2000s.
Until the Cambridge Analytica scandal when people realized that their personal data had been sold by Facebook to a third-party organization that used it to push a political agenda.
And that's not the only example of businesses and organizations using personal data for their own gains. That's why data has got a bad reputation in recent years.
For many, data equals manipulation and gains at the expense of the owners of that said data, the users. But data is much more than that. In the right hands, data provides solutions.
Such is the case with Tennessee Tourism. They identified a problem and used data and technology to find a solution.
Here is the problem: fake online reviews are impacting the travel industry. According to this report, 8% of Yelp's reviews are fake.
At the end of 2020, a total of 224 million reviews had been submitted to Yelp, which means there are almost 18 million fake reviews.
The same report calculated that these fake reviews are directly impacting $4.1 billion in consumer spending this year alone.
Tennessee Tourism didn't set out to identify and delete fake reviews but changed the metric altogether. What's more real than kids' laughter? Kids laughing is a sign that they're having fun. Why not measure it and present it to the parents in lieu of online reviews when searching for travel inspiration?
And that's exactly what Tennessee Tourism has done. Check it out:
Campaign results for 31 locations in Tennessee:
2.023.723 data points analyzed
1.667.760 seconds of laughter recorded
Laugh maps filtered by age
5.9 million hotel and flight searches
+6.2% increase in hotel demand
$142 to $1 return on ad spend
2. Cheetos –
Can't touch this
Grand Prix – Creative Strategy – Food & Drink
While for most snack-eating lovers, getting their hands dirty is a problem, that's not the case for Cheetos fans.
The orange powder that eaters get on their fingers when eating Cheetos (which is called cheetle, by the way) is a great excuse to help them get out of unwanted situations. Can't hold your baby, I've got Cheetos on my fingers! Can't help you carry that heavy sofa, I've got Cheetos on my fingers!
The classic 90s hit rap song Can't touch this by MC Hammer is the perfect match for this Cheetos ad.
Also, the song turned 30 in 2020 which is one more reason to become the ad's anthem.
3. Reddit –
SuperbOwl
Grand Prix – Social & Influencer – Real-time Response
In January 2021, Reddit users on the r/wallstreetbets subreddit built the foundations for a short squeeze on GameStop, pushing up the stock price significantly.
GameStop is an American chain of brick-and-mortar video game stores that has been struggling in recent years due to competition from digital distribution services, as well as the economic effects of the COVID-19 pandemic.
The subreddit r/wallstreetbets is an online community on Reddit known for discussion around high-risk stock transactions.
Short selling is the process of betting on a stock that one knows is going to fall. The short squeeze on GameStop occurred when Reddit users noticed hedge funds were heavily short selling the stock, especially Melvin Capital.
The battle between amateur investors and multi-billion dollar hedge funds on Wall Street ensued. It was the battle between David and Goliath and attracted a lot of media attention. And just like the legend, the underdogs won.
The retail investors began a stock trading frenzy which led to raising the stock price by 1,700%. Short sellers lost an estimated $23.6 billion on GameStop in this rally with claims that Melvin Capital had gone bankrupt.
To celebrate the win, Reddit took out a 5-second ad for the Super Bowl. And the ad was exactly this: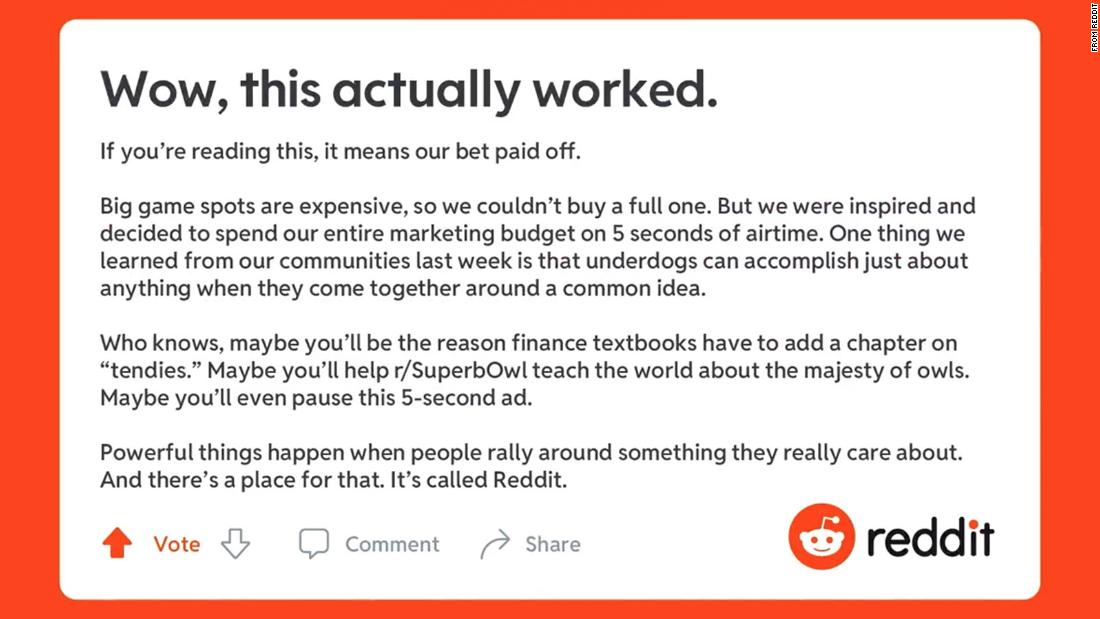 Since the ad was practically impossible to read, the viewers had to rewind the show and pause the ad.
The copy refers to the GameStop frenzy and celebrates the power of Reddit communities which are as odd as they can come. The SuperbOwl is a fun play on SuperBowl.
Paying close to a million dollars for an ad impossible to read prompting viewers to go to great lengths to see it is a bold move, but it paid off. The campaign won the Cannes Lions Grand Prix in Social & Influencer – Real-time Response.
Join the Conversation
We'd love to hear what you have to say.
Get in touch with us on our LinkedIn Page, Facebook Page, Twitter or TikTok.
3 Grand Prix Winners at the 2019 Cannes Lions Awards
The Cannes Lions Awards are one of the most renowned awards in the world of advertising. Marketing, advertising and PR companies submit their campaigns hoping to bring home one of the coveted statues.
Here are 3 Grand Prix winners at the 2019 Cannes Lions Awards:
1.
IKEA

– ThisAbles

In a previous article dedicated to tech trends driving growth for businesses (read it here), I was writing about customers expecting brands to create products with the purpose of solving social issues.

Well, IKEA is one such great example. IKEA's vision is to "create a better everyday life for as many people as possible". Unfortunately, disabled persons have not been able to use IKEA regular furniture.

It is estimated that 10% of the world's population is disabled. People with various disabilities cannot perform normal daily activities which we take for granted like turning on a lamp, opening a closet door or drawing the shower curtain. Until now.

IKEA designed ThisAbles project to allow people with special needs to enjoy the quality of life provided by IKEA products.

The project consists of a series of 13 add-ons which improve the accessibility of furniture items: the glass bumper, the mega switch, friendly zipper etc.

More importantly, IKEA made the designs available for free download on its website inviting users to 3D print them.

Campaign Results:
The sales of the 13 iconic items grew up by 33%;
More than 45,000 people from 127 countries visited ThisAbles.com with thousands of them downloading and 3D printing the add-ons;
Organic reach of 489M unique users;
International coverage with an estimated PR value of $4 million.
The project won Grand Prix at the 2019 Cannes Lions Awards in Health & Wellness for life-changing creativity.
2.
Google

– Creatability

In the early 1990s, Larry Page reportedly said 'We are not really interested in search. We are making Artificial Intelligence.'

Almost thirty years later, Google is at the forefront of everything AI – new technologies, innovative products and tools enabling customers to leverage the power of AI.

Google's project Creatability is about creating useful applications of the latest AI technology to allow disabled persons to unleash their creativity.

Creatability is a set of 8 experiments that explore how creative tools – drawing, music and more – can be made more accessible using the web and AI technology.

Creatability won Grand Prix in Design at the 2019 Cannes Lions Awards.
3.
An-Nahar

– the Blank Edition

Newspapers are a country's source of information and the latest news. Journalists investigate and report on the main events. But sometimes newspapers stray away from their purpose and turn into a loudspeaker for politicians expressing opinions, blaming each other or making excuses. That's not news. So what do you do?

In 2018 Lebanon had been without a government for over six months when An-Nahar, one of the country's leading newspapers made a radical and risky decision: printing a blank edition rather than printing anything else other than news.

It was a powerful statement which drove everyone's attention to the country's crisis. Also, the newspaper used its blank edition to become a loudspeaker for the Lebanese people instead of the politicians. The people felt empowered to write their own headlines and messages on the paper's white canvas.

Campaign Results:
$5 million in earned media;
Best selling edition of the paper;
#1 trending topic on Twitter;
Over 500 million media impressions;
Coverage in over 100 international publications (New York Times, Washington Post, BBC etc).
An-Nahar's Blank Edition won Grand Prix in Print & Publishing at 2019 Cannes Lions Awards.
Join the Conversation
We'd love to hear what you have to say.
Get in touch with us on Facebook Group and Twitter.
20 Things you might not know about Karim Rashid
Karim Rashid is one of the most prolific designers of his generation. Over 3000 designs in production, over 300 awards and working in over 40 countries attest to Karim's legend of design.
Here are some things you might not know about him:
1.He received a bachelor of Industrial Design in Ottawa, Canada and Postgraduate studies in Italy in 1984. He worked at Rodolfo Bonetto's studio in Milan for one year then for 7 years at KAN Design in Toronto.
2. His award winning designs include luxury goods for Christofle, Veuve Clicquot, and Alessi, democratic products for Umbra, Bobble, and 3M, furniture for Bonaldo and Vondom, lighting for Artemide and Fontana Arte, high tech products for Asus and Samsung, surface design for Marburg and Abet Laminati, brand identity for Citibank and Sony Ericsson and packaging for Method, Paris Baguette, Kenzo and Hugo Boss.
3. His work is featured in 20 permanent collections and he exhibits art in galleries worldwide. Karim is a perennial winner of the Red Dot award, Chicago Athenaeum Good Design award, I. D. Magazine Annual Design Review, IDSA Industrial Design Excellence award.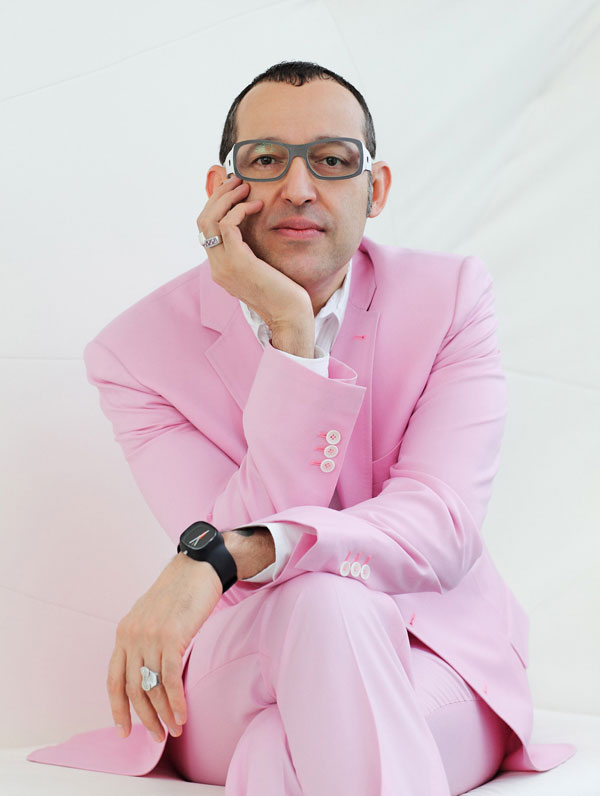 4. Karim is a frequent guest lecturer at universities and conferences globally disseminating the importance of design in everyday life. He holds Honorary Doctorates from the OCAD, Toronto and Corcoran College of Art & Design, Washington. Karim has been featured in magazines and books including Time, Vogue, Esquire, GQ, Wallpaper, and countless more.
5. Karim's latest monograph, XX (Design Media Publishing, 2015), features 400 pages of work selected from the last 20 years. Other books include From The Beginning, an oral history of Karim's life and inspiration (Forma, 2014); Sketch, featuring 300 hand drawings (Frame Publishing, 2011); KarimSpace, featuring 36 of Karim's interior designs (Rizzoli, 2009); Design Your Self, Karim's guide to living (Harper Collins, 2006); Digipop, a digital exploration of computer graphics (Taschen, 2005); Compact Design Portfolio (Chronicle Books 2004); as well as two monographs, titled Evolution (Universe, 2004) and I Want to Change the World (Rizzoli, 2001).
6. In 1992, Rashid started designing for US tableware company  Nambé, producing a range of products – clocks, vases and candlesticks – that would help establish his signature look. Alloy and glass are perfect materials to convey Rashid's organic "blobular" forms, and his work for American lighting brand George Kovacs and German glassware manufacturer Leonardo in the late 1990s again produced modern yet beautiful forms.
7. Rashid's designs often incorporate a folded-ribbon look (using materials such as fabric, laminate, acrylic and steel) and his computer-generated asterisk, cross and figure-eight motifs, which can be seen on his stools, rugs, kitchen utensils and even Rashid's own body tattoos.
8. His 1996 'Garbino' rubbish bin for Canadian plastics company Umbra is Rashid's most well-known design (along with its larger equivalent, the 'Garbo'). This simple, softly rounded bucket in recycled polypropylene is still one of Umbra's biggest sellers and is also placed in the permanent collection of the Museum of Modern Art, New York.
9. Once labelled the Poet of Plastic, New York-based interior designer Karim Rashid is known for his curvaceous designs and outspoken persona.
10. The same concept was applied to the affordable and award-winning 'Oh' chair, from 1999, which fulfils Rashid's belief in 'democratic design'. His skill with polypropylene has also been evident in the highly acclaimed packaging he has designed for global brands like Issey Miyake and Kenzo. More recently, Rashid has also undertaken a number of architecture projects, including the Semiramis Hotel in Athens and the newly opened Switch restaurant in Dubai.
11. In his spare time, Karim's pluralism flirts with art, fashion, and music and is determined to creatively touch every aspect of our physical and virtual landscape.
12. Him and his team specialize in pattern, print, branding and creative direction. They produce designs that help create or revitalize brands that get noticed through a variety of print and other media. Depending on the nature of the project, graphics is intertwined in product and interior design. They have the ability design a project under one roof which allows for a more seamless process and holistic design.
13. Karim believes that we live in a very special time for humanity, where technology, through the digital revolution, has afforded us new tools to design better space in ways never before conceived.
14. He has an international staff that speaks 12 languages. Presently he is working in 23 countries.
15. To Karim, functionality and minimalism are essential, but, at the same time, he wants to move people and create furniture that make people feel at ease. He calls this approach to design 'sensual minimalism'.
16. The notion of design being a "high art" has always felt ridiculous to him. "I've spent my career trying not to fall into that trap. Early on, companies interested in me were small. They charged more so that they could afford the tooling and the crafting by hand. That's just what it took to make it. I started to think, Why aren't bigger companies more interested in design? The designer humanizes our physical and virtual world. Fortunately, things have changed a lot since then. Companies now recognize that design is what differentiates. It's critical, and demanded," Karim said for interiordesign.net.
17. He loves doing packaging design, technology, synthetic processes and materials.
18. He used to be obsessed with drawing eyeglasses, shoes, radios and luggage throughout his childhood. 
19.  He loved Andy Warhol, Rodchenko, Picasso, Calder, Corbusier, Dec Chirac, YSL, Halston, and so many other artists that were pluralists.
20. Karim was also very inspired by his father who was a creative renaissance man, and he saw him create every day. He would design furniture, make dresses for my mother, paint canvases, design sets for television and film, and constantly take us to museums.
The secret to winning a Cannes Lion
No matter the changes that the advertising world saw in the last years, Cannes Lions remains the most important festival of the industry and its awards the most wanted and desired. Therefore, it's only natural for all the agencies and marketers to be curious to know the secret of winning one. So what are the ingredients that turn your campaigns or executions into possible winning ones? The important, big awards are given to disruptive, irreverent, totally different pieces of work that are known and loved at an international level.
Looking at the works that one and listening to several jury members, we were able to highlight some points that will give you a clearer picture on the topic.
"We felt the new integration is about transcending intermedia and really integrating into culture and society," said Jury President Tham Khai Meng, for AdAge.com.
Works that push humanity forward.
Works that are deeply original and sharable.
Campaigns that effectively impact business objectives
New ideas that change people's perspectives. When inspiration is combined with a  rigorous experimentation program, companies can push today's marketing innovation.
Intuition balanced with data, big ideas with bold experiments, inspiration with rigorous validation.
What wins a Grand Prix in a particular category is work that represents best the category and shows the way forward to the industry.
Old ideas reinvented and putting things in a completely different perspective
Including a societal angle in your campaign when producing your case study.
Going big (a strong idea, consolidated by a depth of the execution and all the content created around it). Jury members were very vocal in saying that they wanted to focus on work that had been widely shared, got press coverage and was being made by big real brands.
The PR component of the campaign becomes more and more important. No winning campaign has been "discovered" at Cannes. All Grand Prix winners were operations that had been already widely shared and talked about in the media, and had also made an impact on marketers all over the world, even before the start of the festival.
The concept is still the king.
Using emotion and focus on a positive attitude. Let's not forget that jurors are humans as well, and if you can make them feel something, you're much closer to being in the winner's circle. The stronger the emotion, the better.
Short videos presenting the campaign's idea, execution and results. The shorter and to the point as possible, the better.
"Work that has impact far beyond its initial intention or that creates a category shift is work that stands out. It's often not the big brands, but the truly smart, innovative, and conscious work that scores highest with the judges". – Sue Daun, Creative Director Intebrand London.
Inspiring creativity envy.
Works that break the rules and do not conform to what we expect to see—work that transcends a category.