Must Have Gadgets of 2017
A long time ago the phrase "diamonds are a girl's best friends" became popular and known by everybody. The times changed and today a more suitable and true description, both for men and women, would be "gadgets are a person's best friends". In a world dominated by technology, each one of us has a least a gadget that keeps close to them and that would be the first thing they would care about in case of an emergency or a fire.
Therefore, we decided to take a look at the latest inventions in terms of gadget and present you the ones we believe to be the must-haves of 2017. In no particular order….
Dell 2-in-1 Laptops
Dell introduced several convertible laptops this year, and the most notable include its  Latitude 7285 and new XPS 13 models. The former is a Surface Pro 4 rival that includes a sharp screen, stylus, and a sturdy keyboard that more closely resembles that of a laptop than most hybrids. The latter is an updated version of Dell's already great XPS 13 that includes a flexible rotating hinge for use in different positions. Dell also offers the Inspiron 2 in 1, for home and home office. Stay connected with computing that's easy and inspiring. With the performance of a laptop and versatility of a tablet, you can count on Inspiron to deliver exactly what you need.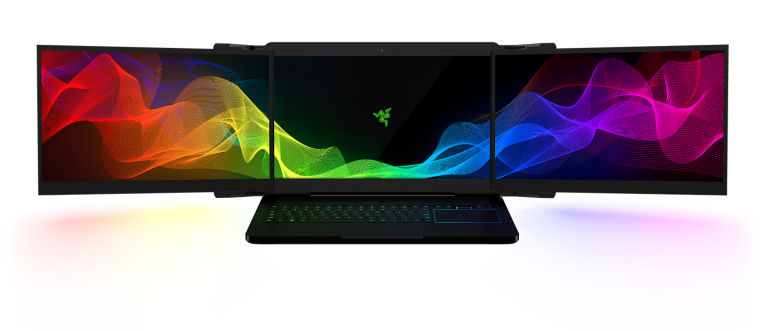 Razer Project Valerie
When you're using a laptop for doing work, playing video games, and streaming  Netflix, one screen isn't always enough. So why not include three? Razer's  Project Valerie concept does just that by adding two foldable displays that expand out from the primary screen in the center. Each display is 17 inches diagonally and supports 4K resolution, and Razer says they can be used independently or together as one giant display.  Project Valerie provides the most expansive viewing experience in a notebook. Powered by an NVIDIA® GeForce® GTX 1080 GPU, and natively supporting NVIDIA Surround View with a whopping resolution of 11520 x 2160, get a wider view of the race track or the battlefield for an unmatched immersive experience.
LG Signature W-Series "Wallpaper" TV
Picture-on-Wall design allows the television to lay virtually flat so it seems blend with the wall and disappear, only possible with the uniquely efficient technology of LG OLED TV. Beautiful on or off, it is the purest form a television can take and the ultimate in minimalism. With the same picture quality as the Wallpaper TV, every OLED in the 2017 lineup delivers perfect black for colors to come alive against. LG OLED pixels are what make it all possible, each turning on and off individually for truly infinite contrast.
Nintendo Switch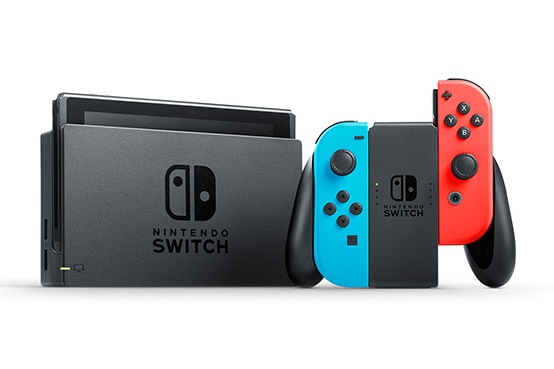 Nintendo Switch is designed to go wherever you do, transforming from home console to portable system in a snap. So you get more time to play the games you love, however you like. The Switch is both mobile and mighty, versatile and idiosyncratic. If the company can provide a steady stream of games over the next year, the Switch may be an exemplar of things to come in gaming. Use two Joy‑Con™ controllers to play face-to-face, or jump online for a 4v4 match. The more, the merrier.
HP Sprout G2 3D-scanning PC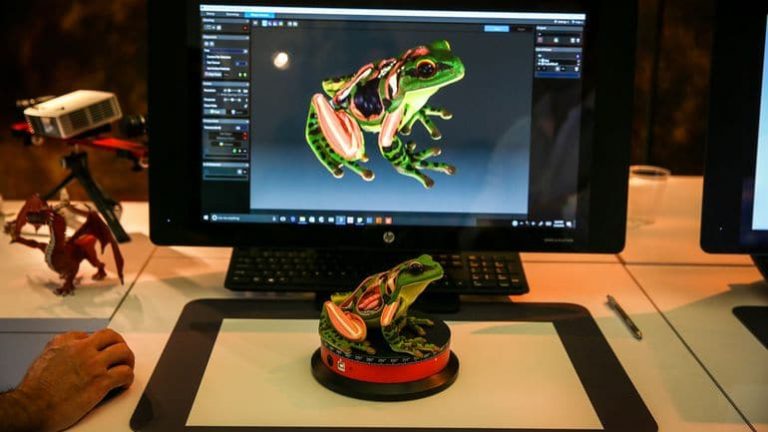 The Sprout G2, with its integrated 3D and 2D scanners, is perfect for product designers, CGI creators and other folks who can benefit from incorporating 3D models into their workflow. It's also got a stylus-enabled touch mat that acts as a second screen. According to ubergizmo.com, on the hardware side the main improvement is the new 21.3" diagonal Projected Touch Display with  full HD resolution on the 20-point capacitive horizontal Touch Mat surface, which is a perfect match for the full HD resolution of the vertical display. The previous HP Sprout Pro model featured a lower 1024×768 resolution, so users were losing the scale when dragging any drawing or graphics from the full HD vertical display onto the horizontal Touch Mat. The 20-point 2.2 mm thick Touch Mat allows two sets of hands to interact with the projected display. More to read here.
Toyota Concept-i

Toyota doesn't believe the future of the car is only about teaching vehicles to drive for us. While the  Concept-i vehicle shown at CES would be capable of driving autonomously, its biggest draw is the artificial intelligence that powers it. Toyota claims the car will be able to learn more about the drivers' preferences and needs over time, such as suggesting destinations after a driver chats with the vehicle's virtual assistant, called "Yui." "Cars are for people who want to go to more places safely and efficiently, and enjoy the thrill of the drive at the same time. We're excited to introduce you to a vision for the car of the future. Toyota Concept-i and its forward-thinking UX hold a mirror up to a future that is warm, friendly, engaging and, most of all—fun," it says on the company's website.
Chrysler Portal concept road warrior
The minivan, although Chrysler is not explicitly calling the Portal a minivan, considers The Verge, it appears to have gotten its name from its wacky door design that opens and closes like an elevator. Chrysler bills the Portal as "next generation family transportation designed by Millennials for Millennials," which is brand lingo for appealing to people with smartphones and money to burn. The carmaker also bills the Portal as a "third space" where these family-minded Millennials will chose to spend all their time outside their homes and offices. In other words, "an open and serene atmosphere that bridges work and home."
PowerRay Aquatic Drone
PowerVision's  new PowerRay drone is compatible with an optional FishFinder add-on that uses a sonar system to detect fish up to 131 feet (40 meters) away, lures them with a blue light and send images to the user. It operates in both fresh and salt water and includes a 4K camera that can shoot 12-megapixel stills. This underwater drone can submerge up to 98 feet (30 meters) and records 4K video streamed to your phone, which you use to navigate. Not impressed already? PowerVision will be offering VR goggles that allow you to robot around by tilting your head.
Snapchat Spectacles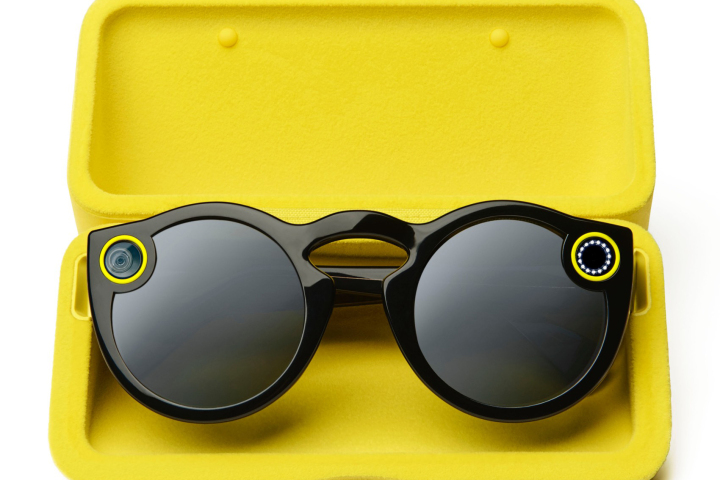 Snapchat parent company Snap Inc. demonstrated its mastery of artificial scarcity when it debuted its Spectacles video-recording glasses late last year. An easy setup process, good-enough video quality and stylish look made Spectacles a hit. But the company's distribution process—vending machines with limited stock that randomly appeared across the country—made them a phenomenon.
Superpedestrian Copenhagen Wheel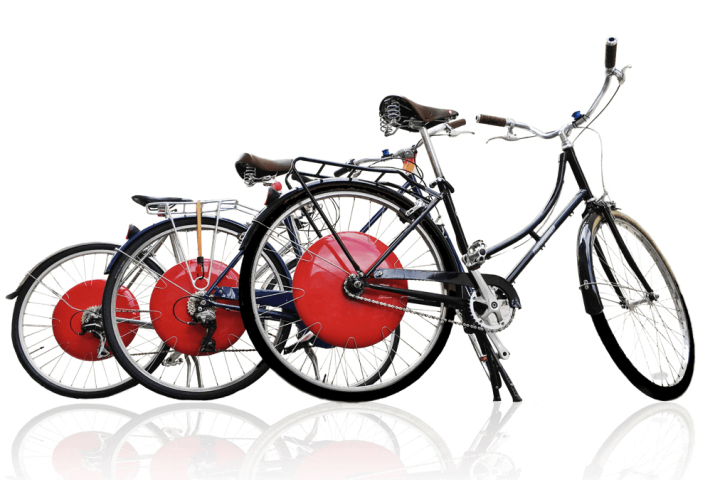 Superpedestrian's robotic bike wheel augments cyclists' oomph by powering their ride up to 20 miles per hour for over 30 miles. Though it looks like a simple bike wheel, the Copenhagen packs impressive technology inside. An integrated motor powered by a battery provides the giddyup, a wireless sensor connects to smartphones for data crunching, smart-locking hardware makes sure no one makes off with this $1,499 wheel, and regenerative brakes add to the efficiency.
LeEco smart bikes
Aimed at active users, these road and mountain bikes have GPS navigation and fitness tracking built-in. Though one is a road bike and the other is a mountain bike, both have a 4-inch touchscreen attached to their frames, which run a version of  Google's Android 6.0 Marshmallow operating system that's specifically tailored for bicycles. "In addition to on-screen directions that feature turn-by-turn navigation for bicyclists, you'll get a compass, a barometer and a speedometer. The bikes can also play music (both online and off), and you can talk to other LeEco smart bike owners via on-board walkie-talkie technology," writes www.cnet.com.
Sleep Number 360 smart bed
Designed to keep you and your partner effortlessly comfortable, the Sleep Number 360™ smart bed senses your movements then automatically adjusts firmness, comfort and support to keep you both sleeping blissfully, all night long. Sleep Number made a bed that knows when you've got cold feet and turns heat on at the bottom of the bed. You can both adjust to your ideal level of firmness, comfort and support—your Sleep Number® setting, and with Responsive Air™ technology, the bed will start to effortlessly adjust to both of you as you sleep. Moreover, according to the producers, the smart bed can be gently raised on either side to help prevent snoring.
Luke Roberts Smart Light light show
The world's first smart design lamp gives you the possibility to place light in any direction through simple paint gestures on your phone. Unlike conventional lamps, it is possible to illuminate only certain areas of a room. The lamp can emit direct and indirect light, allowing to create any light setting in your space with just one pendant lamp. In the living room, the light can be directed on the table for dinner with warm white direct light, while the remaining LEDs of the lamp emit a soft, ambient glow to the rest of the room. After dinner it is possible to illuminate, for example, the couch on the other side of the room and simultaneously adjust the color of the indirect light to create the perfect mood for your space.
Smart and Blue's Hydrao smart shower heads
French company Smart and Blue showed its Hydrao range of shower heads at CES. HYDRAO First lights up the water spray with different colors depending on the amount of water used. Powered by the shower's natural water-flow, no external power supply is needed. It therefore allows you to instantly control you water consumption and the energy needed to heat it. And you can turn it on without getting out of bed.