Guess the next speaker and you might win an autographed book!
On February 3rd, we will announce the next speaker at BRAND MINDS. Until then, join our challenge and guess his/her name and you could win an autographed book!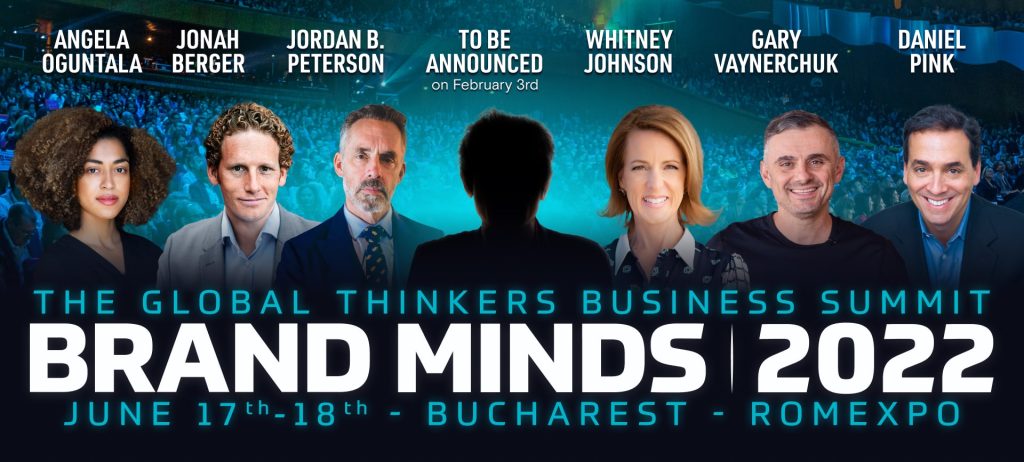 To help you guess correctly, we have prepared a clue. It's an extract from his/her bestselling book:
"The research literature has identified three factors that universally lead to stress: uncertainty, the lack of information and the loss of control."
Curious to know who the next speaker is joining?
The current lineup for BRAND MINDS 2022 is comprised of outstanding speakers sharing amazing business strategies, insights and ideas on entrepreneurship, personal development, sales & marketing, innovation, leadership and team development.
BRAND MINDS 2022 SPEAKERS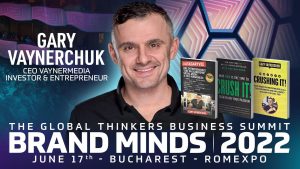 GARY VAYNERCHUK
@GaryVee is described as one of the most forward thinkers in business. His expertise in anticipating patterns helps entrepreneurs understand how these shifts influence markets and customers.
At BRAND MINDS, Gary will be speaking about the ultimate strategies to build outstanding businesses.
Key learnings:
How to scale up a company in today's digital world;
Tactics to increase your business' revenues by leveraging digital channels;
Strategies on how to build efficient business partnerships;
Actionable insights on how to amplify your company's image.
Did you know Gary Vaynerchuk has recently launched a new book?
The book is titled Twelve and a half: Leveraging the emotional ingredients necessary for business success and sold 1 million copies in only one day.
Two months since launch, Twelve and a half is already a USA Today bestseller.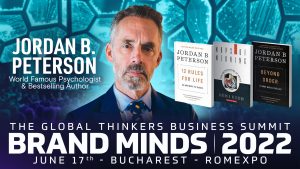 JORDAN B. PETERSON
Jordan B. Peterson, a renowned expert on the understanding of personality, will deliver a memorable speech about the 12 rules for a successful life.
You will learn:
The Big Five Personality traits;
How to improve your ability to deal with and understand those around you who have different personalities;
Valuable insights to guide you towards a more courageous, truthful and meaningful life.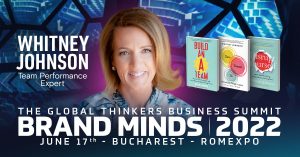 WHITNEY JOHNSON
With +20 years of research, consulting & coaching, Whitney Johnson helps leaders to acquire the necessary skills for leading teams with confidence and a strategic approach.
On the BRAND MINDS 2022 stage, Whitney Johnson will talk about leadership and the best tactics for building an extraordinary team.
You will learn:
The 7 accelerants of personal disruption;
Where is your team on the S Curve of Learning ™;
How to leverage disruption in your team's favour.
On January 11th, Whitney Johnson launched Smart Growth: How to grow your people to grow your company. In her book, Whitney Johnson dives more deeply than ever into the S curve of growth and learning and illustrates ways in which the organization can create a thriving culture.
Also, she was recognized by Thinkers50 as one of the Top 10 Global Management Thinkers.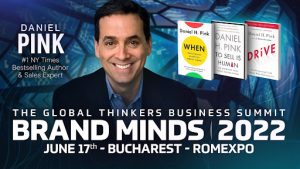 DANIEL PINK
Named one of the most influential management thinkers in the world by Thinkers50, Daniel Pink writes and creates at the intersection of work, psychology, and society.
At BRAND MINDS, Daniel Pink will deliver a remarkable speech about the new rules of selling and influence.
Key learnings:
5 ways to frame messages to increase clarity and lead to action;
Why problem finding has become more important than problem-solving;
Why questioning your abilities before a sales call is more effective than pumping yourself up;
Why the most effective salespeople are not extroverts;
2 principles that can move your sales from transactions to conversions.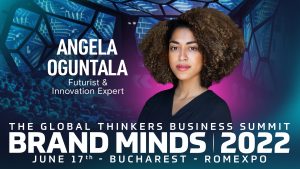 ANGELA OGUNTALA
Angela Oguntala is a strategy expert on futuristic innovation who is consulting companies on how to design their internal process for a thriving business future.
She has rich expertise in sustainable transitions and experimental processes that catalyse innovation. She has led innovation projects and advised global organizations with billions in revenue, among which we mention: Microsoft, IKEA, Hermes, Philips and more others.
Angela will be talking about innovation frameworks and how to rethink your company for the future.
You will learn:
How futuristic thinking impacts an organisation's core values & practices;
Processes that will facilitate futuristic thinking;
How to nurture foresight mindsets & enhance your team's capabilities.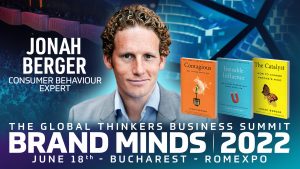 JONAH BERGER
On the second day of BRAND MINDS 2022, attendees will participate in Jonah Berger's 5-hour Marketing Strategy Masterclass and will learn about the secret science of viral ideas.
Key takeaways:
How to design messages, ads and information that people will share;
5 hidden factors that impede change and how by mitigating them, you can change anything;
6 basic principles driving all sorts of things to become popular.
Looking to stay updated with the latest news from BRAND MINDS?
Subscribe to our newsletter!
BRAND MINDS LIVE 2020 Speaker Announcement: Austin Channing Brown
The march toward change has been gruelling, but it is real. And all it has ever taken was the transformed—the people of colour confronting past and present to imagine a new future, and the handful of white people willing to release indifference and join the struggle.

Austin Channing Brown
We are excited to welcome the latest BRAND MINDS LIVE 2020 speaker: Austin Channing Brown, Author & Media Producer!
Austin will join Brené Brown on September 26th for a special conversation on equity and representation.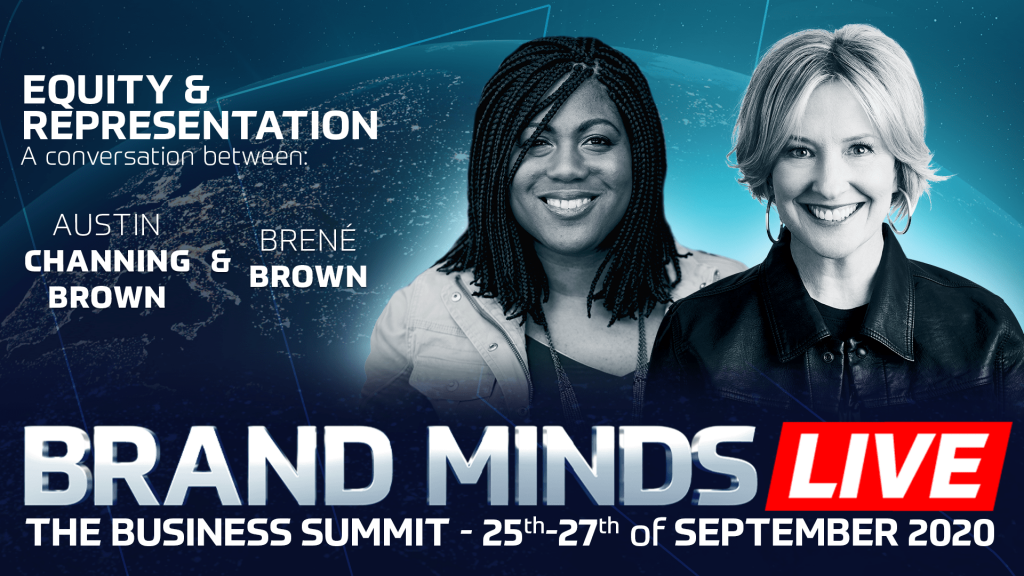 NEW YORK TIMES BESTSELLING AUTHOR
Austin Channing Brown is a writer and media producer providing inspired leadership on racial justice in America.
She is the author of the New York Times' bestselling I'm Still Here: Black Dignity in a World Made for Whiteness. The book has received critical acclaim from influential publications such as Publishers Weekly and Booklist and was ranked in Amazon's Top 20 Bestsellers list.
It has also been featured in OnBeing, The Chicago Tribune, WNYC, The Religion News Service, with Shonda Rhimes, the creator of the famous TV series Grey's Anatomy declaring it, "[a] deeply personal celebration of blackness that simultaneously sheds new light on racial injustice and inequality while offering hope for a better future."
Here's what Brené Brown said about Austin's book:
"Most people say, 'that book has legs'; I measure the impact of a book by how often I throw it across the room. Austin's book has serious wings. It broke me open."
ADVOCATING FOR SOCIAL CHANGE
By using an intentional mix of humour, pop-culture, storytelling, and audience engagement, Austin awakens people to the current realities of systemic racism and the everyday actions which allow racism to thrive.
As a media producer, Austin creates content that centres the experiences of Black women, dismantling the foundations of white supremacy.
In her web series, The Next Question, co-created with Chi-Chi Okwuand and Jenny Booth Potter, Austin examines complex topics affecting social justice while simultaneously celebrating the humanity of the show's guests.
BRAND MINDS LIVE 2020 welcomes two new speakers: Bozoma Saint John and Aduke Onafowokan
BRAND MINDS LIVE 2020 is thrilled to announce that Bozoma Saint John, Chief Marketing Officer @ Netflix and Aduke Onafowokan, Expert on Diversity & Inclusive Leadership have joined our online event
Bozoma Saint John,

 CMO at Netflix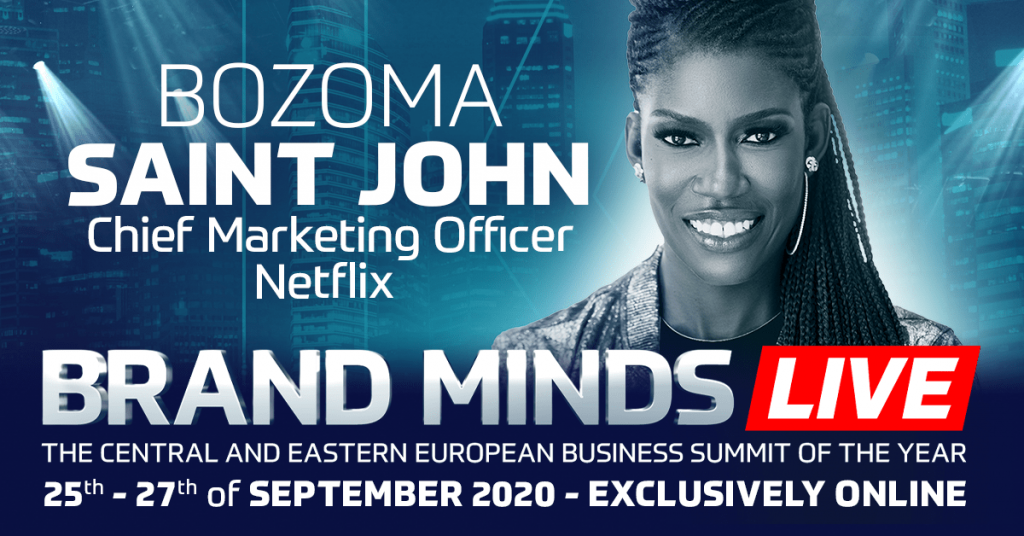 TRAILBLAZING MARKETING & ADVERTISING EXECUTIVE WITH 20 YEARS OF EXPERIENCE
Recently appointed CMO at Netflix, Bozoma is an experienced professional leading the marketing departments for billion-dollar companies.
Before Netflix, the streaming giant now worth more than Disney, she worked at Endeavor, a global leader in entertainment, sports and fashion operating in more than 30 countries.
Before that, she was Chief Brand Officer at Uber and Head of Global Consumer Marketing at Apple Music & iTunes, spearheading campaigns geared towards growing consumer brand recognition, loyalty and equity around the world.
She got her start in marketing at Spike Lee's advertising agency, Spike DDB.
In 2016, Bozoma delivered Apple's Worldwide Developers Conference keynote and blew everyone away with her presentation skills. Journalists wrote she was the "coolest" person to ever take the stage at an Apple keynote. The audience was captivated by Bozoma 'the Boz' Saint John and asked that she deliver every Apple keynote.
ONE OF WORLD'S MOST INFLUENTIAL CMOs
Bozoma was featured in Forbes' World's Most Influential CMOs list and Ad Age's Most Creative People list.
Her career has also been marked by induction into Billboard's Women in Music Hall of Fame and the American Advertising Federation Hall of Achievement, as well as recognition on The Hollywood Reporter's Women in Entertainment Power 100 list.
She has been featured in Fortune Magazine's Disruptors, Innovators & Stars 40 Under 40 and in March 2017 she was named a Henry Crown Fellow in the Aspen Institute.
NAMED ONE OF THE MOST POWERFUL WOMEN IN BUSINESS
Business magazine Black Enterprise recognized Bozoma as one of the most powerful women in business alongside other global leaders such as Oprah Winfrey and Beyoncé Knowles. At the time, she was head of global marketing for Apple Music.
Ebony Magazine's 100 Powerful Executives highlights African-Americans who exemplify brilliance in the fields of entertainment, arts and business. The magazine's 2017 list recognized Bozoma Saint John in the Women Up category.
None of us will have any impact or influence if we are quiet. So don't be quiet, be loud as hell.

Bozoma Saint John
GUEST LECTURER AT HARVARD BUSINESS SCHOOL
During the 2020 Spring semester, Bozoma's marketing career served as a case study in an MBA class at the Harvard Business School. She appeared as a guest lecturer, delving deep into the tactical and pivotal marketing moves she made throughout her career, which she now credits as intrinsic to her success.
REACHED MILLIONS OF FOLLOWERS WITH #ShareTheMicNow
Bozoma launched the #ShareTheMicNow movement on Instagram where 50 Black women are taking over the Instagram feeds of 50 White women with million-follower platforms, magnifying Black women and the important work that they're doing in order to catalyze change.
Among them are world-renowned public figures and celebrities as Brené Brown, Hollywood actress Julia Roberts, award-winning author Elizabeth Gilbert, Arianna Huffington, Melinda Gates and Hillary Clinton.
#ShareTheMicNow will comprise accounts that reach a total reach of 300 million followers.
CO-HOST OF THE BACK TO BIZ WITH KATIE AND BOZ PODCAST
Most recently, Saint John launched a podcast alongside award-winning journalist Katie Couric, "Back to Biz with Katie and Boz," which explores the ways thought leaders, CEOs and innovators are responding to the societal shifts that have been ushered in by the coronavirus pandemic.
THE BADASS WORKSHOP – HOW TO BECOME EMPOWERED
Do you want to know how Bozoma did it? How she built her successful career while being authentic? Now you can by joining Bozoma's The Badass Workshop which she created with the intention to curate and share the knowledge she has amassed in her career, health & wellness, perseverance, goals and much more.
Join the

BRAND MINDS LIVE 2020

on September 26th and connect with Bozoma Saint John!
Aduke Onafowokan

, Expert on Diversity & Inclusive Leadership

PARTNERED WITH THE U.N. FOUNDATION, OXFORD UNIVERSITY & MORE 
Aduke Onafowokan is an internationally renowned expert on diversity, intersectionality, and inclusive leadership whose bespoke programmes helped develop leaders and leadership across cultures and backgrounds.
She has scholarly expertise on leadership and gender from INSEAD, a master's degree in Organisational Leadership from the University of Oxford and a master's degree in Corporate and International Law from Nottingham Law School.
Aduke worked with some of the largest organizations in the world such as Deloitte, British American Tobacco and The UK Ministry of Defence.
She has partnered with the UN Foundation, University of Oxford, UK Parliament and UNICEF on Campus to empower women and future female leaders at work and in business.
She is an entrepreneur with a successful consulting career with ten years of practical experience in Project Management, Training and Talent Development.
Aduke's expertise includes recruiting, developing and retaining talent. Her work focuses on the areas of intersectionality and leadership by helping institutions and organisations understand the often complex and unique challenges of diverse experiences and how these can be managed and mitigated.
EMPOWERED 10.000 WOMEN THROUGH HER ORGANISATIONS
Aduke founded Sister Sister Network in 2016, an organisation offering free career and business accelerator workshops to women. The organisation provides its members with the opportunity to gain the insight, education, empowerment, inspiration and networks required to achieve their personal goals and become leaders in their chosen fields.
Inclusivitii is a Diversity and Inclusion Organisation that has educated and inspired thousands of workforce on inclusive leadership and diversity in the workplace across the globe. The organisation's goal is to promote diversity and inclusion through education and create compassionate spaces for uncomfortable conversations. In a respectful, inclusive workplace, diversity is valued, and individuals feel safe and appreciated.
"Inclusive leadership is needed now more than ever, as the world around us becomes more polarised and divided, the world is hungry for leadership, unity, and vision that carries everyone along".

Aduke Onafowokan
RECOGNISED AS ONE OF THE 145 INSPIRING WOMEN LEADERS IN 2020
Diversein develops sustainable strategies for companies to build inclusive and happier workplace cultures with their authenticity. As part of International Women's Day 2020, Diversein launched a campaign to recognise and reward inspiring women leaders globally. Aduke was recognised alongside leaders such as Oprah Winfrey, Michelle Obama, Brené Brown and Melinda Gates.
​NOMINATED FOR THE YAHOO FINANCE HERoes ROLE MODEL LIST 2020
Aduke was nominated for the HERoes Women Role Model Lists supported by Yahoo Finance which showcases leaders who are championing women in business and driving change for gender diversity in the workplace.
Through her body of work, Aduke continues to make a widespread contribution to the advancement of women in business, career and public life.
Join

BRAND MINDS LIVE 2020

on September 26th and watch Aduke Onafowokan speak about
Diversity and Inclusive Leadership

.
BRAND MINDS 2020 speakers: Renée Mauborgne, Bestselling Author of Blue Ocean Strategy & Blue Ocean Shift
We are thrilled to announce that Renée Mauborgne, Bestselling Author of Blue Ocean Strategy & Blue Ocean Shift is joining the lineup of BRAND MINDS 2020
speakers!
Read on to find out more about Renée Mauborgne.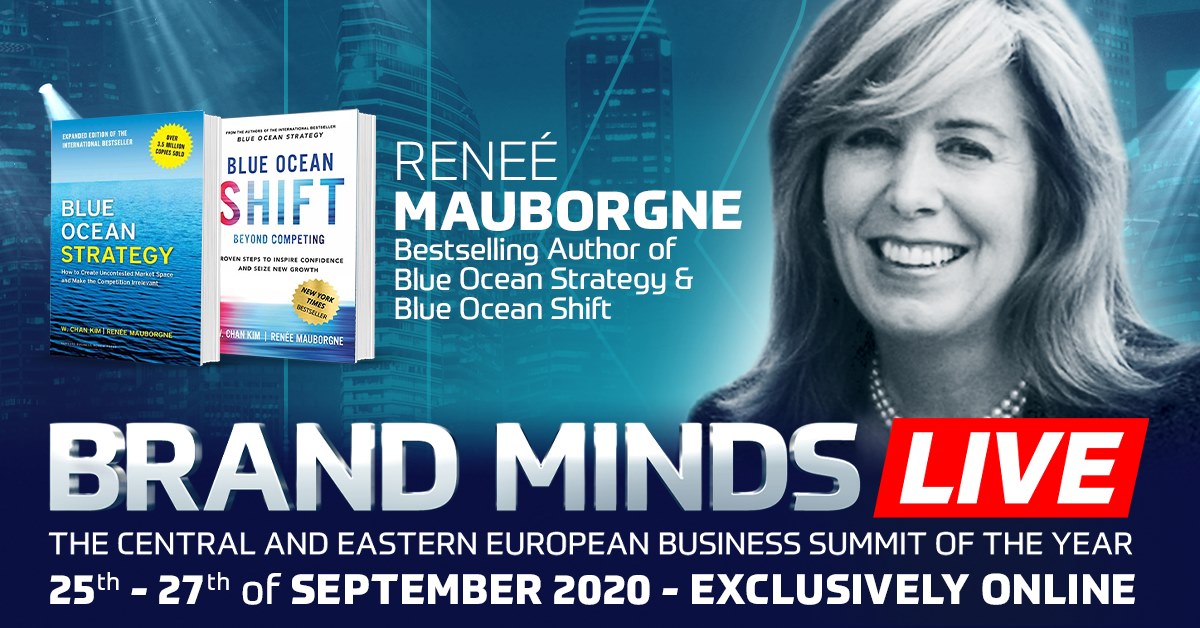 Co-author of two global bestsellers: Blue Ocean Strategy and Blue Ocean Shift
Blue Ocean Strategy: How to create uncontested market space and make the competition irrelevant
Renée Mauborgne is a Distinguished Fellow and Professor of Strategy at INSEAD, one of the world's top business schools.
Together with her colleague Chan Kim, also a Professor of Strategy at INSEAD, she wrote Blue Ocean Strategy: How to create uncontested market space and make the competition irrelevant.
Blue Ocean Strategy has sold over 4 million copies and is recognized as one of the most iconic and impactful strategy books ever written.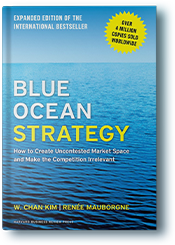 The book is being published in a record-breaking 46 languages and is a bestseller across five continents, hitting over 300 bestseller lists across the globe.
The Financial Times called it "one of the bestselling business books of the century" and The Economist called it "the most successful book on business master-planning".
The book shows the results of a study of 150 strategic moves spanning more than 100 years across 30 industries. The authors' conclusion is that lasting success comes not from battling competitors but from creating blue oceans – untapped new market spaces ripe for growth.
Blue Ocean Shift Beyond Competing: Proven steps to inspire confidence and seize new growth
Blue Ocean Shift is the essential follow-up to Blue Ocean Strategy. Drawing on more than a decade of new research, the book is being translated into over 30 languages.
It is a New York Times and Wall Street Journal bestseller and one of the "Best Business and Leadership Books of 2017" selected by Amazon.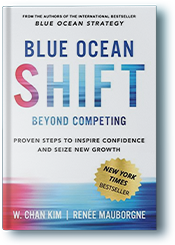 What is the blue ocean strategy?
Blue ocean is the metaphor for the unknown market space and all the industries that are not in existence today. It's the unchartered land that courageous explorers venture in to discover unimaginable riches and opportunities.
The blue ocean concept is the result of thirty-year research conducted by Renée and Chan in which they studied organizations large and small, for-profit and non-profit and even governments. What they looked at was how these organizations moved beyond competing in existing crowded markets—what we think of as red oceans—to new heights of confidence, market creation and growth.
In the blue ocean strategy, the organizations focus on creating new demand, turn non-customers into customers and unlock unrealized talent and energy within themselves fast and at low cost.
Learn more: Blue Ocean Strategy: How to differentiate from the competition
What is the blue ocean shift?
In the years following the launch of the blue ocean strategy, individuals, governments, companies, and nonprofits around the globe started to look at their businesses through the lens of Renée's and Chan's innovative concept.
More and more organizations and companies began applying the blue ocean strategy, leaving red oceans to capture blue oceans. They were making the shift. Renée and Chan analyzed their successes and failures and drew lessons to understand not only the common factors leading to a successful blue ocean shift but also the pitfalls and hurdles that got in the way.
The blue ocean shift is a roadmap any organization can apply to move from red to blue oceans in a way that their people own and drive the process to succeed.
#1 Management Thinker in the world in 2019
Thinkers50 is one of the world's most reliable resource for identifying, ranking and sharing the leading management ideas of our age. Dubbed "the Oscars of management thinking", Thinkers50 Ranking is a global ranking of management thinkers and an essential guide to which thinkers and which ideas matter now.
Renée Mauborgne along with her colleague Chan Kim was named the #1 Management Thinker in the World by Thinkers50 with Renée being the first woman ever to secure the top spot on this list of global thought leaders.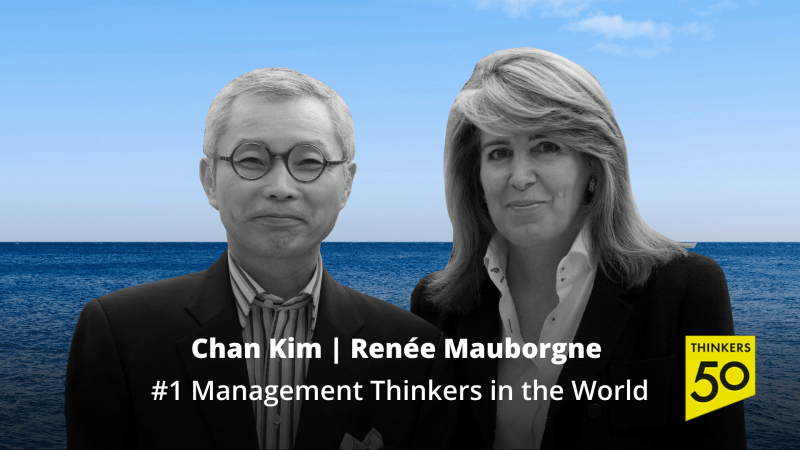 Named among the Top 5 Best Business School Professors in the world
Renée was selected for the 2011 Leadership Hall of Fame by Fast Company magazine and as one of the World's 50 Best Business School Professors in 2012 by Fortune.com
She was also named among the world's top 5 best business school professors in 2013 by MBA Ranking.
Co-director of The Blue Ocean Strategy Institute
In 2015, together with Chan Kim, she founded the INSEAD Blue Ocean Strategy Institute.
The Blue Ocean Strategy Institute is dedicated to extending the research on Blue Ocean Shift, Blue Ocean Strategy, and Blue Ocean Leadership and to contribute to the practice and performance of companies, governments and non-profit organisations.
Teaching materials developed by the institute are in use in over 1700 universities in 100 countries with individuals, organizations and national governments across the world applying the Blue Ocean Strategy model.

Awarded Leadership Expert
Renée has received numerous awards for her thought leadership including the prestigious Carl S. Sloane Award for Excellence for her innovative approach of management and leadership, the Nobels Colloquia Prize for Leadership on Business and Economic Thinking and the Eldridge Haynes Prize, awarded by the Academy of International Business and the Eldridge Haynes Memorial Trust of Business International, for the best original paper in the field of international business among others.
Renée Mauborgne served on President Barack Obama's Board of Advisors on Historically Black Colleges and Universities (HBCUs) for the President's two terms.
She is also a Fellow of the World Economic Forum, the independent international organization committed to improving the state of the world.
Join BRAND MINDS 2020 – The Growth Weekend on September 26th and watch Renée Mauborgne speak live about Blue Ocean Strategy!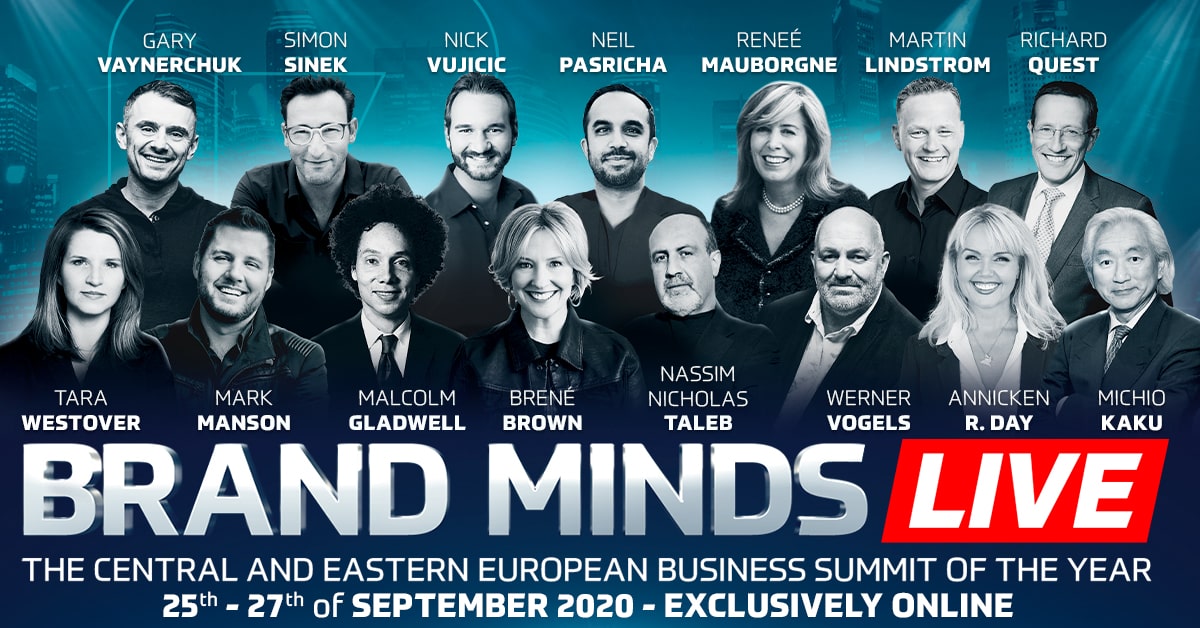 BRAND MINDS 2020 speaker: Neil Pasricha, Bestselling Author and Psychology Researcher
We are thrilled to announce that Bestselling Author and Psychology Researcher Neil Pasricha has joined BRAND MINDS 2020!
Neil Pasricha is a top-rated leadership keynote speaker, New York Times bestselling author, Harvard MBA and psychology researcher focused on the relationship between happiness and leadership in business.
The goal is not to be perfect. The goal is to be better than before.

Neil Pasricha
Read on to find out more about Neil.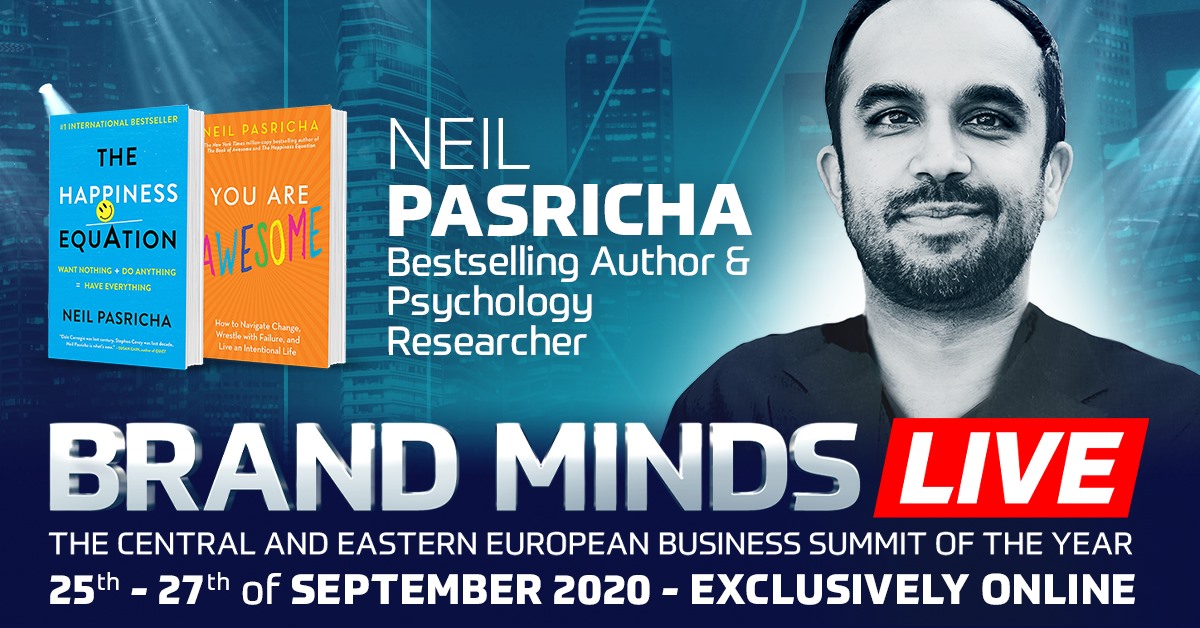 Gave one of the 10 most inspirational TED Talks of all time
In 2010 Neil delivered a heartfelt and personal TED Talk called The 3 As of Awesome.
In his talk, he reveals the three secrets (all starting with A) to leading a life that's truly awesome. To date, the video has over 3 million views and has been included in the Top 10 Most Inspirational TED Talks of all time.
His award-winning blog went viral with 100 million visits
Before his bestselling books, Neil published his award-winning blog 1000awesomethings.com.
He launched his blog in 2008 as a way to cope with his divorce and his friend's suicide. Between 2008 and 2012, he wrote one awesome article every single weekday for 1000 straight weekdays: from getting grass stains to rain hair to the feeling of scrunching sand in your feet. It's every little thing that makes us all feel good. Plus Neil ends every blog with an all-caps AWESOME! which you can't pronounce without a big smile and throwing both hands in the air enthusiastically.
His blog went viral and scored over 100.000.000 visits. It won the Webby award for Best Blog in the World two years in a row and is the main source of content for The Book of Awesome. Currently, 100.000 people get Neil's newsletters which come directly from him and are 100% ad, sponsor, and commercial-free.
Neil improved the leadership skills of Walmart leaders for 10 years
With 2.2 million employees, Walmart is the largest private employer in the world and the biggest retailer in the world with a turnover of over 442 billion euros in 2019.
A Harvard MBA, Neil has run the leadership development department for ten years. In his capacity as Director of Leadership, he worked directly with two Walmart CEOs. He was responsible for CEO onboarding, executive development, and talent management across all levels of the organization.
Neil also worked with Harvard Business School to develop Walmart's first-ever Global Executive Program whose goal was to invest, groom, and motivate great leaders from within all the way to the C-suite.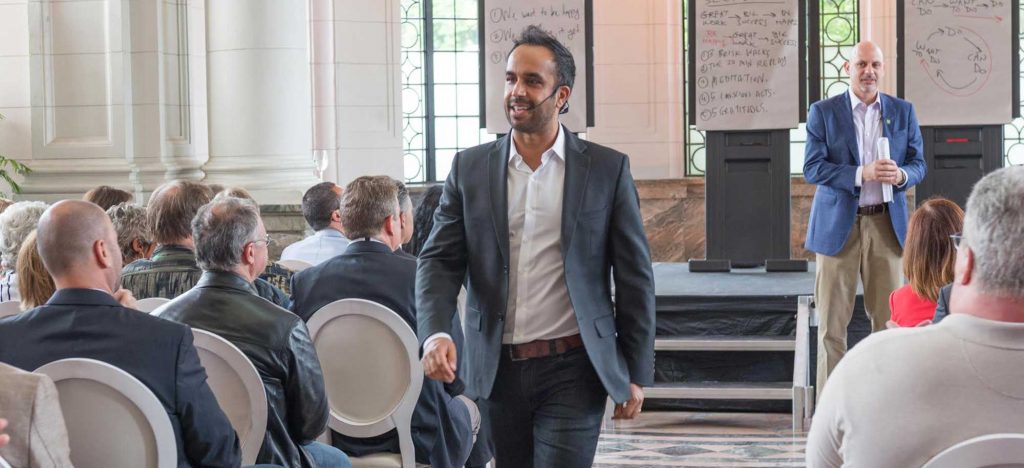 Founder of The Institute for Global Happiness
In 2016, Neil launched The Institute for Global Happiness, a guide for businesses looking to increase happiness inside their organizations.
Reports have found that despite massive increases in our wealth, safety, technology, freedom, access to information, our happiness levels have stayed the same for the past fifty years. We are still looking for happiness, but we don't know how to get it.
The institute provides keynote speaking, books and resources developed for the average person to drive long term happiness. It targets organizations because that's where we spend most of our time and that's where we are the most unhappy.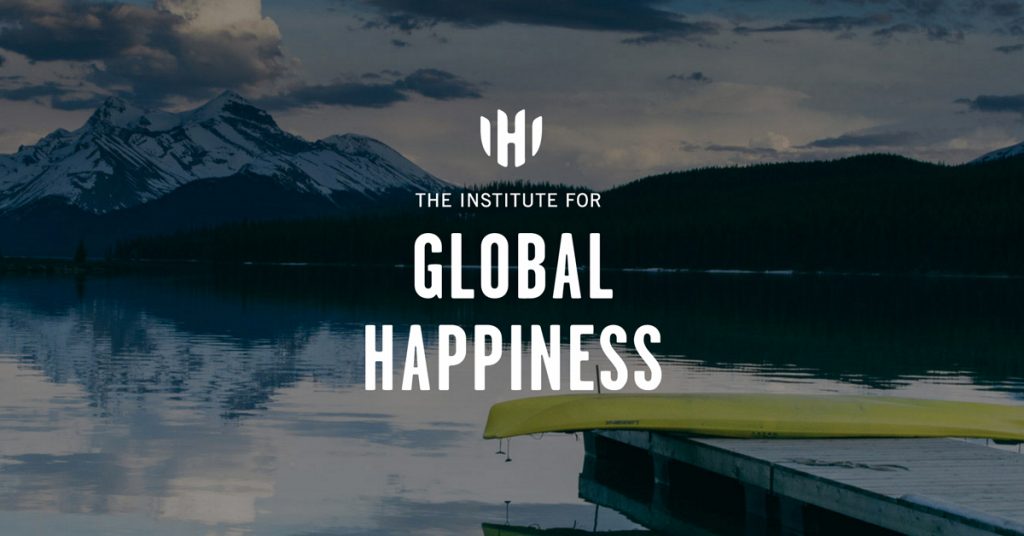 The host of the awarded podcast 3 Books with Neil Pasricha
Neil hosts an Apple "Best of"/iTunes Top 100 podcast called 3 Books with Neil Pasricha. The podcast is Neil's epic 15-year-long quest to uncover the 1000 most formative books in the world. He was in his thirties when he started the podcast, he'll be in his fifties when it's done. 3 Books is the world's only podcast by and for book lovers – "a complete labour of love".
Neil has interviewed renowned people like bestselling author Malcolm Gladwell, writer Judy Blume, humorist and author David Sedaris, Head of TED Chris Anderson and many more.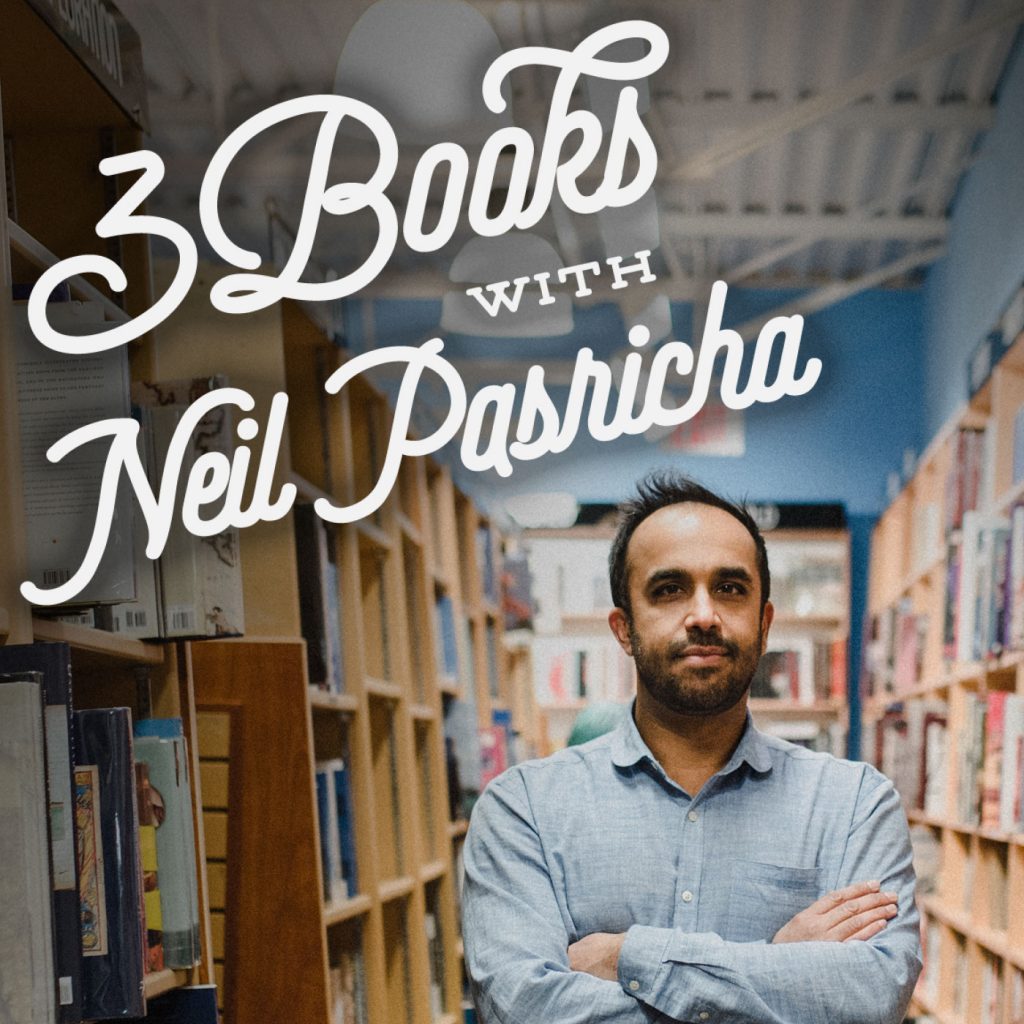 #1 International & New York Times Bestselling author
The Book of Awesome – Snow days, bakery air, finding money in your pocket and other simple, brilliant things (2010)
Neil's first book, The Book of Awesome has received widespread acclaim from both critics and the public. The book is a compilation of the small joys of life that Neil puts together in a sweet, funny and nostalgic voice.
In our constant pursuit of big life-defining moments, we so often forget about the little things that give us pleasure and make us feel better if only for a moment. From popping bubble wrap to sleeping in new bedsheets, Neil reminds us that life is worth living.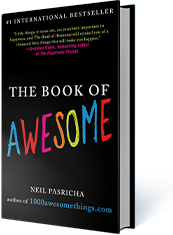 The Happiness Equation – Want nothing + Do anything = Have everything (2016)
The Happiness Equation is the result of an unrelenting search, over more than a decade, to hack human happiness. It contains the collective wisdom of hundreds of psychologists, dozens of Fortune 500 CEOs, and thousands of personal interviews.
What is the simplest formula for a happy life? asks Neil. His book offers the answer in the form of nine secrets that Neil shares with his readers.
When Neil Pasricha talks, leaders of all levels and backgrounds stop what they're doing… and listen.

Howard Behar, former President of Starbuck Coffee
Here are a few principles that will change your life if followed:
The 4 simple words that block all criticism
How to add one hour to your day with only one small change
The one thing most billionaires want but cannot have
How to make more money than a Harvard MBA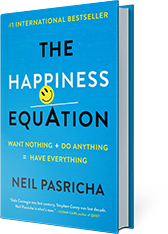 You Are Awesome – How to navigate change, wrestle with failure and live an intentional life (2019)
A brilliant book, generous, heartfelt and true. Neil is going to help you change your life.

Seth Godin
In our time and age, life should be better than ever. And yet it isn't. We are overwhelmed with seemingly endless choices, the on-demand 24-hour delivery economy provides us with instant gratification and personal worth is measured through others. Anxiety and depression rates are increasing. In our frantic pursuit of perfection, we lost our way and ourselves and nobody taught us how to deal with failure.
Neil's book provides readers with story-based and science-backed models on how to become resilient, powerful and in the end, awesome.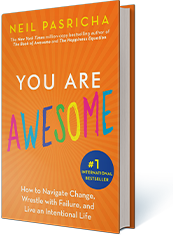 His books have been #1 on the New York Times and international bestseller lists for over 200 weeks and sold millions of copies.
Neil's work has been featured in hundreds of outlets including CNN, BBC, The Today Show, The Early Show, The Oprah Winfrey Network, Harvard Business Review, Fast Company, Fortune, and Forbes.
As a positive psychology researcher and intentional living speaker, Neil has spoken to hundreds of thousands of people around the world including Fortune 100 companies, Ivy League schools, and Royal Families in the Middle East.
Join the BRAND MINDS 2020 – The Growth Weekend on September 26th and watch Neil Pasricha speak about Leading yourself first before you lead others!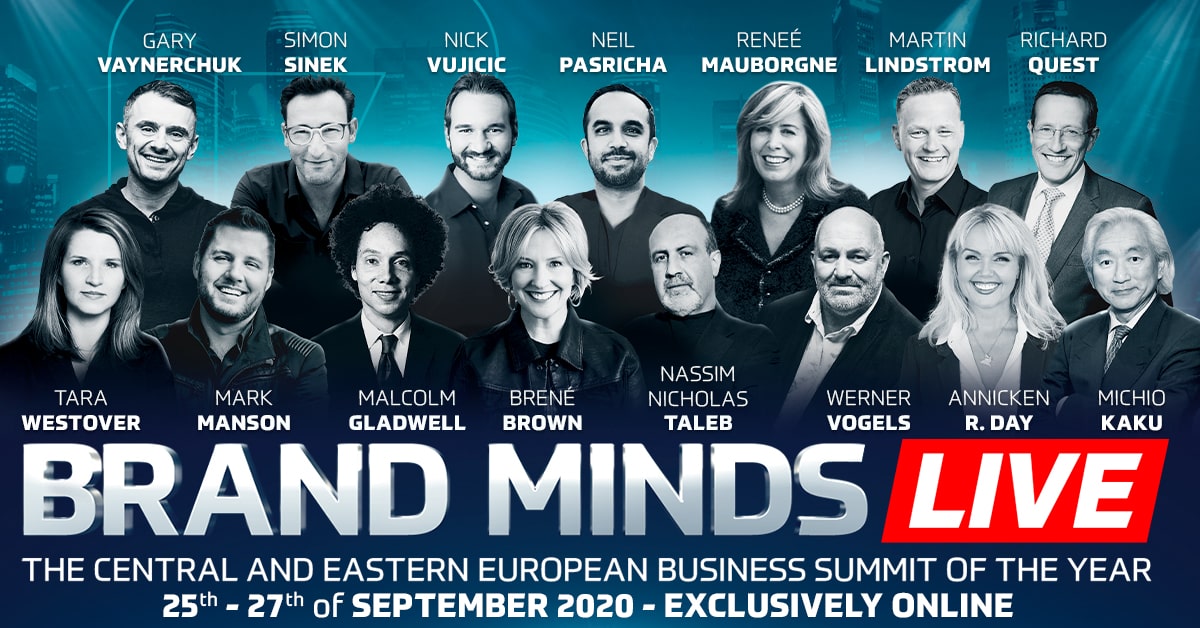 BRAND MINDS 2020 SPEAKERS: Nicholas Nassim Taleb, Risk Analyst & Bestselling Author
BRAND MINDS 2020 is thrilled to announce Risk Analyst and Bestselling Author Nassim Taleb has joined our event.
Taleb's works focus on mathematical, philosophical, and practical problems with risk and probability, as well as on the properties of systems that can handle disorder. Having a two-decade experience as a financial trader, he changed careers to become a scholar, mathematical researcher and philosophical essayist.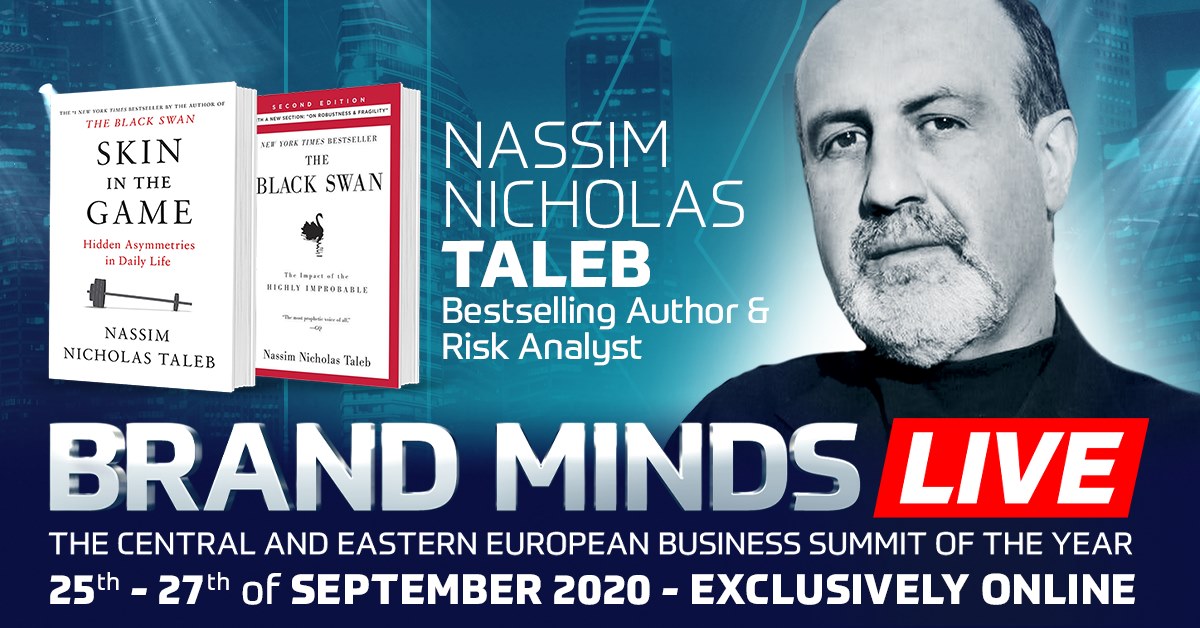 Taleb has changed the way many people think about uncertainty, particularly in the financial markets.

Nobel Laureate Daniel Kahneman
Bestselling author of Incerto
Incerto is a philosophical and practical essay on uncertainty essay consisting of five standalone volumes: Fooled by Randomness (2001), The Black Swan (2007-2010), Antifragile (2012), The Bed of Procrustes (2010-2016) and Skin In the Game (2018).
The series has been translated into 41 languages to date.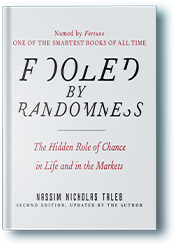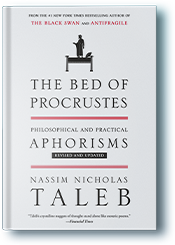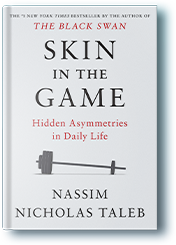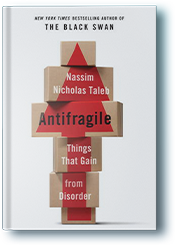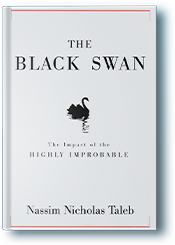 According to a specialist's review, in Incerto Taleb has created "a full system of thought that goes from empirics to ethics, a thing which is exceedingly rare in the modern world."
In his volumes, Taleb describes his technical observations about non-Gaussian distributions of some phenomena and what this means for our perception of reality and the way we comprehend things. He goes on to establish a methodology of knowledge and the role of inductive thinking.
What is inductive reasoning?
Inductive reasoning or thinking makes broad generalizations from specific observations. Inductive reasoning is the opposite of deductive reasoning.
Moving to ethics, Taleb argues that to be credible one must show by his behaviour that he believes in what he preaches. And last but not least, the series includes Taleb's philosophical views of modern civilization in the form of aphorisms.
As a backup of the Incerto, Taleb wrote more than 70 scholarly papers in mathematical statistics, quantitative finance, statistical physics, philosophy, ethics, economics, & international affairs, around the notion of risk and probability.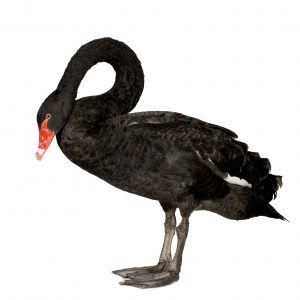 What is a Black Swan event?
A black swan is an unpredictable event that is beyond what is normally expected of a situation and has potentially severe consequences. It is a concept that Taleb helped popularize with his homonymous book published in 2007.
In his book, Taleb describes a black swan as an event that meets the following criteria:
is beyond normal expectations (the event is so rare that even the possibility that it might occur is unknown)
has a catastrophic impact when it does occur
is explained in hindsight as if it were actually predictable.
The 2008 financial crisis – which Taleb has predicted – is an example of recent black swan events as well as the dot.com bubble of 2001.
Is the COVID-19 crisis a black swan event?
Taleb says the coronavirus pandemic is not a black swan but a white swan event because it was preventable.
Actually, first time Taleb warned about an acute virus spreading across the world was in his 2007 book and a second time in January of this year, when he talked about the virus's systemic risk before the outbreak reached pandemic status.
Among the most veteran traders in the world
Taleb spent twenty-one years as a risk trader (quantitative trader) closing 650,000 option transactions and examining 200,000 risk reports.
He travelled the conventional route of education to real-life and theory to practice in inverse sequence from the common one, moving from the practical to the philosophical to the mathematical. He started as a trader, then got a doctorate in mid-trading career; he wrote literary books before writing technical papers, and his work became progressively more technical and formal with time.
Distinguished Professor
Taleb received his PhD from the University of Paris and MBA from The Wharton School, University of Pennsylvania.
While still a practitioner, he held various academic positions at prestigious schools such as Distinguished Research Scholar at Oxford University and Visiting Research Professor at London Business School.
Since 2008, Taleb is Distinguished Professor of Risk Engineering at NYU's Tandon School of Engineering, focusing on the properties of systems that can handle disorder.
Co-founder of The Real World Risk Institute
In 2015, Taleb co-founded The Real World Risk Institute because "education can only come from practitioners."
The institute's main objective is to build the principles and methodology for real-world rigour in decision making and codify a clear-cut way to approach risk.
The workshops conducted by Taleb and his team are dedicated to data scientists, risk professionals and analysts, as well as generally curious people with some risk experience wanting to understand fragility, antifragility and probability problems in an interactive environment.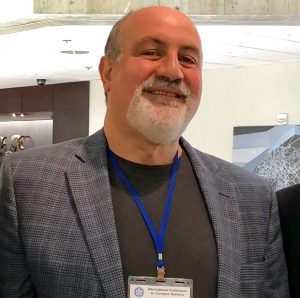 Reputed financial advisor
Taleb has advised heads of states, top financial institutions, and various central banks on tail risks such as the International Monetary Fund, World Economic Forum, Harvard School of Social Science etc.
He was a member of the United States Secretary of Defense Highland Cross-Disciplinary Panel and also a member of the King of Sweden scientific committee on global warming.
In 2008, he was admitted as an expert in the fields of risk management and derivatives by the United States Court of Federal Claims.
Refuses all honours and calls himself a flaneur
Taleb studies philology as a hobby and does mathematics as a recreational activity.
As any respectable philologist, his love for words (the term philologist comes from Greek and it means one who loves words) goes beyond his native tongue. Taleb speaks ten languages at different levels of proficiency: French, English, Levantine, Spanish, Italian, Greek, Classical Arabic, Latin, Aramaic/Syriac, Hebrew, the languages of the classical writers and philosophers that he reads and admires.
A few years ago he decided to stop accepting awards, honorary doctorates and listings as his way to fight anything that "turns knowledge into a spectator sport".
How does Nassim Taleb see himself?
He says he's a flaneur, namely an observer, someone who walks around not doing anything in particular but watching people and society.
Skin in the game means you own your own risk. It means people who make decisions in any walk of life should never be insulated from the consequences of those decisions, period. If you're a helicopter repairman, you should be a helicopter rider. If you decide to invade Iraq, the people who vote for it should have children in the military. And if you're making economic decisions, you should bear the cost if you're wrong.

Nassim Taleb
Join BRAND MINDS 2020 -The Growth Weekend on September 26th and watch Nicholas Nassim Taleb speak about the meaning of Antifragile!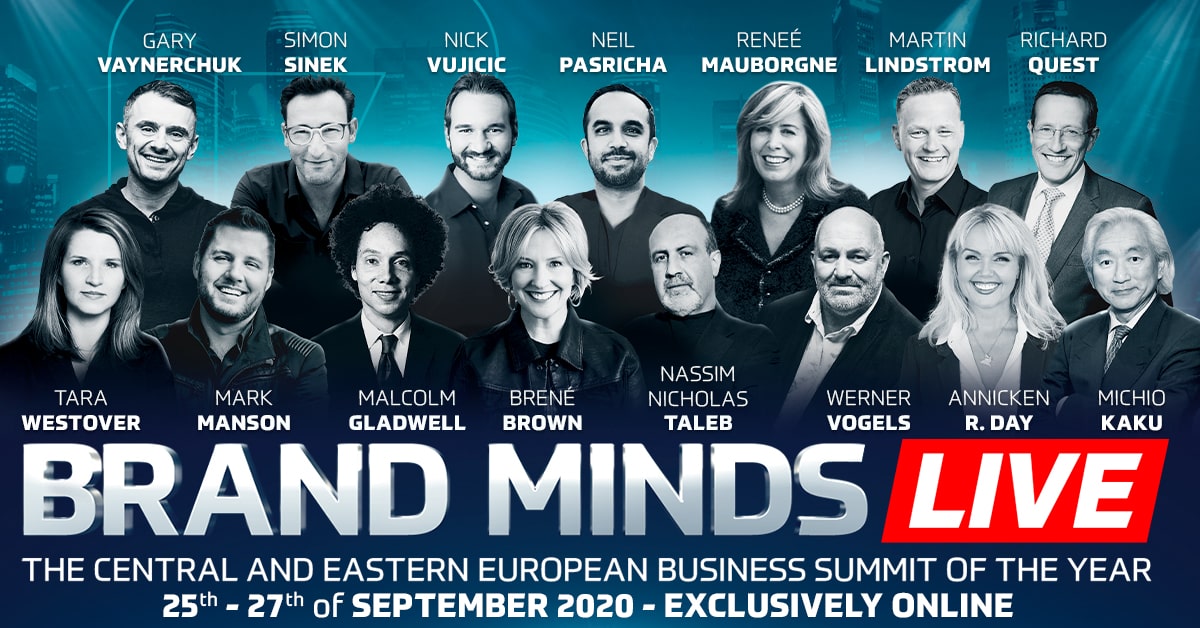 BRAND MINDS 2020 speakers: Brené Brown, Researcher & Bestselling Author
BRAND MINDS 2020 is excited to announce that Brené Brown, Researcher and Bestselling Author has joined our speakers' lineup.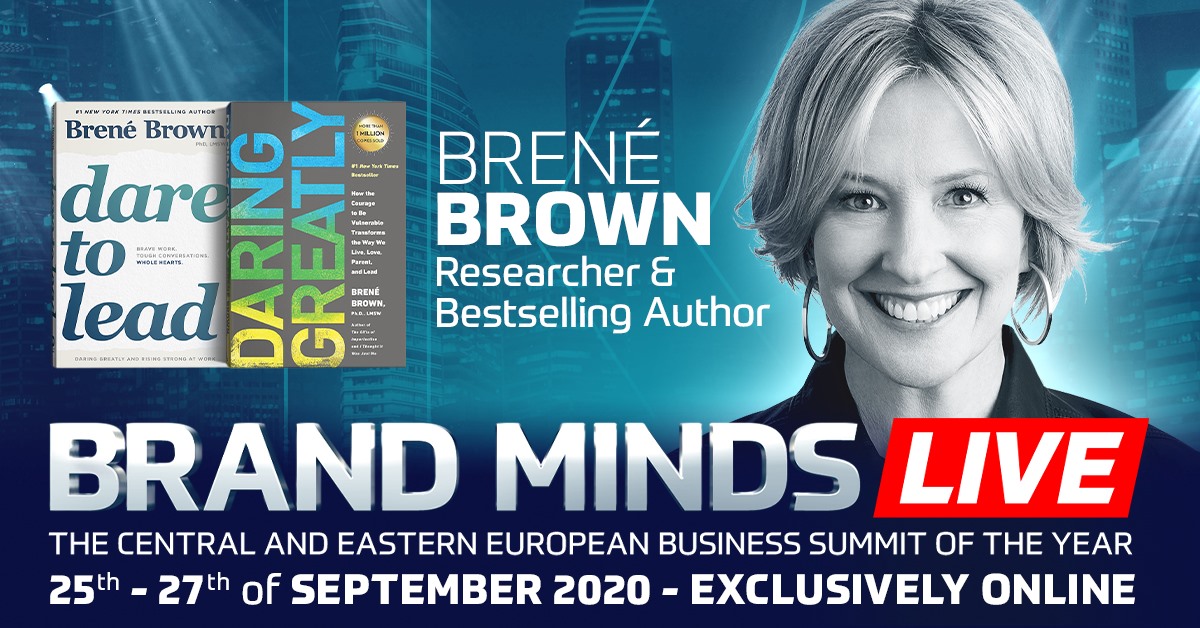 Daring leaders work to make sure people can be themselves and feel a sense of belonging.

Brené Brown
Her TED Talk, The Power of Vulnerability is among the most viewed TED talks in the world.
In 2010, Brené delivered The Power of Vulnerability on TED Talk. The lecture became rapidly a viral hit with over 48 million views. It is a poignant, funny talk where Brené shares her personal quest to know herself as well as to understand humanity.
The host of Unlocking Us, a top-ranking podcast
In March of this year, Brené started her podcast called Unlocking Us.
The podcast explores stories that reflect the universal experiences of being human and is one of the most popular podcasts on Apple charts.
She talked to singer Alicia Keys about listening to our own voice and Hollywood actresses Reese Witherspoon & Kerry Washington about the challenges and responsibilities of creating authentic characters.
Brené and her guests approach challenging topics such as loneliness and connection, emotional literacy, how to apologize etc.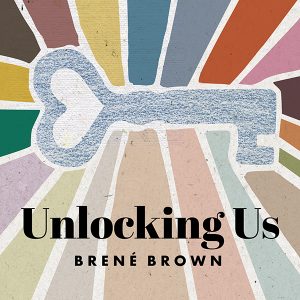 The first researcher to have a filmed lecture on Netflix
In her Netflix show, The Call to Courage Brené discusses what it takes to choose courage over comfort in a culture defined by scarcity, fear and uncertainty.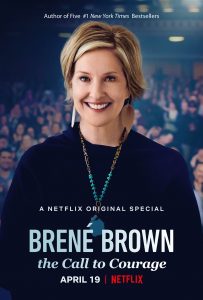 #1 New York Times Bestselling Author
Brené Brown is a research professor at the University of Houston where she holds the Huffington Foundation – Brené Brown Endowed Chair at The Graduate College of Social Work. She is also a visiting professor in management at The University of Texas.
Her books showcase insights based on more than 20 years of research on courage, vulnerability, shame and empathy.
She published five bestsellers that have sold millions of copies worldwide.
Brené's insights changed people's outlook on life and contributed to her own spiritual awakening
Millions of people said reading Brené's books changed their perspective and saved their lives. But the first life she saved was her own.
The Gifts of Imperfection: Letting Go of Who We Think We Should Be and Embracing Who We Are
The book is a game-changing New York Times and Amazon bestseller that has sold more than 2 million copies in 30 different languages. In 2018 Forbes named it one of the "Five Books That Will Actually Change Your Outlook On Life".
With original research and plenty of encouragement, she explores the psychology of releasing our definitions of an "imperfect" life and embracing living authentically.
Brown's "ten guideposts" are benchmarks for authenticity that can help anyone establish a practice for a life of honest beauty—a perfectly imperfect life.
Daring Greatly: How the Courage to Be Vulnerable Transforms the Way We Live, Love, Parent, and Lead
In an interview with Oprah, Brené Brown says she was raised, like many others, to believe vulnerability is a weakness.
In her book, she argues that this belief is a myth and challenges it with research-based insights. She finds that, in fact, vulnerability is a strength, it is the willingness to show up and be seen with no guarantee of outcome.
To her, daring greatly means the courage to be vulnerable, to show up and be seen, to ask for what you need and talk about how you're feeling, to have the hard conversations. Vulnerability is the cornerstone of confidence. And that's what we all need in life – to be ourselves and in line with our values.
Rising Strong: The Reckoning. The Rumble. The Revolution.
Rising back up after falling down is the subject of this book. While doing research, Brené listened to stories of being brave, falling, and getting back up of a wide range of people, from leaders in Fortune 500 companies to teachers, parents and artists.
What she found was that these stories had a common factor: the people who told them recognized the power of emotion and they were not afraid to lean in to discomfort.
Brené shows that rising strong after a fall is how we cultivate wholeheartedness.
Braving the Wilderness: The Quest for True Belonging and the Courage to Stand Alone
In a time when people seek perfectionism and fitting in at all costs, Brené's book gives us the means to find our way back to ourselves and to each other.
She writes:
True belonging is the spiritual practice of believing in and belonging to yourself so deeply that you can share your most authentic self with the world and find sacredness in both being a part of something and standing alone in the wilderness. True belonging doesn't require you to change who you are; it requires you to be who you are.
Dare to Lead: Bold Work. Tough Conversations. Whole Hearts.
Released in October 2018, Dare to Lead is the culmination of a seven-year study on the future of leadership.
The study included interviewing 150 global C-level leaders on every aspect of their leadership: how to have hard conversations, how to give and receive feedback, how to make informed decisions in times of crisis etc.
The conclusion of this study was that we need braver leaders and more courageous cultures.
Dare to Lead is the ultimate playbook for developing brave leaders and courageous cultures.
Join BRAND MINDS 2020 – The Growth Weekend on September 26th for Dare to Lead, a special conversation with Brené Brown!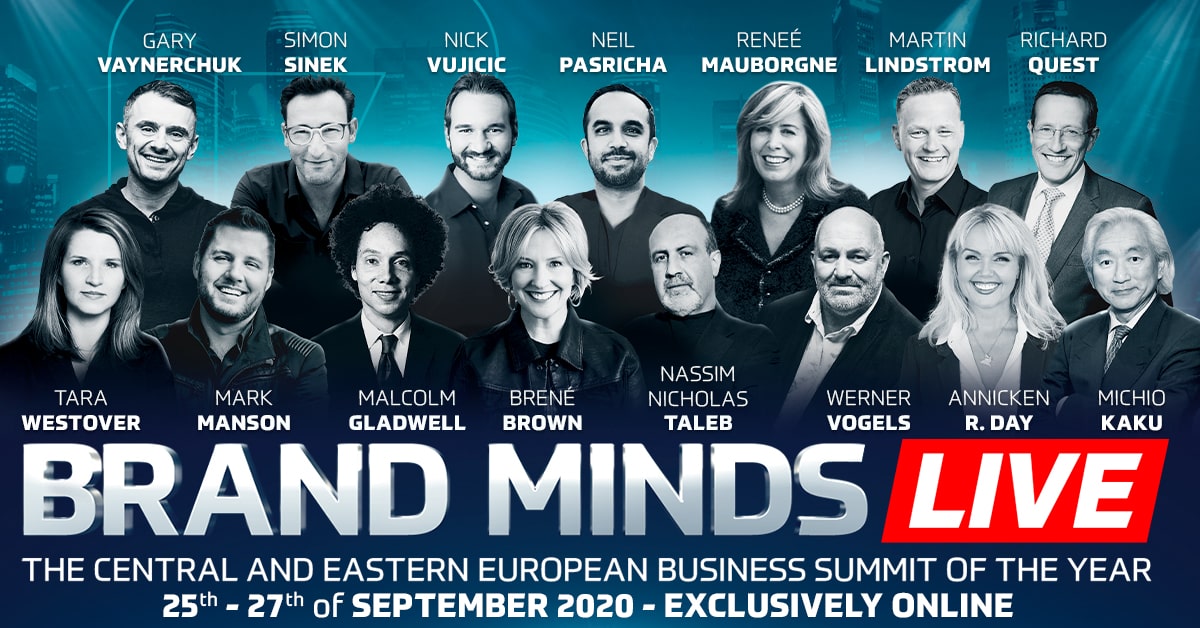 BRAND MINDS 2020 Speakers: Nick Vujicic, Bestselling Author & Motivational Speaker
BRAND MINDS 2020 is proud to announce that Nick Vujicic, Bestselling Author & Motivational Speaker has joined our event.
Nick Vujicic ("voo-yi-chich") is a world-renowned speaker, bestselling author, coach, entrepreneur and anti-bullying advocate. Read on to discover more about Nick Vujicic and his life journey.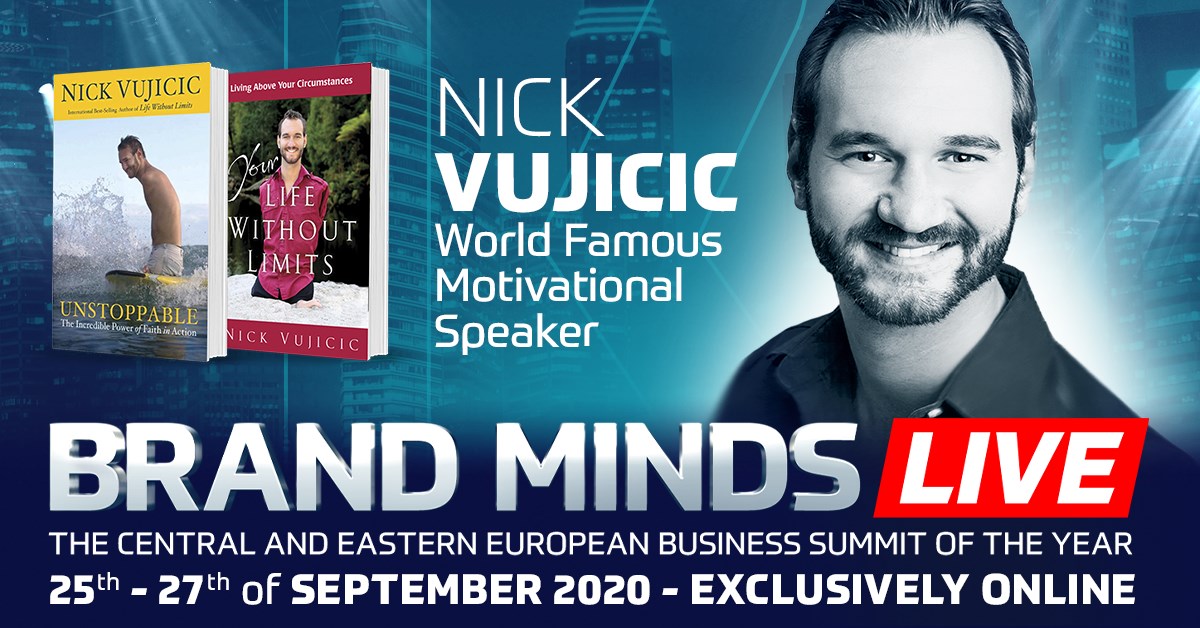 I have a choice. You have a choice. We can choose to dwell on disappointments and shortcomings. We can choose to be bitter, angry, or sad. Or when faced with hard times and hurtful people, we can choose to learn from the experience and move forward, taking responsibility for our own happiness.

Nick Vujicic
New York Times Bestselling Author: over 1 million copies sold worldwide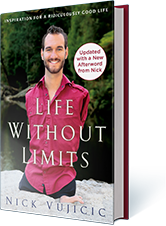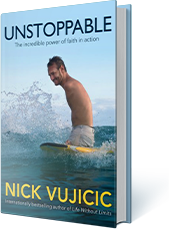 Nick wrote his first book Life without limits in 2007 and by 2010, the book had sold over 1 million copies worldwide and had been translated into 30 languages.
As a man born with no arms or legs, a condition called tetra-amelia syndrome, one might think limitations were all that life could offer Nick.
With support and encouragement from his parents and a newfound purpose in life, Nick discovered the strength to overcome his limitations and live his life free of them.
Life without Limits: Inspiration for a ridiculously good life is filled with awe-inspiring stories of Nick overcoming his challenges, empowering readers to improve their lives and become better people.
Since Life Without Limits, Nick has written seven more books. In his books, through personal stories and the experiences of others, Nick addresses difficult circumstances that many people face today ranging from job challenges and relationship issues to self-destructive emotions and bullying.
World-Renowned Speaker: 15 years, 3500+ speeches, 69 countries
Nick was 19 when he started speaking to people. At first, he gave informal talks to other teens as a way to reach out to them and let them know that aside from his disability, he was just like them. Soon enough, he realized that what he had to say might have an impact on those listening to him.
From gatherings of dozens to a few hundred, at the beginning of his public speaking career, Nick is now speaking to millions of people. He spoke in schools, churches, prisons, orphanages, hospitals, meeting halls and stadiums. His career as a professional speaker spans over fifteen years, counting over 3500 speeches.
He met with 18 presidents and shared his message of hope with people in 69 countries around the world.
You don't know what you can achieve until you try it.

Nick Vujicic
An audience of 1 billion people: live events, online course, podcast and social media
As founder and CEO of Life Without Limbs, Nick has spread his message of empowerment worldwide. Through the organization's resources, programs and live events, he touched the lives of over 1 billion people to date.
He was featured in Oprah's show, BBC, 60 Minutes Australia, CBS Sunday Morning, USA Today, People Magazine, ABC News, The Glenn Beck Program TLC, LA Stories, and many more.
His TEDxTalk, Overcoming hopelessness has reached 6.6 million views.
Nick's online course, Rise Above teaches students, employees and executives how to rise above their circumstances and reach their full potential in six transformational video lessons.
11.5 million people follow Nick on his social media accounts combined.
He recently launched his podcast, The Nick Vujicic Podcast where he shares his personal stories, unique perspectives and interviews with other overcomers.
https://www.youtube.com/watch?v=tyRnRDz9D9I&t=239s
I do believe my life has no limits. I want you to feel the same way about your life, no matter what your challenges may be.

Nick Vujicic
Shaping the mind and soul of future world-changers
As an anti-bullying advocate, Nick knows all too well that teenagers face many challenges growing up.
He is also aware that shaping future generations is every adult's responsibility.
That is why, in 2007, Nick launched Attitude is Altitude (AIA), an innovative Social Emotional Learning (SEL) curriculum for students.
The program is a free-standing, step-by-step resource to empower young people to be successful, achieve their goals and make a positive difference in their lives and community. The curriculum contains comprehensive classroom resources and an exclusive archive of videos from Nick Vujicic for teachers, parents and students.
Nick's passion is to inspire and equip the world to know that we all can rise above adversity and overcome every disability of the heart and mind.
Join 

BRAND MINDS – The Growth Weekend

on September 26th and watch Nick Vujicic speak about Living Life Without Limits.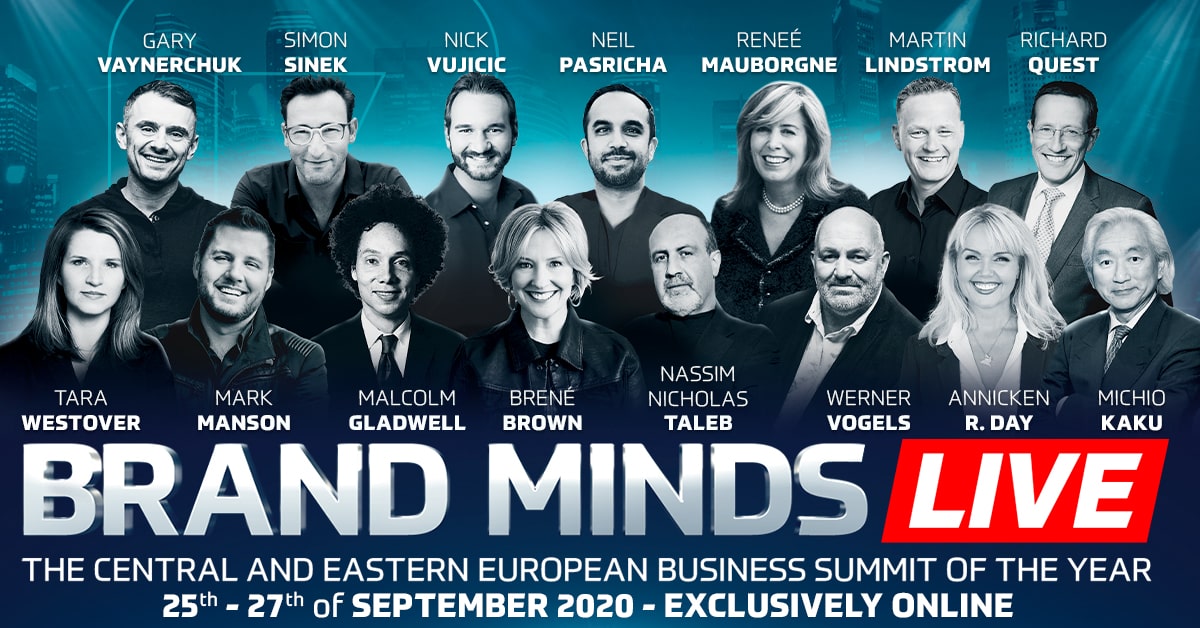 BRAND MINDS 2020 SPEAKERS: Simon Sinek, Optimist and Bestselling Author
BRAND MINDS 2020 – The Growth Weekend is thrilled to announce Simon Sinek, Optimist and Bestselling Author has joined our event.
Described as "a visionary thinker with a rare intellect," Simon is an unshakable optimist who believes in a bright future and our ability to build it together.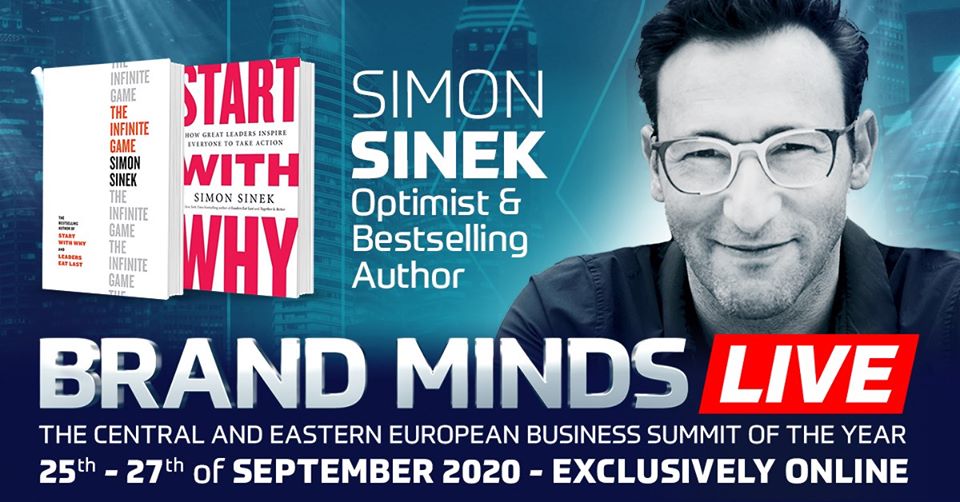 Leaders are the ones who have the courage to go first, to put themselves at personal risk to open a path for others to follow.

Simon Sinek
3rd Most-Viewed TED Talk of all time
In 2009, Simon delivered his first TED Talk called How great leaders inspire action.
Eleven years later, his presentation has over 50 million views and is the 3rd most-viewed TED Talk of all time.
In it, Simon describes his simple but powerful model for inspirational leadership, the golden circle and the power of WHY.
Another content that has had a long-lasting impact on the public is Simon's 2016 interview on Millennials in the workplace. The video garnered over 80 million views in the first week and led to Simon being YouTube's fifth most searched term in 2017.
Popularized the leadership concept of WHY
Simon defines the concept of Why as the purpose, cause or belief that drives every one of us, leaders and employees alike. His 2009 TED Talk started a movement to help people become more inspired at work, and in turn inspire their colleagues and customers.
Since then, millions have been touched by the power of WHY and Simon's other leadership concepts: the golden circle, the circle of safety and having an infinite mindset to play the infinite game of business.
Simon on Larry King Live talking about the leadership styles of Oprah, Sir Richard Branson and Steve Jobs:
+6 million fans on social media
His ideas on business and personal growth, sustainable leadership and having an infinite mindset are shared with a growing community of over 6 million people on social media.
Leadership is not a rank or a position to be attained. Leadership is a service to be given.

Simon Sinek
His leadership model is applied globally
His unconventional and innovative views on business and leadership have attracted international attention.
From the airline industry to the entertainment industry, from finance to fashion, from big business to entrepreneurs to police forces, Simon has been invited to meet with a broad array of leaders and organizations in nearly every industry.
He has also had the honour of sharing his ideas with multiple agencies of the US government and with the senior-most leaders of the United States Air Force, Marine Corps, Navy, Army and Coast Guard.
New York Times Bestselling Author
With over 1 million copies sold, Start With Why: How Great Leaders Inspire Everyone to Take Action (2009) is widely recognized as one of the best leadership books of our time.
The book shows that the leaders who've had the greatest influence in the world all think, act, and communicate the same way — and it's the opposite of what everyone else does.
The Golden Circle
Sinek discovered that there's a pattern these leaders use for business success which he calls the golden circle. The golden circle is illustrated by three concentric circles populated by three questions: What, How and Why.
Every organization knows what they do (products, services etc), how they do it (processes, raw materials, distribution channels, production lines etc) but very few know why they do it. What's their purpose, cause or belief? Why does this organization exist?
Leaders who are able to communicate clearly the purpose of their organization to its employees achieve long-term success. Leaders who inspire their employees instead of managing them report increased business results.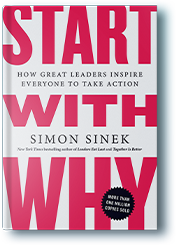 Leaders Eat Last: Why some teams pull together and others don't (2014) is Simon's second book on leadership.
In this book, he takes a fresh and original approach to leadership, by looking at it through the lens of cultural anthropology. The book includes real-life business case studies which come to support his observations.
The Circle of Safety
One of the innovative leadership concepts that are presented in this book is the circle of safety.
The goal of great leadership is to inspire employees to deliver their best work and support the organisation to become successful. In order to achieve their goal, leaders must implement The Circle of Safety in their organisation.
When leaders trust their employees and the employees trust their leaders, that's when the circle of safety is achieved.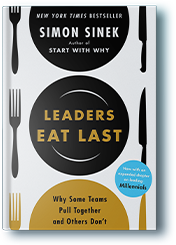 Find Your Why: A practical guide for discovering purpose for you and your team (2017) is designed to help those inspired by Simon's message find their WHY and bring it to life in both their careers and organizations.
The book is an easy-to-follow guide that starts with discovering your personal WHY, and then expands to articulating your organization's WHY including detailed instructions for every step of the process.
Readers also find answers to common concerns such as what to do if their WHY sounds like a competitor's or whether or not they can have more than one WHY or what steps to take to align their work with their WHY.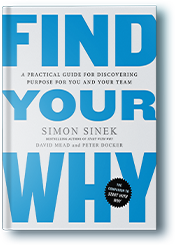 The Infinite Game is Simon's latest book and has been in the New York Time's Top 10 Business Bestsellers for five months since its launch in 2019.
The book draws a comparison between finite and infinite games. Football is a finite game where the players are known, the rules are fixed, and the endpoint is clear. Business is an infinite game where the players come and go, the rules are changeable, and there is no defined endpoint.
Simon observed that the organizations struggling to be performant have leaders who play with a finite mindset in a game that requires an infinite mindset. The leaders who embrace an infinite mindset, in stark contrast, build stronger, more innovative, more inspiring organizations.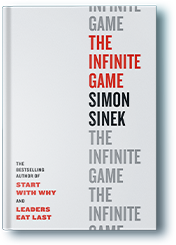 Where a finite-minded player fears things that are new or disruptive, the infinite-minded player revels in them.

Simon Sinek
Join

BRAND MINDS 2020 – The Growth Weekend

on September 26th and watch Simon Sinek speak about The Infinite Game in Leadership!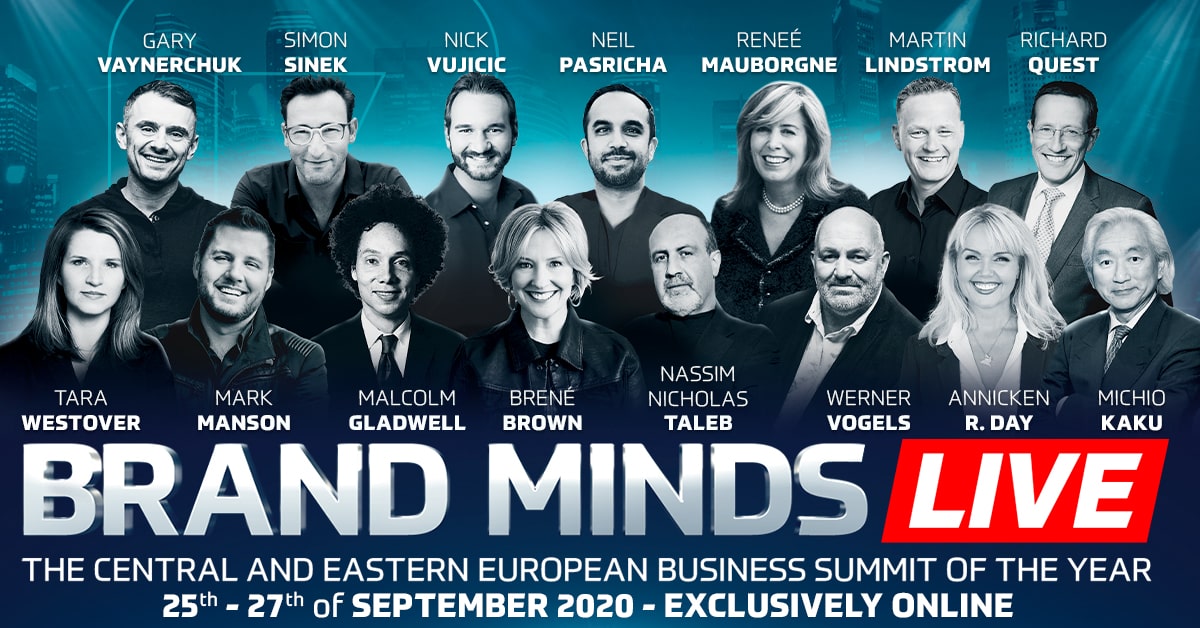 Amazon's CTO & VP Werner Vogels will be speaking at BRAND MINDS 2020
We are excited to announce the latest speaker to join our BRAND MINDS 2020 lineup: Amazon's CTO & VP Werner Vogels.
Last year, Amazon reached a market capitalization of $1 trillion (just behind Apple) and its net worth is estimated at $160 billion.
One of the factors which contributed to Amazon's success is having Werner Vogels at the helm of technology, steering the company into the future.
Vogels' vision and leadership have lead to the creation of one of Amazon's highly successful services, the AWS.
With his extensive experience leading one of the most innovative tech companies in the world as its CTO&VP, Werner Vogels will be speaking at BRAND MINDS 2020 about Innovation at scale at Amazon.com
Let's find out more about Werner Vogels.
Godfather of the Cloud
Vogels is was one of the architects behind Amazon's approach to cloud computing, AWS (Amazon Web Services).
AWS is one of the world's most comprehensive and broadly adopted cloud platform, offering over 165 fully-featured services from data centres globally.
Millions of customers —including the fastest-growing startups (Airbnb, Lyft etc), largest enterprises (Oracle, Siemens, Engie, Hilton, British Petroleum, Shell etc), and leading government agencies (the Smithsonian, Minnesota IT Services, City of Iowa City etc) —trust AWS to power their infrastructure, become more agile, and lower costs.
Named in the Top 10 Cloud Computing Leader list in 2010, 2011, and 2012
For three years in a row, Werner Vogels was included by TechTarget in its Top Cloud Computing Leader lists.
He earned Information Week's 2008 CIO/CTO of the Year award and ReadWriteWeb's "Cloud's Most Influential Executive.
He also ranked #1 in Wired's 2012 Top 10 Cloud Influencers, Thought Leaders.
I am an engineer, architect, scientist, programmer, troublemaker, executive, revisionist, investor, mentor, advisor, analyst, academic, sales guy, entrepreneur, data analyst, system administrator, product owner, evangelist, debater, father, musician and biker. And I probably forgot a few.

Werner Vogels
Doctor in Computer Science – One of the World's Top Experts on Ultra-Scalable Systems
Dr Vogels studied computer science at The Hague University of Applied Sciences and received a PhD in computer science from the Vrije Universiteit Amsterdam, Netherlands. He is celebrated as one of the world's top experts on ultra-scalable systems.
Dr Vogels joined Amazon in 2004 from Cornell University where he was a research scientist at the Computer Science Department.
From 1994 until 2004, he mainly conducted research in scalable reliable enterprise systems.
He is the author of many conference and journal articles, mainly on distributed systems technologies for enterprise computing systems.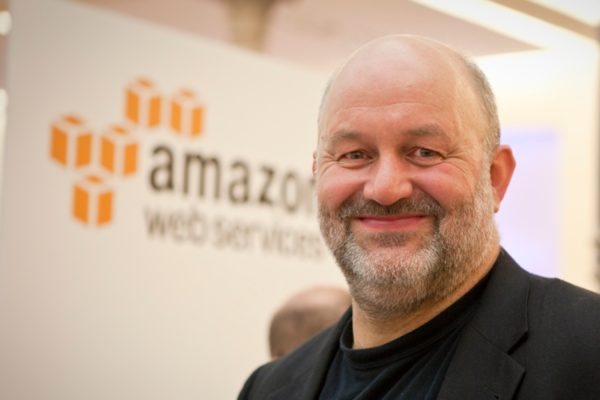 Was appointed VP&CTO at Amazon six months after he was hired
Prior to coming to Amazon, Werner was invited to give a talk on distributed systems for the company's employees. His first thought was What do they need distributed systems? They sell books online!
After seeing what the Amazonians are working with, he realized Amazon was not an online bookseller, but a tech company by every definition and one that was actually 5-10 ahead of its time.
When Jeff Bezos offered Werner a job with Amazon, he was more than thrilled to accept it. Six months later he was appointed Vice President & Chief Technology Officer at Amazon.
One of the reasons for hiring Werner was to insert academic rigour into the way the company wanted to approach scaling.
At that time, in the early 2000s, Amazon had become really good at scaling but was struggling to overcome their latest challenge which was to do orders of magnitude.
Amazon asked Werner to find a solution which would help the company achieve growth by orders of magnitude.
Werner's solution had to align everything, from tech to processes, to building a culture around how to measure performance and how to interpret those measurements.
Also, his main goal as CTO is to find what other technologies the company has developed that could be turned into a business. His job is to look at a wide array of factors and tie everything to business decisions.
I like building things that need to get big. Whether that is technology or a business, I am interested in how to scale them.

I believe in democratising business creation, simplifying operation and driving innovation by providing a low cost, scalable and reliable infrastructure that can be acquired on-demand with a pay-as-you-go pricing model, and that is available to everyone.

Werner Vogels
What is Werner Vogels' role as Chief Technology Officer?
As Chief Technology Officer at Amazon, Werner Vogels is responsible for driving the company's customer-centric technology vision.
His role is to decide what is the technology that the company needs for the future in order to be able to have a solid footing as a business.
He interacts at a deep technical level with Amazon's customers to understand how they are using the company's products. He is looking for bigger patterns among the customers, setting out to pinpoint the biggest pain points they might still have. He then takes the customer feedback and decides what needs to improve or what features need to change to make sure the company serves its customers better.
We're in the business of pain management.

Werner Vogels
What makes Amazon.com so successful? What made it an eCommerce powerhouse?
There are many reasons, but one of the most important is that they are building technologies at the request of customers. They are very good listeners which a feature like Show and Tell, Alexa's support for the blind can attest to.
The engineering teams launch Amazon products with minimal features set, a sort of MVP and then work with customers to develop other features they need.
Learn more: How AI transformed Amazon into an eCommerce powerhouse
Sharing his insights on his blog, All Things Distributed
Werner Vogels is also a blogger. His blog, All Things Distributed is the place where he shares his insights on building scalable and robust distributed systems, machine learning, artificial intelligence technologies.
He also writes about how large enterprise customers use AWS, what is the workplace of the future or how the relationship between human and machine is going to change our world even more than we anticipated and many more hot topics.
Now Go Build with Werner Vogels
Now Go Build with Werner Vogels is a documentary series show running on Amazon Prime, where viewers follow Werner as he meets with startups around the globe that are changing the way we live through innovation.
Join BRAND MINDS 2020 – The Growth Weekend on September 25th and watch Werner Vogels speak about Innovation at scale at Amazon.com!