Emojis are the perfect tool to collect customer feedback
Are you looking for a way to collect customer feedback in a new and engaging way?
Throw away the traditional customer feedback form and tap into the ultimate tool to collect feedback: emojis.
Expressing emotions is difficult and not everyone is comfortable doing that, but it's how we build human interaction.
That's the reason emojis are so successful in the digital world of communication: instead of writing, it's much easier to post the emoji which illustrates your state, may it be happy or sad.
Using emojis is also a creative way for a brand to shut down trolls. Remember the now famous emoji reply Samsung gave in 2017 to a troll on the launch of the Galaxy S8? The troll had attempted to put the smartphone manufacturer on the hot spot and made that joke as a reply to Samsung's invitation addressed to its Twitter followers to share their first photo taken with S8? He got burnt instead! The emoji reply received +16k retweets and +30k likes and many people said this reply convinced them to go out and buy the S8. Talk about the power of social media!
— Samsung Mobile US (@SamsungMobileUS) April 21, 2017
The first set of emojis was created in 1999 by Japanese interface designer Shigetaka Kurita for a Japanese phone operator. According to Emojipedia, there are now 3,178 emojis in the Unicode Standard.
Today it is estimated that more than 700 million emojis are used every day in Facebook posts alone, with New Year's Eve being the most popular day to use them, according to the social network.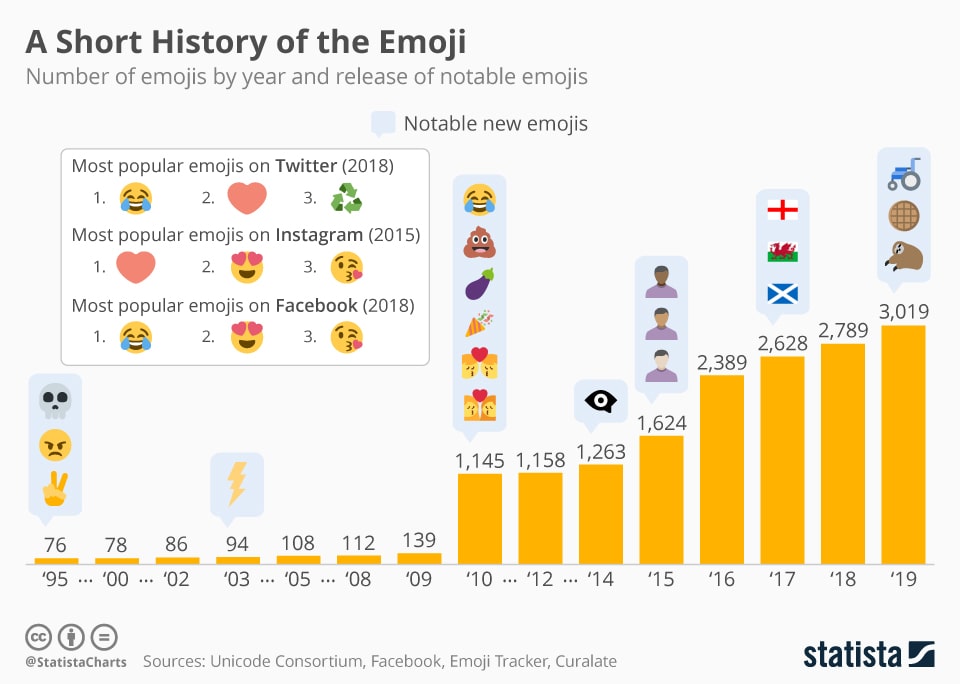 Here are the most popular emojis as of October 2019 via Emojipedia: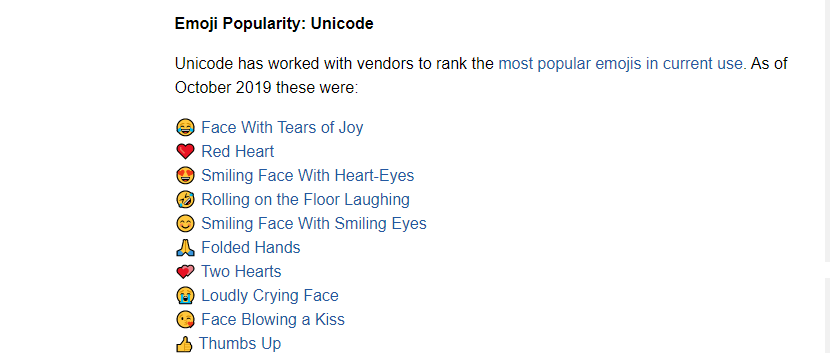 We all know emojis are widely successful so using them to collect customer feedback was the next logical step for the creators of Emojics.
Emojics is a feedback management solution that provides user engagement through interactions and sentiment analysis.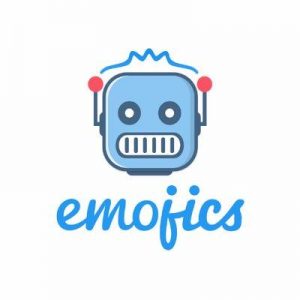 Emojics reinvents how companies collect users feedback online. It is a feedback & reactions tool which helps companies convert more visitors into customers.
Emojics benefits
ENGAGE – Get more leads and feedback from your users based on their feelings
CAPTURE – Reaction buttons makes giving and getting feedback fun for users and easy for companies
ANALYZE – Analyze the users' feelings, which contents or products are more successful among your audience
IMPROVE – We provide you with fresh data that will help to improve your contents or products and increase your growth
The Emojics tool can help you if you are looking to achieve any of the following goals:
Generate more connections with customers;
Collect more feedback;
Collect feedback faster;
Make your customer feedback process more fun;
Make your newsletters more personal;
Reduce the number of unsubscribed users;
Generate leads;
Interact with your users based on their feelings;
See what content or product are liked most;
Transform users feedback into intelligent data to drive product strategy.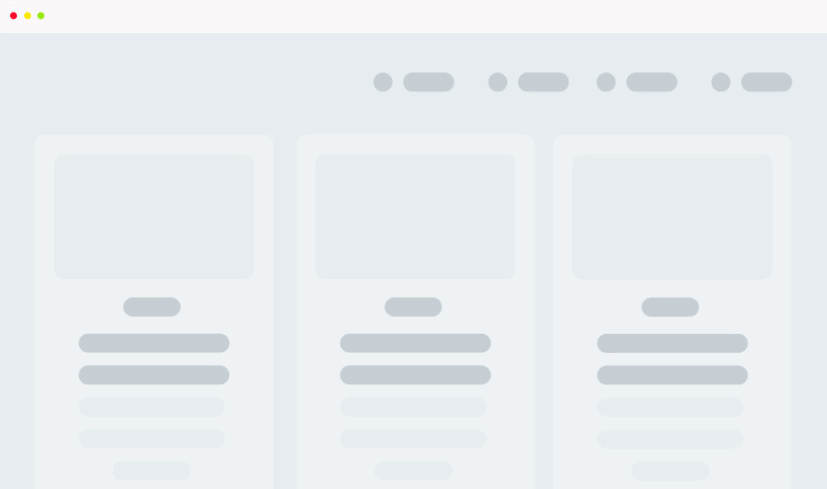 Here are the tool's main features you can use to achieve your goals:
Automation campaigns
Widget customization
Real-time analytics
Page ranking
Emotional analytics
Email widget
Geographical data
URL triggers
Zapier integration
Data history
Mobile responsive widget
What tools do you use to collect customer feedback?
Join the Conversation
We'd love to hear what you have to say.
Get in touch with us on Facebook Group and Twitter.
Source: emojics.com
7 Smart Ways to Collect Customer Feedback Online
Customer feedback is the best way to improve your product.
If asked, your customers will tell you what they like and what they don't like and how they use your product (which sometimes you never thought about). If you take a step back and look at the bigger picture, your customers feedback can turn into valuable insights which may point to future business development directions.
Pictures are worth a thousand words so keep reading because we will delight you with illustrative examples.
Here are 7 smart ways to collect customer feedback online:
1. Survey forms
Whether you use Google forms, JotForm or TypeForm, the times of customers filling in boring feedback forms are long gone.
Now companies and organizations have a plethora of services which help them collect customer feedback while providing a pleasant experience.
The way your company is collecting feedback is as important as any other form of communication. It is an opportunity to show your customer that you care about their insights and you also care about how you are speaking to them.
Google Forms is one of the widely used online service to collect customer feedback:
You can use your own photo or logo;
It is intuitive – it will pick just the right colors to complete your own unique form;
It provides you with a set of curated themes to set the tone;
You can add images and YouTube videos to keep your customer engaged;
There are multiple question options;
Your forms have responsive formats;
Responses are automatically organized;
You can add collaborators.
JotForm is another provider of great survey forms:
The collected information is sent directly to your integrated accounts and email inbox;
It is integrated with MailChimp, Dropbox, Google drive etc;
Its forms are specifically designed for various industries: marketing, healthcare, agencies, designers etc;
You can add payment processing to your form (PayPal is one of the supported payment platforms);
You can choose from a wide range of free form templates.
TypeForm is also a provider of survey forms with a twist:
It puts the spotlight on conversational;
It offers templates for every stage of the customer journey;
It has a great interface that keeps people engaged;
Make your questions pop with gifs, images, videos;
Easy embedding into your website.
2. Instagram Story poll
In october 2017, Instagram introduced the interactive poll stickers that allow companies to ask questions and see results from followers as they vote.
Given there are 400 million daily active Stories users worldwide (statista.com), the poll sticker is a great and fun way to collect feedback from your customers.
3. Facebook poll feature
Facebook is another social media platform which helps companies collect audience data.
By using polls, your company can increase its organic reach, attract attention, build brand awareness, build a relationship with your audience and increase engagement.
4. Surveys on your website
You have been working hard to attract visitors to your website.
Why not make the best of their visit and ask them questions using a website-hosted survey?
SurveyMonkey is one of the service you can use to host your surveys on your website.
Here are 3 types of surveys provided by SurveyMonkey:
Pop up in a window – it provides a direct method of getting in front of your users;
Website embedded – use it when you don't want to interrupt your website visitors experience;
Pop up invitation – it is correlated with the embedded survey because it pops up inviting your website visitor to take a survey.
Find out how Hootsuite used Qualaroo to discover valuable insights related to their landing page visitors behaviours.
5. Social media listening
Whether they are happy about your product or angry about your service, your customers turn to social media to tell everyone about it.
According to a Marketing Land study, 71 percent of all complaints on social media are posted on Facebook.
They may not mention your brand name so if you are not using a social media listening tool, you may miss out on a great opportunity to collect feedback.
Here are 7 ways you can grow your business using social media listening tools.
6. Chatbots
Chatbots are one of the most flexible and efficient automation tools available right now.
They can be programmed to achieve various objectives and meet company needs through conversation. They can live on company's website, inside your company's app or Messenger.
From increasing sales to qualifying leads, there is little chatbots cannot do. Using chatbots instead of the good old survey forms is a step up in the right direction. Chatbots can actually support your company to create a more engaging, fun and ultimately human customer experience.
Discover more about the benefits of chatbots in our article How to gain more leads with conversational marketing.
7. Survey inside Messenger
In a recent study, Survey Monkey found that 9 out of 10 people who took a survey on Messenger enjoyed their experience and would take a survey again in the app.
There are over 1 billion people messaging Facebook pages every month to ask questions so Messenger is definitely a great medium to talk to your customers and collect their feedback.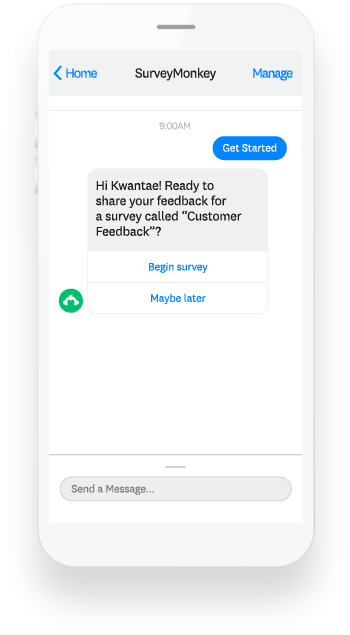 Learn about conducting surveys inside Messenger here.
Tips on how to craft your questions
Whatever tool you are using to collect customer feedback, here are our tips on how to craft your survey questions:
Write your questions with your customer in mind what's in it for them;
Be specific and on point – asking vague questions will only get you vague answers;
Be creative;
If your survey is long-form, give them an incentive to complete your survey;
Segment your customers and ask them laser-focused questions;
Tell them they belong to a selected few;
Get their attention with humour;
Use a problem you have already identified as a starting point.
Here are a few examples: