James Clear: 3 essential questions & answers to help you fulfil your potential
Do you want safety or do you want growth?
First of all, let's get straight on what 'safety' and 'growth' mean.
In this context, ie what helps you fulfil your potential, safety doesn't refer to primary needs: food, shelter, sleep, employment, health, property, love and belonging, family etc. You already have this.
Safety refers to having your primary needs met and feeling good about yourself and where you are in your life. There's nothing wrong with that.
But if you wake up in the morning with the nagging feeling that you have more in you, that you have untapped potential inside of you, that there are things you want to do or experience, you want growth.
You want to learn new things and feel challenged, you want to put all of your skills to good use and build new ones. You want to become the most that you can be.
If you choose this path, know that it won't be easy. Because there will be people around you, even loved ones, who will point out that you are selfish and willing to jeopardise your safety: money, time and other resources.
Just remember that you can't live for others or spend your life meeting their expectations, you are not a child anymore. You are your own person and you owe it to yourself to live the best life possible and fulfil your inner potential.
Who is the person you wish to become?
Now that you have decided that you want to grow, you are ready to take the next step: deciding who is the person you wish to become.
If you think about it, it's very much like writing the mission statement for the company, only it's not for the company, it's for a person, and it's not a mission statement, it's an identity statement.
James Clear speaks about this concept, identity statement, in his bestseller 'Atomic Habits', the foundational book on building good habits and success systems for personal growth.
He highlights the fact that whoever you wish to become, you need to build your identity step by step, through activities and attitudes that support the achievement of the bigger goal. It's not going to happen overnight.
James' process is this:
Identity statement:
I wish to become a healthy person.
Question:
What type of person am I?
Answers reinforcing the aspects that help you support your desired identity:
I'm the type of person who drinks 8 glasses of water a day.
I'm the type of person who goes to the gym once a week.
I'm the type of person who doesn't eat sweets.
I'm the type of person who finishes workouts.
I'm the type of person who walks home from the office.
James' unique view on building good habits is nothing short of genius. Including your goal in your identity eliminates so many struggles in one sweep. The first is frustration: it's so much easier to not eat sweets if you switch from 'not allowed' which breeds frustration to 'I'm not the type of person who eats sweets' which brings serenity and confidence. It's a powerful mindset switch!
What is your purpose?
This question is not easy to answer.
There are stages in life where this question isn't of interest (when we are teens and college students, in our formative years).
Also, as we grow old and go through life, our purpose may change because we change.
There are years when we want to earn as much money as possible.
There are years when we want to sharpen our skills and abilities and accumulate as much knowledge as possible.
Then there are years when we want to share this knowledge and experience with as many people as possible.
Once you are very clear on your purpose, it's easier to put filters in place to help you reach your purpose.
In a recent interview, James Clear was asked about his current purpose and the filters he uses to reach it. He talked about how after 'Atomic Habits' became the world's #1 bestselling book, new opportunities began to emerge. One of them was consulting which meant that if he were to take it, he should have to hire and manage a team of people and his lifestyle would change dramatically.
Consulting could become a new source of revenue. But his purpose was not to make more money, it was to reach more people.
So he turned down revenue opportunities and turned toward doing work that kept working for him once it was done. His filter was reaching as many people as possible.
What does it mean? It means that doing radio interviews was not of interest to him because once they are done, they are taken off the air, they are shortlived.
Doing interviews on YouTube was the type of work that supported his purpose because they were still going to be there a year later and people were going to listen to them. Writing articles for digital global magazines would also help him reach people.
There you have it: 3 questions to help you fulfil your potential with answers to provide guidance.
Now all you have to do is grab a cup of coffee, a piece of paper and a pen and write down your answers to the three questions.
Here are 4 takeaways from James Clear speaking live, on stage, at BRAND MINDS in front of 6000+ world-changers.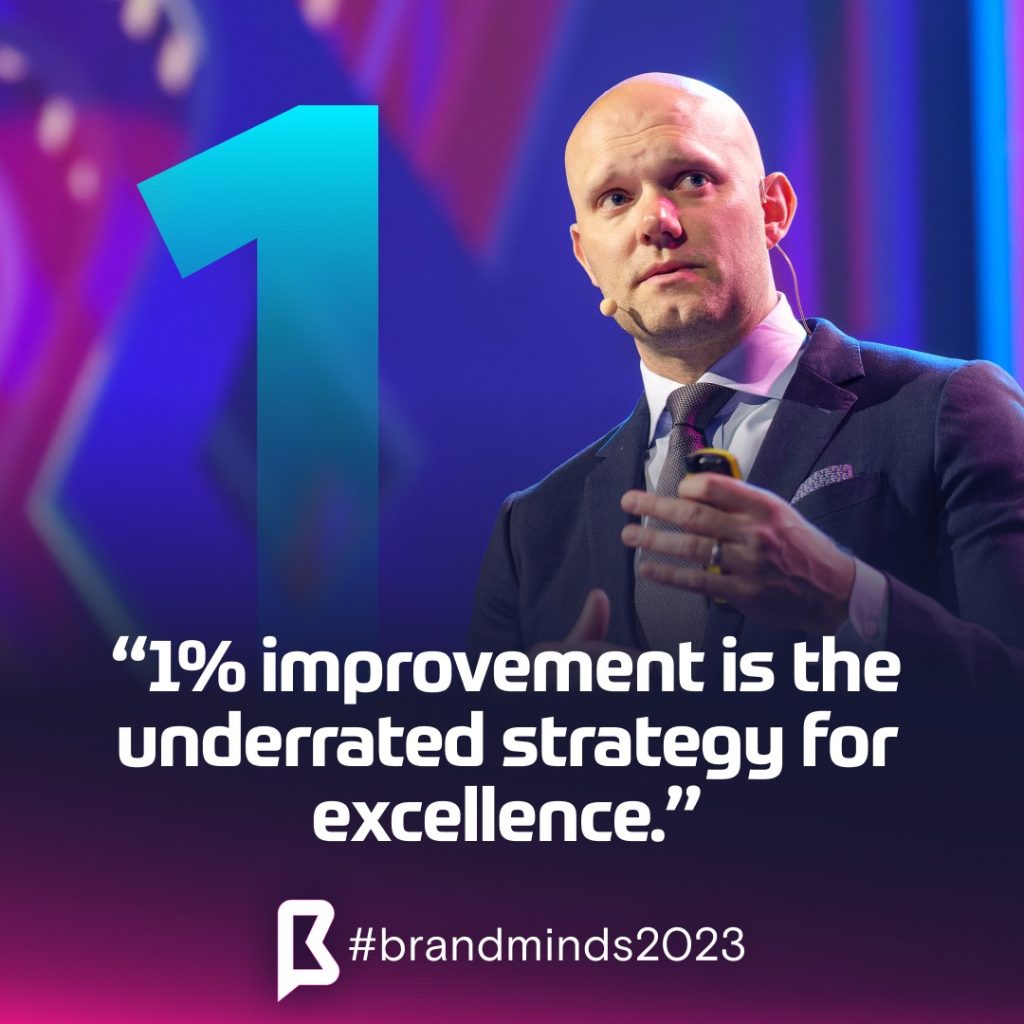 5 domains that will be revolutionised by VR – part I
The virtual reality is here and ready to help not only entertain, but educate and influence profoundly our lives, for the better. Here are 5 domains that already see a big influence and that will see even more in the future.
The real estate industry
Virtual reality can be a great asset when it comes to the real estate. From buying a house, 360 views and being a help for the real estate officers, VR can come in handy and prove to be really helpful. When it comes to open houses, a majority of the real estate domain is moving, well, to domains. The entire estate agent process can be performed online on sites like eMoov and CastleSmart, with virtual reality added in, buying a house is about to become a whole lot more lazy.
When a client is interested in buying a specific property the estate agent will usually arrange a viewing of said property or, in more lavish cases, host an open house. These events allow the potential buyers to walk through the home and examine the property. Now, imagine the prospective shopper was able to view the property from the comfort of their own home. Likely it would result in a greater interest for that residence which would create a faster sale. With VR this is very possible. Clients could put on their headsets and could be electronically strolling through the property within seconds. This means a lot of time and resources that are speared.
Moreover, the virtual reality can help so that the entire inspection could take place from the workplace of the agent. Several images and videos of the property would need to be taken to ready the virtual home for inspect. The same procedure would need to take place if a valuation was to be made via VR.
Also, most trainee estate agents learn the ropes by shadowing one of their senior colleagues on the job, following them around on viewings, visits and valuations, etc. Virtual training methods could be created which pits the user in situations that they would face on the job,  such as getting questions from potential buyers, explaining features in a property. This could save real estate firms thousands in training expenses.
2. Education
According to the Smithsonian Mag, the students in classrooms across the United States and parts of Europe will soon be able to go on field trips to Buckingham Palace, Machu Picchu and the Great Barrier Reef, but they'll be doing it through virtual reality. Google recently announced that it is expanding its  Expeditions Pioneer Program, which brings virtual reality field trips to classrooms using Google's cheap, smart phone-based VR viewer,  Cardboard. The goal is to expose students to places they wouldn't be able to see otherwise.
The idea for Expeditions came from a hackathon in Google's education department. Given 36 hours to create a tool that would boost student engagement, Jen Holland, then a product manager at Google Apps for Education, drew on existing Google assets—the recently launched Cardboard, some teaching apps in development and a huge archive of 3D maps and photographs. She combined the three to make interactive virtual reality lessons, which she calls "experiences."
Students can use Cardboard—an inexpensive pair of VR goggles made from a cardboard cutout, magnets, an Android phone and an app—to move through an experience that their teacher controls from a tablet. The Expeditions program has distributed the equipment to classrooms and worked with teachers to figure out lesson plans, but now, Holland says, they're opening it up, so any teacher with a tablet and access to VR viewers (Cardboard costs about $20) can use it. With lessons loaded on the tablets, teachers and students don't need to have internet access, which is important for low-resource classrooms.
Once students put on the VR headsets, they're immersed in a 3D version of Machu Picchu or the Smithsonian's National Museum of Natural History. They can look around, and the teacher can share information about things they're seeing. Google built a Great Wall of China experience for a fifth grade math class, to give the students a more tactile lesson about multiplication. The same experience has been the topic of conversation in a 10th grade Chinese language class, and it provided physical context for students in a 12th grade history class and an anthropology lecture at a Brazilian university.
More you can read here.