Time and energy. Two of the most important aspects of our everyday life that are hard to find and cannot be bought. We all look to save them as much as possible. One of technology's best perks is that is focused on doing just that.  Today, Google Flight not only finds cheap flights, but also allows you to find the best flight at the best price. The flight search engine offers you the possibility to narrow your search by selecting the number of stopovers of your trip, the maximum price, the duration and time of your flight or the airline you want to travel with.
Google Flight Search launched in the US in 2011 and in Europe in 2013. In 2011, Google purchased ITA Software, and subsequently used it to power Google Flights and, more or less, according to Boarding Area, one has access to the same tools in Matrix via Google Flights, but in an arguably much more user friendly interface, and one that works much faster.
But what are its advantages besides cheaper prices and fast results?
Looking at different dates and trip lengths  
It offers you the possibility to try different scenarios, showing you the prices on each day for a long period ahead. Changing the dates will help you find the best prices.
Alerts that come in-handy 
If you want a specific location at a certain time but you just cannot afford it at the time of the search, Google Flights offers you the opportunity to track the prices and alert you when the prices drop.
Explore the map that shows you the airfare for every city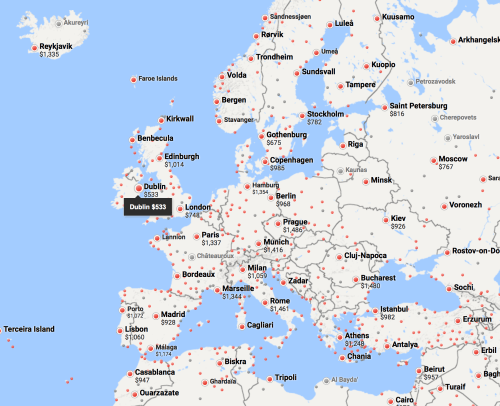 If you know the time you want to fly, but are not certain on the location, or you just want to easily explore your options, the map shows you the price for every city on the globe on those days, after selecting the departure city. Once you decide on a location,with a simple click on it you will find the flying options available.
Search by key words
Still undecided? What about searching after what you fancy to find at that place? Or maybe developing a hobby? If you think about relaxing on a beach with a cocktail in your hand or doing a safari or maybe diving into the rich local cuisine using those key words you will find a variety of great options.
Choose a destination randomly with the button 'I will be lucky'
If you are an adventurous person, clicking on the ' I'm lucky ' button, Google will choose a random destination and recommend the best options, based on the popularity of the place, its price or the history of your previous searches.
Several destinations
You can also organize several flights within the same trip with Google Flights. By selecting the option ' several cities ' you can synchronize perfectly the different journeys by plane or train and choose the best prices easily. In this way it is much easier to plan a trip in which you will travel different cities.
Predicts flight delays
If you search for a particular flight, Google will show you any known delays. According to cnet.com, based on historic flight-status data, Google helps "predict some delays even when this information isn't available from airlines yet." "However, those delays are flagged only if there's at least an 80 percent chance they're accurate, and Google still recommends you head for the airport with time to spare. (It's all about "managing expectations" and "preventing surprises.")"
Find the best train tickets
Google Flight is not only about plane tickets, but it also offers information on traveling by train, in some European countries such as Spain, Italy and Germany. Just as it happens with the airline tickets, Google Flights redirects you to the company that sells your favorite train ticket so you can buy it from there.
More info is also available here.