10 Things You Might Not Know About Gary Vaynerchuk
BRAND MINDS is The Central and European Business Summit taking place in Bucharest, Romania.
Here are 10 things you might not know about Gary Vaynerchuk
American serial entrepreneur, four-time New York Times bestselling author, speaker and internationally recognized internet personality. First known as a leading wine critic who grew his family's wine business from $3 million to $60 million, Vaynerchuk is now best known as a digital marketing and social-media pioneer at the helm of New York-based VaynerMedia and VaynerX.  Angel investor or advisor for the likes of Uber, Birchbox, Snapchat, Facebook, Twitter and Tumblr, he is a regular keynote speaker at global entrepreneurship and technology conferences.
1.No matter the amount of success and money he has at this point he is still working 13-15 hours a day.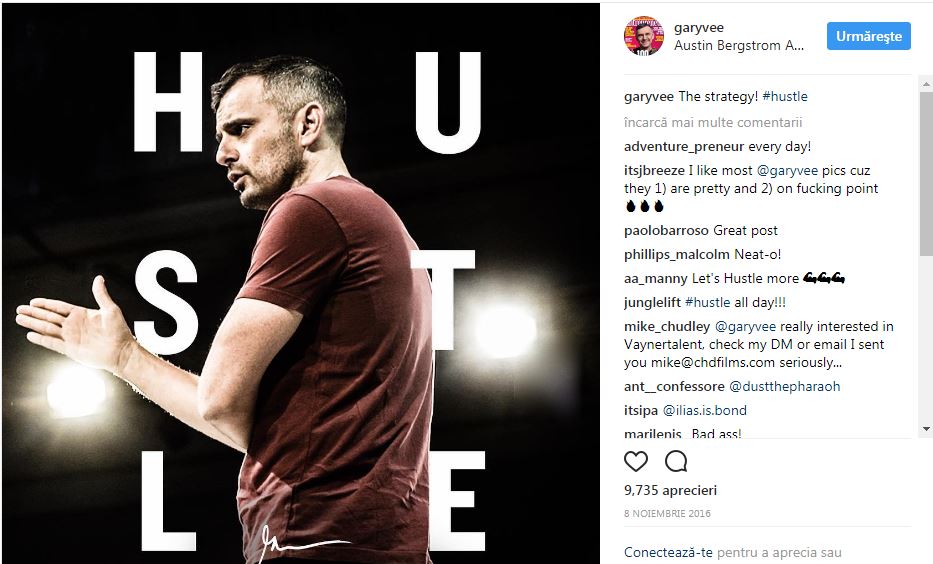 2.  He is into every aspect of his life 100 %, ready to give 51 % of the value to the other person.
3. He tries to figure out what you are going to do, before you do it
4. He's passionate with the New York Jets. His dream as a child was to become the owner of the New York Jets and it still is.
5. He's an HR Driven CEO. He is very interested in his employees' ideas and opinions and their feedback on everyday work.  He uses empathy and tries to understand "why". 
6. He believes it's in his DNA to be an entrepreneur. It's the life he breaths and loves to, every day. 
7. He doesn't care about others' opinion on him, as he knows very well who he is. "I put zero weight into anyone's opinion about me because I know exactly who I am. Can you say the same?", quotes medium.com
8. He believes that a person's friends and family can influence their success. "Maybe if you got rid of one friend or spent a lot less time with one friend who's a real drag and a negative force and added a positive person in your office … If you switched it from 80 days hanging out with your negative friend and one day with your office acquaintance who's super positive, to four days with your negative friend and 12 with this new person. I've physically watched I mentor in my organizations have a totally different life on that thesis……I think that people are keeping very negative people around them and if they aspire to change their situation, it's imperative to audit the seven to 10 people who are around you," Vaynerchuk told Business Insider.
9. He is a Judge and Adviser at the Apple's show " Planet of the Apps", alongside Jessica Alba, Gwyneth Paltrow, Will I.AM.  More on the program you can read here.
10.  In #AskGaryVee he cuts straight to the heart of the question and what it says about the person asking the question — their motivations, their fundamental assumptions and what their real question should actually be.
Are you a #worldchanger?

The future, closer to us than we might think
By 2045, the futurists, quoted by dailymail, foresee 'talking' buildings, windows being replaced by augmented reality screens and self-healing, self-driving planes. Moreover, one expert believes we may even ditch technology completely and go back to pens and paper, while another predicts candles and incense sticks will become heavily regulated over health concerns.
The predictions have been made by artificial intelligence specialists, roboticists and futurologists from Australian universities as well as experts from UK-based plant hire company Hewden. Him, with futurologist Dr Ian Pearson, particularly focused on how buildings will adapt over the next 30 years. By the middle of the century, Dr Pearson believes buildings will have artificial intelligence 'personalities' and will be able to 'talk' to people. Homes and offices will collect and process data from various sensors to flag up when repairs are needed or when the heating needs to be turned on.
But some innovations are already here, surprising us. Sony is one of the brands that keeps on giving, on several areas and industries. The brand has recently announced a new series of SD cards it is touting as " the world's fastest." The maximum write speed for the SF-G series will soar up to 299 MB/s, while the read speed will hit 300 MB/s. "For comparison, Amazon's current bestselling SD card can only handle 80 MB/s read and write speeds. The cards will be available in 32GB, 64Gb, and 128GB variations. Part of this increase in speed capability is thanks to the cards' support of the UHS-II interface, which means the cards sport an extra row of connecting pins for better transfer speeds. Sony has yet to announce pricing for these speedy cards, but they have listed them as being available as soon as Spring 2017," writes Futurism.com.
According to Business Insider, Ford of Spain collaborated with Espadaysantacruz Studio to create a crib that simulates the conditions of driving to put your baby to sleep. Called the "Motor Dreams" crib, it was created for an ad campaign for their MAX models. It features sounds of an engine, gentle movement imitating traffic, and LED lights that mimic street lights. It's all controlled by a smartphone app that can reproduce your car's movement. Ford is thinking more about a real production model. The crib will be given away in a raffle.
A skin-like biomedical technology that uses a mesh of conducting nanowires and a thin layer of elastic polymer might bring new electronic bandages that monitor biosignals for medical applications and provide therapeutic stimulation through the skin. The biomedical device mimics the human skin's elastic properties and sensory capabilities.
"It can intimately adhere to the skin and simultaneously provide medically useful biofeedback such as electrophysiological signals," said Chi Hwan Lee, an assistant professor of biomedical engineering and mechanical engineering at Purdue University. "Uniquely, this work combines high-quality nanomaterials into a skin-like device, thereby enhancing the mechanical properties." You can read more at: https://phys.org/news/2016-11-biomedical-skin-like-bandage-stretchy-durable.html#jCp
What we can for sure see is that the future really looks beautiful. Let's hope it will also make us happy.