How Do We Dress To Impress?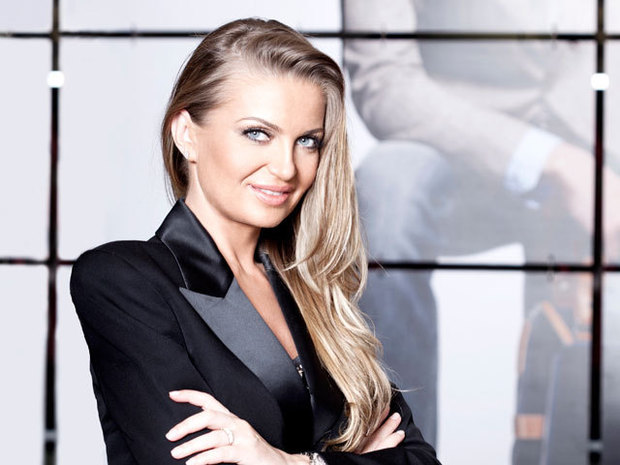 A positive, proactive and dynamic professional, Teodora Burz is definitely a strong reference in the fashion industry around the globe. She's experienced in both managing retail fashion-outlets and conceptual development/ production as well.
At only 41 she is the founder of one of the most popular clothing brand on a global scale, having lots of Hollywood icons wearing her clothes. But enough with presentations and let's get to the point and find out her story and inside tricks!
What made you take fashion seriously and make a career out of it?
T. B.: I've been passionate about fashion since my early age and it was always a part of me. I didn't have a plan to make a career of it, that was something that came out naturally.
Although, when I was 18, I had an internship in a shoe store. The owner told me he'd like to see me again in a couple of years since he felt that I was going to make a career of it.
I didn't quite understand at that time what he saw in me, but it's always going to remind me about the point where everything started.
How has your work evolved since you designed your own label?
T. B.: It has been, and still is, similar to an exam, actually. I'm testing daily all the experience I've accumulated in the past 20 years. At first, it was just a dream, but then it became an ambition and now it's an everyday challenge to make out of STYLAND the best Romanian Brand!
What is the biggest lesson that you have learned since you've started your company?
T. B.: I'm learning lessons every day, but the biggest ones I've learned before starting my brand and "I feel lucky for that so far.
#1: I believe that just a single, well-crafted jacket can change your complete look and entire state of mind. We all need a power jacket that has been reinterpreted and styled in our own personal way.

#2: Never underestimate the Power of the Great Suit.
   
How do we dress to impress? You are a businesswoman and a designer at the same time. How important is one's outfit when it comes to business?
T. B.: There is a saying "You don't get a second chance to make a first impression". There is a lot of truth in that. But making the first impression is not everything, it's important to have your own style all the time, a signature look that defines you as a person. You create it according to your job and the field you activate in.
What details do you pay attention to when you analyse a person's business outfit.
I don't analyse people's outfits. If I notice first the outfit, it means there is something wrong about it. I believe that your outfit should complete your personality, not overcoming it.
What outfits do you usually wear for business meetings?
For me, dressing up became very easy since I made my brand. I'm not over thinking it anymore. I usually suit-up pretty simply, going for a sharp look: a black or navy suit with a great cut and shape.
The focus should be on what I do and talk, not on what I'm wearing. It's a business meeting, right?
Give to BRAND MINDS attendants 3 Basic Rules to follow for a flawless Business Style/Outfit.
The first rule is to

find your cut for pants and jackets

, that particular cut that fits you best and flatters your silhouette. Then, get at least 2 or 3 suits with this cut.

The second rule is to

give-up on accessories, prints and colours

and let your look as clean as possible.

The third rule is to

wear shoes that make your legs look good. T

ry to avoid those that might look good in the magazines but destroy your overall look when you wear them.
   
What is your opinion about the overall Romanian sense of style? Would you add or change anything about it?
There is an evolution when it comes to Romanian style and is easy to observe it by a quick overview across the last years. I actually see evolution year by year.
On a matter of recommendation, is simple: apply the three rules mentioned above and you'll be surprised by the results! 
There is nothing more attractive than confidence that comes when you wear a good suit wearing white, light blue or navy shirts, perfectly groomed.
SUIT UP!  ​
Let's suit up and see what we are wearing this year at BRAND MINDS!

ABOUT STYLAND
The philosophy of the brand and collections is to create beautiful and timeless pieces made of quality materials that will last a lifetime with minimal care. Our aim is to re-establish a sense of respect for tailoring and timeless silhouettes.
The brand specialises in ladies ready-to-wear garments focusing on tailored suiting. A good quality tailoring for women wasn't easy to find, especially for modern cuts, so we created a line for those women who wanted to wear a formal and cocktail attire with a twist.  
When we're creating, we have in mind the modern woman who has an eye for exclusive and beautiful design. A design that is, both, luxurious and functional in work and formal settings.
Joining BRAND MINDS?
Then read this!
Are you coming to BRAND MINDS?
Then here are some things that you need to know!
We have prepared 10 SECTIONS you can check for any information you need to know related to the event. Find them below and if you have extra questions, send us an e-mail at contact@brandminds.com.
We're glad you'll be joining us and get ready for an amazing and life-changing experience!
A. TICKETING & REGISTRATION MATTERS
B. LOCATION & DATA
C. DRESS CODE & LUGGAGE
D. DAY OF THE EVENT
E. SECURITY
F. PROGRAM
G. MEDIA PARTICIPATION
H. MY PERSONAL DATA
I. FOOD & BEVERAGE
J. PARKING LOT
A. TICKETING & REGISTRATION MATTERS
1. How Do I REGISTER to BRAND MINDS?
To REGISTER for BRAND MINDS please access this link and complete the form as requested.
2. What are the PAYMENT methods?
You have 3 payment methods available to pay for your tickets order: by CREDIT CARD, through BANK TRANSFER and via PAY PAL.
You will receive further details about each of the methods after applying for one or another.
3. How can I TRANSFER my pass to someone else?
All the PASSES can be transferred to another person as long as the request is made with at least 5 days before the event.
If you plan on transferring your PASS to somebody else, please e-mail us at contact@brandminds.com with the e-mail subject: Pass Transfer Request @YourName.
4. How can I UPGRADE my pass?
Depending on the availability, you can apply for a ticket UPGRADE.
Send us an e-mail at contact@brandminds.com with the title: Pass Upgrade Request @YourName.
5. What are the differences between the event tickets?
We have two ticket categories:
GENERAL PASS Brand – Business Experience, coffee breaks, access to BRAND MINDS Networking App, lunch);
VIP Brand – Elitist Business Experience, coffee breaks, access to BRAND MINDS Networking App, VIP lunch, VIP Afterparty, a photo opportunity with the speakers.
6. Where can I find my TICKET?
We deliver the tickets by email to the address associated with the purchase.
Please have your ticket ready to show to our Customer Service representatives at the check-in desks on the event's day. We accept both: PDF tickets on your phone (recommended) and printed tickets.
7. How can I CANCEL my purchase?
Tickets are non-refundable.
They can be, however, transferred to another name. (Check Question #3).
If the ticket wasn't paid in the specified time, the booking request will be deleted from the system by default.
8. I am on the WAITING LIST. What does that mean?
If you're on our Waiting List, it means that the ticket(s) you were trying to purchase are currently sold out.
If any tickets in your chosen category become available, we will process your request and send you an order confirmation and invoice accordingly. The price of your ticket will match the price at the time you joined the waiting list.
9. What is VAT?
The VAT added to each order works in compliance with the laws of the country in which the event takes place. For example, a ticket to BRAND MINDS will be subject to Romanian VAT.
10. WHERE do I need the ticket?
You need to show your ticket (and your ID) to our Customer Service representatives at the check-in desks. This will let you collect your conference badge.
11. I have LOST MY TICKETS, can I still enter the event?
Don't panic!
First, make sure you have checked your email for your ticket. You will have received it by email from us.
If you still can't find it, ask one of our Customer Service representatives for assistance. If we have the correct attendee information in our database, you'll be able to collect your conference badge with your name and ID.
12. Where can I collect my CONFERENCE BADGE?
To enter the event, every attendee will need to collect their conference badge upon arrival from our check-in desks, located at the entrance of our conference venues.
13. Can I ENTER the event without my conference badge?
No, for security reasons, only guests with valid conference badges will be allowed into the conference hall. For this reason, we urge you to take good care of your conference badge and keep it with you for the duration of the event.
You can also pick up your badge at the venue, the day before the event.
14. What DOCUMENTS & ITEMS should I take with me to the conference?
We suggest that you bring your ticket, ID, and business cards with you, as well as anything else that would help you make the most of your time at the conference.
Chargers are hard to come by, so a power bank to charge your phone or a tablet would also be useful!
15. Can I RESELL my BRAND MINDS ticket?
You cannot sell your BRAND MINDS ticket. Doing so will result in a void ticket and the ticket holder will not gain entry into the event.
You can, however, transfer it to another guest.
16. When will the REGISTRATION process start?
The doors open at 7:00 AM, come early to register.
Registration will take place from 7:00 AM. The program starts at 9:00 AM.
B. LOCATION & DATA
1. Where is the EVENT held?
The event is held at The Palace Hall, Bucharest (No. 28, Ion Campineanu Street, 010039, Bucharest, Romania).
2. How do I ARRIVE at Palace Hall?
From the Airport: There is a 40 minutes car ride. You can take either a taxi or an UBER for less than 10 euros. If you decide to ride the bus, take #783 for 13 stops. From the last stop to Palace Hall there's a 9 minutes walk (750 m).
From the Train Station: There is a 15 minutes car ride. You can take either a taxi or an UBER for approx. 3-5 euros. If you decide to ride the bus, take #85 for 6 stops. From the last stop to Palace Hall there's a 7 minutes walk (550 m).
C. DRESS CODE & LUGGAGE

1. What is the DRESS CODE for BRAND MINDS?
Business Formal dress code is required.
Please make sure you have a coat/sweater at you, because the temperature in the conference room may vary.
2. Can I bring a SMALL BAG or a BACKPACK?
You can bring only a backpack. Due to security matters we cannot storage luggage that is bigger than a basic backpack.
Also, please keep in mind that unattended luggage will be removed by security agents.
Please do not leave your luggage unattended.
D. DAY OF THE EVENT
1. What is BRAND MINDS?
BRAND MINDS is the premium events label of BRAND EMOTION.
As a business event, BRAND MINDS is the Central and Eastern European Business Summit of the Year.
2. What are the channels to NETWORK at the event?
There are five channels to network at BRAND MINDS.
The GENERAL PASS is offering the opportunity to connect with other attendants not just by live contact but also through the Networking App, at the event and during the coffee breaks & lunch.
If you got the V.I.P. PASS, you get two more openings: the V.I.P. Lunch and at the V.I.P. After Party.
The last two, are also offering the attendants the chance to network with the speakers.
3. Can I MEET the speakers?
The V.I.P. Pass is offering you the chance to meet your favourite speakers in person since they'll be attending the After Party as well! Don't miss on your chance to network with your favourite mentor!
E. SECURITY
1. Are there any FORBIDDEN objects?
Professional Camcorders and recorders are prohibited in the Conference room.
Weapons of any kind or objects that can be considered weapons, including toys;
Tripods for cameras or sticks for making selfie (hands camera extensions for mobile devices are forbidden as well);
Refrigerated bags or rucksacks larger than 22 inches x 15 inches x width 18 cm high (54 cm x 38 cm x 46 cm);
Pets or other animals, except for approved animals accompanying people with disabilities, who must remain in the leash and always near their owner;
Recreation device, such as drones, remote control toys or any other wheel devices other than a briefcase or a briefcase mobility device for the persons with disabilities;
Glass objects;
Alcoholic beverages;
Food and hot drinks;
Any other articles we identify as harmful or that may create a diversion.
2. Will there be a SECURITY check?
Yes! All attendants and their packages must go through a security check at their arrival.
To ensure a safe and special experience for our guests, everyone has to wear the access bracket all the time.
The badges and all other accessories become null and void if modified.
3. Will there be MEDICAL SERVICES for extreme situations?
An ambulance will be provided throughout the event. In case you need medical attention, please contact our approved staff.
4. Can I bring a small bag or a backpack?
Yes but please keep in mind that unattended luggage will be removed by security agents.
Please do not leave your luggage unattended.
F. PROGRAM
1. Where can I find the conference PROGRAM?
The latest updates are on www.brandminds.com.
2. Why has the SCHEDULE/lineup changed?
This could be due to a number of reasons. For example: if a speaker is unable to participate due to a medical emergency. Although rare, we reserve the right to make changes to our event schedules and lineups. Individual changes are not a valid justification for cancelling your ticket for a refund.
G. MEDIA PARTICIPATION
1. I'm interested in PARTNERING with the event, who do I contact?
For partnership queries please fill out our partners' application form on www.brandminds.com/partners.
For information on partnership at BRAND MINDS, please contact@brandminds.com.
2. I'm interested in a PRESS PASS for the event, who do I contact?
If you would like to cover BRAND MINDS in a media capacity, you can do so, before the event is sold-out, by filling out our press accreditation application form.
For information on press at BRAND MINDS please e-mail contact@brandminds.com.
We cannot assure, however, that you will receive a press accreditation since the media collaboration proposals are subject to the company's selection criteria.
H. MY PERSONAL DATA
1. Why haven't I received any EMAILS with the event information?
If you have purchased a ticket, we have your contact information and you should be receiving emails from us.
Check your spam filter to see if you have missed our emails. If you have not received anything, please contact us at contact@brandminds.com.
2. Why am I receiving emails from BRAND MINDS?
You are receiving emails from us because you have purchased a ticket and/or have subscribed to our newsletter.
Our emails usually contain information that is relevant to our events, important updates that we want you to know about or news about our company.
We value your privacy and will not distribute your email address to third parties without your consent.
3. Where can I find the TERMS AND CONDITIONS?
You can check them here.
I. FOOD & BEVERAGE
1. Can I bring food and beverage to the venue?
No outside food or drinks will be allowed at the event. Water and coffee/tea will be available during the event.
2. There will be any food & beverage at the event?
Throughout the conference, there will be breaks when food and beverage will be available.
Although, please keep in mind that food can contain allergens and we are not responsible for related situations. Do contact our staff if you have an allergy to some foods.
J. PARKING LOT
1. Will there be any parking lot in the area?
Yes. You can park on the side of the event's location, but we recommend to use the National Theatre Parking Lot.
There is possible not to find a parking spot in the venue area, depending on your arrival hour and overall traffic.