These 4 business trends are shaping 2022
4 business trends shaping 2022:
9-to-5 freelancing
The rise of the "on-demand" workforce
Making or losing money with cryptocurrencies
NFTs for business, artists and investors
9-to-5 freelancing
We know this all too well: many businesses went into downsizing to survive the pandemic. According to World Economic Forum, the COVID-19 pandemic and the resulting lockdown caused 114 million people to lose their jobs over 2020. Experts don't expect overall employment to return to normal until the third quarter of 2023 (source).
People who kept their jobs were forced to transition to working from home which came with its own set of pros and cons. Companies that didn't adapt to this new way of working and failed to maintain employee engagement or worse, have implemented abusive employee surveillance were confronted with increasing resignation rates.
Professionals have decided that putting up with a toxic company culture on top of raising anxiety levels caused by the pandemic was simply not worth it. Some employees with small families were happy to work from home while others with different family arrangements felt that working from home was impacting their life in a negative way.
Thus the increasing number of people going into freelancing and becoming self-employed. Why work for a company that doesn't prioritize your mental wellbeing when you can monetize your skills and experience and become your own boss?
Of course, there are specific upsides and downsides, but as the percentage in the graphic above shows, it looks like there are more advantages than disadvantages at least in this pandemic situation.
The rise of the "on-demand" workforce
From Disney to Exxon to Goldman Sachs, big companies have cut jobs due to the Coronavirus. The cuts ranged from 1% to 20% of their global workforce.
Jobs still needed to get done so companies have resorted to replacing full-time employees with contract-based collaborators or freelancers.
The on-demand workforce is now in higher demand (pun intended) than in previous years. And it's clearly a win-win situation for both workers and employers.
Hiring on-demand workers helped companies become more agile. With so many available digital platforms, it's easier for professionals to showcase their skills and get hired project-based.
Earlier this year, a new trend within the work-from-home reality was uncovered by a Wall Street Journal report: white-collar workers working two full-time remote jobs and doubling their pay.
Making or losing money with Cryptocurrencies
With people losing their jobs or getting pay cuts in the wake of the pandemic, incomes were getting thinner and thinner. For many Millennials going on the crypto market to make some money seemed like the right idea.
Prior to the outbreak of the Covid-19 pandemic, Bitcoin – the world's first cryptocurrency – could be purchased for about $7,300. One year into the pandemic, the very same token costs more than $46,800 – a staggering 640 per cent rise (source).
At the publishing of this article, Bitcoin took another fall and is now worth $37,730. According to Binance, the total market value of all cryptocurrencies reached close to $3 trillion USD at its peak in November 2021. In Jan 2022, however, the market cap has plummeted 40%, wiping out more than $1.2 trillion USD.
Early investment in cryptocurrencies has produced several millionaires and billionaires now on Forbes' famous list of billionaires. Others who didn't invest early or wise, have lost large amounts of money.
NFTs for business, artists and investors
If crypto coins are the first layer of a blockchain, NFTs are the second. NFT is short for Non-Fungible Token. NFTs are digital assets that represent real-world objects like art, music, in-game items, videos and event tickets. They use blockchain technology to establish a verified and public proof of ownership.
NFTs have seen a rapid increase in awareness among artists with many selling their artworks for millions of dollars. The most expensive NFT to date is Everydays: The First 5000 Days. It was created by digital artist Mike Winkelmann (aka Beeple) and was sold for a record high of $69.3 million.
Gary Vaynerchuk, CEO of VaynerMedia and speaker at BRAND MINDS 2022 sold his NFT collection based on his doodles for $1.2 million at Christie's auction.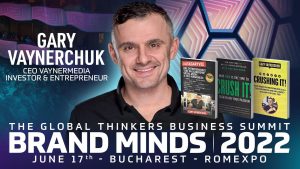 The first NFT project was launched in 2015 and the interest has been growing rapidly ever since. Today the NFT market is valued at $370 billion (source: NASDAQ).
2021-2014 – NFT ideas & experiments
The idea of the NFT was implemented in 2012 on the Bitcoin blockchain. In 2014, the first NFTs were launched on Ethereum, the blockchain co-founded by Vitalik Buterin, one of the most prominent figures in the blockchain and cryptocurrency market.
2017 – the creation of Cryptokitties & CryptoPunks, cultural icons for the crypto community
The oldest and most renowned NFTs are the Cryptokitties and the Cryptopunks which were released in 2017.
CryptoKitties is a blockchain game on Ethereum developed by Canadian studio Dapper Labs that allows players to purchase, collect, breed and sell virtual cats. Only 100 in number and amid the recent NFT market resurgence, the Cryptokitties began rising in value. According to DappRadar, about $7.27 million worth of CryptoKitties NFTs were transacted over a 24-hour period.
CryptoPunks is a collection of 10,000 unique characters and were created by development studio Larva Labs. The characters are 24×24 pixel art images of punky-looking guys and girls, generated algorithmically. The most expensive punk is #3100 and sold for a record $7.58M. One of the latest major companies to buy a CryptoPunk is Visa, the payments technology company which paid $150,000 in Ethereum (source). To date, the lifetime total value of all CryptoPunks sales is $1.48B.
2021 – Bored Ape Yacht Club
The Bored Ape Yacht Club is a collection of 10000 unique Bored Ape NFTs— unique digital collectibles living on the Ethereum blockchain. The Bored Apes typically sell for many thousands of dollars, and some are even owned and used by celebrities as social profile pictures on Twitter. These NFT avatars are blowing up in 2021 with $750 million worth of trading volume. In September, a two-lot sale of Bored Ape NFTs brought in a combined $26.2 million at Sotheby's.
Who invented the NFT?
No individual can claim to have invented the NFT, but we know who created the first NFT. It was artist Kevin McCoy who created Quantum, the first NFT ever created. Quantum became the first work to be associated with an NFT-type certificate of ownership in May 2014, three years before the term NFT was coined.
Looking to get more business trends?
Subscribe to our newsletter!
Grow Your Business With These 6 Tech-Powered Trends
We are living in a tech-driven, digitally empowered world. New technologies are developed at a faster rate than ever before. Does anyone remember the old rotary dial phones? Within just one decade they were replaced by smartphones. Computers used to be the size of a room, now their power is compressed into one chip smaller than your fingertip.
The digital revolution took the business environment by storm and changed everything from product design to sales, marketing and hiring.
It used to be that being digital was a differentiator and a competitive advantage. Now we are fast approaching the moment when the digital playing field will eventually even out.

Accenture, What the post-digital era will look like
How will then companies differentiate themselves from the competition?
The answer is innovation, creativity and looking for the greater good.
Let's explore 6 tech-powered trends which you can leverage to grow your business:
1. Customization & Personalization
FITS is an app which suggests clothing for men based on their music preference. The app was created by Eison Triple Thread, a menswear fashion company. The user logs into his Spotify account, allowing the app to access his listening data and pair music genres and favourite artists with styles. The user then looks through the suggested outfits, giving his feedback with likes and dislikes. This process ensures that the client's suits properly reflect his personality as well as personal style. And because all the company's menswear is made to measure, the user can further customize each product, like choosing colour pairings or materials.
Razor manufacturer Gillette gives consumers the power to create and order customized 3D printed razor handles, with the choice of 48 different designs, a variety of colours, and the option to add custom text.
Startup Unspun has partnered with Fit3D to enable customers to receive custom-fitted jeans after undergoing a 20-second body scan. The company is also developing a 3D weaving machine that will eliminate fabric waste during the production process.
2. Tapping into different industries
Thanks to technology, powerful brands like Microsoft, Google and Amazon are erasing the boundaries between industries.
Innovators themselves, these tech giants establish footholds in other industries through acquisitions. Amazon is going into the smart home market and the healthcare industry, Microsoft is tapping into the gaming industry and Google has taken an interest in the transport industry in India.

Learn more: Biggest Tech Acquisitions of 2018: Apple, Amazon, Google, Microsoft
3. Plastic Waste Recycling Revolution
Our world is currently fighting a silent enemy – plastic waste. One of the most important inventions of the 21st century, plastic is now a danger to our planet. Governments, brands and companies are now working to reduce plastic waste and find new ways to recycle it.
Plastic bags are a huge environmental problem in Africa. 98% of plastic waste in Ghana is dumped into a landfill (instead of recycled). Ghana company Nelplast found an innovative way to recycle the country's plastic waste by turning it into roads.
Starbucks and McDonald's led the creation of a $10 million challenge to create a fully recyclable and compostable coffee cup.
Adidas produced more than five million pairs of recycled plastic waste shoes in 2018, and they plan to incorporate the waste into at least 11 million this year.
4. Out-of-this-world experiences: AR & VR
Virtual experiences (AR, VR and more) are becoming as meaningful to consumers as those that happen in the real world.
In May 2019, Microsoft announced Minecraft Earth, a mobile AR version of the popular game. With a closed beta planned for Q3 2019, Minecraft Earth brings a Pokémon Go-style AR experience to Minecraft and allows players to build and place their creations in the physical environment around them via augmented reality. The app leverages Microsoft's HoloLens and Azure Spatial Anchors technology.
An estimated 10 million gamers attended a live virtual concert inside online video game Fortnite in February this year. DJ Marshmello took to the stage and delivered what felt like "a glimpse into the future of interactive entertainment, where the worlds of gaming, music, and celebrity combined to create a virtual experience we've never quite seen before."
There's a common belief that such experiences are created exclusively for and enjoyed by Millennials. Well, Abba changes that.
The Swedish group who achieved global fame in the seventies are now preparing for an upcoming digital show. The event will feature 'Abbatars' (like the one we've seen in the Miley Cyrus Black Mirror episode) which will represent the four members of the group. Björn Ulvaeus said that the two-hour show will be broadcast in the UK and simulcast across the world.
View this post on Instagram
5. AI to the next level
AI is the latest most important technology development. Many fear AI will be the end of humankind while others see it as the biggest shift in our evolution as a species. Will we integrate AI in our biological brain? Yuval Noah Harari supports this hypothesis. Until that moment, here is how AI helps us right now.
Chester, the AI-based radiology assistant is a web-based system for diagnosing chest X-ray images. It's a free tool which allows users to upload an X-ray within their web browser to receive a diagnosis on 14 diseases, such as pneumonia and emphysema with 80% accuracy.
Just as Game of Thrones Arya "kills" her enemies, so too Arya, the recruiting tool helps you eliminate the most common problems related to recruiting. The tool identifies top talent faster than the competition, engages automatically with personalized messaging, builds high-quality candidate pipelines that are ready to move and tracks successful hires and instantaneously searches similar candidates.
Ginger.io is an app which offers professional coaching services to support employees' emotional wellness. It is a behavioural analytics platform which turns mobile data into health insights and its AI technology helps the app's clinical team reach out at times that are most helpful.

Learn more about Ginger.io: This app supports your employees' emotional wellness
6. Innovative solutions to solve social problems
In recent years, brands have leveraged the power of advertising campaigns to put the spotlight on various societal problems. If successful, such actions attract media attention, brand love and a lift in sales.

Learn more: P&G, Barbie, Gillette are challenging gender stereotyping
Customers are now expecting brands to go to the next level: solve the problems, not just tout about them.
A British doctor, Almas Ahmed, has created the world's first range of makeup that will resist acid attacks. Unveiled at the Leeds International Festival on May 7th, the makeup works as a barrier on the skin, effectively repelling acid. The makeup range took ten years to develop and it will be available in 2020, starting in regions with the highest incidence of acid attacks including India, the Middle East, and the UK.
Imagine the scale of media attention this product would have received had it been created by one of the giant beauty brands.
Wrap up
Customize and personalize your products/services;
Is your brand powerful enough to expand to other industries?
Joining the No Plastic global movement is an opportunity for innovation;
Do you offer amazing experiences to your customers?
Leverage AI-based tech to support your customers achieve their goals;
Create products to solve social issues.
sources: Trendwatching.com and BRAND MINDS blog
Join the Conversation
We'd love to hear what you have to say.
Get in touch with us on Facebook Group and Twitter.
PwC: 5 MegaTrends Affecting Your Business in 2019 (2 of 2)
PwC has identified 5 global Megatrends that shape our world. This article explores these Megatrends looking at the way they affect the global business environment.
As business owners and entrepreneurs it's paramount to have a good grip on the present and also stand on the threshold of the future.
Let's see how these Megatrends identified by PwC are shaping our business environment on a global scale and what you can do to make the best of them.
This article is delivered in two parts. Read the first part:
PwC: 5 MegaTrends Affecting Your Business in 2019 (1 of 2)
4. DEMOGRAPHIC AND SOCIAL CHANGE
By 2030 the world's population is projected to rise by more than 1 billion. Equally significantly, people are living longer and having fewer children.

PwC
Challenges
By 2030 the world's population is projected to rise by more than 1 billion, bringing the total to over 8 billion.
Emerging or developing countries will produce 97% of this population growth.
People are living longer and having fewer children.
People over 65 is the fastest growing segment of population – according to PwC there will be 390 million more of them in 2030 than in 2015.
Many advanced countries are seeing their population working age slow down its growth.
Inequality is a rapidly rising trend. To illustrate this, PwC gives the following example:
The world's 8 richest people now own as much wealth as the poorest half of the world's population.
The shift in demographic profile will bring disruption to the traditional life cycle of education, work and employment.
The ageing population has a direct influence on healthcare spending – it will increase. But an ageing population also means an untapped resource and businesses need to find ways to take advantage of this opportunity.
[bctt tweet="People over 65 is the fastest growing segment of population" username="brand_minds via @PwC_UK"]
Solutions
Here's how businesses can take advantage of the demographic shift:
Businesses must find ways to stimulate, incentivize and empower young people;
They also need to harness the power of older workers and women.
There are various measures that businesses can adopt to encourage older workers to remain in the workforce:
Create more flexibility around retirement;
Create financial incentives;
Adopt reforming pension rules;
Outlaw age discrimination;
Re-training;
Reverse mentoring;
Phased retirement;
Training and apprenticeships that are normally addressed to younger recruits.
BMW is one of the companies which is leveraging the power of ageism: they have redesigned their factories for older workers.
Sweden is the best performing EU country in regard to older workers employment rates. According to PwC,
The G7's GDP could increase by as much as $1.8 trillion in the long-term; if the G7 economies could achieve the same level of full-time equivalent employment rates among the over 55s as Sweden.
Women are a great resource for the workforce, but businesses are yet to leverage it at its full capacity.
Women become mothers later in life and have fewer children;
Women are a growing purchasing power: according to PwC 70% of household budgets in the G7 are controlled by women, globally 85% of consumer purchases are made by women which is equivalent to a worldwide spend of $20 trillion;
Hiring women is highly beneficial to businesses worldwide. Reports have shown that companies with a higher percent of women in high management roles are constantly outperforming those with fewer women.
Peterson Institute for International Economics found that firms with more women in the C-Suite are 15% more profitable.

PwC
Women represent an invaluable pool of talent, skills and abilities and to attract and retain them, businesses need to take the following steps:
Ensure that all employees are receiving fair pay and promotion;
Support women's career advancement to develop a pipeline of female leaders;
Promote flexible working options.
Learn more about global recruiting trends: Global Recruiting Trends 2019 – LinkedIn Study
[bctt tweet="Women are a great resource for the workforce, but businesses are yet to leverage it at its full capacity." username="brand_minds via @PwC_UK"]
5. TECHNOLOGICAL BREAKTHROUGHS
By 2020 there will be close to seven times the number of connected devices as people on the planet.

The digital revolution has no boundaries or borders. It is changing behaviour and expectations as much as the tools used to deliver new services and experiences.

PwC
Challenges
PwC has found that emerging economies are adopting technologies as fast – or in some cases faster – than developed markets.
Due to the digital revolution, the scale of the business is no longer an insurance regarding its competitive advantage, as we have shown in our Failure Series articles regarding Nokia and Kodak.
For many years, corporate technology was far more advanced that anything available to the consumer. But two key dates – 2007 and 2010 (the launches of the iPhone and the iPad respectively) – decisively shifted this imbalance in favour of the consumer.

PwC
The digital revolution has ushered in a shift in power from corporate to consumer. Now it's the consumers driving the specifications of corporate technology, not the other way around.
The digital way of life is personified by the Millennials, the generation who was not required to adapt to digital because they were born into it. For them, technology is a form of natural language. To include the Millennials into workforce, businesses must direct their activities to fit this aspect.
Together with digital comes another important trend: social media.
Organisations need to understand that social media is not simply another channel, but a fundamentally new and different way in which people organise and live their lives. And its scale, already vast, is growing constantly.
PwC have identified the following maturing technologies:
AI;
Augmented Reality;
Virtual Reality;
IoT;
Blockchain;
Drones;
Robots;
3D printing.
They believe these technologies offer huge potential in many industries. Their word of warning to businesses looking to embrace them is as follows:
Don't adopt these technologies for their own sake. Experiment and learn from these technologies with the clear purpose of finding how to use them to create value. If implemented correctly, businesses can benefit galore in way of producing financial wealth.
Connected homes, connected cars, virtual interfaces, smart locks etc. – everything is connected. While ubiquitous connectivity has numerous advantages, it is not risk free. The upside of all things connected is that it is a gateway to consumer behaviour data which was previously untapped.
Many of today's largest and leading organisations and businesses were developed in an era of scarce, expensive and rigid technology. Delivering change for them is a complex proposition. On the contrary, businesses that are 'born digital' are much better prepared to deal with the constant flux of change that hits everyone.
[bctt tweet="The upside of all things connected is that it is a gateway to consumer behaviour data which was previously untapped." username="brand_minds via @PwC_UK"]
Solutions
MIT Sloan School of Management has found that large organisations run a greater risk of disappearing due to digital disruption over the next 5 years. The solution is the emergence of four distinct types of business model:
Omni-Channel;
Supplier;
Ecosystem Driver;
Modular Producer.
Join the Conversation
Get in touch with us on Facebook and Twitter. We'd love to hear your views!
---
source: https://www.pwc.co.uk/issues/megatrends.html
PwC: 5 MegaTrends Affecting Your Business in 2019 (1 of 2)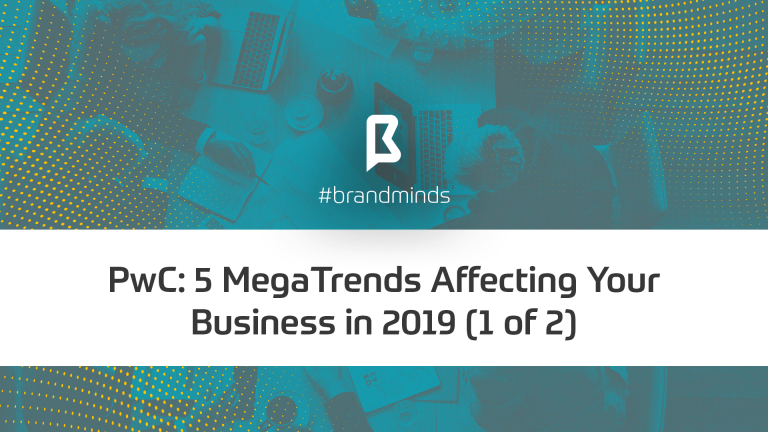 PwC has identified 5 global Megatrends that shape our world. This article explores these Megatrends looking at the way they affect the global business environment.
As business owners and entrepreneurs it's paramount to have a good grip on the present and also stand on the threshold of the future.
Let's see how these Megatrends identified by PwC are shaping our business environment on a global scale and what you can do to make the best of them.
Megatrends: 5 global shifts affecting your business in 2019
Rapid urbanisation;
Climate change and resource scarcity;
Shift in global economic power;
Demographic and social change;
Technological breakthroughs.
1. RAPID URBANISATION
Today, more than half the world's population live in urban areas and almost all of the new growth will take place in lesser known medium-sized cities of developing countries.

PwC
Challenges
Increasing global urban population: 1.5 million people migrate to cities every week.
Cities generate most of the world's GDP: 85% in 2015.
Cities stay at the heart of any economic development because they harness the power of economies of scale; they add value for people and companies thanks to their ability to attract talent, ideas, share knowledge and support businesses development.
Cities elevate the living standards of their citizens. China is an excellent case in point:
500 million Chinese people were lifted out of poverty in less than 30 years becoming China's booming middle class thanks to their developing cities.
[bctt tweet="Cities represent a major opportunity for business thus becoming breeding grounds for wealth-creation" username="brand_minds via @PwC_UK"]
To achieve that, cities must do the following:
Increase competition with other cities for talent, investment and firms;
Enhance levels of participation in city governance;
Improve connectivity;
Stimulate small business enterprises;
Deliver inclusive infrastructure;
Support sharing economies and micro industries.
One of the major opportunities that comes for the business environment is the emergence of new business models for delivering public services.
The current model of urbanisation is unsustainable. A crucial policy implication for government and business is not just to make the mega city workable but to address the urbanisation challenge at its source by helping to combat the distressed migration of 200,000 people a day from the countryside to the city.

PwC
The direction in which cities develop and evolve is shaped by the joint actions of city governments, citizens and businesses.
Solutions
Businesses must act towards taking greater responsibility for the following: service delivery, infrastructure investment, environment protection etc;
Job creation.
For large international businesses, rapid urbanisation will mean the creation of new markets. In their effort to expand globally, these companies should adopt a careful approach on how to position themselves in order to tap into the newly discovered potential.
Businesses will also see a change in their behaviours too.
The private sector will be challenged to be more open, sustainable, collaborative, innovative and flexible in their approaches.

PwC
2. CLIMATE CHANGE AND RESOURCE SCARCITY
As the world becomes more populous, urbanised and prosperous, demand for energy, food and water will rise. But the Earth has a finite amount of natural resources to satisfy this demand.

PwC
The world's current economic model is pushing beyond the limits of the planet's ability to cope.
Challenges
In the last years, the scientific community's predictions were proven to be right. Unfortunately they were accurate about the rate and effect of human impact on the climate.
The planet is no longer able to support current models of production and consumption.
The rising temperatures are predicted to lead to significant and potentially irreversible environmental changes. The pressure on natural resources is expected to increase dramatically.
The numbers show that a growing global population will also mean a 35% increase in food demand by 2030. Also demand for water will increase by 40% and for energy by 50%. In Africa, another consequence of climate change is reduced agricultural productivity by ⅓ over the next 60 years.
The link between trends in climate change and resource scarcity is a stark reality and needs to be addressed appropriately.
Solutions
The global economic development will be sustainable, or it won't be at all.
Businesses that are largely dependent on natural resources – water, land, energy – or are polluting the environment have already begun their transformation journey into responsible, ethical, waste-reducing companies. In order to achieve this goal, businesses have embraced innovation.
Learn more: Dell and Nikki Reed – Gold Jewellery made from Electronic Waste 
Unpredictable climate changes and environmental policies will bring organisational changes. Businesses must assume a leading role in alleviating environmental damage while working internally to adapt to changes by adopting organisational agility.
Learn more: 22 Benefits of the Agile Organisation 
Businesses must reassess their purposes. In order to survive in this challenging environment, businesses must acknowledge the need to become more than a source of profit for their shareholders. Business leaders need to look further and beyond earning money; they need to understand and measure their company's impacts on society and environment. Businesses need to develop an ecosystem that spans over a longer period of time for ROI.
[bctt tweet="The global economic development will be sustainable, or it won't be at all." username="brand_minds via @PwC_UK"]
Companies need to become aware that moving towards a business model that is sustainable and ethical is a powerful differentiator. As various reports show, 66% of global Millennials are willing to spend more on brands that are sustainable.
3. SHIFT IN GLOBAL ECONOMIC POWER
Challenges
Between 2014-2016 many emerging markets experienced a decline in economic performance when commodity prices dropped.
Here are a few examples:
Brazil and Russia are now in recession;
A former champion of economic growth, China is slowing down;
On the other hand, India is growing thanks to the following: being a net importer of oil and other commodities and therefore a beneficiary of lower global prices, more business-friendly policies to stimulate economic development and growth.
PwC has projected that
India could overtake the USA as the world's second largest economy by 2050 (based on GDP at purchasing power parities) and should be the third largest economy ahead of Japan by 2030.
Solutions
Businesses that are investing, or already invested, in emerging economies will need to make a careful assessment of whether and, if so, how they should manage in these more volatile market conditions, where prospects look less certain today than they did even a few years ago.
[bctt tweet="Brazil and Russia are in recession, China is slowing down, India is growing. " username="brand_minds via @PwC_UK"]
Join the Conversation
Get in touch with us on Facebook and Twitter. We'd love to hear your views!
---
source: https://www.pwc.co.uk/issues/megatrends.html