Batteries, solar panels and the end of fossil fuels
A  study published in January in the Journal of Sustainable Finance & Investment predicts that the combination of battery storage with renewable energy will make fossil fuels increasingly obsolete. The driving forces of this disruption include the "decline in retail renewable electricity prices," along with plummeting costs of batteries. Fossil fuels are the most widely used source of energy because of base load power, which means they provide energy at all times, night and day. In contrast, renewables have faced the 'intermittency' challenge—the sun doesn't always shine, and the wind doesn't always blow.
But authors Jemma Green and Peter Newman of Curtin University in Australia show that as storage gets cheaper, renewables will become more competitive with fossil fuels on costs and reliability. By 2050, these irresistible technological and market forces could make oil, gas and coal seem too costly and cumbersome, leading renewables to account for "100 percent of global energy demand."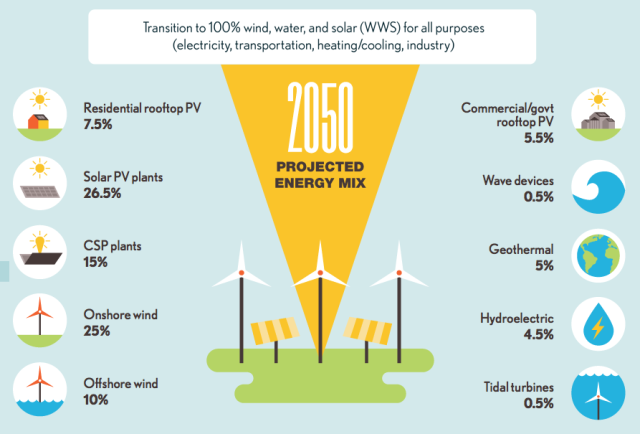 source: energyathaas.com
According to Vicente Lopez-Ibor Mayor, chairman of Lightsource—the biggest solar energy company in Europe—there will be an immediate impact within just three years. Moreover, Mayor told Motherboard that the speed of technological improvement means solar storage is "going to be massively disruptive to the business-as-usual processes of oil, gas and coal."
In three years, he said, it will "begin to transform" the electricity infrastructure of major cities. "Solar storage is pitched to become so cheap it will make relying on natural gas peaker plants pointless…It will lead to rapid adoption of solar by businesses, local governments, and households—not because people are environmentally conscious, but simply because it will make more economic sense."
More on their approach you can read here.
The Powerwall system
While wind and solar power have made great strides in recent years, with renewables now accounting for  22% of electric energy generated, the issue that has held them back has been their transience.  But now, the renewable power billionaire Elon Musk has just blown away that final defence. In an event held in California he introduced to the world his sleek new Powerwall – a wall-mounted energy storage unit that can hold 10 kilowatt hours of electric energy, and deliver it at an average of 2 kilowatts, all for US 3,500. That represents an electricity price (taking into account installation costs and inverters) of  around US 500 per kWh – less than half current costs, as estimated by Deutsche Bank.
"That translates into delivered energy at around 6 cents per kWh for the householder, meaning that a domestic system plus storage would still come out ahead of coal-fired power delivered through the conventional grid," explains iflscience.com.
Moreover, the reality is much closer than we might think as Musk is  going to manufacture the batteries in the United States, at the "gigafactory" he is building just over the border from California in Nevada. And that while not staying and waiting for some totally new technology, but scaling up the tried and tested lithium-ion battery that he is already using for his electric vehicles.
The Powerwall system offering 10 kWh is targeted at domestic users. It is complemented by a commercial system termed the Powerpack offering 100 kWh storage, and a stack of 100 such units to form a 10 megawatt hour storage unit that can be used at the scale of small electricity grids. Whole communities could build micro-grid power supply systems around such a 10 MWh energy storage system, fed by renewable energy generation (wind power or rooftop solar power), at costs that just became super-competitive.
More than that, Musk declared that the entire electric power grid of the US could be replicated with just 160 million of these utility-scale energy storage units. And two billion of the utility-scale units could provide storage of 20 trillion kWh – electric power for the world.
Solar panels have repaid their fossil fuel debt
At the same time, another study says that thanks to the growing solar power capacity around the world, solar power has reached the break even point. The study from the Netherlands, published in  Nature Communications, says that the power generated by solar photovoltaic panels over the last 40 years has offset the polluting energy used to produce them.
By the researchers' calculations, for every doubling of global solar power capacity, the energy used to produce them fell by 12-13 percent and greenhouse gas emissions fell by 17-24 percent, depending on what material was used. Solar capacity has grown roughly 45 percent a year since 1975, reaching 230 gigawatts (GW) in 2015. By the end of 2016, there could be 300 GW installed.
"The researchers believe the break even point was likely hit about five years ago for both energy consumed and emissions meaning, at this point, global solar energy is having a net positive impact and will continue to increase that positive impact going forward. This feels like a major cause for celebration. If you're a homeowner with solar panels, the researchers say that individual solar panels repay their fossil fuel debt several times over during their average 30-year lifespan," wrote Megan Treacy for treehugger.com.