Blue Ocean Strategy: How to differentiate from the competition
On this page:
Definition of Blue Ocean Strategy – What is Blue Ocean Strategy? Who created Blue Ocean Strategy?
Differences between Red Ocean Strategy and Blue Ocean Strategy in business and leadership
3 brands that have differentiated from the competition, generated new demand and found a new market
How to create a blue ocean for your company through value innovation
What is Blue Ocean Strategy?
Every entrepreneur wishes their company was the only one in the market. No competitors, having all the customers to themselves. King of the castle ruling unchallenged over the country.
While for most entrepreneurs this dream is only wishful thinking, for some it's reality.
These entrepreneurs (and we will talk about three of them later) have led their companies to great success by applying Blue Ocean Strategy.
Blue ocean strategy is the simultaneous pursuit of differentiation and low cost to open up a new market space and create new demand. It is about creating and capturing uncontested market space, thereby making the competition irrelevant. It is based on the view that market boundaries and industry structure are not a given and can be reconstructed by the actions and beliefs of industry players.
Who created the Blue Ocean Strategy?
Blue Ocean Strategy was created by management thinkers Chan Kim and Renée Mauborgne.
Both Chan and Renée are Professors of Strategy at INSEAD, one of the world's top business schools, and co-directors of the INSEAD Blue Ocean Strategy Institute in France.
In 2005, Chan Kim and Renée Mauborgne co-authored Blue Ocean Strategy. The book shows the results of a study of 150 strategic moves spanning more than 100 years across 30 industries. The authors' conclusion is that lasting success comes not from battling competitors but from creating blue oceans – untapped new market spaces ripe for growth.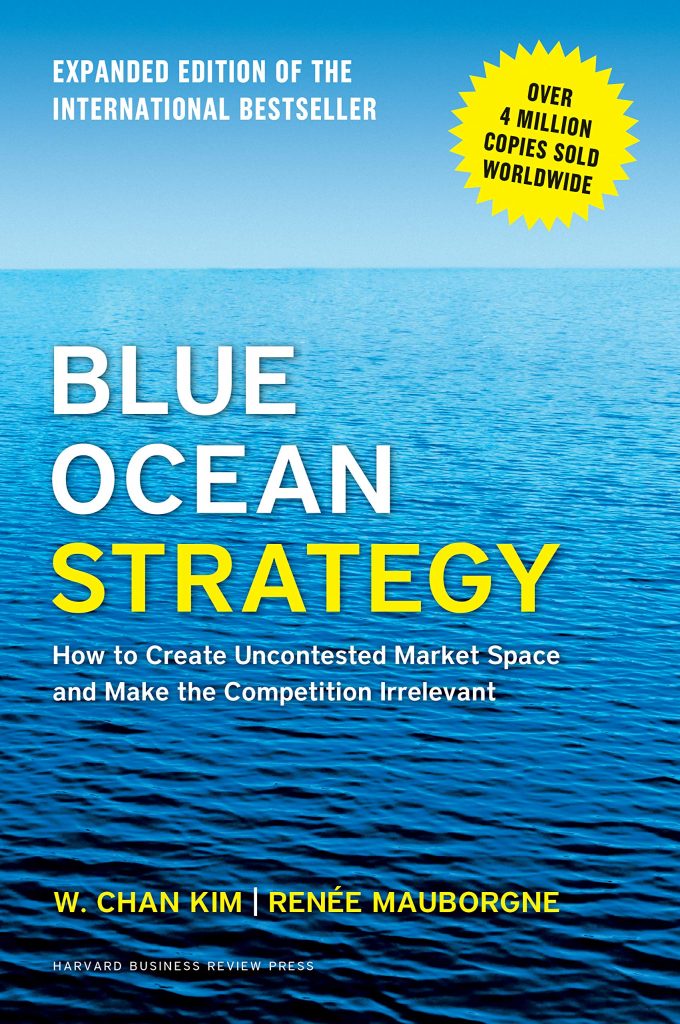 Since its first edition, Blue Ocean Strategy has been revised and expanded in 2015 and has become a bestseller with over 4 million copies sold in 46 languages.
The book is recognized as one of the most iconic and impactful strategy books ever written and is the recipient of numerous distinguished awards. Both authors received widespread recognition for their work in the form of various awards and distinctions.
Apart from their careers in academia, Chan and Renée have been employed in an advisory capacity by prestigious organizations. Kim is an advisory member for the European Union and serves as an advisor to several countries and Renée served on President Barack Obama's Board of Advisors on Historically Black Colleges and Universities (HBCUs) for the president's two terms.
In 2019, Thinkers50 named Chan Kim and Renée Mauborgne the #1 Business Thinkers in the World.

How to grow your business with 1 strategy framework
Differences between Red Ocean Strategy and Blue Ocean in business and leadership
In Blue Ocean Strategy, red ocean is a metaphor for the known market space encompassing all the industries in existence today. Remember the documentaries that showed the audience what happens when a large number of sharks feed at the same time, in the same place? It's called a shark feeding frenzy event and it turns the ocean water red with the blood of the fish the sharks are feeding on.
Blue ocean is the metaphor for the unknown market space and all the industries that are not in existence today. It's the unchartered land that courageous explorers venture in to discover unimaginable riches and opportunities.
Red ocean strategy is about competition
Blue ocean strategy is about creating new demand
Red ocean strategy is a market-competing strategy where profit and growth decline while competition increases
Blue ocean strategy is taking the opportunity to grow rapidly and profitably
Red ocean strategy competes over customers
Blue ocean strategy turn non-customers into customers
Conventional leadership focuses on the cognitive and behavioural skills of leaders
Blue ocean leadership focuses on actions and activities tied to market realities
Conventional leadership has resulted in 87% global average in employee disengagement
Blue ocean leadership's goal is to unlock unrealized talent and energy in the organization fast and at low cost

3 Brands that have differentiated from the competition, generated new demand and found a new market
Cirque du Soleil
Founded in 1984 in Canada, Cirque du Soleil is an entertainment company and the largest contemporary circus producer in the world.
There's circus in the company name but the performances are not your usual live animal children focused shows.
By taking out live animal acts from their performances and focusing on creating storyline-based shows with live music and amazing acrobats, Cirque du Soleil has created a new market space and new demand: circus entertainment for adults.
More than 180 million spectators have seen a Cirque du Soleil production since 1984 worldwide. The company generates annual revenue of approximately $1 billion and its creations have received numerous prizes and distinctions, including seven Primetime Emmy Awards and a star on the Hollywood Walk of Fame.
Uber & Airbnb
Both Uber and Airbnb are great examples of the blue ocean strategy.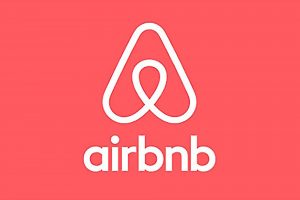 Airbnb launched in 2008, Uber – one year later.
Although operating in the hospitality industry, Airbnb doesn't own any property, it manages an online travel platform. By allowing homeowners to monetize their spaces and travellers to book them instead of hotels, Airbnb has found a new market, a big one.
The numbers speak for themselves: 7+ million listings worldwide, 2+ million people staying on Airbnb per night on average, 750+ million all-time Airbnb guest arrivals. In Q1 of 2019, Airbnb registered $9.4 billion in the total booking value.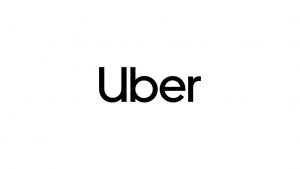 Although Uber is operating in the people moving industry, it is not a taxi company, but a ridesharing service.
The latest stats say there are 21 million trips a day taken by 111 million monthly active platform consumers located in over 900 cities across 69 countries. In 2019, the company registered $65 billion in gross bookings across all platforms.
How to create a blue ocean for your company through value innovation
Value innovation is one of Blue Ocean Strategy's tools and is defined as the simultaneous pursuit of differentiation and low cost, creating a leap in value for both buyers and the company.

10 questions to increase employee retention
The concept of Value Innovation is the cornerstone of the market-creating strategy.
Because value to buyers comes from the offering's utility minus its price, and because value to the company is generated from the offering's price minus its cost, value innovation is achieved only when the whole system of utility, price, and cost is aligned.

Chan Kim and Renee Mauborgne
But how does one achieve value innovation?
To achieve value innovation, the company looks at two factors: cost savings and buyer value.
The company makes cost savings by eliminating and reducing the factors an industry competes on and lifts buyer value by raising and creating elements the industry has never offered.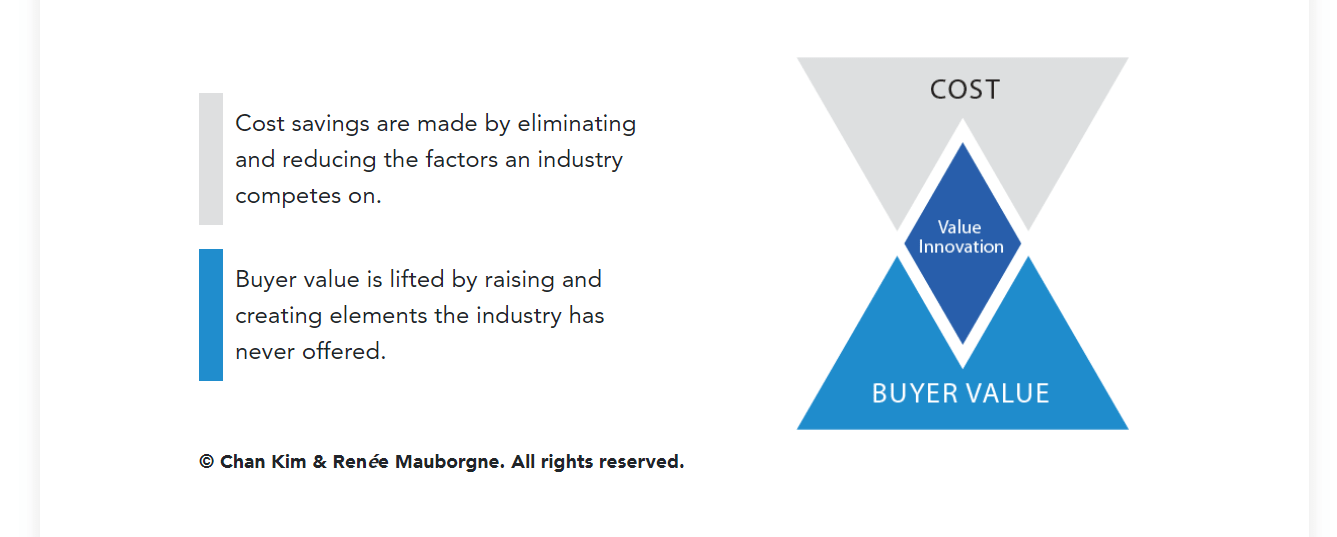 Many businesspeople believe that lowering costs and increasing value is a trade-off. It's either creating greater value for customers at a higher cost or creating reasonable value at a lower cost. Blue Ocean Strategy allows companies to pursue differentiation and low cost simultaneously.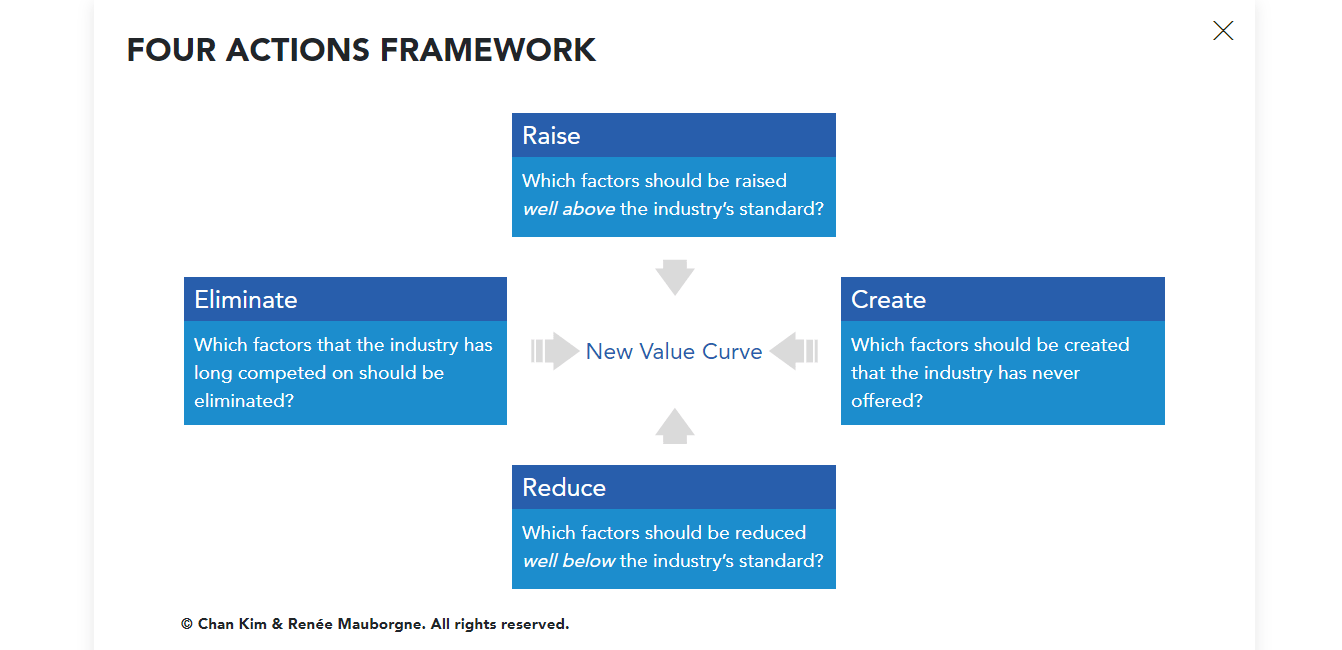 A great starting point for achieving value innovation is to answer the following questions devised by Chan Kim and Renee Mauborgne in the Four Actions Framework:
Which of the factors that the industry takes for granted should be eliminated?
Which factors should be reduced well below the industry's standard?
What factors should be raised well above the industry's standard?
What factors should be created that the industry has never offered?
In conclusion, to find your blue ocean, namely to tap into a new market, you need to perform an innovative leap in customer value at lower costs thus making the competition irrelevant.
Join the Conversation
We'd love to hear what you have to say.
Get in touch with us on our LinkedIn Group, Facebook Group or Twitter.
Best Marketing Ideas in 2017
Finding inspiration is something a marketer and creator should always be interested in.  We have some ideas that might give you a push to try something new and help your brand even more.
Paid marketing on untapped channels
Differentiation is key and clients need to understand that using only Facebook and Google for promoting themselves, even they bring huge volumes, is not enough anymore for achieving success. In an ever changing market, being among the first to tap into less used platforms and discover the ones that have the biggest change to rise (Snapchat, Instagram) is what brands' representatives should do.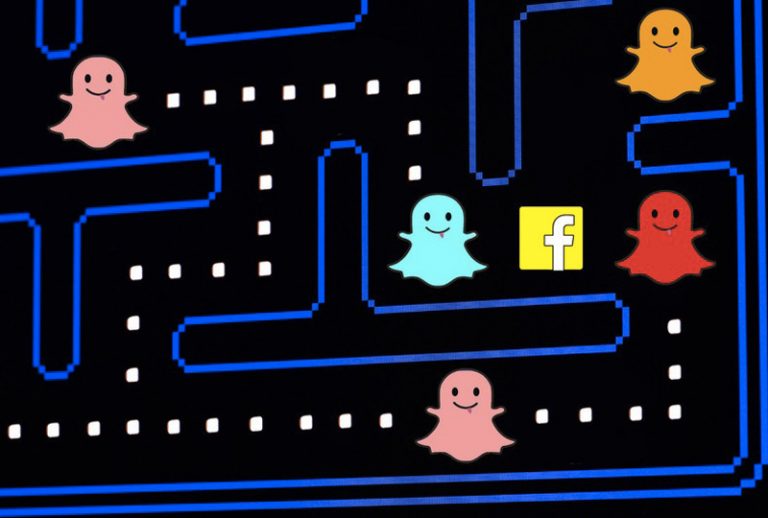 photo: wearevillage.com
Advertising is most successful when there is market inefficiency.
Choosing to communicate smartly on a channel that isn't very used or not put to its true value, may be the key to success. Moreover, the advantages occur on channels where there's a lot of volume, but less competition or no competition.
Content Multiplier Marketing and cross promotion
It's the time of the multi-channel communication, instead of using just one or two channels. Finding the perfect mix for the brand is a very important step to take. The content is one of the most important aspects these days and can take the brand in the direction you want it to. At the same time, the content can be produced in several ways of expression (articles, videos, audio recordings, a blog post) and by using different shapes and channels it will help the brand increase its awareness.
Moreover, it's really important for the brand's target to be able to find the content on several mediums and see its versatility. Also, it's another manner of gaining new fans that love different types of content.
Create content that's easy to replicate.
Making a smart and easy content can also help the fans create their own twist on it, share it and show their personality along. Who doesn't want a target involved in the brand's growth?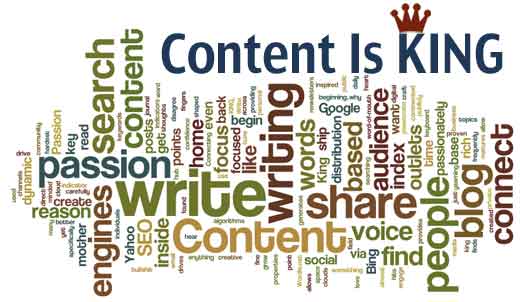 Go mobile
More than ever it's the mobile phones' time. Most of the people are using Facebook on the mobile phone instead of the desktop or the tablet, as well as checking and answering their emails and other important conversations and messages. Therefore, the brands' messages must the adapted to the medium, in order to create the best user experience possible.
Appeal to visual strategies
People understand better the messages and feel more connected to the visual side of the stories. By using video recordings and live-streaming, the brands are growing faster than ever. Recently live-streaming has taken the social media world by storm, Facebook reporting last year that 100 million hours per day of video are watched on their site. Therefore, the marketers should engage their audience with live-streaming at events or conferences that highlight them and their product.  It's a quick and effective way to connect with customers and build the brand.
Visual marketing effectiveness will also rely on engaging graphics. While graphic design has always been important, it will need more attention this year. Viewer engagement durations are shorter and social feeds are getting more crowded. Stand out with powerful graphic content.
Create an expertize blog
Making sure to optimize the brand's website for search engines and mobile, with quality blog posts, we'll have as a result the business' appearance at the top of search results for topics related to your service offering. The result will be definitely a larger number of visitors accessing the website, an increase in leads, etc. The effectiveness of the blogging will be based on exciting and informative content, therefore hiring an expert in your industry or scheduling your own time to draft a quality post each month might be exactly what the doctor ordered.
How to have the best brand storytelling on Instagram
As storytelling is the latest trend in communication, all the agencies and companies trying to bring the concept to life in their campaigns and social media presence, Instagram is one of the latest powerful social media tools to try and capitalize on this trend.
According to Social Media Week, since Instagram launched a couple of years ago, over 300 million people have used this platform as a visual place to share their lives. With more than 20 billion images shared on the app to date–this app has become a creative space & community for people to share their story in innovative ways using photography and short videos.
It's no wonder the stories on Instagram are catching up people's attention and likeness as so many of them spending so much time on their mobile devices. What it does now for its users is allowing them to share their stories to the world in a quick and easy fashion. It has become a simple, yet powerful tool that has allowed people and brands to develop their own voice visually.
How can a brand take advantage of this trend and make himself even more noticeable on Instagram? Just take a pick here at our short pieces of advice:
Identifying your niche & developing your own unique voice.
The way you position yourself is always the key. The more different, unique, special your brand is, the better. Make sure that your stories are always capturing that essence of the brand and special approach. By giving your audience something they know they can expect from you, it will be easier to grow a stronger and more dedicated community around your work.
Utilizing your captions to add more depth to your photos.
Captions may become a vital part of your storytelling process, if you know how to put accent on them and use the right hashtags and words. The story behind the story is always important and should be relevant.  Putting your own spin on the story, emphasizing on a certain aspect that makes your brand YOURS is helping bring the story where it should. Your story ultimately, makes a huge difference.
Choosing and using different angles
The same places or the same ideas, presented in your brand's way, are creating the differentiation that you are looking for. Instead of shooting something from the same angle as everyone else, try looking for new spots to take the same photo. Maybe you want to get closer to the ground for a different angle, pose a person in a different place, or shoot a photo through the branches of a tree to provide a more natural frame. There are always ways to put a new spin on the same place, and try to make sure you try a bunch of different angles.
Highlight your brand's versatility
People want the brands to be playful, to interact, engage and entertain them. They get bored really easy and you must make sure you always bring something fresh to the table. Don't be afraid to try, to mix and match, to always have in handy a special new app or filter that is trendy. Make it count while is still fresh and not used by a lot of other brands present on Instagram. Your followers will be looking for powerful, original, content. Find ways to expand your current niche creatively to develop a strong brand voice.
Using video and gifs
Always be present. Be fast and up-to-date. A video speaks more than a picture. A gif makes one laugh and entertains. In other words, powerful tools for your story.
Making sure you have user-generated content
Getting your followers involved is extremely important for a TODAY brand. Get your audience to do some of the heavy lifting for you by creating a user-generated hashtag for your brand tribe. Then you can post the content of your biggest fans directly on your Instagram account.
Showing your happy employees
There's a global war for talent today and the best brands are showing off the fresh faces on their team and all the fun they are having at work. Showcasing yourself at work or your company's employees in action is great for putting a human face on your brand, which makes what you share on Instagram more interesting to your followers.
Introducing them behind-the-scenes
Each one of us loves to feel special and shown that they are important. Make sure your brand does that for its followers. You can start by taking them inside the stories of your company, showing them some never-seen before images, actions, activities, etc. Take them where nobody has been before!