No more language barriers with Ambassador, the smart earbuds
With the help of smart earbuds called Ambassador, there are no language barriers to stop you.
Does your job include travelling to various parts of the world? Does your role imply talking to people who speak a variety of languages?
Did you ever wish you could speak 3-4 foreign languages but never had the time to learn any of them?
With the help of Ambassador, now you can.
Ambassador, your real-time professional translator
Ambassador is an over-the-ear interpret engineered for professionals and travellers.
It is specifically designed for high-quality translation accuracy, easy and hygienic sharing, and features 3 modes for different scenarios: Listen, Lecture, and Converse.
These smart earbuds are designed to allow professionals from all backgrounds to have smooth conversations free from the constraints of language barriers.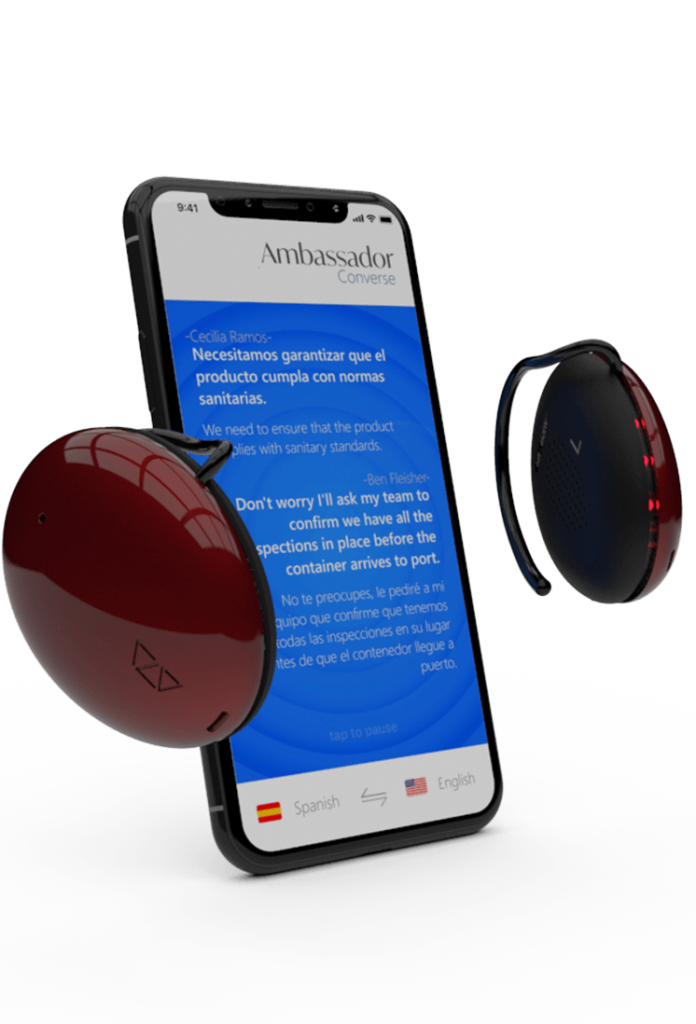 What technology is Ambassador based upon?
The technology behind Ambassador is made up of speech recognition, machine translation, and speech synthesis.
These technologies are subjective to several elements, including the person speaking, the chosen language, and the context of the conversation.
In general, the translations are accurate for general conversation but with our machine learning technology, the more people use the technology the better it gets.
Ambassador supports 20 languages
Ambassador supports English, French, Italian, Portuguese, Spanish, German, Russian, Arabic, Greek, Hindi, Polish, Turkish, Chinese Mandarin, Japanese and Korean, plus 5 new languages, including Cantonese, Dutch, Vietnamese, Thai, and Hebrew.
Ambassador is made by Waverly Labs
Waverly Labs is a tech startup at the convergence of wearable technology and machine translation.
Using the latest technologies in speech recognition, machine translation and the advances of wearable technology, the Ambassador is a smart earpiece which allows wearers to speak different languages but still clearly understand each other.
Simply put, when one person speaks, the other hears it in their native language.
Waverly Labs was founded in 2013 by Andrew Ochoa, CEO and Director of Product Development and William Goethals, Electrical Engineer and Head of Manufacturing. The startup has raised a total of $6.1M in funding over 3 rounds.
In November of this year, Waverly Labs has been named a CES® 2020 Innovation Awards Honoree for Ambassador Interpreter.
Benefits
Hygienic over-the-ear design for seamless sharing, longer battery life, and uncompromised signal quality.
Advanced microphone array to naturally interpret people around you with high clarity.
Smooth sharing with guests by pairing multiple Ambassadors to one smartphone.
Translate and understand dozens of languages/dialects with guests and groups.
Features
Two mics work in tandem to capture speech up to 8 feet / 2.5 meters away;
Up to 4 Ambassador units may be paired with one smartphone;
Three translation modes: Listen / Lecture / Converse;
Continuous and Push-To-Talk translation settings;
Compatible with free iOS and Android app;
Up to 6 hours of battery life.
10 Applications of Ambassador
Small Business
Education
Training
Hospitality
Events/Conferences
Entertainment
Travel
Medical/Treatment
Legal
Family/Friends
Remember Babel fish, the small, bright yellow fish in The Hitchhiker's Guide to the Galaxy which can be placed in someone's ear and allows them to hear any language translated into their native language?
Well, our world has caught up with author Douglas Adams' imagination only the solution is not biologic, it's a technological device.
Sources: waverlylabs.com, crunchbase.com