Color Psychology in Marketing and Its Importance in Driving Sales
Research shows that the proper use of color increases brand recognition by 80%. It also raises the visual appearance by 93%. A further 85% of consumers buy because of color.
In the case of affordability, the visual appeal of an item is the major influence on a consumer's buying decision. "In fact, the color, make, look and feel of a product affects 93% of the buying decision. This is followed by texture which affects 6% of the buying decision and sounds and smell which affect 1% of the buying decision. Once a consumer starts walking towards an item that has his or her favorite color, the major part of the purchasing decision has already been made. When the four: color, design/texture, and smell are combined, the buying decision becomes powerful," wrote colorpsychology.org.
Color psychology is an area of research that looks at how color influences our behavior and decision-making. When used in marketing, for example, different colors can impact the way buyers perceive a brand in ways that aren't always apparent, such as how certain hues can increase appetite.

4 top rules to increase your sales
Color is too dependent on personal experiences to be universally translated to specific feelings. There are, however, broader messaging patterns to be found in color perceptions.
In a study titled "Impact of color on marketing," researchers found that up to 90% of snap judgments made about products can be based on color alone, depending on the product. Regarding the role that color plays in branding, results from another study show that the relationship between brands and color hinges on the perceived appropriateness of the color being used for the particular brand (does the color "fit" what is being sold?).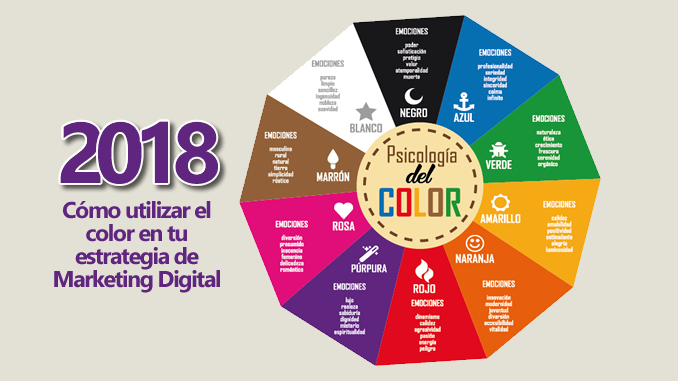 source: Marketing Digital Blog
The study Exciting Red and Competent Blue also confirms that purchasing intent is greatly affected by colors due to the impact they have on how a brand is perceived. This means that colors influence how consumers view the "personality" of the brand in question.
When it comes to picking the "right" color, research has found that predicting consumer reaction to color appropriateness in relation to the product is far more important than the individual color itself.
Psychologist and Stanford professor Jennifer Aaker found in her study "Dimensions of Brand Personality" that there are five core dimensions that play a role in a brand's personality: sincerity, excitement, competence, sophistication and ruggedness.
"Brands can sometimes cross between two traits, but they are mostly dominated by one. While certain colors do broadly align with specific traits (e.g., brown with ruggedness, purple with sophistication, and red with excitement), nearly every academic study on colors and branding will tell you that it's far more important for colors to support the personality you want to portray instead of trying to align with stereotypical color associations," wrote helpscout.net.
At the same time there are difference between how men and women perceive them. Additional research in studies on color perception and color preferences show that when it comes to shades, tints and hues men seem to prefer bold colors while women prefer softer colors. Also, men were more likely to select shades of colors as their favorites (colors with black added), whereas women were more receptive to tints of colors (colors with white added).
More pieces of information on the subjects you can find here and here.
How to create an online storytelling campaign for an NGO
"Storytelling is how humans communicate with each other, the way that we make sense of complex information, and how we relay our experiences to others. Nonprofit storytelling can motivate people to pay attention and take action. Emotional, appealing stories can build an online audience for your nonprofit," wrote TheBalance.

Videos allow you to combine your dynamic story with emotion to create a connection with your audience that words and photos cannot build. Emotion is your main asset to use. Moreover, organizations can convey impact in a way that engages and inspires donors by persistently telling stories.Through storytelling, nonprofit organizations can harness the power of emotion to make a connection with donors that inspires action.
According to thebalance.com, a storytelling campaign has three phases: planning, implementation, and evaluation. In the planning stage, you need to articulate the goal of the storytelling campaign clearly. "Design each campaign for a defined purpose and to accomplish a specific goal. You may need to carry out multiple storytelling campaigns per month to achieve your goal, or perhaps just one per quarter, depending on your resources. Once you define the action that you want people to take, you can determine who is most likely to take that action, and the emotional storytelling hooks to get them to do so."
The next steps are selecting your audience and making sure that the story is true and it fits the audience's expectations and realities. There are five main types of stories that nonprofits can collect and develop — value stories, social proof stories, founder stories, resilience/continuous improvement stories, and impact stories. After deciding that you must collect the necessary pieces of information to create the right campaign, choose the right channels to whom to send it and promote it,create it, share it and evaluate it. More details you can find here.
"Because e-mail is a great way to engage supporters who might not regularly visit your website, you can use it to hook supporters into your story and prompt further action, without it feeling like you're asking for donations at every point of communication. Use e-mail as an opportunity to invite readers to be the hero of your organization's mission. Layer in visuals: With the average person's attention span maxing out at 8 seconds, you can't afford to deliver a novel to people's inboxes. Instead, think of your story as a short picture book. This email is such a great example because it injects an image after every couple sentences. Break up blocks of text with visuals to keep readers engaged and keep your copy clear, simple and concise," wrote classy.org.
More ideas and pieces of advice you can find also here.
What makes a video viral?
Creating a successful viral campaign is every marketer's dream nowadays and many agencies aspire to the idea of creating a video that will have a huge impact on the target and will get shared fast and, therefore, create a big buzz around it. But what is a viral video and how hard is to reach that goal? According to the definition on techopedia, a viral video is any clip of animation or film that is spread rapidly through online sharing. Viral videos can receive millions of views as they are shared on social media sites, reposted to blogs, sent in emails and so on. Most viral videos contain humor and fall into three broad categories:
Unintentional Viral Videos: Videos that the creators never intended to go viral. These videos may have been posted by the creator or shared with friends, who then spread the content.
Humorous Viral Videos: Videos that have been created specifically to entertain people. If a video is funny enough, it will spread.
Promotional Viral videos: Videos that are designed to go viral with a marketing message to raise brand awareness. Promotional viral videos fall under viral marketing practices.
When it comes to the formula of creating a viral, it hasn't been determined or shared yet, leaving us thinking that some of the success it has to do with luck and that most things actually go viral by accident. Very few people have mastered the art of creating viral content on purpose. What is for sure known is that it has to appeal to the target's emotions, no matter their type (happiness, sadness, anger, joy, love, etc).
"Viral videos are the talk of the town—garnering coverage on popular blogs, rising to the top of sites like Reddit, being Tweeted and posted to Facebook, and even covered on the evening news," wrote Megan O'Neill for AdWeek.
"There's no specific number of shares, likes, retweets, reblogs, or whatever another measure of interaction needed to be reached in order for it to claim "viral" status.  On YouTube, lots of videos get tens of thousands of views now shortly after being uploaded, but many people wouldn't say that's enough to consider it viral. Back in the day, however, when YouTube was much smaller and there weren't as many users uploading videos, tens of thousands of views may have counted as <<going viral>>," said Elise Moreau for Lifewire.
Moreover, advanced technology and platform design have made it way too easy to share things with our friends and followers, making the perfect environment for a ripple effect to occur on all levels of social media with the perfect piece of shareable content. All it takes is a few shares and the right audience to trigger an avalanche of sharing across the internet. It's not easy to start a viral movement, but when it does happen, it can take the most regular people and turn them into  internet celebrities practically overnight if it's powerful enough.
According to Jonah Berger, marketing professor at the Wharton School at the University of Pennsylvania and author of "Contagious: Why Things Catch On", quoted by entrepreneur.com, visceral response is what separates viral breakouts from busts. Berger has spent years investigating the mechanics behind virality, identifying six key drivers under the acronym STEPPS. They are Social Currency (e.g., sharing things that make people look good), Triggers (acknowledging that we talk about things that are top-of-mind), Emotion, Public (imitating what we see others do), Practical Value (news people can use) and Stories (information passed along under the guise of idle chitchat). "Each [driver] is a research-tested principle that increases the likelihood that people will talk about and share things, that brands get word-of-mouth, that services get shared and that videos get passed along the internet," Berger explains. "We can reliably say that including certain characteristics and messages will increase the number of people who share [content] and the likelihood it will be shared."