Digital content moderation industry expected to reach $13.60B by 2027
Key topics discussed in this article:
What is digital content moderation?
How big is the digital content moderation industry
Digital content moderation market statistics and facts
Digital content moderation industry trends
Companies offering digital content moderation solutions
Key challenges of the digital content moderation industry
What is digital content moderation?
Digital content moderation is a service that allows an online platform to sort inappropriate media content (graphic violence, exploitation, extremism, abuse and suicide) through a combination of tech (AI and ML) and human solutions.
How big is the digital content moderation industry
According to MarketWatch, the digital content moderation industry is expected to grow to $13.60 billion by 2027 with a CAGR of 9.3% during 2021-2027.
Digital content moderation market statistics & facts
More than 95% of reported content is taken down by AI (source);
There are more than 15,000 moderators at Facebook and most are contracted through third-party firms (source);
YouTube has expanded its global workforce of moderators to 10,000 (source);
Twitter, a much smaller company, has about 1,500 moderators (source);
A Facebook content moderator can review between 700 and 2000 posts a day (source);
On Facebook alone, more than 3 million items are reported on a daily basis by Artificial Intelligence (AI) systems and users as potentially warranting removal (source);
The inappropriate content includes graphic violence, exploitation, extremism, abuse and suicide;
Facebook has built content moderation algorithms that detect 99.9% of spam and 99.3% of terrorist propaganda (source);
The type of content that AI falls short to detect: adult nudity, sexual activity, drugs and firearms (source);
The moderators cannot speak to friends and families about the content they see due to a non-disclosure agreement (NDA) which they sign at the beginning of their contract;
The content moderating job takes a serious toll on moderators' mental health ranging from anxiety to PTSD. As a result, Facebook recently paid a $52m settlement covering 11k+ moderators who suffered from PTSD on the job (source).
Digital content moderation industry trends
The trend in the digital content moderation industry is the development of AI-based tools. In the last years, advancements have been made in speech analysis and converting audio to text. The AI has been trained to detect spam and terrorist propaganda with good results.
Despite that, progress is still to be made in regards to other types of content, such as adult nudity, drugs and firearms. Unfortunately, human moderation is still necessary to fill the gaps.
Companies offering digital content moderation solutions
Social media giants like Facebook and Google have developed their own AI-based content moderation systems. Nevertheless, Facebook's in-house efforts to manage the gargantuan demand of content moderation has proven insufficient and turned to outsource. According to The Hustle, Facebook is paying Accenture $500 million a year to moderate content on its platforms.
Companies providing customers with third-party digital content moderation solutions:
Amazon
Microsoft
Accenture
Appen
Key challenges of the digital content moderation industry
Lack of accuracy. The AI's main challenge is its lack of accuracy. The solution is data but there is not enough data to develop an accurate model. Analyzing billions of pieces of content on a daily basis means accuracy is oftentimes sacrificed. To get accuracy, AI must be provided with data; data is an expensive commodity and is retained by the company collecting it as its property. It's a neverending cycle.
Diversity of language. English is not the only language spoken on media platforms so the AI must be trained to recognize dozens of different languages.
Key factors driving the growth of the digital content moderation industry
The changing nature of contents from harmful to political;
Increased global access to the internet with penetration of 59.5%;
The fast-paced growth of users on digital platforms (news, eCommerce, social media);
59.08% of the world's active internet users access Facebook every month (source);
Development of AI (Artificial Intelligence) and ML (Machine Learning) digital tools.
Looking to learn more about industry trends?
Subscribe to our newsletter!
9 social media apps paying their content creators
Competition among social media apps is fierce. Every platform is looking to keep their users engaged as long as possible and one way to achieve this is to provide them with the best from content creators. Some social apps began paying their most talented content creators last year, some started this year.
9 social media apps paying their content creators
1. FACEBOOK

– in-stream ads, fan subscriptions, branded content and subscription groups

On March 11, 2021, Facebook announced that the platform will help Content Creators Diversify Revenue on Facebook.

From 2019 to 2020, the number of content creators earning the equivalent of $10,000 USD per month grew 88% and content creators earning $1,000 per month grew 94% (Facebook).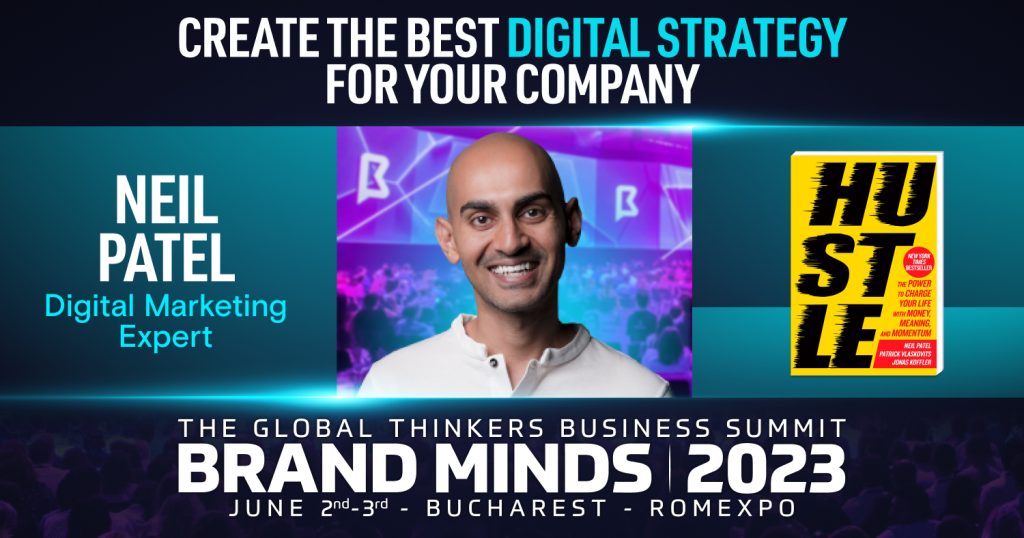 Here is how content creators can monetize content on Facebook:
In-stream ads
In-stream ads help content creators earn money by including short ads before, during or after their videos.
Facebook will automatically identify natural breaks in content to place the creator's ads, or the creator can choose placements.
The creator's earnings are determined by the number of video views and who the advertisers are.
Fan subscriptions
Fan subscriptions allow the creator's audience that cares most about their Page to directly fund it through monthly, recurring payments that the creator sets.
The creator can identify supporters by the special badge the platform provides them in comments.
Facebook's recommendation to keep the fans engaged is to reward them with perks such as exclusive content and discounts.
Branded content
Facebook helps creators generate revenue by publishing content that features or is influenced by a business partner.
Brands want to work with content creators and their audiences.
To make this easier, safer and more impactful for both parties, Facebook created the Brand Collabs Manager, a tool which enables the creator to find and connect with brands.
Subscription Groups
Subscription groups empower group admins to sustain themselves through subscriptions, thus enabling them to further invest in their communities.
We're especially focused on short-form video monetization. In the coming weeks, we'll begin testing the ability for content creators to monetize their Facebook Stories with ads that look like stickers and receive a portion of the resulting revenue.

Yoav Arnstein, Director, Facebook App Monetization
2. TWITTER

– the Tip Jar

On May 6, 2021, Esther Crawford, Senior Product Manager at Twitter announced a new feature called Tip Jar.

What is Tip Jar?

"Tip Jar is an easy way to support the incredible voices that make up the conversation on Twitter. This is a first step in our work to create new ways for people to receive and show support on Twitter – with money."

Tip Jar is a new way for people to send and receive tips. The accounts that enabled this feature have a Tip Jar icon next to the Follow button on their profile page.

How does the Tip Jar work?

By tapping the icon, a dropdown of payment services or platforms unfolds and the user selects whichever they prefer. The services available today include Bandcamp, Cash App, Patreon, PayPal and Venmo.
3. INSTAGRAM

– Badges in Live and IGTV Ads

Badges in Live

In May 2020, Instagram announced new ways for creators to make money.

To give fans another way to participate and show their love towards a particular content creator, Instagram introduced badges that viewers can purchase during a live video.

With badges, creators can generate income from the content they're already creating. Badges will appear next to a person's name throughout the live video.

Fans who have purchased badges in Live will stand out in the comments and unlock additional features, including placement on a creator's list of badge holders and access to a special heart.

IGTV Ads

IGTV has become a powerful place for creators to connect more deeply with their fans, pilot new projects and share their lives and talents.

With IGTV ads, they have another new way to earn money from the content they work so hard to produce.
4. YOUTUBE

– $100M YouTube Shorts Fund

In May 2021, YouTube announced the launch of YouTube Shorts Fund, a $100M fund distributed over the course of 2021-2022.

Anyone is eligible to participate in the fund simply by creating unique Shorts that delight the YouTube community.

Each month, YouTube will reach out to thousands of creators whose Shorts received the most engagement and views to reward them for their contributions.

The video platform said the Shorts Fund is a top priority and the first step in its journey to build a monetization model for Shorts.
We've paid more than $30 billion to creators, artists, and media companies over the last three years, and we remain deeply committed to supporting the next generation of mobile creators with Shorts.

YouTube
5. TIKTOK

– $1B Creator Fund

The Creator Fund gives TikTok's best and brightest the opportunity to earn money with their creative talent.

Within 3 years, TikTok is expecting the fund to rise to a total of $1 billion.

The fund will extend to further markets across the globe so that even more creators will be given the opportunity to earn from their hard work and creativity.

Beginning March 25, 2021, creators will need at least 100K authentic video views in the last 30 days to be eligible to join the Creator Fund.
6. Snapchat

– $1 million a day in Spotlight

Snapchat is willing to pay $1 million a day for good content from creators on its platform.

Snapchatters are invited to submit their top snaps to Spotlight and if the snaps go viral, the company is paying the creators a lot of money.

Snapchat debuted Spotlight in November 2020 and thousands of creators are already getting paid small fortunes.

Snapchatter Cam Casey, a TikTok star with over seven million followers, has been paid nearly $3 million by the company for content that went viral.
7. Pinterest

– $500K Creator Fund

In April 2021, Pinterest hosted an event focused on its creator community. At this event, Pinterest announced the launch of a $500,000 Creator Fund.

The fund is specifically focused on elevating creators from underrepresented communities in the United States. It will offer a combination of creative strategy consulting and compensation for content creation and budget for ad credits.

Creator Inclusion Lead Alexandra Nikolajev said the company worked with "eight emerging creators across fashion, photography, food and travel, and will be identifying 10 more creators in the next few months for the next cohort." (source)
8. LINKEDIN

– Creator Program

In May 2021, Daniel Roth, VP and Editor in Chief at LinkedIn announced a program to support creators around the world, enabling them to have an even bigger impact and better experience on the platform.

No details were further disclosed and also we have no information on whether or not this program will pay LinkedIn Creators.
9. CLUBHOUSE

– Clubhouse Payments and The "Creator First" Accelerator Program

In April 2021, Clubhouse began rolling out Payments—the platform's first monetization feature for creators on Clubhouse. All users will be able to send payments and 100% of the payment will go to the creator, Clubhouse will take nothing.
This will be the first of many features that allow creators to get paid directly on Clubhouse. We are excited to see how people use it, and to continue working hard to help the amazing members of the Clubhouse community grow and thrive.

TikTok
Before the Payments feature, Clubhouse launched the Creator First Accelerator Program.
The program's goal is to help support and equip emerging creators with the resources they need to bring their ideas and creativity to life.
The platform's support includes a wide range of services from sending iPhones to the creators to helping them promote their shows.
The program also provides the creators with a monthly stipend and matches them with brands so they can turn their ideas into profitable creative endeavors.
Top 7 biggest tech acquisitions of 2020
(UPDATED) What are the top 7 biggest tech acquisitions of 2020?
1. Oracle to take a 12.5% stake in TikTok Global
TikTok became available in the American market in 2018 after merging with another social media service Musical.ly.
Within two years, TikTok US has increased its monthly user base to 100 million, up 800%.
According to SensorTower, TikTok was the most downloaded app in 2020 with 82 million downloads globally.
Was TikTok's global surge in downloads a result of Donald Trump's threat to ban the US operation of the Chinese social app? Most likely.
Was the pandemic lockdown a contributing factor? Definitely yes.
In September 2020, Oracle announced that it was chosen to become TikTok's secure cloud technology provider.
The company's press release also reports that the decision was heavily influenced by Zoom moving a large portion of its video conferencing capacity to the Oracle Public Cloud.
According to Oracle Chief Technology Officer Larry Ellison, the cloud infrastructure is "much faster, more reliable, and more secure than the first generation technology currently offered by all the other major cloud providers".
As part of the agreement, Oracle will become a minority investor in TikTok Global with a 12.5% stake in the company. How much is that worth? Well, it was estimated that ByteDance, TikTok's parent company is valued at $100 billion and that TikTok's US operations account for about 40% of ByteDance's valuation, or about $40 billion. This means that Oracle's stake is worth $5 billion.
However, the agreement is yet to be finalized with the American government granting TikTok an extension of its forced sale deadline until December 4, 2020.
2. Salesforce to acquire Slack for $27.7 billion
Salesforce is the top CRM providers worldwide empowering companies of every size and industry to digitally transform and create a 360° view of their customers. It is one of the fastest-growing enterprise software companies of all time with over 150,000 customers ranging from small businesses to FORTUNE 500 companies.
In 2019, Salesforce increased its market share to 18% followed at a distance by its competitors SAP, Oracle, Microsoft and Adobe.
In December 2020, Salesforce announced that the CRM provider has entered into a definitive agreement with Slack under which it will acquire the latter for $27.7 billion. Slack is one of the most innovative enterprise communications platforms. You can learn more about its growth story here.
This is a match made in heaven. Together, Salesforce and Slack will shape the future of enterprise software and transform the way everyone works in the all-digital, work-from-anywhere world. I'm thrilled to welcome Slack to the Salesforce Ohana once the transaction closes.

Marc Benioff, Salesforce CEO
3. Microsoft to acquire games developer ZeniMax Media for $7.5 billion in cash
Two years ago, Microsoft acquired seven games developer studios.
Today the market has grown to 3 billion gamers from 1 billion in 2018 and is expected to bring more than $200 billion in annual revenue in 2021. The gaming industry is one of the fastest-growing industries worldwide registering a CAGR of 9.17% over the forecast period (2020 – 2025).
With the acquisition of ZeniMax Media, the parent company of Bethesda Softworks, one of the largest, privately-held game developers and publishers in the world, Microsoft consolidates its foothold in the gaming industry. Under the terms of the agreement, Microsoft will acquire ZeniMax Media for $7.5 billion in cash.
ZeniMax Media are the creators of critically acclaimed and best-selling gaming franchises including The Elder Scrolls and Fallout among many others.
With unique investments in content, community, and the cloud, Microsoft's gaming strategy differs from others by empowering people to play the games they want, with the people they want, anywhere they want. Games are the primary growth engine in gaming, and games are fueling new cloud-gaming services like Xbox Game Pass, which has reached a new milestone of over 15 million subscribers. With the addition of Bethesda, Microsoft will grow from 15 to 23 creative studio teams and will be adding Bethesda's iconic franchises to Xbox Game Pass.

Microsoft Press Release
4. Adobe acquires work management platform for marketers Workfront for $1.5 billion
In November 2020, Adobe announced it has entered into a definitive agreement to bring Workfront, the leading work management platform for marketers, to Adobe Experience Cloud for $1.5 billion.
Founded thirty-eight years ago, Adobe continues to deliver award-winning software and technologies that have redefined and advanced business and personal communications.
Adobe Illustrator® and Adobe Photoshop® are groundbreaking software used by more than 90% of creative professionals worldwide for digital image editing and creation.
Adobe Experience Cloud is the most comprehensive solution for content and commerce, customer journey management, and customer data and insights, all built on an open platform, enabling businesses of every size across every industry to deliver exceptional customer experiences at scale.
With the acquisition of Workfront, Adobe makes the digital transformation easier for its customers.
Workfront has more than 3,000 customers and 1 million users and deep leadership in orchestrating marketing workflows. Workfront's platform is agile and uniquely architected for the enterprise, with extensive integration capabilities that can be easily configured to meet the varied needs of companies of all sizes.
Together, Adobe and Workfront will provide our customers access to a single system to support planning, collaboration and governance that will unlock organizational productivity. Now marketers will not only create and deliver the best customer experiences but also efficiently and seamlessly manage the workflows that bring these experiences to life.

Adobe press release
5. Amazon to acquire self-driving tech startup Zoox for an estimated $1.2 billion
With a market capitalization of $1.7 trillion, Amazon is the third most valuable tech company in the world following Microsoft and Apple.
In June 2020, Amazon has signed an agreement to acquire Zoox, a self-driving tech startup designing autonomous technology from the ground up with passengers front-of-mind.
Amazon's support will get the startup closer to its mission of delivering safe, clean, and enjoyable transportation to the world. Founded in 2014, Zoox's tightly integrated features are designed to provide a revolutionary passenger experience. The startup has raised $955 million in venture-backed funding.
Amazon hasn't disclosed the purchasing value of the agreement but industry experts estimate it is a little over $1.2 billion.
What are Amazon's plans for Zoox?
Some experts say the company will more likely integrate Zoox's technology into its distribution network than building a fleet of autonomous driving cars. This might happen in the near future.
For now, Zoox is sticking with its mission and is preparing to unveil its ride-hailing vehicle on December 14 under the tagline The future is for riders, not drivers.
6. Facebook to acquire customer-focused platform Kustomer for a reported $1 billion
In November 2020, Facebook announced that it reached an agreement to acquire Kustomer, a top-rated CRM that enables businesses to effectively manage all customer interactions across channels.
The goal of the platform with over 2.7 billion monthly active users is "to give businesses access to best-in-class tools that deliver excellent service and support."
Facebook reports that more than 175 million people contact businesses via WhatsApp every day. Kustomer helps businesses optimize their time and quality of interactions with customers by bringing customer conversations from various channels together into a single-screen view.
Facebook plans to support Kustomer's operations by providing the resources it needs to scale its business, improve and innovate its product offering, and delight its customers. That way, more people will benefit from customer service that is faster, richer and available whenever and however they need it, whether it's phone, email, web chat or messaging.

Facebook press release
7. Cisco to acquire audience interaction company Slido for an undisclosed amount
In December 2020, Cisco announced its intent to acquire privately-held Slido, a technology company that provides a best-in-class audience interaction platform.
Cisco's acquisition is a strategical business decision which allows the company to stay competitive with Zoom. Webex, Cisco's video conferencing solution had 600 million participants in October 2020.
Slido developed a Q&A and polling platform designed to bridge the gap between speakers and their audiences. The company's platform provides for its 7 million participants monthly a web-based application to actively engage people and get real-time feedback before, during, and after events and meetings.
With Slido's technology, Cisco will integrate even more insights into the Webex platform to help everyone work smarter and be more productive whenever and wherever work happens. We are going to enable companies around the world that have traditionally relied on in-person events like townhalls, all-hands meetings and major user conferences to make sure everyone is engaged and included.

Cisco press release
Facebook, Instagram, LinkedIn – Tips to help brands navigating COVID-19
On this page:
Tips from Facebook: How to stay in touch with your customers and bring your business online;
Tips from Instagram: The Instagram for Business COVID-19 Playbook
Tips from LinkedIn: COVID-19-driven statistics, recommendations on how to stay connected to employees and customers and build trust through valuable communication
Facebook – How to stay in touch with your customers and bring your business online
Facebook has the following recommendations for businesses navigating COVID-19:
1.Keep yourself safe and informed
Follow the instructions issued by official sources such as WHO and the directions of your local health authority.
2. Stay in touch with your customers
Share important information on your Facebook page that is relevant to your business and your customers.
Tip1: You could reshare WHO's content on your Facebook page or create original content to illustrate it. It's a way to become a credible source and invite your followers to share your content with their friends because it's relevant to the situation at hand.
Tip2: Post updates with important information regarding your business: how and what has changed, what steps does your business take to keep its employees and customers safe, what steps does your business take to #flattenthecurve etc. Pin these posts to your Facebook page.
Tip3: Update your Page Info or Page hours if necessary.
3. Bring your business online
If your business worked exclusively offline before the coronavirus pandemic, it's highly recommended you look for ways to serve your customers online.
Tip1: Use the Shop feature of your Facebook page and list your products. Let your followers know they can now order them online.
Tip2: Add a Shop Now button to your Page
Tip3: Set up a digital gift card. It's a way of allowing your followers to support your business. How to set up your gift card and check if this feature is available in your country.
Tip4: Download Facebook's ready-made post templates to keep customers updated: place orders, shop online, get support, sell gift cards, express gratitude.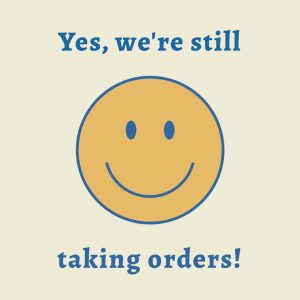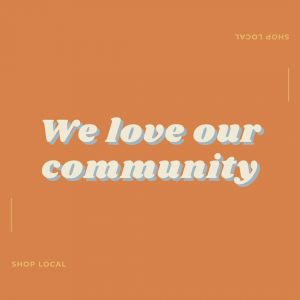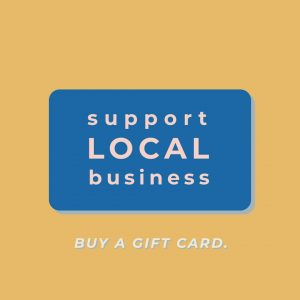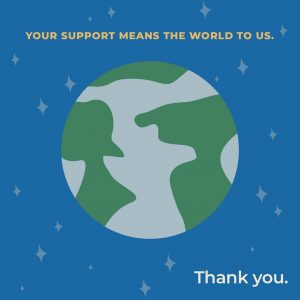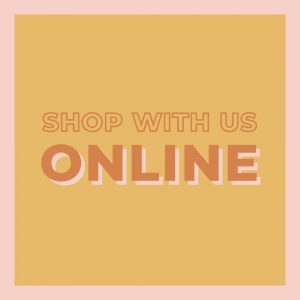 Tip5: Go Live. Here are a few ideas to inspire you: host a Q&A, interview an expert or one of your customers, do how-tos of your products, explain your services, teach your audience something valuable to help them overcome their challenges or reach their goals.
4. Prepare a customer service plan
Be responsive and transparent with your customers and prepare for incoming questions and requests.
Tip1: Turn Instant Replies on for messages on your Page and edit the message with information you expect your customers will be looking for.
Tip2: Set up a Messenger chatbot for your business. It's easy, doesn't require coding and it has many benefits. Your business chatbot reduces the workload for frontline staff, it is available 24/7 and lets customers access basic information quickly and easily. Learn how to build your chatbot.
5. Provide a list of FAQ
It's likely many of your customers will ask the same questions so providing a list of FAQ shows you are a business which treats its customers' concerns with respect. Not to mention it saves both your company's and your customers' time.
Tip1: Write the FAQ list and publish it in the Story section of your page. You can also make it into a post and pin it to the top of your page.
If your business is in one of the following industries: restaurants and cafes, retail, salon and spas, fitness and recreation centres, partners and agencies, media and publishers, explore Facebook's guides tailored to each of them.
It's also worth mentioning that Facebook has launched a grant programme for small businesses experiencing disruptions due to the global outbreak of COVID-19. The programme offers USD 100M in cash grants and ad credits to help your business keep its workforce, cover some of your rent costs, connect with more customers or cover operational costs. The programme is expected to support up to 30,000 small businesses that meet the following eligibility terms:
They have between 2 and 50 employees
Have been in business for over a year
Have experienced challenges from COVID-19
Be in or near a location where Facebook operates
Learn more about Facebook's grant programme.
Instagram – The Instagram for Business COVID-19 Playbook
To support businesses facing difficulties and challenges adjusting to a new way of life and doing business, Instagram has created the Instagram COVID-19 Resource Directory.
The Directory includes the Instagram for Business COVID-19 Playbook which provides users with creative ways to keep their businesses alive and instructions on how to use the platform's latest features allowing people to support their favourite businesses: digital gift cards, food order and fundraising options. Read about these three features.
The Instagram for Business COVID-19 Playbook provides businesses with recommendations and tips on how to bring their communities together, replace in-store shopping with online shopping, educate and entertain customers.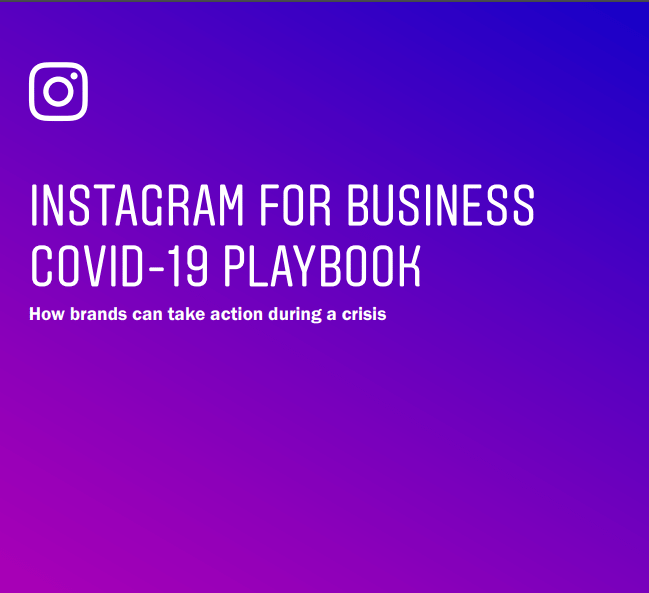 Bring your community together
Use the Instagram Live feature to bring your events online, host Q&A or find other ways to educate and entertain your followers. A Facebook Internal Data report released in March 2020 showed that Instagram and Facebook Live views doubled within a week in Italy.
Tips to make the most of your Instagram Live event:
Tease it on Feed and Stories before you go live;
Post your Live video to Stories when you're done so it shows up for 24 hours;
Save your Live video and upload it to IGTV.
Offer ways to shop online versus in-store
Here's how to replace your in-store shopping with online shopping:
Make sure your website URL is listed in your business bio on Instagram;
Use Shopping Tags so that people can shop your products directly from Feed and Stories;
Create visually engaging Stories around your products;
Promote your products on Feed and Stories.
If you haven't set up Instagram shopping for your business yet explore the guide here.
Educate and entertain your Instagram following
If you want to engage deeper with your audience, share long-form content to IGTV.
Tips on how to share your content on IGTV:
First, create content around topics related to your business and relevant to your customers;
Create serialized content to keep people engaged over a long period of time.
For more recommendations, tips and guides, check the Instagram for Business COVID-19 Playbook here.
LinkedIn – COVID-19-driven statistics, recommendations on how to stay connected to employees and customers and build trust through valuable communication
Since the beginning of the COVID-19 outbreak, LinkedIn has been following the activity within its platform closely and has released the following statistics:
In January and February 2020, the top 3 hashtags have been #marketing, #leadership and #business; in March 2020, these three have been replaced with #coronavirus, #covid19 and #marketing;
33% of posts are now related to coronavirus;
Searches for #remote working have gone up 3x in recent weeks;
The number of articles shared on the platform has grown by 2196% and the engagement rate by 2781%;
COVID-related posts published by pages have increased by 36%;
Members and companies are discussing remote working (19%), crisis management (12%) and social distancing (8%).
Your business can use these statistics as a starting point for creating valuable content to be published on its LinkedIn company page.
Here are 8 recommendations from LinkedIn that your brand should consider before diving into creating content:
Never lose sight of your customers' and employees' needs.
Demonstrate trustworthiness.
Bring your brand values to life.
Be supportive.
Be human.
Listen intently.
Be mindful of tone, timing, and delivery.
Look forward while keeping your finger on the pulse.
To support businesses and workforces worldwide during this difficult time, LinkedIn has created a coronavirus resource hub where the platform provides users with recommendations and tips on how to stay connected to employees and customers and keep their teams productive.
Stay connected to employees and customers
To help businesses stay connected to employees and customers, LinkedIn brings together insights and content ideas in this PDF.
The professional platform also recommends businesses to host virtual events with LinkedIn Live and LinkedIn Events.
Webinars are also a great alternative to in-person meetings and an essential tool for any business to talk to customers. If you are interested in hosting webinars, LinkedIn's playbook on webinar best practices provides you with helpful tips and best practices examples.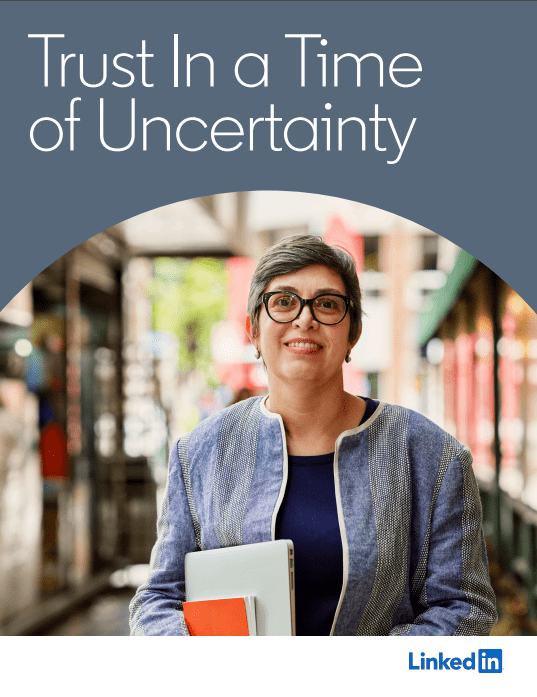 In a time of uncertainty, it's imperative that leaders build trust through valuable communication involving their employees, their customers and their shareholders. Leaders must communicate in a clear and consistent voice. In collaboration with Edelman, the global communications firm, LinkedIn has released an executive guide for business leaders who are looking to become valued communicators. Explore the guide here.
Join the Conversation
We'd love to hear what you have to say.
Get in touch with us on our LinkedIn Group, Facebook Group or Twitter.
Facebook will pay you to answer market research surveys
Facebook tries to learn as much about you as possible, so why not at least get paid for it?
Find out more about it in the video!
Facebook is working on a new app
Facebook is developing a new messaging app called Threads.
Find out more in the video!
Facebook faces record $5bn fine
Social media company Facebook will be fined a record-breaking $5 billion. Find out more in the video!

Libra is Facebook's new cryptocurrency
What is Libra?
Find out all you need to know about Facebook's new cryptocurrency.
Join the Conversation
We'd love to hear what you have to say.
Get in touch with us on Facebook Group and Twitter.
These 3 companies are developing #techforgood
Modern life comes with many changes and most of them are driven by technology. Some of these changes are good, some of them are bad. We blame technology while putting aside the human factor and the awareness that technology is just a tool.
Here are 3 companies developing #techforgood:
1. Google – Grow with Google
The latest research on digital skills done by the European Commission shows there's a digital skills gap which affects 44% of Europeans between 16 and 74 years – that's 169 million people. In the future, 9 out of 10 jobs will require digital skills. Google set out to support people acquire and develop their digital skills by launching Grow with Google in 2015.
Grow with Google is a free programme with the purpose of helping people find jobs, advance their career or grow their businesses.
Grow with Google management's goal was to teach one million Europeans within a year. The programme did so well that it exceeded all hopes and dreams management had starting out.
Four years later, here are some statistics:
10 million people trained: 5 million in Europe and 5 million people across Africa and the Middle East;
more than 80 countries around the world;
In Europe, 315,000+ people have found a job or started a new business, 86,000+ people have grown their career and 730,000+ businesses reported growth in revenue and customers;
Women accounted for 48% of the people trained;
⅓ of the trainees were unemployed;
90% of business trainees came from small businesses.
The programme offers free online training courses for personal growth and for business development where trainees learn how to use Google Ads, improve their advertising skills, self-promote, grow their business etc.
The programme caters to the needs of people looking to improve their digital skills, startup founders, business owners, teachers, YouTube creators, Android developers, non-profits and cultural organizations.
2. Facebook – CodeFWD
In September 2018, Facebook announced the launch of CodeFWD, a free online education program to inspire underrepresented and female students to pursue computer programming.
CodeFWD by Facebook is a three-step program where educators and organizations introduce computer programming to 4th through 8th-grade students.
The program helps educators introduce the basics of computer programming to their students and supports students to practice their new skills.
The program is created in partnership with Sphero Edu, an education hub which nurtures creative play while building robots.
3. Microsoft – Child Growth Monitor
According to UNICEF, nearly half of all deaths occurring in children under 5 are caused by under-nutrition – a loss of roughly 3 million lives a year.
Jochen Moninger, innovation director at Welthungerhilfe, a nonprofit based in Bonn spent 12 years working in African countries like Yemen and Sudan and knows first-hand what child hunger looks like. He says the solution to end malnutrition is to accurately measure it one child at a time. To this end, his organization developed Child Growth Monitor.
Child Growth Monitor is a cloud-based, smartphone app that can scan children and instantly detect malnutrition.
The app uses an infrared sensor available in some smartphones to capture 3D measurements of a child's height, body volume and weight ratio, as well as head and upper arm circumferences down to the millimetre.
Nutritionists and IT specialists then evaluate the scans by using Microsoft artificial intelligence solutions, pinpointing a child's dietary health.
The experts later pump that data back into the app, training the algorithm to get smarter with each measurement.
Join the Conversation
We'd love to hear what you have to say.
Get in touch with us on Facebook Group and Twitter.
The Story of Instagram and WhatsApp Founders Leaving their Facebook-acquired companies
The Story of Instagram's Acquisition
In 2010, co-founders Mark Krieger and Kevin Systrom had a great product – Instagram, where users can tell their stories through photographs.
One week following its launch, Instagram had 100.000 users and by December, 1 million users.
There's no doubt – Instagram was the rising star of photo-focused apps. The powerful duo worked by having complimenting skills: Krieger loved working on the technology and engineering side while Systrom focused on product and design.
They knew the future of Instagram was bright so they came to the conclusion they needed help to grow faster. Facebook monitored Instagram's meteoric rise closely with good reason – its position as the heavyweight of the social media landscape was coming under threat. When the occasion presented itself, Facebook didn't miss it and moved to acquire Instagram in 2012 for $1 billion. Both parties were happy with this acquisition: on one hand Facebook's almost endless resources and infrastructure provided the fuel for Instagram's growth and on the other hand Facebook managed to eliminate a powerful competitor while gaining access to a large pool of young users.
"The whole idea of joining Facebook was that we could scale way more quickly than we would independently. So if that is your goal, I think we've fulfilled that, and then some. If your goal, on the other hand, is not to have a billion dollars but two, or three, or four or whatever, well, good luck spending it. That's not what makes you happy in life."

Kevin Systrom via cnbc.com
Both Krieger and Systrom anticipated that, by selling to Facebook, they could let Facebook handle the tedious organisational aspect of running a company, while they focused on the parts they loved most: building products.
The acquisition took Instagram to a whole new level. The number of employees grew from 13 to 550+. They launched new products and features and monetized the platform by running ads. Instagram soon generated close to $8 billion in ad revenue. The Stories feature launched and it quickly overtook Snapchat Stories, which served as inspiration.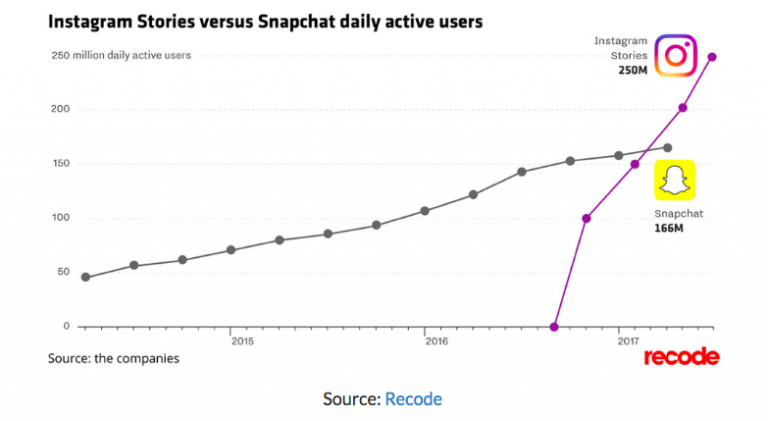 In early 2018, Instagram announced it had finally hit a billion users worldwide.
At the time of the acquisition, Zuckerberg declared his commitment to running Instagram independently.
Recently, Krieger and Systrom became reportedly frustrated due to their creative independence being eroded. Although neither one of them went public on this subject, they may have felt Facebook was changing its story: instead of sustaining Instagram's growth, the social media giant was apparently using the platform to slingshot itself.
Sources estimated Instagram was currently worth more than $100 billion and on track to provide Facebook with $20 billion in revenue by 2020. The decision of both co-founders to leave the Facebook-owned Instagram was not surprising to those looking beyond Mark Zuckerberg's lofty words of "connecting the world".
What does the future of Instagram look like?
Analysts are saying that Instagram's bright star is growing colder – the platform is most likely to become "a product division of Facebook than an independent operation".
The story of WhatsApp's Acquisition
Jan Koum started WhatsApp in 2009 after he got annoyed that he was missing calls when he went to the gym. Later that year, he brought Brian Acton to the company. By 2013, WhatsApp had 200 million active users and a staff of 50. The company's values are heavily influenced by Koum's childhood life in communist Ukraine:
• Protection of users' privacy through powerful encryption codes (the company doesn't have any information on its users);
• It doesn't read users' messages;
• No adds-policy.
Because WhatsApp doesn't store its users personal information, delivering adds to them is out of the equation. In our world, the world of giant tech companies (Google, Facebook) which store users' personal data and sell it to advertisers, such company values seem quite odd and very out of place, while terribly correct.
In 2014, WhatsApp was acquired by Facebook for $22 billion.
When the Facebook acquisition of WhatsApp was announced, many questioned the company's capacity to remain true to its values. Here is Jan's statement on the WhatsApp blog:
"Respect for your privacy is coded into our DNA, and we built WhatsApp around the goal of knowing as little about you as possible: You don't have to give us your name and we don't ask for your email address. We don't know your birthday. We don't know your home address. We don't know where you work. We don't know your likes, what you search for on the internet or collect your GPS location. None of that data has ever been collected and stored by WhatsApp, and we really have no plans to change that."
As with Instagram, Facebook promised WhatsApp autonomy and independent operation. Both Brian Acton and Jan Koum were assured that WhatsApp wouldn't have to run ads or merge its data with Facebook's earlier than 5 years. But apparently Facebook changed its mind.
In its interview with Forbes, Acton claims Facebook used him to get the acquisition past EU regulators by convincing them that a data merge between the two platforms would not take place. Two years later, Facebook managed to connect WhatsApp and Facebook user accounts, which lead to a $122Million fine from the EU.
In 2017, WhatsApp announced the introduction of new features to make it easier for people to communicate with businesses over the messaging platform: the WhatsApp Business App. Business looking to use the new app will pay to send certain messages.
Talking about Mark Zuckerberg and Sheryl Sandberg, Acton said:
"They are businesspeople, they are good businesspeople. They just represent a set of business practices, principles and ethics, and policies that I don't necessarily agree with".

Brian Acton via forbes.com
Brian Acton left in late 2017 due to disagreements over how to monetize their anti-ads messaging platform. Acton said he tried to push Facebook towards an alternative, less privacy hostile business model for WhatsApp. He suggested a metered-user model in which the user is charged a tenth of a penny after a certain large number of free messages were used up. Mark Zuckerberg and Sheryl Sandberg were dissatisfied with his proposal. Consequently, Brian chose to leave the Facebook-owned messaging platform, losing $850 billion. He later joined the #deleteFacebook movement. The same year, WhatsApp reached 1 billion users daily.
"Dealing with ads is depressing . . . You don't make anyone's life better by making advertisements work better."

Jan Koum
In early 2018, a few months after Acton had left, Jan Koum followed suit and left WhatsApp over conflicts related to WhatsApp user data privacy and weakened encryption.
Media reported on Jan being angry with Facebook executives who pushed for a weakening of WhatsApp's end-to-end encryption in order to facilitate its new WhatsApp For Business program. The next step in the foreseeable future is Facebook allowing businesses to upload lists of phone numbers to target people with ads.
Opinions in the media
Time says the Instagram founders leaving the platform is really bad news for Facebook, The Verge casts a gloomy conclusion saying this is the end of Instagram as we know it while The Guardian names Zuckerberg the Supreme Leader and suggests the co-founders' have left because they must have realised that what they were trying to do within the Facebook empire was doomed to fail.
Conclusion
Some may say Facebook looks a lot like the witch in Hansel and Gretel who was luring the children lost in the woods with candy and chocolate to enter her house, kill them and eat them.
Maybe it's good to remind the supporters of this opinion that the founders are not the children in Grimm's tale.
Facebook & Instagram: New Tools to Limit Your Time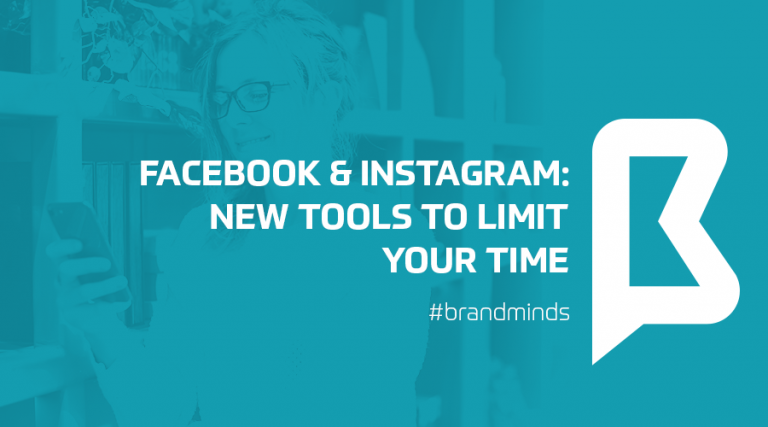 Is social media checking preventing you from being productive at work?
Now you can limit your time spent on Facebook and Instagram.
On August 1st, Facebook announced new tools to help people manage their time on Facebook and Instagram.
These tools are:
An activity dashboard;
A daily reminder;
A new way to limit notifications.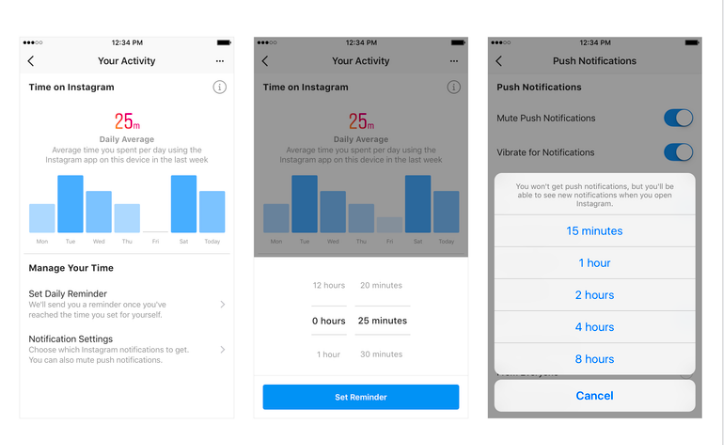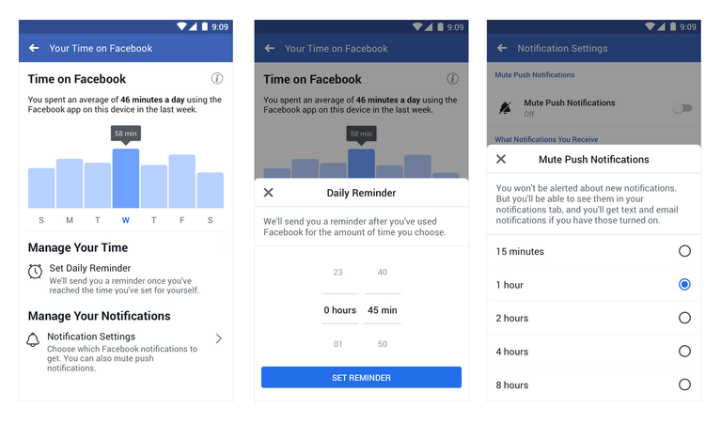 Facebook developed these tools as a solution to the problem that many have voiced in the past years: the more we use Facebook, the worse we feel.
What does that mean exactly?
The answer is concerning to say the least: Facebook addiction, anxiety, depression, body image issues, eating disorders etc.
Mental health experts and organizations have done extensive research into this subject and reached the following conclusions:
While real-world social networks are positively associated with overall well-being, the use of Facebook is negatively associated with overall well-being;
Facebook use in one year leads to a decrease in mental health in the following year;
Liking others' content and clicking links predicts a subsequent reduction in physical health, mental health, and life satisfaction;
Well-being is closely linked to the quantity and the quality of social media platforms use.
These results have not fallen on deaf ears because Facebook has set out to address the problem.
First they addressed the quality factor. Facebook has taken notice of these findings and in December 2017, the social media giant announced they were working towards incorporating well-being principles into their products.
Studying the bodies of research available has driven Facebook to conclude that the reason people were feeling bad was because they were spending a lot of time passively consuming information.
This conclusion prompted Mark Zuckerberg to encourage users to spend their time on Facebook engaging with their connections instead of just browsing the newsfeed with no purpose.
In the next months, Facebook has seen a decrease in time spent inside the platform by 5% namely 2.14 minutes per day per user (source: techcrunch.com).
With these new tools, Facebook is addressing the quantity factor.
This is how they will help you limit your time on Facebook and Instagram:
They will tell you how long you've spent inside these platforms;
You will be able to set daily limits;
You will be able to temporarily mute your push notifications.
In our article 5 time management tips & tricks for entrepreneurs one of our recommendations was to treat checking social media accounts like any other task and assign an hour or two a day. If this is one of your goals, these new tools come in really handy.
These new features will be available in the coming months. To find them tap the menu in the bottom-right corner of the app and scroll down to "Your time on Facebook".
On Instagram, you'll find "Your activity" inside the settings menu, which you access by tapping the gear icon on your profile.
We want the time people spend on Facebook and Instagram to be intentional, positive and inspiring. Our hope is that these tools give people more control over the time they spend on our platforms and also foster conversations between parents and teens about the online habits that are right for them.

Ameet Ranadive, Product Management Director at Instagram and David Ginsberg, Director of Research at Facebook
Do You Want to Get More out of your Facebook Ads Campaigns?
Are your Facebook Ads not meeting your marketing goals as of lately?
Do you feel your ads need a makeover?
If you want to get more out of your Facebook Ads, this article is for you!
When setting up your Facebook ads, you can choose from multiple ad formats: a static image, carousel, panorama or 360 photo, canvas, or video.
Our recommendation is to give video a try.
Video is on the rise
Facebook insights show the dramatic increase of video consumption:
71% of users say their online video viewing has increased over the past year;

People are 1.5X more likely to watch video daily on a smartphone than on a computer;

1 in 5 videos is now a live broadcast;

30% of mobile shoppers say video is the best medium for discovering new products;

Business decision makers

 

are

1.64x more likely to consume short-form video clips on Facebook than other platforms;

50% of video advertising revenue came from mobile-first videos in the fourth quarter of 2017.
Here are three reasons you should use Facebook video ads:
Facebook video ads receive 10 to 30% more views compared to imagine ads (source: solocube.com);
Video Ads allow you to build an audience of engaged people which you can retarget;

Ads with videos have lower costs and higher conversions as compared to image ads (source: facebook.com).
Make your ad targeting smarter than your competitors'
Make the most out of your Facebook video ads by targeting warm audiences with various custom audience options:
Lookalike audience of your current email list subscribers;

Website visitors and lookalike audience;

Users who viewed other posts of your Facebook page;

Users who interacted with your ads and page posts;
People who interacted with your Canvas;

Viewers who messaged your page, or clicked on your page button, or commented on any of your posts;

Website visitors who abandoned their cart;
People who watched other videos on your page;
High LTV (lifetime value) customers.
Do you want your customers to watch your video ads? Make them too good to ignore!
If you want your video ads to stand out among the user's crowded newsfeed, Facebook recommends making sure your ad checks the following features:
Include subtitles in your video because nearly 85 percent of video views happen in silent mode.
Keep it short (up to 15 – 30 seconds) and attract their attention early on in the first 5 seconds.
Mention your brand in the first 3 seconds: Facebook found that consumers were 23% more likely to remember which brand made a given video ad if the brand was featured in the first three seconds.
Use stunning imagery, make your video visually pleasing.
When using video, let your creativity flow: surprise your viewers with an original point of view, give it a funny twist, or use animated characters.
Always use high-quality videos and sounds.
If your company is on a budget, use free video editing tools to make your video look professional. Here are a few examples of video editing tools: Lumen5, Legend, Boomerang, Stop Motion Studio, Quik, Piclab, Videoshop.
Create a mobile-first video: Facebook found that mobile-first video are watched for a longer period of time and are more memorable.
Use vertical videos because statistics say mobile phones are used in portrait mode 98% of the time (source: facebook.com).
[bctt tweet="Mobile phones are used in portrait mode 98% of the time @facebook" username="brand_minds"]
Influence your audience to click on your Facebook Ad button
Besides vanity metrics like high reach and high number of views, your Facebook Ads are expected to determine the audience to click on your ad's button that says Purchase, Follow, Sign-in, Download App etc.
How to influence your audience to click on your button?
Write a catchy title which shows your UVP (unique value proposition)

Use social proof: 83% of consumers in 60 countries say they trust these recommendations over any other form of advertising (source: nielsen.com)

Show the benefits of your product or service;

Use testimonials;

Insert urgency to influence conversions;

Include a relevant call-to-action.
Here are 3 examples of Facebook video ads:
FlipBelt
Check out FlipBelt's success story.
2. Wanderer Bracelets
Check out Wanderer Bracelets' success story.
3. Inspiralized
Check out Inspiralized's success story.
Get your inspiration going and creative juices flowing with this article from Facebook: