2019 Webby Awards – 3 Winners in Brand Strategy & Experience Marketing
Established in 1996, The Webby Awards is honouring the best of the internet.
The 23rd Annual Webby Awards received 13,000 entries from 70 countries and all 50 states and generated over 9 billion media impressions worldwide.
Here are 3 winning campaigns in the
Brand Strategy & Experience Marketing

categories:
1. Burger King

–

the Whopper Detour

The competition between Burger King and McDonald's began over sixty years ago. With the advent of the internet, these two giant fast-food restaurant chains brought their rivalry into digital. Both Burger King and McDonald's have entered the creative race where each of them is looking for the next most creative marketing campaign to earn media buzz, fans attention and sales.

The Whopper Detour campaign is a great example of beacon marketing.

Beacon marketing is a form of communication between brands and their consumers based on beacon technology.

You can read all about this technology here: How can Beacon Digital Marketing Help Your Retail Business Thrive?

Using this technology, Burger King essentially turned 14.000 McDonald's locations into Burger King restaurants.

Pretty smart, right?

According to official statements, it took Burger King almost a year to prepare the promotion. The campaign is entirely reliant upon technology (beacon technology, the app) so it was vital to the campaign's success that everything goes smoothly.

Campaign goal:

Get people to download the Burger King app.

Campaign results:
50.000 Twitter mentions;
Going from #686 to #1 in the app charts in 48 hours;
1.5 million downloads in 9 days;
3.3 billion impressions;
Mobile sales 3x during promotion and 2x after the promotion ended;
Highest store traffic in 4 years.
The Whopper Detour campaign won in the Advertising & Media Category for Brand Strategy.
2. One Strange Rock – 
Astronaut Reality Brand Experience
One Strange Rock is a TV-series documentary filmed by Hollywood movie director Darren Aronofsky and hosted by Will Smith.
The documentary explores the fragility and wonder of planet Earth by following eight astronauts who share their unique perspective on our planet.
But this experience is quite exclusive, isn't it? Only 536 people have been to space.
To launch the show, the team at McCann NY asked themselves the following question: what could we do to allow other people – people who will never be astronauts – to enjoy a similar experience?
Learn more: These 7 Brands Used Augmented Reality Creatively
To answer this question they came up with the Astronaut Reality Helmet, which provides users with one-of-a-kind VR space experience.
Campaign goal:
Raise media attention.
Campaign results:
312 million impressions;
47 pieces of press coverage;
over 457 social shares;
1.27 billion readers online;
One Strange Rock viewership was 13% higher than the channel's non-fiction average performance.
The Astronaut Reality Brand Experience won the People's Choice Award in the Experience Marketing category.
3. Carlings – ADDRESS_THE_FUTURE
There are digital influencers on Instagram with millions of followers promoting real-life clothes. Miquela, a non-human influencer is one example. 
How about real-life influencers promoting digital clothes?
Norwegian retailer Carlings took this idea and turned it into reality.
The brand designed a digital clothing line to illustrate its brand values: sustainability and fashion creativity. The clothing line is a collaboration between the brand and CGI model Perl and includes various fashion pieces: jeans, vests, jackets and coats at prices ranging between 10 euro to 30 euros.
With this digital line of clothes – called Neo-Ex, Carlings helps its customers share their style online – via 3D rendering – without leaving a negative footprint on the world.
With this project, we wish to challenge ourselves and the entire industry into taking the next step. We really believe it's an interesting issue to address – do all clothes need to be physical?

Carlings
Campaign goal:
Raise awareness of water consumption in the clothing industry
Campaign results:
+25 pieces of press coverage;
+10k impressions for the Instagram post announcing the launch of the clothing line.
The ADDRESS_THE_FUTURE campaign won the Webby Award in the Experience Marketing category.
Join the Conversation
We'd love to hear what you have to say.
Get in touch with us on Facebook Group and Twitter.
Javier Goyeneche (ECOALF) – Turning Plastic Sea Waste Into Fashion

Javier Goyeneche is the founder of ECOALF, the Spanish company which turns plastic sea waste into high-quality fashion products.
ECOALF is a fashion company that created a new 100% recycled filament, Sea Yarn, which is made of the plastic bottle collection found in the bottom of the Mediterranean Sea.
The sea yarn is further used to create high-quality fabrics which ECOALF turns into a new generation of sustainable products.
Through this process, one sweatshirt alone saves 6200 litres of water. ECOALF designs and makes fashion clothes, footwear and accessories for women, men and children.
Javier Goyeneche's commitment to put an end to the endless pollution of the environment prompted him to take the next step: setting up the ECOALF Foundation.
The mission of the ECOALF Foundation is to upcycle the oceans of our planet. The foundation is currently running two projects: Upcycling the oceans in Spain and Thailand.
The project in Spain started in 2015 and involved 28 ports amounting to a total of 441 sea trawlers and over 4000 fishermen. To date, more than 200 tonnes/year of marine debris has been recovered from the bottom of the Mediterranean sea.
In 2016, the Ecoalf Foundation started the Upcycling the Oceans project in Thailand. According to statistics, 8 million tonnes of trash end up in the oceans every year. 60% comes from a range of Asian countries. This project promotes the collection and management of plastic waste in Thailand's coastal and marine tourist areas. Project activities include scuba divers collecting plastic waste from underwater as well as other volunteers collecting plastic waste from beaches.
I was interested to know more about Javier Goyeneche's mission to produce high-quality fashion and cleaning the oceans of plastic waste at the same time so I asked him the following questions:
1. What is the story behind Ecoalf? How did it all start?
The concept ECOALF was born in 2010 after the birth of my son, Alfredo (the company is named after him).
At that time I was reflecting upon the world we leave to the next generation and felt frustrated with the excessive use of the World's natural resources.
I decided to create a fashion brand that is truly sustainable. I thought the most sustainable thing was to stop using our natural resources in a careless way.
2. As a champion of sustainability, name a few of the challenges that you were faced with while building your company.
Uff, there have been many. In terms of clients, the concept of recycling is for many of them something negative and synonym of bad quality. They seem to think we recycle the old blanket of the grandmother to make a backpack. I have and spend a lot of time and energy trying to prove that ECOALF is about innovation + design.
Also, my goal was to create a sustainable brand where the price would be affordable (unfortunately most sustainable products are expensive).
In terms of production, we are constantly facing challenges. Trying to be as sustainable as possible is not easy and requires huge and constant effort.
3. Which was harder: to change technologies or people's minds?
Through investment and patience, we have proved we were able to do many things they told me wouldn't be possible.
Changing peoples minds is a constant effort. Unfortunately, our actual fashion model with t-shirts at 3 euros is not sustainable and is creating a huge negative impact on our planet. People want to be sustainable but don't want to change their habits.
Read our previous Success Stories about travelling gamification, building the homes of the future, and creating custom software. 
Join the Conversation
We'd love to hear what you have to say.
Get in touch with us on Facebook Group and Twitter.
These 7 Brands Used Augmented Reality Creatively in 2018
2018 has seen brands fighting tooth and claw to attract consumers' attention. Competition is fierce in every market so successful brands are using digital tools to support their creativity.
Augmented Reality is one such tool and brands are using it to raise brand awareness, increase engagement as well as sales. According to emarketer.com, the global augmented reality ad revenues are expected to top $2 billion by 2022.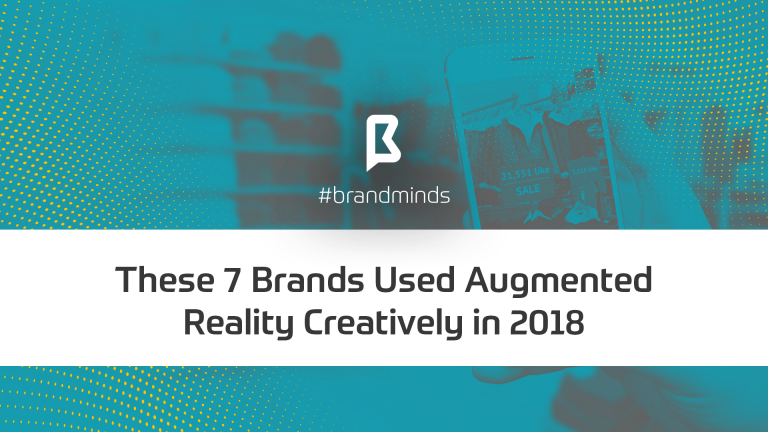 Let's see how these 7 brands used Augmented Reality creatively in 2018:
1.
National Geographic
The National Geographic is one of the oldest publishing houses in the world: this year it turned 130 years old (Happy Birthday, Nat Geo!).
The magazine managed to keep itself young and appealing to readers of all ages by embracing new and up-to-date channels of communication.
One of this year's monthly edition delighted readers with an Augmented Reality cover:
2.
Barilla
For retail products, the battle is fought on the shelves of the supermarkets.
Brands are implementing various marketing strategies to stand out and get their products from shelves to checkout: smart packaging design, discount prices, 2-in-1 offers etc.
Barilla joined the ranks of technology driven brands and used Augmented Reality for their pasta boxes to trigger pasta recipes:
3.
LEGO
LEGO is kids' favourite play game and the world's largest toy company by revenues, with sales amounting to $2.1 billion in 2015. Founded in 1932, today's parents grew up playing with LEGO and are passing down this game to their children.
Over the past years, the brand embarked on a new direction, shifting towards entertaining both kids and their parents with two blockbuster movies: The Lego Movie (2014) and The Lego Batman Movie (2017).
Everyone loved seeing the tiny yellow figurines coming to life on the big screen, so the brand now offers the same experience although on smaller screens using Augmented Reality.
This is what Lego in AR looks like as presented at the 2018 Apple Worldwide Developers Conference:
4.
Moschino and H&M
Fashion and technology have a history together. Alexander McQueen was the first fashion designer to include robots: he used two robots in his 1999 fashion show. In 2006 he took it one step further and sent Kate Moss down the runway not in flesh and blood, but as a holograph.
In 2018, Dolce and Gabbana used drones to show its handbags collection and Moschino paired with H&M to create an Augmented Reality experience for their global launch event in New York:
5.
Walmart
For retail chain stores, it's not enough to display great products at discounted prices.
You need to go even further and add entertaining to your offer!
With the help of Augmented Reality tech, Walmart is providing its shoppers with in-aisle fun and entertainment.
6.
BMW
For anyone passionate about cars, going to automobile events or launches and seeing so many shiny new cars on display would be a dream come true!
But not many people are fortunate enough to have such an experience.
BMW caters to their needs and uses Augmented Reality to bring the car to them:
7.
19 Crimes
Every wine label tells the story of the wine: how man and nature worked together to produce that particular wine variety.
What if you could use more than words to convey the story?
Well, now it's possible.
Here is how this Australian wine brand uses Augmented Reality to tell the story of its lineup wines:
Join the Conversation
We'd love to hear what you have to say.
Get in touch with us on Facebook and Twitter.
20 Things you might not know about Karim Rashid
Karim Rashid is one of the most prolific designers of his generation. Over 3000 designs in production, over 300 awards and working in over 40 countries attest to Karim's legend of design.
Here are some things you might not know about him:
1.He received a bachelor of Industrial Design in Ottawa, Canada and Postgraduate studies in Italy in 1984. He worked at Rodolfo Bonetto's studio in Milan for one year then for 7 years at KAN Design in Toronto.
2. His award winning designs include luxury goods for Christofle, Veuve Clicquot, and Alessi, democratic products for Umbra, Bobble, and 3M, furniture for Bonaldo and Vondom, lighting for Artemide and Fontana Arte, high tech products for Asus and Samsung, surface design for Marburg and Abet Laminati, brand identity for Citibank and Sony Ericsson and packaging for Method, Paris Baguette, Kenzo and Hugo Boss.
3. His work is featured in 20 permanent collections and he exhibits art in galleries worldwide. Karim is a perennial winner of the Red Dot award, Chicago Athenaeum Good Design award, I. D. Magazine Annual Design Review, IDSA Industrial Design Excellence award.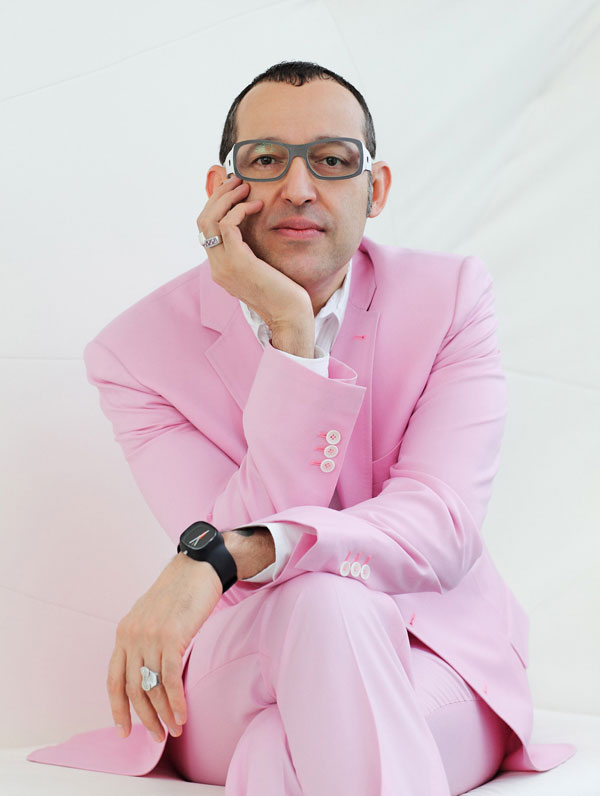 4. Karim is a frequent guest lecturer at universities and conferences globally disseminating the importance of design in everyday life. He holds Honorary Doctorates from the OCAD, Toronto and Corcoran College of Art & Design, Washington. Karim has been featured in magazines and books including Time, Vogue, Esquire, GQ, Wallpaper, and countless more.
5. Karim's latest monograph, XX (Design Media Publishing, 2015), features 400 pages of work selected from the last 20 years. Other books include From The Beginning, an oral history of Karim's life and inspiration (Forma, 2014); Sketch, featuring 300 hand drawings (Frame Publishing, 2011); KarimSpace, featuring 36 of Karim's interior designs (Rizzoli, 2009); Design Your Self, Karim's guide to living (Harper Collins, 2006); Digipop, a digital exploration of computer graphics (Taschen, 2005); Compact Design Portfolio (Chronicle Books 2004); as well as two monographs, titled Evolution (Universe, 2004) and I Want to Change the World (Rizzoli, 2001).
6. In 1992, Rashid started designing for US tableware company  Nambé, producing a range of products – clocks, vases and candlesticks – that would help establish his signature look. Alloy and glass are perfect materials to convey Rashid's organic "blobular" forms, and his work for American lighting brand George Kovacs and German glassware manufacturer Leonardo in the late 1990s again produced modern yet beautiful forms.
7. Rashid's designs often incorporate a folded-ribbon look (using materials such as fabric, laminate, acrylic and steel) and his computer-generated asterisk, cross and figure-eight motifs, which can be seen on his stools, rugs, kitchen utensils and even Rashid's own body tattoos.
8. His 1996 'Garbino' rubbish bin for Canadian plastics company Umbra is Rashid's most well-known design (along with its larger equivalent, the 'Garbo'). This simple, softly rounded bucket in recycled polypropylene is still one of Umbra's biggest sellers and is also placed in the permanent collection of the Museum of Modern Art, New York.
9. Once labelled the Poet of Plastic, New York-based interior designer Karim Rashid is known for his curvaceous designs and outspoken persona.
10. The same concept was applied to the affordable and award-winning 'Oh' chair, from 1999, which fulfils Rashid's belief in 'democratic design'. His skill with polypropylene has also been evident in the highly acclaimed packaging he has designed for global brands like Issey Miyake and Kenzo. More recently, Rashid has also undertaken a number of architecture projects, including the Semiramis Hotel in Athens and the newly opened Switch restaurant in Dubai.
11. In his spare time, Karim's pluralism flirts with art, fashion, and music and is determined to creatively touch every aspect of our physical and virtual landscape.
12. Him and his team specialize in pattern, print, branding and creative direction. They produce designs that help create or revitalize brands that get noticed through a variety of print and other media. Depending on the nature of the project, graphics is intertwined in product and interior design. They have the ability design a project under one roof which allows for a more seamless process and holistic design.
13. Karim believes that we live in a very special time for humanity, where technology, through the digital revolution, has afforded us new tools to design better space in ways never before conceived.
14. He has an international staff that speaks 12 languages. Presently he is working in 23 countries.
15. To Karim, functionality and minimalism are essential, but, at the same time, he wants to move people and create furniture that make people feel at ease. He calls this approach to design 'sensual minimalism'.
16. The notion of design being a "high art" has always felt ridiculous to him. "I've spent my career trying not to fall into that trap. Early on, companies interested in me were small. They charged more so that they could afford the tooling and the crafting by hand. That's just what it took to make it. I started to think, Why aren't bigger companies more interested in design? The designer humanizes our physical and virtual world. Fortunately, things have changed a lot since then. Companies now recognize that design is what differentiates. It's critical, and demanded," Karim said for interiordesign.net.
17. He loves doing packaging design, technology, synthetic processes and materials.
18. He used to be obsessed with drawing eyeglasses, shoes, radios and luggage throughout his childhood. 
19.  He loved Andy Warhol, Rodchenko, Picasso, Calder, Corbusier, Dec Chirac, YSL, Halston, and so many other artists that were pluralists.
20. Karim was also very inspired by his father who was a creative renaissance man, and he saw him create every day. He would design furniture, make dresses for my mother, paint canvases, design sets for television and film, and constantly take us to museums.