Prices go up in less than 6 days. Get your tickets today!
Prices go up on February 23rd, so don't miss out on discovering a memorable business experience at BRAND MINDS 2022.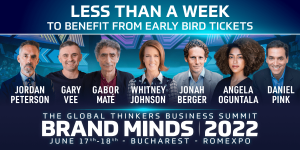 Join The Global Thinkers Business Summit and access the opportunity to:
Experience a memorable business conference;
Learn from world-famous business thinkers & bestselling authors;
Enjoy valuable content that will reset your vision and mindset on both personal & professional growth;
Network with an elite community of business professionals from top industries;
Meet with international business celebrities;
Take your marketing expertise to the next level with the MARKETING STRATEGY MASTERCLASS scheduled for the 2nd DAY of the event, on June 18th;
Collect the BRAND MINDS attendance certificate;
The event organizer also provides translation into Romanian, Hungarian, Bulgarian, Russian and Turkish.
HR Managers choose BRAND MINDS as the best opportunity for corporate team buildings
At BRAND MINDS 2022, team members and team leaders learn about:
Efficient frameworks to improve the overall performance and the team's engagement;
Innovative ideas for strategic leadership & business development;
Top tactics to develop high-growth professionals;
Strategic techniques to lead teams with confidence.
HR Managers looking to grow their teams and reward top talent with curated world-class business education have also the opportunity to access special group packages.
The world's top business experts & bestselling authors are speaking at BRAND MINDS 2022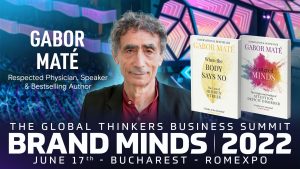 GABOR MATÉ: WHEN THE BODY SAYS NO: Mind/Body Unity and the Stress-Disease Connection
Dr Gabor Maté is a respected physician with more than 20 years of research & clinical experience, highly sought after for his expertise on the relationship between stress and illness.
At BRAND MINDS, Dr Gabor Maté will talk about:
Tactics to create a stress-free company culture where employees are creative and productive;
The 3 major stressors in day-to-day life;
Key strategies to recognize a stressful work environment and how to transform it.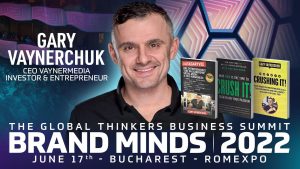 GARY VAYNERCHUK: The ultimate strategies to build outstanding businesses
Gary's business building expertise positions him as one of the leading global minds on what's next in business culture and the digital ecosystem. He is today transferring his life-long knowledge through his keynotes and media content.
At BRAND MINDS, Gary Vaynerchuk will talk about:
How to scale up a company in today's digital world;
Tactics to increase your business' revenues by leveraging digital channels;
Actionable insights on how to amplify your company's image.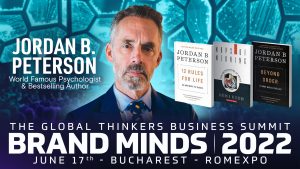 JORDAN B. PETERSON: The 12 rules for a successful life
Jordan B. Peterson's keynote provides professionals in every industry with actionable insights about leading themselves and others. His expertise helps people improve essential aspects of their life from work to personal development and career.
At BRAND MINDS, Jordan B. Peterson will talk about:
The Big 5 Personality traits;
How to improve your ability to deal with and understand those around you who have different personalities;
Valuable insights to guide you towards a more courageous, truthful and meaningful life.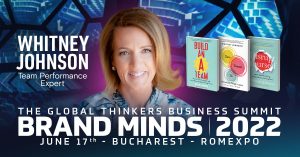 WHITNEY JOHNSON: Leadership — the best tactics of building an extraordinary team
A world-leading expert on developing high-growth professionals, Whitney Johnson helps leaders acquire the necessary skills for leading teams with confidence and a strategic approach.
At BRAND MINDS, Whitney Johnson will talk about:
The 7 accelerants of personal disruption and growth;
Where is your team on the S Curve of Learning ™;
How to leverage disruption in your team's favour.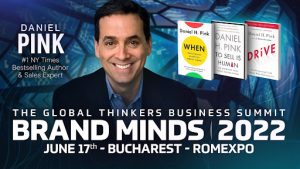 DANIEL PINK: The new rules of selling & influence
Daniel Pink is one of the most renowned bestselling business authors of the last decade. His books on work and sales strategy have won multiple awards, have been translated into 41 languages, and have sold more than 3 million copies worldwide.
At BRAND MINDS, Daniel Pink will talk about:
5 ways to frame messages to increase clarity and lead to action;
Why problem finding has become more important than problem-solving;
2 principles that can move your sales from transactions to conversions.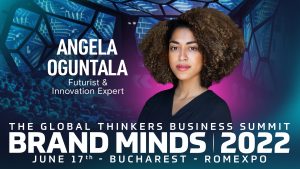 ANGELA OGUNTALA: Rethink your company for the future
Angela Oguntala is a strategy expert on futuristic innovation who is consulting companies on how to design their internal process for a thriving business future. She has led innovation projects and advised global organizations with billions in revenue.
At BRAND MINDS, Angela Oguntala will talk about:
How futuristic thinking impacts an organisation's core values & practices;
Processes that will facilitate futuristic thinking and performant development flows;
How to nurture foresight mindsets & enhance your team's capabilities.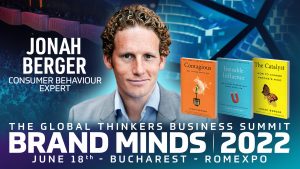 JONAH BERGER: The secret science of viral ideas – Marketing Strategy Masterclass
Jonah Berger is a world-renowned expert on marketing strategy, persuasion and consumer behaviour.
As a consultant, Jonah helped hundreds of companies like Apple, Google, Nike, Facebook, Unilever and The Gates Foundation get their products, services, and ideas to catch on.
At BRAND MINDS, Jonah Berger will talk about:
How to design messages, ads and information that people will share;
5 hidden factors that impede change and how by mitigating them, you can change anything;
6 basic principles driving all sorts of things to become popular.
BRAND MINDS is the most highly anticipated business experience of the year
BRAND MINDS is among the Top 5 largest business conferences in Europe and has a unique business edutainment experience.
More than 6000 participants from 50 countries and 300 companies are expected to attend BRAND MINDS 2022's edition.
The event provides attendees with complex strategies for building and developing a successful company:
Tested business scale-up strategies;
Marketing virality & word-of-mouth tactics;
Company processes driving innovation;
Team growth frameworks;
Groundbreaking insights on reducing work-related stress;
Innovative sales tactics;
Actionable insights on career development;
Psychological approaches on how to lead successful teams.
GMs & CEOs, marketing managers, HR managers, branding experts, startup founders, business professionals and investors from all around the world join BRAND MINDS every year.
This year, your success story starts at BRAND MINDS!
Gabor Maté is joining BRAND MINDS 2022
We are excited to announce that Gabor Maté, Respected Physician, Speaker & Bestselling Author, is joining BRAND MINDS 2022!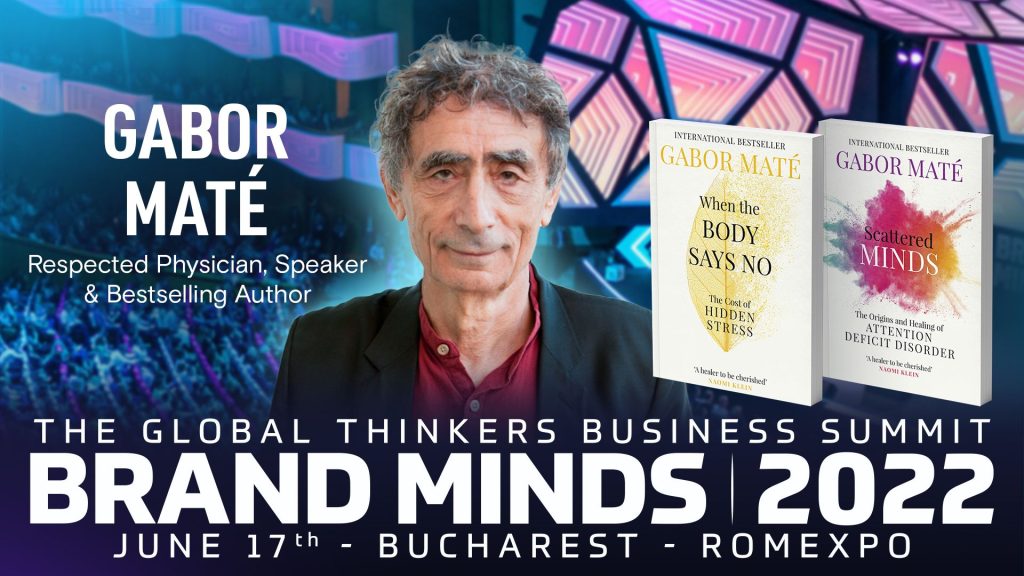 At BRAND MINDS 2022, Gabor Maté will deliver a fascinating speech called When the body says no and delves into the mind/body unity and the stress-disease connection.
You will learn:
Key strategies to recognize a stressful work environment and how to transform it;
Easy-to-implement changes that will benefit your physical and emotional health;
Tactics to create a culture where employees are creative and productive.
Gabor Maté's keynote provides professionals in every industry with actionable strategies on stress management in both workplace and personal life.
His insights help leaders:
Improve employee wellbeing and performance;
Identify sources of stress at the organisational level;
Eliminate stress throughout the organisation.


World Leading Expert on Stress
With over 20 years of research and clinical experience, Gabor Maté's expertise focuses on the relationship between stress and illness and how stress is greatly influencing our health and wellbeing.
Rather than offering quick-fix solutions to these complex issues, Dr Gabor Maté weaves together scientific research, case histories, and his own insights and experience to present a broad perspective that enlightens and empowers people to promote their own healing and that of those around them.
Award-Winning International Bestselling Author
For his groundbreaking medical work and writing, Gabor Maté has been awarded the Order of Canada, his country's highest civilian distinction, and the Civic Merit Award from his hometown, Vancouver.
WHEN THE BODY SAYS NO

: The cost of hidden stress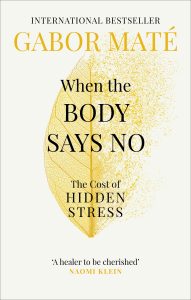 An international bestseller translated into fifteen languages, When the Body Says No promotes learning and healing, providing transformative insights into how disease can be the body's way of saying no to what the mind cannot or will not acknowledge.
Explores the role of the mind-body link in conditions and diseases
Draws on medical research and the author's clinical experience as a family physician
Shares dozens of enlightening case studies and stories, including those of people such as Ronald Reagan, Lance Armstrong and Stephen Hawking
Includes The Seven A's of Healing: principles of healing and the prevention of illness from hidden stress
SCATTERED MINDS

: The Origins and Healing of Attention Deficit Disorder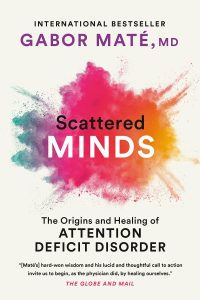 Scattered Minds is written from the inside by a doctor who himself has Attention Deficit Disorder. It offers a completely new perspective on ADD and a new approach to helping children and adults living with the problems Attention Deficit Disorder presents.
Demonstrates that ADD is not an inherited illness, but a reversible impairment, a developmental delay
Explains that in ADD, circuits in the brain whose job is emotional self-regulation and attention control fail to develop in infancy—and why
Shows how "tuning out" and distractibility are the psychological products of life experience, from in utero onwards
IN THE REALM OF HUNGRY GHOSTS

: Close Encounters with Addiction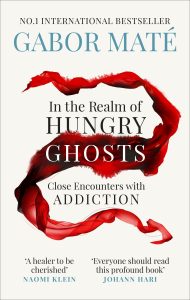 Blending first-person accounts, riveting case studies, cutting-edge research and passionate argument, In the Realm of Hungry Ghosts takes a panoramic yet highly intimate look at this widespread and perplexing human ailment.
Countering prevailing notions of addiction as either a genetic disease or an individual moral failure, Gabor Maté presents an eloquent case that addiction – all addiction – is in fact a case of human development gone askew.
Co-developer of an innovative therapeutic approach
Gabor Maté is also co-developer of an innovative therapeutic approach. This approach is called Compassionate Inquiry and is an international professional training program with thousands of participants (therapists, physicians, counsellors, and others) from over 80 countries.
This program reveals what lies beneath the appearance we present to the world. Using Compassionate Inquiry, the therapist unveils the level of consciousness, mental climate, hidden assumptions, implicit memories and body states that form the real message that words both express and conceal. Through Compassionate Inquiry, the client can recognize the unconscious dynamics that run their lives and how to liberate themselves from them.
His documentary has been viewed by 6 million people in 230 countries
Launched in 2021, Wisdom of Trauma is a documentary focusing on Gabor Maté's work. A week after launch, the movie had already taken the internet by storm with millions of people watching it and saying it was "groundbreaking", "life-changing" and "thought-provoking".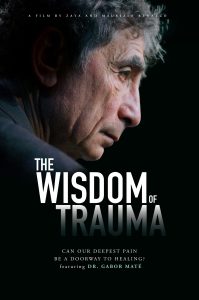 Four years in the making, Wisdom of Trauma presents powerful personal stories illuminating the connection between trauma, illness and societal stress. In the movie, Gabor Maté shows that healing is possible and it happens on two levels: individual and collective.
Come to BRAND MINDS 2022 and learn how to reduce work-related stress and improve professional efficiency from Respected Physician, Speaker & Bestselling Author Gabor Maté!