Simplify your GDPR compliance with Sypher Suite
The General Data Protection Regulation (GDPR) is a regulation in EU law on data protection and privacy for all individual citizens of the European Union (EU) and the European Economic Area (EEA).
The GDPR is the most important change in data privacy regulation in 20 years and came into force on 25th May 2018.
In the past year, we've seen many news reporting on companies and organizations receiving fines for breaching GDPR. Organizations can be fined up to 4% of annual global turnover or €20 Million.
Here are the latest GDPR fines:
$123 million (£99 million) to the international hotel group Marriott for a breach that impacted 30 million EU residents;
$227 million (£183 million) to British Airways when its website was compromised due to poor cybersecurity arrangements which lead to 500,000 customer records being extracted by a malicious third party;
EUR 50 million to Google by France's data regulator for a lack of transparency and consent in advertising personalization, including a pre-checked option to personalize ads.
If you want to avoid becoming the next GDPR case study, here is a platform that your organization can use to be GDPR compliant.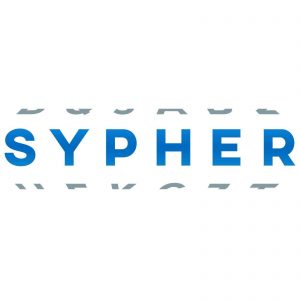 Sypher Suite is an easy to use software platform designed to simplify compliance work. This platform helps your team to avoid potential mistakes when analysing, documenting and maintaining GDPR compliance.
We have more than 40 years of combined founders' experience in designing and implementing projects requiring security and data protection compliance in e-commerce, banking and insurance.

We use the very latest technologies and, with real attention to detail, we're passionate about helping our clients to become GDPR compliant quickly, easily and with minimal fuss.

Sypher
Sypher Suite Main Features
3D Mapping validator – The validation engine combines and analyses information from multiple sources to help identify common data mapping errors and omissions and provide suggestions;
Smart monitoring – The platform will notify activity owners when relevant changes are detected, show them what's different and even reopen documents that need updating;
Dynamic data flow – A visual maps showing dataflows from different standpoints;
Data subjects request manager – Missing the deadline for a data subject request can lead to an official complaint. The DSRM module tracks all open requests and notifies you if the deadline is approaching.
Automated task management – Every time you add new information into the software platform a task is automatically created and assigned, including any dependencies on other existing tasks. Tasks automatically update or close in order to match the status and owner of each item. This ensures that, regardless of how large your project is, every single action that needs to be undertaken is accounted for;
Information and collaboration tools – Sypher Suite enables associates from multiple departments and companies to exchange messages, see who is doing what and to participate in the tasks involved;
Multi-language interface – Sypher Suite is a multi-language platform where users can work and enter data in the language required by the local data protection authority. Reports, however, can be exported in your preferred language.
Benefits
Track the compliance progress with real-time, actionable information;
Everything in one place;
Everything that goes into your GDPR documentation is verified and reviewed regularly;
Easy to use;
Bespoke – One size doesn't fit all.
Sypher Latest News and Information
The platform is currently used by more than 60 organizations in various areas: financial, insurance, software and technology, retail and eCommerce.
According to crunchbase.com, Sypher's estimated annual revenue is $100K.
In November 2018, Sypher raised 300.000 EUR financing from GapMinder.
The company has been selected to participate in the Alpha startup program within Web Summit 2019.
In August 2019, Sypher announced a strategic partnership with Mediapost HitMail in Bulgaria. Here the company targets a 25% market share, with a portfolio of large and enterprise customers, from a range of diverse industries.
Sypher has been selected as a finalist for the Startup of The Year Award in the 2019 Central European Startup Awards.
In the coming two years we aim to extend our business in several European countries, in Western Europe as well as in the Central and Eastern Europe. Another priority is to consolidate our partnerships with consultants and companies providing DPO services and legal offices using Sypher Suite when managing their clients' projects.

Mihai Ghita, Sypher co-founder
Join the Conversation
We'd love to hear what you have to say.
Get in touch with us on Facebook Group and Twitter.