Gmail's Makeover And How It Can Influence Your Working Habbits
Google gave Gmail a big refresh that will change the way you interact with it and help you even more than before. As first reported by The Verge, the upgrade was revealed in a message from Google to administrators of G Suite accounts. The message stated that the changes would be coming to consumer Gmail accounts, as well as G Suite accounts.
The redesigned Gmail web interface is focused on quick productivity actions. Google is introducing features such as attachments chips, hover actions, and hover cards to make the static inbox experience more interactive without the need for multiple clicks. Google is also surfacing several labs features that were previously hidden in Settings > Labs, like canned responses, the ability to create multiple inboxes, and a preview pane to customize your preferences for different inboxes.
According to Fox News, Gmail is getting deeper G Suite interactions to directly create and edit Google Calendar invites, send notes to Google Keep, and manage to-do items in Tasks. "Google is also releasing new Tasks mobile apps for Android and iOS for adding and editing tasks from your smartphone to manage in Calendar and Gmail. The Tasks app is available today in the iOS App Store and Google Play Store.  Aside from the new-look web app and Tasks mobile apps, Google also announced new security features, including Gmail confidential mode, and expanded AI capabilities like smart replies and notification priority settings," added Fox News.
Here are some of the main changes and how they will impact you
Smart Replies and Smart Filtering
New AI-powered features in Gmail, like Nudging, Smart Reply and high-priority notifications, can now help you spend more time on work that matters. With Nudging, Gmail will proactively remind you to follow up or respond to messages, making sure you don't drop the ball.
Smart Reply offers pre-set, one-line replies for any email. The replies are not just standard answers, but customized according to each email, due to machine learning, that suggest responses to you, in order to help you save time. Moreover, two new features promise efficiency improvements through smart filtering. Notifications for high-priority messages help you focus on your most important work. From now on, Gmail will pay attention to frequent newsletters and suggest you give them the boot by unsubscribing if you stop opening them.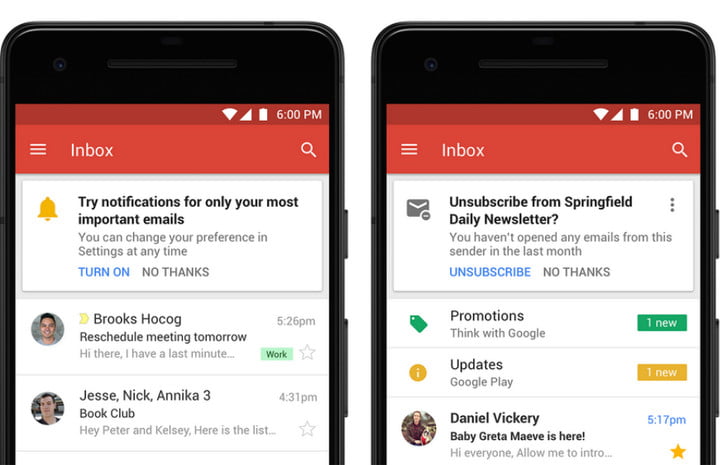 Protection from risky emails 
Built-in Information Rights Management (IRM) controls also allow you to remove the option to forward, copy, download or print messages. This helps reduce the risk of confidential information being accidentally shared with the wrong people. Confidential mode will begin to roll out to consumer Gmail users and a limited number of G Suite customers in the coming weeks (broader rollout following).
Moreover, the redesigned security warnings within Gmail are simpler to understand and give a clear call to action to employees. These bigger, bolder warnings will help you be even more informed when it comes to potentially risky email.
"When you compose sensitive email you can remove options to forward, copy, download, or print the messages. The option to protect your outgoing email with two-factor authentication — the recipient needs to log into their own email and click to receive an unlock code via SMS text to read the message you sent could help you sleep better at night if you later discover their email account was hacked," wrote Digital Trends.
Icons for Action Buttons
In the old Gmail interface, you'll find the action buttons in the inbox along with a text label. In the new interface, Google has turned these action buttons into icons — you can't read any text labels anymore. Also, this new icon menu has got two additional actions for quick access: Mark as read/unread and Snooze.
New Sidebar
It shows icons of other Google services like Calendar, Keep and Tasks. Tapping any icon expands the sidebar allowing you to quickly access your calendar entries, notes or tasks synced to your Google account. Any changes you do in these apps is synced back to the cloud and is instantly accessible on your other devices. You can also access third-party Gmail add-ons from the same side panel.
New native offline capabilities in Gmail on the web can help you work without interruption when you can't find Wi-Fi. Search, write, respond, delete, or archive up to 90 days of messages, just as you would working online, but offline.
You can use Tasks to create tasks and subtasks, and even add due dates with notifications to help you stay on track. And because Tasks closely integrates with G Suite, you can simply drag and drop an email from Gmail into Tasks to create a to-do. Tasks with due dates can also appear in your Calendar. You can download the new Tasks mobile apps from the Google Play Store or  iOS App Store today.
Different Display Modes
According to Economic Times, Google has added three view modes: default, comfortable and compact. Default view is ideal for large screens where you can open the preview of attachment in an email right from the inbox. This means you don't need to open the email itself. Comfortable view is great for laptop users – it has large text which is easy to read sans the preview option of the default view. Compact view is the same as before.
Gmail versus Outlook: which e-mail provider is better for you? Part II
Last week we started a bigger discussion about the best two free email providers – Gmail and Outlook – and which one might be the best to choose from your business. Now, we continue and elaborate the subject.
5 Advantages of using Gmail
Productivity–  It comes in handy when you are looking to enrich your productivity. Some of its many features is the built-in tasks utility that you can use to send tasks to your Google Calendar.
Easy usage – The provider is very user friendly. Anybody would get used to it pretty fast.
Customization– Gmail allows for a great deal of customization. Not only can you  control the appearance of the Gmail interface using themes, you can choose the way your inbox works by turning features such as tabs off and on. Also, use color coding and markers to customize how various messages appear.
Integration– Gmail integrates with a number of other Google tools. There are also many Plugins that expand the capabilities of Gmail even further.
Community Support– The  Gmail help center is well-organized and addresses many questions. Plus, Google maintains a  Gmail help forum, where users can ask specific questions.
5 Advantages of using Outlook
Ease of Use– com is easy to download and use. It has a clean, modern interface that is intuitive and easy to understand.
Productivity– Outlook has a built-in task tool. You can easily access the calendar from within your inbox by clicking the Calendar icon and without leaving your inbox.
Customization– As with Gmail, you can use themes to change the appearance of your interface. You can make some limited changes to the way that your inbox works, such as choosing where the reading pane appears and choosing to show or hide preview text.
Integration– it integrates with other Microsoft tools. You can use the grid in the upper left of the inbox to open other Microsoft tools. There are also many add-ins that expand your email capabilities. You can add them from within your inbox using the Manage Integrations option.   
Community Support– Outlook for MS Office is widely acknowledged as the standard in many corporations. Outlook.com also has a  user community. Plus, there are many helpful third-party articles and tutorials written that can help you anytime.
Ultimately, choosing your email provider is a very intimate decision and it must be based on your work and personal preferences. A free email service like Gmail or Outlook.com can be a good choice for you or your small business.
Before finalizing your choice of email providers, it's important to ask yourself what you really need from your email service, address the main important questions regarding your type of business, dimension, usage, security, how many people will be accessing it, etc. The email service you choose depends on how you use your email and what you need from it. If you approach the decision carefully and make an informed choice, the email provider you choose is likely to be the best email service provider for you.
In other words, no matter how many pieces of advice you receive, the decision belongs to you. Because while some consider Outlook to be an upgrade from Gmail, others still see Gmail as the king of the free email providers.
Here is an opinion about why leaving Outlook for Gmail, while here, an opinion in reverse.
Decided? What will you choose?
Don't be afraid of the cloud, most of your data is already out there
Afraid of storing your data on the cloud? Don't. Just think at the fact that any email service you are using (Gmail, Yahoo, Hotmail etc.) is already using the cloud, so your data is backed-up up there. None of those emails you send and receive are actually taking up space on your local hard drive, but they are stored on the email providers' servers: this is a form of cloud computing.
Actually, cloud storage means minimal downtime and it significantly reduces the possibility of losing data, because rather than storing it in one physical location, information is placed in several servers, in multiple locations. So if one server goes down, the data doesn't disappear. Cloud storage is convenient, and with the right precautions, it's about as secure as keeping the data on-site at all times.
According to cloud-lounge.org, many businesses large and small use cloud computing today either directly (e.g. Google or Amazon) or indirectly (e.g. Twitter) instead of traditional on-site alternatives.  And there are a number of reasons why cloud computing is so widely used among businesses today: Reduction of costs (unlike on-site hosting the price of deploying applications in the cloud can be less due to lower hardware costs from more effective use of physical resources), universal access (remotely located employees can access applications and work via the internet), choice of applications (flexibility for cloud users to experiment and choose the best option for their needs), potential to be greener and more economical (the average amount of energy needed for a computational action carried out in the cloud is far less than the average amount for an on-site deployment), flexibility (allows users to switch applications easily and rapidly, using the one that suits their needs best).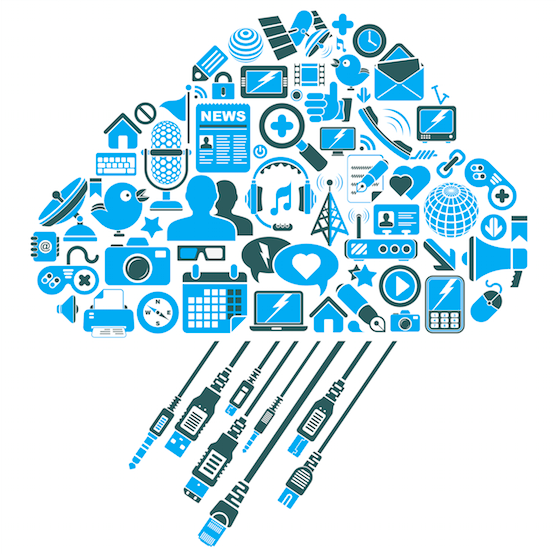 Moreover, according to wired.com, the cloud offers better insight, helps collaboration between the members of the teams, drives better engagement (as cloud is often seen as the most effective means of forging a tighter link with the customer), its benefits are measurable and pay for themselves.
But, if after all of these you are still afraid of using it, remember that many cloud services offer additional security options on top of the basic packet and you have at your disposal several measures you can take in order to protect your data.  Tim Maliyil,  CEO and data-security architect for Las Vegas-based AlertBoot, explained some of them for entrepreneur.com:
Encrypt everything. Any cloud service a startup uses should implement encryption on the server side. Even if the cloud infrastructure were to be compromised, a hacker would only be able to access encrypted gibberish and no data would be stolen.
Have a strong password. While the death of the password as a security linchpin is long overdue, it's still the easiest point of access for users and hackers. Be sure your passwords are at least 15 characters long and include numbers, letters and special characters if possible. 
Start early. The reason major chains such as Home Depot and Target tend to be susceptible to security breaches isn't simply because they're high-profile organizations. Larger, more complex companies have a harder time implementing comprehensive security solutions than do smaller, more nimble companies.
Put security protocols in place while the infrastructure is still manageable so security can scale with the company instead of playing catch-up. Additionally, if the company targets regulated industries such as health care, proof of meeting data-security-compliance requirements will be needed for conducting business.
Data breaches don't so much reflect an inherent insecurity in cloud services as they do a problem with how the available measures are implemented. Cloud services have allowed startups to thrive and scale at a fraction of the cost of companies running their own server farms. Use cloud services to build end-to-end security so as to get back to focusing on the important things: the company's products and customers.
Part of those piece of advice can be found also on Drew Hendricks of Inc.com's list, from which we would also mention the following:
Backing up sensitive files. While file sharing and syncing are effective ways to back up documents, they should not replace the use of external devices. By backing up files virtually and physically, you can all but guarantee your firm will have access to its data even in the event of system crashes or attacks.
Separating personal from corporate data. Whether your business features a "Bring Your Own Device" (BYOD) culture or not, you need to communicate clearly with employees about what information can and cannot be stored on personal devices, as well as what encryption methods are required.
Keep sensitive materials out of the cloud. Until cloud providers can offer comparable levels of security to what is available on an internal business server, they may not be worth the risk for some data.