The Self-Improvement Industry Is Estimated to Grow to $13.2 billion by 2022
According to Market Research, the self-improvement market was worth $9.9 billion in 2016 and is estimated to grow to $13.2 billion by 2022 with 5.6% average yearly gains.
Self-improvement is about consciously identifying and developing one or more facets of your life. From the perspective of an entrepreneur, self-improvement will often entail some sort of mental training but can mean anything from practising stress management to valuable goal-setting. Professionals are often keen to learn things like time-management techniques (for better prioritising tasks) and increasing productivity without compromising mental wellbeing.
The self-improvement market is wide and encompasses a large variety of products and services which range from books to e-books, online courses, coaching programs, webinars, "academies", "universities", "masterminds", masterclasses, conferences, mobile apps etc.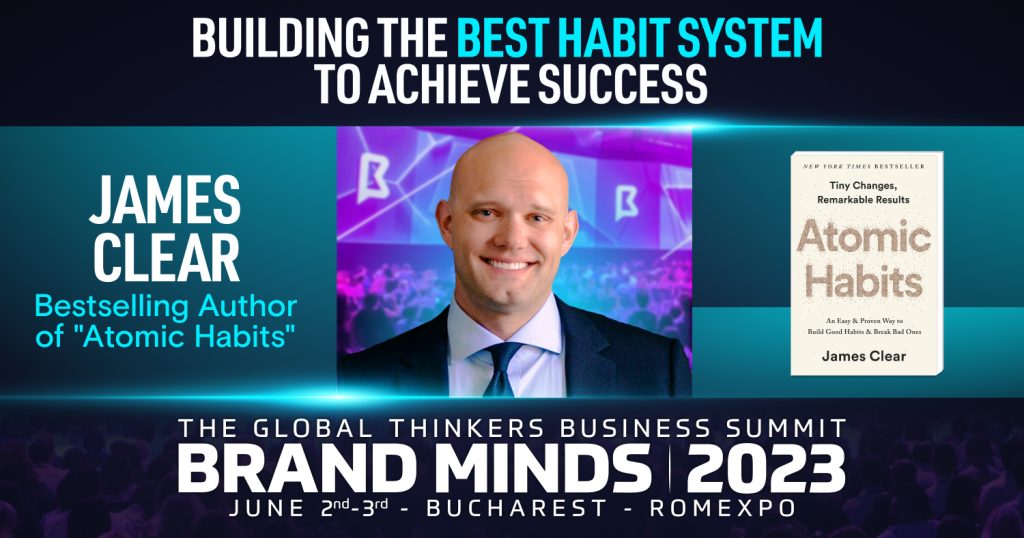 Join BRAND MINDS 2023.

Learn more: The Health & Wellness Industry is now worth $4.2 trillion
Here are various markets related to the self-improvement industry and how much they are worth according to Market Research:
Self-help audiobooks – $769 million (5.6% growth YoY);
Self-improvement books – $800 million (6% growth YoY);
Self-improvement apps – $27 million;
Personal coaching services – $1 billion in the US (source);
Motivational speakers – $1 billion per year combined.
Self-improvement industry statistics
Millennials are driving the growth of the self-improvement industry;
94% of millennials reported making personal improvement commitments and said they'd be willing to spend nearly $300 a month on self-improvement;
Millennials spend twice as much as Baby Boomers on self-improvement such as working out, life coaching and well-being apps (source);
Booknet Canada reported a 27% increase between 2016 and 2017 of the Self-Help/Personal Growth category (source);
'Girl, wash your face' by author Rachel Hollis is ranked #3 in top 10 Best-selling print books in the US in 2018 having sold over 1.28 million copies with 'Becoming' by Michelle Obama as #1 with over 3.4 million copies sold (source);
According to figures from Nielsen Book Research, in the UK the self-improvement literature has seen an increase in sales of up to 20% amounting to 3 million books (source);
India's self-help publishing industry has grown exponentially over the last 14 years and coincides with the entry of foreign publishers in the local market (source).
Self-improvement is a journey and books are the starting point of this journey. No matter your goal or your age, there's no better feeling than turning the pages of a book.

Learn more: The Pet Food Industry is Growing at a Fast Pace
Here are Amazon's top 10 bestsellers in the Self Help category of books:
Unfu*k yourself: Get out of your head and into your life – Gary John Bishop;
Can't hurt me: Master your mind and defy the odds – David Goggins;
Girl, stop apologizing – Rachel Hollis;
The subtle art of not giving a fu*k: A counterintuitive approach to living a good life – Mark Manson;
The 7 habits of highly effective people – Stephen R Covey;
Maybe you should talk to someone – A therapist, HER therapist and our lives revealed – Lori Gottlieb;
Dare to lead – Brené Brown;
How to win friends and influence people – Dale Carnegie;
Unlimited memory: How to use advanced learning strategies to learn faster, remember more and be more productive – Kevin Horsley;
Atomic habits: An easy and proven way to build good habits and break bad ones – James Clear.
Tech is driving the self-improvement industry forward
Unlike empires that revolve around a guru, the new self-help apps revolve around technology and the user.
Self-help apps are the solution to our on-demand society. They combine the best of old-school tools like paper books, seminars and coaching sessions:
They are easily personalized;
Provide the user with a rich multimedia experience;
Are socially connected;
Offer in-person coaching sessions.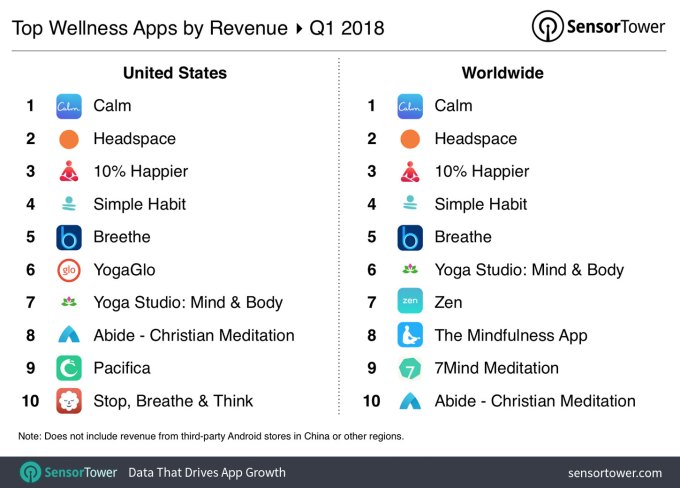 source: techcrunch.com
Self-improvement apps statistics via Market Watch
U.S. consumers spent $32 million on self-care mobile apps (Calm, 10% Happier, Headspace etc) in both the Apple Store and Google Play in the first quarter of 2018, up 40% YoY;
75,000 people download Calm each day, and the app's downloads have more than doubled in the past year, from 15.2 million in December 2017 to 37.2 million in December 2018;
American Airlines now features Calm on its boarding videos and in-flight entertainment systems;
10% Happier has more than tripled its number of subscribers from 2017;
Headspace currently has just under 40 million downloads, with well over one million paid subscribers;
More than 300 companies, including Google, LinkedIn, GE, Adobe, Genentech and Unilever, are offering Headspace to employees as a health and wellness benefit.

Learn more: The Gaming Industry – No longer a child's play
Here are the best self-improvement apps of 2018 by Google
Mimo. Learn to Code;
Drops: Learn 33 new languages;
10% happier: meditation & sleep;
Keep trainer: workout trainer & fitness coach;
Masterclass: learn how to cook, sing, act and more.
Apple

identified self-care as the app trend of 2018 with apps like Fabulous, Shine, Calm, and 10% happier leading the trend.

Have you joined the self-improvement movement?
Join the Conversation
We'd love to hear what you have to say.
Get in touch with us on Facebook Group and Twitter.
The Health and Wellness Industry Is Now Worth $4.2 trillion
The industry has been growing with 12.8% between 2015 and 2017 and represents 5.3% of global economic output.
The Health and Wellness industry encompasses all activities which promote physical and mental wellbeing: from yoga to healthy eating, personal care and beauty, nutrition and weight-loss, meditation, spa retreats, workplace wellness and wellness tourism.
Once upon a time, our contact with wellness was occasional: we went to the gym or got a massage. But this is changing fast: a wellness mindset is starting to permeate the global consumer consciousness, affecting people's daily decision-making – whether food purchases, a focus on mental wellness and reducing stress, incorporating movement into daily life, environmental consciousness, or their yearning for connection and happiness. Wellness, for more people, is evolving from rarely to daily, from episodic to essential, from a luxury to a dominant lifestyle value. And that profound shift is driving powerful growth.

Katherine Johnston, senior research fellow, GWI
Read more: The Health and Fitness Industry Is Estimated To Reach $100 Billion in 2019
What is driving the growth of the health and wellness industry?
Here are 4 factors driving the growth of the Health and Wellness industry:
1. The clean eating trend – free-from and organic foods
Consumers are increasingly focused on living longer and healthier. Healthy living starts with healthy eating.
The consumer's preferences have shifted towards eating more natural, free from additives or preservatives, organic food. Today eating clean means eating a diet made of gluten-free, dairy-free, non-refined carbs, sugar-free food.
Millions of people worldwide are suffering from the celiac disease which drives the demand for gluten-free/wheat free food market.
The global gluten-free retail market is estimated to grow to $12.5billion by 2024 at a rate of 9.5% from 2017.
According to Statista, Italy is the leading gluten-free and probiotics market in Europe.
2. Wearable devices and virtual assistants usher in the personalization of health and wellness
Demand has increased for all kinds of health-focused wearables: smartwatches, health and fitness trackers, heart rate monitors, apps which support the emotional and mental health of users and virtual assistants.
Learn more: This App Supports Your Employee's Emotional Wellness
A 2018 Pricewaterhouse Coopers (PwC) report has found that almost half (49%) the people in the United States own a wearable device.
Health conscious consumers expect their wearable devices to help them live longer (70%), maintain a healthy weight (63%) and pay less in insurance premium (62%).
Wearables Market is expected to grow to $27 Billion by 2022.
3. Wellness tourism is growing
The wellness travel market is worth $639 billion and has been growing at a rate of 6.5% from 2015-2017. The growth rate for tourism overall is 3.2% so wellness travelling is growing twice as faster.
Wellness trips account for 17% of total tourism expenditures. Wellness seekers travel to Asia-Pacific, Latin America-Caribbean, Middle East-North Africa, and Sub-Saharan Africa to get in shape and return home relaxed and ready to go.
Over the past five years, Asia is the #1 destination of wellness travellers, attracting both trips and revenues.
In the last two years, trips to Asia grew by 33% to 258 million annually. China and India rank #1 and #2 for growth worldwide, adding over 12 million and 17 million wellness trips respectively from 2015-2017.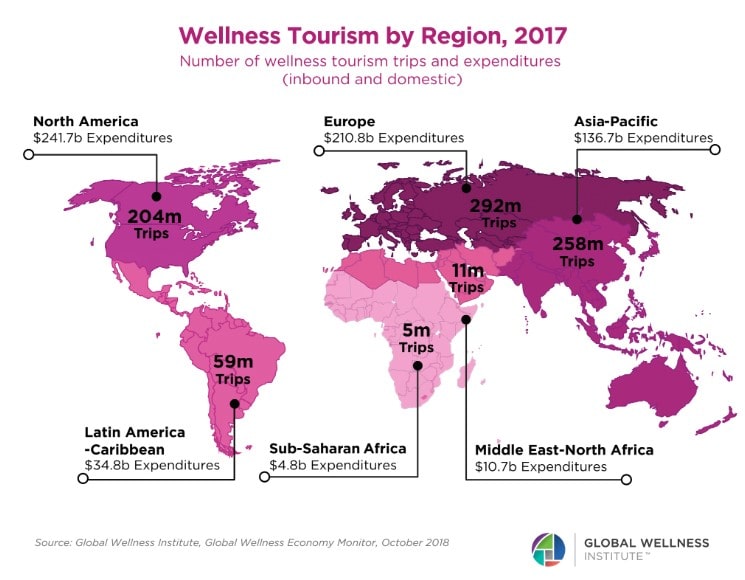 4. Amazon – the consumers' preferred channel for nutritional supplements and skincare
The 2018 Beauty, Health & Wellness Survey conducted by LEK highlights the latest trends and offers insights into consumer interest in nutritional supplements and skincare.
Here are the survey's findings:
Average consumer spend – more than $100 per month — totalling $1,300 a year on nutritional supplements such as vitamins, minerals, herbal and sports nutrition products, and skincare products such as creams, lotions and sunscreens;
Gen Xers and boomers spend on nutritional supplements, while millennials spend on skincare;
Personalization is trending also with nutritional supplements and skincare – 39% of Millennials and 36% of Gen Xers are highly interested in receiving personalized programs; these programs consist of selecting nutritional supplements tailored to their individual health needs or a custom skin care program augmented by a beauty box delivery each month;
Amazon has established itself as the No. 1 preferred channel for nutritional supplements and No. 2 preferred channel for skincare.
If you enjoyed my article and would like to discover information on other growing industries, I invite you to read the previous materials on pet-food, gaming and health & fitness.
Join the Conversation
We'd love to hear what you have to say.
Get in touch with us on Facebook Group and Twitter.