Instagram Shadowbanning and How To Avoid It
According to PetaPixel, Instagram has been accused of "shadowbanning" users and posts starting about a year ago, preventing tagged content from properly appearing in searches for those tags. "After photographers and others complained last year, someone made a tool for checking to see if you've been shadowbanned. Now there's a new and improved one: Triberr's Instagram Shadowban Test. Triberr, a company that develops a content marketing automation suite, created the tool to provide Instagram users with a more comprehensive look at whether their photos and posts are showing up correctly for other Instagram users," added Michael Zhang for the publication.
"The shadowban applies to individual posts and may occur for various reasons," Triberr writes. "For example, overuse of a hashtag or a banned hashtag can trigger this occurrence. Therefore, we provide an analysis of your latest 10 posts so that you can easily identify culprits in your posts." If a hashtag is found to contain the photo, it shows up as green in the results. If a hashtag was not found associated with the photo, it shows up as red and the post failed the test.
What happens is that the shadowban removes the ability of your posts to be seen by anyone but your current followers. Hashtags become next-to-useless because non-followers will not be able to discover your hidden content, even if they search a specific hashtag.
As the easiest way to avoid getting there is following Instagram's posting best practices and focus on creating and sharing non-promotional, authentic content, we also have some others ideas that can help you along the way:
Engage authentically with your community
Show that you are a real person and have a real personality. Engage and act creatively. Like and comment on content you truly enjoy and follow only those accounts that you're interested in following. Doing it naturally and having a certain rhythm or pattern all the time in your actions will not catch spam filters' attention.
Avoid being reported
Being reported isn't an automatic Shadowban. Instagram will check out your profile to make sure your account isn't violating their Terms of Service and determine from their. If you're found at-fault Instagram may shadowban you or even fully disable your account.
Stay in the normal limits
According to Social Media Examiner, the limit of accounts you can follow is 7,500 accounts. Once you hit that limit, you will have to unfollow someone to be able to follow someone new. Instagram also has fairly strict limits as to the number of people you can follow within a certain time period, although a few factors impact this number. "Newer accounts have lower limits on the number of accounts they can follow hourly or daily. The size of your account (the number of people following you) may also contribute to the limit you can reach. Again, some people may be allowed to exceed these limits, depending on various account factors including engagement on their own account content. But pushing these limits puts you at risk of exceeding allowances and having your account put on restriction for a minimum of 24 hours," wrote Social Media Examiner.
Moreover, at the same time, there are similar limits to the number of accounts you can unfollow in an hour or day.
Direct message to groups at maximum 15 people
As the new rules say, one can send a direct message to a single user or a group of up to 15 people. Each direct message can contain up to 500 characters. When you reach that cap, no more characters will appear in the text.
Don't use bots and third party apps to help you manage your account
Using a bot to analyze your engagement or to help you with unfollowing inactive accounts may hold a chance for your account to be shadowbanned.
Use different hashtags on your posts
Make sure you change the hashtags you usually use daily. Don't just copy paste your hash-tags and post them for every picture!
Here you can find a list of blocked hashtags
How To Proper Use Twitter's Hashtags For Your Business
"When you set aside time to research what hashtags are the most popular with your customer personas, you're better able to target users who reflect your ideal audience. A research tool can help you monitor hashtags, improve influencer outreach, discover demographic and geographic information, and gauge sentiment. With the right toolbox, you can simplify social marketing on Twitter," wrote socialmediaexaminer.com.
So here are some of the best hashtag research tools we found for you:
RiteTag helps you get instant hashtag suggestions for images and texts on desktop and mobile, based on real time hashtag engagement. Group hashtags to easily compare them on RiteTag and quickly add to posts from RiteForge and RiteBoost.
This tool is useful in giving you immediate feedback on your hashtag choices. It color-codes hashtags, letting you know the hashtag strengths, and it's available "wherever you do social". Moreover, it will also alert you when new hashtags emerge for your topic, and it allows you to group hashtags into "Tag Sets" for the ease of comparability.
Hashtagify.me helps you analyze your hashtags through a variety of different data, but one of the most popular features remains their related hashtags and popularity tools.  Hashtagify helps you accelerate your business growth, brand awareness and marketing effectiveness through intelligent Hashtag Marketing. The technology used helps master hashtags far more quickly and to enhance your social media performance on Twitter and Instagram. Another feature that is very interesting and perfect for 2018 is "Top Influencers." This is an great tool if you're trying to find influencers within your industry to follow and interact with.
The free Hashtags Finder allows you to search among 12,373,028 Twitter and Instagram hashtags and pick the best ones for your needs based on their popularity, relationships, languages, influencers and many other metrics.
ExportTweet allows you to track hashtags, keywords, and accounts and helps you find top tweets, related hashtags, influencer data, device source, geographic location, and more. The free tool gives information on the last 100 tweets, but the paid searches offer unlimited tracking time and unlimited report downloads.
With Tweet Archivist, you get real-time data from the day of your search with the number of tweets and impressions for the day With the free report, you'll see the top associated words, top URLs associated with the hashtag, the source of the top tweets, top languages used, user mentions, associated hashtags, and an influencer index. It allows you to measure campaign effectiveness, determine sentiment and view the most popular images associated with the tweets for this term. In addition, it does a language breakdown and a volume analysis based on number of tweets per day.
Socialert is a budget-friendly tool, making it perfect for individual users or small businesses. You can do a free search before the tool asks you to upgrade to a paid plan. The free search will analyze 300 tweets over a 7-day period to give you a snapshot of relevant data. You'll see the hashtag reach and impression rate along with geographic data and overall sentiment.
6 Instagram Policies And Tools Often Overlooked
Instagram has a licence to use your content
If you're posting images on Instagram, you're giving up some control of your content. As outlined in the most current Terms, the license you grant Instagram is "a non-exclusive, fully paid and royalty-free, transferable, sub-licensable, worldwide license to use the Content that you post on or through the Service."
This means you're granting Instagram the rights to use your pictures (although you can still grant those rights to anybody, not just Instagram [non-exclusive]) and Instagram doesn't have to pay you anything (fully paid and royalty-free) no matter how they use your pictures (even if they happen to make money off of them). Instagram also has the right to transfer this license to anyone in the world (transferable and worldwide) and even sell that license without having to pay you anything (remember royalty-free).
What it means in essence for you and the brand to are taking care of is that, after posting on Instagram, you no longer have any control on what will happen with that post, as anybody can repost it, with their own personal comments and ideas.
When it comes to Instagram contests, you must provide complete rules and terms
Instagram contests and giveaways are super-popular these days. They're a great way to gain followers and additional exposure for your business. However, there are a few things you need to do to make sure you're complying with Instagram's promotional rules. The key is that your contest post must include (1) acknowledgment that the promotion is in no way, shape, or form "sponsored, endorsed or administered by, or associated with" Instagram; and (2) a release of Instagram by each person participating in the contest. "In your contest rules, also include the terms, any eligibility requirements, and the prizes offered. You can list these rules directly in the post or link to a separate website that includes this information, plus other contest rules. Also, make it clear to participants that they can't inaccurately tag content," said socialmediaexaminer.com.
It's really important to use hot and trendy hashtags
It's not enough just to use the hot hashtags. Your goal is to use the most relevant and highest traffic hashtags. Hashtags are the Instagram equivalent of keywords, so you need to find out which ones your target users are most likely to click on and here is the part where the research gets involved. You must search and see who are the best hashtags for your target and to them, as they are the ones that will get relevant traffic. If you'll make sure to pick the right keywords, relevant and targeted, you'll gain a lot more popularity and followers. If you choose the wrong hashtags, you won't get the level of engagement that you're looking for.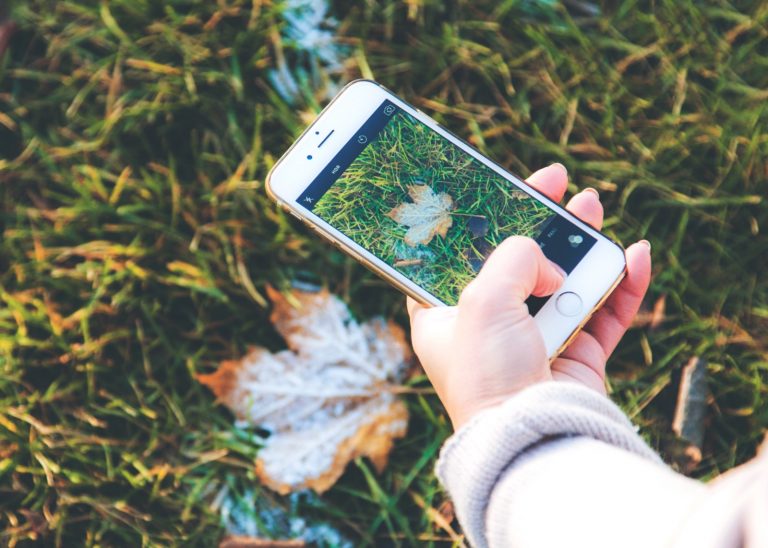 Comment on other people's or brands' pictures, don't just like them
A research showed that on Instagram, there are 575 likes every second, but only 81 comments. People like photos 609% more than they comment on photos. Obviously, it's easier to double tap a photo than it is to tap comment, and then think of something creative to say. When you go to that extra effort, people like that. They're more likely to tap your profile and follow you. You can also get a lot of exposure by leaving meaningful comments on the photos of other people. When you leave a thoughtful and positive comment, there's a good chance that the author of that photo will become curious to check out your profile.
Using direct messaging
You have the possibility to message your followers, but, unfortunately, few brands use it at its full capacity. Of course you need to it elegantly and from time to time, making sure you are not annoying your followers with every update. But, it is a great tool to leverage when you want to announce something big, like a rebranding, new product line, a sale, or a company merger.
Attention to the bio
On a social media platform where pictures and videos are the stars, your company bio must be creative and smartly written. Make sure to highlight all your key points, using short and to-the-point sentences. Don't make it crowded and suffocating.
5 Free Instagram Analytics Tools for Marketers
Finding the right strategy that will for sure help your brand is not an easy task. The right Instagram tools can provide analytics to inform your social media strategy and content scheduling. If you are looking for some free tools to help your business on Instagram, we have 5 ideas that would come in handy.
Instagram Insights
If you've  set up your Instagram business account, you have access to free analytics through the Instagram app. Instagram Insights provides basic stats for assessing your Instagram marketing efforts. Find out more about your followers, when they're on Instagram, and what your top posts are. This information will help you choose content more likely to resonate with your audience.
To access these insights, tap the bar chart icon in the top-right corner of the app. The first analytics screen shows high-level insights for the last week and comparison stats for the week before. You can view your total impressions, reach, profile views, and website clicks. It also shows your top posts and stats for your  Instagram stories from the last 24 hours. Swipe to the right to see your reach. Swipe right one more time to see website clicks data.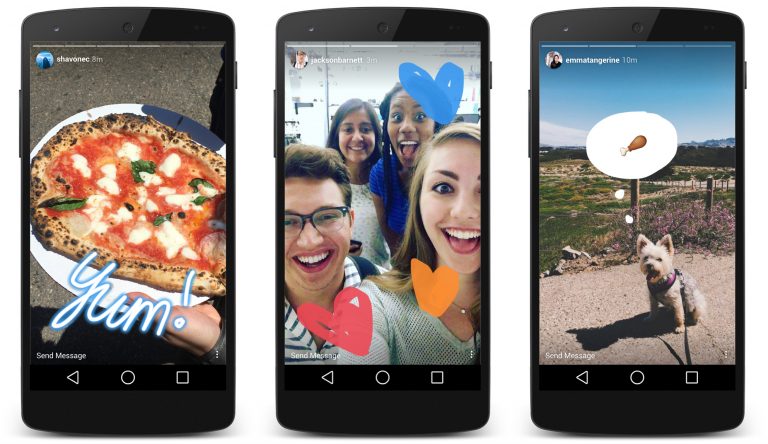 source: TechCrunch
You can also view your top posts insights, just by tapping the see more link next to top posts and the top six posts from the past seven days sorted by impressions. The tool also allows you to see followers insights. Back on the main Insights page for your account, scroll down to the Followers chart of times when your followers are on Instagram. Also, if you're running paid  Instagram ads, the Promotions section of the main Insights screen gives you relevant stats on your campaigns.
Socialbakers
With Socialbakers, you can get a free report on your most popular Instagram photos, filters, and hashtags, and all of your interactions with followers. The most useful sections are the most liked and most commented posts because this information can help inform the types of images you use in future Instagram posts.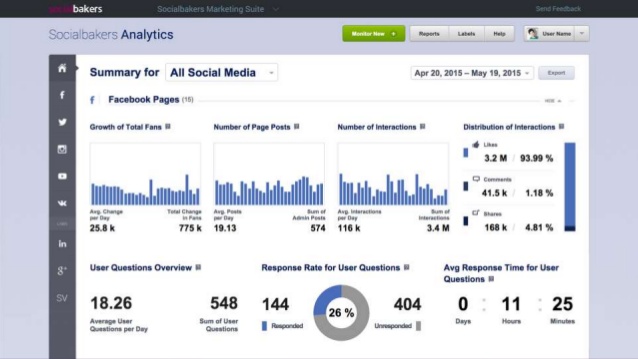 To get your free report, go to  Socialbakers' Free Instagram Analytics Tool and click Login With Instagram.
Simply Measured
Simply Measured offers a free Instagram report for users with up to 25,000 followers. The stats and insights are presented clearly and will help inform your Instagram posting strategy. The report lets you quickly see what has worked well in your Instagram marketing, so you can apply these insights to future posts. To get started, type your Instagram account name in the text box and click Authenticate With Any Instagram Account. Then log in and authorize Simply Measured to access information from your Instagram account. When you receive your report, you'll find three tabs of information: Charts, Scorecard, and Appendix. The buttons in the top-right corner of the screen let you download the report to Excel or export it to PowerPoint.
On the Charts tab, you can view a wealth of insights about your most engaging posts and average engagement per post. Moreover, the Engagement chart shows Instagram engagement over time. See total engagement, engagement as a percentage of followers, and information on likes and comments your photos and videos received.
You can also examine the Scorecard (it gives you some basic stats about your Instagram account) and Appendix Tabs (check out a table of your top posts sorted by highest engagement with the date of the post, type, likes, comments, and total engagement – likes and comments).
It offers a free Instagram account checkup to assess how you're doing on the network. While the report isn't as comprehensive as some others, it offers handy nuggets of data for marketers. It helps you determine the best time to post,  which hashtags to use, and what content to post more (or less) of. It also highlights your top followers and reminds you to engage with them. To access your free report, click Start Your Checkup on the home page and then sign up for a Union Metrics account.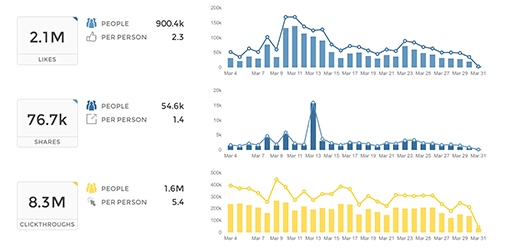 You can view the number of posts by day. Use the icons in the top-right corner of the page to share, print, or download your report. Scroll down to examine more stats with recommendations from Union Metrics, such as the best time and day to post. You can also view stats and visuals for your top-performing posts. If you click the circles on the hashtag report, you can see more information about the hashtags, which is a handy feature.
Squarelovin
With  Squarelovin, you can get free basic Instagram analytics. The Optimization section offers insights that help inform Instagram posting. The "worst times to post" information is especially valuable. First, you'll need to  sign up for a Squarelovin account. On your dashboard, you can view high-level stats and access additional analytics screens. On the Postings tab, you'll get information on your post history and top posts. It also shows your posts by year and month and day and time. The Engagement tab shows information on likes and comments, and highlights the top liked and top commented posts. The Optimization tab shows the best time and day to post on Instagram, but also the worst times to post on specific days.
If you use different filters on Instagram, you can also view the impact of those filters. Moreover, the report lets you see all of the Instagram hashtags you've used next to a list of the most popular hashtags. You can quickly see if you're using top hashtags or if you need to rethink your hashtag strategy.
Understanding whom your Instagram fans are and what content they engage with and when will give you ideas for future content to share on the network.