Top 3 Influencer Marketing Campaigns of 2017
Influencer Marketing campaigns are a great tool for marketers to increase brand awareness, convey a specific message and drive sales.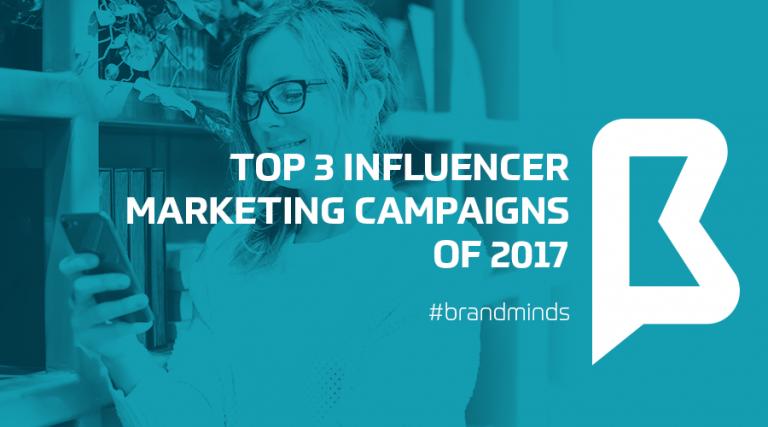 The biggest challenge for brands creating an influencer marketing campaign is to find the perfect influencer. When brands choose the right influencer, the campaigns have great results and become viral.
Do you plan to create an influencer marketing campaign for your company?
Read on and get your creative juices flowing!
Top 3 Influencer Marketing Campaigns of 2017
1.

KFC

– Never-ending summer
Brand: KFC
Product: Krushers Moktails
Campaign goal: extending sales outside season
Channel: micro-site
Influencer: Fuego
Campaign results:
17 million views;

74% organic reach in social media;

168 extra days of Krushers Moktails in the menu.
This campaign received the Silver award at Internetics 2018.
Why we chose this campaign
Summer is coming to a close. Millennials' posts on Facebook stopped showing cool places at the seaside. They are short for money and have no fun stuff to do in the city. Winter is on the next corner and sadness is overpowering everyone. Who is the harbinger of winter? Fuego with his all time hit: Mother, decorate the Christmas tree. If we keep him busy and prevent him from decorating the Christmas tree, will we be able to extend summer?
KFC built a dedicated micro-site for this campaign, recorded Fuego doing all sorts of activities (singing, telling jokes, playing kendama, reciting a poem etc) and asked visitors to keep him busy. The campaign worked out brilliantly and became a viral hit. 
Why was this campaign successful?
Fuego is a middle-aged musician singing romantic songs. He has a long history of being the subject of jokes, irony and internet memefication. The unexpected association between Fuego and KFC drawn the Millennials' attention;

Visitors engaged with Fuego on the micro-site which contributed to campaign's fun;

Fuego's humour and self mockery was a surprise to everyone and propelled the campaign forward.
2.

Target Easter

with Zach King and lifestyle influencer Naomi Davis
Brand: Target
Product: Seasonal easter candy & decorations
Campaign goal: 
Channels: Instagram
Influencer: Zach King and Naomi Davis
Campaign results on Zach Kings' Instagram post:
8,599,024 views;

7632 comments.
Why we chose this campaign
To celebrate 2017 Easter, Target teamed up with Zach King and Naomi Davis to create five Easter baskets and a truly magical celebration for children.
For kids, Easter celebration is all about egg hunting and other surprises. Zach with his magic video tricks is a perfect match.  
Zach King, filmmaker and YouTube personality will be speaking at Digitalium 2018, the Hottest Digital Marketing Conference taking place in Bucharest, on October 12th.
Watch Zach's video for Target:
3.

Ask for a raise

with Cindy Gallop
Brand: The Muse, a career building website
Campaign goal: helping women ask for a pay raise
Channel: Facebook Messenger + chatbot
Influencer: Cindy Gallop
Campaign results:
Over 110 million media impressions worth over $1 million in earned media;

In the first seven days, Brand partners saw 5x the normal daily reach on social media and traffic to their site;

The tool has seen over 100,000 users, 86% of them female (ages 18-44), with conversations lasting an average of 1 minute and 43 seconds.
Why we chose this campaign
Amongst the reasons why women are 25% less likely to receive a raise are the facts that women often don't know how to ask, when to ask, and how much to ask. Women lack confidence and self worth (read our article on how to build confidence). Building a case for pay raise is daunting for most women and is an individual challenge. That's why Facebook Messenger is the perfect medium because it preserves women's privacy. The Cindy Gallop Chatbot creates a private conversation between two women backed by data and supported with sass. The combination between Cindy's personality and chatbot technology resulted in a powerful tool that supports women's right to equal pay. 
This campaign received the 2018 Shorty Awards in the Facebook Partnership category.
Watch the campaign's video here:
Did you like this article?
Share it with your community!
Big influencers attract thousands of dollars for just a post on social media
Only 3% of the marketers said they planned to cut back on influencer marketing in the coming year, versus about 75% who anticipated spending even more on it, says emarketer.com. Moreover, according to the website, companies are paying the most for celebrity posts, especially on certain platforms. On average, posts by celebrities with at least 1 million followers (considered as influencers) cost nearly £65,000 each ($87,731), with Facebook posts demanding a leading rate of approximately £75,000 ($101,228).
Influencer marketing costs are going up in the UK, according to research by  Rakuten Marketing and  Morar Consulting, but prices per post vary considerably depending on reach and platform. This month, polling of UK marketers working directly on influencer programs from sectors including fashion, beauty and travel, approximately two-thirds of respondents had seen the prices influencers charge for posts go up in the past 12 months. In some industries, the costs were even higher, with some premium fashion brands, for example, paying celebrity influencers more than £160,000 ($215,954) per post.
"UK marketers are willing to pay celebrity influencers on Facebook up to £75,000 for a single post mentioning the brand they want to promote, a new survey has revealed. They are also prepared to pay celebrity influencers £67,000 for each YouTube video that mentions their brand, while key influencers on Snapchat can expect to be paid as much as £53,000 per Snap," writes www.warc.com.
Spending was much more modest for so-called micro-influencers—those with 10,000 or fewer followers, due to the fact that only a fifth (20%) of marketers claim they are able to demonstrate the impact of influencers through indirectly influenced sales. Prices averaged at close to £1,350 ($1,822) per post, with YouTube and Facebook commanding the highest prices—more than £1,500 ($2,025)—and Snapchat the lowest at just over £1,000 ($1,350).
"Decision makers questioned from across a variety of sectors including fashion, FMCG, beauty and travel admitted that they would shell out as much as £53,000 per  Snapchat post, which despite coming in at significantly less than the value they placed on other platforms, is notable given that Snapchat's ephemeral nature means videos and pictures disappear within 24 hours of being posted," said Rebecca Stewart for thedrum.com.
Overall, respondents said they would devote an average of 24% of their marketing budgets to influencer marketing in the next 12 months. That figure's higher than the share of budgets that the largest percentage of marketers in the UK and US said they devoted to influencer marketing in a March 2017 study by  Econsultancy. In that study, between half and six in 10 luxury and non luxury brand marketers said they invested less than 10% of their overall marketing budgets to influencer marketing. But the second largest shares of respondents were similar in their spending allotment to those in the Rakuten and Morar study.
Affiliate marketing firm Rakuten Marketing spoke to 200 UK marketers working on  influencer programmes and found that post-for-post they were prepared to pay 12% more for Facebook endorsements than they were for YouTube. The research also found that despite the value brands clearly place on high-profile influencer slots, the majority of those asked (86%) admit they aren't entirely sure how influencer fees are calculated. Which is pretty odd, especially after the last years of change in the media buying market, the restriction of budgets and the overall risen caution.
Why are the influencers so important for marketers when it comes to social media? According to The Economist, social media offer brands their best opportunity to reach cord-cutting millennials: Snapchat, for instance, reaches 40% of all American 18- to 34-year-olds every day.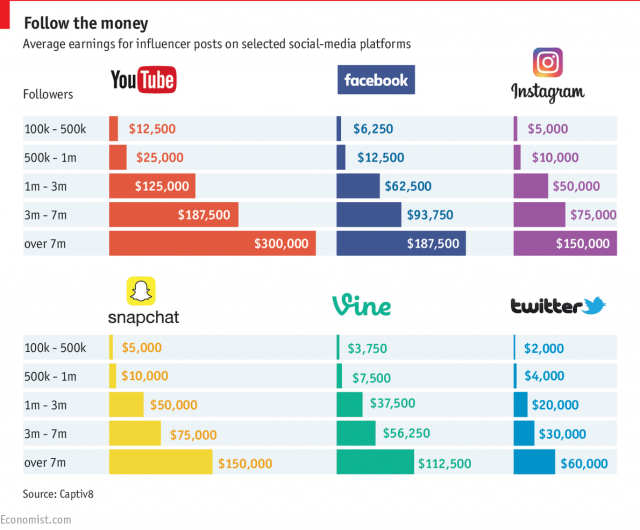 "Moreover, these platforms can make consumers feel they have gained unprecedented access to the lives of the rich and famous. That lets sponsors interact with their target audiences in ways that traditional advertising cannot match. In turn, demand from marketers for these channels has made social media lucrative territory for people with large online followings," wrote the famous business magazine.
On the other hand, while 59 per cent of marketers state the influencers they work with will take guidance from them around best practice, 56 per cent of premium fashion marketers admit to a situation in which influencers hold all of the power. For example, only 20 per cent of marketers state influencers are prepared to follow their lead when it comes to guidance around billing.
Less than a third (29 per cent) believe that the influencers they work with are entirely concerned whether their content drives sales for the brand. Interestingly, when asked what would encourage marketers to invest more in an influencer programme, greater transparency and better reporting of influencer contribution to sales now rank as the highest factor (50 per cent).
James Collins, Rakuten Marketing's SVP/managing director, global attribution, comments, "Influencer marketing can be hugely effective but marketers are commissioning expensive posts without understanding the real impact on the purchase journey. It's essential that marketers question influencer fees and use attribution tools to measure the effect of this activity in order to create strong, value-driven relationships between brands and influencers."