Miquela, the Non-Human Influencer on Instagram
Miquela's Story
Miquela is 19 years old, she is a musician living in LA and she calls herself a robot.
Her Instagram profile has 1,4 million followers.
She uses the highlights feature to post diary pages addressed to her followers. Here she wrote about her life story: how she was built by a company in Silicon Valley called Cain Intelligence with the purpose of being a servant to the rich. She was then rescued by a couple, Trevor and Sara who became her managers and her family giving her a home, a career, "pretty much everything I have".
When she started her Instagram account, back in 2016, she didn't came out to people that she was not a human, but a robot.
She knew she was different and because of that she was afraid people would hate her and reject her. So she kept quiet about her true nature. Until another robot, Bermuda hacked her account and forced her to "reveal my true self to the world."
A period of rebellion followed, quite typical to any teenager: she left home, got a tattoo, she felt sad, alone and for a while she isolated herself from the world. She eventually came back home to Trevor and Sarah and life got back to normal:
"Coming back home wasn't easy, but it just felt right. Now that I'm feeling like myself again, I can be there for other people and give my full self to my art."
She is aware that being forever 19 may be fun but it is also a strange feeling, which "freaks her out". But there is a reason she chose to be 19:
"I wanna get good at being 19, so I can help people going through the hurdles of being young in the world right now. Feels like there's not much hope for the future as there was in other generations. I'm setting an intention right now to help make everything feel possible at 19 again."
Trevor and Sara, her "parents" have drawn her story with the purpose of humanizing her.
Her experiences have also allowed her to become a supporter of various social programs, which are mentioned on her Instagram profile. Being different from other people and afraid to come out as a robot is a parallel to the life experiences of gay people. She is 19 years old and very much like any teenager out there: a little rebellious, doing what other 19 year-olds do, learning to drive, crushing pool parties with her friends a.s.o. It helps young people feel connected to her.
View this post on Instagram
Miquela's career
Miquela has released several songs; the latest is a collaboration with Baauer, music producer and is called Hate Me. In her own words, the song is about the consequences of being different and the repercussions of being yourself online.
"I have to let myself feel the pain from what people say about me. The only difference is now I'm owning the hurt. I don't care anymore. (..) I'm going to be the greatest artist of my generation. So go ahead and hate me."
"So what if she's not real?"
Many fashion magazines profiled her including the famous Vogue Magazine where she was the subject of a whole article. The article's author heralded Miquela as being the influencer able to shake up the fashion industry even though she is not real. She also did an Instagram takeover for Prada as part of Milan Fashion Week.
Miquela's presence triggers a wide range of emotional responses
Miquela is actually part of a digital art project along with her friends of the same nature, Bermuda and Blawko22. But because she introduces herself as robot, people are confused.
Comments on her posts range from appreciation of her beauty, people expressing interest in her clothes, discussions about her body to downright hate or love.
I'm confused
This is weird
I hate you
I love you
This has gone too far
Has anyone ever seen her because I need to know is she is real
I'm scared
She is just digital art that many people have made videos recreating. I say unfortunately because it would be amazing if technology & robotics had gotten this far! But they haven't quite yet. I guess it's fun to believe in stuff like this as a kid, though..
So she's a robot????!! I don't understand
I love robots
Dude we really are in the future
Non-humans should not have Instagram accounts
She's not a robot, she's just ridiculously smart
Is Miquela a social experiment?
We don't know. If she is, this experiment reveals what we already know: people are mean towards people that are different. Although Miquela is only a computer-generated image, some people ironically react with the same hate as if she was human: they crack jokes on her being a robot (your cousin is a toaster). She takes her mission of raising awareness on social issues very seriously, but these people diminish her actions' value by subjecting her to ridicule.
"I understand that I'm different from you all. I'm just confused as to why you feel the need to remind me of it, every second of every day. You're all probably like just 'shut up and look cute, robot girl'. No thanks. Not gonna do it."
10 Things You Might Not Know About Gary Vaynerchuk
BRAND MINDS is The Central and European Business Summit taking place in Bucharest, Romania.
Here are 10 things you might not know about Gary Vaynerchuk
American serial entrepreneur, four-time New York Times bestselling author, speaker and internationally recognized internet personality. First known as a leading wine critic who grew his family's wine business from $3 million to $60 million, Vaynerchuk is now best known as a digital marketing and social-media pioneer at the helm of New York-based VaynerMedia and VaynerX.  Angel investor or advisor for the likes of Uber, Birchbox, Snapchat, Facebook, Twitter and Tumblr, he is a regular keynote speaker at global entrepreneurship and technology conferences.
1.No matter the amount of success and money he has at this point he is still working 13-15 hours a day.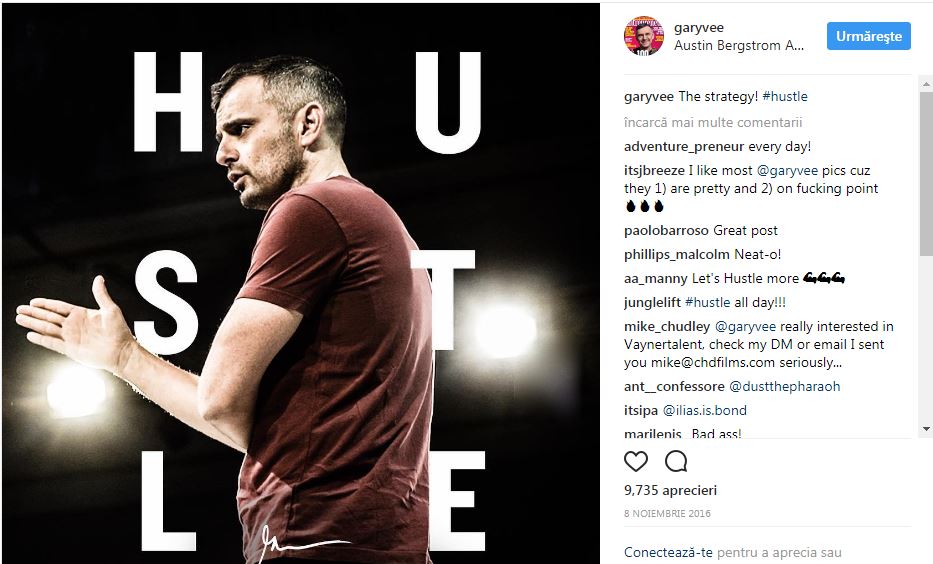 2.  He is into every aspect of his life 100 %, ready to give 51 % of the value to the other person.
3. He tries to figure out what you are going to do, before you do it
4. He's passionate with the New York Jets. His dream as a child was to become the owner of the New York Jets and it still is.
5. He's an HR Driven CEO. He is very interested in his employees' ideas and opinions and their feedback on everyday work.  He uses empathy and tries to understand "why". 
6. He believes it's in his DNA to be an entrepreneur. It's the life he breaths and loves to, every day. 
7. He doesn't care about others' opinion on him, as he knows very well who he is. "I put zero weight into anyone's opinion about me because I know exactly who I am. Can you say the same?", quotes medium.com
8. He believes that a person's friends and family can influence their success. "Maybe if you got rid of one friend or spent a lot less time with one friend who's a real drag and a negative force and added a positive person in your office … If you switched it from 80 days hanging out with your negative friend and one day with your office acquaintance who's super positive, to four days with your negative friend and 12 with this new person. I've physically watched I mentor in my organizations have a totally different life on that thesis……I think that people are keeping very negative people around them and if they aspire to change their situation, it's imperative to audit the seven to 10 people who are around you," Vaynerchuk told Business Insider.
9. He is a Judge and Adviser at the Apple's show " Planet of the Apps", alongside Jessica Alba, Gwyneth Paltrow, Will I.AM.  More on the program you can read here.
10.  In #AskGaryVee he cuts straight to the heart of the question and what it says about the person asking the question — their motivations, their fundamental assumptions and what their real question should actually be.
Are you a #worldchanger?