Best 8 goal-tracking apps to help you achieve your objectives
1.
Adidas Running

– Sports, Fitness & Run tracker

With over 50 million downloads, the Adidas Running app is a GPS and workout tracker for running beginners, 5k and marathon training.

Users can map their runs and track minutes, miles and calories burned for over 120 activities.

The app invites users to take part in challenges and virtual races to keep them on their toes and keep the competitive spirit alive.

Users can also create their own fitness community to motivate them and push them forward when they follow other users.

The app has built-in GPS tracking so that users have all their workout statistics and progress in one place and allows users to score activity so they record when they reach a new personal best.

Adidas Running has a powerful goal-setting feature that supports any goals the users set, whether it's distance, duration or weight loss and allows them to choose a daily, weekly, monthly or yearly goal. A newly-added statistics section prompts users to compare their performance from the past weeks, months and years.
What the users like about Adidas Running:
Live tracking voiceover,
Satellite imagery of the route and the stats, graphs and charts,
Prompt customer service,
Accurate data imports
Helpful and interesting articles on the blog
Reliable and easy to use
Great for running and cycling
2.
Fabulous

: Daily motivation & habit tracker

Fabulous is a gentle coaching tool to help users build routines to become their best self.

Incubated at Duke University Behavioral Economics Lab, Fabulous was nominated for Google Play's Best App Award and won Google's Material Design Award for Most Charming Engagement.

The app's ultimate goal is to instil habits that improve users' health.

Fabulous is a science-based app that will motivate users to improve their fitness and achieve their weight loss goals. It also is a great helper for sleep cycle reboot and anxiety reducing mindfulness.

Users are nurtured to learn to build a transformative morning routine and even pick up life-changing habits like meditation and yoga.

Unlike other goal-tracking apps, Fabulous steps into the role of a life coach, building motivation so users can focus on developing habits that reduce the level of anxiety and improve daily productivity.
What users like about Fabulous:
Imagery and sound effects
Quick and easy to use
Easily incorporated into the flow of your day without feeling annoyed or distracted
Lays out the plan for users
Doesn't feel regimented
Holistic, incorporating body, mind and soul
Customizable
3.
Todoist

: To-Do list, tasks & reminders

Online magazine The Verge named Todoist "the best to-do list app right now" and it was Google's selection for 2020 Editor's Choice.

With Todoist, users can capture and organize tasks the moment they pop into their head.

Having trouble remembering deadlines?

Todoist helps you with that by sending you reminders and due dates.

Users can build lasting habits with recurring due dated. They can collaborate on projects by assigning tasks to others and prioritize tasks with priority levels.

The app allows users to track their progress with personalized productivity trends.

Todoist also integrates with other tools like Gmail, Google Calendar, Slack, Amazon Alexa and more.
What users like about Todoist:
Automatically schedules tasks
Excellent app on both mobile and desktop
Intuitive interface
Quick and easy to structure
Ability to divide tasks by project
Ability to assign priorities
Fast
4.
Daylio

– Diary, Journal, Mood tracker

Daylio is a self-care bullet journal with goals. The app enables users to keep a private journal without having to type a single line.

Daylio is built on three principles:
Reach happiness and self-improvement by being mindful of your days;
Validate your hunches ie how your new hobby influences your life;
Form a new habit with no learning curve.
The app allows users to create daily, weekly or monthly goals. The users can motivate themselves, build habits and collect achievements.
Daylio collects recorded moods and activities in the statistics and calendar so users can discover what makes them happy.
The app allows users to keep track of activities and create patterns to become more productive.
What users like about Daylio:
A wide range of customization and options to make the app for them
Notification reminders for goals
Useful for memories
Great support team
High level of flexibility
Aesthetically pleasing
Easy to use
Great app to keep track of moods and identify problems
5.
Any.do

– To do list, task, reminders & planner

The Wall Street Journal named Any.do the #1 to-do list app out there and was selected google's Editor's Choice.

Any.do is a free to-do list, planner and calendar app for managing and organizing your daily tasks, to-do lists, notes, reminders, checklists, calendar events and more.

Users can create and set reminders with voice and add them to their to-do list.

For better productivity, the app provides users with calendar integration to keep their agenda always up to date.

Any.do integrates with a slew of tools like Google Calendar, Evernote, Wunderlist, Salesforce, Zapier and more.

The app has an intuitive drag and drop feature and a shaking feature to remove completed tasks from the user's to-do list.
What users like about Any.do:
Easy to use
Incredibly versatile
Great customer service
Seamless connection between multiple devices
Unique and simple features
Flexibility to do planned work on time
Hierarchy for to-dos
6.
Loop Habit Tracker
Loop Habit Tracker helps users create and maintain long-term positive habits.
The ad-free app provides users with detailed charts and statistics to give them a clear picture of how their habits have improved over time.
The app has an elegant and minimalistic interface that is very easy to use.
It helps users through its advanced formula for calculating the strength of their habits. Every repetition makes the user's habit stronger.
Loop doesn't impose limits on how many habits users can have and doesn't require an internet connection or online account registration.
The user's confidential data is never sent to third parties.
What users like about Loop Habit Tracker:
Ease of flexibility to define goals
Data is not automatically stored in the cloud
No ads
Makes progress visible in the most simple and informative way
Effective
Very helpful in forming new habits and curbing bad ones
Highly customizable
Easy interface that doesn't intrude
7.
Habit Hub

– Habit tracker and goal tracker motivation

HabitHub tracks habits, helps users accomplish their goals and rewire themselves.

The app is based on Seinfeld's productivity tip which involves building long streaks of days. These streaks motivate users to keep moving forward.

HabitHub comes with four prebuilt themes and a full-featured calendar view for every habit to track and visualize.

The app is integrated with smartwatches allowing users to mark the days directly from the watch.

Users are prompted to make the most of the app's flexible scheduling system which can track any habit.

Habits are also categorized according to various aspects of users' life.
What users like about HabitHub:
Intuitive design
Helpful and motivating without feeling oppressive or overwhelming
Very useful for employees working at home
Excellent statistics
Flexibility
It makes it very easy to keep track of multiple habits at once
The rewards option
8.
Goal Meter

– Goal tracker, habit changer, to-do list

Goal Meter is a goal tracking and habit changing tool. It allows users to schedule their day in advance, increase productivity and improve efficiency.

The app allows users to improve their time management skills by breaking down goals into daily routines and habits which is suitable for anyone looking to do more in less time.

Goal Meter makes it easier for users to complete goals by allowing them to pick habit templates like Study, Exercise, Diet, Work, Health, Financial, Bad habits to stop and more.

The app is more convenient than a calendar for routine tasks as it doesn't clutter the calendar schedule.
What users like about Goal Meter:
A fun app that is great for smart goals
Great for time-bound goals
Great app for achievers
It gives users the ability to be as specific or general as possible
It allows for psychological helpful factors like identification, stair-stepping, accountability and visualization
Pleasant and easy to use interface
Clicking the Done button keeps users motivated
Great artwork
Setting goals according to different measurements
Join the Conversation
Gmail's Makeover And How It Can Influence Your Working Habbits
Google gave Gmail a big refresh that will change the way you interact with it and help you even more than before. As first reported by The Verge, the upgrade was revealed in a message from Google to administrators of G Suite accounts. The message stated that the changes would be coming to consumer Gmail accounts, as well as G Suite accounts.
The redesigned Gmail web interface is focused on quick productivity actions. Google is introducing features such as attachments chips, hover actions, and hover cards to make the static inbox experience more interactive without the need for multiple clicks. Google is also surfacing several labs features that were previously hidden in Settings > Labs, like canned responses, the ability to create multiple inboxes, and a preview pane to customize your preferences for different inboxes.
According to Fox News, Gmail is getting deeper G Suite interactions to directly create and edit Google Calendar invites, send notes to Google Keep, and manage to-do items in Tasks. "Google is also releasing new Tasks mobile apps for Android and iOS for adding and editing tasks from your smartphone to manage in Calendar and Gmail. The Tasks app is available today in the iOS App Store and Google Play Store.  Aside from the new-look web app and Tasks mobile apps, Google also announced new security features, including Gmail confidential mode, and expanded AI capabilities like smart replies and notification priority settings," added Fox News.
Here are some of the main changes and how they will impact you
Smart Replies and Smart Filtering
New AI-powered features in Gmail, like Nudging, Smart Reply and high-priority notifications, can now help you spend more time on work that matters. With Nudging, Gmail will proactively remind you to follow up or respond to messages, making sure you don't drop the ball.
Smart Reply offers pre-set, one-line replies for any email. The replies are not just standard answers, but customized according to each email, due to machine learning, that suggest responses to you, in order to help you save time. Moreover, two new features promise efficiency improvements through smart filtering. Notifications for high-priority messages help you focus on your most important work. From now on, Gmail will pay attention to frequent newsletters and suggest you give them the boot by unsubscribing if you stop opening them.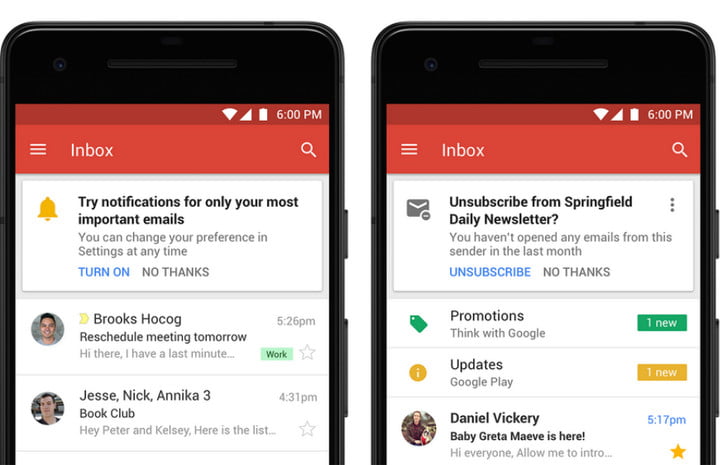 Protection from risky emails 
Built-in Information Rights Management (IRM) controls also allow you to remove the option to forward, copy, download or print messages. This helps reduce the risk of confidential information being accidentally shared with the wrong people. Confidential mode will begin to roll out to consumer Gmail users and a limited number of G Suite customers in the coming weeks (broader rollout following).
Moreover, the redesigned security warnings within Gmail are simpler to understand and give a clear call to action to employees. These bigger, bolder warnings will help you be even more informed when it comes to potentially risky email.
"When you compose sensitive email you can remove options to forward, copy, download, or print the messages. The option to protect your outgoing email with two-factor authentication — the recipient needs to log into their own email and click to receive an unlock code via SMS text to read the message you sent could help you sleep better at night if you later discover their email account was hacked," wrote Digital Trends.
Icons for Action Buttons
In the old Gmail interface, you'll find the action buttons in the inbox along with a text label. In the new interface, Google has turned these action buttons into icons — you can't read any text labels anymore. Also, this new icon menu has got two additional actions for quick access: Mark as read/unread and Snooze.
New Sidebar
It shows icons of other Google services like Calendar, Keep and Tasks. Tapping any icon expands the sidebar allowing you to quickly access your calendar entries, notes or tasks synced to your Google account. Any changes you do in these apps is synced back to the cloud and is instantly accessible on your other devices. You can also access third-party Gmail add-ons from the same side panel.
New native offline capabilities in Gmail on the web can help you work without interruption when you can't find Wi-Fi. Search, write, respond, delete, or archive up to 90 days of messages, just as you would working online, but offline.
You can use Tasks to create tasks and subtasks, and even add due dates with notifications to help you stay on track. And because Tasks closely integrates with G Suite, you can simply drag and drop an email from Gmail into Tasks to create a to-do. Tasks with due dates can also appear in your Calendar. You can download the new Tasks mobile apps from the Google Play Store or  iOS App Store today.
Different Display Modes
According to Economic Times, Google has added three view modes: default, comfortable and compact. Default view is ideal for large screens where you can open the preview of attachment in an email right from the inbox. This means you don't need to open the email itself. Comfortable view is great for laptop users – it has large text which is easy to read sans the preview option of the default view. Compact view is the same as before.