France and Germany to support the tech start-ups
France and Germany want to build an European Union-wide initiative to fund innovation and research in tech start-up projects across the bloc so that EU can compete more effectively against the tech companies of the United States and China, according to Reuters.
Berlin and Paris called for the European Innovation Council to fund "ambitious" technology start-ups in a paper presented to European Union leaders at the Balkan summit last week.
"A joint effort is also needed to further improve the venture capital environment and regulations to allow successful market transfer of breakthrough innovations, as well as the foundation and growth of disruptive deep technology companies in Europe," the paper said, according to Reuters.
France and Germany are pushing for reforms in various sectors before a summit of EU leaders in June. At the same time, they say the aim is to create a network to bring breakthrough innovations in science to the marketplace and to open up the network to other interested EU countries.
France and Germany want national initiatives to be complemented by EU ones, which can have more added value for the establishment and the growth of tech start-ups, the paper said. The two countries want their project to focus on tech leaders in academia as well as entrepreneurs and to provide funding for high-risk tech projects.
According to pymnts.com, France has already promised to spend 1.5 billion euros ($1.75 billion) on artificial intelligence by 2022.
There are also companies committing to help the EU grow in the technology sector. Last year, for example, Samsung's venture capital arm announced it will use a $150 million global funding round to invest in early-stage startups in Europe for investment or acquisition, focusing on tech companies working on artificial intelligence, the Internet of Things, augmented reality and virtual reality.- pymnts.com
How Luxury Marketing Will Look Like in 2018
The concept of luxury is changing, just like everything we are surrounded by is, like our preferences and sometimes passions. Consumer expectations of luxury continue to rise, and that what used to be luxury is now seen by the current generation of consumers, everyday experiences. And, as always, technology has a big part in this change as it makes everything easier,closer and more affordable, therefore what some years ago was considered luxury today might not be so. And just like what today is luxury in the years to come might not be anymore. The definition of luxury is changing, while "upper luxury" appears.
According to Deloitte's "Global Powers of Luxury Goods 2018", the world's 100 largest luxury goods companies generated sales of US$217 billion in FY2016 and the average luxury goods annual sales for Top 100 companies is now US$2.2 billion. The report discusses the trends and issues that are driving the luxury industry. It also identifies the 100 largest luxury goods companies based on publicly available data for FY2016 (which they define as financial years ending within the 12 months to June 2017), and evaluates their performance across geographies and product sectors.
The growing importance of non-western markets for the luxury goods industry has been supported by supply chain leadership, technological innovation and international investment. These factors will help maintain further strong
growth in these geographical markets.
Deloitte's "Global Powers of Luxury Goods 2018" points out:
Luxury brands have refocused their business strategies to capitalise on these changes. Giorgio Armani is engaged in an in-store installation collaboration agreement with Colombian artist Marta Luz Gutiérrez, while Louis Vuitton is conducting an advertising campaign using a
building designed by the late Mexican architect Luis Barragán. Rising prosperity in major cities and growing formal market power over the black market will ensure sustained Rest of the World (ROW) demand for luxury goods. To succeed in this context, luxury players should focus their investments on digital connectivity, upwardly mobile consumers and bold business models, which are key components of the
personal luxury industry today.
Some aspects that marketers must pay attention and act on in 2018:
Still according to Deloitte, collectively, Millennials and Generation Z will represent more than 40 per cent of the overall luxury goods market
by 2025, compared with around 30 per cent in 2016. Unlike Baby Boomers, many Millennial luxury consumers expect to interact with brands across a range of digital platforms, rather than only through traditional channels. Millennial consumers are also important for in-store shopping and expect a high-value, customized experience. Luxury brands should seek to change their business models to meet this demand, for example by providing more loyalty
programs and invitations to in-store events.
Customize your approach according to your audience. Personalization is still key as a marketing technique to be used as 45% of luxury consumers are asking for personalized products and services. With different expectations, younger
shoppers seek a personalized shopping experience that seamlessly integrates both online and offline platforms. This shift has motivated demand for connective technology such as Augmented Reality (AR) and Artificial Intelligence
(AI). By using AR and AI technologies, luxury brands can provide a personalized consumer experience, reach a wider audience, deepen product experience, and build stronger customer relationships. In parallel, the development of technologies such as voice commerce and the Internet of Things (IoT) are reshaping the entire luxury industry.
Luxury brands positioned as reliable sources of AI-driven recommendations are improving how they engage with consumers. More widespread adoption of AI is also making consumers increasingly reliant on suggestions and advice
provided by their various devices, rather than making decisions based on personal experience.
Social media becomes an important marketing tool for luxury as well. Instagram became the leading social media platform for fashion designers. Gucci more than doubled its Instagram followers between 2016 and March 2018, with successful Insta-campaigns such as #TFWGucci.
In future, the biggest challenge for luxury brands will be to make optimum use of social media without compromising their brand values. The success of a social media strategy will be converting "likes" into an interactive and engaging experience for customers.- Deloitte
An omnichannel approach – onnichannelluxury
A true omnichannel global market environment would require luxury brands to close gaps in customer experiences across channels, to offer a seamless, unified brand experience irrespective of the device or physical touchpoint used. Therefore, each channel needs to interact with and support
others to establish a single brand presence. Demand for an omnichannel approach is a natural development from the spread of digital technology and
e-commerce markets. During this process of change, the ability of luxury brands to leverage available inventory will be a key differentiator.
Digital must remain a priority to define an omnichannel strategy compatible with target expectations. The percentage of online sales perceived as being additional, and not a cannibalization of, physical sales is decreasing each year, with China the least cannibalized country to date.
"Luxury brands should develop their mobile strategy: 55% of luxury consumers buying online use their mobile phones versus personal computers. Peaks appear among the youngest generations and Chinese consumers, 75% and 77%, respectively, of whom use mobile. Social media and influencers are gaining power. For the first time, social media is the first source of information and the channel of primary impact used by true-luxury consumers, followed by magazines and brand websites. Five platforms (Facebook, Instagram, WeChat, Weibo, and QQ) are dominating the social media world, but Facebook is losing momentum to Instagram in the Western world and QQ is losing momentum to WeChat and Weibo in China," states in "True-Luxury Global Consumer Insight", the fifth edition of an annual study by The Boston Consulting Group (BCG) and Altagamma.
Millennials: Consumer Aspirations Are Disrupting Luxury
Collaborations with streetwear brands and artists are becoming the norm for Generation Zers and Millennials. "Collaboration covers demand for newness in a less risky way. It gives brands a cool edge and strengthens brand awareness as well as increases willingness to buy the brand. Collaboration is increasingly in demand and turns out to be a very effective purchasing incentive," said Olivier Abtan, a partner in BCG's Paris office and the global leader of the firm's luxury, fashion, and beauty topic.
Unlike "absolute luxurers," who buy luxury items exclusively, millennials do not hesitate to mix and match. According to BCG's study, about 55% of this group trades down to buy handbags or T-shirts from cheaper brands, or mixes their style by buying sneakers and luxury shoes from luxury niche brands (including luxury sports). This trend appears to fulfill consumers' need to create their own style. When they do look for different brands, it's because luxury brands don't have offerings in certain categories or because of the Millennials' desire to have a unique style, express themselves, and seek out niche brands.
Use iconic personalities in your communication
With all the big changes, some things are meant to last and take the test of time. Chanel's iconic marketing history began with a print advertisement for its perfume, Chanel No.5, in 1921. Its first celebrity endorsement didn't feature until 1954, with Marilyn Monroe. However, it wasn't until 2005 when Chanel first adopted videography, and from here, the rest is history.
"Despite not adopting social media and integrating the platform with videography until 2009, its marketing strategy is nothing short of stupendous. Selecting admirable public figures such as Keira Knightley and Nicole Kidman to star in Chanel's unmistakable short films, revived the brand as an iconic symbol of both cultural and digital relevance. With the use of video and social media integration, Chanel has grown to having more than 57 million social followers globally, the highest in the luxury fashion industry. The brand focused on Facebook as their initial social media platform, due to the video capabilities such as extended video length, that Twitter and Instagram do not support. For the brand's primary consumer, the more wealthy and mature client, Facebook was the ideal platform for accessing this demographic," wrote Little Agency.
Sensory Branding
According to Retail Insider, British Airways is encashing big on a recent study on sensory sciences by Oxford about how sound influences the taste of food. Based on the findings of this study, they launched a list of 13 in-flight tracks to enhance the taste of the meals served during the flight, providing a truly luxurious experience. Moreover, Soundwich in Portugal delivered gourmet sandwiches packed in metal boxes that play music chosen by the chef when opened.
More ideas you can see here.
How will the house of 2025 look like?
The word of the future is smart. Even in the housing and design department. And as the technology is evolving at a huge rate, we wonder how it will look like in the future.
If the third industrial revolution was about using electronics and information technology to change economic systems and the way we live, the fourth will be characterized by disruptions stemming from a merger of the digital and physical worlds.
According to Yoshiaki Fujimori, President & CEO of the LIXIL Group Corporation for weforum.org, what we are seeing now with the emergence of the fourth industrial revolution is the development of cognitive architecture, which enables our living spaces to be tailored for personal and family preferences. This is set to have a profound effect on our quality of life.
"The home will become a natural, intuitive, extension of you. Rather than the occupant adapting to the home, we've entered an exciting new phase where the home works for those who live inside it. Development of AI, robotics and other advanced technologies for applications within the living space has been underway for some time, but are gaining increased attention," said Yoshiaki.
Kevin Foreman, quoted by wired.com, believes that homes will soon become intelligent enough to distinguish between family members and guests within physical spaces and adapt to individual needs based on biometrics like fingerprints, body temperatures and even the rhythm of our own heartbeats. Therefore, in the very near future as you walk through your home, a small device worn around the wrist will authenticate your identity by pairing itself to your specific heartbeat, allowing your home to automatically adjust the lighting, room temperature and play custom music based on personalized preferences and pre-configured profiles.
Meanwhile, companies such as Nest are creating connected products that recognize homeowners' preferences and adjust settings like temperature automatically or via an app.
In the same way that primary energy use in the home shifted from lighting to more complex devices and appliances, Internet traffic is following a similar pattern. Professor Klaus Schwab's report on the Fourth Industrial Revolution predicts that the tipping point will be when over 50% of internet traffic delivered to homes is for appliances and devices as opposed to entertainment and communication, and that we can expect this tipping point to have occurred by 2025.
Here are some of the aspects that will make our lives easier:
Robots everywhere
According to the specialists, home appliances will become more self-aware, an example being the iRobot Roomba 780 which can be set to vacuum on a schedule, find its way around furniture, and even stay within a specific zone. In 15 years, devices for cleaning windows, sweeping the floor, and even making minor repairs will do their work inconspicuously. Yet, even the predictive technology in your home – using less energy during one week because the weather forecast says you will need more heat for an upcoming cold spell – has robotic intelligence.
Moreover, the journalists from http://www.plymouthherald.co.uk believe that in 15 years the companion robots will be available as part of team of collaborating robots. They will be able to monitor the wellbeing of their elderly charges, remind them to take their medicines, call relatives or cariers in an emergency, and perform simple tasks. Their owners will be able to give them shopping lists – by voice or by computer tablet – which the companions will convey via a "warden" robot who will pass it on to the outside robot, which will do the shopping. Your children might also benefit by having a "teacher" robot to help with the homework.
Solar photovoltaics on every roof
Over 15 per cent of houses in Australia already have rooftop solar installed, and forecasts show by the 2020s, solar and wind will be the cheapest way of producing electricity. Companies are already combining satellite imagery with algorithms to understand the savings you can make from your rooftop. And given the massive cost reductions of 99 per cent since 1970, and 80 per cent since 2008, it's easy to foresee that solar photovoltaics will be ubiquitous by 2025.
Still according to plymouthherald, by 2030 the mantra will become "Energy, energy, energy". Many new buildings will be carbon-neutral, meaning they will produce all of the energy they need without burning fossil fuels, and will even export electricity.
Merlin Hyman, chief executive of Regen SW, said: "For most of us our regular bill is the only time we think much about how we use energy in our homes. However, with the introduction of smart meters that is set to change. In the future we will be flexible to use energy when it is cheapest – for example charging electric cars overnight, or heating our water during the day. We may even export power back to the grid from batteries in the house if there is a surge of demand and a high price."
Everyone will have to adapt to the future of energy – and that includes the suppliers. Nigel Turvey from Western Power Distribution predicts that the growth of renewable energy will really take off after 2025.
Smart appliances
In the house of tomorrow everything will be connected through technology and the new, smart appliances are a big part of it. The interaction with the user will be easy and smooth, they will increasingly be able to learn what you want and to have it on hand.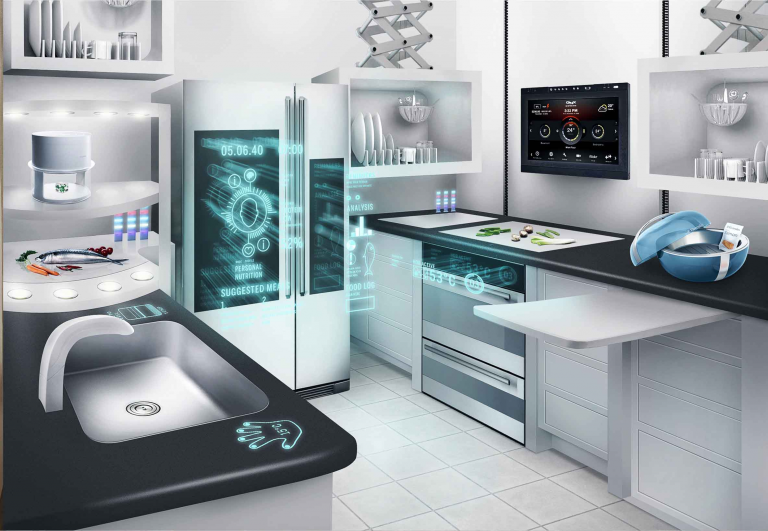 source: Emaze
The old-fashioned light switch will eventually disappear, and we will control lighting using smartphone or touchscreen panels – or even voice-activation. Smart thermostats like NEST and Hive allow you manage every minute of your home's heating schedule from a smartphone, tablet or computer. So coming home from a holiday to a cold house will be a thing of the past.
The days of the chip-stop on the way home when you're too tired to cook may be numbered too. Your fridge, connected to the Internet of Things, will not even need to ask you for a shopping list: it can tell when you're running low, and place an order with the supermarket. This technology is actually here in some countries, not in the far-away future.
When it comes to novelties, " June" is a smart oven, expected to ship this year. Its intelligent system can recognize the dish and know exactly how to cook it to perfection. June can be controlled with your iPhone or iPad, and you can monitor cooking with a live video stream.
Moreover, the appliances in one's house will operate autonomously and interact with each other and even today one still has to load the washing machine, by 2030 one will just walk away, leaving the machine to decide how dirty the clothes are, and when to switch on to take advantage of the cheapest and most plentiful electricity.
Smart living & content
Virtual reality can turn couch potatoes into globetrotters. And they won't even have to get up to hunt for a DVD: centralized streaming will give instant access to entertainment. The TV set will no longer dominate the living room: ultra-thin OLED displays will allow us to stick our TV screen to the wall, and holographics will bring characters right into the room.
The future home will be intelligent enough to predict what you want to do with content. Dell spokesperson Chad Andrews told TechRadar about a concept where media knows more about the playback device that we can even conceive today: adaptive music, movies, and photos that change shape and size (and color profiles) based on whether you are viewing them in the living room on an HDTV or on a tablet in your office. Data centers will predict the media you want to use and provide that media in the proper formats and sizes. Moreover, the number of screens in the future home will increase exponentially. To avoid overload, the visual information will integrate better into appliances, mirrors, and even the tools and household items you use. There might be flexible display on your cleaning detergent with instructions for use, or a display in the garage that reminds you about home maintenance.
Speech enabled
Whether you are a fan of Apple Siri or not, one thing is clear: speech tech has finally hit the mainstream. Your home will understand what you say. Already, Samsung and others are developing smart televisions that understand spoken commands. In the future, your home will respond to voice requests for the news, sports, and entertainment. More importantly, your home will use advanced algorithms that determine when you are speaking to the home or to your spouse – sensing a change in your tone, or interpreting a phrase that must be an instruction to change the house temperature. How about that level of smart?
Knowing you better that you know yourself
The future home will be smart enough to know what you want – sometimes even before you want it. Ford has already started experimenting with the Google prediction engine to guess where you want to go at certain times of the day. Your house will also know your preferences: when you start a movie, the lights will dim to the level you normally use. Moisture sensors in your lawn will learn how much you use a sprinkler system and adjust patterns accordingly.