Get your company back in growth model with Business Strategy for Top Executives
Are you looking to get your company back in growth model?
Then BRAND MINDS' Business Strategy for Top Executives Masterclass is for you.
Get access now, the price goes up on February 1st!
The BRAND MINDS Business Strategy for Top Executives is a full-day premium learning experience
The Business Strategy for Top Executives Masterclass is hosted online on March the 23rd and provides participants with the opportunity to learn the principles of innovative companies.
The masterclass is a full-day premium learning experience delivered by Costas Markides, one of the world's most renowned experts on strategy & innovation.
As the Professor of Strategy & Entrepreneurship at London Business School for the past thirty years, his expertise is focused on strategic and business model innovation.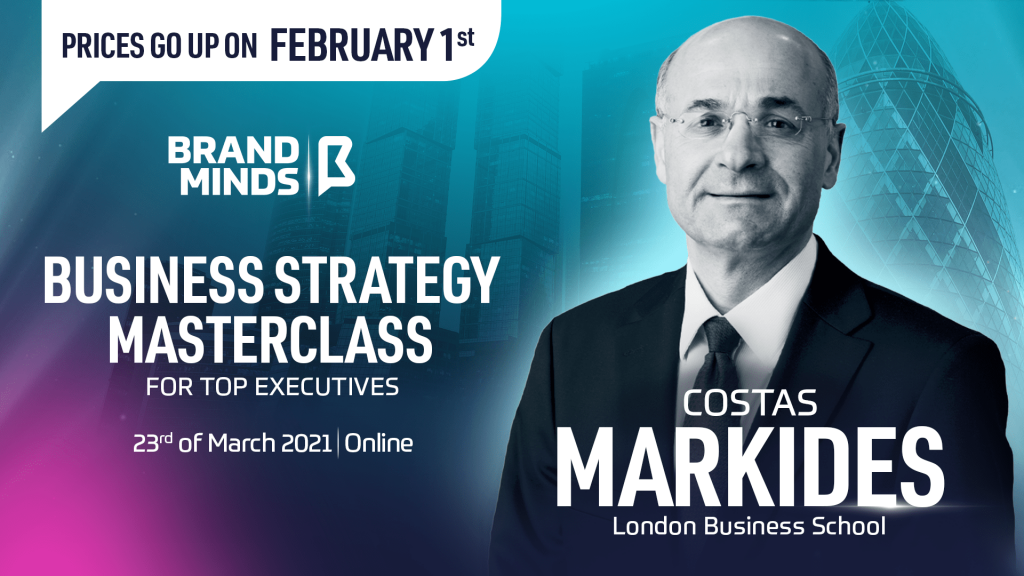 By attending this masterclass, participants will
Explore NEW BUSINESS OPPORTUNITIES;
NETWORK with top executives;
Develop a CREATIVE BUSINESS STRATEGY;
Learn to FORESEE BUSINESS TRENDS;
Generate EFFICIENT BUSINESS MODELS;
Explore how DISRUPTION CAN DEVELOP their industries;
Learn to ADAPT in a volatile business ecosystem.
Business Strategy and Innovation are the answer for Successful Top Executives
The pandemic is the most disruptive event in modern history taking an unprecedented toll on the business environment.
It has presented top executives in every industry with new challenges ranging from team management to customer behavior changes, business operations to company culture.
When disruption occurs to such an extent, business executives need to take action.
How can businesses protect themselves against disruption?
By designing a new business strategy and a company culture that encourages innovation.
Why is business strategy important?
Because strategy drives decisions in business. The strategy provides the organization with the most effective path and direction to achieve its goals.
Why is innovation essential for business?
Because innovation helps businesses grow. Organizations that are continually innovating are more likely to achieve competitive advantage.
Join the Conversation
We'd love to hear what you have to say.
Get in touch with us on our LinkedIn Page, Facebook Page, Twitter or TikTok.