Is car sharing the next version of Uber?
The carsharing or car-sharing system is a model of car rental where people rent cars for short periods of time, often by the hour. They are attractive to customers who make only occasional use of a vehicle, as well as others who would like occasional access to a vehicle of a different type than they use day-to-day.
According to Wikipedia, carsharing services are available in over 1,000 cities in several countries. As of December 2012, there were an estimated 1.7 million car-sharing members in 27 countries, including so-called peer-to-peer services, according to the Transportation Sustainability Research Center at U.C. Berkeley. Of these, 800,000 were car-sharing members in the United States.
As of July 2017, car2go is the largest carsharing company in the world with 2,500,000 registered members and a fleet of nearly 14,000 vehicles in 26 locations in North America, Europe and Asia, followed by Zipcar with 767,000 members and 11,000 vehicles. According to Navigant Consulting, global carsharing services revenue will grow to US 6.2 billion by 2020, with over 12 million members worldwide. The main factors driving the growth of carsharing are the rising levels of congestion faced by city dwellers; shifting generational mindsets about car ownership; the increasing costs of personal vehicle ownership; and a convergence of business models. Carsharing contributes to sustainable transport because it is a less car intensive means of urban transport, and according to The Economist, carsharing can reduce car ownership at an estimated rate of one rental car replacing 15 owned vehicles. More about the concept here.
In February, the car-sharing service Zipcar signed a deal to provide vehicles to Uber, possibly portending additional future cooperation in the field of mobility services. Zipcar parent Avis Budget Group said that it would supply Uber drivers with the opportunity to ferry passengers around in Zipcar branded sedans. Although at the beginning the deal is limited to 20 sedans in Boston, it opens the door for similar collaboration in other cities.
Zipcar provides rent-by-the-hour vehicles to motorists, particularly in urban areas, as an alternative to car ownership. Now, Uber drivers will be allowed to access the fleet of vehicles in Boston to serve their customers at hourly rental rates.
"As the automotive landscape evolves, technology is playing an ever-increasing role in transportation services, and we are well-positioned to meet new and evolving customer needs and demands, as evidenced by this new partnership," said Andrew Kupiec, a vice president for Avis Budget. "Our quality, well-maintained vehicles, coupled with Zipcar's technology, will give Uber's driver partners wheels when they want them."
This move marked one of the latest in a series of Uber partnerships with car providers, including rental car firms Enterprise and Hertz, and most recently  a deal with German automaker Daimler to provide self-driving cars in the future.
Moreover, last year, Uber started a partnership with GM's Maven, representing a 90 day pilot in San Francisco that allowed the Uber drivers to lease a Chevrolet Cruze, Malibu or Trax for $179 per week (plus fees) with no mileage limit, and included insurance.  "This partnership with Maven combines our vast ridesharing network with GM's extensive fleet vehicles and gives people without access to a car the ability to easily make money driving on the Uber platform," said back then Rachel Holt, regional general manager Uber, for engaged.com.
Following that, in April, Uber made another important step, by launching Uber Central, similar to the consumer version of Uber, except multiple cars can be ordered at once. The service could be especially valuable for businesses that need to pick up several clients from different places at the same time. Uber Central is part of the Uber for Business platform, which Uber launched a few years ago to help businesses manage employees' ground transportation needs.
What is even more interesting and different is that passengers don't need an Uber account or even a smartphone. The business itself manages the rides and all related information from a single dashboard. According to ciodive.com, Uber said more than 8,000 companies participated in the pilot program. The new tool also includes reporting, billing and management features.
Uber's interest in the sharing cars' programs and affiliations doesn't stop here. Only four days ago it was announced that, following the 2016's 90 days trial with GM's Maven, the service is available now also in Boston, Phoenix, and Washington, DC, while Baltimore and Detroit are said to be following soon.
"The program is aimed at drivers for rideshare apps like Uber and Lyft, and delivery apps like Postmates, GrubHub, and InstaCart. Someone who's interested in driving for any of these on-demand services, but doesn't own a vehicle, can rent a Chevy Bolt through Maven Gig for $229-a-week. The weekly price includes insurance, maintenance, and electric vehicle charging. Maven  first launched its gig worker product last May in San Diego and San Francisco. Since then, Maven says its customers have logged 170 million miles driving for various on-demand apps," wrote The Verge.
More on the subject you can read here, while if you are interested in 8 ride and car sharing alternatives to Uber and Lyft, you can read here.
10 Things you might not know about Shed Simove
Sheridan "Shed" Simove is a modern day creative genius. He lives and breathes ideas. Every day of his life dozens of new ideas spring from his astonishingly active mind. The ideas can relate to pretty much anything — TV shows, ranges of sweets, executive toys, greeting cards, money-making schemes — the list is endless. And if an idea hasn't been done before, then Shed is sure to attempt it.
Here are some details about him you might find interesting:
1.In the book "Ideas Man", Shed describes how dozens of his ideas came to be, how they succeed or sometimes disastrously fail. Some of Shed's ideas include a range of adult candies called "Clitoris Allsorts," a groundbreaking documentary that involved him going undercover as a 16-year-old schoolboy (when he was 30), and the launch of his own currency, the "Ego".
2. Shed Simove is the creator of the Shinder app, dating app that matches women with the same single man, him. "I thought, if you can't beat them, maybe create your own competition where you're the only person in the competition, therefore, you will then by de facto win," he said for The Verge. "You will win! In the kingdom of the blind, the one-eyed man is king. I thought I would try to create my own pond, so that then I would naturally be the biggest fish."
3. A unique business model that has worked for Shed multiple times is transforming unconventional concepts into lucrative new ventures which form the basis of his stand-up routines and inspirational speeches. "Shed's resume reads like it was scripted for a comedy-romance about an accidental but successful entrepreneur. Because his success is very real, the first thing we asked him is what he thinks actually goes into the making of a remarkable entrepreneur," consider the journalists from businessfundingshow.com.
4. He thinks the emphasis of education should be on exploring, experimenting, falling – so that you know then how to get up and learn from your mistakes. Only after many failures can you ever hope to succeed. The human brain is naturally primed for learning. That's its massive computational superpower.
5. Simove believes the barriers to starting a new venture – and adventure – are incredibly low now – and really the only barrier I feel is often in our heads.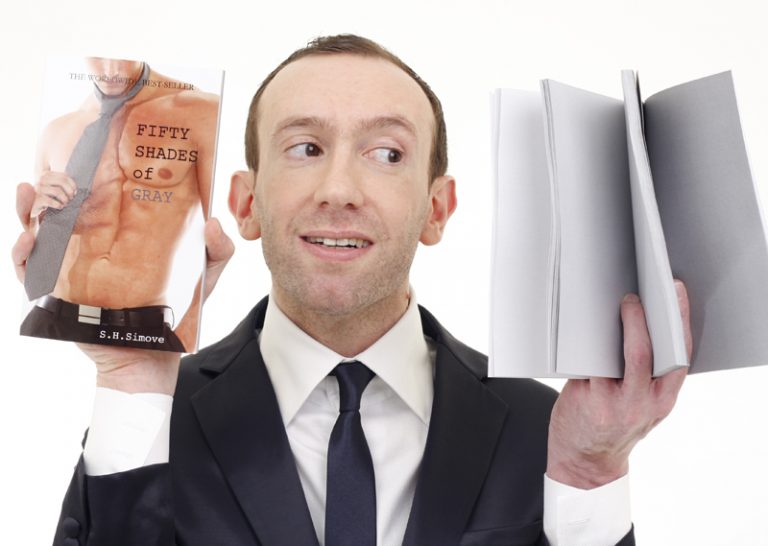 6. "I certainly work hard on anything I do, even if it's meant to be humorous or entertaining. Humor to me is very important because it helps us get through life," he declared for businessfundingshow.com.
7. His formula is not so different from  Richard Reed or  Charlie Mullins. His education in Experimental Psychology combines with a career in Disney World and showbiz into a one-of-a-kind brand of entertainment. While his products may trigger an outburst of laughter in one case or extreme controversy in another, there are active and engaged market segments that he has carefully tapped into.
8. To date, Shed has sold over one million products worldwide and also holds the honor of being the first person to reach the Amazon Top 50 with a blank book – Shed's masterpiece entitled 'What Every Man Thinks About Apart From Sex'​ reached 44 on the chart and has been translated all over the globe… It also achieved a Guinness World Records for 'Most Pages In Published Book'​.
9. As well as a successful career in television production, Shed has forged a highly innovative merchandising empire – creating novelty gifts, executive toys, best-selling adult sweets, books, greetings cards, and even his own currency. He's won 'Gift Of The Year' twice for two of his creations – a range of birthday candles that spelt "You're Old" and the smash hit 'Sound Machine'​.
10. Shed's inspirational and hugely informative performances showcase his amazing career path, using props and visuals that add to the engaging and exciting stories he tells. Shed has performed his visual and inspirational Motivational Speeches to both entrepreneurs and non business people alike. A cross between Anthony Robbins and Woody Allen, Shed is a truly compelling, uniquely memorable, one-off performer.