Build your app in 8 weeks with Builder.ai
Research shows that mobile apps convert at a 157% higher rate than the mobile web.
Yesterday, having an app for your business was nice-to-have. Today, it's a must-have.
What is Builder.ai?
Builder's human-assisted AI empowers everyone to build and operate tech products.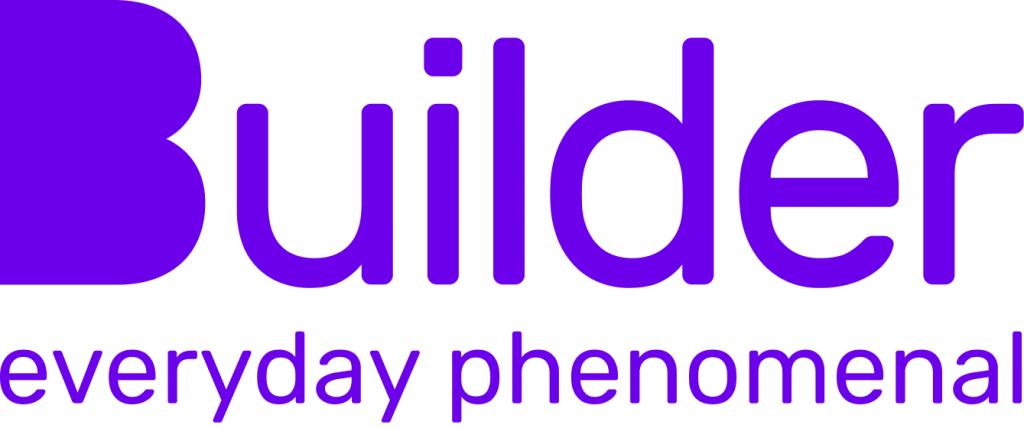 Builder is on a mission to turn ideas into developed products for everyone.
Whether you want to build something new or are already operating on the cloud, Builder empowers a single user to achieve more by doing less.
Our business is all about making building software as easy as ordering pizza. You don't need to have access to technology experts. All you need is an idea. We started this company four years ago because we were burnt by using an outsourced developer and its two engineers. We felt like if it was so hard for us, it must be so much harder for anyone else.

Chief Wizard and Co-founder Sachin Dev Duggal
Won the Hottest AI Startup Award at The Europas 2020
The 2020 Europas Awards identified Builder.ai as the Hottest AI Startup for giving businesses an easy way to go live fast at a time when every business needs to be digital.
Building your software with Builder.ai is up to 60% cheaper and 2x the speed
The company was co-founded by serial entrepreneur Sachin Dev Duggal and Saurabh Dhoot in 2012.
The startup was bootstrapped for the first three years and has grown to over 200 employees.
In November 2018, the company closed $29.5 million investment in Series A funding.
We want to empower people to create software-powered ideas so that they can fulfil their potential.
We do this by transcending the need for traditional tech knowledge, increasing the efficiency of resources human or otherwise and by creating a transparent end to end process.

Builder.ai
What can you build with Builder?
You can build almost any software with Builder, except gaming apps.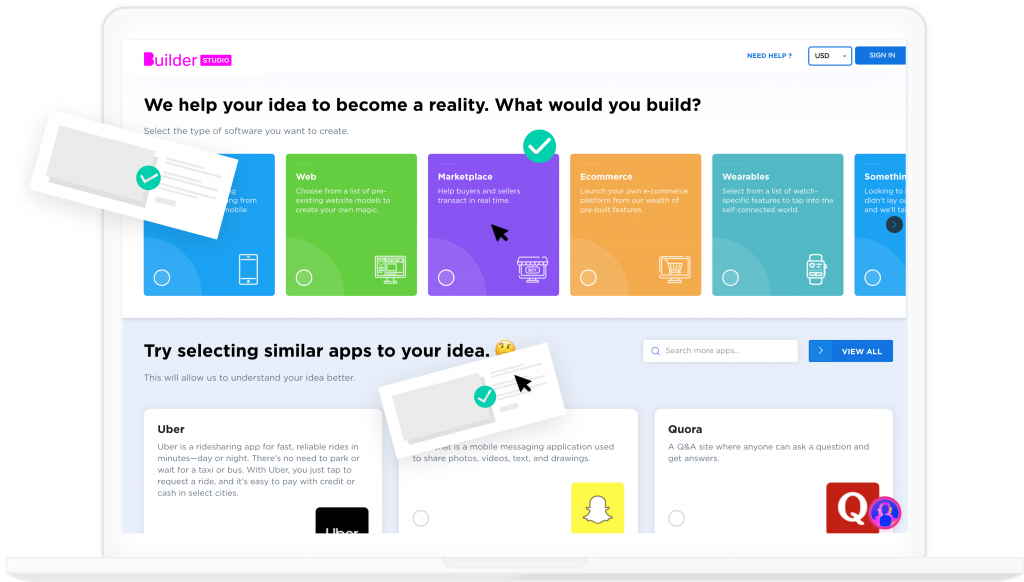 6 types of software you can build with Builder
Apps
Websites
Marketplaces
e-Commerce sites
Wearables
Cloud solutions
Do you need an Uber-type app or an Amazon-type e-commerce store?
Whichever you need, now you can get it.
Here are a few examples of apps that were built with Builder.ai: a mental health app, a medicine delivery app, a fitness app, a grocery delivery app etc.
Build your app in 8 weeks
Builder's solutions are designed to support enterprises, SMBs and entrepreneurs.
The platform makes it very easy for anyone to build software:
Select the technology/app that's most similar to your idea
Select the features you want to have in your application
Start building your app!
What makes Builder so efficient?
Builder is able to deliver your app in 8 weeks thanks to its library of features.
This library is a collection of 500 features that 60% of all apps use like login, shopping cart or Apple Pay.
Builder allows you to stack them together according to your app's needs.
Following this first stage, the platform's network of specialist developers step in and customise your software, until it fits your idea perfectly.
There are no limits on what you can build. The combination of ways to put features together is nearly infinite.
Build on projects that already exist
Builder works because it doesn't start from scratch. As Builder says, "starting from scratch is overrated".
The platform allows users to base their projects on projects that already exist. The users are provided with features common to every app (login, shopping cart etc) and are allowed to add extra features.
Every feature has been coded by Builder which makes the process of putting them together as easy as possible. Picture the features as Lego bricks – you can assemble them however you like.
Easy to assemble thanks to AI
Since we're on the subject of assembling, note that Builder makes it easy for users to assemble their apps.
The platform's human-assisted AI manages a team of over 2,000 expert software developers across the globe. This means little downtime and reduced costs for users.
These specialists deliver the user's idea efficiently, on time and without the errors normally associated with tailor-made software development.
Stay in control
Builder's dashboard allows users to watch the progress of their project and make adjustments on the go.
Get your prototype in less than 10 minutes
It's usually months before you can see how your app looks like. So why not save yourself months of meetings with your developer and get to it faster with Builder? It's also free.
Builder products
Builder Studio, the platform that allows you to build your software with no coding skills needed.
Builder Now delivers your software prototype.
Builder Care is a service that proactively updates your app so you're never blindsided by third party changes that could easily bring it all down.
Studio Store is the whole package. It allows you to build your branded app in 8 weeks, maintain it with updates, upgrades and bug fixes and provides you with the required cloud capacity to run and scale it.
Join the Conversation
We'd love to hear what you have to say.
Get in touch with us on our LinkedIn Group, Facebook Group or Twitter.
Too Many Bank Cards? This App Solves the Problem!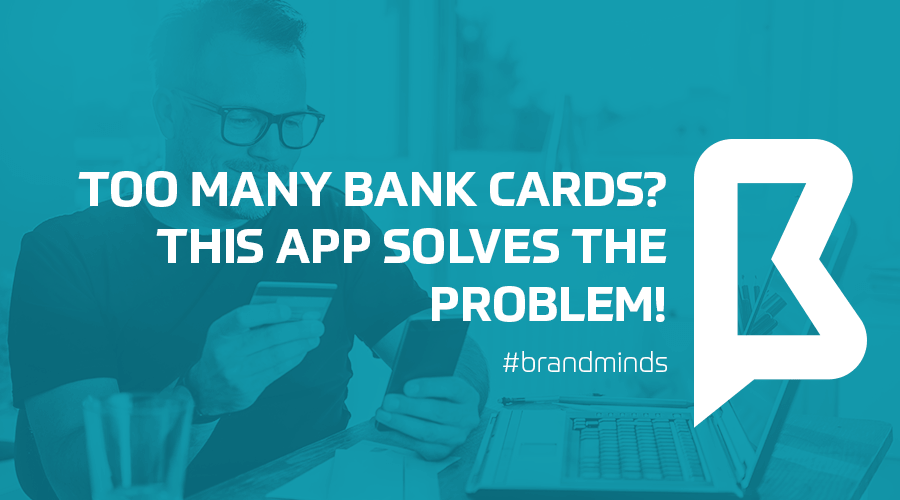 Is your wallet bursting at the seams with too many bank cards? You have a bank card for each of your bank accounts, right? Do you often get confused and pay with your business card for your groceries? Wouldn't you like to be hassle free and have just one bank card for all your bank accounts?
Well, you're in luck!
This solution exists and it's called Curve.
Curve is a card+ mobile app solution which brings all your finances in one place.
Curve's Mission
Our mission is to connect together the best apps, accounts and technologies so that users have a single, trusted platform for everything money.

Tom Foster-Carter, co-founder and Shachar Bialick, founder CEO
Benefits of Curve
Control – a better way to control your money;
Convenience – one card to rule them all – it lets you use all your current cards through one simple, secure Curve Mastercard;
Rewards – instant cashback from your favourite retailers;
You can spend abroad with no exchange fees;
No bookkeeper needed – you get real-time alerts that tell you how much you've spent and in which currency; it shows you how you are spending to help you manage your budget;
Time travel – if you use the wrong card to pay, you can go back in time and change it;
Security – Curve is safer than carrying all your cards with you; it doesn't store your card numbers, your information is encrypted with military-grade security, it doesn't share your information with retailers;
Unlimited – it supports unlimited cards from Visa and Mastercard.
Awards and Funding
Curve was named The Leading Payments Start-up at the 2016 Emerging Payments Awards, in recognition of its innovative approach to building a user-friendly platform for everything money.
To date there are +100K downloads of the Curve app. Founded in 2015, Curve raised a total of $13 million. According to cnbc.com, in 2018 the finance app is looking to raise an additional $50 million to become the "Amazon of banking".
How does Curve work?
Download the Curve app from the Apple Store or Google Play store;
Order your Curve Mastercard of choice;
Load your Mastercard or Visa credit and debit cards to the Curve app;
Pay with your Curve Mastercard by selecting the account you wish to use in the app.
How much does Curve cost?
The standard Curve Mastercard is free with no subscription fees. For the premium Curve Mastercard there is a one-time fee of 50 pounds.
Where is Curve available?
Curve is currently available in 15 European countries and the UK.
Later this year, a number of five additional countries will join them: Romania, France, Greece, Portugal and Spain.
This App Helps your Brand Increase Payment, Loyalty and Customer Engagement
If your company is a retailer or bank and you are looking to increase payment, loyalty and customer engagement this article is for you.
With the rise of online shopping in the past years, high street retailers have found themselves sailing through rough waters. In the ever growing shadow of online giants like Amazon, many have struggled to keep their shops open and failed. Even big retail companies like H&M have been affected. Early in 2018, H&M announced it will close 170 shops, the biggest number of store closures since at least 1998 according to bloomberg.com.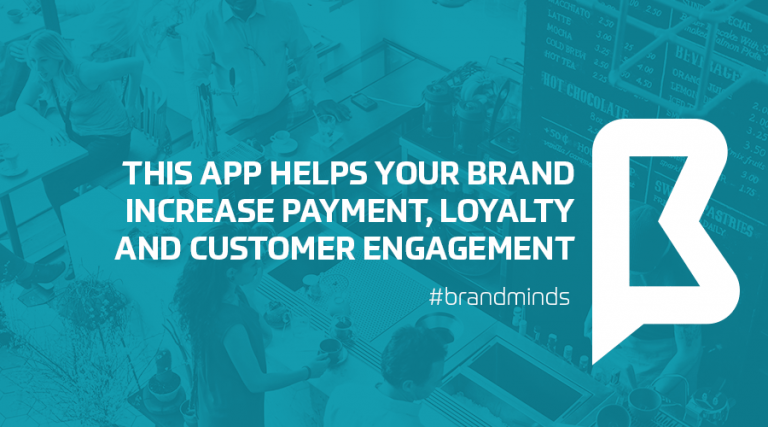 The answer to this David and Goliath situation is technology, specifically mobile apps.
What do all high street retailers strive for? Returning customers.
What is their strategy to meet their goal? Loyalty programs.
The challenge? Lack of digital tools to help them know, understand and turn their customers into loyal customers.
That's where Yoyo comes in.
Yoyo – mobile payment and loyalty app
Yoyo is a mobile payment and loyalty app helping their clients increase payment, loyalty and customer engagement.
Yoyo's Mission
Founded in 2013, from day one our mission has always been to disrupt the cosy world of payment, taking the transaction and turning it into a delightful, rewarding experience for shoppers and an insightful and meaningful engagement channel for retailers.

Yoyo
Who is Yoyo designed for?
Yoyo's clients are high street retailers, caterers, banks and EPOS providers.
Yoyo – Most Innovative Retailer Implementation at 2018 Emerging Payments Awards
At the 2018 Emerging Payments Awards, Yoyo was the underdog of its category facing strong competition from industry heavyweights like Apple Pay and MasterCard.
Yoyo entered the competition with the Yoyo-powered Caffè Nero payments and loyal app which helped the company win the Most Innovative Retailer Implementation award.
Here's how Caffè Nero grew their sales through customer insight and personalization with the support of the Yoyo-powered app:
Yoyo Case Study: Caffè Nero from Yoyo Wallet on Vimeo.
The benefits of integrating with Yoyo
The company helps you increase brand awareness, customer loyalty and sales through positive customer experiences and valuable insights.
If you are a retailer, bank or other B2C company, here is how you can develop positive customer experiences:
Mobile loyalty programmes
You can choose what items are available via the Yoyo Loyalty programme, pick your redemption rates and understand the ROI of your activity. The app helps you offer a market leading end-to-end experience.
Personalised campaigns and experiences
As a B2C company you can easily set-up campaigns and promotions via GDPR-compliant in-app messaging, push notification and email. You can personalise all activity around profile & purchasing data, and set campaigns up against business goals.
You can grow your company's user base and spread brand love amongst your customers and their friends with referral and voucher sharing mechanisms.
Offer your always-on-the-run customers the VIP experience and remove their need to queue. Let your customers order and pay for food and drink in advance, leaving a simple pick-up of the ordered items.
Customer feedback is paramount. With Yoyo you can get instant feedback from users without the typical effort and expense. Choose from an Uber-style star rating or a long form, multi-question format.
Business decisions are taken on valuable and relevant insight. Here is how the Yoyo app can help your company collect and analyze data:
Sales performance tracking
Monitor your every sale and your wider business performance in real-time. Track at a portfolio-wide, regional, outlet or even cashier level, and understand the variables that are influencing the real-time numbers.
Basket Data & Customer Identification With Every Transaction
Receive a deeply insightful snapshot into who your customers are and what they are buying. This is a data set that marketing, operations, buying and CRM decisions can be centred and tracked around.
All customers are not created equal. That's why it is important to know who is buying what and when. You can also split data around multiple variables including frequency, items purchased, time of day and ATV.
Before, during and after campaign reporting
Track marketing metrics around campaigns, but unlike standard campaign evaluations, Yoyo also compares customer purchasing behaviours for the periods before, during and after the campaign. This provides a clear connection between activity and action, invaluable in assessing ROI.
Wrapping up
Here are the main Yoyo features and customer benefits:
Integrated Payment, Loyalty & Digital Receipt Collection;
Store Finder;
Mobile Marketing (In-App, Push and Email);
Marketing and Surprise & Delight Campaigns;
Referrals & Sharing;
Customer Feedback;
Order Ahead Functionality;
Real-Time Sales & Loyalty Dashboard;
Set-up & promote campaigns;
Campaign Performance Tracking;
Segmentation;
Customer Behaviour Insight.