What is the real value of a Bitcoin?
After having increased in value from about $570 to more than $4,300 — an astounding 750% — in just the last year, the Bitcoins are becoming more and more desired by people. But what is a Bitcoin and what is it's real value? Bitcoins are a crypto-currency.  "That means they can be used like a currency, but don't physically exist like dollar bills.  They are an online currency which can be used to buy things.  They are digital cash that exist as bits on people's computers.  You can't put them in a drawer, like dollar bills or gold Krugerrands.  Bitcoins are used to complete transactions – just like any currency.  Even though they are virtual, rather than physical, they are used like cash when transferred between people through the web," explained Adam Hartung for Forbes.
Bitcoin is decentralised, which means that no single authority or institution holds or controls the bitcoins.
Bitcoins can be transferred electronically and practically instantly and have historically had low transaction fees, though this is something that has recently changed.
Mashable.com reported that Bitcoin transaction fees have soared of late, thanks to a block in the Bitcoin blockchain, which is limiting the number of transactions that can go through at any given time.
Only 21 million bitcoins can ever be created in order to protect the value of the bitcoin system. Bitcoins can be 'mined', which is the process of actually creating bitcoins, or they can be bought using regular currency.
Bitcoins can be mined using computer software and a mathematical formula designed by the Bitcoin founder Satoshi Nakamoto.
Satoshi Nakamoto is anonymous and could be one person or a group of software developers.
According to metro.co.uk, bitcoins can then be divided into smaller parts – you do not have to buy an entire bitcoin. "The smallest divisible bitcoin amount is one hundred millionth and is called a Satoshi after the founder of bitcoin. Bitcoin transactions are sent to and from Bitcoin wallets, which is where your bitcoins are stored electronically. They are completely transparent, any bitcoin transaction can be traced back to the point where the bitcoins were produced," writes Metro.
The  'the block chain' is a public ledger where every bitcoin transaction that ever took place is noted.
When it comes to its value, there is no consensus as to what exactly gives bitcoins its intrinsic value. "Some say it's the maths and technology behind it. Others say it is the effort of the miners to make the bitcoins. Investing in bitcoin is a gamble just like investing in any over-inflated industry, good or service. As it stands, if you invested $2,000 into bitcoin five years ago you could be a millionaire today," added Metro.
10 Things You Might Not Know About Gary Vaynerchuk
BRAND MINDS is The Central and European Business Summit taking place in Bucharest, Romania.
Here are 10 things you might not know about Gary Vaynerchuk
American serial entrepreneur, four-time New York Times bestselling author, speaker and internationally recognized internet personality. First known as a leading wine critic who grew his family's wine business from $3 million to $60 million, Vaynerchuk is now best known as a digital marketing and social-media pioneer at the helm of New York-based VaynerMedia and VaynerX.  Angel investor or advisor for the likes of Uber, Birchbox, Snapchat, Facebook, Twitter and Tumblr, he is a regular keynote speaker at global entrepreneurship and technology conferences.
1.No matter the amount of success and money he has at this point he is still working 13-15 hours a day.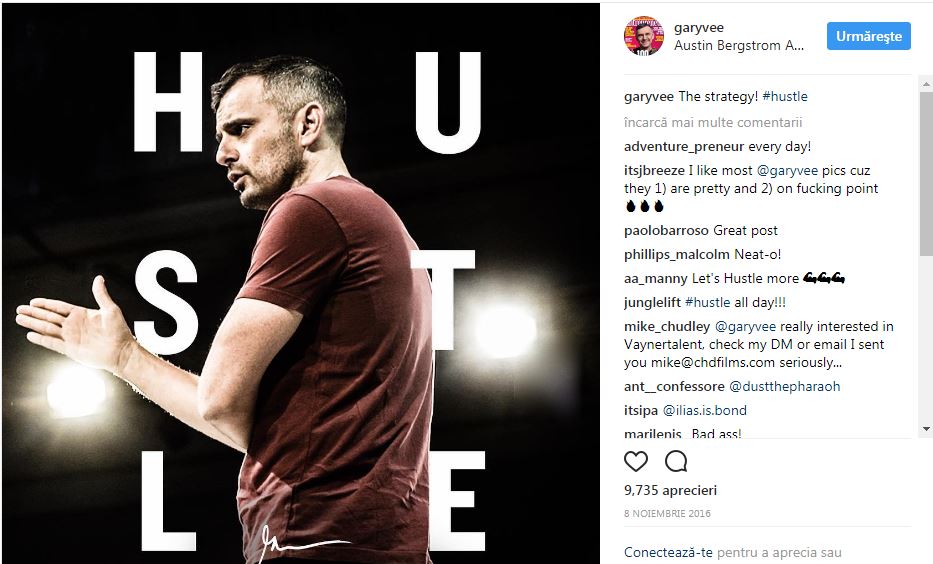 2.  He is into every aspect of his life 100 %, ready to give 51 % of the value to the other person.
3. He tries to figure out what you are going to do, before you do it
4. He's passionate with the New York Jets. His dream as a child was to become the owner of the New York Jets and it still is.
5. He's an HR Driven CEO. He is very interested in his employees' ideas and opinions and their feedback on everyday work.  He uses empathy and tries to understand "why". 
6. He believes it's in his DNA to be an entrepreneur. It's the life he breaths and loves to, every day. 
7. He doesn't care about others' opinion on him, as he knows very well who he is. "I put zero weight into anyone's opinion about me because I know exactly who I am. Can you say the same?", quotes medium.com
8. He believes that a person's friends and family can influence their success. "Maybe if you got rid of one friend or spent a lot less time with one friend who's a real drag and a negative force and added a positive person in your office … If you switched it from 80 days hanging out with your negative friend and one day with your office acquaintance who's super positive, to four days with your negative friend and 12 with this new person. I've physically watched I mentor in my organizations have a totally different life on that thesis……I think that people are keeping very negative people around them and if they aspire to change their situation, it's imperative to audit the seven to 10 people who are around you," Vaynerchuk told Business Insider.
9. He is a Judge and Adviser at the Apple's show " Planet of the Apps", alongside Jessica Alba, Gwyneth Paltrow, Will I.AM.  More on the program you can read here.
10.  In #AskGaryVee he cuts straight to the heart of the question and what it says about the person asking the question — their motivations, their fundamental assumptions and what their real question should actually be.
Are you a #worldchanger?