4 takeaways from Martin Lindstrom's Live Talk
Yesterday, BRAND MINDS hosted Live Talk with world-famous brand expert Martin Lindstrom to mark the launch of his latest book on organizational culture, The Ministry of Common Sense. This was the first time Martin has spoken about his new book to the public in Romania and we are stoked he chose the BRAND MINDS community.
Of the many valuable insights and recommendations that Martin shared yesterday, I chose four that I believe are more relevant to the current situation.
4 main takeaways shared by Martin Lindstrom during the live talk
1. See the world from your customer's point of view.
The first rule of writing anything, from mini-copy to long-form content is to ask someone else for feedback.
The person creating the respective piece of content, the author, cannot give feedback. It takes a new pair of eyes to spot tiny mistakes or any other errors that the author just cannot see.
It's the same with your product. You may believe that your product caters to the needs of your customers perfectly. Or that the buying journey your organization provides is a pleasant experience.
Unless you put yourself in your customer's shoes, you don't know that for sure. And once you see the world from your customer's point of view, you might be in for a big surprise.
You might discover a number of frictions in your purchasing process that you were unaware of.
Here is an excellent example that attracted a lot of attention last year: how many clicks does it take to create a bank account?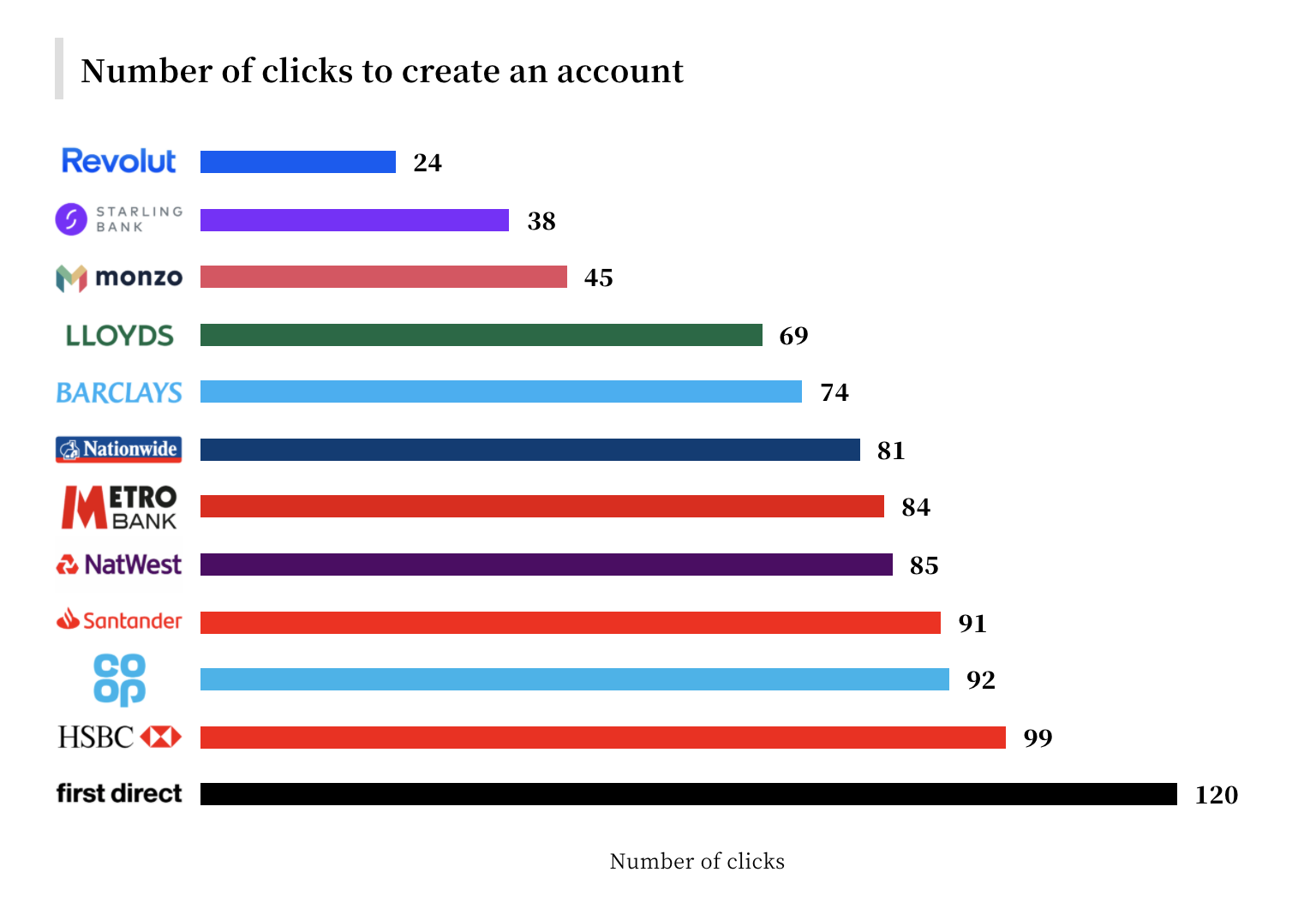 The author of this report opened a bank account at twelve different banks.
Time is a scarce resource. It's the only resource we cannot make more of. Your customers feel the same too.
Looking at this report, which bank is seeing the world through its customer's eyes in your opinion? Which bank provides the customer with the highest rate of friction regarding a basic operation like opening a bank account?
I'm certain that First Direct didn't set out to establish such a time-consuming experience for their customers (120 clicks!). The experience they offer is correct and necessary from their point of view, not their customer's.
Remember: you are not your customer.
As Martin pointed out yesterday, companies are seeing the world from inside out instead of outside in. We need to see things as they are and do things as they should be. Let's treat our customers as they should be treated. That means showing empathy. When we show empathy, the happiness levels of our customers increase by 10%.
Empathy is what every person in business will be talking about in the comping years.

Martin Lindstrom
2. Your customer decides what is common sense.
When companies are just starting out, they are based on common sense and empathy.
As companies grow bigger, they shift from common sense to nonsense. A new layer of bureaucracy is added to the mix.
The number of rules increases and operations that were once easy to get done are now getting harder and harder to do. The organization is getting itself ever deeper into a paralyzing situation.
That's why Jeff Bezos has been ending every one of his letters to shareholders with this phrase: It remains Day 1. Because a Day 1 type of company is nimble and agile while a Day 2 company is a giant that is slow at making decisions.
The organizational culture at Amazon is focused on delighting the customers. You cannot delight your customers if you don't know what they want or expect from you.
How do you decide what is common sense for your organization?
It's not up to you to decide.
Your customer will tell you what is common sense. What your organization needs to do is stay close to its customers and allow them to tell you what is common sense.
3. Measure productivity by how happy your customers are.
Since the pandemic changed our routines, more and more people are working from home.
Some organizations have reported an increase in productivity levels with voices saying the 9 to 5 workplace is dead.
Other reports draw attention to the mental health situation of the employees working from home who are experiencing fatigue, exhaustion or burnout.
In today's world, how do you measure productivity?
Martin suggests a different approach to measuring productivity. Instead of how many Zoom calls we have participated in, let's measure how happy our customers are.
Let's measure the levels of employee satisfaction. Or how easy/difficult it is for colleagues to work with us.
We need to get back to making really valuable contributions like strategic thinking and creativity. We need to figure out how to measure creativity through a screen.
Ultimately, what organizations need to do is change their culture. You will never have a better time to redesign your company than now.
If you go through a crisis like this and you haven't fundamentally changed your business, you didn't get the message. This is the moment to change your business.

Martin Lindstrom
4. Find frictions in your organization and address them in 90 days.
What is friction in business? Friction is anything that prevents or dissuades customers from buying your products or services.
Take the number of clicks to open a bank account example above. Do customers have the time or patience to open a bank account after clicking 100 times? I know I would give up a few clicks into the whole process.
Now think of your organization. Is there a process that could be completed in fewer steps? Would customers benefit from a shorter purchasing process? Would the company website provide customers with a more pleasant experience if the UX was cleaner and simpler?
The more complex the organization, the more opportunities for frictions to appear.
Martin recommends we make a list of every friction point in our organization and address them one by one in 90 days. We need to remove one nonsense at a time.
If you didn't join the Live Talk yesterday, you can watch the replay.
Join the Conversation
McKinsey 7S model of Nokia – where the company went wrong
From a cell phone pioneer to being acquired by Microsoft in 2013, Nokia is a case study of organizational failure. Let's analyze where the company went wrong by applying McKinsey 7S model.
McKinsey 7S model

is a business framework which can be used to analyze organizational effectiveness. According to the McKinsey model, the organization is a complex ecosystem consisting of seven interconnected factors: Structure, Strategy, Skills, Staff, Systems, Style and Shared Values. 
The model is also a blueprint for organizational change. 
To show you how you can use the McKinsey model 7S for the benefit of your organization, I will analyze mobile pioneer Nokia at the time of its demise, namely 2011-2013.
Here's a brief background story:
In October 1998, Nokia became the best-selling mobile phone brand in the world with an operating profit of almost $4 billion. The best-selling mobile phone of all time, the Nokia 1100, was created in 2003. Five years later, Apple introduced the iPhone. By the end of 2007, half of all smartphones sold in the world were Nokias, while Apple's iPhone had a mere 5% share of the global market. 
In 2010, attempting to drive Apple out of the market, Nokia launched the "iPhone killer". The model failed to achieve its goal and was the beginning of the end for Nokia. From that moment on, Nokia embarked on a downward spiral of low-quality phones. In just six years, the market value of Nokia declined by about 90%. The organization was acquired by Microsoft in 2013.
Now that you're familiar with Nokia's failure story, let's analyze the organization before Microsoft made its move to acquire it by applying the McKinsey 7S model.
In my opinion, here are the factors that required immediate change: Structure, Style, Skills, Staff and Strategy.
McKinsey 7S model of Nokia
McKinsey 7S model of Nokia – Structure

 
Nokia of the era was a top-down line structure organization.
In public speeches given by the organization's top executives, agility and being nimble were mentioned as key competitive advantages.
But it was all talk. The organization's top management was living in a bubble, disconnected from the company's technology development departments. Communication was one-way and teams were not empowered to contribute to the organization's strategy. 
To adapt to the new technological environment and compete with Apple, a powerful tech company, Nokia should have taken steps to change its structure from top-down hierarchical to decentralized and agile.
Instead of organizing employees in silos, with no communication and collaboration between them, the company should have placed its employees in teams, with every team working to achieve a common goal.
Team members should have been empowered to speak up, come up with solutions and work independently. 
McKinsey 7S Model of Nokia – Style
In McKinsey's model style refers to culture. What was Nokia's culture at that time?
As per the 2015 paper Distributed Attention and Shared Emotions in the Innovation Process: How Nokia Lost the Smartphone Battle, Nokia suffered from organizational fear, status (We are no 1), in-house politics and temporal myopia.
Top managers had business backgrounds and lacked technological competence. Employee morale was low. 
As the saying goes, culture eats strategy for breakfast. Top management should have adopted a transformational leadership style where the leader's goal is to transform the organization so that it's constantly improving. 
Transformational leaders create a vision of the future that they share with their teams so that everyone can work together toward a shared goal and vision. Technology is ever-changing. Technology companies must embrace change in order to stand the test of time.
Transformational leadership would have been the best fit for Nokia because it fosters creativity and innovation through collaboration. This type of culture builds and maintains employee motivation and satisfaction and is effective in facilitating organizational change.
McKinsey 7S Model of Nokia – Skills
Nokia didn't lack talent and didn't have a skills gap in the company. There were no gaps in know-how or competence.
At its peak, Nokia had one of the top highly-skilled tech workforces in the world.
The company's hardware and software engineers had designed one of the most successful and iconic cell phones in the world, there's no doubt about it.
The problem was the top management. Between 2007 and 2010, the position of the Chief Technology Officer (CTO) disappeared from the top management team. Technical managers had left the company and new hires had no technical skills making it difficult for them to understand the technological challenges and the direction in which the company should be heading.
Conversely, top management members at Apple were all engineers. Nokia should have focused on increasing tech skills among C-level executives.
McKinsey 7S Model of Nokia – Staff
At Nokia, people were talking business instead of technology which is quite surprising for a software company.
The organization should have found ways to motivate and nurture its employees appropriately. 
McKinsey 7S Model of Nokia – Strategy
Struggling to compete with Apple and adapt to the technological developments that were disrupting the business environment at that time, Nokia top management had to choose between three strategies: optimizing costs and volume, maximizing performance, or maximizing security.
They decided to go with cost optimization which made it impossible to achieve performance in software. 
With Apple going for technological innovations and excellency, needless to say, they made the wrong decision. 
Conclusion
At its peak, Nokia manufactured 40% of the world's mobiles. The company had the human resources (skills and staff factors) required to keep innovating and increasing its market share.
Unfortunately, the company's leadership (style factor) lacked core competences and vision necessary to drive change within the company.
They didn't allow the tech talent in the company to contribute with valuable insights to important decisions. The company chose the wrong strategy which ultimately lead to its demise.
Join the Conversation
What is the McKinsey 7S framework for successful management
What is the McKinsey 7S model explained briefly?
The McKinsey 7S model is a business framework to address the essential role of coordination, rather than structure, in organizational effectiveness.
This business framework states that the organization is not the structure and is a model of organizational change.
Whenever organizations need to adapt to new business environments the hierarchy of the organization (who is tasked with what, who reports to whom, who needs approval from whom etc) is irrelevant.
The organization goes beyond its structure. It's a complex ecosystem comprised of seven factors which interact with each other and influence an organization's ability to change.
What are the 7S of McKinsey's framework?
The seven factors of the McKinsey 7S framework are STYLE, SKILLS, SYSTEMS, STRUCTURE, STAFF, STRATEGY and SHARED VALUES.
For an organization to change successfully, it needs to approach every S factor.
The framework shows that every factor interacts with the other six. The organization cannot make significant progress towards change by focusing on one area and ignoring the rest. The organization must tackle its approach to change by moving into all seven S factors.
Let's explain every S factor of the McKinsey model.
McKinsey 7S framework –
Style
By style, the authors of the McKinsey 7S framework mean culture.
What is organizational culture and why is it essential to an organization's success?
The culture of a company or organization is a set of shared beliefs, values and practices. The organization's CEO, founder or top management are responsible for outlining the organization's culture and hiring the right people that will maintain it.
For many organizations, culture drives success.
Neflix's No rules policy is at the heart of its culture. The famous entertainment company nurtures employee freedom and encourages responsibility.
At UiPath, the efforts of top management are focused on providing employees with psychological safety beyond anything else.
At Amazon, employees are encouraged to think like an owner.
In every one of these organizations, success is synonymous with innovation and culture is the medium that facilitates innovation.
McKinsey 7S framework –
Skills
Skills refers to organizational skills as well as individual skills.
What does your organization do best? What is your organization known for? What are its strengths? Is it creativity and design? Is it distribution or sales?
BMW is known for its innovative engineering and fast engines.
Coca-Cola has one of the most successful distribution systems in the world.
Louis Vuitton is renowned worldwide for its high-quality luxury handmade handbags.
The skills factor is also important to reveal skills gaps in the organization. With the business environment being disrupted by new technologies, organizations face increasing needs to fill skills gaps. They can either hire highly-specialized talent or upskill their current employees.
Another question that organizations must aks is do we need to improve hard skills or soft skills?
It's an important question because the needs of an organization may shift every few years to follow changes taking place in our society. Read about the top 5 most in-demand soft skills in 2021.
Marketing is an industry where learning never stops. The professional growth and career advancement of a marketer now hinge on his or her desire and ability to learn new things. Read 4 skills that every successful marketer should acquire in 2021.
McKinsey 7S framework –
Systems
By systems, the McKinsey framework means all the procedures, formal and informal, that make the organization go day by day.
How does the organization get things done?
Here are some of the main systems that an organization operates to achieve its goals:
IT
Financial
Hiring
Customer service
Product development and delivery
Information management
Internal communication
Planning
Employee evaluation
There is a significant difference between how organizations were doing customer service in the 1980s and how it's done today.
Organizations nowadays have a slew of digital tools they can use to solve the customer's requests efficiently – Chatbots, Whatsapp, social channels etc.
McKinsey 7S framework –
Structure
The structure factor of the McKinsey 7S framework refers to the way the organization is structured.
Is it centralized, decentralized or a hybrid?
Historically, the first organizations were centralized with one man, ie the founder or the CEO, taking every decision.
Apple under Steve Jobs is an example of a centralized organization where the founder made decisions regarding design, functionality, features etc.
The centralized organization can be very effective and ensures that the founder's vision is carried out throughout the company and reflected in the product. But when the organization scales up, this type of organizational structure reveals its flaws. The organization is slow to make decisions and adapt to changing circumstances.
Starting with the 1950s, decentralization became the focus of organizations which had achieved a certain level of size and complexity.
Within these organizations, the number of employees had increased and subsequently the number of interactions required to make things work. The size and complexity of these organizations had become a burden and they were in danger of breaking down.
Decentralization was the solution. A decentralized organization is able to make decisions fast and adapt swiftly to its environment.
Other organizational structures are the line structure, the functional structure, the line-and-staff structure, the project-based structure, the matrix structure etc.
McKinsey 7S framework –
Staff
Staff refers to the people in the organization and looks into the ways the organization nurtures and develops its employees.
How does the organization motivate its employees? What strategy does the organization employ to hire for diversity? Once diversity achieved, does the organization have an inclusion strategy?
Workforce diversity is a competitive advantage. A team which includes members of different generations, background cultures, interests and talents provides the organization with different insights and perspectives and drives creativity.
McKinsey 7S framework –
Strategy
Strategy is defined as the actions a company plans to take to achieve its business objectives.
The plan outlines what (resources), how (specific tools, activities, platforms etc) and why (the reasons behind your choice of a specific resource or tool) the company will use to achieve its goals.
The strategy's secondary goal is to define how the organization differentiates itself from the competition and create unique value. Learn how to create a strategic plan in 5 steps.
A successful organization must be able to change its strategy to match the current business environment. When organizations fail to see the need to change, they miss out on the opportunity to adapt and survive.
Nokia's culture of status, shared fear and temporal myopia made the company vulnerable to competitive forces and prevented it to adapt its strategy (more on this in Why did Nokia fail?).
Microsoft, on the other hand, learned from Nokia's mistakes (Microsoft acquired Nokia in 2014). When Satya Nadella became CEO, his main leadership challenge was to change the company's culture. In his opinion, "The C in CEO stands for Culture".
McKinsey 7S framework –
Shared values
What is the organization trying to achieve? What is the organization's social mission? How does the organization respond to the question Why?
In 2009, best-selling author Simon Sinek defined the concept of Why as the purpose, cause or belief that drives every one of us, leaders and employees alike.
Google's mission is to organize the world's information and make it universally accessible and useful.
TikTok's mission is to inspire creativity and bring joy.
BRAND MINDS' mission is to unite the business world by providing world-changers with the ultimate business experience.
Having a clear mission statement and delivering on it is paramount for a company's reputation and bottom line. Consumers and employees expect organizations to stand for something. When they fail to deliver, organizations are met with protests and call-outs. For some organizations, change is now coming from employees putting pressure on the management, not the other way around.
Join the Conversation
We'd love to hear what you have to say.
Get in touch with us on our LinkedIn Page, Facebook Page, Twitter or TikTok.
How to increase trust and create well-being in your organization
"Trust is the willingness to be vulnerable to the action of others. Trust is a choice. Trust means that we have confidence in the intentions and motives of the other party. We trust it to advance and to protect our interests, our wellbeing. We understand trust as being the quality of love, commitment, friendship and partnership," wrote Aldo Civico for Psychology Today.
According to weforum.com, PwC has conducted research, run focus groups and talked to both leading experts as well as the everyday person on the topic of trust, the question being: what makes up trust in a business – and can it be quantified? What they found out was that, indeed, trust could be measured.  When considering if a company should be called trustworthy, people are looking for:
· Competence – Does the organization do what it says it will?
People expect companies to be reliable and transparent. A fast-food company should be upfront about the possibility their delivery will be delayed, for example. In cases of major delay, companies should be forthright about not even accepting the customer's order. Fast food is supposed to be "fast", after all.
· Experience – Does the organization keep its promises?
Companies are expected to be responsive, to listen to public feedback, to make the necessary improvements and treat customers as individuals. (My experience with Marks & Spencer's high-quality and consistent customer service comes to mind again.)
· Values – Do you believe in the organization?
People want brands to understand their needs, to hold the right sort of principles and to care about their impact on society. Clothing retailers that source their cotton from fair trade suppliers are increasingly in demand because they are not seen to be exploiting cheap labour and because their products will benefit small-scale agricultural workers.
At the same time, The Ken Blanchard Companies researchers surveyed 1,800 workers looking at the connections between trust, well-being and coaching behaviors.The research found that trust and well-being were both positively impacted by perceptions of managers engaging in three key behaviors.
Facilitation: Helping employees to analyze and explore ways to solve problems and enhance their performance.
Guidance: The communication of clear performance expectations and constructive feedback regarding performance outcomes, as well as how to improve.
Inspiration: Challenging employees to realize and develop their potential.
Moreover, a paper which accompanies the research shared four coaching skills to help managers move away from some typical tendencies—telling people what to do, making assumptions, and solving problems—and instead adopt a coaching mindset. Those skills are: listen to learn, inquire for insight, tell your truth and express confidence. 
On its turn, inc.com identifies four critical elements of trust that leaders need to be aware of and that apply to both leaders and team members alike: able, believable, connected and dependable. More on their perspective one can read here.
The Power of Noticing by Max Bazerman – main ideas and learnings
Can you imagine what advantage you would have in negotiations, decision-making, and leadership if you could teach yourself to see and evaluate information that others overlooked? The Power of Noticing provides the blueprint for accomplishing precisely that. Max Bazerman, an expert in the field of applied behavioral psychology, draws on three decades of research and his experience instructing Harvard Business School MBAs and corporate executives to teach you how to notice and act on information that may not be immediately obvious.
Some of the most important ideas and learnings that Max Bazerman presents in his book are:
Human beings have an amazing capacity to ignore clear warning signs of others' unethical behaviour,therefore is important to always be alert and pay attention to details and the history behind us.
Leaders often fail to notice when they are obsessed by other issues,when they are motivated not to notice and when there are other people in the environment working hard to keep them from noticing. Still, it is the responsibility of leaders to notice when things are going wrong in their organization. If you see an anomalous trend, investigate until you are given a clear answer. It is the job of the leader to identify what information is needed and how to obtain it,rather than acting on the information that is in the room. 
Put it on your agenda to notice. Focusing is good, but sometimes you need to take a look around.
Extensive research demonstrates that our desires influence the way we interpret information, even when we are trying to be objective and impartial.
Take an outsider's view.
Audit your organization.
Identify changes that will help to create a noticing organization.
When something is wrong, figure out what it is.
Acting to prevent predictable surprises:
recognize the threat
prioritize the threat
mobilize action
Main questions before planning a marketing research
A marketing research done right needs planning and the important and right questions asked on time.Therefore, we decided to show you some of the questions we believed you should make sure you ask yourself,your department and your business,prior to starting a marketing research.
What do I want to achieve with the marketing research?
Do I need help with it? / Do we need to hire a research company?
How can I reach my target?
What other organizations have asked and answered comparable question to ones I have?
What experts have insights into the questions we want to answer?
Are there industry associations with ideas on answers or research methods to make us smarter?
Are there other organization's surveying our audience that might allow us to include some questions?
Could I propose a joint research project with another organization to satisfy our mutual needs?
Are there university programs where students can conduct research for us?
Is the target market winning anything out of my business?
Is the target market easy to be managed or how hard is it to be managed?
Whom is my main competition?
How to create an online storytelling campaign for an NGO
"Storytelling is how humans communicate with each other, the way that we make sense of complex information, and how we relay our experiences to others. Nonprofit storytelling can motivate people to pay attention and take action. Emotional, appealing stories can build an online audience for your nonprofit," wrote TheBalance.

Videos allow you to combine your dynamic story with emotion to create a connection with your audience that words and photos cannot build. Emotion is your main asset to use. Moreover, organizations can convey impact in a way that engages and inspires donors by persistently telling stories.Through storytelling, nonprofit organizations can harness the power of emotion to make a connection with donors that inspires action.
According to thebalance.com, a storytelling campaign has three phases: planning, implementation, and evaluation. In the planning stage, you need to articulate the goal of the storytelling campaign clearly. "Design each campaign for a defined purpose and to accomplish a specific goal. You may need to carry out multiple storytelling campaigns per month to achieve your goal, or perhaps just one per quarter, depending on your resources. Once you define the action that you want people to take, you can determine who is most likely to take that action, and the emotional storytelling hooks to get them to do so."
The next steps are selecting your audience and making sure that the story is true and it fits the audience's expectations and realities. There are five main types of stories that nonprofits can collect and develop — value stories, social proof stories, founder stories, resilience/continuous improvement stories, and impact stories. After deciding that you must collect the necessary pieces of information to create the right campaign, choose the right channels to whom to send it and promote it,create it, share it and evaluate it. More details you can find here.
"Because e-mail is a great way to engage supporters who might not regularly visit your website, you can use it to hook supporters into your story and prompt further action, without it feeling like you're asking for donations at every point of communication. Use e-mail as an opportunity to invite readers to be the hero of your organization's mission. Layer in visuals: With the average person's attention span maxing out at 8 seconds, you can't afford to deliver a novel to people's inboxes. Instead, think of your story as a short picture book. This email is such a great example because it injects an image after every couple sentences. Break up blocks of text with visuals to keep readers engaged and keep your copy clear, simple and concise," wrote classy.org.
More ideas and pieces of advice you can find also here.
10 Things you might not know about Robin Sharma
For nearly 20 years, many of the most well-known organizations on the planet, ranging from Nike, GE, Microsoft, FedEx, PwC, HP and Oracle to NASA, Yale University and YPO have chosen Robin Sharma for their most important events, when nothing less than a world-class speaker will do. More about him you can find next. 
1.He believes you really don't have to make sudden changes or frightening optimizations to raise your game and revolutionize your life. Instead, just master each day, by simply devoting to delivering a few micro-wins that, over time, elevate you to a place called wow. And a league called legendary.
2. He offered 60 tips for a stunning great life that include pieces of advice such as: get serious about gratitude; expect the best and prepare for the worst; plan a schedule for your week; get a mentor; hire a coach; find more heroes and be a hero for someone, etc. More you can find here.
3. Sharma's books such as The Leader Who Had No Title have topped bestseller lists internationally and his social media posts reach over six hundred million people a year, making him a true global phenomenon for helping people do brilliant work, thrive amid change and realize their highest leadership capacities within the organization so that personal responsibility, productivity, ingenuity and mastery soars.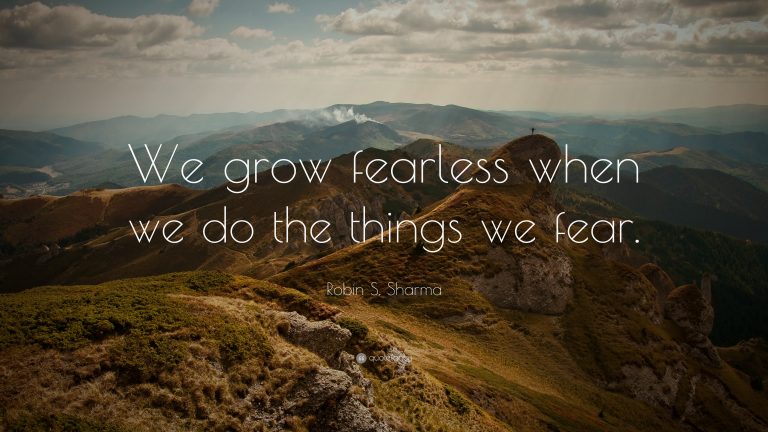 4.  He has been ranked as one of the Top 5 Leadership Gurus in the World in an independent survey of over 22,000 business people and appears on platforms with other luminaries such as Richard Branson, Bill Clinton, Jack Welch and Shaquille O'Neill.
5. Robin Sharma is one of the world's premier speakers on Leadership and Personal Mastery. As a presenter, Sharma has the rare ability to electrify an audience yet deliver uncommonly original and useful insights that lead to individuals doing their best work, teams providing superb results and organizations becoming unbeatable.
6. According to him, fear ruins more bright lives than you might imagine. Each of us, by virtue of our very human nature, has the potential to Lead Without Title and achieve great things that elevate everyone around us by our model of possibility. But the chattering voice of fear in our heads stops us from playing big.
7. He loves the word leadership. It makes him think of Mandela and Gandhi. Gates and Edison. Mozart and Beckham. Bono and Bieber. It's a word that he has been passionately building the past 20 years of his life around, reminding so called ordinary people that they are called to lead. And create. And contribute. And win.
8. According to him, the job of a leader is to grow more leaders. "If you're not building more leaders, then you're not leading, you're following. Your job (regardless of whether or not you have a title) is to help people do work they never dreamed they could do. Your job is to inspire people to own their talents, express their gifts and do the best work of their lives. That's part of what it truly means to lead".
9.  One of the quotes that changed his life is: "I learned this, at least, by my experiment: that if one advances confidently in the direction of his dreams, and endeavors to live the life which he has imagined, he will meet with a success unexpected in common hours." – Henry David Thoreau, Walden: Or, Life in the Woods.
10. Sharma believes that one should make time every day to reconnect to his / hers highest ideals and boldest dreams. Without hope, people perish.