4 lessons in leadership from Hamilton: An American Musical
Hamilton is the latest hit in musicals which has rapidly grown to a pop culture status. Read on to learn 4 lessons in leadership from Hamilton: An American Musical.
Hamilton, the cultural phenomenon surpassed $1 billion in global sales
Hamilton: An American Musical made its Broadway debut six years ago and it has already become one of the most popular musicals of all time.
In 2016, the show won 11 Tony Awards, the Grammy for best musical theatre album and the Pulitzer Prize for Drama.
The Hamilton music is a wonderful combination of rap, hip-hop and R&B raising the bar for every actor in the show and setting records. Because it's rap and hip-hop, Hamilton packs the highest number of words per minute than any other musical: 144 with a total word count of 20,520. The runner-up, Phantom of the Opera had 77 words per minute and a total of 4,709 words. The music literally takes your breath away!
Tickets sell out almost instantly. Hamilton is a smashing hit with fans of all ages and all over the world. Just browse the content on the musical's social accounts (followed by 4,450,000 million people combined, btw!) and see for yourself.
Disney+ has contributed to Hamilton's global success by bringing the acclaimed musical to the small screen. The Hamilton Movie premiered on Disney+ streaming service last year, in July. It was a good business decision for Disney+ also: the musical spurred a 74% spike in downloads.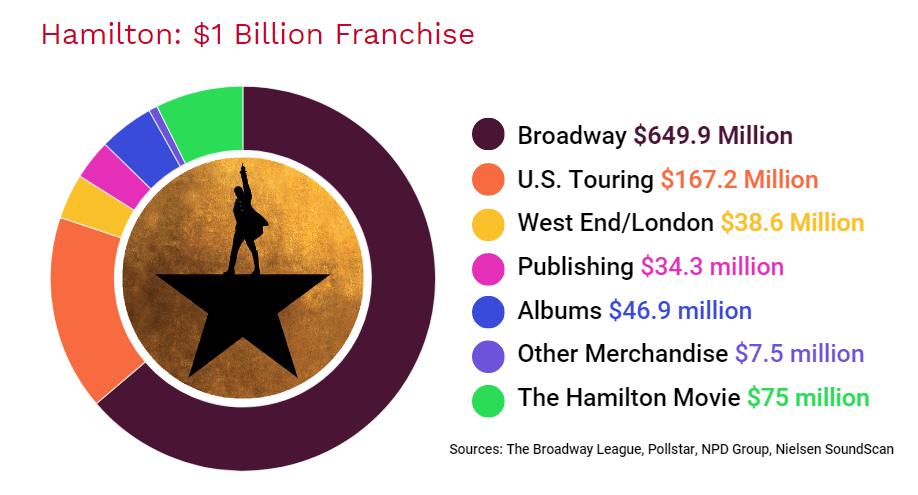 4 lessons in leadership from Hamilton: An American Musical
Hamilton tells the story of Alexander Hamilton, one of the Founding Fathers of the United States of America.
The story, music and lyrics were written by actor and Tony winner Lin-Manuel Miranda and is narrated by Aaron Burr, a contemporary of Hamilton and the third vice president of the United States.
Who is Alexander Hamilton?
Alexander was an immigrant from the Caribbean who raised himself from poverty.
He was born out of wedlock and became an orphan as a child. He was driven by ambition, had a remarkably sharp mind and rhetorical skills.
When he was in his early 20s, Alexander became George Washington's right-hand man during the American Revolutionary War.
Later he was appointed the 1st U.S. secretary of the treasury. He played a key role in defending and ratifying the U.S. Constitution and was the chief architect of the American financial system.
Here's what the leaders of the 21st century can learn from the 18th-century leader, Alexander Hamilton:
Make self-growth a goal for you and your team;

Develop partnerships;

Tell the world what you believe in and stand by your beliefs;

Communicate your ideas.
Lesson #1:

Make self-growth a goal for yourself and your team

Alexander Hamilton is a unique figure among the other Founding Fathers of America. His family was not wealthy and didn't have any titles. He was so poor that he couldn't afford to go to any regular schools. Because he was an illegitimate child, Alexander was also denied access to church schools.

But he was an avid reader. What he couldn't learn in school, he learned by himself.

By the age of 15, he had already developed a talent for mathematics and business working as a clerk for a local successful merchant.

He could also write extremely well for his age which helped him stand out in his community.

Helped by his employer, Alexander enrolled in King's College (later renamed Columbia University) at 16 where he was granted independent study. This allowed Alexander to move through his courses quickly, often hiring college professors to provide him with personal instruction outside of regular class hours. He also became fluent in French which would give him an advantage during the American Revolution.

After the war, he studied law to pass the bar exam and become a lawyer. He didn't go to law school, he studied independently for ten months before passing the exam with flying colours.

Hamilton was an ambitious young man who learned very early in his life that acquiring knowledge and developing one's skills and abilities was paramount to being fulfilled and successful.

No matter your life situation, expanding your knowledge in the areas of your interest is essential to your success.

Young or old, learning never stops. Go deeper on the topic of your choosing. Or start afresh on a new path towards a different interest that you always wished you could explore but never found the time.

Now is the time to begin. Pick up a book and become a self-taught leader. Or enroll in an online class.

If you are looking to learn the principles of innovative companies, attend BRAND MINDS' Business Strategy Masterclass for Top Executives with London Business School professor Costas Markides.

The masterclass takes place online, on the 23rd of March, 2021. You will learn how to develop custom business models and business strategies for your company. Learn more about the masterclass.

A successful leader seeks opportunities to grow not only himself but his team too. Because a leader's main responsibility is to grow other leaders. So consider attending our business masterclass with your team. Check our discounts for team growth.
Lesson #2:

Develop and maintain partnerships

The musical depicts the strong bond between Hamilton and several influential figures, including spy Hercules Mulligan, the anti-slavery John Laurens, the French revolutionary Marquis de Lafayette and commander-in-chief and later the first President of the United States George Washington.

Hamilton became friends with Mulligan, Laurens and Lafayette. They shared the same values, supported each other and became close during the war. Their leadership, resourcefulness, and courage helped secure the American victory with the British.

A young captain in the army, Hamilton demonstrated superior command of administrative and logistical matters which soon brought him to the attention of General George Washington. The general invited him to become one of his aides and Alexander accepted the offer. He remained on Washington's staff for four years forming a strong and lasting friendship with the general, who relied on him heavily. It was also a mentorship relationship, one which helped Hamilton acquire leadership skills.

Aside from a close-knit team, a leader needs partners, people who share the same values and who work together to achieve a common goal. It takes a lot of work and trust to build a valuable partnership. Both partners must deliver on their word and support each other through thick and thin.

Look for partners that can build you up. Develop close relationships with people that you can learn from. Seek and offer support to your partners when they need it. Let them know that you will be there for them. And they will be there for you.
Lesson #3:

Tell the world what you believe in and stand by your beliefs

Hamilton had strong beliefs and didn't shy away from making them known to whoever was willing to listen.

Thanks to his rhetorical abilities, it was easy for him to step on a chair and convey his ideas to the audience with confidence and ambition.

Here is the scene where Laurens, Madison and Lafayette notice Alexander's talent and gently encourage him to the forefront – "let's get this guy in front of a crowd".

What are your core values and purpose? Talk about them, share them with your employees, partners, clients and suppliers.

Today a company employing thousands of people all over the world has this in common with a company with just twenty employees – they both stand for something.

Walmart, Disney and L'Oreal have announced their commitments to a zero deforestation policy, an initiative that ensures companies make their products without destroying the world's forests.

Atlassian, Dropbox and Accenture champion diversity and foster a culture of inclusivity.

And then you have small companies or startups that are built around sustainability and diversity from the get-go. Ecoalf is a Spanish company that turns plastic sea waste into high-quality fashion products. Danish company Matter assists its clients to choose a sustainable pension, namely the company makes sure that its clients invest their pensions in companies that have a positive impact on the world.

When the business is built on a purpose with positive social and environmental impact, it differentiates itself from the competition. Having a brand purpose that customers care about has been reported to influence the brand's revenue.

Accenture's latest annual Global Consumer Pulse Research found that 62 per cent of customers want companies to take a stand on current and broadly relevant issues like sustainability, transparency or fair employment practices.

Unilever is a good example of how focusing on sustainability drives revenue. Nearly half of its top 40 brands focus on sustainability with Knorr, Dove and Lipton among them. According to the report, these brands grow 50 per cent faster than the company's other brands and deliver more than 60 per cent of the company's growth.

Making your beliefs known is also beneficial to your personal brand in that it opens up various opportunities for projects or support that you couldn't get otherwise. Instead of going to people, people come to you.

In the musical, Aaron Burr is the opposite of Hamilton. He believes that revealing his views on topics of the highest importance makes him vulnerable, effectively handing his enemies the bullet with which to kill him. One of his recommendations to Alexander starting out his life in New York is to "talk less, smile more and don't let them know what you're against or what you're for".

That strategy didn't play out well for Aaron when he ran against Thomas Jefferson for the presidency of the United States years later, in 1800. With both candidates at a tie, Hamilton was called upon to announce which candidate claimed his vote. Although he didn't agree with Jefferson on many subjects, Hamilton votes for him because "when all is said and all is done, Jefferson has beliefs, Burr has none!"

Lesson #4: Communicate your ideas, beliefs and purpose

As you learned at #1, Alexander was quite the writer. When he was a teenager, he published several letters and poetry in his local newspaper that made him famous in his community.

Later on, among his duties as Washington's right-hand man was writing letters for the General.

While studying for his bar exam, Alexander published a book called Practical Proceedings in the Supreme Court of New York which compiled his analysis of old New York court cases. The book became a manual in New York legal studies for decades afterwards.

To convince the people that the Constitution was essential to their liberty, Hamilton decided to write a series of essays. He enlisted John Jay and James Madison to assist him in writing the essays. The three men published 85 essays which became collectively known as the Federalist Papers of which Hamilton wrote 52.

How did Hamilton write? Paraphrasing the Non-stop song: Hamilton wrote day and night like he was running out of time, like tomorrow won't arrive, as he needed it to survive.

If you're leading a company, people want to hear from you. If you're leading a team, the team members want to hear from you.

You have a unique perspective on business and life. What are your challenges? What are your successes? What are your aspirations? What inspires and motivates you? People want to learn about other people's experiences.

Today there are many ways leaders can communicate their ideas, beliefs and purpose. If you're good with writing words on paper, start a blog. If you're a good speaker, start a podcast or YouTube channel. Go live on Facebook or LinkedIn.

Bill Gates writes on Gates Notes, his blog and has just started hosting a podcast series with co-host actress Rashida Jones. Former Disney CEO Robert Iger wrote a book. And I could go on with many other examples.

The tools are readily available, all you need is a simple strategy and the time to implement it.

Join the Conversation

We'd love to hear what you have to say.

Get in touch with us on our LinkedIn Page, Facebook Page, Twitter or TikTok.
Alexander Hamilton biography source: SparkNotes
Music, a huge marketing tool
It has the power to connect us and therefore it's inestimable for brands. It can also take us away and move us into an Universe where we are hard to be reached, where we connect with our emotions and feelings better than with anything else.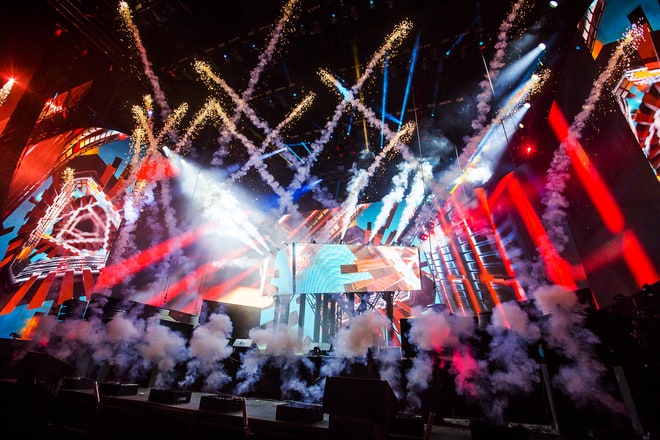 Music triggers memories of messages, experiences, and other moments. Scientists at UC Davis,  Live Science reported, used brain scans to show how music and recall are intrinsically linked. When we think about key moments in our lives, there's a high likelihood we'll remember a song along with the memory or the song will trigger memories of an event.
Identifying the right audio space is critical — a long-term, consistent audio relationship can build tons of affinity for your brand. Why? As  demonstrated in an April article in the Journal of Consumer Psychology, people process repetitive song lyrics more fluently and adopt them faster than they do other types of song lyrics. If your brand is strongly associated with a particular musician, a style of music or song, it may get a boost when that tune is heard outside of your content. The number of people who've viewed  Justin Bieber's playlists on Vevo is larger than the combined population of the world's two most populous countries, China and India.
Moreover, music is powerful because it is pure content and it stimulates social interaction and drives loyalty. Disruptive streaming technologies and the onset of  multi-screen user behavior have forced drastic shifts in the use of music as a marketing tool by music labels, entertainment companies and brands across multiple consumer categories. Music is an emotional touchpoint being "used in advertising and marketing to help ensure these connections, whether it's through the use of a particular artist, a set of lyrics, or a specific song structure that makes you actually feel something," sayd Lori Feldman, EVP Brand Partnerships and Creative Synch Licensing at  Warner Brother Records, quated by mashable.com.
At its core, music creates emotional connections. It triggers dopamine production in our brains, which makes us happy. Music is the universal language that connects people across generations and geographies. For marketers, developing a strong music strategy can reap huge dividends. Partnering with the right artist, song, or music experience can generate buzz, excitement, and passion around a brand, and help connect with consumers on an emotional level like few other cultural industries can.
Russell Wallach, President of  Live Nation, believes it makes sense for brands to tie music into their  marketing strategies. Wallach says, "You're seeing it today from many brands, whether it's in their advertising or through supporting a concert or given artist. It can also be great for the artist, as the partnership can help provide extended exposure to a wider audience."
Live music and festivals are creating long lasting friendships and connections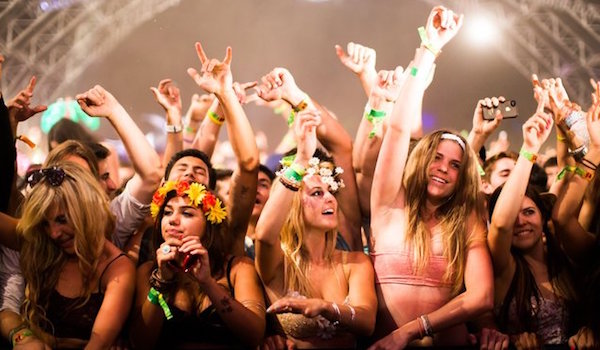 photo source: craveonline
Coachella,  SXSW and  Bonnaroo or local festivals such as Summer Well, Electric Castle, Untold, have become lifestyle experiences where Millennials blog, take selfies and create videos and other content to broadcast on their digital channels. If we take a look at Coachella's demographic, the average festival-goer is between the ages of 18-34 years old, is willing to pay USD 300+ for a festival pass and has a dedicated interest in what's new and next. For marketers, it makes Indio, Calif., the perfect place to achieve quality and quantity in terms of reach and possible engagement. And of people buying branded products. Moreover, for the past several years, retail brand  Lacoste spotted the opportunity and has hosted the Lacoste Live! Pool Party at Coachella. The event encouraged attendees to socialize with one another while discovering fresh, brand-aligned music. Also on a plus side, as shown in a study conducted by  Momentum Worldwide, a customer attending a branded live experience drives 65% of people to recommend the brand and 59% to buy it at retail afterward.
Several brands worldwide are famous for making music part of their marketing DNA, as adage.com shows in an article or imediaconnection.com here.