10 fast-converting words to use in your digital marketing strategy
These 10 fast-converting words are powerful and will help you get one step ahead of your competition.
Use them in your blog or email headlines, social media posts, YouTube and TikTok videos to grab your audience's attention and stop them from scrolling down.
1.

SAVE
Tell your audience how your product or service helps them by saving time, energy or money. Show them how they can spend their time or money on what is important to them (more time for family or hobbies, more money for travel, etc).
2.

YOU/YOUR
What does your audience care the most about? Their dreams, their goals, their family, their lives – themselves. Imagine you have a cup of coffee with your prospect and he/she is sitting across the table. Talk to them in the second person ('you', 'your') like you would in a real-life situation. Make your message about the customer, not your brand.
3.

INSTANT/NOW
Why wait when you can have your cake and eat it too? In a world where successful businesses are built around instant or almost instant gratification (ex: Amazon's same-day delivery), tell your audience how fast your product solves their problem. Solutions that are quick are more appealing.
4.

TIPS/GUIDES/HOW-TO/TUTORIALS
Content that teaches your audience how to do something important to them (write a pitch, plan a high-level meeting, network with decision-makers and so on) is highly valuable. Create educational content and use one of these power words to raise your conversion rates and position your brand as the authority in your industry.
5.

NEW/FRESH/INTRODUCING/UPDATED/FIRST
Your audience is hungry for the latest updates on the topics of their interest whether it's how to sail the big seas or how to expand into a new market. The world is moving fast and what worked three years ago might not work next year. Build a relationship based on trust by helping your audience achieve their goals with valuable relevant and up-to-date information. It's also worth noting that your audience will feel special when they are the first you share important information with.
6.

BENEFITS/INVESTMENT
Talking about costs at the wrong time is a surefire way to make your audience grow cold with your brand which is the exact opposite of what you are trying to achieve. Warm your audience by helping them see what's in it for them, what benefits your product brings to them and how it will make their lives easier. Present your product as an investment and show them the ROI of their investment.
7.

PREMIUM
Premium products are for VIP customers. Let your audience know your brand provides them with a high-end high-quality product. Show them how important and valuable they are to your company.
8.

EXCLUSIVE
Every customer wants to feel special so build a community where your brand can share unique features, perks and benefits designed especially for your audience. It will help your brand stay top of mind and build a strong relationship.
9.

EASY
No one wants to put in too much effort. The frictionless product or service wins the customer. If your product takes 3 clicks to order and your competitor's, 10, your customer will choose your product. Tell your audience how easy it is to use your product and see your conversion number skyrocket.
10.

IMAGINE
Human beings are highly attached to stories, and these tend to stick in people's minds more effectively than a straight sales message. Invite your audience to an imagination exercise and help them envision how your product would change their lives for the better.
Get your company back in growth model with Business Strategy for Top Executives
Are you looking to get your company back in growth model?
Then BRAND MINDS' Business Strategy for Top Executives Masterclass is for you.
Get access now, the price goes up on February 1st!
The BRAND MINDS Business Strategy for Top Executives is a full-day premium learning experience
The Business Strategy for Top Executives Masterclass is hosted online on March the 23rd and provides participants with the opportunity to learn the principles of innovative companies.
The masterclass is a full-day premium learning experience delivered by Costas Markides, one of the world's most renowned experts on strategy & innovation.
As the Professor of Strategy & Entrepreneurship at London Business School for the past thirty years, his expertise is focused on strategic and business model innovation.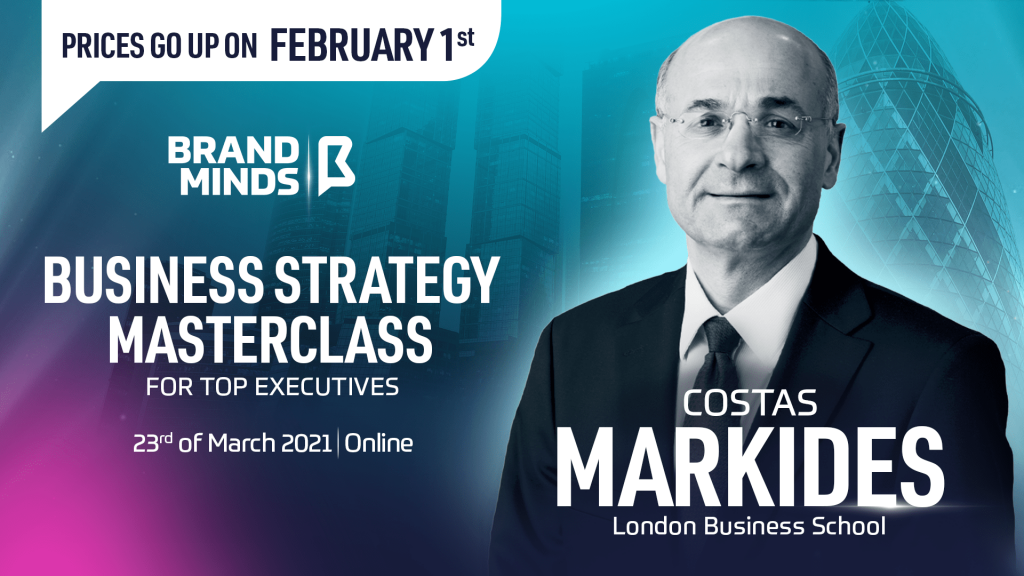 By attending this masterclass, participants will
Explore NEW BUSINESS OPPORTUNITIES;
NETWORK with top executives;
Develop a CREATIVE BUSINESS STRATEGY;
Learn to FORESEE BUSINESS TRENDS;
Generate EFFICIENT BUSINESS MODELS;
Explore how DISRUPTION CAN DEVELOP their industries;
Learn to ADAPT in a volatile business ecosystem.
Business Strategy and Innovation are the answer for Successful Top Executives
The pandemic is the most disruptive event in modern history taking an unprecedented toll on the business environment.
It has presented top executives in every industry with new challenges ranging from team management to customer behavior changes, business operations to company culture.
When disruption occurs to such an extent, business executives need to take action.
How can businesses protect themselves against disruption?
By designing a new business strategy and a company culture that encourages innovation.
Why is business strategy important?
Because strategy drives decisions in business. The strategy provides the organization with the most effective path and direction to achieve its goals.
Why is innovation essential for business?
Because innovation helps businesses grow. Organizations that are continually innovating are more likely to achieve competitive advantage.
Join the Conversation
We'd love to hear what you have to say.
Get in touch with us on our LinkedIn Page, Facebook Page, Twitter or TikTok.
T​he best local brands that went global
The world's largest brands are facing a dual threat from slowing growth in developed economies and the rising popularity of homegrown brands. As getting more sales from existing customers becomes increasingly difficult, and costly, brands are turning their attention to the places where they can attract new customers – emerging markets. According to  Kantar Worldpanel's fifth annual Brand Footprint study, emerging markets now account for 51% of global spend on fast-moving-consumer-goods (FMCG), up from 48% just three years ago. Emerging countries added $34 billion to the global industry throughout the year, a gain of more than 6% over last year, while sales in developed markets were flat. This year's ranking analyzed 15,300 brands and 1 billion households in 43 countries across five continents in the 12 months to November 2016.
Looking to go global? Join this masterclass!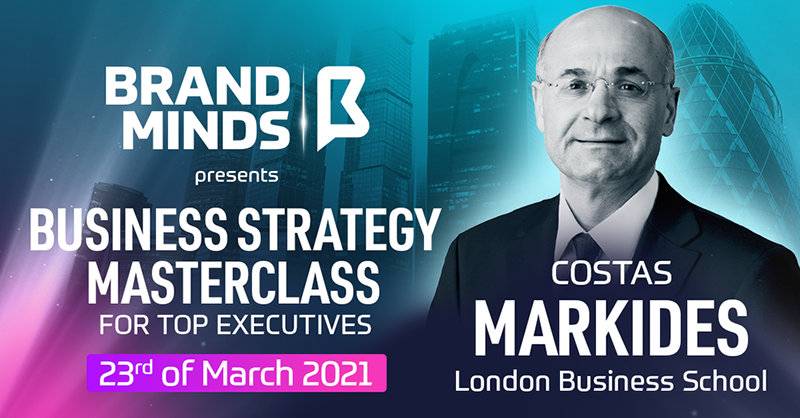 "The underlying theme of this year's report is disruption," said Josep Montserrat, chief executive officer of  Kantar Worldpanel. "This not only relates to the political and economic climate of today, but also to the increasing number of disruptor brands and trends which are upsetting the status quo."
While global brands remain dominant, local brands are achieving faster growth. Local brands grew by 3.9% in 2016, compared with 2.6% growth for global brands.
"In 2016, the price gap between global and local brands has narrowed to the point of disappearing," said the report. "No longer does being a global brand automatically command a price premium. Global brand owners are having to work harder to convince consumer that a global choice offers the additional reassurance of quality and confers prestige."
Local brands claimed the top spot in more than half of the countries studied by Brand Footprint. Some of these brands represent a more affordable option in struggling economies like Brazil and Argentina. However, in developed markets consumers have shown they are willing to pay a premium for homegrown products. Local brands are seeing the strongest performance in the food and beverage categories, while health and beauty brands continue to be driven by global brands.
Becoming a successful global brand requires an understanding of local cultures, lifestyles and ideologies, according to two industry figures. In a WARC Best Practice paper,  How global brands resonate across cultures, Sue Mizera and Alessandra Cotugno, senior executives at Young & Rubicam, observe that the standardization of brand name, logo, image, packaging and brand positioning simply enables brand recognition in multiple markets. Moreover, different brand values emerge as more important in different countries: Germans like the notion of directness, for example, while Indonesians prefer kindness and South Koreans favor energetic brands.
Here are five great local brands that are worldwide global successes: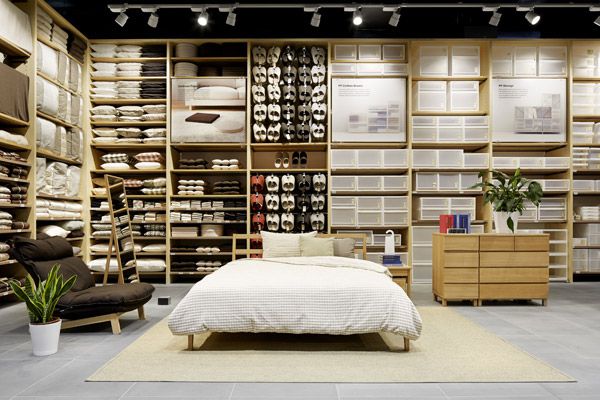 IKEA
The IKEA story begins in 1926 when founder Ingvar Kamprad is born in Småland in southern Sweden. He is raised on 'Elmtaryd', a farm near the small village of Agunnaryd. Even as a young boy Ingvar knows he wants to develop a business.When Ingvar Kamprad is 17, his father gives him money as a reward for succeeding in his studies. He uses it to establish his own business. The name IKEA is formed from the founder's initials (I.K.) plus the first letters of Elmtaryd (E) and Agunnaryd (A), the farm and village where he grew up. IKEA originally sells pens, wallets, picture frames, table runners, watches, jewellery and nylon stockings – meeting needs with products at reduced prices. In 1951, IKEA founder sees the opportunity to sell furniture on a larger scale using a catalogue, not famous worldwide. Two years later, Furniture showroom opens in Älmhult, Sweden. This is an important moment in the development of the IKEA concept – for the first time customers can see and touch IKEA home furnishings before ordering them. The showroom is born out of a price war with a main competitor of IKEA. As both companies lowered prices, quality was threatened. By opening the showroom, IKEA clearly demonstrates the function and quality of its low-price products. The innovation is a success; people wisely choose the products with the best value for money.
In the 1980s, IKEA expands dramatically into new markets such as USA, Italy, France and the UK., the brand beginning to take the form of today's modern IKEA. In the 2000s, IKEA expands into even more markets such as Japan and Russia. This period also sees the successes of several partnerships regarding social and environmental projects. Today is a major retail experience in 40 countries/territories around the world.
In 1833, shopkeeper Marcus Samuel decided to expand his London business. He sold antiques, but now added oriental shells. He aimed to capitalize on a fashion for using them in interior design. Such was the demand that Samuel quickly began importing shells from the Far East, laying the foundations for an import-export business that would eventually become one of the world's leading energy companies. It was during a trip to Japan that Marcus became interested in the oil exporting business based in Baku, Azerbaijan, which was part of Russia at that time. The Rothschilds had invested heavily in the 1880s in rail and tunnels to overcome the transport difficulties of getting oil from this landlocked base to the Black Sea and from there to overseas markets.
Marcus and Sam commissioned a fleet of steamers to carry oil in bulk, using for the first time the Suez Canal. They also set up bulk oil storage at ports in the Far East and contracted with Bnito, a Russian group of producers controlled by the Rothschilds, for the long-term supply of kerosene.
Their strategy was high-risk: if news of their operations got out they would be squeezed out by Rockefeller's dominant Standard Oil. With the maiden voyage of the first bulk tanker, the "Murex", through the Suez Canal in 1892 the Samuels had achieved a revolution in oil transportation. Bulk transport substantially cut the cost of oil by enormously increasing the volume that could be carried. The Samuel brothers initially called their company The Tank Syndicate but in 1897 renamed it the Shell Transport and Trading Company.
In 1907 the company merged with Royal Dutch Petroleum Company, becoming The Royal Dutch Shell Group. There were two separate holding companies with Royal Dutch taking 60% of earnings and Shell Transport taking 40%. The business was run by a variety of operating companies. The merger transformed the fortunes of both companies. Under the management of Henry Deterding they turned from struggling entities to successful enterprises within twelve months.
The Group rapidly expanded across the world. Marketing companies were formed throughout Europe and in many parts of Asia. Exploration and production began in Russia, Romania, Venezuela, Mexico and the United States. The first twelve years also provided many exciting opportunities to demonstrate the quality of the products in the new, fast-developing market for gasoline. These included record-breaking races, flights and journeys of exploration.
More on the history you can read here.
3.  Nestlé
The company history begins in 1866, with the foundation of the Anglo-Swiss Condensed Milk Company. Henri Nestlé develops a breakthrough infant food in 1867 and in 1905 the company he founded merges with Anglo-Swiss, to form what is now known as the Nestlé Group. During this period cities grow and railways and steamships bring down commodity costs, spurring international trade in consumer goods. In 1904, Nestlé begins selling chocolate for the first time when it takes over export sales for Peter & Kohler. Henri Nestlé himself plays a key role in the development of milk chocolate from 1875, when he supplies his Vevey neighbour Daniel Peter with condensed milk, which Peter uses to develop the first such commercial product in the 1880s.
In 1960, with increasing numbers of households buying freezers, demand for ice cream is rising. Nestlé buys German producer Jopa and French manufacture Heudebert-Gervais to capitalise on this growth, and adds Swiss brand Frisco in 1962. The company also buys UK canned foods company Crosse & Blackwell. In 1961, Nestlé buys the Findus frozen food brand from Swedish manufacturer Marabou, and extends the brand to international markets. Findus is one of the first companies to sell frozen foods in Europe, from 1945. As chilled dairy products are increasingly popular, Nestlé buys French yogurt producer Chambourcy. In the early 1970s the latter launches the Sveltesse range of yoghurts, aimed at health- and weight-conscious consumers.
Moreover, 1969 is the year the company enters on the mineral waters market by buying a stake in French waters brand Vittel.
In 1974, for the first time, Nestlé diversifies beyond food and drink, becoming a minority shareholder in global cosmetics company L'Oréal. Three years later,the renamed Nestlé S.A continues its diversification strategy by buying US pharmaceutical and ophthalmic products manufacturer Alcon Laboratories.
More on the company's expansion you can read here.
4.   Carlsberg
The brand was born in 1847, but the international approval came just 21 years later when the first Carlsberg beer was exported to Great Britain. Carlsberg was founded by J. C. Jacobsen, a philanthropist and avid art collector. With his fortune he amassed an impressive art collection which is now housed in the Ny Carlsberg Glyptotek in central Copenhagen. The first brew was finished on 10 November 1847, and the export of Carlsberg beer began in 1868 with the export of one barrel to Edinburgh, Scotland.
The first overseas license for brewing was given to the Photos Photiades Breweries, and in 1966 Carlsberg glass and beer was brewed for the first time outside Denmark at the Photiades breweries in Cyprus. The first brewery to be built outside Denmark was in Blantyre, Malawi in 1968.
Carlsberg merged with Tuborg breweries in 1970 forming the United Breweries AS, and merged with Tetley in 1992. Carlsberg became the sole owner of Carlsberg-Tetley in 1997. In 2008, together with Heineken, it bought Scottish & Newcastle, the largest brewer in the UK, for £7.8bn ($15.3bn). In November 2014, Carlsberg agreed to take over Greece's third largest brewery, the Olympic Brewery, adding to its operations in the country already and effectively transforming the firm into the second biggest market player in Greece.
More about the company's growth you can read here and here.
5. Mercedes
The brand is known for luxury vehicles, buses, coaches, and trucks. The headquarters is in Stuttgart, Baden-Württemberg. The name first appeared in 1926 under Daimler-Benz. Mercedes-Benz traces its origins to Daimler-Motoren-Gesellschaft's 1901 Mercedes and Karl Benz's 1886 Benz Patent-Motorwagen, which is widely regarded as the first gasoline-powered automobile.
Mercedes-Benz traces its origins to Karl Benz's creation of the first petrol-powered car, the Benz Patent Motorwagen, financed by Bertha Benz and patented in January 1886, [3] and Gottlieb Daimler and engineer Wilhelm Maybach's conversion of a stagecoach by the addition of a petrol engine later that year. The Mercedes automobile was first marketed in 1901 by Daimler-Motoren-Gesellschaft. (Daimler Motors Corporation).
Emil Jellinek, an Austrian automobile entrepreneur who worked with DMG created the trademark in 1902, naming the 1901 Mercedes 35 hp after his daughter Mercedes Jellinek. The first Mercedes-Benz brand name vehicles were produced in 1926, following the merger of Karl Benz's and Gottlieb Daimler's companies into the Daimler-Benz company. On 28 June 1926, Mercedes Benz was formed with the merger of Karl Benz and Gottlieb Daimler's two companies.Throughout the 1930s, Mercedes-Benz produced the 770 model, a car that was popular during Germany's Nazi period. Adolf Hitler was known to have driven these cars during his time in power, with bulletproof windshields. The pontiff's Popemobile has often been sourced from Mercedes-Benz.
More you can read here.
Some of Romania's most successful and famous brands at an international level are: Dacia, Aqua Carpatica, ROM, Ursus, Bitdifender, Farmec, etc.