WHO IS SHED SIMOVE
Shed Simove is an entrepreneur, author and must-see keynote motivational speaker. His areas of expertise are 'CREATIVITY', 'INNOVATION', 'SALES' & 'GUERRILLA MARKETING' and he has twenty years experience in these areas. Following a degree in Experimental Psychology at Balliol College, Oxford, and two years working in Disney World, Shed worked in TV Production, heading up programmes including 'The Big Breakfast' and 'Big Brother'.
He then went on to forge a highly innovative merchandising empire – creating conceptual gifts, executive toys, best-selling adult sweets, books, greetings cards, and even his own currency. To date, Shed has sold over 1.5 million novelty gifts worldwide and has won 'Gift Of The Year' twice.
The presentations Shed delivers cover the topics of 'Innovation In Business' and 'How To Think Differently', in order to obtain huge future success. They are highly memorable, entertaining, instructive and inspiring talks that showcase his business insights, methods for sales growth, tips for creative thinking and his amazing adventures. He uses his own entrepreneurial journeys to deliver concrete techniques that give any company, organisation or audience practical methods for creative thinking and ways to come up with new ideas that will increase their bottom line.
10 Things you might not know about Shed Simove
Sheridan "Shed" Simove is a modern day creative genius. He lives and breathes ideas. Every day of his life dozens of new ideas spring from his astonishingly active mind. The ideas can relate to pretty much anything — TV shows, ranges of sweets, executive toys, greeting cards, money-making schemes — the list is endless. And if an idea hasn't been done before, then Shed is sure to attempt it.
Here are some details about him you might find interesting:
1.In the book "Ideas Man", Shed describes how dozens of his ideas came to be, how they succeed or sometimes disastrously fail. Some of Shed's ideas include a range of adult candies called "Clitoris Allsorts," a groundbreaking documentary that involved him going undercover as a 16-year-old schoolboy (when he was 30), and the launch of his own currency, the "Ego".
2. Shed Simove is the creator of the Shinder app, dating app that matches women with the same single man, him. "I thought, if you can't beat them, maybe create your own competition where you're the only person in the competition, therefore, you will then by de facto win," he said for The Verge. "You will win! In the kingdom of the blind, the one-eyed man is king. I thought I would try to create my own pond, so that then I would naturally be the biggest fish."
3. A unique business model that has worked for Shed multiple times is transforming unconventional concepts into lucrative new ventures which form the basis of his stand-up routines and inspirational speeches. "Shed's resume reads like it was scripted for a comedy-romance about an accidental but successful entrepreneur. Because his success is very real, the first thing we asked him is what he thinks actually goes into the making of a remarkable entrepreneur," consider the journalists from businessfundingshow.com.
4. He thinks the emphasis of education should be on exploring, experimenting, falling – so that you know then how to get up and learn from your mistakes. Only after many failures can you ever hope to succeed. The human brain is naturally primed for learning. That's its massive computational superpower.
5. Simove believes the barriers to starting a new venture – and adventure – are incredibly low now – and really the only barrier I feel is often in our heads.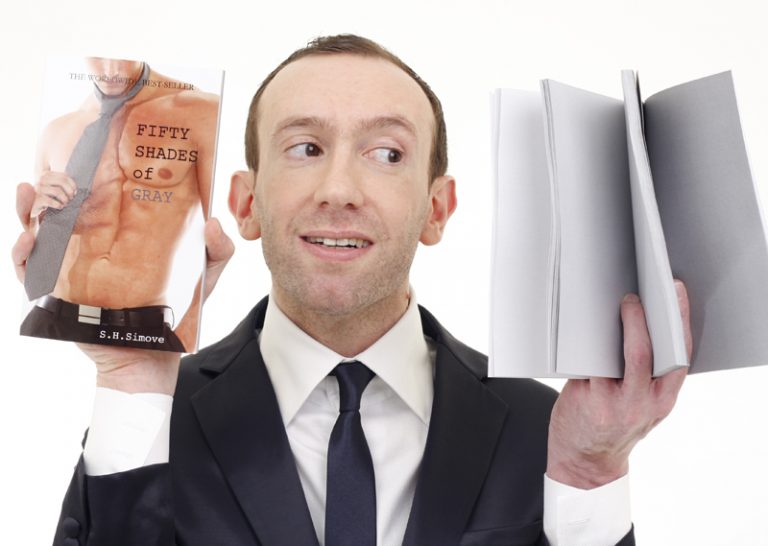 6. "I certainly work hard on anything I do, even if it's meant to be humorous or entertaining. Humor to me is very important because it helps us get through life," he declared for businessfundingshow.com.
7. His formula is not so different from  Richard Reed or  Charlie Mullins. His education in Experimental Psychology combines with a career in Disney World and showbiz into a one-of-a-kind brand of entertainment. While his products may trigger an outburst of laughter in one case or extreme controversy in another, there are active and engaged market segments that he has carefully tapped into.
8. To date, Shed has sold over one million products worldwide and also holds the honor of being the first person to reach the Amazon Top 50 with a blank book – Shed's masterpiece entitled 'What Every Man Thinks About Apart From Sex'​ reached 44 on the chart and has been translated all over the globe… It also achieved a Guinness World Records for 'Most Pages In Published Book'​.
9. As well as a successful career in television production, Shed has forged a highly innovative merchandising empire – creating novelty gifts, executive toys, best-selling adult sweets, books, greetings cards, and even his own currency. He's won 'Gift Of The Year' twice for two of his creations – a range of birthday candles that spelt "You're Old" and the smash hit 'Sound Machine'​.
10. Shed's inspirational and hugely informative performances showcase his amazing career path, using props and visuals that add to the engaging and exciting stories he tells. Shed has performed his visual and inspirational Motivational Speeches to both entrepreneurs and non business people alike. A cross between Anthony Robbins and Woody Allen, Shed is a truly compelling, uniquely memorable, one-off performer.