2021 Cannes Lions Awards: 3 winning campaigns
The 2021 edition of the prestigious Cannes Lions Awards competition is underway. Here are 3 winning campaigns.
1. Tennessee Tourism –
Laugh Tracker
Gold Lion – Data-Enhanced Creativity category
Data is the oil of the digital era, said The Economist in a 2017 article on antitrust rules.
Exchanging free access to services provided by tech giants like Facebook and Google for personal data didn't seem to mind users very much back in the early 2000s.
Until the Cambridge Analytica scandal when people realized that their personal data had been sold by Facebook to a third-party organization that used it to push a political agenda.
And that's not the only example of businesses and organizations using personal data for their own gains. That's why data has got a bad reputation in recent years.
For many, data equals manipulation and gains at the expense of the owners of that said data, the users. But data is much more than that. In the right hands, data provides solutions.
Such is the case with Tennessee Tourism. They identified a problem and used data and technology to find a solution.
Here is the problem: fake online reviews are impacting the travel industry. According to this report, 8% of Yelp's reviews are fake.
At the end of 2020, a total of 224 million reviews had been submitted to Yelp, which means there are almost 18 million fake reviews.
The same report calculated that these fake reviews are directly impacting $4.1 billion in consumer spending this year alone.
Tennessee Tourism didn't set out to identify and delete fake reviews but changed the metric altogether. What's more real than kids' laughter? Kids laughing is a sign that they're having fun. Why not measure it and present it to the parents in lieu of online reviews when searching for travel inspiration?
And that's exactly what Tennessee Tourism has done. Check it out:
Campaign results for 31 locations in Tennessee:
2.023.723 data points analyzed
1.667.760 seconds of laughter recorded
Laugh maps filtered by age
5.9 million hotel and flight searches
+6.2% increase in hotel demand
$142 to $1 return on ad spend
2. Cheetos –
Can't touch this
Grand Prix – Creative Strategy – Food & Drink
While for most snack-eating lovers, getting their hands dirty is a problem, that's not the case for Cheetos fans.
The orange powder that eaters get on their fingers when eating Cheetos (which is called cheetle, by the way) is a great excuse to help them get out of unwanted situations. Can't hold your baby, I've got Cheetos on my fingers! Can't help you carry that heavy sofa, I've got Cheetos on my fingers!
The classic 90s hit rap song Can't touch this by MC Hammer is the perfect match for this Cheetos ad.
Also, the song turned 30 in 2020 which is one more reason to become the ad's anthem.
3. Reddit –
SuperbOwl
Grand Prix – Social & Influencer – Real-time Response
In January 2021, Reddit users on the r/wallstreetbets subreddit built the foundations for a short squeeze on GameStop, pushing up the stock price significantly.
GameStop is an American chain of brick-and-mortar video game stores that has been struggling in recent years due to competition from digital distribution services, as well as the economic effects of the COVID-19 pandemic.
The subreddit r/wallstreetbets is an online community on Reddit known for discussion around high-risk stock transactions.
Short selling is the process of betting on a stock that one knows is going to fall. The short squeeze on GameStop occurred when Reddit users noticed hedge funds were heavily short selling the stock, especially Melvin Capital.
The battle between amateur investors and multi-billion dollar hedge funds on Wall Street ensued. It was the battle between David and Goliath and attracted a lot of media attention. And just like the legend, the underdogs won.
The retail investors began a stock trading frenzy which led to raising the stock price by 1,700%. Short sellers lost an estimated $23.6 billion on GameStop in this rally with claims that Melvin Capital had gone bankrupt.
To celebrate the win, Reddit took out a 5-second ad for the Super Bowl. And the ad was exactly this: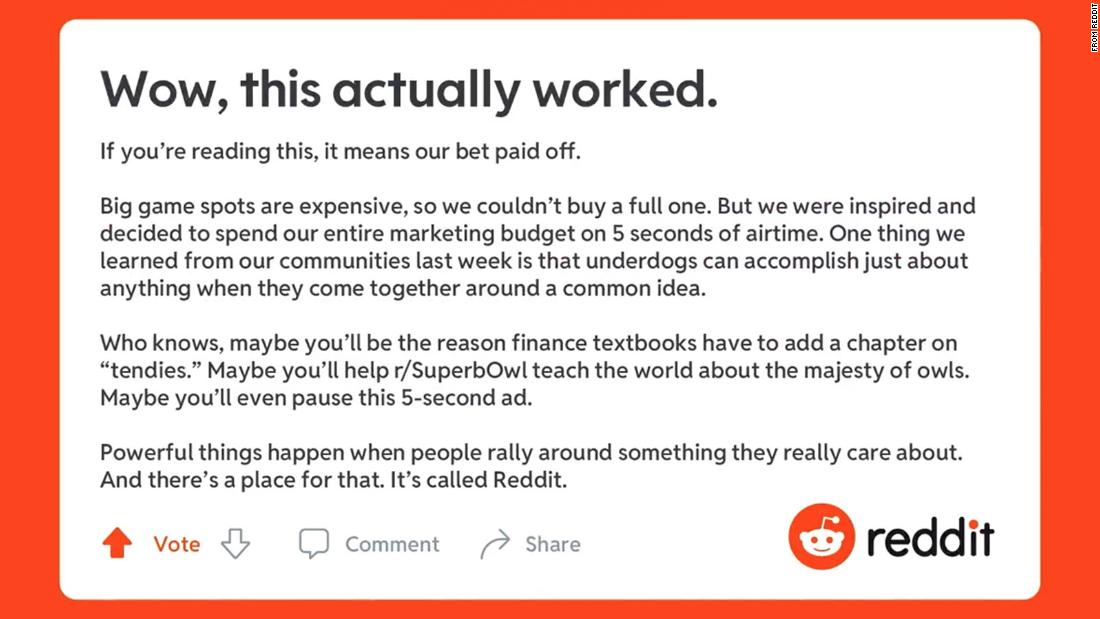 Since the ad was practically impossible to read, the viewers had to rewind the show and pause the ad.
The copy refers to the GameStop frenzy and celebrates the power of Reddit communities which are as odd as they can come. The SuperbOwl is a fun play on SuperBowl.
Paying close to a million dollars for an ad impossible to read prompting viewers to go to great lengths to see it is a bold move, but it paid off. The campaign won the Cannes Lions Grand Prix in Social & Influencer – Real-time Response.
Join the Conversation
We'd love to hear what you have to say.
Get in touch with us on our LinkedIn Page, Facebook Page, Twitter or TikTok.