Top 7 biggest tech acquisitions of 2020
(UPDATED) What are the top 7 biggest tech acquisitions of 2020?
1. Oracle to take a 12.5% stake in TikTok Global
TikTok became available in the American market in 2018 after merging with another social media service Musical.ly.
Within two years, TikTok US has increased its monthly user base to 100 million, up 800%.
According to SensorTower, TikTok was the most downloaded app in 2020 with 82 million downloads globally.
Was TikTok's global surge in downloads a result of Donald Trump's threat to ban the US operation of the Chinese social app? Most likely.
Was the pandemic lockdown a contributing factor? Definitely yes.
In September 2020, Oracle announced that it was chosen to become TikTok's secure cloud technology provider.
The company's press release also reports that the decision was heavily influenced by Zoom moving a large portion of its video conferencing capacity to the Oracle Public Cloud.
According to Oracle Chief Technology Officer Larry Ellison, the cloud infrastructure is "much faster, more reliable, and more secure than the first generation technology currently offered by all the other major cloud providers".
As part of the agreement, Oracle will become a minority investor in TikTok Global with a 12.5% stake in the company. How much is that worth? Well, it was estimated that ByteDance, TikTok's parent company is valued at $100 billion and that TikTok's US operations account for about 40% of ByteDance's valuation, or about $40 billion. This means that Oracle's stake is worth $5 billion.
However, the agreement is yet to be finalized with the American government granting TikTok an extension of its forced sale deadline until December 4, 2020.
2. Salesforce to acquire Slack for $27.7 billion
Salesforce is the top CRM providers worldwide empowering companies of every size and industry to digitally transform and create a 360° view of their customers. It is one of the fastest-growing enterprise software companies of all time with over 150,000 customers ranging from small businesses to FORTUNE 500 companies.
In 2019, Salesforce increased its market share to 18% followed at a distance by its competitors SAP, Oracle, Microsoft and Adobe.
In December 2020, Salesforce announced that the CRM provider has entered into a definitive agreement with Slack under which it will acquire the latter for $27.7 billion. Slack is one of the most innovative enterprise communications platforms. You can learn more about its growth story here.
This is a match made in heaven. Together, Salesforce and Slack will shape the future of enterprise software and transform the way everyone works in the all-digital, work-from-anywhere world. I'm thrilled to welcome Slack to the Salesforce Ohana once the transaction closes.

Marc Benioff, Salesforce CEO
3. Microsoft to acquire games developer ZeniMax Media for $7.5 billion in cash
Two years ago, Microsoft acquired seven games developer studios.
Today the market has grown to 3 billion gamers from 1 billion in 2018 and is expected to bring more than $200 billion in annual revenue in 2021. The gaming industry is one of the fastest-growing industries worldwide registering a CAGR of 9.17% over the forecast period (2020 – 2025).
With the acquisition of ZeniMax Media, the parent company of Bethesda Softworks, one of the largest, privately-held game developers and publishers in the world, Microsoft consolidates its foothold in the gaming industry. Under the terms of the agreement, Microsoft will acquire ZeniMax Media for $7.5 billion in cash.
ZeniMax Media are the creators of critically acclaimed and best-selling gaming franchises including The Elder Scrolls and Fallout among many others.
With unique investments in content, community, and the cloud, Microsoft's gaming strategy differs from others by empowering people to play the games they want, with the people they want, anywhere they want. Games are the primary growth engine in gaming, and games are fueling new cloud-gaming services like Xbox Game Pass, which has reached a new milestone of over 15 million subscribers. With the addition of Bethesda, Microsoft will grow from 15 to 23 creative studio teams and will be adding Bethesda's iconic franchises to Xbox Game Pass.

Microsoft Press Release
4. Adobe acquires work management platform for marketers Workfront for $1.5 billion
In November 2020, Adobe announced it has entered into a definitive agreement to bring Workfront, the leading work management platform for marketers, to Adobe Experience Cloud for $1.5 billion.
Founded thirty-eight years ago, Adobe continues to deliver award-winning software and technologies that have redefined and advanced business and personal communications.
Adobe Illustrator® and Adobe Photoshop® are groundbreaking software used by more than 90% of creative professionals worldwide for digital image editing and creation.
Adobe Experience Cloud is the most comprehensive solution for content and commerce, customer journey management, and customer data and insights, all built on an open platform, enabling businesses of every size across every industry to deliver exceptional customer experiences at scale.
With the acquisition of Workfront, Adobe makes the digital transformation easier for its customers.
Workfront has more than 3,000 customers and 1 million users and deep leadership in orchestrating marketing workflows. Workfront's platform is agile and uniquely architected for the enterprise, with extensive integration capabilities that can be easily configured to meet the varied needs of companies of all sizes.
Together, Adobe and Workfront will provide our customers access to a single system to support planning, collaboration and governance that will unlock organizational productivity. Now marketers will not only create and deliver the best customer experiences but also efficiently and seamlessly manage the workflows that bring these experiences to life.

Adobe press release
5. Amazon to acquire self-driving tech startup Zoox for an estimated $1.2 billion
With a market capitalization of $1.7 trillion, Amazon is the third most valuable tech company in the world following Microsoft and Apple.
In June 2020, Amazon has signed an agreement to acquire Zoox, a self-driving tech startup designing autonomous technology from the ground up with passengers front-of-mind.
Amazon's support will get the startup closer to its mission of delivering safe, clean, and enjoyable transportation to the world. Founded in 2014, Zoox's tightly integrated features are designed to provide a revolutionary passenger experience. The startup has raised $955 million in venture-backed funding.
Amazon hasn't disclosed the purchasing value of the agreement but industry experts estimate it is a little over $1.2 billion.
What are Amazon's plans for Zoox?
Some experts say the company will more likely integrate Zoox's technology into its distribution network than building a fleet of autonomous driving cars. This might happen in the near future.
For now, Zoox is sticking with its mission and is preparing to unveil its ride-hailing vehicle on December 14 under the tagline The future is for riders, not drivers.
6. Facebook to acquire customer-focused platform Kustomer for a reported $1 billion
In November 2020, Facebook announced that it reached an agreement to acquire Kustomer, a top-rated CRM that enables businesses to effectively manage all customer interactions across channels.
The goal of the platform with over 2.7 billion monthly active users is "to give businesses access to best-in-class tools that deliver excellent service and support."
Facebook reports that more than 175 million people contact businesses via WhatsApp every day. Kustomer helps businesses optimize their time and quality of interactions with customers by bringing customer conversations from various channels together into a single-screen view.
Facebook plans to support Kustomer's operations by providing the resources it needs to scale its business, improve and innovate its product offering, and delight its customers. That way, more people will benefit from customer service that is faster, richer and available whenever and however they need it, whether it's phone, email, web chat or messaging.

Facebook press release
7. Cisco to acquire audience interaction company Slido for an undisclosed amount
In December 2020, Cisco announced its intent to acquire privately-held Slido, a technology company that provides a best-in-class audience interaction platform.
Cisco's acquisition is a strategical business decision which allows the company to stay competitive with Zoom. Webex, Cisco's video conferencing solution had 600 million participants in October 2020.
Slido developed a Q&A and polling platform designed to bridge the gap between speakers and their audiences. The company's platform provides for its 7 million participants monthly a web-based application to actively engage people and get real-time feedback before, during, and after events and meetings.
With Slido's technology, Cisco will integrate even more insights into the Webex platform to help everyone work smarter and be more productive whenever and wherever work happens. We are going to enable companies around the world that have traditionally relied on in-person events like townhalls, all-hands meetings and major user conferences to make sure everyone is engaged and included.

Cisco press release
How solving an internal problem gave rise to these successful companies: Slack, MailChimp and Basecamp
The usual path many successful companies have taken was building a product which solved a problem or catered to the needs of a specific customer base. In order to develop a good product, they did extensive market research, customer profiling, competitor analysis etc.
Other companies created a product as a side project to solve their own needs with no intention of selling it to anyone else. This product turned out to be of value to other businesses which allowed the said companies to pivot to a new business.
This is the case of Slack, MailChimp and Basecamp.
These are their stories.
How solving an internal problem gave rise to Slack, Basecamp and MailChimp
SLACK
In 2009, Stewart Butterfield and his team of forty-five people were working on Glitch, a browser-based massively multiplayer online game. Unfortunately, the game closed in 2012 due to accessibility and depth issues.
As sad as that was (Stewart had begun working on Glitch as early as 2002), something good came up from this failure.
While working on the game, the team has developed a workplace communication app. It was based on an old protocol built in the 1980s called the Internet Relay Chat which the team transformed to accommodate their needs for fast and relevant communication.
Stewart recognized the value of this communication tool and a year later following the demise of Glitch, Slack was born.

Slack launched in 2013 and grew to 8 million subscribers in five years then 12 million subscribers in six years. 
Slack's mission is to make work-life simpler, more pleasant and more productive. The app is the collaboration hub that brings the right people, information, and tools together to get work done. It is the preferred business communication tool of 65 Fortune 100 companies in more than 150 countries.
The app has over 100k paid customers and is valued at a reported $15.7 billion. The company has raised a total of $1.4 billion in funding over 11 rounds.
The company began 2019 with $400 million in revenue and is expected to bring in an estimated $600 million in revenue next year. Seeing that the company made its product available in Japanese in 2017 and this year it opened a new office in Tokyo and Melbourne, this estimation is likely to become real.
What does the future hold for Slack?
MAILCHIMP
In 2001, Ben Chestnut and Dan Kurzius were running the Rocket Science Group, a web design agency which focused on big, corporate clients.
While catering to the needs of big companies, they created an email service when their customers began asking for help with their email marketing.
In the early 2000s, email software was expensive and available only to businesses with big resources. They created a little tool for small businesses because they were aware of the challenges these usually have to overcome to be successful.
While growing up, Ben's mom ran a hair salon from her kitchen and Dan's parents ran a bakery. Ben and Dan's email service turned out to be highly successful so in 2007 they closed the web design agency and focused solely on their great product now called MailChimp.
Dan and I created Mailchimp for the love of small business. And over the past 18 years, we've always thought about what kinds of tools and services would have helped our families grow their businesses and weather the competition.

Ben Chestnut
During these past twelve years, MailChimp has come a long way. Although a tech company, MailChimp is not your average Silicon Valley startup growing fast only to get acquired by a tech giant corporation. Ben and Dan are not that kind of startup founders. They see themselves and their team as a band of misfits who despite everything was able to do something great.
This year, Mailchimp was named to FORTUNE's 50 Best Workplaces in Technology list and named the #1 Email Marketing Tool in Newsweek's Best Business Tools of 2019 list.
The company is closing in on $700 million in annual revenues for 2019 and up to date, it hasn't raised as much as one dollar from outside funding.
MailChimp was bootstrapped all the way. Several companies tried to acquire it, one of them even offered the co-founders $1 billion in cash. Both Ben and Dan felt validated but they turned the offer down. They didn't feel scared of the pain and suffering of growing a business. It's just how life is supposed to feel.
As of this year, MailChimp has now grown to around 11 million active customers with a total audience of 4 billion contacts.
More than 1.25 million e-commerce orders are generated daily through MailChimp campaigns and its customers have sold over $250 million in goods through multivariate + A/B campaigns (source).
MailChimp is now more than an email service provider, it's an all-in-one marketing platform which empowers its users to build landing pages, create digital campaigns and leverage powerful insights. It supports small businesses to reach their marketing goals faster.
We know what it means to pour every bit of yourself into your small business. We know the joy and satisfaction that comes when those businesses succeed, and we've felt the lasting sting of failure. But what's baked into our DNA is that ambition all of our family members had: their aspiration to move "out of the kitchen" and build their businesses, to take a small seed of an idea and make it grow.

Ben Chestnut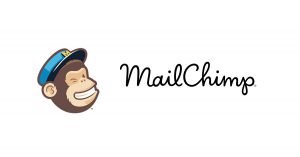 BASECAMP
A base camp is a camp providing supplies, shelter, and communications especially for people climbing a mountain.
In the same way, Basecamp, a web-based project management tool supports teams in their efforts to bring a project to conclusion.
The management platform was launched in 2004 but the company that created it was co-founded in 1999 by Jason Fried, Carlos Segura, and Ernest Kim as a web design company.
Their company was named 37signals and businesses hired them to re-design and simplify their websites.
Business was doing great but soon the team experienced difficulties when running multiple projects. They used email which was not effective and it was taking a toll on their work and caused delivery delays.
Soon clients began to take notice they were disorganized. It's when they knew it was time to choose a project management tool. They tried a few tools available on the market, but they didn't fit their needs: they were complicated and too hard to use.
Frustrated the team at 37signals developed their own project management tool and business began to flow seamlessly once again. Clients started to pay attention to this new tool they were using to run projects and expressed the desire to adopt it for their own in-house projects. And that's how Basecamp was born.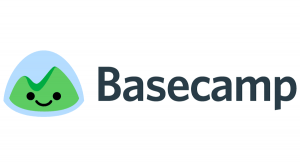 Within a year, Basecamp was generating more income than their web design business.
Fifteen years later, Basecamp has 3 million accounts signed up, $25M in estimated revenue annually and only 55 people employed in 30 different cities around the world who work mostly remote.
In 2006, Basecamp received a Series A fund from Bezos Expeditions which manages Jeff Bezos' personal venture capital investments.
The company hasn't raised any more funding since then because Basecamp CEO Jason Fried wants to stay small.
He believes startups raising more money than they need is a sure way to kill the business.
"It's like, look, you know, you plant a seed, it needs some water, but if you just pour a whole fucking bucket of water on it's going to kill it," he said in an interview for Vox.
It's relevant to mention that Basecamp, unlike other famous tech companies, has been profitable every year since its launch back in 2004.
Conclusion
The path to success doesn't unfold in one direction only.
As startup founder, you may choose to raise funds like Slack or go bootstrapped as MailChimp.
You may grow fast or take the slow lane. If you choose to take it slow, be prepared to strap in for a long journey which could develop over a period of almost twenty-year which is how MailChimp has decided to achieve success. And also commit to your mission and your team and turn down enticing offers which could set you up for life if this is what you were looking for.
Creating a product that solves your customers' pain points is what most companies do. But as these companies have proved, sometimes you could strike gold in your own backyard so be aware and keep your eyes open.
Join the Conversation
We'd love to hear what you have to say.
Get in touch with us on Facebook Group and Twitter.
How Slack Grew To 8 Million Subscribers In 5 Years
As of 2018, Slack has grown to 8 million subscribers in just five years.
Despite its huge success, this collaboration tool for teams has humble beginnings. In fact, it was a by-product called Tiny Speck that Stewart Butterfield's team had built when they were working to develop an online game. The game didn't fly; Slack is the Phoenix that rose from its ashes.
This article gives you insight into how Slack managed to become an 8 million subscriber app in such a short timeframe.
Slack is an enterprise messaging tool which is aimed at assisting team members to chat, work on projects together, and share links and more in real time.
Read our previous Growth Stories: Spotify, Canva.
Slack was developed using the following
6 growth strategies

:
1. Word-of-mouth marketing
Stewart Butterfield (CEO and co-founder) and his team began working on Slack in 2012.
Before their preview release in August 2013, Stewart and his team had begun asking friends and acquaintances working at other companies to give Slack a go and see what they make of it.
This helped the team discover how the product fitted the market and catered to customers' needs. It also helped them work on core features and basic functionality.
The word-of-mouth approach worked brilliantly because on the release day 8,000 people signed-up to Slack. Two weeks later, that number had grown to 15,000. By February 2015, when the tool was publicly available, Slack had acquired 500,000 daily active users. Within four months, this number had doubled to 1.1 million active users.
Today Slack has 8 million daily active users with 3 million paid users and counting. If you are an SEO enthusiast, here is another benefit which will make you feel warm inside: 100.000.000 organic traffic/month of which 90% is driven by word-of-mouth.
Our mission at Slack is simple: to make people's working lives simpler, more pleasant, and more productive. The experience our users have working in Slack is core to our culture and to our business success.
2. Integration with other providers
We're selling a reduction in information overload, relief from stress, and a new ability to extract the enormous value of hitherto useless corporate archives. We're selling better organizations, better teams. That's a good thing for people to buy and it is a much better thing for us to sell in the long run. We will be successful to the extent that we create better teams.

Stewart Butterfield, CEO and founder
Slack is not just a messaging app, it's a collaboration hub that brings the right people together with the right conversations, information, and tools they use at work. And to be productive and efficient, teams need to make the most of their time. So integrating with other tools that teams use on a regular basis was paramount to Slack's success.
There are more than 1500 apps in the Slack App Directory. Slack's website attracts 100.000.000 visitors/month.
Chris von Wilpert has analyzed how the integrations are contributing to Slack's website organic traffic. Here are his conclusions:
Slack ranks on the first-page search results whenever anyone searches a product with which Slack integrates;
Slack managed to achieve this by creating an individual landing page for each of its integrations;
The integrations bring in high-quality referral traffic.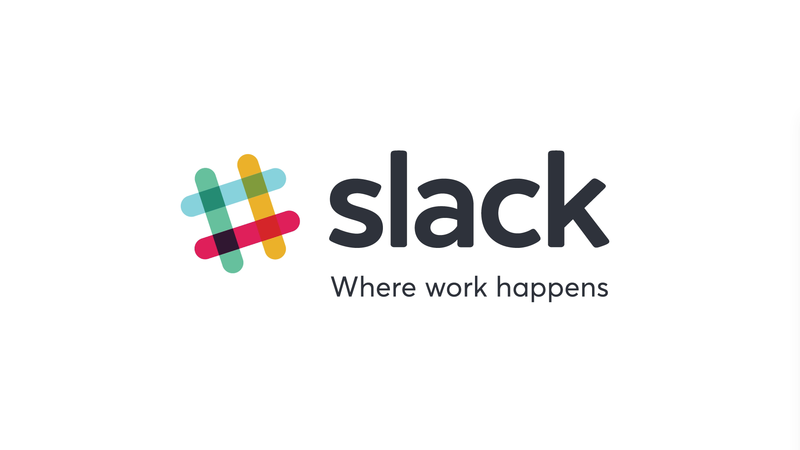 3. Content marketing
Content marketing didn't become part of Slack's growth strategy until 2014.
Unlike other companies, the team growing Slack made an interesting and bold choice: to host their company blog outside slack.com.
Slack's blog is called SlackHQ.com and it was first a publication on Medium.com, the online blogging platform. It was bold and risky at the same time, and it worked out great for Slack. The content published here took full advantage of Medium's features and was often featured on Medium's homepage in the 'Popular On Medium' section.
The blog managed to acquire over 125.000 followers, but in 2018 it was moved to slack.com.
4. Twitter
We bet heavily on Twitter. Even if someone is incredibly enthusiastic about a product, literal word-of-mouth will only get to a handful of people – but if someone tweets about us, it can be seen by hundreds, even thousands.

Stewart Butterfield, CEO and founder
Twitter is Slack's most important social media platform.
Here is how Slack used the 180-character (now 240) social media network:
Build brand awareness;
Define its tone of voice;
Keep their users up-to-date on changes, improvements, company life;
Get customer feedback;
Communicate with customers;
Prevent the Slack support team from scaling up massively: Slack's customer support team is made up of just 18 people, with a group of 6 manning Twitter 24/7.
Slack's Twitter account has 374K followers, but it is most known for being home for the Slack Wall of Love where Slack subscribers come to express their love under @SlackLoveTweets.
Read Stewart Butterfield's success story. 
5. Dear Microsoft
On November 2016, Microsoft announced it was launching their own competing product.
Slack took this opportunity to gain media attention by publishing a letter addressed to Microsoft as a full-page ad in the New York Times.
Here is the letter's first paragraph:
Dear Microsoft,

Wow. Big news! Congratulations on today's announcements. We're genuinely excited to have some competition.
We realized a few years ago that the value of switching to Slack was so obvious and the advantages so overwhelming that every business would be using Slack, or "something just like it," within the decade. It's validating to see you've come around to the same way of thinking. And even though — being honest here — it's a little scary, we know it will bring a better future forward faster.
While the letter sets out to give Microsoft "some friendly advice", it does so by highlighting the principles and values which Slack was built upon and taking a few jabs at Microsoft at the same time:
It's not about features, it's about "a degree of thoughtfulness and craftsmanship that is not common in the development of enterprise software";
Thousands of hours talking to customers;
Internal transparency and a sense of shared purpose;
The necessity of working with an open platform and integrations: "We know that playing nice with others isn't exactly your MO, but if you can't offer people an open platform that brings everything together into one place and makes their lives dramatically simpler, it's just not going to work."
And ultimately love: "We love our work, and when we say our mission is to make people's working lives simpler, more pleasant, and more productive, we're not simply mouthing the words."
Here's the final paragraph:
So welcome, Microsoft, to the revolution. We're glad you're going to be helping us define this new product category. We admire many of your achievements and know you'll be a worthy competitor. We're sure you're going to come up with a couple of new ideas on your own too. And we'll be right there, ready.

— Your friends at Slack
6. Fair Billing Policy
Like many other service apps and tools, Slack uses the freemium business model: free, standard and plus subscriptions.
Out of the thousands of hours of talking to early adopters and customers, the team behind Slack found one particular paint point and came up with a solution.
What is preventing the customer on free subscription from upgrading to a paid one?
One reason is that companies are charged for a number of seats regardless of how many employees are actively using the software. A second reason is that sometimes employees become inactive so the company loses money because it paid in advance.
To this problem, Slack found the following solution: Fair Billing Policy.
Here it is: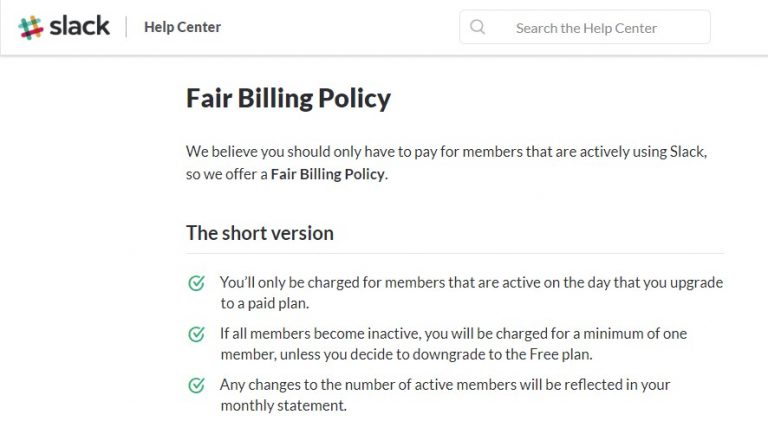 Big companies like Airbnb, IBM, Oracle, Target, BBC, Workday and E-Trade count among Slack's customers with approximately 70,000 businesses paying for the company's services.
According to finance experts, Slack is currently valued at $8.3B and it doesn't look like it is slowing down.
Join the Conversation
We'd love to hear what you have to say.
Get in touch with us on Facebook Group and Twitter.
Stewart Butterfield: From Failure To $8 Billion Slack
This is the story of how Stewart Butterfield built an $8 billion company by refusing to let his failures define him.
The man walks into the room — before starting his talk he looks around. Everyone is here: his employees and stakeholders. He can feel the nervousness in the room. He stands up and with a heavy heart he starts talking. He doesn't even get to the first sentence and he begins to cry.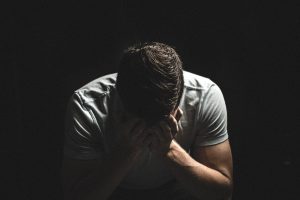 A little over a year ago his team successfully raised $17.5 million in funding. The money was used to develop his massively multiplayer game. Unfortunately although they managed to build an enthusiastic community around the game, it failed to attract a sufficiently large audience. He had the unpleasant task of announcing his decision to close the game down. The investors wanted to keep the game going; the other co-founders wanted to give it another shot. But it was apparent to him that continuing wouldn't ever result in something economically viable, or even sustainable.
It was his second attempt to develop an online game. He started his first project 8 years before, but the game didn't take off. One night, while trying to recover from food poisoning in a hotel, he got this novel idea: what if people could share photos with other people? This feature was already built within the game. It only needed a few adjustments and it was good to go.
Soon enough, his online photo sharing platform became increasingly popular and was acquired by a large internet services company only a year later after it launched.
Although he managed to pivot his failure into a new successful product, he didn't give up on his dream of building a multiplayer online role-playing game. Talking to his employees and stakeholders, he realized it was time for him to acknowledge that it was never going to happen. Not in the foreseeable future anyway. He ends the meeting in a shaky voice and everyone leaves the room. He looks out the window and lets his mind wander.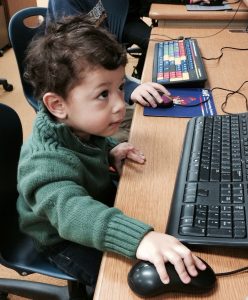 Forty years ago he was a seven-year old boy staring with curious eyes at this new thing his parents had just brought home. It was a computer. Two years earlier he and his parents were living in a log cabin with no running water, in a small fishing village in British Columbia called Lund. His parents had managed to earn a little more money, so they afforded to move to Victoria, the capital of British Columbia, Canada.
Getting a computer was a life-changing experience for the young boy. Thanks to his first computer, he taught himself to code and fell irrevocably in love with tech. While in college he earned extra money designing web pages.
As a young man he created a contest called "The 5K competition". The contest encouraged people to design websites in under 5 kilobytes. The contest took off and became unexpectedly huge, in every country in the world.
Standing in his office, wondering what to do next, he remembers the immense pleasure and sense of fulfilment he felt while working on his first computer. That's when it hit him! The idea for his next project came naturally because it was staring him in the face. His second game may be a flop but the app his team had developed while working for the game had all the makings of a successful product. He jumps from his chair and almost runs out of the office looking for his team colleagues. He had a strong feeling that his idea would be a great success.
The man in our story is Stewart Butterfield, co-founder of Flickr and Slack.
Slack, the instant-message-based team communication tool was launched in 2013; 8,000 customers signed up for the service within 24 hours of its launch. As of May 2018, Slack has 8 million daily users, 3 million of whom have paid accounts. According to Forbes, Slack is now valued at an estimated $8.3 billion.
And it all started…when education happened.
Stewart Butterfield is a world-changer. The next one could be YOU!
This Christmas take one step closer to the future you want for yourself (or for your beloved ones) and invest in education!
Get your ticket for BRAND MINDS 2019 here and enjoy the BRAND MINDS Success Box for Free!
---
sources: businessinsider.com, forbes.com, moneyinc.com, medium.com
10 Important Tools You Need To Grow Your Start-up
Everyone starts a business of their own for different reasons, but some of the most important ones are the desire to do something for themselves, to influence the society for the better or to bring a new product / service to the market. But if the reasons are different what is a general rule is that every new entrepreneur is looking for a recipe of the success, for good examples to be inspired by.
As a recipe for success that would be universally true doesn't exist, we wanted to present you some tools that will for sure help you grow your start-up, in no particular order:
Streak

Similar to Hubspot, Streak is a multi-functional CRM tool. It will help you collaborate with a single click. Share contacts, email, files, and anything else needed to get the job done. With a flexible structure, Streak helps you manage your deals, support queue inside Gmail and also replace multiple external systems. It always has a "fundraising funnel" specific to organizing feedback, meetings and status of close of funds.

Asana is easy to navigate, has an intuitive interface on both desktop and mobile and provides a perfect at-a-glance to-do list for every member of your team. Moreover, it integrates with tools you already use to make tracking your work and getting results easier: Zapier,Dossier, TimeCamp, CSV Importer,etc.
When your team needs to kick off a project, hire a new employee, deploy some code, review a sales contract, finalize next year's budget, measure an A/B test, plan your next office opening, and more, Slack has you covered. Aside from standard options like instant messaging, group chats, and a mobile app, Slack will organize conversations by topic. Moreover, the freemium version also fits the budgets of most startups.
For the times that require a more personal and face-to-face conversation,  Join.me is perfect. Moreover, it allows for easy video conferencing with multiple attendees, while the screen sharing features are ideal for presentations and aiding communication, and the intuitive interface makes it easy to use. Your personal background works in tandem with your personal URL. They both make your account and your meeting room uniquely yours.
The tool offers an array of features to help you grow and manage your list of investor leads. Their customized search tool allows you to search for investors that meet your criteria, plus generate reports in 15 minute or less. In addition to organizing your investors, Foundersuite also offers extra resources for startups, including Idea Validation for feedback on your concepts, and more than 80 templates for pitch decks, financial models, term sheets, and more.
It allows you to add marketing tools — pop-up windows, social share buttons, CTA buttons, video backgrounds, etc. — to your site to increase traffic, engagement, and email signups. All the while, it collects performance data so you can properly fine-tune your marketing strategy as you go. Moreover, it integrates with other marketing software, including Mailchimp.
GrowthHacker.tv is a place where you can watch interviews of successful growth hackers and entrepreneurs who have made a mark in the digital world. The interview videos keep on playing on the website in a loop, which is accessible to visitors for free.
The SEO tool helps startup owners in planning their SEO and other digital marketing activities. This tool prepares a list of activities and also educates new entrepreneurs why a particular activity is important for their startup.  Glasshat generates customised and prioritised Digital Marketing recommendations that tell you exactly what you need to focus on to get tangible results that matter to you.
It's a free online accounting tool for startups and small businesses. The website helps you track all your expenses and incomes, and also helps you with your taxes when the time comes – thus, can help you save a lot of time & effort, usually involved in these procedures. Accept credit cards to get paid faster. Most invoices paid by credit card get paid in 2 business days or less.
An all in one marketing toolkit that helps startup owners in carrying out their competitor research easily and effectively. SemRush's other prominent services include technical SEO audit of your website, semantic core collection, ideas for generating organic traffic, and so on.
Best Apps for Productivity in 2017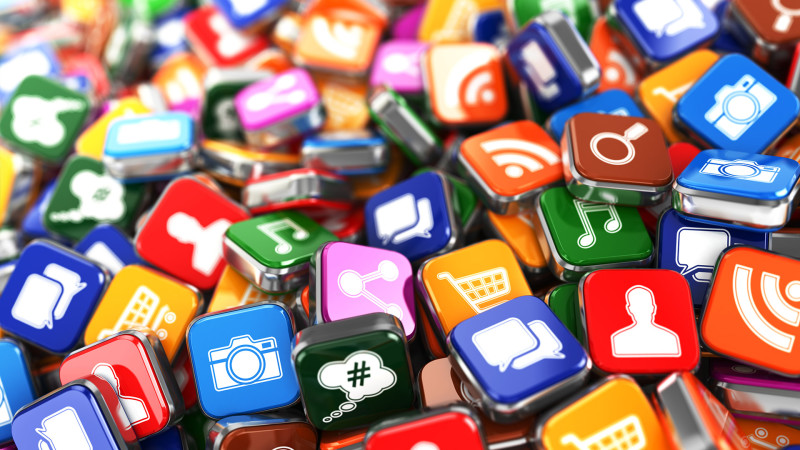 Every day we are bombarded by tons of emails, information and social media that is really hard to keep track of what is truly essential or not. Moreover, they are eating up a lot of precious work time, preventing one from being as productive as it could be and leaving the office at the right hour. Therefore, taking all this context in consideration, all the major app and technology providers are constantly looking for ways of improving the productivity and helping you have a proper balance work-life. We selected some of the most interesting and useful apps and extensions out there on the market, that are ready to help you achieve the productivity goal.
This browser extension measures your time. Being successful means being brutally honest with how you spend your time. You can set a timer for each activity you do and label what you are doing. At the end of the day, you can check how long you spend on each activity and adjust from there. It also syncs in with other productivity apps like Asana. Harvest's powerful reporting gives you real-time access to keep your projects on time and on budget. Get the insight you need to estimate future projects, and ensure your business's profitability.
Workflow lets you customize your phone so that you can skip time-wasting tasks. By telling your phone what to do when it notices a certain action, you can instruct your phone to call a taxi before your next calendar appointment, upload your latest photo to Instagram, and any other string of actions you can think of.  You can build your own workflows with a simple drag-and-drop interface. Mix & match hundreds of actions to create quick shortcuts, manage your media, share content, and much more.
Under the headline, "Remember everything", Evernote is an online collection of everything you want to remember. It's like a digital notebook that stores photos, web pages, notes, PDF files, audio clips, and to-do lists. Once you add things to your notebook they're completely searchable and can be accessed on your desktop, the Web, or your mobile device.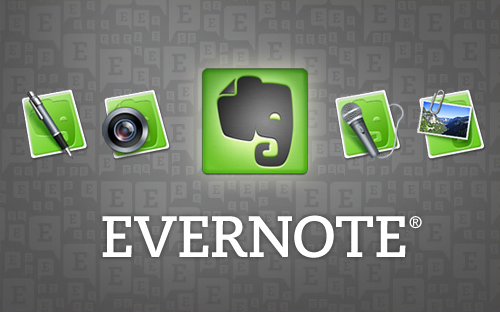 It allows you write and store documents, sketches, memos, pictures, and more online through the cloud. You can access it on your phone or on a computer. It proves to be very useful, especially when you have long materials or analysis to write, as you can start on your phone and continue the work at your laptop or desktop and vice-versa.
Moreover, Evernote makes sure the notes you've saved are easy to find. You can even search for handwritten words buried deep within your notes.
Slack is a great way for keeping in touch with your team at work without sifting through dozens of emails. You can tag users and create multiple channels for smaller team projects. The desktop client sends nonintrusive desktop notifications to the corner of your screen, allowing you to stay on top of what's happening while keeping your eyes on your work.
When you are loaded with emails and you need order, Slack solves this by being something in between email and instant message. Messages and files sent to a group of people or a single person are neatly organized and clear as day.
On top of that, there are customizations you can add to make it your own. You can have it alert your phone with the app or pull up a GIF if you're feeling funny.
If you want clear and easy, Clear is one of the simplest ways to keep track of what you need to do. You can easily drag and reorder your to-dos, and adding a new item is as easy as pulling down your list and typing it in. When you're done with a task, just swipe right.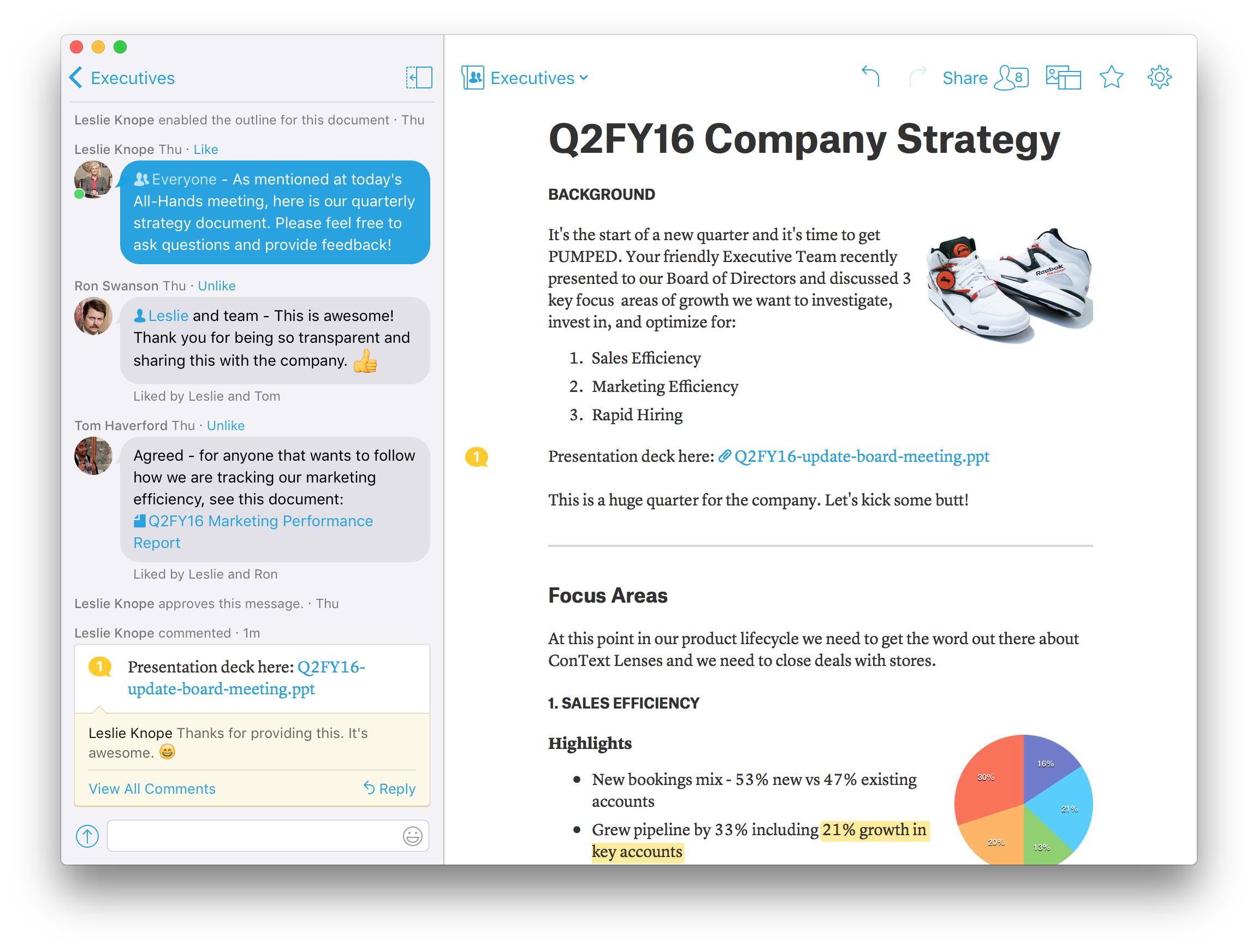 Quip is a mobile word-processing app created by Facebook's former chief technology officer, Bret Taylor. Quip infuses a messaging element into the app to make collaboration a breeze. You can use the app to create documents, spreadsheets, and presentations. You can also use the app to collaborate on blog posts, manage projects, or even share a grocery list. Photo source: https://www.g2crowd.com/products/quip/details
According to thenextweb.com, if you find yourself bombarded with cute videos all day, Pocket might help you save those for later. If you frequently come across things you'd like to read "at some time" then Pocket can, again, help you out. With the requisite bookmarks, apps and extensions, it's easy for you to save stuff to check out whenever you like.
The service lets you bookmark anything on the Web; articles are stored in your personal library, where they can be easily located and read when it's most convenient. It doesn't matter if you have a connection either, as Pocket can download (almost) everything to your device automatically.
Google Keep is a bit like Google's version of Evernote, and it's now available on both iOS and Android. You can use the app to take notes, make to-do lists, set reminders, and record audio. And one of its main qualities is the ability to organize your notes with colored labels.
Moreover, it's stored online, so if you lose your phone or computer, your information is safe. It's also accessible anywhere with Internet access. It's intentionally made to be a very simple platform with few options. Therefore, you cannot format your text in any way.
Wunderlist is an easy-to-use to-do list app. It lets you set due dates and reminders and share lists or have conversations about them. Wunderlist can help you organize your grocery list, remember movies you want to see, or collaborate to help plan a vacation.
Besides keeping you organized, Fantastical 2's best feature lets you enter simple phrases, which it will then translate into a calendar appointment automatically. Even better, the DayTicker and the event list are connected. Swipe the list and the DayTicker will update automatically. Fantastical lets you see your events and reminders like never before.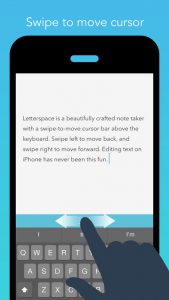 Letterspace is a note-taking app that uses hashtags to organize your thoughts. It also has a handy swipe bar that lets you move your on-screen cursor without moving your hands from the keyboard, which makes editing your notes much easier. Letterspace doesn't distract you. It provides a noise free space to jot things down. To create a To Do List start a new line with a dash and a pair of squared brackets. On iPhone & iPad, Letterspace smart symbol suggestion also presents these characters when you start a new line. To mark it as completed just tap on it like a checkbox. Use #hashtag and @mentions anywhere in your notes. Letterspace automatically indexes and groups them together. In case you forgot to tag, we also have Full-Text search that support Asian languages right from the start.
The Internet is filled with interesting, crazy and new information (and sometimes so much we cannot handle it all). Driven by curiosity and personal development, you can spend a lot of time at work reading trivial articles. If you want to fix this, Instapaper is worth looking at. With one click, you can save it to be read later. It also suggests topics and articles through what you have saved already. Instapaper syncs the articles and videos you save so that they're waiting for you on all your devices –  iPhone,  iPad,  Android, or Kindle. You can read anything you save, anywhere and anytime you want, even offline.
This extension does what it says as well: it tracks your time. What's great about this one is that it logs every different website you go to. You can check it out in detail to see where you spend your time. You will be surprised sometimes how much a certain website sucks your time and adjust.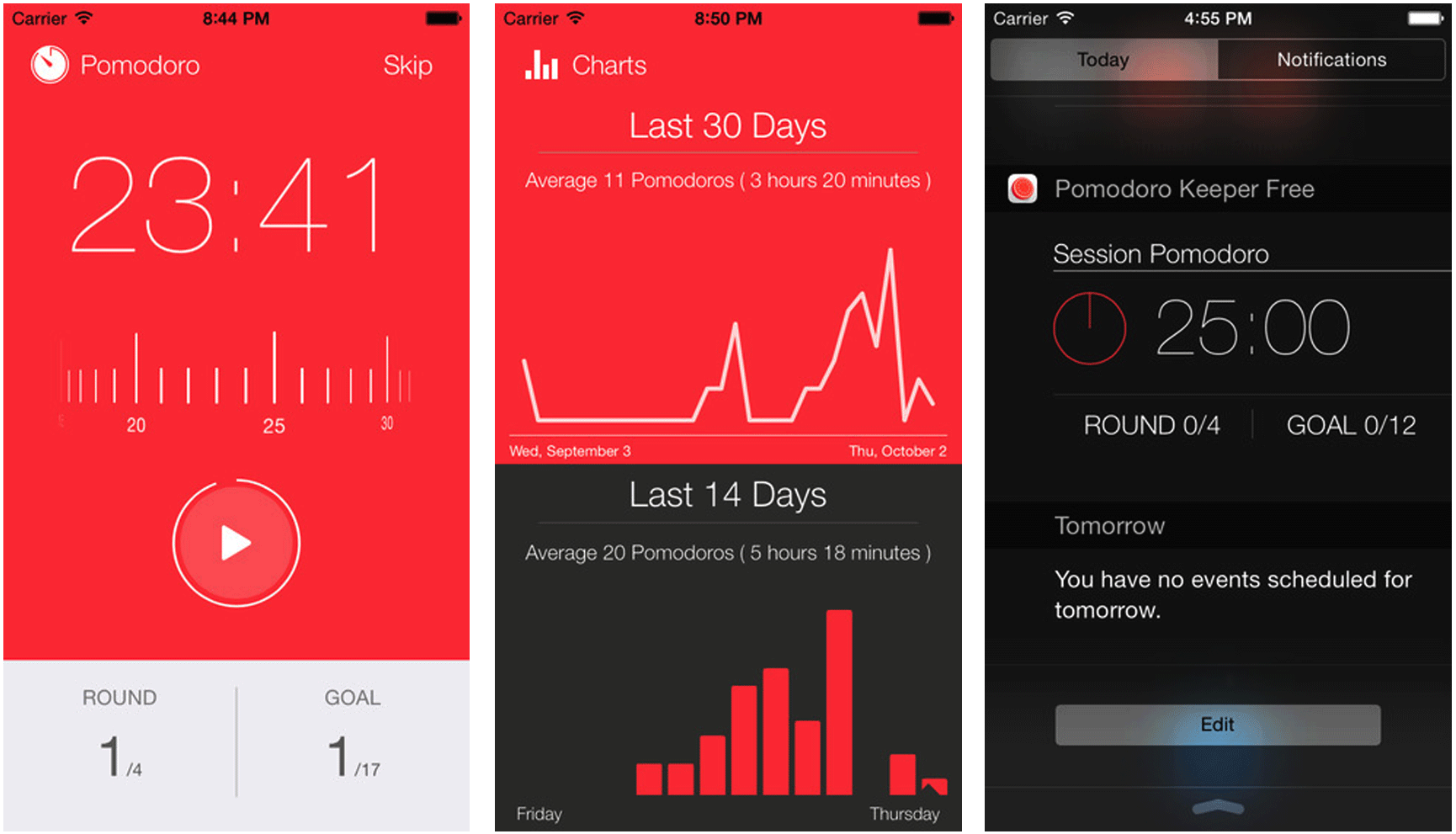 One of the most well-known productivity techniques is the Pomodoro Technique. Basically, you focus on just one task for 25 minutes and then take a forced 5-minute break. This extension is just like the Forest App but there is no animated tree involved (just a timer). Photo source: https://zapier.com/blog/best-pomodoro-apps/
Have you ever wondered if you are being less productive than you could be because you don't know much about the science of sleep or sleep cycles? If not, it's true. This site solves this problem for you by letting you know when you should sleep and wake up based on your personalized sleep cycles. If you don't like this one, there are plenty of other tools and apps that do similar tasks. Sleep is a crucial, but often overlooked part of everyone's life. Having the right amount can literally double your productivity.