New speaker at BRAND MINDS 2020: Annicken R. Day, Leadership & Culture Strategist
We are thrilled to welcome
Annicken R. Day

, Leadership & Culture Strategist to our amazing lineup of BRAND MINDS 2020 speakers!

Her speech will focus on Creating cultures that buzz with creativity and joy.

She is an expert in the field of culture change, high performing teams and leadership in the new world of work.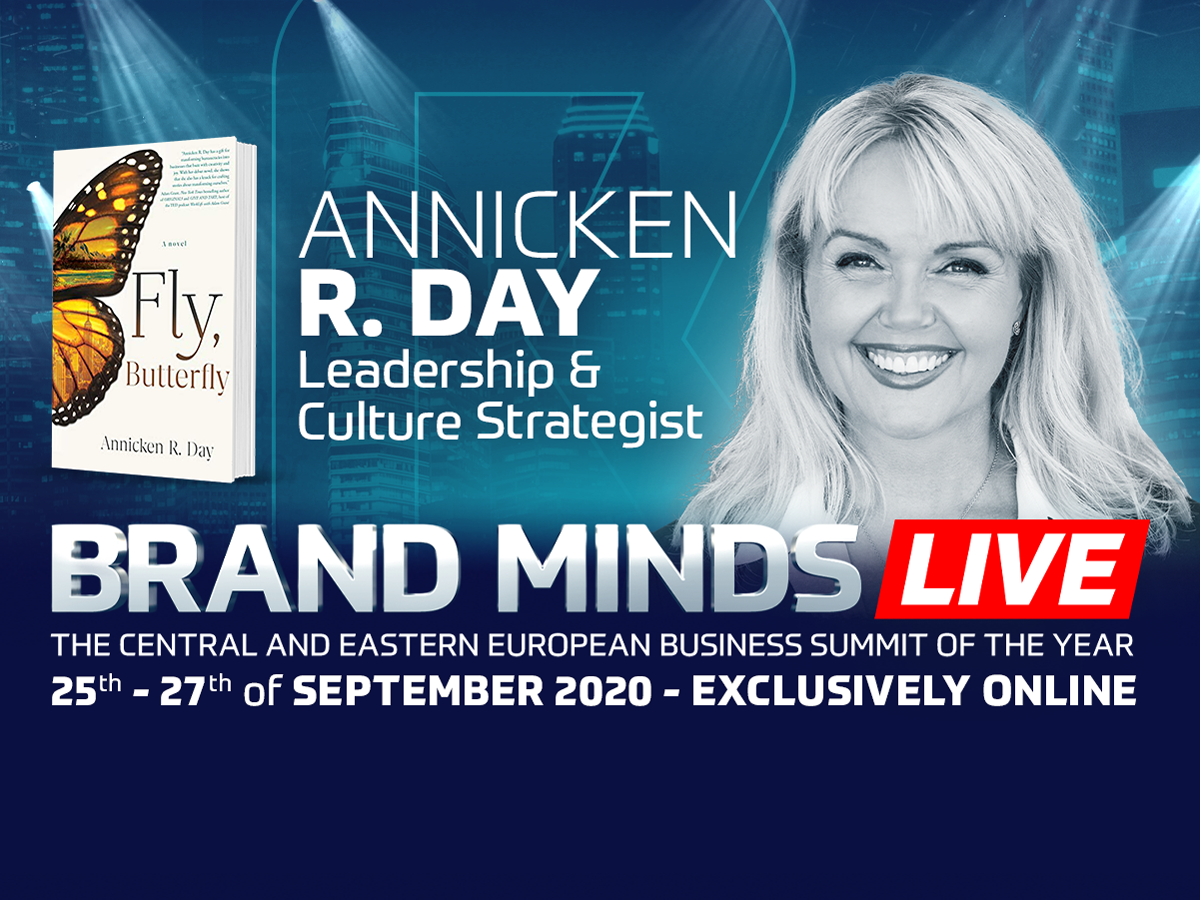 Won BEST PLACE TO WORK 3 years in a row
In 2002, she was hired as Head of HR/Chief Cultural Officer at Tandberg Videoconferences, a large electronics manufacturing company founded in 1988 in Norway.
For fourteen years, Tandberg managed to ride the waves of every technological development, but the company's top management wanted to make sure its most precious resource, the employees were cared for as the company grew.
That's when Annicken was hired with the mission and mandate to "take care of the corporate soul".
Thanks to her relentless efforts and innovative programs, Tandberg was awarded Best Place to Work in Norway in 2008, 2009 and 2010 and among the top 50 Best Workplaces in Europe.
25 YEARS of creating HIGH-PERFORMING CULTURES, changing MINDSETS and EMPOWERING teams
Throughout her career of 25 years, she helped many top Fortune 500 companies create unique and innovative corporate cultures.
Annicken also led many initiatives focused on introducing new mindsets across the organizations. Her goal has always been to create a culture of learning that was grounded in individual responsibility.
Together with her teams, she has created programs and experiential workshops where employees developed mindsets and behaviours that served business needs, solved problems and made real-time changes in the way they worked.
Simon Sinek says when the company takes great care of its employees, the employees take great care of the company. The company's business outcomes are an accurate reflection of this care.
Learn more: The Circle of Safety – Simon Sinek's rule for great leadership
So was the case of Tandberg. The positive and empowering company culture spearheaded by Annicken helped Tandberg become the #1 global market-share leader in videoconferencing.
At the peak of its growth, Tandberg was acquired by Cisco for $3,4 Billion.
The corporate world has a huge leadership challenge. The old models are outdated and ineffective. Command and control don't work anymore.

Excerpt from Fly, Butterfly, author Annicken R. Day

Empowering 70,000 employees as CULTURE AMBASSADOR
Annicken continued her valuable work at Cisco where she was appointed Culture Ambassador.
In her new role, she switched from 1800 employees at Tandberg to 70,000 employees spread across the globe.
Her responsibility was to inspire and support the company's global leaders and employees in realizing the tremendous power of having highly engaged and empowered teams.
To reach her goals she led a global culture change initiative which generated a 13% increase in employee engagement in the teams that attended her programs.
The change Annicken drove at Cisco was substantial and outstanding:
more effective collaboration;
higher cost-saving;
better results;
lower attrition;
overall higher employee satisfaction.

Worked with companies on the FORTUNE 500 list
In 2012 Annicken founded Corporate Spring, the company which helps leaders create thriving, high performing cultures.
Corporate Spring provides culture workshops, online learning and assessment & coaching services to high-profile corporations with thousands of employees and billion-dollar revenues like Microsoft, Cisco and Accenture.
It's time for leaders, companies, and their boards to embrace a more humane leadership style and do what their shareholders are asking them to do: create financially healthy, sustainable, and thriving companies. And to do that, they need to start with caring about—and investing in—their people.

Excerpt from Fly, Butterfly, author Annicken R. Day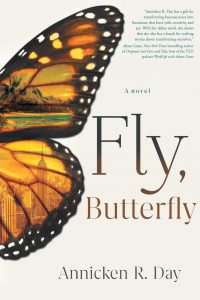 Author of Fly, Butterfly
Annicken is the author of Fly, Butterfly, a fictional story of personal and professional metamorphosis, inspired by true events. It is the story of Maya Williams's journey from burned-out exec to an enlightened leader.
Adam Grant, New York Times bestselling author of Originals and Give and Take, host of the TED podcast WorkLife with Adam Grant said the following about her novel:
Annicken R. Day has a gift for transforming bureaucracies into businesses that buzz with creativity and joy. With her debut novel, she shows that she also has a knack for crafting stories about transforming ourselves.
Why you should come and see Annicken R. Day at BRAND MINDS 2020
The stats are clear: highly-engaged employees drive more business.
Happy employees deliver up to 50% higher performance than those who are disengaged. Companies that have highly engaged employees are on average 20% more profitable, and over time they deliver significantly higher returns.
Employee disengagement is costly. According to a Harvard Business Review report, unhappy employees cost employers anywhere from $450 billion to $550 billion every year.
Building the right company cultures is mandatory for business success.
Join 

BRAND MINDS 2020 – The Growth Weekend

on September 25th and watch Annicken R. Day speak about Creating cultures that buzz with creativity and joy!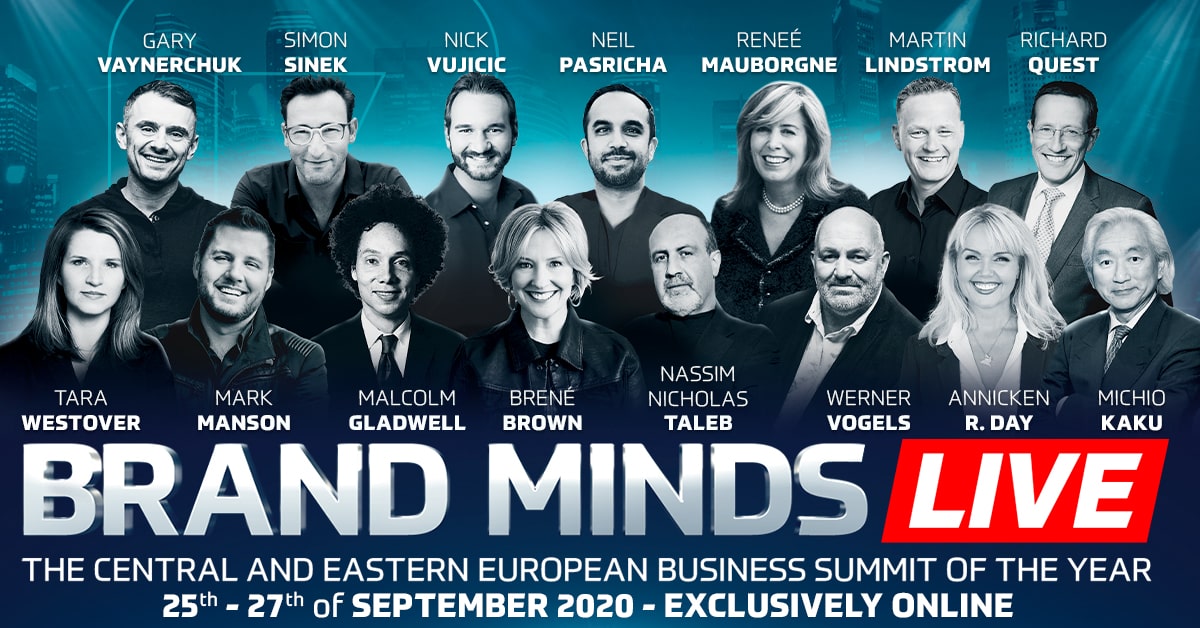 Hitendra Wadhwa at BRAND MINDS
Prof. Hitendra Wadhwa is a leadership expert and he was a keynote speaker at BRAND MINDS 2019.
BRAND MINDS is The Central and European Business Summit taking place in Bucharest, Romania.
He is a #worldchanger: his teachings help leaders change the world by changing themselves first.
Read our article to discover why Prof. Hitendra Wadhwa is a world-changer and to learn more about him and his story.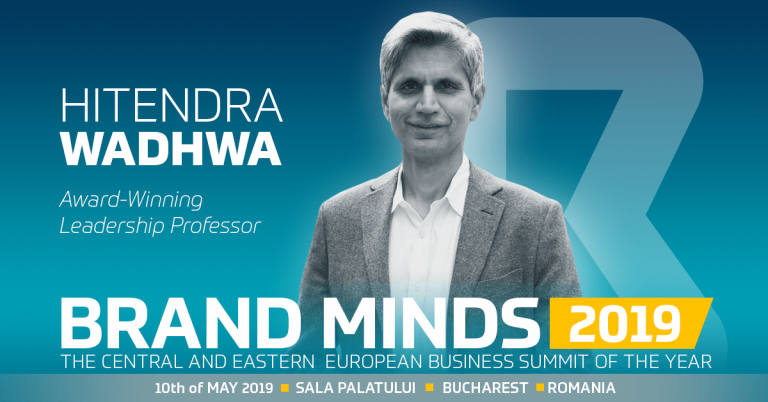 Working with Fortune 500 corporations
Hitendra Wadhwa received an MBA and PhD in Management Science from M.I.T.
Between 1996 and 1999, he joined McKinsey&Co, the American worldwide management consulting firm. Here he counselled senior executives on a range of strategic and marketing issues. His clients included Fortune 500 corporations in the retail, consumer goods, financial services, life sciences and electric utility industries.
He launched the 1st executive education online courses of Columbia Business School
Beginning with 2007, he is a professor at Columbia Business School where he launched his innovative executive education programs. His programs include teaching MBA and Executive MBA courses in:
Personal Leadership,
Leading Others from the Inside Out,
Driving Strategic Impact,
Marketing Strategy.
Prof. Hitendra Wadhwa launched Columbia's first executive education online courses – Personal Leadership (Online) and Driving Strategic Impact (Online).
He was honoured for his work with the following awards:
2015 EMBA Commitment to Excellence Award;

2012 Dean's Award for Teaching Excellence;

2007 Most Dynamic & Engaging Professor Award by Marketing Association of Columbia;

2007 Lear Award for Commitment to Students.
He wrote articles on Personal Leadership for Inc and Fortune magazines. His research and teaching on Personal Leadership also received coverage in Psychology Today, Financial Times and BBC.
Personal and pro-social Leadership – his formula for becoming a great leader 
My passion is the science of human potential – how each of us can draw out the best in ourselves and others to maximize our impact in life and leadership. I call this Personal Leadership.
His mission is to help men and women working in the business world by creating a new model of business education.
My mission is to develop a rigorous approach to this discipline of Personal Leadership that is grounded in the latest scientific findings on human nature from psychology, neuroscience, psychotherapy, behavioural economics, sociology and medicine – and that has universal appeal. I integrate science with case studies on Great Leaders from history whose lives have exemplified Personal Leadership, and I translate my research into practical tools that we can all use to inspire, motivate and develop ourselves – and to inspire, motivate, persuade and develop others.
The Problem
His extensive contact with the business world allowed him to notice that most of the leaders he met, both men and women – the overachievers – were driven by short-term, material, self-centred goals and were defined by outer achievements.
They were living in a world where they were constantly pressured to pursuit shareholders happiness, power and fame. Their incentive consisted of material rewards, completely ignoring the inner-self. This often leads to a dramatic shift in a person's values and a profound disconnection from one's self.
Psychologists found that focusing on materialistic values lessened concern for others, undermined job performance and decreased well-being.
The solution
Prof. Hitendra's solution is to support the overachievers of the world reconcile business and personal values.
His formula for becoming a great leader is personal and pro-social leadership.

Founder of the Institute for Personal Leadership
In 2011 he founded the Institute for Personal Leadership, a program that is focused on training individuals and organisations on self, strategic and people leadership.
He led the design and delivery of a Leadership Development program for the Top 100 executives of Godrej Group, a major Indian conglomerate, including workshops and executive coaching.
Keynote speaker and leadership workshop trainer
In the past years, Prof. Hitendra Wadhwa delivered a range of keynote speeches, executive sessions and workshops on leadership for top teams at GE, Unilever, IEEE, S&P, Bayer, Godrej Group, Estee Lauder, SAP, Deutsche Bank, a leading hedge fund, and Aditya Birla Group.
He also spoke at TED Talks and was honoured in 2013 with a cover article in Psychology Today, entitled "Can One Man Save American Business? The Asset that CEOs Need Most".
Are you a #worldchanger?
Here are our first confirmed speakers; we will be announcing more speakers in the coming months so stay tuned!
Malcolm Gladwell, Martin Lindstrom and Michio Kaku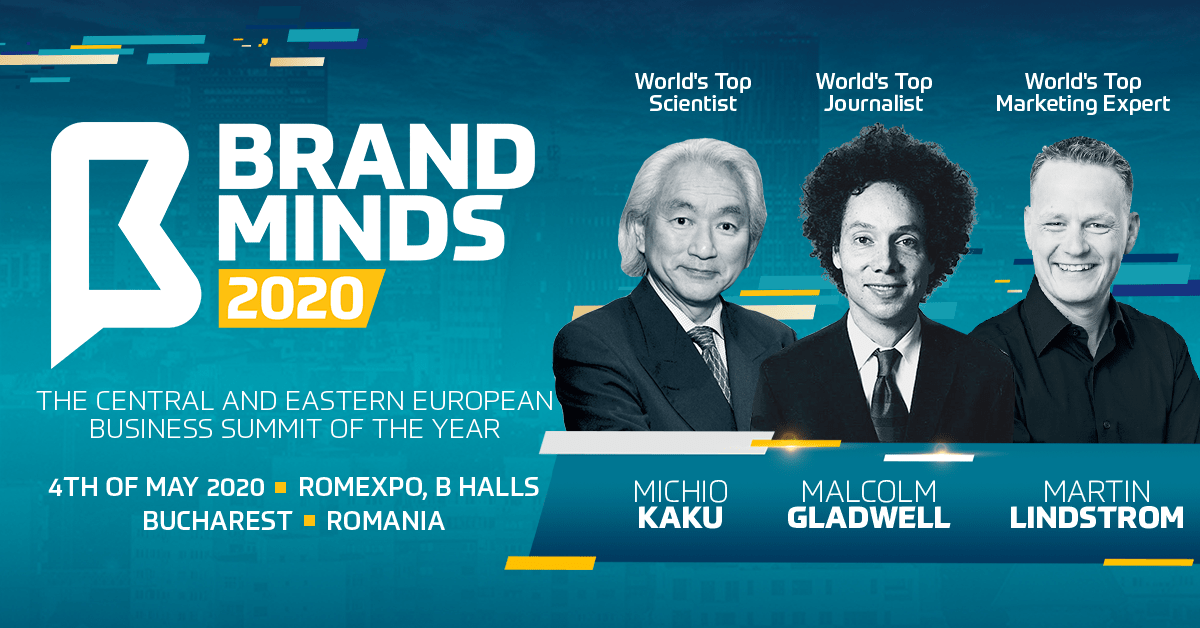 15 Things you might not know about Daniel Goleman
Daniel Goleman is one of the world's renowned psychologists. He was a speaker at BRAND MINDS 2018.
BRAND MINDS is The Central and European Business Summit taking place in Bucharest, Romania.
Daniel Goleman is an internationally known psychologist who lectures frequently to professional groups, business audiences, and on college campuses. As a science journalist Goleman reported on the brain and behavioural sciences for The New York Times for many years.
Here you can find some pieces of information you might not know about Daniel Goleman:
1.His 1995 book, Emotional Intelligence was on The New York Times bestseller list for a year-and-a-half, with more than 5,000,000 copies in print worldwide in 40 languages, and has been a best seller in many countries. Apart from his books on emotional intelligence, Goleman has written books on topics including self-deception, creativity, transparency, meditation, social and emotional learning, eco-literacy and the ecological crisis.
2. The Harvard Business Review called emotional intelligence— which discounts IQ as the sole measure of one's abilities — "a revolutionary, paradigm-shattering idea" and chose his article "What Makes a Leader" as one of ten "must-read" articles from its pages.
3. "Emotional Intelligence" was named one of the 25 "Most Influential Business Management Books" by TIME Magazine. The Financial Times, Wall Street Journal and Accenture Insititute for Strategic Change have listed Goleman among the most influential business thinkers.
4. Goleman is a co-founder of the Collaborative for Academic, Social, and Emotional Learning (www.casel.org), originally at the Yale Child Studies Center and now at the University of Illinois at Chicago. CASEL's mission centres on bringing evidence-based programs in emotional literacy to schools worldwide.
5. He currently co-directs the Consortium for Research on Emotional Intelligence in Organizations (www.eiconsortium.org) at Rutgers University. The consortium fosters research partnerships between academic scholars and practitioners on the role emotional intelligence plays in excellence.
6. Goleman is a board member of the Mind & Life Institute, which fosters dialogues and research collaborations among contemplative practitioners and scientists. Goleman has organized a series of intensive conversations between the Dalai Lama and scientists, which resulted in the books Healthy Emotions, and Destructive Emotions. He is currently editing a book from the most recent dialogue on ecology, interdependence, and ethics.
7. His most recent book,  Leadership: The Power of Emotional Intelligence, offers an up-to-date summary of his thinking on leadership by collecting key excerpts from his books together for the first time in one volume with his articles from the Harvard Business Review. These include "What Makes a Leader? and "Leadership that Gets Results."
8. Goleman's other recent book,  The Brain and Emotional Intelligence: New Insights gathers together recent findings from brain research and other sources on topics ranging from creativity and optimal performance, the brain-to-brain connection in leadership, and to how to enhance emotional intelligence itself.
9. His work as a science journalist has been recognized with many awards, including the Washburn Award for science journalism, a Lifetime Career Award from the American Psychological Association, and he was made a Fellow of the American Association for the Advancement of Science in recognition of his communicating science to the general public.
10. Recruited by the New York Times to cover psychology and related fields, in 1984 he began a twelve-year sojourn. He learned much about science journalism from his editors and colleagues, a talented crew on the science desk, and the Times offered remarkable access and visibility. But he found that his urge to write about ideas with impact sent him in directions that did not always fit what the Times saw as news.
11. His wife Tara and him tried to spend a good deal of their free time in meditation retreats or travelling together to places they enjoy that nourish this side of their lives. "Life's simple pleasures—a walk on a beach, playing with grandchildren, a good conversation with a friend—have more appeal to me than professional honours or ambitions," said Goleman.
12. According to him, vitality arises from sheer human contact, especially from loving connections. This makes the people we care about most an elixir of sorts, an ever-renewing source of energy. "The neural exchange between a grandparent and a toddler, between lovers or a satisfied couple, or among good friends, has palpable virtues…the practical lesson for us all comes down to, Nourish your social connections," he added.
13. He is twice a Pulitzer Prize nominee. Moreover, The Wall Street Journal ranked him one of the 10 most influential business thinkers and he was named on the 2011 and 2013 Thinkers50's editions and a top business guru by Accenture Institute for Strategic Change. His article " What Makes a Leader?" remains the most requested reprint in the history of Harvard Business Review.
14. Goleman's newest book, Altered Traits: Science Reveals How Meditation Changes Your Mind, Brain and Body, is co-written with Richard Davidson and will be released September 5, 2017. Through cutting edge research, Goleman and Davidson explore how meditation and mindfulness can achieve real, positive, and lasting mental and behavioural change.
15.  In addition to his numerous professional and academic achievements, Goleman stresses how important his private and personal life is to him on his personal website. "While a bio like this focuses on one's public life, I find that over the years my private life has grown increasingly important to me, particularly as the years allow me to spend less time running around and more time just being. I find more and more that what satisfies me has little to do with how well one or another book does— although the good works I participate in continue to matter much," he confesses.
Are you a #worldchanger?
Here are our first confirmed speakers; we will be announcing more speakers in the coming months so stay tuned!
Malcolm Gladwell, Martin Lindstrom and Michio Kaku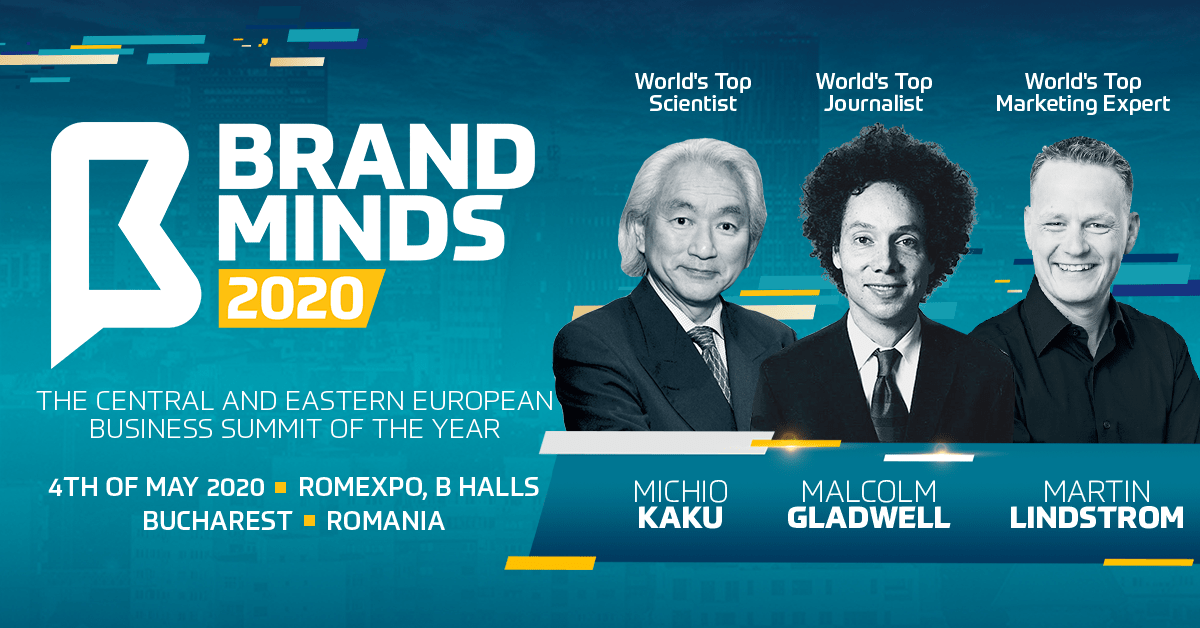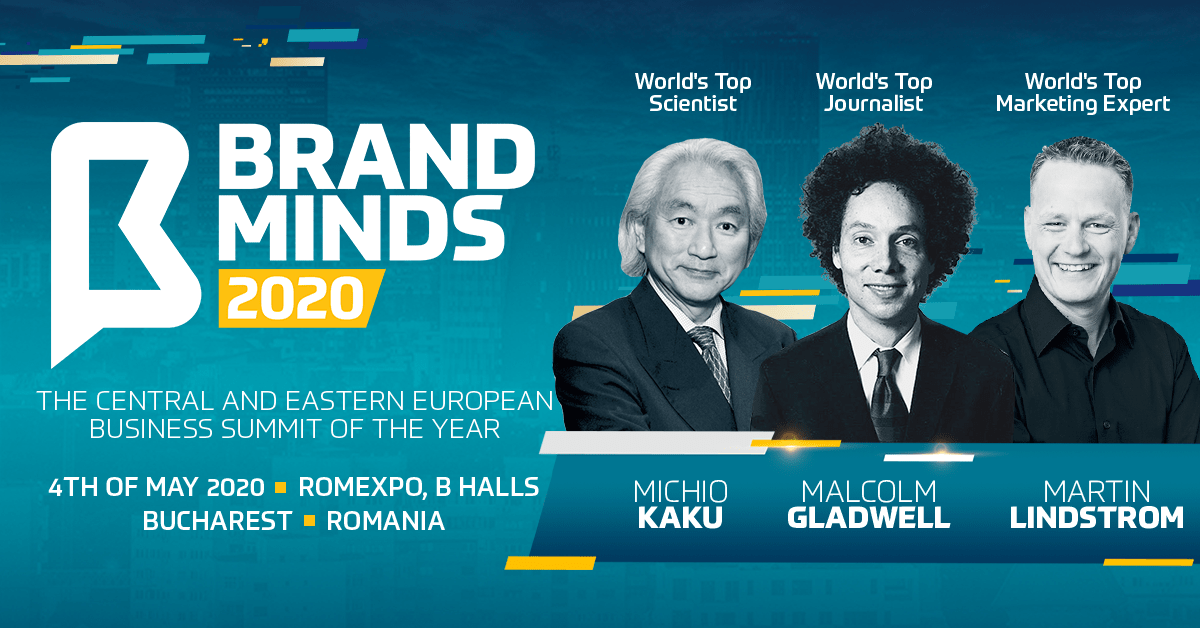 5 Things you might not know about Madonna Badger
Chief Creative Officer & Founder of the Badger & Winters, Madonna Badger describes it as an advertising, branding and design agency specializing in creating powerful ideas that establish enduring emotional connections with women. Being creatively led by a woman, it informs their collaborative process and deeply empathic approach to understanding women's values and desires.
"Our goal is nothing short of brand love," says Madonna Badger on Linkedin.
Interested in knowing more about one of Brandminds' 2017th Asian Summit speaker? Here are some fact you might not know about her:
1.She is credited with creating the famous Calvin Klein ad featuring Mark Wahlberg.
2. She was featured on the Crain's New York Business 40 Under 40 list in 1996. 
3. In a campaign with the hashtag #WomenNotObjects, the Manhattan advertising executive is looking to fight the objectification of women in the marketing and advertising world. "People are really seeing that objectifying women is really up there with inequality of women," Badger told Matt Lauer on TODAY Tuesday. "I think that sex sells, but you know what the worst part is? It's the harm we're doing, and for me, that's really what made me make this decision." Badger has also pledged that her firm, Badger and Winters Group, will not use women as props or overly re-touch photos of women in their advertising.
4. "#WomenNotObjects" has helped Badger & Winters reshape itself as an agency and focus on assisting clients across all industry categories to connect with women in genuine ways, said Mr. Winters, for AdAge.com.
5. In June, for the 2017 Cannes Festival of Creativity, Ms. Badger spoke on a panel about gender, diversity and objectification of women with Procter & Gamble Chief Brand Officer Marc Pritchard.
20 Things you might not know about Karim Rashid
Karim Rashid is one of the most prolific designers of his generation. Over 3000 designs in production, over 300 awards and working in over 40 countries attest to Karim's legend of design.
Here are some things you might not know about him:
1.He received a bachelor of Industrial Design in Ottawa, Canada and Postgraduate studies in Italy in 1984. He worked at Rodolfo Bonetto's studio in Milan for one year then for 7 years at KAN Design in Toronto.
2. His award winning designs include luxury goods for Christofle, Veuve Clicquot, and Alessi, democratic products for Umbra, Bobble, and 3M, furniture for Bonaldo and Vondom, lighting for Artemide and Fontana Arte, high tech products for Asus and Samsung, surface design for Marburg and Abet Laminati, brand identity for Citibank and Sony Ericsson and packaging for Method, Paris Baguette, Kenzo and Hugo Boss.
3. His work is featured in 20 permanent collections and he exhibits art in galleries worldwide. Karim is a perennial winner of the Red Dot award, Chicago Athenaeum Good Design award, I. D. Magazine Annual Design Review, IDSA Industrial Design Excellence award.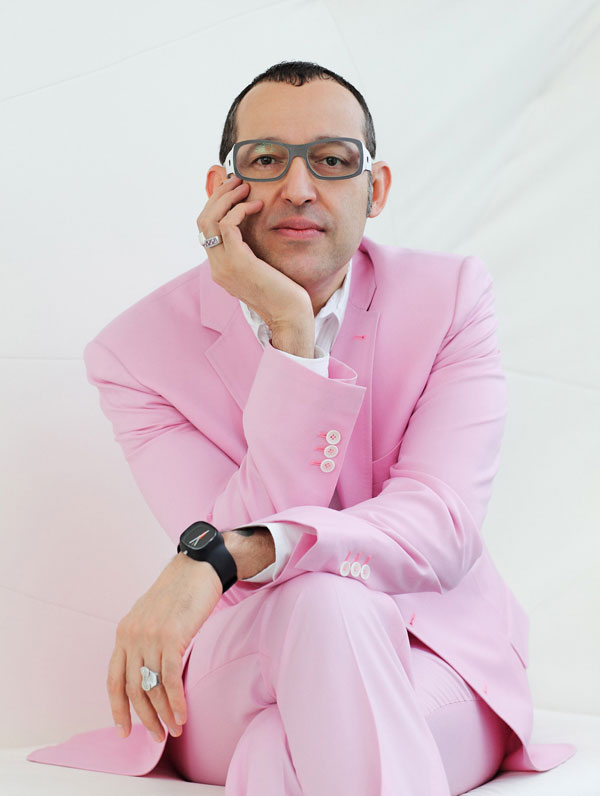 4. Karim is a frequent guest lecturer at universities and conferences globally disseminating the importance of design in everyday life. He holds Honorary Doctorates from the OCAD, Toronto and Corcoran College of Art & Design, Washington. Karim has been featured in magazines and books including Time, Vogue, Esquire, GQ, Wallpaper, and countless more.
5. Karim's latest monograph, XX (Design Media Publishing, 2015), features 400 pages of work selected from the last 20 years. Other books include From The Beginning, an oral history of Karim's life and inspiration (Forma, 2014); Sketch, featuring 300 hand drawings (Frame Publishing, 2011); KarimSpace, featuring 36 of Karim's interior designs (Rizzoli, 2009); Design Your Self, Karim's guide to living (Harper Collins, 2006); Digipop, a digital exploration of computer graphics (Taschen, 2005); Compact Design Portfolio (Chronicle Books 2004); as well as two monographs, titled Evolution (Universe, 2004) and I Want to Change the World (Rizzoli, 2001).
6. In 1992, Rashid started designing for US tableware company  Nambé, producing a range of products – clocks, vases and candlesticks – that would help establish his signature look. Alloy and glass are perfect materials to convey Rashid's organic "blobular" forms, and his work for American lighting brand George Kovacs and German glassware manufacturer Leonardo in the late 1990s again produced modern yet beautiful forms.
7. Rashid's designs often incorporate a folded-ribbon look (using materials such as fabric, laminate, acrylic and steel) and his computer-generated asterisk, cross and figure-eight motifs, which can be seen on his stools, rugs, kitchen utensils and even Rashid's own body tattoos.
8. His 1996 'Garbino' rubbish bin for Canadian plastics company Umbra is Rashid's most well-known design (along with its larger equivalent, the 'Garbo'). This simple, softly rounded bucket in recycled polypropylene is still one of Umbra's biggest sellers and is also placed in the permanent collection of the Museum of Modern Art, New York.
9. Once labelled the Poet of Plastic, New York-based interior designer Karim Rashid is known for his curvaceous designs and outspoken persona.
10. The same concept was applied to the affordable and award-winning 'Oh' chair, from 1999, which fulfils Rashid's belief in 'democratic design'. His skill with polypropylene has also been evident in the highly acclaimed packaging he has designed for global brands like Issey Miyake and Kenzo. More recently, Rashid has also undertaken a number of architecture projects, including the Semiramis Hotel in Athens and the newly opened Switch restaurant in Dubai.
11. In his spare time, Karim's pluralism flirts with art, fashion, and music and is determined to creatively touch every aspect of our physical and virtual landscape.
12. Him and his team specialize in pattern, print, branding and creative direction. They produce designs that help create or revitalize brands that get noticed through a variety of print and other media. Depending on the nature of the project, graphics is intertwined in product and interior design. They have the ability design a project under one roof which allows for a more seamless process and holistic design.
13. Karim believes that we live in a very special time for humanity, where technology, through the digital revolution, has afforded us new tools to design better space in ways never before conceived.
14. He has an international staff that speaks 12 languages. Presently he is working in 23 countries.
15. To Karim, functionality and minimalism are essential, but, at the same time, he wants to move people and create furniture that make people feel at ease. He calls this approach to design 'sensual minimalism'.
16. The notion of design being a "high art" has always felt ridiculous to him. "I've spent my career trying not to fall into that trap. Early on, companies interested in me were small. They charged more so that they could afford the tooling and the crafting by hand. That's just what it took to make it. I started to think, Why aren't bigger companies more interested in design? The designer humanizes our physical and virtual world. Fortunately, things have changed a lot since then. Companies now recognize that design is what differentiates. It's critical, and demanded," Karim said for interiordesign.net.
17. He loves doing packaging design, technology, synthetic processes and materials.
18. He used to be obsessed with drawing eyeglasses, shoes, radios and luggage throughout his childhood. 
19.  He loved Andy Warhol, Rodchenko, Picasso, Calder, Corbusier, Dec Chirac, YSL, Halston, and so many other artists that were pluralists.
20. Karim was also very inspired by his father who was a creative renaissance man, and he saw him create every day. He would design furniture, make dresses for my mother, paint canvases, design sets for television and film, and constantly take us to museums.
8 Things you might not know about Kjell Nordstrom
Kjell Anders Nordström is a Swedish economist, writer and public speaker. Amid the madness and hyperbole surrounding the new economy, Dr. Kjell A. Nordström is a guru of the new world of business. In 2009, Thinkers 50, the global ranking of management gurus, placed him and his partner Jonas Ridderstrale among the list of most influential thinkers. His research and consulting focus is on the areas of corporate strategy, multinational corporations and globalization.
More things about him that you might not know:
1.He was first educated as an engineer and thereafter commenced studies at the Stockholm School of Economics, where he earned a Ph.D. in 1991. Until 2004 he was an Assistant Professor at the Institute of International Business (IIB) at the Stockholm School of Economics. His research and consulting focus is in the areas of strategic management, multinational corporations and globalization. He has served as an advisor/consultant to several large multinationals and to the government of the United Kingdom.
2. He believes that in order to get rid of that human shadow called poverty, we have to make up our minds as to what a good life is. "Technology without ideology and values, does not produce much value. As noted by Charles Handy, the market is not a substitute for responsibility – merely a mechanism for sorting the efficient from the inefficient," he declared for http://thinkers50.com.
3. Nordstrom also thinks that never before in the history of mankind have we had so many potent tools that potentially enable us to build a better world and companies that are actually fun to work for, but it is up to us to create this future.
4. In his opinion, the role of the leader is to strike a balance between when there should be control and when you should let go. Leadership is very much an art form. 
5.  His book  "Funky Business – Talent Makes Capital Dance" became an international best-seller and has to date been translated into 33 languages. In 2000, both Amazon.co.uk and the webzine Management General rated it as one of the five best business books of the year. Another survey ranked it as the 16th best business book of all time.
6. He has been described as the "enfant terrible of the new world of business".
7.  He is a founder of the Stockholm School of Economics' most prestigious management program, which attracts the elite of Scandinavian executives.
8. Amusing, Educational, Enthusiastic, Informal, Interactive, Passionate, Story-telling and Thought-provoking. Kjell Nordstrom is one of a new generation of rock star speakers. His dynamic, agile and compelling style is matched by the scale and pace of his ideas.
10 things you might not know about Lenja Faraguna
She was declared one of 12th World Changers by the New York Times Bestselling author Roy H. Williams and one of 40th most influential radio personalities under 40 by the Radio Advertising Bureau USA. Lenja Faraguna believes that "for your marketing to be supremely effective you don't need a degree in marketing but in humanity." This thought is the biggest lessons she's learned in the last 12 years as an entrepreneur and coach and it is the DNA of her mission in life.
More things about her that you might not know:
1.The old marketing, the screaming one, discount throwing and narcisistic one is dead, because it yells, lies, undervalues and is loathed by most people.
2. She has a Bachelor degree in Philosophy, English and American Studies and Semiotics of Advertising at Karl-Franzens-Universität Graz, Austria.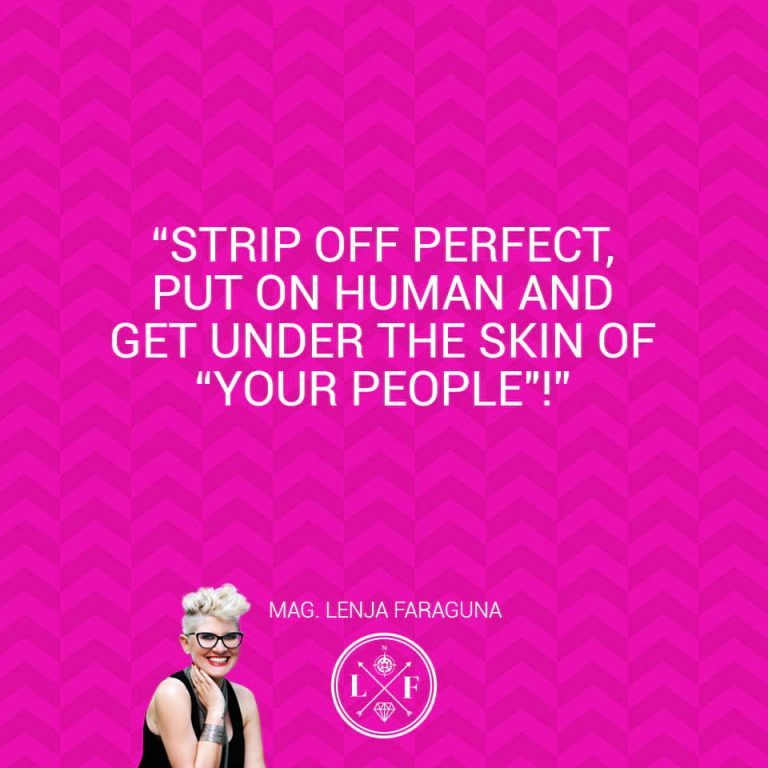 3. She is the founder of Worldchangers Slovenia – the embassy of Slovenian entrepreneurs who are brave, give a damn, make money and change the world. A melting pot of knowledge, opportunity, ass-kicking environment and the first marcareting academy for smaller Slovenian entrepreneurs called "Crazy diamonds".
4. She believes that everybody is unique in the world and she supports that. "There is no one like you. There was a 1: 400 trillion chance for you to be born. Even if someone has the same product/service, all the other components that make up a (PERSONAL) BRAND are unique to you! ONLY YOU! Yet most of the time, you do not show this uniqueness through your marketing = your communication with the outside world," she write on http://ilovemarcareting.com/.
5. Success starts with yourself. Say YES to yourself and customers out there who are waiting for you to make their lives better. You will re-brand your MINDSET, re-brand your (personal) brand and finally give you tools to do marketing the modern way as marCAREting – so you can achieve a game changing success.
6. She believes marcareting works only when you CARE. About yourself and the others.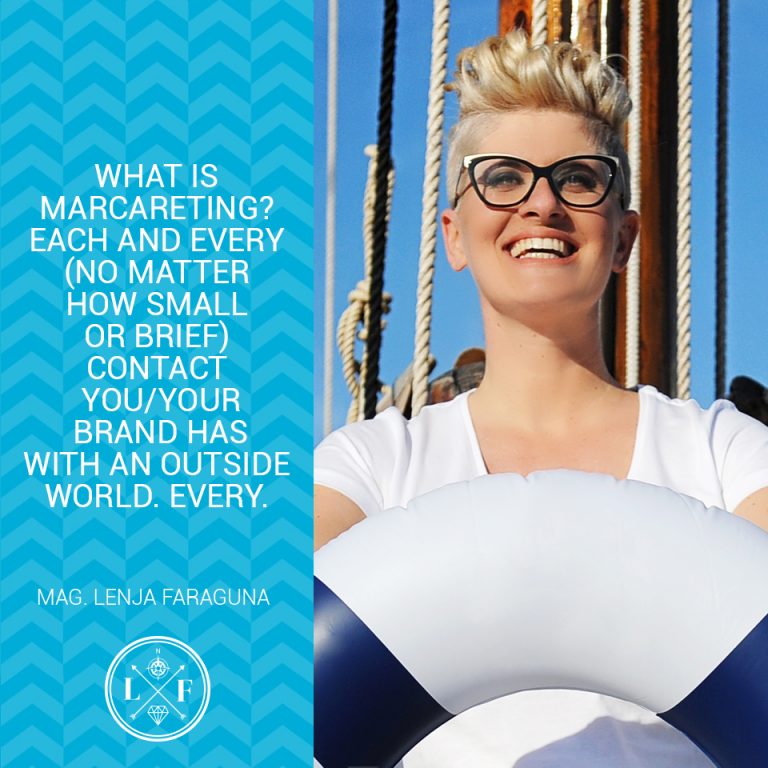 7. She is "nakedly" honest. "I'm real, raw, honest and I will call you up on your bull**it, spin your mindset and you will have to put in the work and go into action. Why? Because I believe that "ACTIONS are the endangered species in the world, not IDEAS".
8. She doesn't hide anymore. She admits her failures and learned from them. She had a major personal and business collapse in 2012 and when it couldn't go lower it went up. She has risen like a phoenix, from her own ashes. She went from "bribing" her friends and dad to come to her seminars in 2011 for free, … to speaking to thousands all over Slovenia and Europe, at TEDx and on May 22nd 2017 with Gary Vaynerchuk, Robert Murray, Dr Kjell A. Nordström and Dr Jonas Ridderstråle (Funky Business), Julian Treasure (multi TED talk speaker) at Brands Minds Summit in Bucharest in front of 900 people!
9. She has worked with 134 start-ups as a mentor. She co-founded Club 466 International, where she sharpens the business diamonds of women leaders.
10. She loves the weather before the storm and Madness' song "How can I tell you" and Xavier Naidoo song "Bitter hör nicht aud zu Träumen", because they sum up my values about life and communication.