Gabor Maté is joining BRAND MINDS 2022
We are excited to announce that Gabor Maté, Respected Physician, Speaker & Bestselling Author, is joining BRAND MINDS 2022!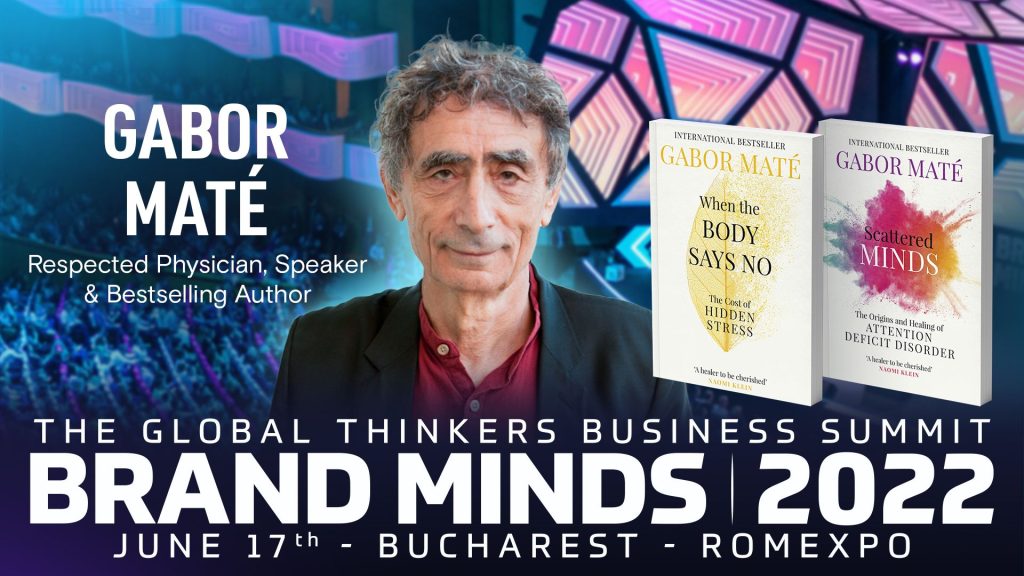 At BRAND MINDS 2022, Gabor Maté will deliver a fascinating speech called When the body says no and delves into the mind/body unity and the stress-disease connection.
You will learn:
Key strategies to recognize a stressful work environment and how to transform it;
Easy-to-implement changes that will benefit your physical and emotional health;
Tactics to create a culture where employees are creative and productive.
Gabor Maté's keynote provides professionals in every industry with actionable strategies on stress management in both workplace and personal life.
His insights help leaders:
Improve employee wellbeing and performance;
Identify sources of stress at the organisational level;
Eliminate stress throughout the organisation.


World Leading Expert on Stress
With over 20 years of research and clinical experience, Gabor Maté's expertise focuses on the relationship between stress and illness and how stress is greatly influencing our health and wellbeing.
Rather than offering quick-fix solutions to these complex issues, Dr Gabor Maté weaves together scientific research, case histories, and his own insights and experience to present a broad perspective that enlightens and empowers people to promote their own healing and that of those around them.
Award-Winning International Bestselling Author
For his groundbreaking medical work and writing, Gabor Maté has been awarded the Order of Canada, his country's highest civilian distinction, and the Civic Merit Award from his hometown, Vancouver.
WHEN THE BODY SAYS NO

: The cost of hidden stress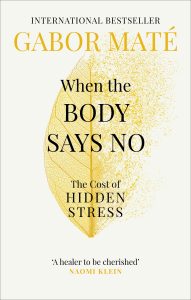 An international bestseller translated into fifteen languages, When the Body Says No promotes learning and healing, providing transformative insights into how disease can be the body's way of saying no to what the mind cannot or will not acknowledge.
Explores the role of the mind-body link in conditions and diseases
Draws on medical research and the author's clinical experience as a family physician
Shares dozens of enlightening case studies and stories, including those of people such as Ronald Reagan, Lance Armstrong and Stephen Hawking
Includes The Seven A's of Healing: principles of healing and the prevention of illness from hidden stress
SCATTERED MINDS

: The Origins and Healing of Attention Deficit Disorder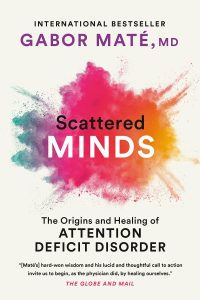 Scattered Minds is written from the inside by a doctor who himself has Attention Deficit Disorder. It offers a completely new perspective on ADD and a new approach to helping children and adults living with the problems Attention Deficit Disorder presents.
Demonstrates that ADD is not an inherited illness, but a reversible impairment, a developmental delay
Explains that in ADD, circuits in the brain whose job is emotional self-regulation and attention control fail to develop in infancy—and why
Shows how "tuning out" and distractibility are the psychological products of life experience, from in utero onwards
IN THE REALM OF HUNGRY GHOSTS

: Close Encounters with Addiction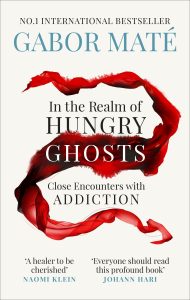 Blending first-person accounts, riveting case studies, cutting-edge research and passionate argument, In the Realm of Hungry Ghosts takes a panoramic yet highly intimate look at this widespread and perplexing human ailment.
Countering prevailing notions of addiction as either a genetic disease or an individual moral failure, Gabor Maté presents an eloquent case that addiction – all addiction – is in fact a case of human development gone askew.
Co-developer of an innovative therapeutic approach
Gabor Maté is also co-developer of an innovative therapeutic approach. This approach is called Compassionate Inquiry and is an international professional training program with thousands of participants (therapists, physicians, counsellors, and others) from over 80 countries.
This program reveals what lies beneath the appearance we present to the world. Using Compassionate Inquiry, the therapist unveils the level of consciousness, mental climate, hidden assumptions, implicit memories and body states that form the real message that words both express and conceal. Through Compassionate Inquiry, the client can recognize the unconscious dynamics that run their lives and how to liberate themselves from them.
His documentary has been viewed by 6 million people in 230 countries
Launched in 2021, Wisdom of Trauma is a documentary focusing on Gabor Maté's work. A week after launch, the movie had already taken the internet by storm with millions of people watching it and saying it was "groundbreaking", "life-changing" and "thought-provoking".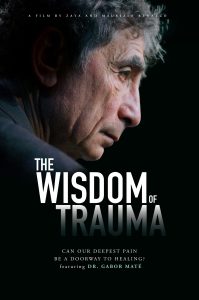 Four years in the making, Wisdom of Trauma presents powerful personal stories illuminating the connection between trauma, illness and societal stress. In the movie, Gabor Maté shows that healing is possible and it happens on two levels: individual and collective.
Come to BRAND MINDS 2022 and learn how to reduce work-related stress and improve professional efficiency from Respected Physician, Speaker & Bestselling Author Gabor Maté!
Looking to get your content viral? Meet Jonah Berger at BRAND MINDS 2022!
Jonah Berger, Consumer Behaviour Expert has joined BRAND MINDS 2022 to share his insights on getting your content viral!
Get tickets and attend The secret science of viral ideas, his 5-hour MARKETING STRATEGY MASTERCLASS on June 18th.
THE SECRET SCIENCE OF VIRAL IDEAS – MARKETING STRATEGY MASTERCLASS
You will learn:
How to design messages, ads and information that people will share;
5 hidden factors that impede change and how by mitigating them, you can change anything;
6 basic principles driving all sorts of things to become popular.
JONAH BERGER IS A WORLD-RENOWNED EXPERT ON MARKETING, PERSUASION AND WORD-OF-MOUTH
Selected in Top 30 leaders in business
Jonah Berger was named one of the top 30 leaders in business by the American Management Association.
Fast Company magazine selected Jonah in the Top most creative people in business.
Renowned consumer behaviour researcher
Jonah has published over 50 articles on consumer behaviour have been published in Harvard Business Review, The New York Times and other top academic journals from around the world.
Consultant for Fortune 100 companies
Jonah has helped hundreds of companies like Apple, Google, Nike, Facebook, Unilever and The Gates Foundation get their products, services, and ideas to catch on.
Marketing Professor at the Wharton School
He is a Marketing Professor at the Wharton School at the University of Pennsylvania. He received a BA from Stanford University in Human Judgment and Decision Making, and a PhD from Stanford in Marketing.
BESTSELLING AUTHOR OF CONTAGIOUS AND INVISIBLE INFLUENCE
His books have sold over 1 million copies and are in print in over 35 countries around the world.
In his books, Jonah reveals actionable techniques on how to spread your content fast.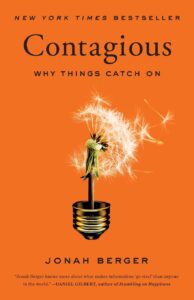 Contagious: Why Things Catch On reveals the secret science behind why products, services, and ideas become popular.
Discover how six basic principles drive all sorts of things to catch on. If you've ever wondered why certain stories get shared, brands get more word of mouth, or videos go viral, this book will explain why, and show you how to leverage these ideas to craft contagious content.
Contagious was a New York Times, Wall Street Journal, and Washington Post bestseller and has been translated into over 35 languages. Amazon named it one of the best books of the year and it received the Berry Book Prize from the American Marketing Association as the year's best marketing book.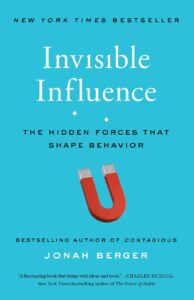 Ever wish you could be more influential?
Be better at motivating yourself and others?
Make smarter decisions and shape group opinion?
This book will show you how.
Invisible Influence spent more than three months on the New York Times bestseller list. It was also a Wall Street Journal and Washington Post bestseller and has been translated into over 25 languages.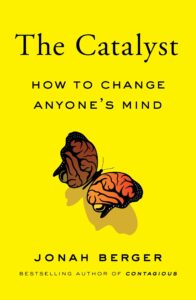 Everyone has something they want to change. Marketers want to change customers' minds and leaders want to change organizations. Startups want to change industries and non-profits want to change the world.
But change is hard.
We push and push, but often nothing happens.
Could there be a better way?
This book introduces a revolutionary approach to change. Successful change isn't about pushing harder or exerting more energy. It's about removing barriers. Overcoming resistance by reducing friction and lowering the hurdles to action. Discover the five hidden factors that impede change, and how by mitigating them, you can become a catalyst.
Marketing professionals meet at BRAND MINDS to learn actionable techniques on how to spread their content fast.
Get tickets and learn how to get your content viral!
Build an extraordinary team with Whitney Johnson, Team Performance Expert at BRAND MINDS 2022
We are excited to announce that Team Performance Expert Whitney Johnson has joined BRAND MINDS 2022!
Do you want to learn how to build an engaged and high performing team?
Get tickets to BRAND MINDS and learn from the best!
Whitney Johnson's speech at BRAND MINDS 2022:
HOW TO BUILD AN EXTRAORDINARY TEAM
You will learn to:
Leverage disruption in your team's favour;
Identify your team's current place on the S Curve of Learning ™ and how to move them forward;
Make big career changes by using the 7 accelerants of personal disruption for career growth.
The best way to manage through disruption is to disrupt yourself.
Whitney Johnson
Whitney Johnson is a world-leading expert on developing high growth teams
One of the leading business thinkers in the world
Ranked #14 in the global top of leading business thinkers by Thinkers50, Whitney and her team are experts at helping people grow their people to grow their organization.
Executive coach and advisor to CEOs
With +20 years of research, consulting & coaching, Whitney Johnson helps leaders to acquire the necessary skills for leading teams with confidence and a strategic approach.
Cofounder of the Disruptive Innovation Fund
She co-founded the Disruptive Innovation Fund, through which she invested in and led the $8 million seed round for South Korea's Coupang, currently valued at more than $9 billion. She was involved in fund formation, capital raising, and the development of the fund's strategy.
Regular contributor to Harvard Business Review
For the past 11 years, she has been contributing regularly to the prestigious Harvard Business Review with articles on building a portfolio of high-value employees, keeping great talent from walking away and career development.
Selected in LinkedIn's 2020 Top Voices
In a time filled with disruption, Whitney Johnson helped create an element of human connection by consistently going live on LinkedIn and sharing her insights on how to navigate challenging times, as well as amplifying the perspective and wisdom of others.
CEO of Disruption Advisors
She is the CEO of human capital consultancy Disruption Advisors, an Inc. 5000 2020 fastest-growing private company in America.
Whitney works with high-growth startups and Fortune 100 companies across a variety of sectors including consumer goods, technology, higher education and financial services.
When we are no longer getting an emotional reward from our career, we may actually end up doing our job poorly.
Whitney Johnson
Created The Personal Disruption and The S Curve of Learning frameworks
To help leaders develop high-growth individuals and organizations, Whitney created and developed two frameworks: Personal Disruption and the S Curve of Learning.
The Personal Disruption Framework is a 7-point actionable tool that helps you reassert control in the present and accelerate your growth into the future.
The S Curve of Learning Framework illustrates the development of competence in a new domain of expertise which is the very essence of professional learning.
Her books explore strategies on Team Growth & High Performance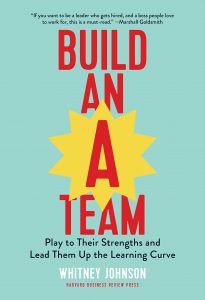 Build an A-Team: Play to Their Strengths and Lead Them Up the Learning Curve
In her book, Whitney Johnson argues that better morale and higher performance happen through learning.
Employees need continuous learning and fresh challenges to stay motivated.
In Build an A-Team, she shares her insights on how to build an engaging team by:
Identifying what your employees already know and what they need to learn;
Designing their jobs to maximize engagement and learning;
Applying a seven-step process for leading each person up their learning curve.
We all want opportunities to learn, experiment, and grow in our jobs. When our bosses work with us to help us leap to new challenges, the result is a team that knows how to thrive, no matter what the future holds.

Whitney Johnson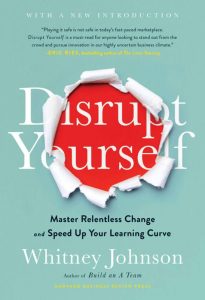 Disrupt Yourself™: Master Relentless Change and Speed Up Your Learning Curve
Disrupt Yourself helps high-growth individuals–and those trying to attain this status–learn the tools and frameworks necessary to make changes that matter.
This book helps you understand how these frameworks of disruptive innovation can apply to your particular path, whether you are:
A self-starter ready to make a disruptive pivot in your business;
A high-potential individual charting your career trajectory;
A manager looking to instil innovative thinking within your team;
A leader facing industry changes that make for an uncertain future.
Whitney Johnson makes the compelling case that managing the S-curve waves of learning and mastery is a requisite skill for the future.
If you want to be successful in unexpected ways and achieve your wildest goals, follow your own disruptive path.
Dare to innovate. Do something astonishing. Disrupt yourself.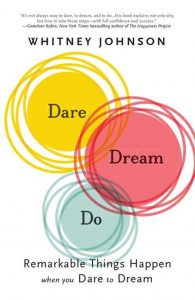 Dare, Dream, Do: Remarkable Things Happen When You Dare to Dream
In this inspiring book, Johnson directs her attention to teaching women, in particular, a three-step model for personal advancement and happiness.
She first encourages us to DARE to boldly step out, to consider disrupting life as we know it.
Then she teaches us how to DREAM, to give life to the many possibilities available, whether to start a business, run a marathon, or travel the world.
Finally, Whitney's model brings out the businesswoman in her; she teaches us to DO, to execute our dreams.
Rich with real stories of women who have dared to dream, DARE, DREAM, DO offers a practical framework to realize one's true potential.
Smart Growth: How to Grow Your People to Grow Your Company – launched in 2022

Whitney Johnson's newest book is Smart Growth: How to Grow Your People to Grow Your Company in which she dives more deeply than ever into the S Curve of Learning.
The book is a compact and complete guide on how organizations can grow their employees. According to the author, the growth and learning journey comes in three phases: the Launch Point, the Sweet Spot, and Mastery. Whitney Johnson gives compelling examples of successful people illustrating when and why growth is slow, how to keep going, what to do when growth and learning are almost too fast to keep up with, and how to leap from one growth journey to another.
BRAND MINDS is where leaders learn the key frameworks of building outstanding teams!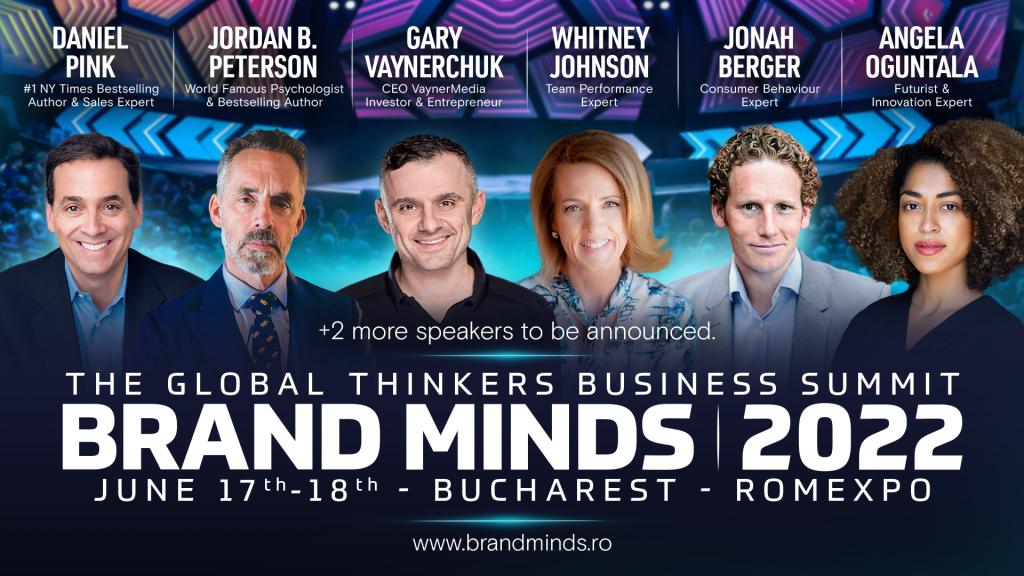 BRAND MINDS LIVE 2020 welcomes two new speakers: Bozoma Saint John and Aduke Onafowokan
BRAND MINDS LIVE 2020 is thrilled to announce that Bozoma Saint John, Chief Marketing Officer @ Netflix and Aduke Onafowokan, Expert on Diversity & Inclusive Leadership have joined our online event
Bozoma Saint John,

 CMO at Netflix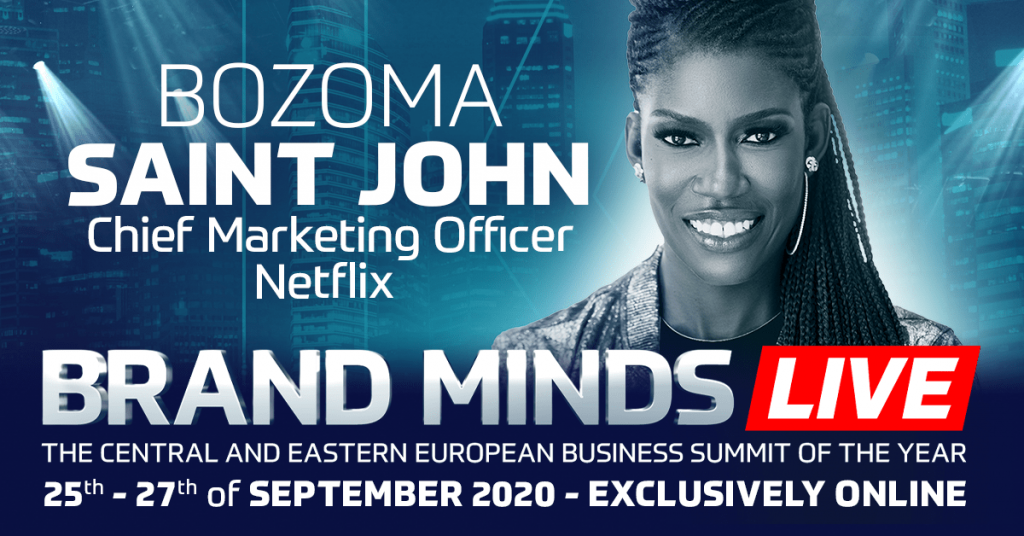 TRAILBLAZING MARKETING & ADVERTISING EXECUTIVE WITH 20 YEARS OF EXPERIENCE
Recently appointed CMO at Netflix, Bozoma is an experienced professional leading the marketing departments for billion-dollar companies.
Before Netflix, the streaming giant now worth more than Disney, she worked at Endeavor, a global leader in entertainment, sports and fashion operating in more than 30 countries.
Before that, she was Chief Brand Officer at Uber and Head of Global Consumer Marketing at Apple Music & iTunes, spearheading campaigns geared towards growing consumer brand recognition, loyalty and equity around the world.
She got her start in marketing at Spike Lee's advertising agency, Spike DDB.
In 2016, Bozoma delivered Apple's Worldwide Developers Conference keynote and blew everyone away with her presentation skills. Journalists wrote she was the "coolest" person to ever take the stage at an Apple keynote. The audience was captivated by Bozoma 'the Boz' Saint John and asked that she deliver every Apple keynote.
ONE OF WORLD'S MOST INFLUENTIAL CMOs
Bozoma was featured in Forbes' World's Most Influential CMOs list and Ad Age's Most Creative People list.
Her career has also been marked by induction into Billboard's Women in Music Hall of Fame and the American Advertising Federation Hall of Achievement, as well as recognition on The Hollywood Reporter's Women in Entertainment Power 100 list.
She has been featured in Fortune Magazine's Disruptors, Innovators & Stars 40 Under 40 and in March 2017 she was named a Henry Crown Fellow in the Aspen Institute.
NAMED ONE OF THE MOST POWERFUL WOMEN IN BUSINESS
Business magazine Black Enterprise recognized Bozoma as one of the most powerful women in business alongside other global leaders such as Oprah Winfrey and Beyoncé Knowles. At the time, she was head of global marketing for Apple Music.
Ebony Magazine's 100 Powerful Executives highlights African-Americans who exemplify brilliance in the fields of entertainment, arts and business. The magazine's 2017 list recognized Bozoma Saint John in the Women Up category.
None of us will have any impact or influence if we are quiet. So don't be quiet, be loud as hell.

Bozoma Saint John
GUEST LECTURER AT HARVARD BUSINESS SCHOOL
During the 2020 Spring semester, Bozoma's marketing career served as a case study in an MBA class at the Harvard Business School. She appeared as a guest lecturer, delving deep into the tactical and pivotal marketing moves she made throughout her career, which she now credits as intrinsic to her success.
REACHED MILLIONS OF FOLLOWERS WITH #ShareTheMicNow
Bozoma launched the #ShareTheMicNow movement on Instagram where 50 Black women are taking over the Instagram feeds of 50 White women with million-follower platforms, magnifying Black women and the important work that they're doing in order to catalyze change.
Among them are world-renowned public figures and celebrities as Brené Brown, Hollywood actress Julia Roberts, award-winning author Elizabeth Gilbert, Arianna Huffington, Melinda Gates and Hillary Clinton.
#ShareTheMicNow will comprise accounts that reach a total reach of 300 million followers.
CO-HOST OF THE BACK TO BIZ WITH KATIE AND BOZ PODCAST
Most recently, Saint John launched a podcast alongside award-winning journalist Katie Couric, "Back to Biz with Katie and Boz," which explores the ways thought leaders, CEOs and innovators are responding to the societal shifts that have been ushered in by the coronavirus pandemic.
THE BADASS WORKSHOP – HOW TO BECOME EMPOWERED
Do you want to know how Bozoma did it? How she built her successful career while being authentic? Now you can by joining Bozoma's The Badass Workshop which she created with the intention to curate and share the knowledge she has amassed in her career, health & wellness, perseverance, goals and much more.
Join the

BRAND MINDS LIVE 2020

on September 26th and connect with Bozoma Saint John!
Aduke Onafowokan

, Expert on Diversity & Inclusive Leadership

PARTNERED WITH THE U.N. FOUNDATION, OXFORD UNIVERSITY & MORE 
Aduke Onafowokan is an internationally renowned expert on diversity, intersectionality, and inclusive leadership whose bespoke programmes helped develop leaders and leadership across cultures and backgrounds.
She has scholarly expertise on leadership and gender from INSEAD, a master's degree in Organisational Leadership from the University of Oxford and a master's degree in Corporate and International Law from Nottingham Law School.
Aduke worked with some of the largest organizations in the world such as Deloitte, British American Tobacco and The UK Ministry of Defence.
She has partnered with the UN Foundation, University of Oxford, UK Parliament and UNICEF on Campus to empower women and future female leaders at work and in business.
She is an entrepreneur with a successful consulting career with ten years of practical experience in Project Management, Training and Talent Development.
Aduke's expertise includes recruiting, developing and retaining talent. Her work focuses on the areas of intersectionality and leadership by helping institutions and organisations understand the often complex and unique challenges of diverse experiences and how these can be managed and mitigated.
EMPOWERED 10.000 WOMEN THROUGH HER ORGANISATIONS
Aduke founded Sister Sister Network in 2016, an organisation offering free career and business accelerator workshops to women. The organisation provides its members with the opportunity to gain the insight, education, empowerment, inspiration and networks required to achieve their personal goals and become leaders in their chosen fields.
Inclusivitii is a Diversity and Inclusion Organisation that has educated and inspired thousands of workforce on inclusive leadership and diversity in the workplace across the globe. The organisation's goal is to promote diversity and inclusion through education and create compassionate spaces for uncomfortable conversations. In a respectful, inclusive workplace, diversity is valued, and individuals feel safe and appreciated.
"Inclusive leadership is needed now more than ever, as the world around us becomes more polarised and divided, the world is hungry for leadership, unity, and vision that carries everyone along".

Aduke Onafowokan
RECOGNISED AS ONE OF THE 145 INSPIRING WOMEN LEADERS IN 2020
Diversein develops sustainable strategies for companies to build inclusive and happier workplace cultures with their authenticity. As part of International Women's Day 2020, Diversein launched a campaign to recognise and reward inspiring women leaders globally. Aduke was recognised alongside leaders such as Oprah Winfrey, Michelle Obama, Brené Brown and Melinda Gates.
​NOMINATED FOR THE YAHOO FINANCE HERoes ROLE MODEL LIST 2020
Aduke was nominated for the HERoes Women Role Model Lists supported by Yahoo Finance which showcases leaders who are championing women in business and driving change for gender diversity in the workplace.
Through her body of work, Aduke continues to make a widespread contribution to the advancement of women in business, career and public life.
Join

BRAND MINDS LIVE 2020

on September 26th and watch Aduke Onafowokan speak about
Diversity and Inclusive Leadership

.