8 success lessons from "King Richard", the story of Venus and Serena Williams
"King Richard" depicts the life story of two of the greatest athletes in the world, Venus and Serena Williams with Will Smith playing Richard, the sisters' father and first coach.
For his portrayal of Richard Williams, Will Smith won the Screen Actors Guild Award for Outstanding Performance by a Male Actor in a Leading Role.
"King Richard" is about discipline, perseverance, hard work and never giving up. It's an aspiring story with many success lessons we could all learn.
8 success lessons from "King Richard"
1. Always be pitching
In the movie, we see Richard Williams pitching Venus and Serena to various tennis coaches and potentially interested investors.
He talks fast because he only has a couple of seconds to deliver his message while taking a few steps alongside the would-be coach. Whether he was aware or not, Richard was looking to deliver the proverbial elevator pitch.
The elevator pitch is the founder's opportunity to talk about their startup to a potential investor.
How do you deliver a successful elevator pitch?
Here are the ingredients of the perfect elevator pitch:
Keep your speech at 60 seconds max;
Define the pain point your solution solves;
Highlight the benefits of your solution;
If possible, compare your solution to a known competitor and describe how your solution is a better choice;
Help the audience envision how their lives would improve if they used your solution.
Essential to a successful pitch is timing. Are you delivering your pitch at a moment when it is most needed? Or your audience is more open to hearing it?
Do your research, practise your 60-second speech and always be pitching.
2. Be forever learning
Before they got a professional tennis coach, Venus and Serena were trained by their parents. Former athletes themselves, Richard and Oracene, the girls' mother, were tough on them, but kind and fair.
They had the discipline and the perseverance that any good athlete needs to be successful and they knew how to pass them on to their girls. Before they could teach tennis to the girls, Richard and Oracene first learned the game themselves. Even after it was obvious the girls had real talent and were on the path to remarkable athletic achievements, Richard never stopped learning great tennis everywhere he could: an interview in a magazine, watching famous tennis players on TV and so on. He kept looking for insights that would help Venus and Serena improve their game.
Discover another surprise in the tennis world: Who is the inventor of the steel tennis racket? Hint: he also is the founder of one of the oldest clothing brands in the world.
3. Make a detailed plan
In the movie, Richard would tell everyone he talked to that his girls would be successful because he planned for it.
And it was true, Richard's plan did exist and it had 78 pages. He began writing it after seeing Romanian tennis player Virginia Ruzici awarded $40,000 for winning a four-day tournament, in 1980. According to Richard, most of his plans for Venus and Serena to dominate the tennis world came true.
The lesson here is that writing a detailed plan helps you visualize the goal and the necessary steps to achieve it. The plan also outlines the what (resources), the how (specific tools, activities, platforms etc) and the why (the reasons behind your choice of a specific resource or tool).
Richard's favourite quote was When you fail to plan, you plan to fail and now we can understand why. He had a sign with this motto hung around the training tennis court so that the girls could always see it while playing.
Don't know how to write a plan? Read this article: 5 steps to create a strategic plan that will support your business vision.
4. Don't think about what other people do; think of what you do
Richard would often tell Venus and Serena to ignore what other people were doing and focus exclusively on their short-term tasks and long-term goal.
Paying attention to others is pointless and distracting. See the path you are on and keep going.
In business, it's pretty much the same. It's useful to be aware of what the other players in your industry are doing, but don't copy their strategic moves.
Find your own voice in the business world, be authentic and loyal to your values and vision. The only individual your business needs to focus on is your customer. If you constantly strive to provide your customers with valuable solutions to their problems or help them achieve their dreams, you are on the path to success.
5. The power couple gets faster results
Richard couldn't work on his plans to raise Venus and Serena to be the best in tennis without the support of Oracene, his wife and the girls' mother.
The Venus sisters would not have grown to become the most famous duo in tennis without the essential contribution of their mother, the other half of the Williams couple. When Richard made sure they had the perfect backhand on the training court, she made sure they did their homework for the next school day.
Find yourself the best partner to share your vision, support each other and consult with before making a decision. The best partner is usually the one with a complementary set of skills.
6. The right attitude and a strong mind win the game
Hard work paired with determination, the right attitude and a strong mind is the most powerful combination in the world. The Williams sisters had what it takes to become tennis aces and then some.
Richard worked both on their strokes and their mental skills. Early on in their training, Richard instilled confidence in Venus and Serena. He told Venus that she would be number one soon and he told Serena that she would be the greatest of all time. We now know it all came true.
In the highly competitive world of today, whether you are a startup founder, investor, top executive or just a member of your team, you need to make yourself mentally strong.
You need to navigate through various ups and downs, failures and wins, and remain aware of your strengths and weaknesses while constantly growing personally and professionally.
Learn how to manage your Wonder Woman Syndrome and avoid burnout, how to build your self-confidence, keep toxic thoughts at bay, and most importantly, how to reframe failure.
7. You don't have to take the same road as everyone else
When Rick Macci, the sisters' coach in Florida told Richard to enlist his daughters in the junior tournaments, he refused.
The junior tournaments were tough on the young players. Richard didn't want to put his daughters, then aged 12 and 14, through a gruelling tournament with a high probability of burnout. He wanted them to stay in school, receive education and keep training.
No matter how much everyone insisted on Richard, he was unwavering in his decision. When Venus was ready, he allowed her to turn pro and enter the competition. In her first match, he played against Shaun Stafford ranked #59 in the world and won 6-3, 6-4.
You don't have to follow the same path or go the same route as everyone else in your industry or niche. You have a unique set of skills and resources. Don't limit yourself by trying to fit into a certain mould.
8. Do the best with what you have
When Richard took the sisters to Paul Cohen to show him their tennis skills, the professional coach was impressed but told him he could only train one sister, not both, and chose Venus.
Richard accepted much to Serena's disappointment. She immediately thought Richard had given up on her, but she was wrong because as she would soon find out, he found a way to help her keep up with Venus.
He brought a camera and recorded every training session. The following day, Oracene would take Serena to the neighbourhood tennis court and be her Paul Cohen, essentially replicating his session with Venus.
And as Serena would later confess she hated those training sessions with her mother because she was tough on her and made her work harder than ever before.
But the hard work paid off. Serena turned pro one year after Venus, when she was also 14 and became the first to win a Grand Slam singles title, winning the 1999 U.S. Open.
Serena is recognized as one of the greatest tennis players of all time and one of the greatest athletes in the world, whose game and play style revolutionized tennis. She won more Grand Slam singles titles than any other woman or man during the open era.
Today she leads an early-stage venture capital firm that has recently raised $111 million in funds to invest in founders with diverse points of view.
10 Success Stories You Might Have Missed
There comes a moment in everyone's life when we ask ourselves What is my mission? What am I supposed to do to feel accomplished?
Some figure it out very early on while others bounce from job to job changing directions several times until they find themselves on the right path.
Life is a self-discovering journey. We discover what our talents and our abilities are and we learn how to best use them to achieve our mission.
We designed the Success Stories category of our blog to provide you, our viewers with stories of successful entrepreneurs. Their journey is inspirational and can serve as an example for anyone looking to make a difference and change the world for the better.
In the past months, I reached out to every entrepreneur in these stories and invited them to share their mission with us.
If you have subscribed to receive website notifications, you may have read them – they are published on Thursdays.
If you are not a subscriber yet, it's easy to become one: just click the red notifications balloon.

For those of you who missed our Success Stories, here is a wrap up of our first ten articles each showcasing an entrepreneur and their journey.
Here are 10 success stories that you might have missed:
1. Alex Govoreanu – Exploring Games With Questo
Are you bored with going to the same tourist attractions?
Do you want to discover exciting places while visiting a new city?
There's an app for that – it's called Questo.
Find out how Alex Govoreanu, co-founder of Questo came up with this idea.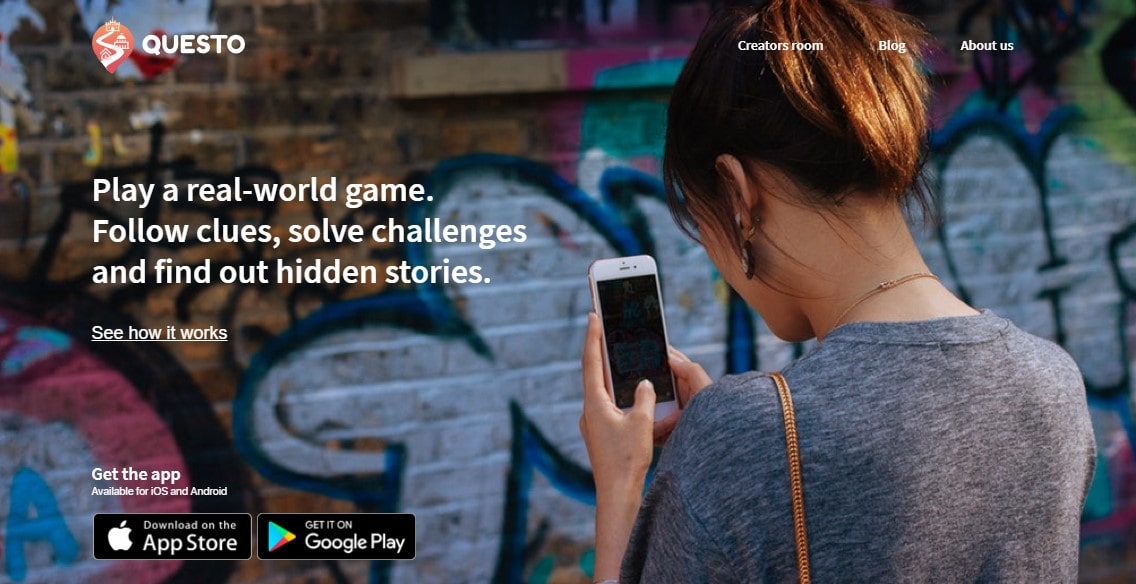 2. Mihai-Toader Pasti: Building The Homes of the Future at EFdeN
The future may hold many surprises for mankind but one thing's for sure: our homes will continue to be important to us.
How will our future homes look like?
Mihai-Toader Pasti has been designing and building greenhouses for the past nine years. Discover where his journey began and where will it lead him.
3. Mădălin Preda (Deqod): On Leadership and Technology
Today's technology is about AR/VR, Artificial Intelligence, bots, IoT (internet of things) and Blockchain.
Digital innovation empowers thought leaders to unlock greater profitability through strategic technology development.
Find out how Madalin Preda helps his clients achieve their goals through custom software.
4. Javier Goyeneche (ECOALF) – Turning Plastic Sea Waste Into Fashion
Human civilization has known great progress in the last century and technology developments are happening faster than ever before.
But our achievements have come at great costs to our environment: heavy pollution is harming our planet.
Javier Goyeneche, co-founder of Ecoalf has made his mission to clean our planet's oceans of plastic waste. Discover his story. 
5. Diana Miron (JSLeague) – Changing The World One Block Of Code At A Time
Are you familiar with the saying There is strength in numbers? Communities are powerful; their strength lies in numbers but also in unity.
A leader's main purpose is to build strong communities around one goal. And that's exactly what Diana Miron, co-founder of JSLeague has achieved. Read her story.
6. Anna Lowe (Smartify) – Using Tech To Enhance The Way We Experience Art
Ever since the first cave paintings, mankind expressed itself through art. The pervasiveness of technology today had some of us state tech is responsible for the decreasing number of museums visitors all over the world.
Anna Lowe believes it is possible to use tech to help museums.
Discover how Anna and her team at Smartify plan to revive people's interest in museums.
7. Marius Istrate (UiPath) – Success Is Being Open By Default
As of April 2019, UiPath is valued at $7 billion which makes it one of the highest values enterprise software companies in the world and a leader in the robotic process automation industry.
Discover what makes UiPath so amazingly successful.
8. Cristina Aleixendri Munoz (bound4blue) – Bringing Sustainability To The Shipping Industry
The shipping industry is one of the highest consumers of natural resources while producing an unsustainable amount of pollutant emissions.
Through creativity, innovation and engineering, Christina and her team offer a wonderful solution which is elegant by design, highly efficient and also clean and sustainable.
9. Henrik Hagemann (CustoMem) – Cleaning Wastewaters With An Innovative Solution
Our civilization has thriving cities. Modern developing cities attract people because they provide them with many opportunities for a better life.
Unfortunately, urban life comes with various challenges such as cleaning wastewater.
Henrik Hagemann, co-founder and CEO at CustoMem has come up with a sustainable solution to clean wastewaters.
10. Briac Barthes – Driving Change Through Social Entrepreneurship
Social entrepreneurship is about recognizing social problems and finding solutions to alleviate those problems and trigger social change.
Briac Barthes has dedicated his life to supporting people to get out of poverty.
Discover how Briac empowers the people in Tanzania through his Iron Battery.
Join the Conversation
We'd love to hear what you have to say.
Get in touch with us on Facebook Group and Twitter.