Prince Harry launches a sustainable travel program
Prince Harry has launched a global sustainable travel initiative.
Find out more in the video!
#brandminds #globalhighlights #princeharry
Turning CO2 From Polluter To Producer
Our world is growing at a fast pace. We sustain its rapid development rate by feeding it with energy.
According to the International Energy Agency, last year the global energy consumption doubled the average annual rate of the previous seven years.
This resulted in global carbon emissions growing to a record high in 2018.
Fossil fuels accounted for almost 70% of growth and coal was now the biggest single source of global warming.
The countries generating the biggest energy demand are the world's top 3 largest economies: China, India and the US with 70% of the increase in total world energy demand.
On the upside, wind and solar saw double-digit growth last year but was not enough to meet the world's needs.
Another negative factor is the slowdown of investment in clean energy which decreased by almost 10% last year.
Also, our pace to change to clean energy slowed down to the lowest rate for five years.
As you can see, today we are doing a bad job of controlling carbon emissions and limiting pollution.
We are harming our environment and our planet. We are jeopardizing our future essentially.

Turning carbon dioxide (CO2) from a polluter to a producer
All is not lost. New solutions are designed to make sure our future is brighter than our present.
The team at Deep Branch Biotechnology has found a new way to deal with carbon emissions.
Their solution helps companies who want to reduce their carbon footprint without impacting negatively on operational costs.
The solution is biological and takes the recycling process one step further.
What is the solution?
The solution designed by Deep Branch Technology is a biological process in which carbon dioxide is collected and converted into sustainable protein.
The conversion takes place by using the company's proprietary gas fermentation process.
Benefits:
It requires minimal labour and land, and no sunlight;
It's scalable due to its modular design;
The product (single cell protein) is clean, nutritious and sustainable;
It reduces the carbon footprint of emitters;
It provides sustainable alternatives to soy and fishmeal for the feed industry;
The process is fueled by renewable energy (wind-power);
The product's price doesn't change because it isn't affected by seasonal variability;
The process can scale vertically and has low labour costs.
Join the Conversation
We'd love to hear what you have to say.
Get in touch with us on Facebook Group and Twitter.
Sustainable Pensions For A Sustainable Future
This article is about choosing a sustainable pension to contribute to a sustainable future.
Do you care about our planet? Are you advocating for sustainability?
There are many actions you can take to support sustainability and make sure we as a society and our planet have a cleaner, better future. You can move around town by bike instead of driving your car. You can mount solar panels on your house to cut down on your electricity bill.
If you believe these options are not for you and you are looking for something different, here it is – the sustainable pension.
What is a sustainable pension?
Irrespective of your pension provider, all pension plans work the same: your money goes into different stocks and bonds which help companies develop and grow. Therefore your pension savings have a big impact on the future: both as an individual and as a society.
Do you know where your pension money is going?
Have you ever thought about the companies which receive your money? Do you know who they are? What are they producing? Is their business model harmful to the planet?
Here are the main benefits of choosing a sustainable pension:
You have control over which companies receive your money;
You can avoid investments in harmful companies (producing fossil fuels, weapons or tobacco etc);
You can invest in companies producing green energy, new technologies, medicine and health care solutions.
You can choose companies with a high standard for ethics and responsible business practices.
Choose a sustainable pension to ensure the future is sustainable
Denmark has some of the world's largest pensions savings so where the Danish place their money matters for their country and the world at large.
The problem is all Danish pension funds invest in coal, oil and gas. The Danish want to avoid catastrophic climate change as a society so choosing sustainable pensions is one way to achieve their goal.
Matter – Let your savings make a difference
Matter is the entrepreneurial initiative of two Danish visionaries – Niels Fibæk-Jensen and Emil Stigsgaard Fuglsang. They are the co-founders of Matter Pension and are supported by a team of five colleagues. Forbes 30 under 30 included Niels Fibæk-Jensen in its 2019 Europe list.
Matter & Skandia – partnership for sustainable pensions
The company is not a pension company; the initiative is a partnership with Skandia, a Danish pension provider.
Matter acts as a lead-generator for Skandia; it assists Skandia in analyzing and screening the investment portfolios associated with the savings of Matter customers.
We believe that pensions should be invested in making a positive social and environmental difference in order to build a world, we actually want to retire in.

Niels Fibæk-Jensen, cofounder at Matter Pension
How the Matter & Skandia partnership works
Screening criteria
The team at Matter has defined a list of criteria based on international UN agreements on areas such as human rights, climate and environment.
Based on this list, they exclude harmful companies that produce weapons, tobacco and fossil fuels, companies that do not respect human rights or are known to be involved in corruption.
They include companies that produce climate and environmentally friendly technologies, medicine and health care solutions.
Working together
Matter screens the investments, while Skandia is responsible for managing the assets and pursuing the highest possible return.
Conclusion
Sustainable pensions are a great way to ensure our future is better for our planet and our grandchildren.
It's an innovative, long-term solution to the current climate change challenge.
It is also an incentive for today's global business environment to start transitioning towards business models that are ethical, sustainable, have a positive impact on the workforce, society and planet at large.
Javier Goyeneche (ECOALF) – Turning Plastic Sea Waste Into Fashion

Javier Goyeneche is the founder of ECOALF, the Spanish company which turns plastic sea waste into high-quality fashion products.
ECOALF is a fashion company that created a new 100% recycled filament, Sea Yarn, which is made of the plastic bottle collection found in the bottom of the Mediterranean Sea.
The sea yarn is further used to create high-quality fabrics which ECOALF turns into a new generation of sustainable products.
Through this process, one sweatshirt alone saves 6200 litres of water. ECOALF designs and makes fashion clothes, footwear and accessories for women, men and children.
Javier Goyeneche's commitment to put an end to the endless pollution of the environment prompted him to take the next step: setting up the ECOALF Foundation.
The mission of the ECOALF Foundation is to upcycle the oceans of our planet. The foundation is currently running two projects: Upcycling the oceans in Spain and Thailand.
The project in Spain started in 2015 and involved 28 ports amounting to a total of 441 sea trawlers and over 4000 fishermen. To date, more than 200 tonnes/year of marine debris has been recovered from the bottom of the Mediterranean sea.
In 2016, the Ecoalf Foundation started the Upcycling the Oceans project in Thailand. According to statistics, 8 million tonnes of trash end up in the oceans every year. 60% comes from a range of Asian countries. This project promotes the collection and management of plastic waste in Thailand's coastal and marine tourist areas. Project activities include scuba divers collecting plastic waste from underwater as well as other volunteers collecting plastic waste from beaches.
I was interested to know more about Javier Goyeneche's mission to produce high-quality fashion and cleaning the oceans of plastic waste at the same time so I asked him the following questions:
1. What is the story behind Ecoalf? How did it all start?
The concept ECOALF was born in 2010 after the birth of my son, Alfredo (the company is named after him).
At that time I was reflecting upon the world we leave to the next generation and felt frustrated with the excessive use of the World's natural resources.
I decided to create a fashion brand that is truly sustainable. I thought the most sustainable thing was to stop using our natural resources in a careless way.
2. As a champion of sustainability, name a few of the challenges that you were faced with while building your company.
Uff, there have been many. In terms of clients, the concept of recycling is for many of them something negative and synonym of bad quality. They seem to think we recycle the old blanket of the grandmother to make a backpack. I have and spend a lot of time and energy trying to prove that ECOALF is about innovation + design.
Also, my goal was to create a sustainable brand where the price would be affordable (unfortunately most sustainable products are expensive).
In terms of production, we are constantly facing challenges. Trying to be as sustainable as possible is not easy and requires huge and constant effort.
3. Which was harder: to change technologies or people's minds?
Through investment and patience, we have proved we were able to do many things they told me wouldn't be possible.
Changing peoples minds is a constant effort. Unfortunately, our actual fashion model with t-shirts at 3 euros is not sustainable and is creating a huge negative impact on our planet. People want to be sustainable but don't want to change their habits.
Read our previous Success Stories about travelling gamification, building the homes of the future, and creating custom software. 
Join the Conversation
We'd love to hear what you have to say.
Get in touch with us on Facebook Group and Twitter.
Mihai-Toader Pasti: Building The Homes of the Future at EFdeN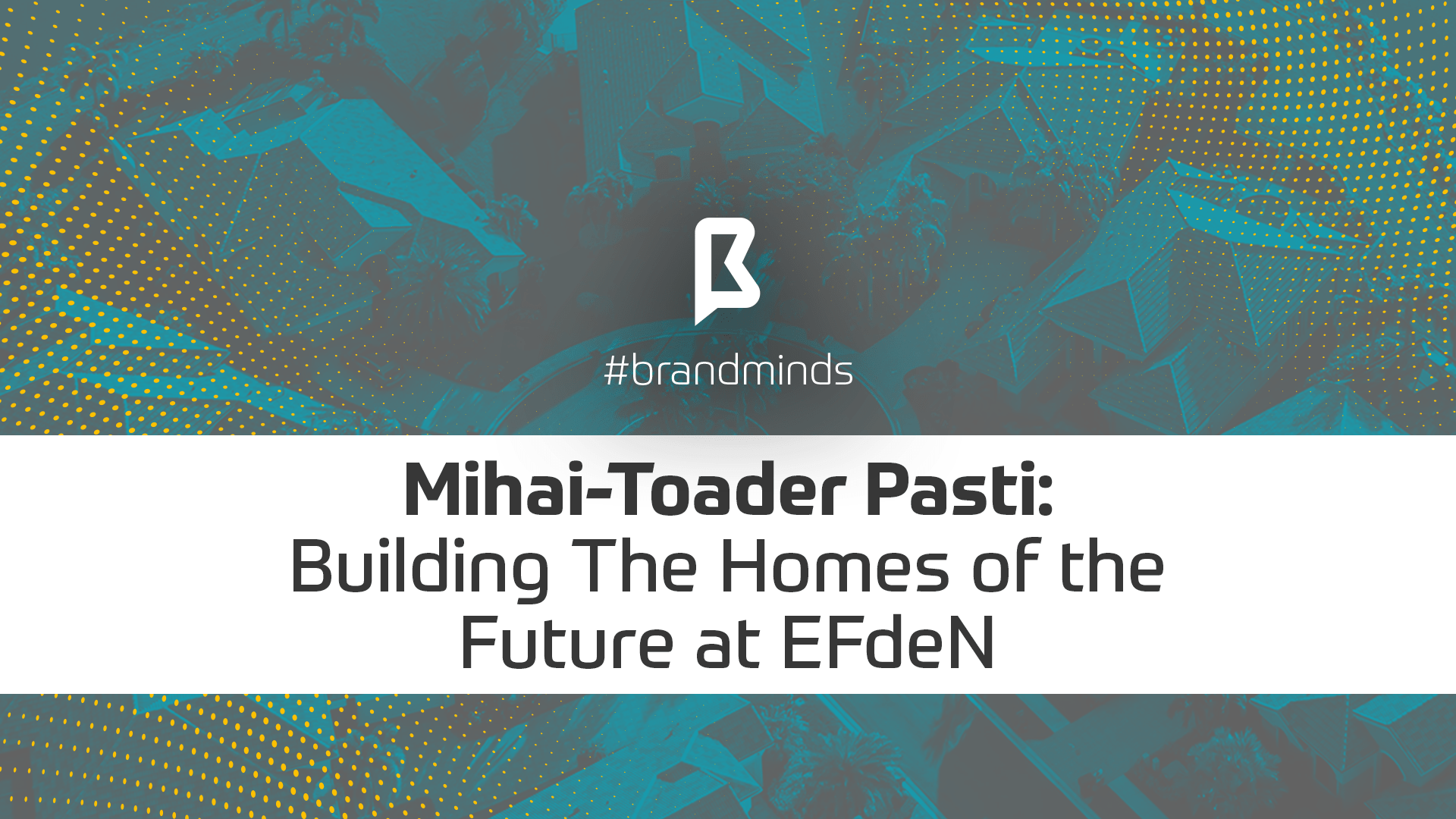 Mihai Toader Pasti is building the homes of the future as co-founder and General Manager of EFdeN & energiaTa.
EFdeN is an NGO founded in 2012 by a group of passionate young people committed to making Romania more sustainable.
Read the previous success story: Alex Govoreanu – Exploring Games with Questo.
Together with a team of seventy people with various education backgrounds (urbanism, design, architecture, 5 types of engineering, horticulture, communication and management), Mihai has been designing and building greenhouses for the past nine years.
Since 2010, he participated in 3 editions of Solar Decathlon, the world's most important competition for sustainable homes. At each edition, the greenhouse designed and built by the EFdeN team won prestigious awards, bringing the total number of awards to 35.
How does Mihai envision the house of the future?
He says the house of the future will become more interactive. The house will interact differently depending on the age or health issues of its owner. Maybe it will soothe a crying baby or cater to the needs of a sick old man. People suffering from depression or anxiety spend a lot of time indoors. Mihai is asking himself how their home could help them manage their illnesses.
I was interested to know more about EFdeN so I asked Mihai-Toader Pasti the following questions:
1. What is the story behind EFdeN? How did it all start?
The story of EFdeN starts two years before it was founded, in 2010, when two relevant things happened.
A young architect called Pierre Bortnowski visiting Madrid was hanging out with his friends in Casa de Campo Park. In the same time, the finals of the world's most important competition for solar homes were taking place. As a young assistant to the University of Architecture, at his return in Romania, he had a dream: for Romania to participate in this competition.
So he started gathering people to make it happen and this is how PRISPA project started in 2010. I was part, along with other colleagues who later joined EFdeN, of the PRISPA project. Unfortunately, the PRISPA house had to be sold in order to cover the participation expenses, so after the competition, the team dissolved, and the project didn't go any further.
But some of us really wanted to go further. This is why EFdeN was born in 2012. In a studio in Bucharest and not in a garage as other successful stories, because we did not even have a house. We had just one simple idea and one mission: to offer to other people at least the same experience we had in PRISPA, to create an educational context and opportunities.
We wanted to create a sustainable organisation that could offer meaningful and practical experience for young architects, engineers and designers, to raise awareness of climate change problems and try to mitigate them on a country level.
We did not aim for awards, fame or money, we just wanted this dream to live for decades, to not die. The fact we managed to do so many projects, while also changing a law in Romania and creating with energiaTa the biggest community of energy prosumers is something that happened because we always tried to push the boundaries of what is possible here.
2. In 2013, your team has grown from five to seventy people. What is your role as a leader?
My role as a leader was to get everything done in time and within the budget, while convincing enough people to pursue together and long enough a crazy shared dream: to be the best we could, to create the best home we could for Solar Decathlon competition.
People usually underestimate how challenging such a project can be. We have 2 years to create everything from scratch; we are responsible from concept and design to actually build a house with our own hands, a house which has to function in the best competition in the world for solar homes, after transporting it for more than 4700 km and assembling it in just 15 days.
We are also responsible for fundraising all the money, products and services we need. There is an enormous amount of things that could go wrong and we are responsible to solve them all, no big brother or sister to call, no parent to do our homework.
3. In the last four years, EFdeN has benefited from the active support of over 500 volunteers and supporters. How did you and your team manage to get everyone on the same page? What challenges did you encounter?
EFdeN is a truly amazing experience for everyone, from new members to coordinators and the management team. In time we had some amazing challenges to overcome: Theory to Practice, Financing & Partnerships, Teamwork & Interdisciplinarity, Long term planning and Execution.
We are constantly around 35 people and the average age in our project in 22 years old, the youngest is 19, the oldest is 31, having 50% gender balance.
Almost no-one has any working experience when they join our team and the vast majority never built anything in their life or had any experience in teamwork.
So in 2 years, until our first EFdeN participation in Solar Decathlon, we had to go from zero to hero which we successfully did.
In time we got better and better. For example, at the most recent Solar Decathlon competition we participated in (which took place in Dubai), we were on the podium 4 times in Engineering and Construction, Comfort Conditions, Sustainability and Communication.
How did we do that? By keeping our eyes on the ball, by doing lots of sacrifices, by loving what we do and by finding beacons of hope and energy in our own team and in society.
But the truth is you cannot get everyone on the same page. There are always people who don't trust us or who are not ready for the sacrifice it takes. It happened the same to us, it was not all the land of milk and honey, but we found common ground.
There were many people who didn't trust us and who refused to support us along our journey. But there were also some who supported us, and this made all the difference.
We are very thankful to our more than 120 sponsors that chose to support us and also to all the volunteers who were ever part of EFdeN and believed in this dream and put their time and energy into it.
Join the Conversation
We'd love to hear what you have to say.
Get in touch with us on Facebook Group and Twitter.