10 essential steps to create a winning content marketing strategy
Looking to create a winning content marketing strategy? Follow these 10 essential steps!
1. Define your marketing business goals and objectives
Such as every company has business goals and objectives, so every marketing department has marketing goals and objectives. Setting marketing goals is essential because they support businesses to achieve their goals and objectives.

5 words for high-converting headlines
Marketing goals differ depending on the stage your business is in.
If your business is looking to enter a new market, your marketing goal should be market development.
If your business is looking to expand its market share, your marketing goals should be market penetration.
Discover what strategies did Apple use to achieve market development and market penetration.
Is your business in early-stage development?
Your marketing strategy should focus on building a tribe and raising awareness. That's a different strategy than entering a new market.
Here are 6 marketing goals that you could focus on depending on your set business goals:
Increase brand awareness
Empower your email subscribers
Build brand ambassadors
Boost your sales through referral programs
Identify customer behaviour change
Increase website traffic with guest content
2. Define your target audience – Be clear and specific on your audience's pain points and challenges you are helping them solve
Now that you are aware of the marketing goals and objectives you need to achieve, define your target audience or buyer persona.
You need to have an in-depth knowledge of your customer's profile or buyer persona.
Be very specific with a focus on psychographics more than demographics.
What are your buyers' challenges, pain points, goals and aspirations? Write them down.
How can your brand help your buyers overcome their challenges, solve their pain points or support them achieve their goals?
Once you have the answers to these questions, you can now look into the type of content that helps your audience.
3. Choose your unique angle
There are thousands of pieces of content on luxury, but Louis Vuitton has a unique approach stemming from the brand's longtime history.
Every business needs to find its unique point of view and use it to differentiate from the competition.
From a business standpoint, price shouldn't be a differentiator because it's a losing game. There will always be another business with lower prices than yours.
That is why your business should have a strategic plan in place. The main goal of the strategic plan you create for your business is to define how your business differentiates itself from the competition.
From a content marketing strategy standpoint, choosing your business' unique angle means you will be able to create fresh and relevant content for your audience.
4. Define content guidelines and goals
Your brand's content marketing strategy must include content guidelines and goals.
What type of content are you going to produce to help your audience? If your audience needs help to get better at their jobs, curate lists of digital tools, apps or platforms.
If your audience needs help to achieve their goals and aspirations, write how-to content, tips & tricks.
No matter what type of content you choose, the goal of your content marketing strategy should be to exceed your audience's expectations.
The result of a successful content marketing strategy is to position your brand as a valuable resource for your audience.
5. Decide which content formats you are going to use
What type of content format is your brand best suited to produce?
If your content team includes talented graphic designers, then your brand could focus on beautifully designed images to publish on Facebook, Instagram, Pinterest or LinkedIn.
If your content team includes videographers, your brand could also produce long-form videos to be published on YouTube.
Whichever content format you choose to use, your content needs a powerful copy. A copywriter with a strong set of skills is able to turn a 1000-word blog post into a 10-image carousel on Instagram or an infographic on Pinterest or a 10-min video on YouTube.
Turning one piece of content (usually long-form) into five new pieces of content in different formats for different social media platforms is a great content marketing tactic.
6. Select the channels you are publishing to
There is a wide variety of social media platforms: some new (Clubhouse), some old (Facebook), some that are growing under the radar of most marketers (Mighty Networks).
Should your brand be on every channel?
Experts say brands should communicate on the platforms their audience is spending time on.
Content marketing expert Joe Pulizzi argues that it's time to revisit the well-known content marketing rule of Be where your audience is.
Yes, you need to be where your consumers are, but if your consumers are on 10 platforms, you need to choose which platform you focus on. At least at the beginning, before you start to diversify your efforts.
7. Set KPIs to measure the effectiveness of the content
A successful content marketing strategy is measurable.
The way to measure your marketing results is by setting KPIs.
A KPI in marketing is a measurable value tied to specific objectives.
What should you measure on Facebook? The number of likes, comments and shares are not KPIs, but vanity metrics. A valuable KPI for your content on Facebook could be the CTR to the website.
On Instagram, a useful KPI to measure the effectiveness of your content could be the number of saves your posts have.
If you look at the number of saves as the indicator of success, you need to design your content with this in mind.
What type of content prompts your audience to hit the save button? This should be the mindset underlying your content creation.
Need to learn more about KPIs? Check out 20 essential KPIs you should be tracking to improve your marketing (updated for 2021).
8. Prepare the content calendar
Now that you have the content marketing strategy in place, it's time to start writing!
Map out the content for the next week or month for every channel you are going to publish on.
Write the copy and discuss it with your graphic designing team to find the best suitable format. Are you going to publish a post daily or twice a week?
Mark your calendar with the international days that are relevant to your brand and brainstorm content to celebrate them in advance.
9. Publish and measure KPIs
Once the content has been produced, publish it.
If there are comments from your audience, make sure to comment back without delay.
Thirty days later, check the analytics of every social media platform you have published on and calculate the KPIs.
For the next month, you can use these KPIs as a baseline for your content's effectiveness and improve the content to drive growth.
10. Select the winning types of content and formats
Not every content template or format will become a hit with your audience.
Identify the content type that is not achieving satisfactory results and retire it.
Select the winning content and analyze it to discover what makes it successful.
Create new and improved content that replicates the winning elements.
Looking for new marketing strategies to build an ultra-engaged audience that will also buy?
Join BRAND MINDS 2023 and learn Neil Patel's winning growth-marketing frameworks!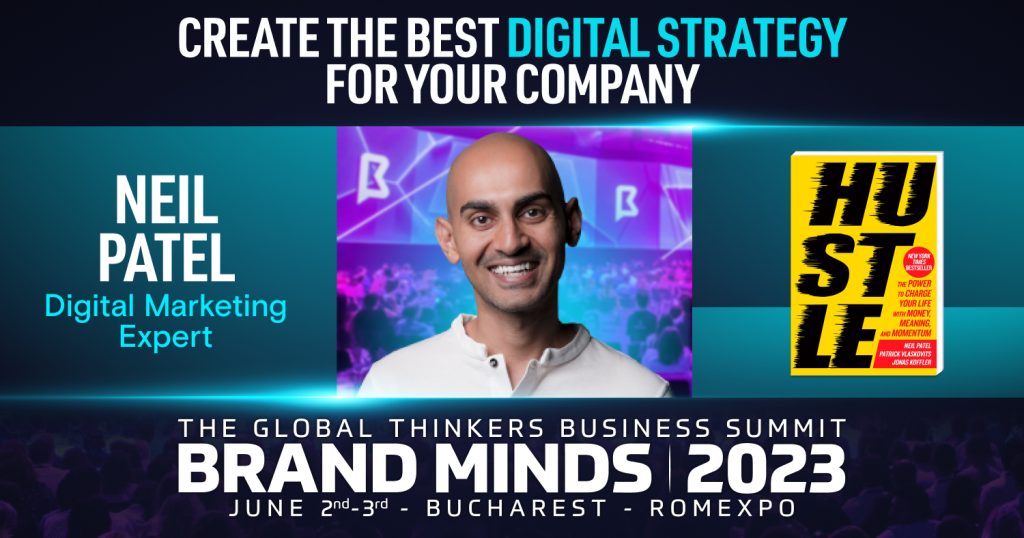 Join the Conversation
We'd love to hear what you have to say.
Get in touch with us on our LinkedIn Page, Facebook Page, Twitter or TikTok.
The Virtual Promoter and why use it in your campaigns
Sometimes is hard to keep up with the technology at the level that is evolving, but by doing it you make sure your business stays in front of the pack and continues to gets more and more loyal customers. In this context, the retail industry has become one of the most competitive and dynamic areas of work, with brands literary fighting for the top stops in consumers' minds.
It's time for the agencies be even closer to their clients and help them reach their business goal. In retail, virtual mannequins have become an ideal, interactive display to inform customers, visitors and guests. The virtual mannequin can be you, a member of your staff or a hired actor. Virtual Mannequins create a 'hologram model' that enables stores and brands to display consistently powerful and engaging sales pitches, promotional and informational messages. Virtual promoter can be used in shopping malls, supermarkets, banks, airports, auto-dealerships, hotels, restaurants and a host of other areas.
efmp (European Field Marketing Partners)'s agencies in the Czech Republic, Germany and Romania are some of the few agencies in the world using this state of the art interactive 83" rear-projection media display platform, called the Virtual Promoter. This platform has been designed to produce a life-size display that interacts by gestures and hi-fi sound feedback.
"The interactive displays are aesthetically pleasing and effortlessly catch the attention of the passing consumers. The engaging nature of the displays makes consumers curious and encourages them to explore the technology; as a result every detail of the product is promoted. Whether it's product information, special offers, services or long-term customer retention, there is no better way to capture the attention of the customers at the point of sale (POS); and the virtual promoters are always on duty," wrote efmp on its blog.
Due to the novel way that virtual promoters display information, consumers are receptive to far more information. This is a great advantage for brands operating in a competitive environment. However, the benefits go beyond just engagement but also include the recording of in-depth customer metrics, with smart data giving brands insight into their target audience.
PPM Factum in the Czech Republic is one of only a few agencies in the world to use this progressive technology. They launched their virtual promoter (ViP) at the Retail Summit on 1st February 2016. According to its website, it is a device designed by the company Ameria, Germany, and is based on the motion capture. The Virtual Promoter (ViP) offers to show your advertisements or product range in a completely new and original way. By means of creative and entertaining application formats it is possible to communicate via the ViP much larger amount of information, moreover in a absolutely non-aggressive way, which is perceived very positively by customers.
"The essence of using this technology is to give brands a deeper understanding of how customers experience them in the retail environment, which in turn enhances their business intelligence and allows them to make strategic changes to implement cost savings and an increase in sales. It allows our agencies to translate their activities into data that shapes business decisions. Given the variety of campaigns delivered and the objectives for each, all agencies are able to create and report on bespoke metrics that are tailored to an individual brand's needs. The ultimate objective is to optimize performance. A variety of platforms and tools are used to deliver campaigns; below we outline some of the outputs and benefits of this technology," added efmp.
Some of the advantages for the business are:
Increase attractiveness of your business place. Attract attention to your shop.
Call to action. Process promotions & novelties and attract customers to your shop.
Information and navigation function. Offer information on your products including navigation through your business location.
An assistant support. Provide service outside your opening hours or unburden your sales assistants during peak hours.
Entertaining function. Offer your customers a pleasant use of time while waiting, kid´s corner.
CRM innovation. 
Quality evaluation of promo event effectiveness based on accurate data.
Attracts attention of passersby by addressing them proactively.
Promo function is accomplished unobtrusively in the background by providing information or via an entertaining application.
"GIMMO Virtual Promoter" (ViP) is a device working on the principle of a projection on a glass coated with special foil. The glass can be placed in space or in a shop window. The device is equipped with the most advanced motion sensor that can recognize and contact passersby. It responds to gestures and sounds; creates an illusion of a real person. Moreover, still according to its website, almost 7 % of passersby stop and watch on average of 40 seconds, 2 % of passersby proactively test the device and spend on average 70 seconds on it. The device keeps customers´ attention much longer than any other type of media. Percentage of expressed interest is significantly higher than in other measurable media (internet).