Best 8 goal-tracking apps to help you achieve your objectives
1.
Adidas Running

– Sports, Fitness & Run tracker

With over 50 million downloads, the Adidas Running app is a GPS and workout tracker for running beginners, 5k and marathon training.

Users can map their runs and track minutes, miles and calories burned for over 120 activities.

The app invites users to take part in challenges and virtual races to keep them on their toes and keep the competitive spirit alive.

Users can also create their own fitness community to motivate them and push them forward when they follow other users.

The app has built-in GPS tracking so that users have all their workout statistics and progress in one place and allows users to score activity so they record when they reach a new personal best.

Adidas Running has a powerful goal-setting feature that supports any goals the users set, whether it's distance, duration or weight loss and allows them to choose a daily, weekly, monthly or yearly goal. A newly-added statistics section prompts users to compare their performance from the past weeks, months and years.
What the users like about Adidas Running:
Live tracking voiceover,
Satellite imagery of the route and the stats, graphs and charts,
Prompt customer service,
Accurate data imports
Helpful and interesting articles on the blog
Reliable and easy to use
Great for running and cycling
2.
Fabulous

: Daily motivation & habit tracker

Fabulous is a gentle coaching tool to help users build routines to become their best self.

Incubated at Duke University Behavioral Economics Lab, Fabulous was nominated for Google Play's Best App Award and won Google's Material Design Award for Most Charming Engagement.

The app's ultimate goal is to instil habits that improve users' health.

Fabulous is a science-based app that will motivate users to improve their fitness and achieve their weight loss goals. It also is a great helper for sleep cycle reboot and anxiety reducing mindfulness.

Users are nurtured to learn to build a transformative morning routine and even pick up life-changing habits like meditation and yoga.

Unlike other goal-tracking apps, Fabulous steps into the role of a life coach, building motivation so users can focus on developing habits that reduce the level of anxiety and improve daily productivity.
What users like about Fabulous:
Imagery and sound effects
Quick and easy to use
Easily incorporated into the flow of your day without feeling annoyed or distracted
Lays out the plan for users
Doesn't feel regimented
Holistic, incorporating body, mind and soul
Customizable
3.
Todoist

: To-Do list, tasks & reminders

Online magazine The Verge named Todoist "the best to-do list app right now" and it was Google's selection for 2020 Editor's Choice.

With Todoist, users can capture and organize tasks the moment they pop into their head.

Having trouble remembering deadlines?

Todoist helps you with that by sending you reminders and due dates.

Users can build lasting habits with recurring due dated. They can collaborate on projects by assigning tasks to others and prioritize tasks with priority levels.

The app allows users to track their progress with personalized productivity trends.

Todoist also integrates with other tools like Gmail, Google Calendar, Slack, Amazon Alexa and more.
What users like about Todoist:
Automatically schedules tasks
Excellent app on both mobile and desktop
Intuitive interface
Quick and easy to structure
Ability to divide tasks by project
Ability to assign priorities
Fast
4.
Daylio

– Diary, Journal, Mood tracker

Daylio is a self-care bullet journal with goals. The app enables users to keep a private journal without having to type a single line.

Daylio is built on three principles:
Reach happiness and self-improvement by being mindful of your days;
Validate your hunches ie how your new hobby influences your life;
Form a new habit with no learning curve.
The app allows users to create daily, weekly or monthly goals. The users can motivate themselves, build habits and collect achievements.
Daylio collects recorded moods and activities in the statistics and calendar so users can discover what makes them happy.
The app allows users to keep track of activities and create patterns to become more productive.
What users like about Daylio:
A wide range of customization and options to make the app for them
Notification reminders for goals
Useful for memories
Great support team
High level of flexibility
Aesthetically pleasing
Easy to use
Great app to keep track of moods and identify problems
5.
Any.do

– To do list, task, reminders & planner

The Wall Street Journal named Any.do the #1 to-do list app out there and was selected google's Editor's Choice.

Any.do is a free to-do list, planner and calendar app for managing and organizing your daily tasks, to-do lists, notes, reminders, checklists, calendar events and more.

Users can create and set reminders with voice and add them to their to-do list.

For better productivity, the app provides users with calendar integration to keep their agenda always up to date.

Any.do integrates with a slew of tools like Google Calendar, Evernote, Wunderlist, Salesforce, Zapier and more.

The app has an intuitive drag and drop feature and a shaking feature to remove completed tasks from the user's to-do list.
What users like about Any.do:
Easy to use
Incredibly versatile
Great customer service
Seamless connection between multiple devices
Unique and simple features
Flexibility to do planned work on time
Hierarchy for to-dos
6.
Loop Habit Tracker
Loop Habit Tracker helps users create and maintain long-term positive habits.
The ad-free app provides users with detailed charts and statistics to give them a clear picture of how their habits have improved over time.
The app has an elegant and minimalistic interface that is very easy to use.
It helps users through its advanced formula for calculating the strength of their habits. Every repetition makes the user's habit stronger.
Loop doesn't impose limits on how many habits users can have and doesn't require an internet connection or online account registration.
The user's confidential data is never sent to third parties.
What users like about Loop Habit Tracker:
Ease of flexibility to define goals
Data is not automatically stored in the cloud
No ads
Makes progress visible in the most simple and informative way
Effective
Very helpful in forming new habits and curbing bad ones
Highly customizable
Easy interface that doesn't intrude
7.
Habit Hub

– Habit tracker and goal tracker motivation

HabitHub tracks habits, helps users accomplish their goals and rewire themselves.

The app is based on Seinfeld's productivity tip which involves building long streaks of days. These streaks motivate users to keep moving forward.

HabitHub comes with four prebuilt themes and a full-featured calendar view for every habit to track and visualize.

The app is integrated with smartwatches allowing users to mark the days directly from the watch.

Users are prompted to make the most of the app's flexible scheduling system which can track any habit.

Habits are also categorized according to various aspects of users' life.
What users like about HabitHub:
Intuitive design
Helpful and motivating without feeling oppressive or overwhelming
Very useful for employees working at home
Excellent statistics
Flexibility
It makes it very easy to keep track of multiple habits at once
The rewards option
8.
Goal Meter

– Goal tracker, habit changer, to-do list

Goal Meter is a goal tracking and habit changing tool. It allows users to schedule their day in advance, increase productivity and improve efficiency.

The app allows users to improve their time management skills by breaking down goals into daily routines and habits which is suitable for anyone looking to do more in less time.

Goal Meter makes it easier for users to complete goals by allowing them to pick habit templates like Study, Exercise, Diet, Work, Health, Financial, Bad habits to stop and more.

The app is more convenient than a calendar for routine tasks as it doesn't clutter the calendar schedule.
What users like about Goal Meter:
A fun app that is great for smart goals
Great for time-bound goals
Great app for achievers
It gives users the ability to be as specific or general as possible
It allows for psychological helpful factors like identification, stair-stepping, accountability and visualization
Pleasant and easy to use interface
Clicking the Done button keeps users motivated
Great artwork
Setting goals according to different measurements
Join the Conversation
Gmail's Makeover And How It Can Influence Your Working Habbits
Google gave Gmail a big refresh that will change the way you interact with it and help you even more than before. As first reported by The Verge, the upgrade was revealed in a message from Google to administrators of G Suite accounts. The message stated that the changes would be coming to consumer Gmail accounts, as well as G Suite accounts.
The redesigned Gmail web interface is focused on quick productivity actions. Google is introducing features such as attachments chips, hover actions, and hover cards to make the static inbox experience more interactive without the need for multiple clicks. Google is also surfacing several labs features that were previously hidden in Settings > Labs, like canned responses, the ability to create multiple inboxes, and a preview pane to customize your preferences for different inboxes.
According to Fox News, Gmail is getting deeper G Suite interactions to directly create and edit Google Calendar invites, send notes to Google Keep, and manage to-do items in Tasks. "Google is also releasing new Tasks mobile apps for Android and iOS for adding and editing tasks from your smartphone to manage in Calendar and Gmail. The Tasks app is available today in the iOS App Store and Google Play Store.  Aside from the new-look web app and Tasks mobile apps, Google also announced new security features, including Gmail confidential mode, and expanded AI capabilities like smart replies and notification priority settings," added Fox News.
Here are some of the main changes and how they will impact you
Smart Replies and Smart Filtering
New AI-powered features in Gmail, like Nudging, Smart Reply and high-priority notifications, can now help you spend more time on work that matters. With Nudging, Gmail will proactively remind you to follow up or respond to messages, making sure you don't drop the ball.
Smart Reply offers pre-set, one-line replies for any email. The replies are not just standard answers, but customized according to each email, due to machine learning, that suggest responses to you, in order to help you save time. Moreover, two new features promise efficiency improvements through smart filtering. Notifications for high-priority messages help you focus on your most important work. From now on, Gmail will pay attention to frequent newsletters and suggest you give them the boot by unsubscribing if you stop opening them.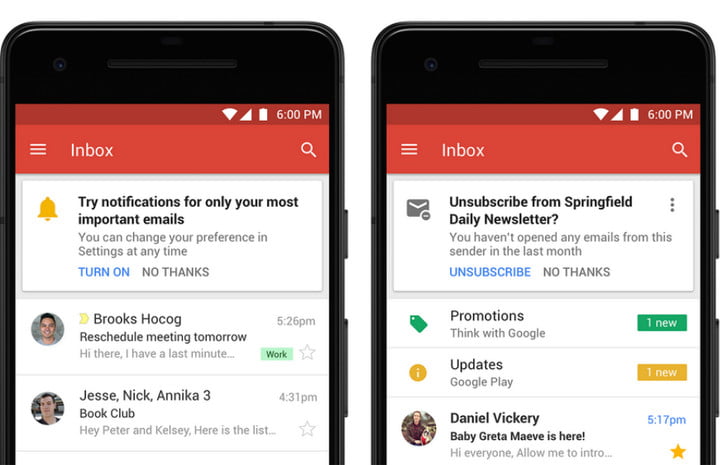 Protection from risky emails 
Built-in Information Rights Management (IRM) controls also allow you to remove the option to forward, copy, download or print messages. This helps reduce the risk of confidential information being accidentally shared with the wrong people. Confidential mode will begin to roll out to consumer Gmail users and a limited number of G Suite customers in the coming weeks (broader rollout following).
Moreover, the redesigned security warnings within Gmail are simpler to understand and give a clear call to action to employees. These bigger, bolder warnings will help you be even more informed when it comes to potentially risky email.
"When you compose sensitive email you can remove options to forward, copy, download, or print the messages. The option to protect your outgoing email with two-factor authentication — the recipient needs to log into their own email and click to receive an unlock code via SMS text to read the message you sent could help you sleep better at night if you later discover their email account was hacked," wrote Digital Trends.
Icons for Action Buttons
In the old Gmail interface, you'll find the action buttons in the inbox along with a text label. In the new interface, Google has turned these action buttons into icons — you can't read any text labels anymore. Also, this new icon menu has got two additional actions for quick access: Mark as read/unread and Snooze.
New Sidebar
It shows icons of other Google services like Calendar, Keep and Tasks. Tapping any icon expands the sidebar allowing you to quickly access your calendar entries, notes or tasks synced to your Google account. Any changes you do in these apps is synced back to the cloud and is instantly accessible on your other devices. You can also access third-party Gmail add-ons from the same side panel.
New native offline capabilities in Gmail on the web can help you work without interruption when you can't find Wi-Fi. Search, write, respond, delete, or archive up to 90 days of messages, just as you would working online, but offline.
You can use Tasks to create tasks and subtasks, and even add due dates with notifications to help you stay on track. And because Tasks closely integrates with G Suite, you can simply drag and drop an email from Gmail into Tasks to create a to-do. Tasks with due dates can also appear in your Calendar. You can download the new Tasks mobile apps from the Google Play Store or  iOS App Store today.
Different Display Modes
According to Economic Times, Google has added three view modes: default, comfortable and compact. Default view is ideal for large screens where you can open the preview of attachment in an email right from the inbox. This means you don't need to open the email itself. Comfortable view is great for laptop users – it has large text which is easy to read sans the preview option of the default view. Compact view is the same as before.
The Disadvantages of Using WhatsApp for Business
Separating personal from business may prove to be sometimes more difficult than expected, especially when using certain social media apps and tools for both purposes.
Therefore, after detailing the advantages of using WhatsApp for business, we've decided to also show you the disadvantages that come with choosing to use it on a professional level.
Looking to turn disadvantages into opportunities? Join our masterclass!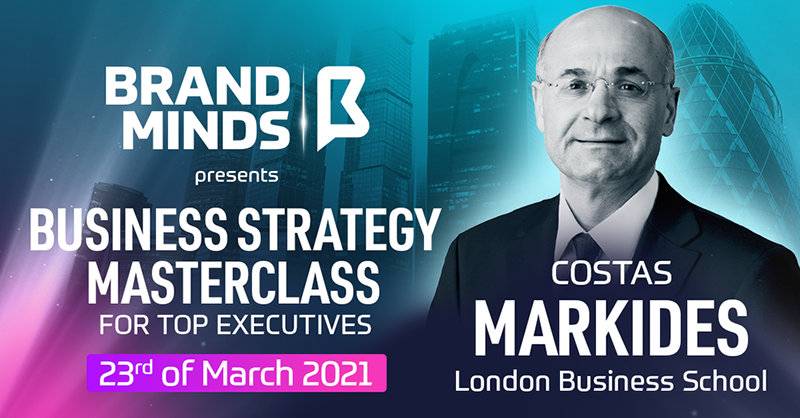 It does not provide enterprise data protection
WhatsApp accesses and stores the address books of employees, which contains confidential corporate and customer data. While the app has announced an improved encryption, it currently does not provide enterprise-grade encryption (e.g. metadata, storage on device, storage on servers, etc). In addition, free services like WhatsApp require user data to make a living. taking in account the fact that it has announced to generate revenues from businesses by allowing them to communicate to customers, it's important to understand that such a business model requires knowledge of your users and is in conflict with minimal use of personal data, general data reduction and strong data protection.
"Hidden in the legal mumbo jumbo of "Terms of Service" of a consumer chat app are the following key issues. First, consumer applications cannot guarantee that conversations or files exchanged are confidential. Second, it is also necessary to stress that chats in applications like WhatsApp are not erased, they just become hidden and archived in the database of the app (including our status updates). Companies have secrets they want to keep, whether it's because of regulatory issues, SEBI requirements, or patient confidentiality in the case of healthcare. Consumer chat applications are a ticking time bomb for business users," writes Gadgets360.
Moreover, according to cwsi.ie, in 2015 WhatsApp was ranked last by the Electronic Frontier Foundation on the subject of users' data privacy. Even more worryingly, the European Court of Justice ruled that U.S. based companies in the tech industry – specifically Facebook – do not afford an adequate level of protection of personal data for their European users. Considering that WhatsApp is owned by Facebook and the terms and conditions of WhatsApp's usage wrangle users into agreeing to have certain data passed from WhatsApp to Facebook, then this is a double blow for user privacy.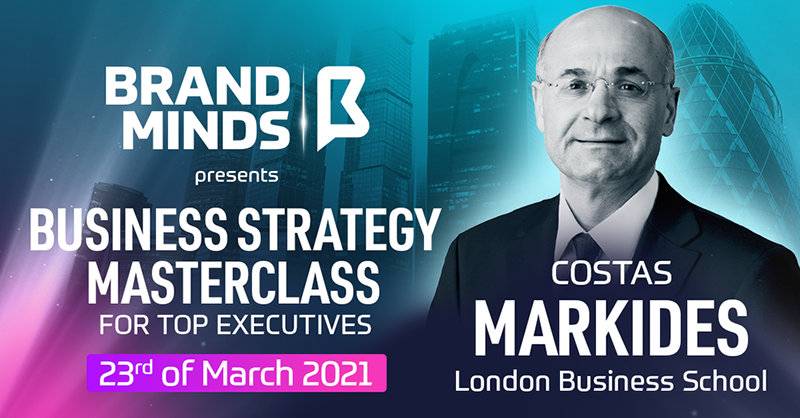 2. WhatsApp is a cloud service based in the USA
Due to the weak data protection laws and the broad surveillance in the USA, cloud services based or hosted in the USA cannot ensure comprehensive data protection required by businesses and their employees and customers.
3. It mixes private and business communication
For enterprises it is important to separate business from private communication. First, a dedicated enterprise messaging app allows faster access and gives a better overview of everything that is relevant for the internal communication, and thus increases the productivity. Second, confidential business content is protected in enterprise messaging apps, because it can only be shared with colleagues and the content distribution is under control of the enterprise IT. Third, the motivation and satisfaction of employees are improved with a professional messaging tool, since people value a separation of private and business communication.
However, even while paying a lot of attention, switching from a personal account to a business one and vice-versa can sometimes prove to be creating problems.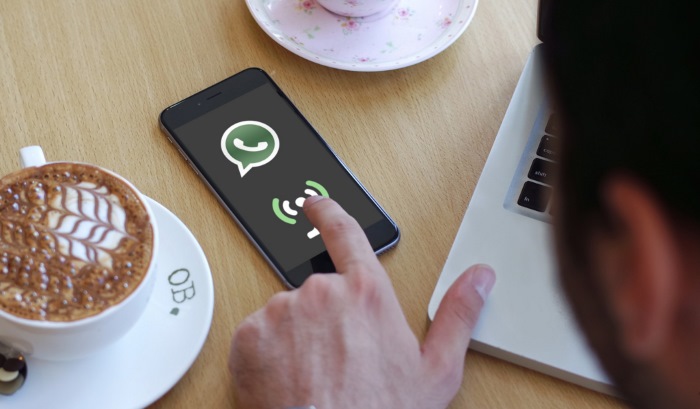 4. It does not support enterprise file sharing solutions
Businesses often use enterprise-grade file sharing solutions like Microsoft Sharepoint, Box, Business Connector, etc, which are not supported by WhatsApp at all. "Since file sharing with colleagues and teams is a regular use case, employees should be able to directly share documents from their file sharing solution via the enterprise messaging app. This helps to simplify and accelerate workflows," writes TeamWire.
5. Still having to manage the tasks
HiboxCo highlights the fact that just by messaging a group about new ideas doesn't mean they'll actually amount to anything. There have to be clear, concise tasks and deadlines in order to see projects through effectively. "Though a good place to openly discuss new ideas and innovative solutions, group chat alone doesn't get you to the finished product. Without task management, WhatsApp doesn't allow you to organize actionable to-dos needed to get the job done."
6. Lack of transparency
What most of us seemed to have forgotten is the fact that the app was meant for casual conversation. Anyone can create groups and anyone can private message anyone. "If the organization within your business needs remain as transparent as possible to those at the top, this is not an ideal situation. If multiple groups and side groups are created, that can lead to a lack of knowledge and clarity, which in turn makes it difficult for managers to know what's really going on," adds The Hibox Team.
How To Avoid The Professional Burnout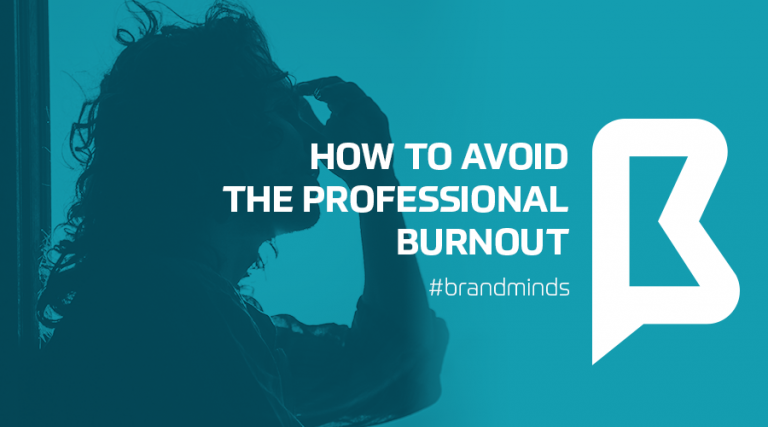 When one is passionate about their job, when one is a high-achiever, one tends to ignore the fact that they're working exceptionally long hours, taking on exceedingly heavy workloads and putting enormous pressure on themselves to excel—all of which make them ripe for burnout.
According to psychologytoday.com, burnout is a state of chronic  stress that leads to: physical and emotional exhaustion, cynicism and detachment, feelings of ineffectiveness and lack of accomplishment. In the state of full-fledged burnout, one is no longer able to function effectively on a personal or professional level. However, burnout doesn't happen overnight, our bodies and minds do give us warnings, and if you know what to look for, you can recognize it before it's too late. More about the stages of a burnout and its signs one can read here.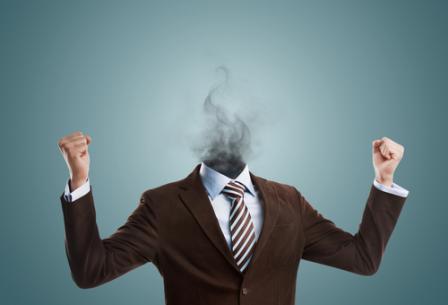 But what can we do to avoid reaching this state? According to Christina Maslach and Michael P. Leiter in their book "The Truth About Burnout: How Organizations Cause Personal Stress and What to Do About It", when burnout occurs, three things happen: you become chronically exhausted, cynical and detached from your work and you feel increasingly ineffective on the job.
An idea would be to try and be more optimistic and make sure you don't fall on a pessimistic slide, or, if you have the necessary means, just try a vacation. Realistically speaking though, things are not as easy as they seem, hence the problem creeping out on you and making it quite a big issue.
Pay attention to the voice in your head. When it starts describing negative events as permanent, pervasive or personal, correct yourself. By remembering the 3 P's (permanence, pervasiveness and personal) and flipping the script, Martin Seligman, author of "Learned Optimism: How to Change Your Mind and Your Life" says you can make yourself more optimistic over time.
Increase your social activity. Spend time with friends, they will bring a balance into your life. As shown by bakadesuyo.com, when the American Medical Association surveyed top doctors to find out how they avoided burnout, one of the key things mentioned was "sharing issues with family and friends."
Increase your self-efficiency. Paula Davis-Laack, JD, MAPP, an internationally-published writer who travels the globe as a stress and resilience expert, wrote for Psychology Today that self-efficacy is having the belief in your own ability to accomplish (and exercise control over) personally meaningful  goals and tasks. People who have a stronger level of perceived self-efficacy experience less  stress in challenging situations, and situations in turn become less stressful when people believe they can cope (Albert Bandura, 1989).
Have creative outlets. Burnout interferes with your ability to perform well, increases rigid thinking, and decreases your ability to think accurately, flexibly, and creatively. Even if you aren't able to flex your creative muscles at work, having some type of creative outlet will keep you engaged and motivated.
Take care of yourself. Make sure you always put yourself first and don't forget what is important to you and your life. Moreover, pay attention to your health and the outside-work life. Our bodies aren't machines and one has to remember that things will still be here to be done after taking a much-needed break.
Start saying "no" from time to time. Don't be afraid to say no. Every "yes" you say adds another thing on your plate and takes more energy away from you.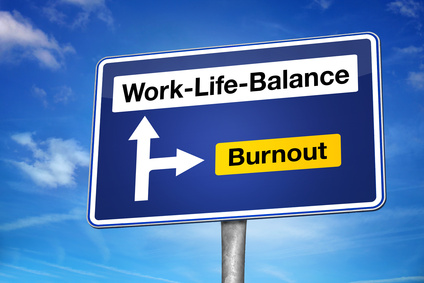 Get support where you can find it. The number of people who say they have no one with whom they can discuss important matters has nearly tripled in the past two and a half decades. The more depressed or into-work people get, the more they tend not to speak with other people or spend time with others, considering they are always under-time pressure or with a deadline hanging over their head. It's a state one must make sure he / she doesn't get stuck into.
According to http://99u.com, to help relieve pressure, schedule daily blocks of downtime to refuel your brain and well-being. It can be anything from meditation to a nap, a walk, or simply turning off the wifi for a while.
Concentrate on positive emotions. Studies show that increasing your diet of positive emotion builds your resilience, creativity  and ability to be solution-focused, things that are in short supply if you feel like you're burning out. I made it a point to start noticing when people did things well (and told them so), and I tried to stop being so hard on myself. Aim for a ratio of positive emotions to negative emotions of at least 3:1, which is the tipping point to start experiencing increased resilience and happiness (Fredrickson, 2009).
Limit your contact with negative people. Hanging out with negative-minded people who do nothing but complain will only drag down your mood and outlook. If you have to work with a negative person, try to limit the amount of time you have to spend together.
Make friends at work. Having strong ties in the workplace can help reduce monotony and counter the effects of burnout. Having friends to chat and joke with during the day can help relieve stress from an unfulfilling or demanding job, improve your job performance, or simply get you through a rough day.
Take time off. If burnout seems inevitable, try to take a complete break from work. Go on vacation, use up your sick days, ask for a temporary leave-of-absence—anything to remove yourself from the situation. Use the time away to recharge your batteries and pursue other burnout recovery steps. Entrepreneurs or freelancers can be especially prone to burnout. Joel Runyon plays "workstation popcorn," in which he groups tasks by location and then switches, in order to keep work manageable, provide himself frequent breaks, and spend his time efficiently.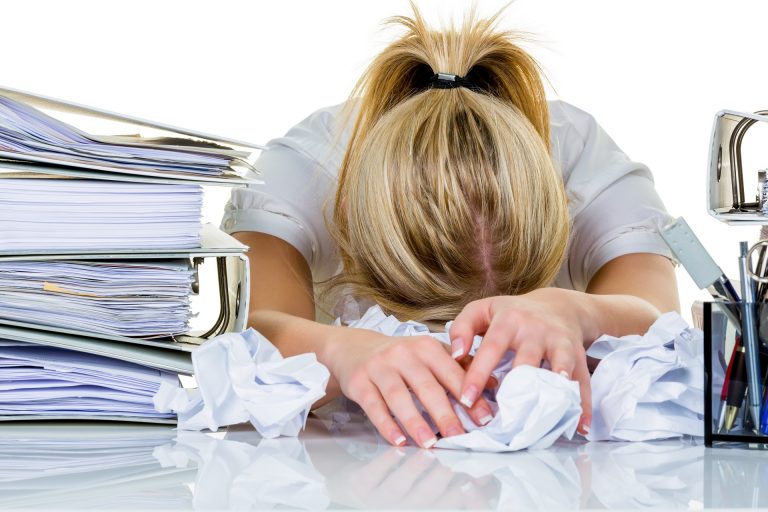 Set boundaries. Don't overextend yourself. Learn how to say "no" to requests on your time. If you find this difficult, remind yourself that saying "no" allows you to say "yes" to the things that you truly want to do.
Nourish your creative side. Creativity is a powerful antidote to burnout. Try something new, start a fun project, or resume a favorite hobby. Choose activities that have nothing to do with work.
Set aside relaxation time. Relaxation techniques such as yoga, meditation, and deep breathing activate the body's relaxation response, a state of restfulness that is the opposite of the stress response.
Get plenty of sleep. Feeling tired can exacerbate burnout by causing you to think irrationally.
Avoid nicotine. Smoking when you're feeling stressed may seem calming, but nicotine is a powerful stimulant, leading to higher, not lower, levels of anxiety.
To multitask or not? This is the question
When I was little, my parents taught me to do one thing at a time and do it the best possible. Not trying to start ten projects or jump from one thing to another without finishing what I began first. Although I've always had the internal push to do several things at one time, I kept remembering their advice and trying to stick to it. As much as possible. Back then, the idea of multitasking wasn't around and known to us, but I believe they were right. And recent studies seem to back them up as well.
According to Larry Kim, Founder and CTO WordStream, our brains are designed to focus on one thing at a time, and bombarding them with information only slows them down. MIT neuroscientist  Earl Miller notes that our brains are "not wired to multitask well… when people think they're multitasking, they're actually just switching from one task to another very rapidly. And every time they do, there's a cognitive cost."
This constant task-switching encourages bad brain habits. When we complete a tiny task (sending an email, answering a text message, posting a tweet), we are hit with a dollop of dopamine, our reward hormone. "Our brains love that dopamine, and so we're encouraged to keep switching between small mini-tasks that give us instant gratification. This creates a dangerous feedback loop that makes us feel like we're accomplishing a ton, when we're really not doing much at all (or at least nothing requiring much critical thinking). In fact, some even refer to email/Twitter/Facebook-checking as a neural addiction," said Larry Kim for inc.com.
As shown by Marketing Week,  Academics at Vanderbilt University found evidence in 2006 that the brain's frontal lobe creates a "bottleneck of information processing that severely limits our ability to multitask". The proliferation of media channels and devices makes this worse. Another study, published by  Stanford University researchers in 2009, found "heavy media multitaskers are more susceptible to interference from irrelevant environmental stimuli and from irrelevant representations in memory".  And this hampers the ability to switch between tasks.
We can shift our focus really fast, sometimes it takes just a 10th of a second. But the time doesn't matter as much as the bandwidth the brain requires to move back and forth. Now that might affect your performance, and might also affect the quality of the work that you finally produce.
New research suggests the possibility that cognitive damage associated with multi-tasking could be permanent.
A study from the University of Sussex (UK) ran MRI scans on the brains of individuals who spent time on multiple devices at once (texting while watching TV, for example). The MRI scans showed that subjects who multitasked more often had less brain density in the anterior cingulate cortex, the area responsible for empathy and emotional control. Unfortunately, the research isn't detailed enough to determine if multitasking is responsible for these affects, or if existing brain damage results in multitasking habits.
Moreover,  there have been studies that show  women are generally better at  multitasking than men. Also, people who thought they were the best at  multitasking are almost always in fact the  worst. In fact, multitasking seems to be something not all of us are truly able to achieve, as only about 2% of the population is formed of  super multitaskers (people who are truly able to do several different activities at the same time without losing efficiency or losing quality as they do all that work). Most of us don't have this gift.
According to Forbes, the problem with trying to multi-task is all that shifting back and forth between tasks isn't all that efficient because, each time we do it, it takes our brain some time to refocus. So while it might seem efficient on the surface, it isn't – studies show that multi-tasking can  reduce productivity by as much as 40%.
More than that, a study published by the American Psychological Association concluded that the ability to switch between tasks, which they term, "mental flexibility" generally peaks in the 20s and then decreases with age, in average of 30.9% from a person in their 40s to a person in their 70s. The extent to which it decreases depends upon the type of tasks being performed.  The information is back up by another study, this time around conducted on UK soil, at  the University of London where the results have shown that the participants who multitasked during cognitive tasks, experienced an IQ score decline similar to those who have stayed up all night. Some of the multitasking men had their IQ drop 15 points, leaving them with the average IQ of an 8-year-old child.