Top 3 tech industries attracting most funding in Europe
Top 3 global areas attracting investments:

the

US

(620 billion US dollars),

Asia

(174 billion US dollars),

Europe

(116 billion US dollars)

2021 has been a great year for the tech industry in Europe. In terms of VC investments, Europe ranks #3 behind the US and Asia.

Nevertheless, funding to European startups showed unprecedented growth in 2021, as per Crunchbase reports, with 116 billion US dollars invested. That's up 159% compared with the 45 billion US dollars invested in 2020.
Top 3 European countries attracting the most investments in 2021:

the UK, Germany, France

With 37.8 billion US dollars in funding, the United Kingdom has attracted the most investments cementing its name as The Tech Hub of Europe. The runner-up is Germany with 19.3 billion US dollars followed by France with 12.1 billion US dollars.

Before going any further with our analysis of European tech and the industries generating the most unicorns, let's zoom out and see the Top 3 global tech ecosystems.

Top 3 global tech ecosystems by # unicorns and value
(source Dealroom)

With a tech ecosystem valued at 16.4 trillion US dollars, the US is the undisputed leader of everything tech.
And it's not surprising. It's the home of the Big 5 Tech giants – Amazon, Meta, Apple, Alphabet and Microsoft – which generated a combined 1.4 trillion US dollars in revenue, in 2021.
Valued at 4.3 trillion US dollars, China's tech ecosystem is booming.
A 2021 analysis by World Economic Forum showed that the country's 3 main drivers for startups in tech are:
government policies,
the collaboration between industry and academia
high competition nurtured by the country's immense domestic market
The tech ecosystem in Europe is valued at 3.5 trillion US dollars.
What factors are driving the success of tech European startups?
Business consulting and analysis firm McKinsey looked at the top 1,000 European start-ups founded after 2000 in 33 countries and came up with a few interesting conclusions shared in their 2021 report Winning formula: How Europe's top tech start-ups get it right.
Here are the main takeaways:
The most successful companies have taken one of 4 distinct paths: network, scale, product, or deep tech;
Reaching unicorn status requires on average 100 million EURO to 200 million EURO in funding;
70% to 80% of the companies that receive the necessary funding become unicorns within ten years of founding;
The network path requires winning local markets one by one and not trying to grow globally in one fell swoop;
Scale players need to focus on building strong commercial capabilities;
Product startups need to prioritize a compelling product and narrow use case initially
For deep-tech startups, attracting and retaining the best talent is essential.
Top European tech ecosystems valued at 100+ billion dollars
(source Dealroom)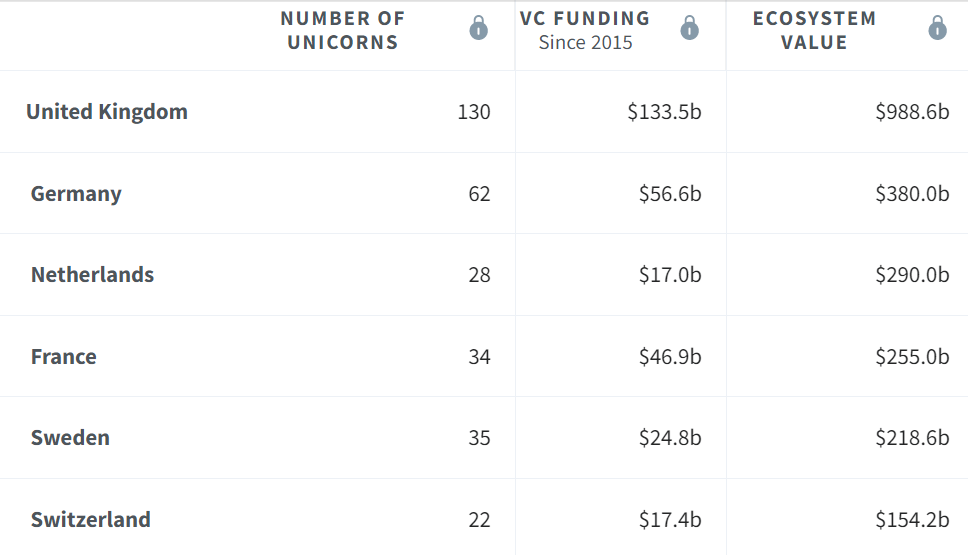 Top 3 tech industries in Europe by ecosystem value
The three tech industries receiving billions of dollars in funding in Europe are Fintech, Enterprise Software and Health.
In the graph below, you can see how much investment the European countries with 100+ billion UD dollars tech ecosystems pour into startups developing solutions in these industries.
Fintech is the #1 industry attracting the majority of funding money in the UK.
Developing health solutions is prioritized in Switzerland, Germany, the Netherlands, France and Sweden.
Enterprise Software comes in second in Switzerland and France.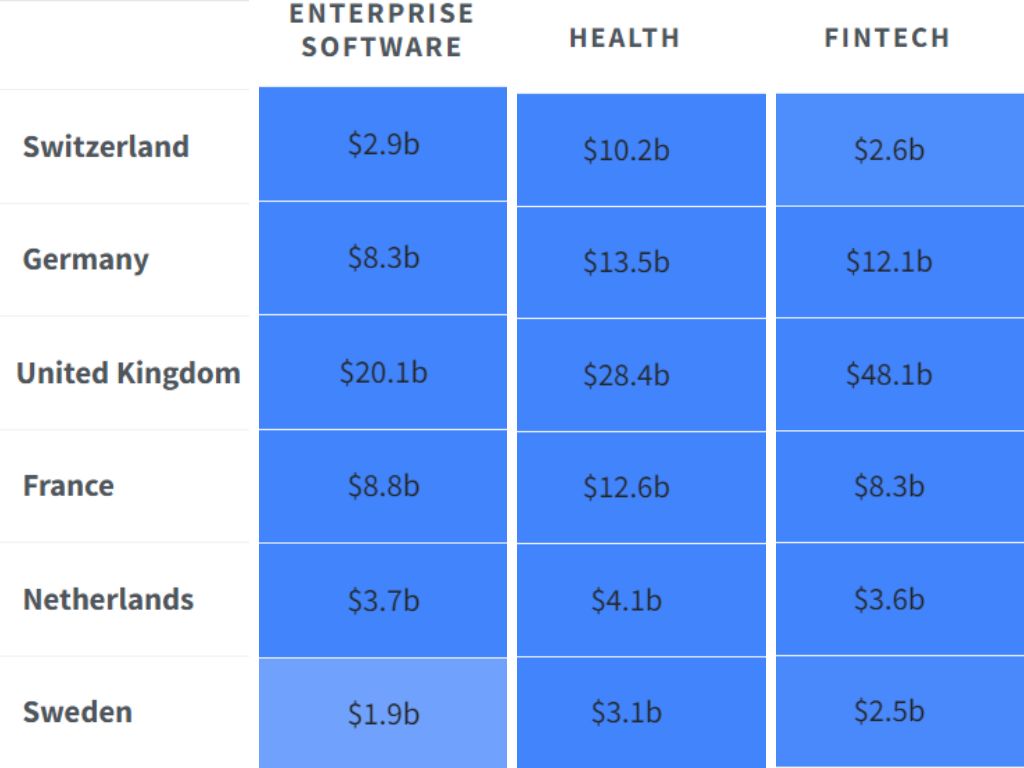 The UK's new 2022 tech unicorns
The UK continues to be the #1 tech hub in Europe, in 2022, home to 131 tech unicorns and 228 future tech unicorns to date.
Tech ecosystem value in European countries
(source Dealroom)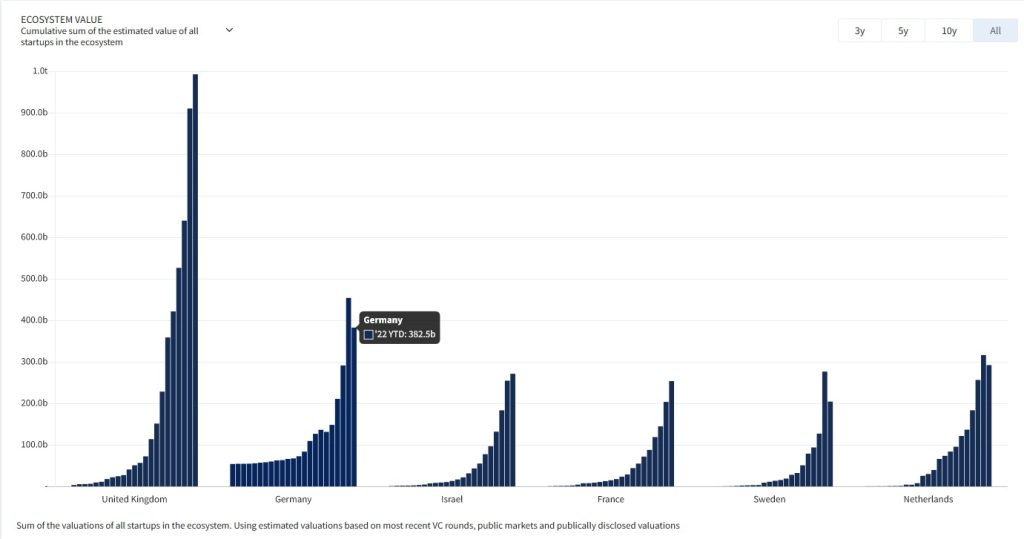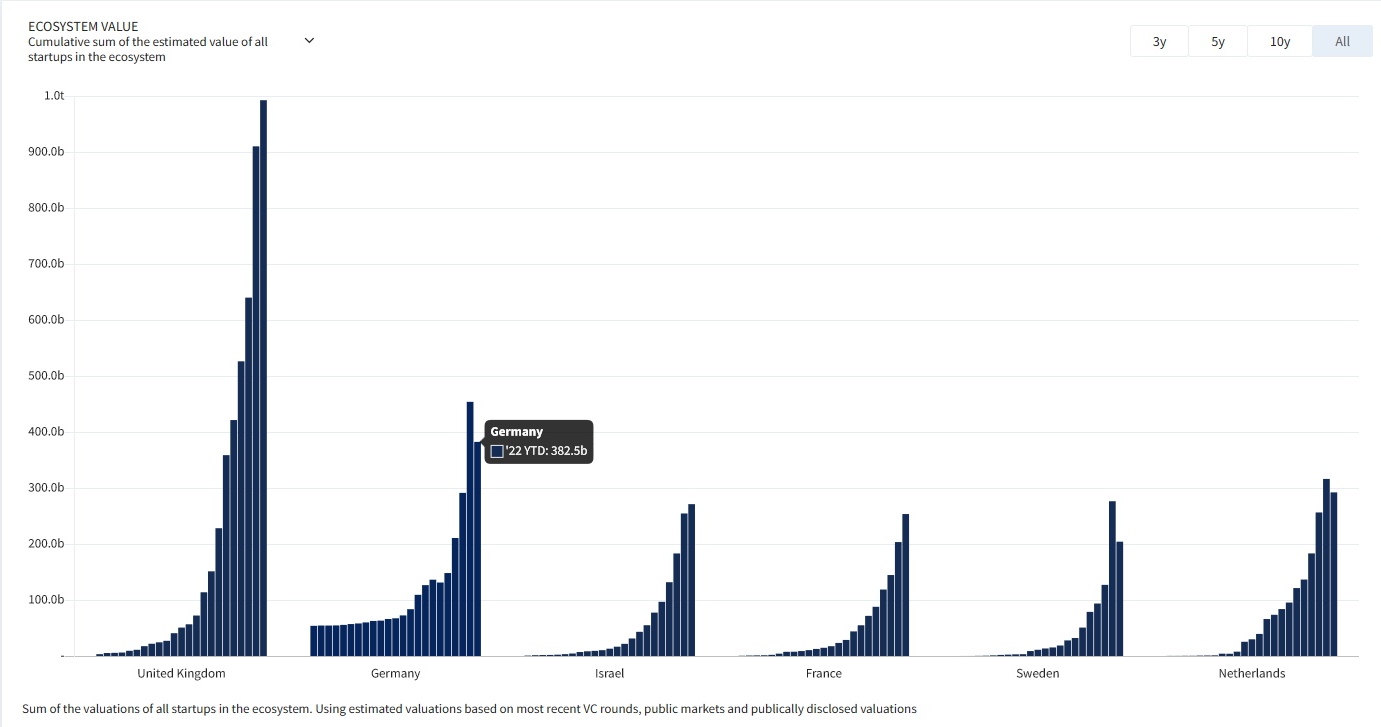 THE UK'S TECH ECOSYSTEM – STATISTICS (source: Dealroom)
Top 3 industries by value: Fintech (48.1 billion US dollars), Health (28.6 billion US dollars), Enterprise Software (20.1 billion US dollars)
607.000 employees
133.6 billion US dollars in VC funding since 2015
15.000 funding rounds since 2015
40.000 startups
23.000 startups founded in the last 10 years
THE UK'S NEW 2022 TECH UNICORNS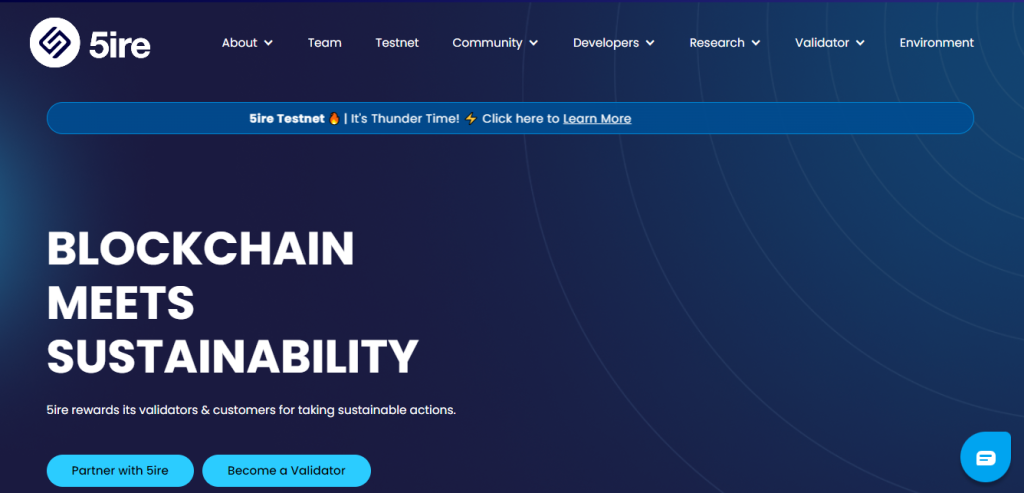 5ire – The world's first sustainable blockchain
Current valuation: 1.5 billion US dollars
Total funding: 121 million US dollars
5ire investors: SRAM & MRAM Group, Oracle Investment Management, Alphabit Fund, Marshland Capital, Moonrock Capital, Launchpool, Magnus Capital, Sanctum Global Ventures
Tech startup 5ire is just one year old and already a unicorn! Its co-founders are Pratik Gauri, Prateek Dwivedi and Vilma Mattila.
In a recent interview, 5ire CEO Pratik Gauri said that their primary goal starting out was to "impact a billion people positively."
How are they going to achieve that?
By building a scalable decentralized, open-source blockchain for Impact & SDG-related development, to help accelerate the United Nations 2030 Agenda for Sustainable Development.
"Our goal is to work hard to provide finance platforms that could potentially revolutionize access to capital and unlock potential for new investors in projects that address environmental challenges", says the 5ire team.
What is 5ire's current challenge and what is the company doing to overcome it?
Here's what 5ire co-founder & CEO Pratik Gauri answered:
Human Capital is a big challenge in the web3 / blockchain space. Since we are using rust to develop a sustainable blockchain with a unique consensus called Proof Of Benefit, it's been a challenge to find rust developers.

To overcome this, we've started a 5ire digital university to train developers on rust/substrate and hire them in-house.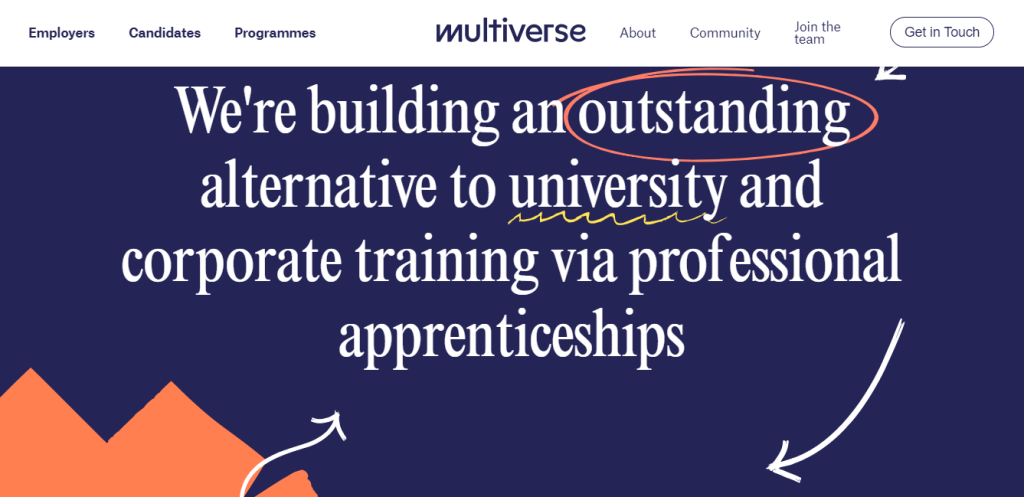 Multiverse – The UK's first-ever EdTech unicorn
Current valuation: 1.7 billion US dollars
Total funding: 414 million US dollars
Multiverse investors: Lightspeed Venture Partners, Index Ventures, Salesforce Ventures, General Catalyst Partners, D1 Capital Partners and others.
Tech unicorn Multiverse provides high-quality apprenticeship programmes that combine work, training and community. Its mission is to create a diverse group of future leaders; its focus is on developing new skills and competencies for the digital economy.
Multiverse was founded by Euan Blair in 2016 and has grown across the UK, training over 5,000 apprentices in partnership with more than 200 of the world's best employers.
Multiverse helped many industry leaders close the skills gaps within their workforce and grow retention including global leader in financial services Morgan Stanley, Big Four accounting organization KPMG and Global Investment Bank and Financial Services Citi.
In June 2022, the EdTech unicorn announced the closing of $220m Series D funding and highlighted the following great results:
Its software engineering program has seen a 260% increase in enrolments while maintaining a completion rate of 85%;
The number of partners has grown by 105%;
Since 2020, Multiverse has grown 9x in size;
The company now trains professional apprentices with over 500 organizations globally, including Verizon, Cisco, Visa and others;
Of the apprentices they have placed, 56% are people of color, more than half are women, and 34% hail from economically underserved communities;
68% of their apprentices are promoted either during their program or at its conclusion;
90% find permanent employment, either at their employer or within their industry.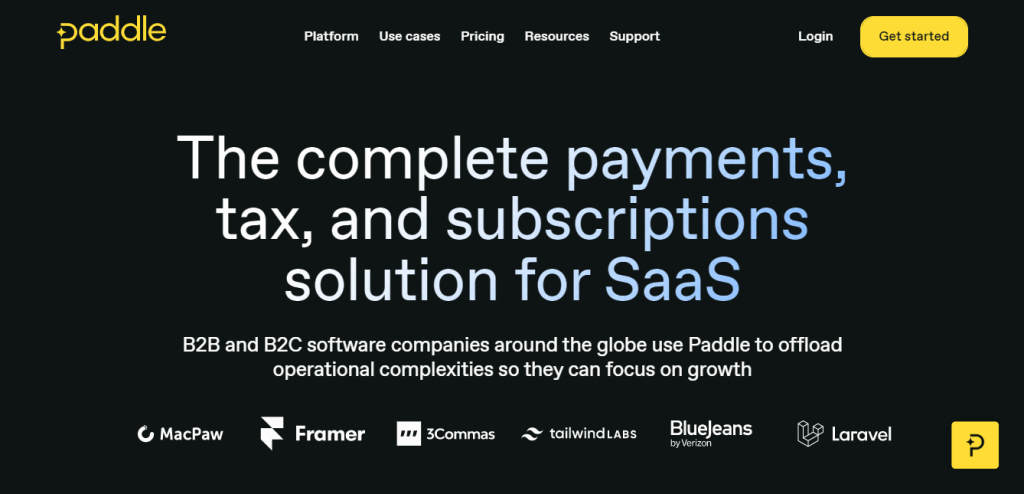 Paddle – The complete payments infrastructure provider for SaaS companies
Current valuation: 1.4 billion US dollars
Total funding: 291 million US dollars
Paddle investors: Silicon Valley Bank, Notion Capital, Kindred Capital, Business Growth Fund, 83North and others.
Paddle offers an all-in-one payment solution to SaaS companies looking to permanently offload the burden of managing payments and the associated liabilities.
The tech unicorn is a software expert providing SaaS businesses with Merchant of record (MoR) services allowing them to grow more quickly (learn about MoR).
Founded in 2012 by Christian Owens and Harrison Rose, Paddle has over 3000 customers and 350 employees in 17 countries. The tech unicorn has marked its ten-year anniversary with the acquisition of ProfitWell, the leading provider of subscription metrics and retention software.
Entering the second decade of its existence, curious minds might ask: Does it get any easier?
Paddle CEO Christian Owens answers: "It doesn't get easier, the problems just change".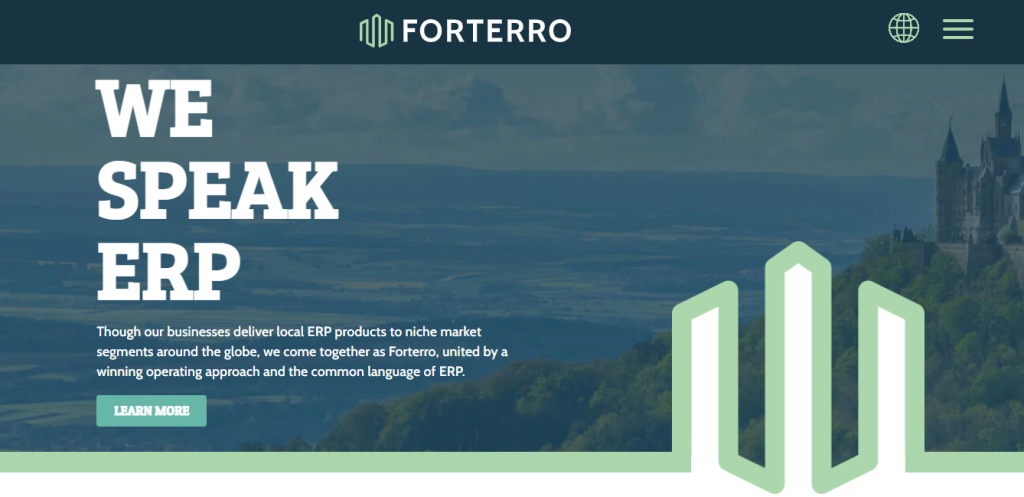 Forterro – Group of ERP software and services companies serving small to midmarket companies around the globe
Current valuation: 1.1 billion US dollars
Total funding: N/A (Battery Ventures acquired Forterro for 1b euros in 2022)
Forterro investors: Battery Ventures
With a European portfolio of specialised ERP (enterprise resource planning) software products and a global ecosystem of IT solutions and services, Forterro is a partner to more than 10,000 midmarket manufacturing and production companies.
Forterro operates product companies headquartered in Germany, France, Sweden, Switzerland, Poland, and the UK, as well as regional service hubs and development centers around the world.
In July 2022, Forterro announced the acquisition of Wise Software, a provider of ERP software solutions for industrial companies with retail, wholesale, eCommerce, and distribution requirements with 30 years in the UK market.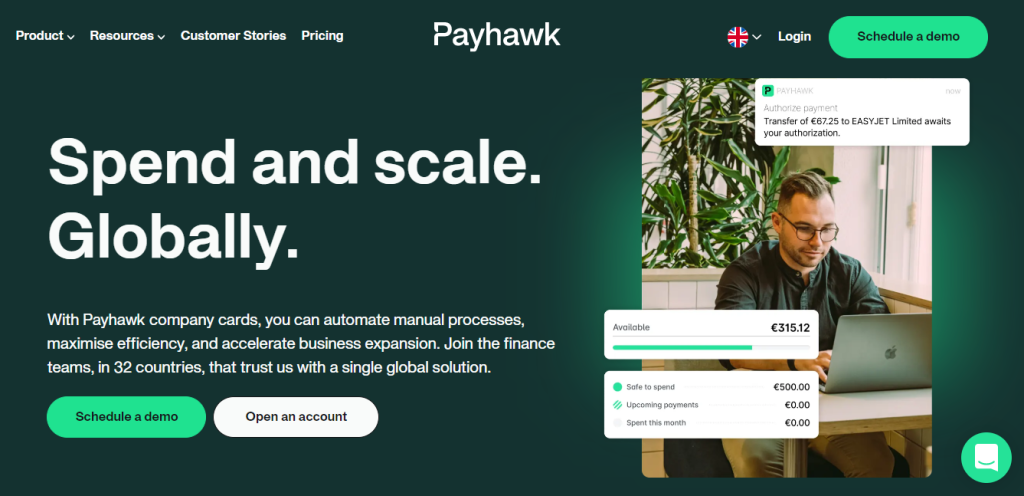 Payhawk – Credit cards, payments, expenses and cash combined into one integrated platform
Current valuation: 1 billion US dollars
Total funding: 236 million US dollars
Payhawk investors: Greenoaks Capital Partners, Lightspeed Venture Partners, Endeavor Catalyst, HubSpot Ventures, Earlybird Digital East Fund and others.
Fintech Payhawk offers all-in-one financial software to control company spending and save money. A report from the tech unicorn shows that scale-ups typically save up to 8,417 euros/month, SMBs, 1,015 euros and enterprises, 20,792 euros.
With Payhawk, small businesses manage, control and automate tedious administrative tasks, scale-ups keep spending under control and are encouraged and supported to undertake international expansion in more than 30 countries and enterprises transition to a paperless digital environment.
The UK fintech unicorn was founded in 2018 by Hristo Borisov, Konstantin Djengozov and Boyko Karadzhov. Their aspiration is "to become the world's biggest bank without holding a single dollar".
Their vision of the future is a world where "businesses can discover, manage and use multiple payment instruments (debit cards, credit cards, bank account etc.) powered by a single experience regardless of where money is kept."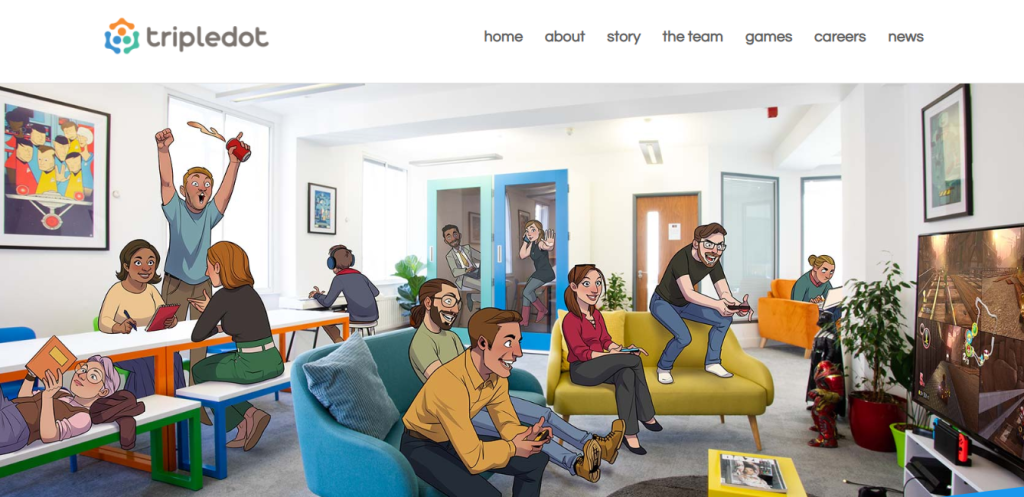 Tripledot Studios – Independent mobile game developer
Current valuation: 1.4 billion US dollars
Total funding: 202 million US  dollars
Tripledot Studios investors: Velo Partners, Eldridge, Access Industries, The Twenty Minute VC (20VC) and Lightspeed Venture Partners.
Tripledot Studios is a fast-growing studio, led by a team of industry veterans from some of the biggest names in mobile games.
The tech unicorn was founded in 2017 by Akin Babayigit, Eyal Chameides and Lior Shiff. Their goal is to create fun, successful games for everyday gamers. The team's guiding belief is that "when we love what we do, what we do will be loved by others. Together, we create games we know our players will enjoy, from easy-to-pick-up casual games to groundbreaking innovative ones."
In a profile article in Forbes, the team shared that the company did $200 million in revenue last year on an estimated profit of around $30 million with over 30 million monthly users enjoying their games. Tripledot's biggest hit is Woodoku, a combination of Tetris and sudoku. It launched in 2020 and has since been downloaded 100 million times.
I asked Tripledot Studios COO Akin Babayigit what is the company's biggest challenge today and what is the team doing to address it.
Tripledot has been very fortunate to be growing leaps and bounds over the past few years, in an industry as highly competitive as mobile gaming.

As a growing organisation, our biggest challenge is to continue hiring the best & the brightest minds to become Tripledotters.

We saw in our previous experiences that growing organisations may tend to lower the quality bar for new hires as the pressures of growing become more pronounced. We don't want to sacrifice our track record of hiring the best and the brightest minds, so our hiring bar remains exceptionally high. That probably is our biggest challenge at the moment.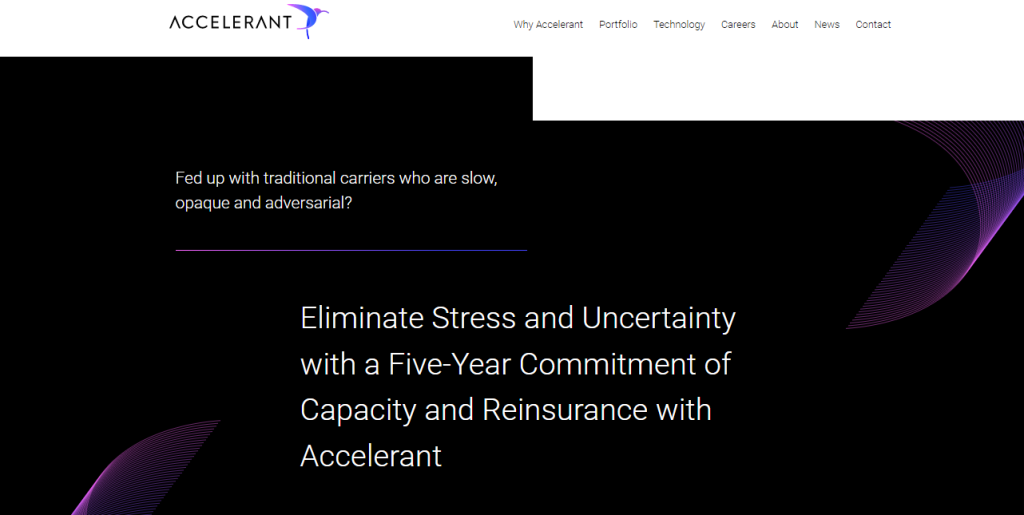 Accelerant – Insurtech Unicorn with an Excellent (A) credit rating
Current valuation: 2 billion US  dollars
Total funding: 190 million US dollars
Accelerant investors: MS&AD Ventures, Altamont Capital Partners and Eldridge.
Accelerant is a data-driven, technology-fueled insurtech that empowers underwriters with superior risk exchange, advanced data analytics, and long-term capacity commitments.
The company's technology platform, InsightFull™, allows customers to spot small issues early before they become big problems.
Accelerant was founded by insurance industry veterans Jeff Radke and Chris Lee-Smith. They are joined by a team of professionals who understand the challenges of dealing with conventional carriers. Accelerant is Property and Casualty focused with a portfolio containing Hospitality, Arts & Entertainment, InsurTech, Habitational, Construction, Retail, Mercantile, Service, Trade, Surety and Warranty.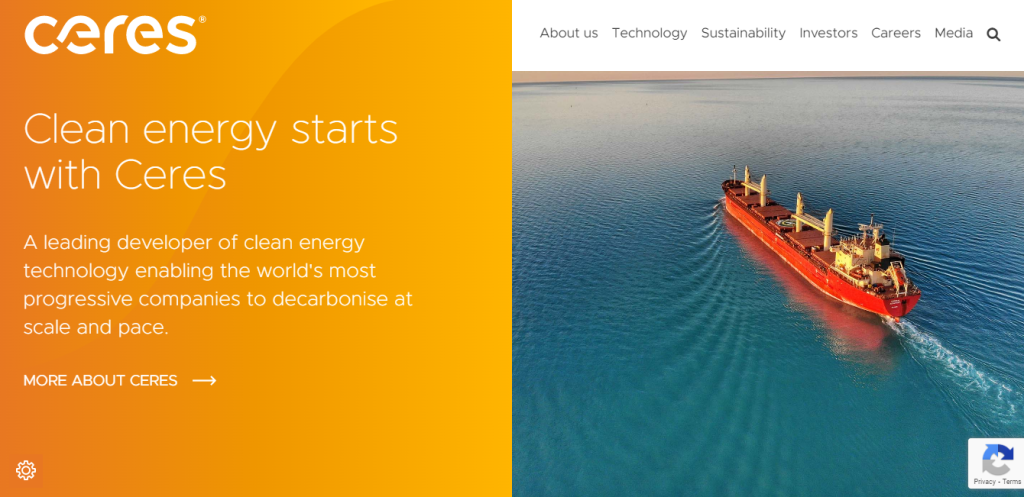 Ceres Power Holdings – World-leading developer of low-cost, next-generation fuel cell technology that creates a real-world energy solution
Current valuation: 1.2 billion US dollars
Total funding: 252 million US dollars (per Crunchbase)
Ceres Power Holdings investors: University of Bristol Enterprise Fund, Imperial College London, Parkwalk Advisors, Advanced Propulsion Centre UK, Investec and Berenberg (Germany).
Ceres Power Holdings is a clean tech unicorn, one of the leading developers of fuel cell technology in the UK. With 21 years of experience developing green technology, the company's ultimate purpose is to help sustain a clean, green planet by ensuring there is clean energy everywhere in the world.
In recent news, Ceres has partnered with Shell to deliver a megawatt-scale electrolyser demonstrator for the production of low-cost, high-efficiency green hydrogen.
Ceres' solid oxide fuel cell (SOFC) technology shows an essential role in significantly reducing CO2 emissions.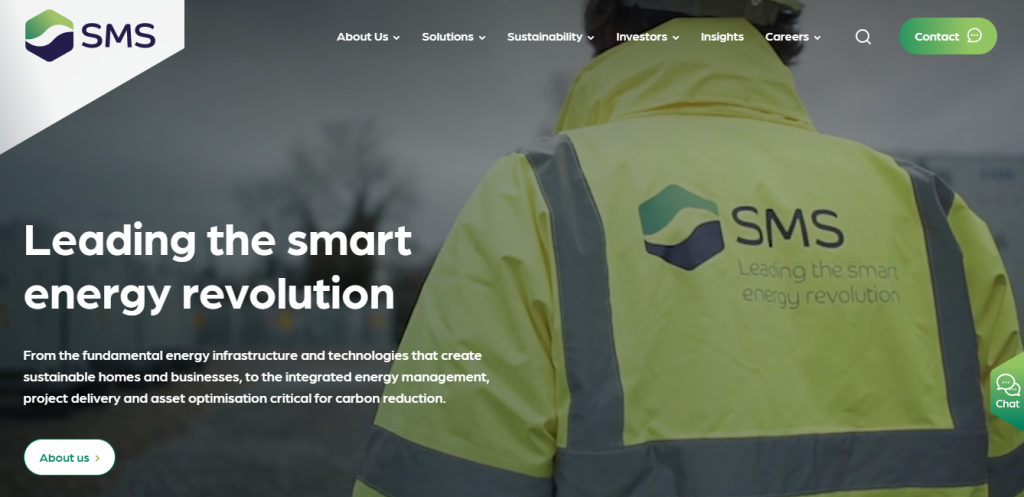 Smart Metering Systems – Provider of multi-utility infrastructure connections and meter asset management solutions
Current valuation: 1.6 billion US dollars
Total funding: N/A
Smart Metering Systems investors: N/A
Smart Metering Systems is working closely with private and public sector partners to decarbonise the UK economy by 2050.
They are a fully integrated energy infrastructure company which owns, installs, and manages carbon reduction (CaRe) assets, including smart meters, battery energy storage systems (BESS), and EV chargepoints.
Smart Metering Systems use its technology expertise, asset funding capability, and deep engineering skills to provide sustainable energy solutions for customers.
Germany is the country with the fastest-growing tech unicorns in Europe
According to the 2022 European Unicorn Soonicorn Report by international tech M&A firm, investor and venture builder i5invest & i5growth, Germany is growing 4 of Europe's Top 5 Fastest Unicorns.
Gorillas and Flink are groceries delivery apps valued at 3.1 billion US dollars (with 2.6 billion US dollars in revenue) and 5 billion US dollars respectively. Based in Germany, both tech unicorns are fighting for dominion over the European rapid-delivery market boasting a 10-minute delivery from micro warehouses in Germany, France, the UK, Denmark, Spain, Austria and Netherlands.
Razor Group acquires and scales promising e-commerce brands into next-generation household names. The tech unicorn is valued at 1 billion US dollars and has over 200 brands in its portfolio and over 1 million customers. The companies Razor Group acquires must meet a few requirements including EBITDA of at least 250,000 EURO.
SellerX is also acquiring companies and is valued at 1 billion US dollars. The difference between SellerX and Razor Group is that the first is focused on buying Amazon small businesses and has a smaller number of brands acquired (40+).
What you need to know about Germany
With a tech startup ecosystem of 384 billion US dollars, Germany ranks second behind the UK with 989.4 billion US dollars.
The ecosystem value of the UK, Germany, France, Israel, Sweden and Netherlands
(source Dealroom)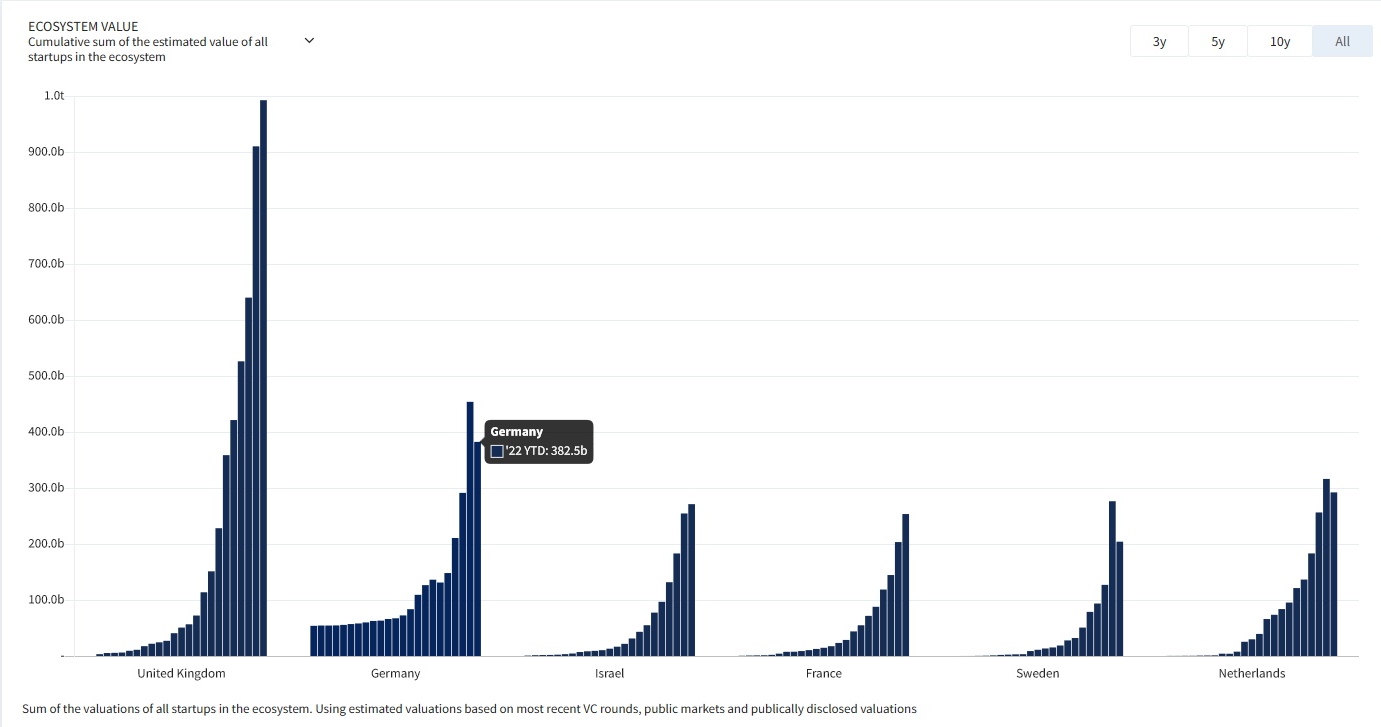 Over the last 20 months, Germany has invested 6 billion US dollars in Fintech making it the third country in Europe with the biggest investments in startups developing financial technology.
Top 3 European countries by amount invested in Fintech
(source Dealroom)
United Kingdom
5.2 billion US dollars (2020)
15.2 billion US dollars (2021)
9.3 billion US dollars (2022 to date)
France
777 million US dollars (2020)
2.6 billion US dollars (2021)
2.5 billion US dollars (2022 to date)
Germany
967 million US dollars (2020)
4.2 billion US dollars (2021),
1.8 billion US dollars (2022 to date)
The leading venture capital firms by portfolio size in Germany are High-Tech Grunderfonds, Global Founders Capital, HV Capital, Earlybird Venture Capital and Point Nine.
They are primarily focused on investing in European technology innovations and have participated in deals totalling 24.5 billion US dollars.
Top 5 German tech VC firms by portfolio size
(source Dealroom)

High-Tech Grunderfonds has invested in Mister Spex and commercetools, two global and EMEA unicorns.
Global Founders Capital has invested in various industry leaders including Meta, Canva, Slack, Revolut and Zalando.
HV Capital has a number of future unicorns in its portfolio like IMMO Capital, Europe's first technology-led residential real estate platform and CoachHub, a leading global talent development platform.
Earlybird Venture Capital supports fast-growing unicorns like Aiven, an information technology company and N26Group, the bank account that can be managed entirely from a smartphone.
Point Nine has investments in 16 billion dollar Delivery Hero and 9 billion US dollars cloud-based customer service platform Zendesk.
The Germany-based startup to watch in Fintech
Based on fundraising timeline, growth indicators, founding team, and other factors
(source Dealroom)

With a whopping growth of 180% growth over the last 12 months, Advanced Blockchain invests in, innovates, and incubates blockchain and Web3 solutions on a global scale. The company deploys extensive investment, development, research, and business resources toward projects in order to generate long-term value for the industry.
Key facts about Germany to talk to your team about
Tech ecosystem value: 384 billion US dollars
Has invested 6 billion US dollars in Fintech over the last 10 months
Most valuable tech unicorns and the industries they are operating in:
N26Group: 9 billion US dollars, Finance
Contentful: 3 billion US dollars, Enterprise Software
BioNTech: 24.6 billion US dollars, Health
Volocopter: 1.7 billion US dollars, Robotics
Delivery Hero: 16.6 billion US dollars, Food
Auto1Group: 12.9 billion US dollars, Transportation
Home of 4 of Europe's fastest-growing unicorns: Gorillas, Flink, Razor Group and SellerX