The Story behind the Brand: McDonald's
With over 39,198 restaurants in over 100 nations, $112 billion in global sales and $23 billion in revenue for 2021, McDonald's is the largest fast-food restaurant chain in the world.
This is The story behind the brand: McDonald's.
Inventors Mac and Dick McDonald put the fast in fast-food
The year is 1948 and the McDonald's brothers, Mac and Dick have just shut down their successful restaurant which they had been operating for eight years for alterations. When they reopened, a few months later, the restaurant became a drive-in and featured an innovative and unique food preparation system – the Speedee Service System.
The Speedee Service System applied the principles of manufacturing production to fast food allowing the drive-in restaurant to cook and deliver its menu faster and therefore cheaper and in high volumes.
The McDonald's self-service drive-in restaurant had only nine items: hamburger, cheeseburger, soft drinks, milk, coffee, potato chips and a slice of pie. The staple of the menu was the 15 cent hamburger and the staff worked in a conveyor system to serve up dishes. Customers placed their orders and received their meals in less than a minute.
The fast-food restaurant became an instant hit with more demand than they could supply. Which led the brothers to begin franchising their concept.
Ray Kroc, the man with the business vision
In 1954, salesman Ray Kroc was having a hard time selling multimixers, five-spindle milkshake-mixing machines. Ray was ambitious, successful and willing to work hard.
For a good period of time, the multimixer sales had been booming. Unfortunately, this would soon change. When people began leaving the cities for the suburbs, his restaurant clients closed and sales plummeted. Now no one was ordering the multimixer. Except for a drive-in restaurant in San Bernardino, California which had recently called to have 8 multimixers delivered.
Ray is intrigued and pays the restaurant a visit. Mac and Dick McDonald show Ray the business. When the seasoned salesman sees the Speedee Service System, he quickly recognizes its huge potential. The brothers told Ray they were looking for a nationwide franchising agent. Without skipping a beat, Ray jumps at the opportunity and signs the franchise contract. He immediately sets an ambitious goal: to open 1,000 McDonald's from coast to coast.
The McDonald's success ingredient: one system to deliver the same values worldwide
Ray opened his first McDonald's in 1955 in a Chicago suburb and sold 18 franchises in the first year in business. He fully understood that if the drive-in restaurants were to be successful, the franchisees had to implement the McDonald's method to a tee.
To ensure this, Ray developed a 75-page manual that outlined every aspect of running a self-service drive-in McDonald's restaurant.
"In business for yourself, but not by yourself."
Ray Kroc
He soon realized that if the franchisees were to be successful, the location of the McDonald's restaurants was of utmost importance. To support the business and the franchisees, Ray paired the hamburger selling business with a real estate business. He set up a company that would purchase or lease the land on which all McDonald's restaurants would be located.
Today the company has clear guidelines on the required characteristics of the best location for a McDonald's restaurant:
50,000+/- sq. ft.
Corner or corner wrap with signage on two major streets
Signalized intersection
Ability to build up to 4,000 sq. ft.
Parking to meet all applicable codes
Ability to build to a minimum height of 23′ 4″
Ray Kroc buys the McDonald brothers out of the business
Like any savvy businessman, Ray is always looking for ways to maintain value, increase revenue and cut costs. To achieve this, he talks to the brothers about changes he wanted to make to the McDonald's Method; the brothers are unflinching and Ray's proposals are rejected. Mac and Dick and their lack of business vision soon become an obstacle in Ray's path to fulfilling his ambitious goals for McDonald's.
He tells the brothers that he wants full control over the business and asks them to propose a buy-out price. They ask for $2.7million. Ray agrees and acquires the rights to the McDonald's business in 1961.
McDonald's thrives thanks to its unique view on doing business: the Three-Legged Stool philosophy
The company's core values are Quality, Service, Cleanliness, and Value. These values can be successfully upheld only if McDonald's franchisees, suppliers and employees work together in unison. They are the three legs that support the business.
Leadership lessons from McDonald's success story:
Innovation. McDonald's owes its global success to the innovation of its founders, brothers Mac and Dick McDonald. They realized that they could serve their customers better if they provided delicious food and faster service than their competitors by building a custom food preparation system.
Create a unique way of catering to your customers' needs.
Ambitious business vision. Ray Kroc saw the potential of the McDonald's system and amplified it. Ray's business vision and business-building skills are the driving force behind McDonald's fast-growing national and international footprint.
Dream big and write a plan to see your dream come true.
System first. The McDonald's franchisees can easily replicate the restaurant's worldwide success by following its guidelines and implementing its systems. When you've achieved your goal once, create a system so you can achieve it every time.
Info source, all images credit: McDonald's
Images source: McDonald's on Facebook and Twitter
Looking to learn from the success stories of famous brands?
Subscribe to our newsletter!
The Story behind the Brand: LACOSTE
Lacoste – a global clothing brand born in 1933, on the tennis court
Worth $1 billion, Lacoste is a high-end men's and women's ready-to-wear clothing brand with a legacy extending over 88 years.
Originating in France, the prestigious brand has almost 1,100 stores around the world, including more than 500 in Asia and the Asia Pacific (Statista).
Lacoste was founded by René Lacoste, a 29-year old French tennis player nicknamed The Crocodile.
This is his story.
René Lacoste, the best tennis player in the world (1927-1928)
A gifted student at the Polytechnic School in Paris, René is very passionate about tennis, spending almost all his time playing tennis.
His passion finally led him to abandon his studies and work hard on achieving his dream – becoming the best tennis player in the world.
René is not particularly talented. But what he lacks in talent, he makes up for in strategy.
A brilliant mind, René studies the game and his opponents to find game strategies to wear them out and beat them on the court. His undeterred determination and will of steel give him an ace up his sleeve in all his matches.
Playing against the US national tennis champion Bill Tilden, René returns all his shots implacably. After losing to Lacoste in 1927, Tilden remarked, "I never played better. That Frenchman is a machine." 
Training tirelessly to hone his strength, precision and concentration, René went on to win seven major singles tournaments and achieve his dream. He was part of The Four Musketeers, the winning French team that took the Davis Cup in 1927 and 1928.
I was not incredibly talented or very robust, but I was an inventor and I could invent shots that bothered my opponents.

René Lacoste
The Lacoste crocodile was born on the tennis court
In 1923, René was a young tennis prodigy, only 19. He was playing for Team France at the Davis Cup competition which was held in Boston, USA. An American sports journalist watched René playing on the tennis court. His style made a big impression on the journalist: he was tenacious, relentless and "chewed up his opponents slowly", just like a crocodile.
René liked the nickname so much, starting in 1927, he had it embroidered on his blazers and tennis shirts.
View this post on Instagram
René Lacoste designed the comfortable polo shirt
Before Lacoste, tennis meant long-sleeve shirts, pleated trousers and belted waists. In his effort to optimize his game and be the best he could be on the court, he defied the conventional tennis attire and designed a new polo shirt.
René's polo shirt had short sleeves and was made of Petit Piqué, a finely honeycombed fabric that enables air to circulate freely. Breathable and lightweight, this fabric ensures comfort, ease of movement and elegance.
Inventor of the tennis ball machine and the steel tennis racket
Training hard to become the best in the world, René was looking for ways to improve his game and techniques. So he invents the tennis ball machine, a device that fires tennis balls with calibrated force to help a player practice alone. Eighty years later, tennis players still use the tennis ball machine to train.
The metal tennis racket is also one of René's famous inventions. In his time, tennis players played with wooden rackets. Unsatisfied with his racket, René sculpted the handle and covered it with surgical tape to get a better grip.
As a true visionary, he patented a shock absorber inserted between the strings on rackets in 1960, followed by a steel racket in 1963. The steel tennis racquet was bought by Wilson and went on to win 46 Grand Slam titles between 1966 and 1978. He continued to innovate, filing more than thirty patents over his lifetime.
Inventor! If I had to print a title on my business card, this would be it. I have been inventing all my life.

René Lacoste
From international tennis player to a brilliant brand builder
In 1929, and at the age of just 24, Lacoste was forced to hang up his racket due to respiratory disease. He couldn't play tennis any longer, but that was okay because his greatest asset was not his talent, but his mind.
Four years later, he founded Lacoste Company with André Gillier and brought his polo shirt from the tennis court to high street shops.
The Lacoste polo shirt was instantly recognizable by the crocodile embroidered above the heart which makes Lacoste the first brand to display a visible logo on an article of clothing.
Lacoste in 2021 – innovation marks the return of the crocodile
This year, Lacoste introduced AG-LT21 Ultra, an innovative shoe designed to promote speed, stability and agility on the court. The shoe is based on technologies developed by the House which ensure stability and energy return, rebound to support all the movements and Goodyear rubber for optimal grip on all surfaces.
With this performance shoe, Lacoste is renewing its historic commitment to top-level athletes and the production of high-performance footwear.
Looking to read more stories about your favourite brands?
Subscribe to our newsletter!
The Story behind the Brand: BMW
Do you want to know what the car of the future sounds like?
Click play!
What you've just heard is the sound of Vision M Next, BMW's 2019 hybrid concept car.
The sound was designed by Oscar-winning film composer Hans Zimmer (Gladiator, Pirates of the Caribbean) to provide drivers of the next generation of BMW electric cars, silent by definition, with a complete driving experience.
Although a century old, the German car manufacturer is one of the most innovative car brands in the world. Yet, no matter how many high-tech features its cars are designed with, BMW never forgets to live up to the brand's main mission: offering sheer driving pleasure.
Before we talk about BMW's future, let's revisit the past and discover how it all started.
The Story behind the Brand: BMW
One of the top 10 most valuable car brands in the world, BMW didn't start as a car manufacturer.
The company was established in 1916, in Germany and manufactured aircraft engines through 1945. This explains why its emblem illustrates a rotating propeller.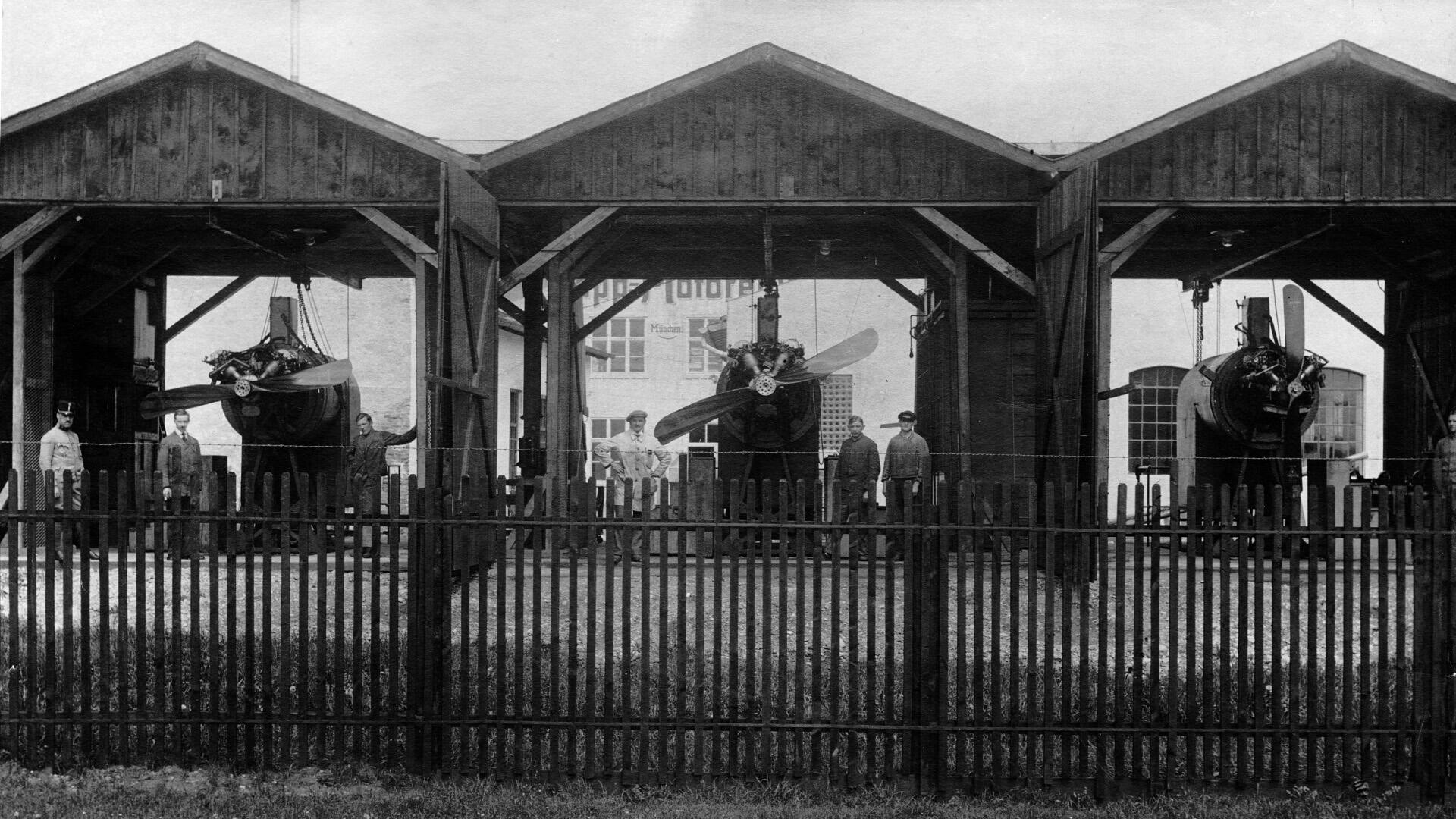 Classified as an armaments company during World War II, BMW's plants were dismantled in 1945 under the provisions of the Treaty of Versailles.
Looking for a way to survive, BMW switched from building engines for aircraft to building motorcycles and cars around its powerful engines.
The BMW engine established the carmaker as an engineering force to be reckoned with.
In total, the company launched 85 car models.
4 of the most iconic BMW cars: BMW 507, BMW 1500, BMW 2002, BMW M5
One of the first post-war cars launched by BMW, the beautiful and elegant BMW 507 could reach 0 to 60 in 9 seconds. Although loved by celebrities such as Elvis Presley, the BMW 507 was a commercial flop.
In 1961, struggling to overcome financial difficulties, BMW launched the 1500 model. Compact, sporty and exciting, this car secured BMW's financial success as a modern and innovative carmaker.
Another BMW hit, the 2002 Turbo made history in the 1970s. Doing 0 to 60 in 7 seconds, the BMW 2002 is one of the most sought-after vintage cars in the world. This car is included in the BMW Art Cars project, a collection of 17 cars serving as canvases for renowned artists from Andy Warhol to Jeff Koons.
Hollywood action movies like James Bond, The Bourne Supremacy and Mission Impossible, featured BMWs such as the M5 model. The M5 Competition is currently the fastest BMW car in production with 0 to 60 in 3.1 seconds.
10 facts and stories you need to know about BMW
1.In December 1958 in Frankfurt, Germany, Elvis bought a used white BMW 507 after starting his military service. His female fans were leaving lipstick marks on his chalk-white paint every day, so he got it painted red.
2. In 1964, 9 people from East Germany found freedom in West Berlin with the help of a modified BMW Isetta.
3. Did you know the company has been researching and testing electric cars since the early 70s?
4. Andy Warhol painted an M1 in 1979 as part of the BMW Art Car Series. This car is the most photographed BMW Art Car in the world.
5. BMW was the first car manufacturer to establish a think-tank in 1985. Over the years, the think-tank attracted 7000 designers, engineers and technicians to develop ideas and concepts for the BMW vehicles of tomorrow.
6. With more than 700 recognized clubs all over the world, BMW has a bigger following than virtually any other brand in the world. Every year BMW crowns one of these clubs as the BMW Club of the Year.
7. The BMW Group is the first automobile manufacturer worldwide to use lightweight carbon in large-series production.
8. BMW cars are also called bimmers. The nickname "bimmer" for BMW cars originated in the US. It was derived from "beemer" or "beamer," names for BMW motorcycles that were first coined in the UK in the 1960s and later spread across the globe.
9. The BMW Headquarters in Munich, Germany was declared a protected historic building in 1999 and is often cited as one of the city's architectural landmarks.
10. BMW's latest innovation is a shape-shifting steering wheel. Yeap, BMW is going full-on Star Trek. According to this source, this advanced new steering wheel is capable of changing shape in order to take up less space in the cabin when the vehicle is in autonomous mode, going from a circular to an oval-like shape.
For owners, BMW equals legacy, love and pride
From the feel of high-quality materials to the unique sound of its powerful engines, luxury design and exceptional engineering, BMWs are designed to offer sheer driving pleasure.
That's what every BMW fan will tell you: nothing compares to driving a bimmer. It's a strong emotional connection that ensures a life-long bond between drivers and their BMWs.
For most of them, it's their dream car. For many, the BMW passion has been passed down from their fathers and grandfathers.
Some travel across the world to purchase a vintage BMW. Others dedicate months or even years restoring their family bimmer. What they all have in common is pride; the pride of being a BMW owner.
BMW designs cars for the future. And the future is electric.
According to the company's reports, more than 500,000 electrified vehicles were sold by 2019 and by the end of 2021, this figure will probably rise to over a million.
In spite of pandemic-related restrictions, more vehicles from the BMW Group were sold during the first half of 2020 than in the corresponding previous-year period.
The company will focus on combining the further development of electric mobility with sustainability. BMW electrical vehicles already achieve a significantly lower impact on the environment than the corresponding petrol-driven model.
Furthermore, electricity from renewable sources is used exclusively for the production of all components of BMW eDrive technology of the latest generation. As a result, around 10 million tons of CO2 emissions will be avoided over the next ten years.
Developed as a design icon and technology innovator, BMW will continue to offer sheer driving pleasure over the next 100 years.
Join the Conversation
We'd love to hear what you have to say.
Get in touch with us on our LinkedIn Page, Facebook Page, Twitter or TikTok.