Is TikTok replacing Google in search? Yes, according to Google itself
Senior Vice President Prabhakar Raghavan, who runs Google's Knowledge & Information organisation, mentioned in a conversation at a tech conference earlier this year, that the search behaviour of young people, especially Gen Z and Alpha is changing.
He said this:
In our studies, something like almost 40% of young people when they're looking for a place for lunch, they don't go to Google Maps or Search. They go to TikTok or Instagram.
FORTY PERCENT.
TikTok picked up on this change in behaviour faster than Google and is adjusting accordingly.
What's TikTok's primary goal?
To keep users on its platform as long as possible.
TikTok and all the other social media platforms are looking for ways to make users' experiences so fun that they don't WANT to leave. They are also searching for new ways to cater to users' every need so they don't HAVE to leave. Looking for a new exciting place to eat out? Don't need to search on Google, you can search on TikTok!
TikTok's latest update confirms its focus on developing its search feature
To support this new behaviour, TikTok recently announced that its latest update allows users to post up to 2,200 characters in a video description. This means that with more text TikTok can better index search results.
With the average user spending almost 2 hours on TikTok as per Sensor Tower and Gen Z spending nearly 3 hours according to eMarketer, it's a golden opportunity for marketers to get on the app and create content for the relevant keywords.
Here's another statistic relevant to the amazing influence of TikTok on its users: there are over 24 billion views of #TikTokmademebuyit with users buying all sorts of products ranging from cat brushes to levitating light bulbs.
For some of these products, TikTok was a powerful sales generator after they went viral.
Like Clinique's Black Honey Lipstick, which launched fifty years ago. Last year it was discovered by Gen Z and went viral on TikTok causing it to sell out in every store, including Clinique. Check out #cliniqueblackhoney, it has over  83 million views.
Another product that blew up on TikTok, also from the makeup vertical, is Maybelline's Sky High Mascara. Where did it originate? A short analysis shows that it might have begun with this user trying the product on. Her video has 1 million views, the #skyhighmascara has now 711 million views.
Users searching for products and services on TikTok instead of Google coupled with TikTok giving users bigger video descriptions have huge implications for B2C brands. If you are a marketer working with B2C brands, take a closer look at TikTok and ask yourself and your team these questions:
Is our customer base on TikTok?
After seeing our product on TikTok, will they go I gotta have it!
Are there influencers with engaged communities relevant to our product? Should we work with them?
Should we build a community on TikTok yourselves or rely exclusively on influencer-led campaigns?
Before making a decision, here are 2 more insights to provide further guidance:
TikTok Communities
Surprisingly, #comedy (1722 billion views), #makeup (307 billion views) and #fashion (185 billion views) are not the only growing communities.
You should also know about #BookTok, the TikTok community where users share their favourite books. Videos labelled with this hashtag have 79.5 billion global views.
Recently TikTok announced a new feature dedicated to book lovers in this community developed in collaboration with Penguin Random House. "This feature allows users to link their favourite Penguin Random House books within their videos. Clicking the link directs people to a dedicated page with details about the book, including a brief summary, and a collection of other videos that linked the same title," said TikTok in their announcement.
#momsoftiktok is another community of engaged creators with 144 billion views. Surprising, isn't it? Gen Z is not the only generation on TikTok, Gen Xers and Millennials are on the app too.
Does your product fall in any of these categories?
If it does, log into TikTok and see what creators in these communities are talking about.
What are TikTok creators looking for?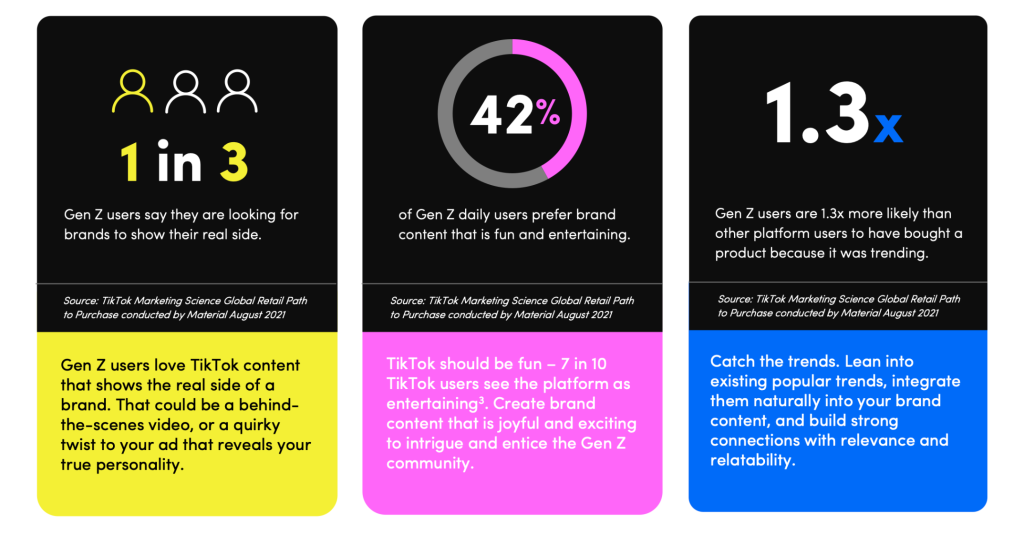 Gen Z TikTokers are using the app to express their creativity and find inspiration.
They are also more likely than other TikTok generations to discover new brands and products on the platform.
And another insight from TikTok: they love creating tutorial videos about their favourite finds.
What they expect from brands is to be authentic, entertaining (which doesn't mean doing comedy) and show real people.

Millennial TikTokers go on TikTok to watch entertaining content and content that aligns with their interests.
6 in 10 Millennials on TikTok are parents so they are also watching videos related to parenting (#momsoftiktok, 144 billion views).
Other video categoriesinclude music (63%), food/cooking (60%), comedy (58%), film/tv (55%), sports (53%) and health (50%).
Are you looking to learn how to build an ultra-engaged audience that will also buy?
Join BRAND MINDS 2023 and learn how to create the best digital strategy to reach more customers from Digital Marketing Expert Neil Patel.
His insights and digital tools have helped leading global companies including Facebook, Amazon and Google scale up their marketing results.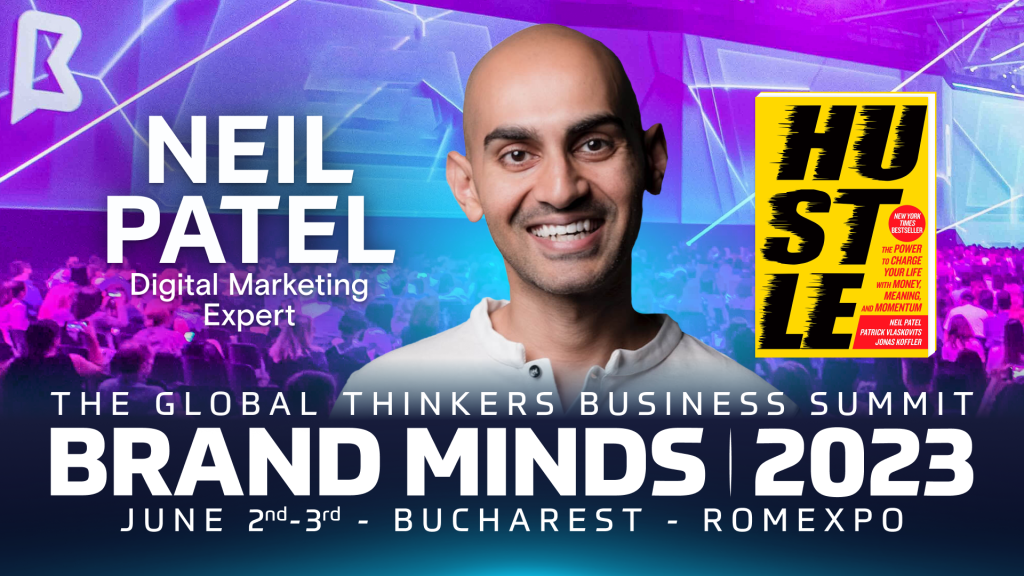 9 social media apps paying their content creators
Competition among social media apps is fierce. Every platform is looking to keep their users engaged as long as possible and one way to achieve this is to provide them with the best from content creators. Some social apps began paying their most talented content creators last year, some started this year.
9 social media apps paying their content creators
1. FACEBOOK

– in-stream ads, fan subscriptions, branded content and subscription groups

On March 11, 2021, Facebook announced that the platform will help Content Creators Diversify Revenue on Facebook.

From 2019 to 2020, the number of content creators earning the equivalent of $10,000 USD per month grew 88% and content creators earning $1,000 per month grew 94% (Facebook).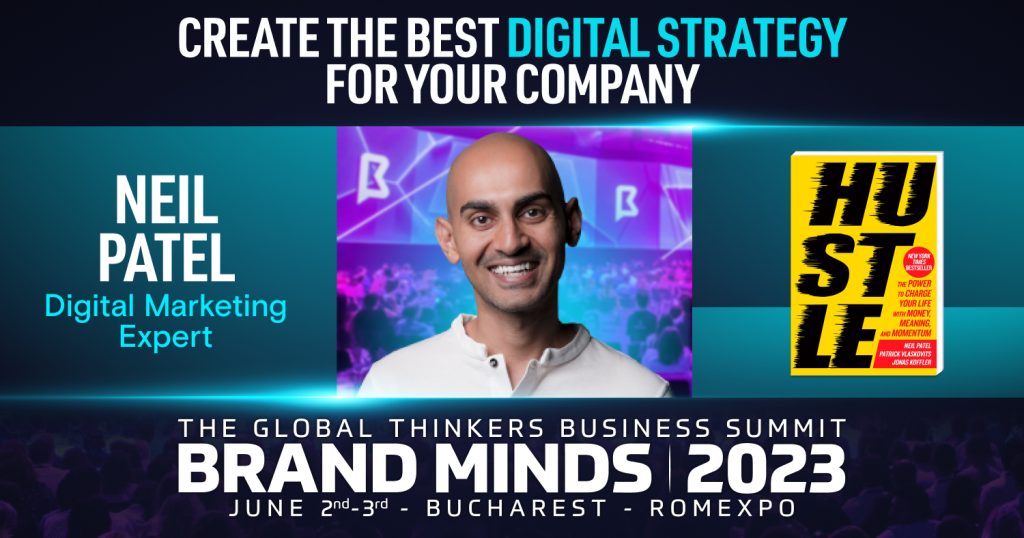 Here is how content creators can monetize content on Facebook:
In-stream ads
In-stream ads help content creators earn money by including short ads before, during or after their videos.
Facebook will automatically identify natural breaks in content to place the creator's ads, or the creator can choose placements.
The creator's earnings are determined by the number of video views and who the advertisers are.
Fan subscriptions
Fan subscriptions allow the creator's audience that cares most about their Page to directly fund it through monthly, recurring payments that the creator sets.
The creator can identify supporters by the special badge the platform provides them in comments.
Facebook's recommendation to keep the fans engaged is to reward them with perks such as exclusive content and discounts.
Branded content
Facebook helps creators generate revenue by publishing content that features or is influenced by a business partner.
Brands want to work with content creators and their audiences.
To make this easier, safer and more impactful for both parties, Facebook created the Brand Collabs Manager, a tool which enables the creator to find and connect with brands.
Subscription Groups
Subscription groups empower group admins to sustain themselves through subscriptions, thus enabling them to further invest in their communities.
We're especially focused on short-form video monetization. In the coming weeks, we'll begin testing the ability for content creators to monetize their Facebook Stories with ads that look like stickers and receive a portion of the resulting revenue.

Yoav Arnstein, Director, Facebook App Monetization
2. TWITTER

– the Tip Jar

On May 6, 2021, Esther Crawford, Senior Product Manager at Twitter announced a new feature called Tip Jar.

What is Tip Jar?

"Tip Jar is an easy way to support the incredible voices that make up the conversation on Twitter. This is a first step in our work to create new ways for people to receive and show support on Twitter – with money."

Tip Jar is a new way for people to send and receive tips. The accounts that enabled this feature have a Tip Jar icon next to the Follow button on their profile page.

How does the Tip Jar work?

By tapping the icon, a dropdown of payment services or platforms unfolds and the user selects whichever they prefer. The services available today include Bandcamp, Cash App, Patreon, PayPal and Venmo.
3. INSTAGRAM

– Badges in Live and IGTV Ads

Badges in Live

In May 2020, Instagram announced new ways for creators to make money.

To give fans another way to participate and show their love towards a particular content creator, Instagram introduced badges that viewers can purchase during a live video.

With badges, creators can generate income from the content they're already creating. Badges will appear next to a person's name throughout the live video.

Fans who have purchased badges in Live will stand out in the comments and unlock additional features, including placement on a creator's list of badge holders and access to a special heart.

IGTV Ads

IGTV has become a powerful place for creators to connect more deeply with their fans, pilot new projects and share their lives and talents.

With IGTV ads, they have another new way to earn money from the content they work so hard to produce.
4. YOUTUBE

– $100M YouTube Shorts Fund

In May 2021, YouTube announced the launch of YouTube Shorts Fund, a $100M fund distributed over the course of 2021-2022.

Anyone is eligible to participate in the fund simply by creating unique Shorts that delight the YouTube community.

Each month, YouTube will reach out to thousands of creators whose Shorts received the most engagement and views to reward them for their contributions.

The video platform said the Shorts Fund is a top priority and the first step in its journey to build a monetization model for Shorts.
We've paid more than $30 billion to creators, artists, and media companies over the last three years, and we remain deeply committed to supporting the next generation of mobile creators with Shorts.

YouTube
5. TIKTOK

– $1B Creator Fund

The Creator Fund gives TikTok's best and brightest the opportunity to earn money with their creative talent.

Within 3 years, TikTok is expecting the fund to rise to a total of $1 billion.

The fund will extend to further markets across the globe so that even more creators will be given the opportunity to earn from their hard work and creativity.

Beginning March 25, 2021, creators will need at least 100K authentic video views in the last 30 days to be eligible to join the Creator Fund.
6. Snapchat

– $1 million a day in Spotlight

Snapchat is willing to pay $1 million a day for good content from creators on its platform.

Snapchatters are invited to submit their top snaps to Spotlight and if the snaps go viral, the company is paying the creators a lot of money.

Snapchat debuted Spotlight in November 2020 and thousands of creators are already getting paid small fortunes.

Snapchatter Cam Casey, a TikTok star with over seven million followers, has been paid nearly $3 million by the company for content that went viral.
7. Pinterest

– $500K Creator Fund

In April 2021, Pinterest hosted an event focused on its creator community. At this event, Pinterest announced the launch of a $500,000 Creator Fund.

The fund is specifically focused on elevating creators from underrepresented communities in the United States. It will offer a combination of creative strategy consulting and compensation for content creation and budget for ad credits.

Creator Inclusion Lead Alexandra Nikolajev said the company worked with "eight emerging creators across fashion, photography, food and travel, and will be identifying 10 more creators in the next few months for the next cohort." (source)
8. LINKEDIN

– Creator Program

In May 2021, Daniel Roth, VP and Editor in Chief at LinkedIn announced a program to support creators around the world, enabling them to have an even bigger impact and better experience on the platform.

No details were further disclosed and also we have no information on whether or not this program will pay LinkedIn Creators.
9. CLUBHOUSE

– Clubhouse Payments and The "Creator First" Accelerator Program

In April 2021, Clubhouse began rolling out Payments—the platform's first monetization feature for creators on Clubhouse. All users will be able to send payments and 100% of the payment will go to the creator, Clubhouse will take nothing.
This will be the first of many features that allow creators to get paid directly on Clubhouse. We are excited to see how people use it, and to continue working hard to help the amazing members of the Clubhouse community grow and thrive.

TikTok
Before the Payments feature, Clubhouse launched the Creator First Accelerator Program.
The program's goal is to help support and equip emerging creators with the resources they need to bring their ideas and creativity to life.
The platform's support includes a wide range of services from sending iPhones to the creators to helping them promote their shows.
The program also provides the creators with a monthly stipend and matches them with brands so they can turn their ideas into profitable creative endeavors.
What is the McKinsey 7S framework for successful management
What is the McKinsey 7S model explained briefly?
The McKinsey 7S model is a business framework to address the essential role of coordination, rather than structure, in organizational effectiveness.
This business framework states that the organization is not the structure and is a model of organizational change.
Whenever organizations need to adapt to new business environments the hierarchy of the organization (who is tasked with what, who reports to whom, who needs approval from whom etc) is irrelevant.
The organization goes beyond its structure. It's a complex ecosystem comprised of seven factors which interact with each other and influence an organization's ability to change.
What are the 7S of McKinsey's framework?
The seven factors of the McKinsey 7S framework are STYLE, SKILLS, SYSTEMS, STRUCTURE, STAFF, STRATEGY and SHARED VALUES.
For an organization to change successfully, it needs to approach every S factor.
The framework shows that every factor interacts with the other six. The organization cannot make significant progress towards change by focusing on one area and ignoring the rest. The organization must tackle its approach to change by moving into all seven S factors.
Let's explain every S factor of the McKinsey model.
McKinsey 7S framework –
Style
By style, the authors of the McKinsey 7S framework mean culture.
What is organizational culture and why is it essential to an organization's success?
The culture of a company or organization is a set of shared beliefs, values and practices. The organization's CEO, founder or top management are responsible for outlining the organization's culture and hiring the right people that will maintain it.
For many organizations, culture drives success.
Neflix's No rules policy is at the heart of its culture. The famous entertainment company nurtures employee freedom and encourages responsibility.
At UiPath, the efforts of top management are focused on providing employees with psychological safety beyond anything else.
At Amazon, employees are encouraged to think like an owner.
In every one of these organizations, success is synonymous with innovation and culture is the medium that facilitates innovation.
McKinsey 7S framework –
Skills
Skills refers to organizational skills as well as individual skills.
What does your organization do best? What is your organization known for? What are its strengths? Is it creativity and design? Is it distribution or sales?
BMW is known for its innovative engineering and fast engines.
Coca-Cola has one of the most successful distribution systems in the world.
Louis Vuitton is renowned worldwide for its high-quality luxury handmade handbags.
The skills factor is also important to reveal skills gaps in the organization. With the business environment being disrupted by new technologies, organizations face increasing needs to fill skills gaps. They can either hire highly-specialized talent or upskill their current employees.
Another question that organizations must aks is do we need to improve hard skills or soft skills?
It's an important question because the needs of an organization may shift every few years to follow changes taking place in our society. Read about the top 5 most in-demand soft skills in 2021.
Marketing is an industry where learning never stops. The professional growth and career advancement of a marketer now hinge on his or her desire and ability to learn new things. Read 4 skills that every successful marketer should acquire in 2021.
McKinsey 7S framework –
Systems
By systems, the McKinsey framework means all the procedures, formal and informal, that make the organization go day by day.
How does the organization get things done?
Here are some of the main systems that an organization operates to achieve its goals:
IT
Financial
Hiring
Customer service
Product development and delivery
Information management
Internal communication
Planning
Employee evaluation
There is a significant difference between how organizations were doing customer service in the 1980s and how it's done today.
Organizations nowadays have a slew of digital tools they can use to solve the customer's requests efficiently – Chatbots, Whatsapp, social channels etc.
McKinsey 7S framework –
Structure
The structure factor of the McKinsey 7S framework refers to the way the organization is structured.
Is it centralized, decentralized or a hybrid?
Historically, the first organizations were centralized with one man, ie the founder or the CEO, taking every decision.
Apple under Steve Jobs is an example of a centralized organization where the founder made decisions regarding design, functionality, features etc.
The centralized organization can be very effective and ensures that the founder's vision is carried out throughout the company and reflected in the product. But when the organization scales up, this type of organizational structure reveals its flaws. The organization is slow to make decisions and adapt to changing circumstances.
Starting with the 1950s, decentralization became the focus of organizations which had achieved a certain level of size and complexity.
Within these organizations, the number of employees had increased and subsequently the number of interactions required to make things work. The size and complexity of these organizations had become a burden and they were in danger of breaking down.
Decentralization was the solution. A decentralized organization is able to make decisions fast and adapt swiftly to its environment.
Other organizational structures are the line structure, the functional structure, the line-and-staff structure, the project-based structure, the matrix structure etc.
McKinsey 7S framework –
Staff
Staff refers to the people in the organization and looks into the ways the organization nurtures and develops its employees.
How does the organization motivate its employees? What strategy does the organization employ to hire for diversity? Once diversity achieved, does the organization have an inclusion strategy?
Workforce diversity is a competitive advantage. A team which includes members of different generations, background cultures, interests and talents provides the organization with different insights and perspectives and drives creativity.
McKinsey 7S framework –
Strategy
Strategy is defined as the actions a company plans to take to achieve its business objectives.
The plan outlines what (resources), how (specific tools, activities, platforms etc) and why (the reasons behind your choice of a specific resource or tool) the company will use to achieve its goals.
The strategy's secondary goal is to define how the organization differentiates itself from the competition and create unique value. Learn how to create a strategic plan in 5 steps.
A successful organization must be able to change its strategy to match the current business environment. When organizations fail to see the need to change, they miss out on the opportunity to adapt and survive.
Nokia's culture of status, shared fear and temporal myopia made the company vulnerable to competitive forces and prevented it to adapt its strategy (more on this in Why did Nokia fail?).
Microsoft, on the other hand, learned from Nokia's mistakes (Microsoft acquired Nokia in 2014). When Satya Nadella became CEO, his main leadership challenge was to change the company's culture. In his opinion, "The C in CEO stands for Culture".
McKinsey 7S framework –
Shared values
What is the organization trying to achieve? What is the organization's social mission? How does the organization respond to the question Why?
In 2009, best-selling author Simon Sinek defined the concept of Why as the purpose, cause or belief that drives every one of us, leaders and employees alike.
Google's mission is to organize the world's information and make it universally accessible and useful.
TikTok's mission is to inspire creativity and bring joy.
BRAND MINDS' mission is to unite the business world by providing world-changers with the ultimate business experience.
Having a clear mission statement and delivering on it is paramount for a company's reputation and bottom line. Consumers and employees expect organizations to stand for something. When they fail to deliver, organizations are met with protests and call-outs. For some organizations, change is now coming from employees putting pressure on the management, not the other way around.
Join the Conversation
We'd love to hear what you have to say.
Get in touch with us on our LinkedIn Page, Facebook Page, Twitter or TikTok.
5 steps to create a strategic plan that will support your business vision
In this article:
What is strategic planning in business: definition of the strategic plan, who creates a strategic plan, the main goal of a strategic plan;

Strategic plan vs Business plan;

Benefits of strategic planning;

The strategic planning process: 5 steps to create a strategic plan that will support your business vision.
1. What is strategic planning in business?
Strategic planning is an organizational management activity. The company's CEO and senior leadership team are tasked with creating a strategic plan, it's one of their responsibilities.
The goal of a strategic plan is to provide you with a roadmap to align the organization's functional activities to achieve set goals and determine the direction in which you want to take your business.
The plan outlines what (resources), how (specific tools, activities, platforms etc) and why (the reasons behind your choice of a specific resource or tool) the company will use to achieve its goals.
The main goal of your strategic plan is differentiation
The main goal of the strategic plan you create for your business is to define how your business differentiates itself from the competition.
What activities is your business performing that are different from the activities performed by your competitors?. Or what activities that are similar to your competitors' you perform differently?
Harvard professor and author of Porter's 5 Forces Michael Porter defines strategy as "performing different activities from others or performing similar activities in a different manner."
Nikki Reed's jewellery – a case study on business differentiation
Twilight series actress Nikki Reed designs beautiful jewellery. Her collections include 14-18 karat gold pieces. As opposed to other jewellery designers, her collections are made from e-waste.
Nikki's business goal is to produce jewellery that is ethically made, sustainable and chemical-free. To achieve her goal, she partnered with computer technology company Dell.
According to the latest stats, it is estimated that our smartphones contain more than $60 million in gold and/or silver which are thrown away every year. Dell has developed a process for extracting gold from old computer motherboards that is 99% more environmentally friendly than extracting gold from the earth.
That's how Nikki Reed differentiates her business from competitors: by using gold responsibly extracted from recovered technology to make beautiful jewellery. See her collections.
2. Strategic plan vs Business plan
A strategic plan is for established businesses looking to grow by providing them with focus, direction and action. Whereas a business plan is for businesses starting out and provides the entrepreneur with a structure for his ideas defining the business.
A strategic plan generally covers a period of 3 to 5+ years, whereas a business plan is normally no more than one year.
Discover more differences between a strategic plan and a business plan.
3. Benefits of strategic planning
No matter how much you wished your business had no competition on the market, your competitors are not going away just because you wish them to.
What you could do, after a thorough analysis of your business, the market and your competition is to devise a strategy that would help your business achieve its goals by doing things differently.
By having a strategic plan in place the top management conveys trust to the company's employees.
A clear path to achieving set business goals means the team is more likely to enjoy an increased level of focus, determination and creativity.
Success is more easily achievable when everyone knows what to do and how to do it.
4. The strategic planning process
Before going into the strategic planning process, the CEO and top management have to be clear on the company's vision, mission and organizational goals and objectives.
The CEO or founder is responsible for creating the vision and formulating the mission. The business vision states why you do it while the business mission states what your company does to achieve its vision.
The vision statement provides a snapshot of what the world would look like as a result of the company's services. The mission statement is the roadmap for the company's vision statement.
Let's look at the vision and mission statements of a number of companies whose products and services you might use on a daily basis.
GOOGLE
Vision – To provide access to the world's information in one click.
Mission – Our mission is to organize the world's information and make it universally accessible and useful.
AMAZON
Vision – We aim to be Earth's most customer-centric company.
Mission – Our mission is to continually raise the bar of the customer experience by using the internet and technology to help consumers find, discover and buy anything, and empower businesses and content creators to maximize their success.
SALESFORCE
Vision – Salesforce is the world's #1 customer relationship management (CRM) platform.
Mission – We bring companies and customers together. We help your marketing, sales, commerce, service and IT teams work as one from anywhere — so you can keep your customers happy everywhere.
Did you know? SalesForce has recently announced that it will acquire Slack for $27.7 billion.
TIKTOK
Vision – TikTok is the leading destination for short-form mobile video.
Mission – Our mission is to inspire creativity and bring joy.
5 steps to create a strategic plan that will support your business vision
A company's vision and mission are not set in stone. Your business may transform as a result of technological developments or customer behaviour changes. For this reason, it is important to revisit the company's vision and mission and amend them if necessary.
Market analysis
Development
Implementation
Review and update
Evaluation and measurement
Step 1 – Market analysis
Before anything else, it is important to get updated on the current status of your business.
Perform a SWOT analysis to see if there are changes in your company's strengths, weaknesses, opportunities and threats?
Are there new threats looming over the business ushered in by the pandemic?
Can you turn a new threat into an opportunity?
How is the pandemic affecting your bottom line?
Next, apply PORTER's 5 Forces framework to your industry to evaluate how the pandemic is influencing the drivers of profitability and competition in your market. Get your team together and discuss what valuable insights you can take away from this analysis. How could these insights help you come up with a specific and unique way in which to delight your customers today?
PESTEL is another great tool that you can use to understand the impact of macro-environmental factors on your business. The PESTEL acronym stands for Political, Economical, Social, Technological, Environmental and Legal.
How are these factors that you cannot influence, affecting your business?
Check out a PESTEL analysis of Nike
Once you have drawn relevant insights from your company and business market analysis, you can move to step 2 of the strategic plan: development.
Step 2 – Development
Sit down together with your team and write the strategic plan.
Include the following:
Company description
Mission, vision and value statements
Strengths, weaknesses, opportunities and threats
Describe the current drivers of profitability and competition (PORTER's 5 Forces)
Describe how the macro-environmental factors impact your business (PESTEL)
Prioritize your objectives
Determine your strategic position (ie: at least one way in which your business will differentiate itself from the competition)
Describe in great detail how you are going to leverage your newly developed strategy to achieve your business goals (means of communication, resources, budget etc)
Include an execution timeline and how you are going to measure success
Review and revise the plan.
Step 3 – Implementation
Now that you have the strategic plan on paper it's time to execute it.
But before that, you need to communicate your plan to the employees that are going to implement it.
Choose the best way to do that. Is it a lengthy email? Or an all-hands meeting?
Prepare yourself to answer questions and convey your vision as clearly as possible.
You might also need to provide inspiration and motivation.
Step 4 – Review and Update
Determine when to review the strategic plan over the course of the implementation and go back to the plan to update it if necessary: 3 months? 6 months?
Step 5 – Evaluation and measurement
Once the strategic plan has been executed, it's time for evaluation and measurement.
Extract the results and measure them against your set projections.
Calculate the KPIs and ROI.
Did the strategic plan help your business to achieve its set objectives?
Top 7 biggest tech acquisitions of 2020
(UPDATED) What are the top 7 biggest tech acquisitions of 2020?
1. Oracle to take a 12.5% stake in TikTok Global
TikTok became available in the American market in 2018 after merging with another social media service Musical.ly.
Within two years, TikTok US has increased its monthly user base to 100 million, up 800%.
According to SensorTower, TikTok was the most downloaded app in 2020 with 82 million downloads globally.
Was TikTok's global surge in downloads a result of Donald Trump's threat to ban the US operation of the Chinese social app? Most likely.
Was the pandemic lockdown a contributing factor? Definitely yes.
In September 2020, Oracle announced that it was chosen to become TikTok's secure cloud technology provider.
The company's press release also reports that the decision was heavily influenced by Zoom moving a large portion of its video conferencing capacity to the Oracle Public Cloud.
According to Oracle Chief Technology Officer Larry Ellison, the cloud infrastructure is "much faster, more reliable, and more secure than the first generation technology currently offered by all the other major cloud providers".
As part of the agreement, Oracle will become a minority investor in TikTok Global with a 12.5% stake in the company. How much is that worth? Well, it was estimated that ByteDance, TikTok's parent company is valued at $100 billion and that TikTok's US operations account for about 40% of ByteDance's valuation, or about $40 billion. This means that Oracle's stake is worth $5 billion.
However, the agreement is yet to be finalized with the American government granting TikTok an extension of its forced sale deadline until December 4, 2020.
2. Salesforce to acquire Slack for $27.7 billion
Salesforce is the top CRM providers worldwide empowering companies of every size and industry to digitally transform and create a 360° view of their customers. It is one of the fastest-growing enterprise software companies of all time with over 150,000 customers ranging from small businesses to FORTUNE 500 companies.
In 2019, Salesforce increased its market share to 18% followed at a distance by its competitors SAP, Oracle, Microsoft and Adobe.
In December 2020, Salesforce announced that the CRM provider has entered into a definitive agreement with Slack under which it will acquire the latter for $27.7 billion. Slack is one of the most innovative enterprise communications platforms. You can learn more about its growth story here.
This is a match made in heaven. Together, Salesforce and Slack will shape the future of enterprise software and transform the way everyone works in the all-digital, work-from-anywhere world. I'm thrilled to welcome Slack to the Salesforce Ohana once the transaction closes.

Marc Benioff, Salesforce CEO
3. Microsoft to acquire games developer ZeniMax Media for $7.5 billion in cash
Two years ago, Microsoft acquired seven games developer studios.
Today the market has grown to 3 billion gamers from 1 billion in 2018 and is expected to bring more than $200 billion in annual revenue in 2021. The gaming industry is one of the fastest-growing industries worldwide registering a CAGR of 9.17% over the forecast period (2020 – 2025).
With the acquisition of ZeniMax Media, the parent company of Bethesda Softworks, one of the largest, privately-held game developers and publishers in the world, Microsoft consolidates its foothold in the gaming industry. Under the terms of the agreement, Microsoft will acquire ZeniMax Media for $7.5 billion in cash.
ZeniMax Media are the creators of critically acclaimed and best-selling gaming franchises including The Elder Scrolls and Fallout among many others.
With unique investments in content, community, and the cloud, Microsoft's gaming strategy differs from others by empowering people to play the games they want, with the people they want, anywhere they want. Games are the primary growth engine in gaming, and games are fueling new cloud-gaming services like Xbox Game Pass, which has reached a new milestone of over 15 million subscribers. With the addition of Bethesda, Microsoft will grow from 15 to 23 creative studio teams and will be adding Bethesda's iconic franchises to Xbox Game Pass.

Microsoft Press Release
4. Adobe acquires work management platform for marketers Workfront for $1.5 billion
In November 2020, Adobe announced it has entered into a definitive agreement to bring Workfront, the leading work management platform for marketers, to Adobe Experience Cloud for $1.5 billion.
Founded thirty-eight years ago, Adobe continues to deliver award-winning software and technologies that have redefined and advanced business and personal communications.
Adobe Illustrator® and Adobe Photoshop® are groundbreaking software used by more than 90% of creative professionals worldwide for digital image editing and creation.
Adobe Experience Cloud is the most comprehensive solution for content and commerce, customer journey management, and customer data and insights, all built on an open platform, enabling businesses of every size across every industry to deliver exceptional customer experiences at scale.
With the acquisition of Workfront, Adobe makes the digital transformation easier for its customers.
Workfront has more than 3,000 customers and 1 million users and deep leadership in orchestrating marketing workflows. Workfront's platform is agile and uniquely architected for the enterprise, with extensive integration capabilities that can be easily configured to meet the varied needs of companies of all sizes.
Together, Adobe and Workfront will provide our customers access to a single system to support planning, collaboration and governance that will unlock organizational productivity. Now marketers will not only create and deliver the best customer experiences but also efficiently and seamlessly manage the workflows that bring these experiences to life.

Adobe press release
5. Amazon to acquire self-driving tech startup Zoox for an estimated $1.2 billion
With a market capitalization of $1.7 trillion, Amazon is the third most valuable tech company in the world following Microsoft and Apple.
In June 2020, Amazon has signed an agreement to acquire Zoox, a self-driving tech startup designing autonomous technology from the ground up with passengers front-of-mind.
Amazon's support will get the startup closer to its mission of delivering safe, clean, and enjoyable transportation to the world. Founded in 2014, Zoox's tightly integrated features are designed to provide a revolutionary passenger experience. The startup has raised $955 million in venture-backed funding.
Amazon hasn't disclosed the purchasing value of the agreement but industry experts estimate it is a little over $1.2 billion.
What are Amazon's plans for Zoox?
Some experts say the company will more likely integrate Zoox's technology into its distribution network than building a fleet of autonomous driving cars. This might happen in the near future.
For now, Zoox is sticking with its mission and is preparing to unveil its ride-hailing vehicle on December 14 under the tagline The future is for riders, not drivers.
6. Facebook to acquire customer-focused platform Kustomer for a reported $1 billion
In November 2020, Facebook announced that it reached an agreement to acquire Kustomer, a top-rated CRM that enables businesses to effectively manage all customer interactions across channels.
The goal of the platform with over 2.7 billion monthly active users is "to give businesses access to best-in-class tools that deliver excellent service and support."
Facebook reports that more than 175 million people contact businesses via WhatsApp every day. Kustomer helps businesses optimize their time and quality of interactions with customers by bringing customer conversations from various channels together into a single-screen view.
Facebook plans to support Kustomer's operations by providing the resources it needs to scale its business, improve and innovate its product offering, and delight its customers. That way, more people will benefit from customer service that is faster, richer and available whenever and however they need it, whether it's phone, email, web chat or messaging.

Facebook press release
7. Cisco to acquire audience interaction company Slido for an undisclosed amount
In December 2020, Cisco announced its intent to acquire privately-held Slido, a technology company that provides a best-in-class audience interaction platform.
Cisco's acquisition is a strategical business decision which allows the company to stay competitive with Zoom. Webex, Cisco's video conferencing solution had 600 million participants in October 2020.
Slido developed a Q&A and polling platform designed to bridge the gap between speakers and their audiences. The company's platform provides for its 7 million participants monthly a web-based application to actively engage people and get real-time feedback before, during, and after events and meetings.
With Slido's technology, Cisco will integrate even more insights into the Webex platform to help everyone work smarter and be more productive whenever and wherever work happens. We are going to enable companies around the world that have traditionally relied on in-person events like townhalls, all-hands meetings and major user conferences to make sure everyone is engaged and included.

Cisco press release
TikTok – The App Everybody Talks About Right Now
TikTok – The app everybody talks about right now
Have you tried Tik Tok – the app teens around the globe seem to love?
The platform ranked No. 4 most downloaded app for all of 2018.
Check out the video: