Video On Demand and Its Impact On the TV
The most recent research from the Video Advertising Bureau (VAB) shows that live TV is still king, with the majority of viewers watching their favorite programs live, rather than time-shifting, or watching them after they've already aired. According to AdWeek, the report also found that 81 percent of viewers who binge video-on-demand (VOD) programming say they can view it at a time that is convenient for them. As a result, VOD ad impressions increased nearly fourfold, to 23.3 billion in 2017 from 6.3 billion in 2014.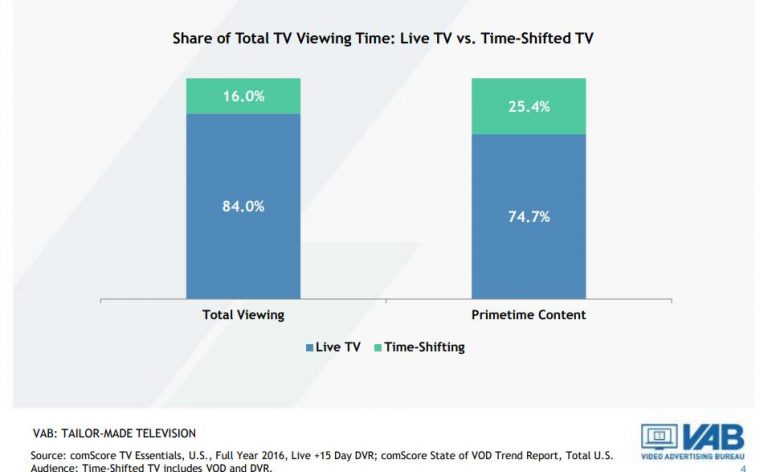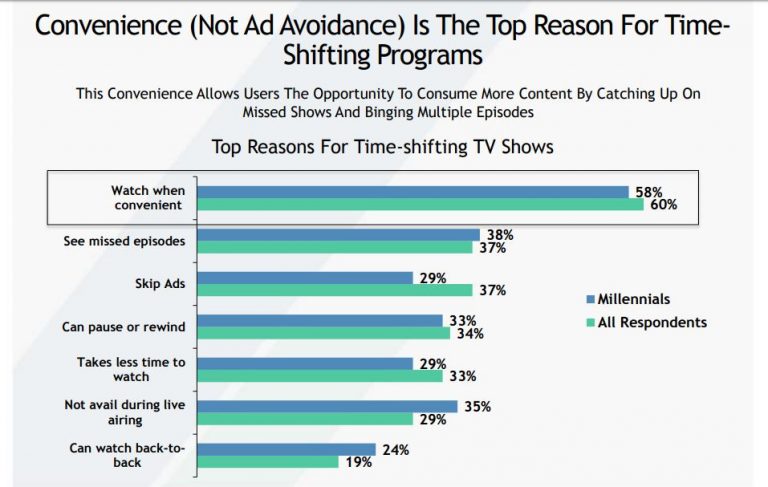 "While live TV remains the first choice for TV viewing regardless of time of day, it's clear consumers enjoy custom designing their viewing experience to access more content, catch up on missed episodes and binge-watch at their convenience," said Sean Cunningham, president and CEO, VAB,quoted by AdWeek. "[The research proves] TV isn't going away—it's everywhere."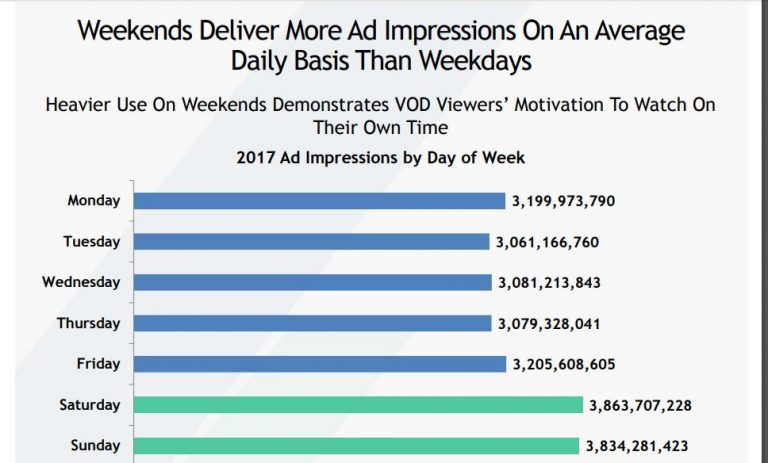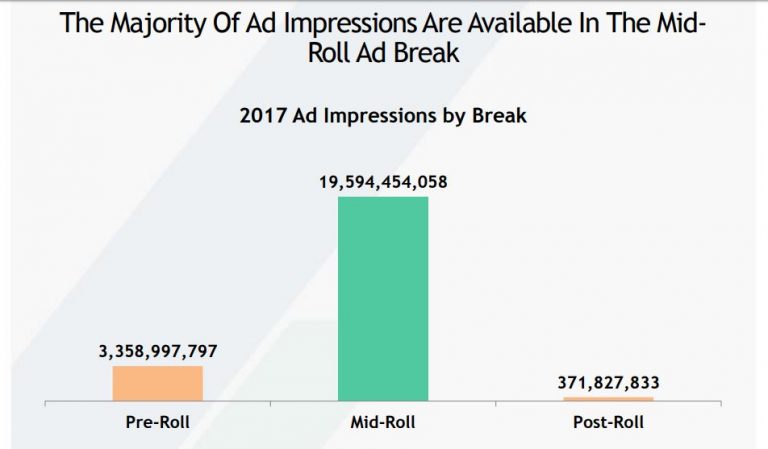 Slides' source: VAB
Top 5 Best TV Brands in 2018
LG 
LG makes five series of OLED TVs, all of which have the exact same excellent picture quality. "We choose the LG C7 OLED as our best TV of 2017 because it offers the perfect blend of performance, design, and price. You simply can't get a better picture from any other TV, and LG's WebOS smart TV software makes the TV a joy to use, with support for all the best 4K HDR apps. Sure, there are fancier TVs out there, but none of them makes as much sense as LG's C7 OLED," wrote Digital Trends.
LG is also on top in TechRadar's list, with LG OLED C7 – available in both 55 and 65-inch iterations. "It's here because it delivers better brightness and light control than last year's C6, making it a high dynamic range performer that doesn't sacrifice OLED's class-leading standard dynamic range capabilities. It delivers its new picture thrills at a price that finally makes OLED a financially viable alternative to top-end LCD sets making it, beyond a doubt, one of 2018's most irresistible TVs," said TechRadar.
Sony
TrustedReviews considers that Sony KD-65A1 could win the prize for the most unusual TV design. Moreover, "the Sony A1 isn't just an OLED TV – Sony's 'Acoustic Surface' technology does away with speakers entirely and shakes the screen to make sound. And it totally works. Crazy sound systems aside, Sony's first commercial 4K OLED TV is a huge success, with bags of fine detail, lovely colours and class-leading motion handling. It's a bit on the pricey side, but if you want something that can show off what TVs are all about in 2017, this will do nicely".
At the same time, another Sony product, The Sony Bravia XBR-65A1E, received from Tom's Guide the title of "Best Picture Quality", something we all expect each time we hear the name Sony Bravia.  "A truly superior OLED TV with impressive sound and robust Android TV features. The 65-inch OLED panel delivers deep blacks, strikingly sharp pictures and excellent viewing angles. The 4K set also includes support for Dolby Vision and other HDR formats to deliver better brightness and more colors. Sony's Acoustic Surface technology is a unique approach to audio, which turns the glass of the display into a speaker, and is a significant improvement in television sound," writes the website.
Samsung
According to GadgetReview the brand is on the second spot, as Samsung televisions carry an above average price compared to most of the other brands on the market, but the image quality options with this family of TVs justifies a slightly higher price point. "Samsung units commonly feature the well regarded Tizen interface, making Samsung one of the best Smart TV brand options. If you're looking for a best 4K TV brand, Samsung again ranks well in terms of Ultra HD display quality. As far as display technology, Samsung currently is focused on LED-LCD TVs, but it has experimented in the past with OLED — even releasing a few models a few years ago — and it recently discussed quantum dot LED displays,"explained GadgetReview.
"It's difficult to overstate quite how good the Samsung UE65KS9500 is. There are few TVs out there which can do justice to 4K HDR content like this TV can – apart, maybe, from the Panasonic which you'll find below in the second spot – and the results have to be seen to be believed. The curved screen is partnered with slick design and good looks, and although the KS9500 is a tad chunkier than rival sets around the rear, that's for good reason. The extra girth hides an FALD (full array local dimming) backlight which allows the Samsung to provide super-bright HDR highlights across its 65in panel while delivering astonishing contrast and deep, lustrous blacks. Gaming responsiveness is best in class, too, which is a bonus," also considers expertreviews.co.uk.
Panasonic
Panasonic has long offered some of the best TVs in the market, dating back to the days of CRT models. And the manufacturer offers a nice collection of large screen televisions today, especially excelling as the most energy efficient TV brand. According to Gadget Review, that offers Panasonic the number 5 position in its top, Panasonic LED-LCD televisions are extremely easy to set up and use. Moreover, "Panasonic has done a nice job capitalizing on its strengths from the past to create sets with good 4K image quality".
Philips 
"Philips has a bit of a trick up its sleeve thanks to its Ambilight technology, which projects colors onto the wall behind it that mirror those shown on the TV itself. The result is that the company's flagship OLED series, the 9002, is a really stunning piece of tech, and its P5 picture processing engine is great at getting the most out of its OLED panel. You'll be paying a slight price premium over LG's more budget sets, but Ambilight could be exactly what you need to justify that premium," considers TechRadar.
Your car as entertainment hub
In-car entertainment (ICE), or in-vehicle infotainment (IVI), is a collection of hardware and software in automobiles that provides audio or video entertainment. If at its beginnings, the car entertainment would represent only car audio systems that consisted of radios and cassette or CD players, with the rise of the new technologies and the digital explosion, ICE includes automotive navigation systems, video players, USB and Bluetooth connectivity, Carputers, in-car internet, and WiFi. Once controlled by simple dashboards knobs and dials, ICE systems can include steering wheel audio controls and handsfree voice control.
Moreover, driven by the demand for more connected vehicles, in-car entertainment is getting more and more sophisticated. According to wikipedia, car makers, electronics and software suppliers, as well as newcomers from the Silicon Valley (such as Google and Apple), work together and also compete to come up with infotainment systems that are user-friendly and safe to use. ICE systems are increasingly commonplace with newer vehicle models and several auto makers have developed their own systems.
At the same time, with the mass adoption of smartphones worldwide, a new issue has emerged: the use of connected devices in the car. According to a 2015 survey conducted by AT&T and quoted by wikipedia, with a sample of over 2,000 US respondents, "7-in-10 people engage in smartphone activities while driving" including social media (40%), web browsing (30%) and even video chatting(10%).
Having in mind the concerns regarding possible accidents, Google and Apple's mobile OSs' making the bulk of the market, the two tech companies have developed projection modes (Android Auto, Apple CarPlay) to enable mobile devices to be operated in vehicles through the dashboard head unit so that the vehicle occupants don't manipulate their devices directly, use an interface they are familiar with, and spend more time with their eyes on the road.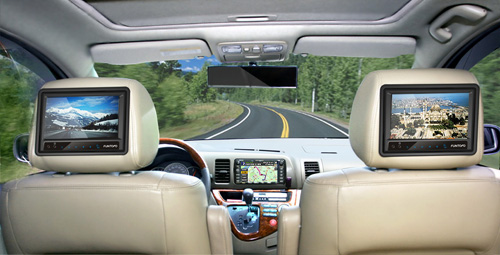 More than that, while travelling long distances,the entertainment systems become more than a pleasure,but a requirement. Especially if you have children and keeping them entertained and happy may otherwise seem as a hard task to accomplish. Companies are fighting to discover the next best thing for you and keep you hooked, either is a new incorporated tablet, a new surround system, tv and rear entertainment systems.
According to autobytel.com, while SUVs and minivans are the most common vehicles with dedicated entertainment screens for back seat occupants, you can also find some standout passenger cars with rear seat systems. With these installed, second-row passengers can watch their favorite movies or TV shows, enjoy gaming on the go, and even surf the internet. Here and here are some examples.
What will the future hold? Intel has just announced a partnership with Warner Bros. for developing in-cabin, immersive experiences in autonomous vehicle settings. "Called the AV Entertainment Experience, we are creating a first-of-its-kind proof-of-concept car to demonstrate what entertainment in the vehicle could look like in the future. As a member of the Intel 100-car test fleet, the vehicle will showcase the potential for entertainment in an autonomous driving world. The rise of the AV industry will create one of the greatest expansions of consumer time available for entertainment we've seen in a long time. As passengers shift from being drivers to riders, their connected-device time, including video-viewing time, will increase. In fact, recent transportation surveys indicate the average American spends more than 300 hours per year behind the wheel," writes the Warner Bros.' website.
According to the company's representatives, they imagine riders enjoying immersive experiences never seen before, courtesy of in-cabin virtual reality (VR) and augmented reality (AR) innovations. For example, a fan of the superhero Batman could enjoy riding in the Batmobile through the streets of Gotham City, while AR capabilities render the car a literal lens to the outside world, enabling passengers to view advertising and other discovery experiences.
How has the rise of technology changed the advertising?
As anything that had touched or been in contact with, the rise of the technology changed or at least had a great impact on. From the launch of the e-mail, the boom of the Internet and social media, to the new channels that arrived and are changing everyday, technology plays an enormous role in our business lives. A role that deserves to be acknowledged and appreciated.
Looking to use technology disruption to your advantage? Join our masterclass!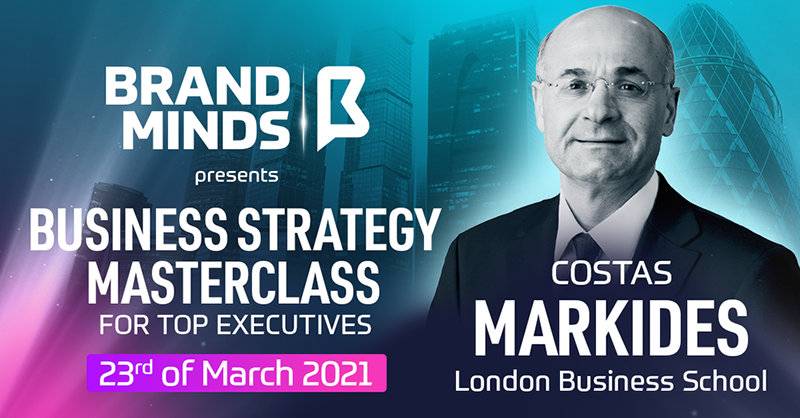 Some of the most important ways in which technology has changed and impacted the advertising scene are:
1.The video and content video popularity
If  10-20 years ago it was all about the TV, with the internet and the rise of platforms like YouTube, Facebook, SnapChat , video advertising has become increasingly widespread and its content's importance grew along with it.  As people become accustomed to watching videos, static images such as traditional billboards can seem dull by comparison. People are also getting savvier and savvier and how what to expect and ask from the advertising they receive. Therefore, they are not waiting anymore, they are reacting, creating their own media and interacting with the existing one in new, innovative ways.
2. Video blogging
It is not even about blogging anymore, but about video blogging and video bloggers taking control of the social media and its endless opportunities offered. The speed with which the new, extremely performant smartphones, tablets, notebooks are launched helps the content and video creators be even better, faster and smarter in their communication. The advertising campaigns are involving them more and more and making them part of the whole 360 communication, even stars for some of their campaigns targeting a younger audience. Therefore, instead of being only a one dimensional flow of communication, the latest campaigns are showing all kinds of new smart and innovative approaches.
"For a time, the digital age meant that free advertising was everywhere. Social media channels, pioneered by Facebook, have brought back the idea of paying to play. In other words, you have to dedicate a small budget to reaching people via social media.(…) The digital age has heralded an era where everyone can join the advertising dogfight. Yes, those with huge budgets still have an advantage, but it's no longer the decisive advantage of before. Even the smallest companies have good reason to play," wrote AJ Agrawal for Forbes.com.
3. The rise of some is the demise of others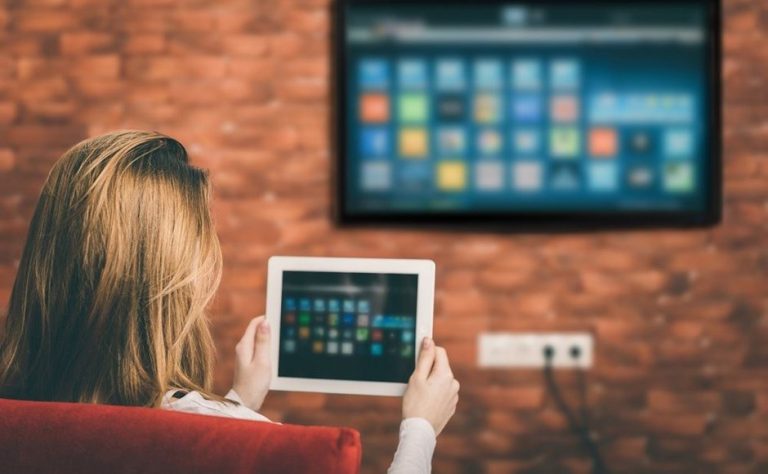 Along with the rise of digital and mobile, channels such as print media and radio are decreasing in their audience and reach, being forced to thing outside-the-box and find new ways to keep them from disappearing. Even TV is not the king anymore in some parts of the world, where the digital investments are conquering the top spot.
4. Message personalization and new targeting tools 
Nowadays, every client and consumer wants and demands to be touched by the advertising campaign, to feel like the messages are personalized for him / her, that they are addressing him/ her and him/ her problem and desire particularly. Something that due to the new technologies and the digital growth is becoming more and more possible.
Behavioral profiling has gone viral across the internet, enabling firms to reach users with specific messages based on their location, interests, browsing history and demographic group. "Ads can now follow users from site to site: a customer who looks online for flights to Frankfurt will be inundated with German holiday offers. Conversant, a digital-marketing firm, uses an algorithm to deliver around 800,000 variations of an ad to its big clients' prospective customers to make it as irresistible as possible. Kraft, a food company, monitors online opinions on its brands in an office which it calls <<the looking glass>>," wrote Business Insider.
Moreover, in the classic advertising model, firms used to place ads with media that brought together the audiences they were after. They would go for business executives in the Wall Street Journal, for example, or youngsters on MTV. But now advertisers no longer have to rely on media as proxies for consumers, because they have more tools and data to target precisely the people they want to reach.
5. Programmatic is the new KING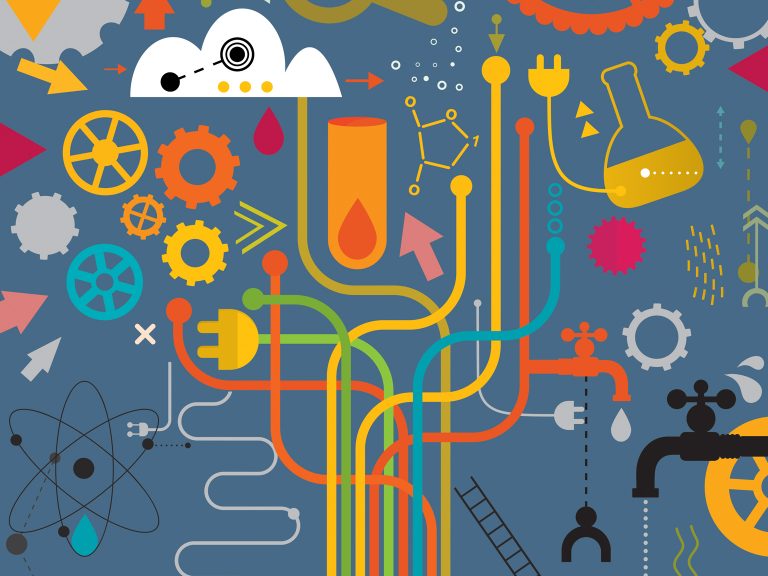 Programmatic buying represents a new system for targeting consumers precisely and swiftly with online adverts or DOOH. Publishers, advertisers and intermediaries can now bid for digital ads electronically and direct them to specific consumers as fast as they want to. Programmatic media buying allows the "owner/brand" to tailor a specific message and creative to the right person, at the right time in the right context – using audience insight from the brand (the customers you want to target) around the kind of audience they want to target. This methodology should deliver far more precision and personalization of messaging and media, resulting  in more efficiently targeted campaigns, and less of the "spray and pray" methodology of digital advertising – which is less targeted and based on sheer volume (mainly of impressions).
More on the subject one can read here.
The best media mix for your brand in 2017
The media market is changing under our eyes, each year bringing something new. It's more than obvious that, even if you are representing a smaller brand, it's not enough to rely on a website or social media page alone if you want to be competitive in the marketplace. Moreover, the media channels that used to work very good for you two or three years ago may very well not be the best ones to use anymore.
According to Initiative and their report Media Fact Book 2016, in Romania the TV continued to be in 2015 the rising engine of the media market, having a push of volumes of 7 percent compared to 2014 and reaching the EUR 212 million margin. Other channels that grew were the online (a boost of 12 percent and reaching EUR 57 million) and the radio (a 5 percent boost, until EUR 19 million). The OOH remained stable at EUR 28 million.  Moreover, Initiative estimated that the media market would reach in 2016 EUR 351 million this year, following a 6 percent growth. The evolution on each channel is similar to the one in 2015 – the TV market will grow with 6 percent, the online with 12, the radio with 5, while the OOH will remain the same and the print would continue to drop still with 10 percent. In this context, the approaching of the digital next to the TV in the consumers' preferences are, the amplitude that the mobile took, the influence of the multi-screening or the forever bigger importance of the content's quality has over the rise of the media budgets.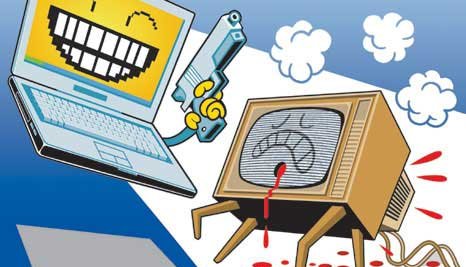 source: Linkedin
With a well-chosen media mix, you can build the kind of name recognition and buzz for your company that isn't possible with single-pronged approach. A mixture of owned, paid and earned media will help ensure your marketing efforts are reaching your target audience.
Consumers want brands that are useful and accessible, and most of all, entertaining. Marketers will continue to pull out all the stops to counter declining ad receptivity. In 2017, we'll see more branded content and less regular advertising. Get ready for more native content, short and long form video, branded filters, and emoji and PR stunts. But it won't end here. The specialists forsee that the marketers will forge ahead with new technologies such as 360 video, augmented reality, virtual reality and artificial intelligence (chatbots performing customer service and sales functions), making the landscape ripe for new creativity. Marketers will also closely monitor effectiveness as studies start to show which formats consumers find annoying and intrusive, particularly on mobile.
These advancements create new challenges for marketers. Far from a controlled consumer view of a brand (TV, outdoor, instore), marketers will face multiplatform, multi-device, in and out of walled gardens, all differently experienced by every consumer. Geotargeting will be seen as a commercial opportunity and Snapchat itself is using geofilters to let people know where to find a Snapbot vending booth. Brands will move quickly into customized/personalized creative content, delivered in a targeted way via programmatic buying. We will see more sequential content as marketers consider using retargeting for a more strategic and persuasive catenation of consumer messages.
In a media landscape of ongoing dramatic change, advertisers will more aggressively adopt multiple media alternatives to reach and connect with their audiences throughout 2017. Synergies will become more important than any single channel and the collective weight of all channels put together. Marketers will be focused on understanding the role each media plays within a broader plan and how they rub off to produce synergistic effects. The concept of synergies has been around for some time but what has changed is the planning aspect and the application of a discipline to the selection of channels to maximize its impact. Cross media studies conducted by Kantar Millward Brown show that globally 25% of media effectiveness has been attributed to synergies, and nearly 40% in APAC. These numbers are not only growing but increasingly we are seeing non-TV synergies emerging as advertisers and agencies start to get their heads around this. The two broad parameters needed to leverage synergies are – creative synchronization and media duplication and phasing.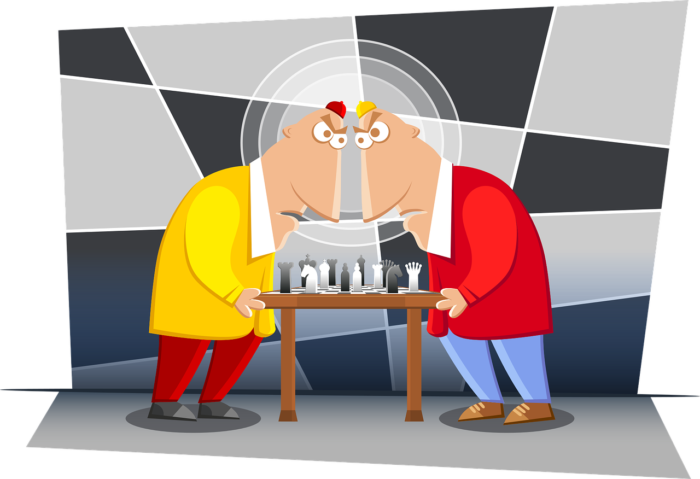 source: Digital Land
"A "big idea" is important for creative synchronization to occur, but it's also about adapting the message to the medium and following a common theme across a campaign. For example, it's unlikely that a 30 second TV ad will work as well on YouTube or Facebook because these media have different characteristics. But they offer opportunities for forming different kinds of relationships that meet consumer needs at different times and occasions. Optimising media duplication and phasing can go a long way in driving synergies but as a first step, marketers will need to ensure that every medium has a role to play within the broader media mix. Roles will be in terms of driving 'reach and or frequency' or various aspects of how people think, feel and make decisions about the brand," said Straford Rodrigues, Media & Digital Director, APAC at Kantar Millward Brown.
Therefore, every brand needs to create its media plan accordingly to its target, expectations and business plan. The strategy is more important than ever: setting clear objectives, finding the right opportunities, integrating your message and your true content, exploring, creating, producing and measuring.
Apart from the media planning itself, don't forget the fact that the content is the KING and it needs to be as powerful, sincere and creative as possible.