Global edtech industry to grow to $181 billion by 2025
The global edtech industry is expected to grow to $181 billion by 2025, at a CAGR of 16%.
What is edtech?

How big is the edtech industry: stats and facts

Emerging technologies driving the edtech industry

Solutions of the edtech industry

Key factors driving the growth of edtech

Key restraining factors of the edtech market
1. What is edtech?
Edtech is the abbreviation for educational technology.
Educational technology is the combined use of computer hardware, software, and educational theory and practice to facilitate learning.
The edtech industry refers to the market of educational technology and the companies creating such technology.
There are a few major segments within the edtech realm, including early childhood, K-12, higher education and lifelong learning.
Among the most important products of the edtech industry are lecture capture solutions, student information management systems, education hardware, online language learning, and adaptive learning.
Students, corporate employees and lifelong learners are the end beneficiaries of the EdTech industry.
2. How big is the edtech industry?
The edtech industry is a multibillion-dollar industry.
Here are the most relevant edtech industry stats and facts:
43% of the total number of edtech companies globally are based in the US – 1,385 edtech companies. India is the runner-up with 327 edtech companies (source);
K-12 occupies the largest segment (46%), while higher education and lifelong learning together occupy the other 54% (source);
K-12 also generates the largest revenue share (42%) (source);
Game-based learning is anticipated to be a growing trend in the K-12 sector (source);
The preschool segment is the fastest-growing segment of the edtech industry;
70% of the market is driven by the business segment;
The hardware segment accounted for the largest share of 42.7% (source);
In 2020, U.S. education technology startups raised over $2.2 billion in venture and private equity capital across 130 deals, according to the EdSurge edtech funding database, 30% increase from 2019 (source);
Over $16 billion of venture capital raised by education companies across the world in 2020 (source);
China and India raised 77% of the global venture capital (source).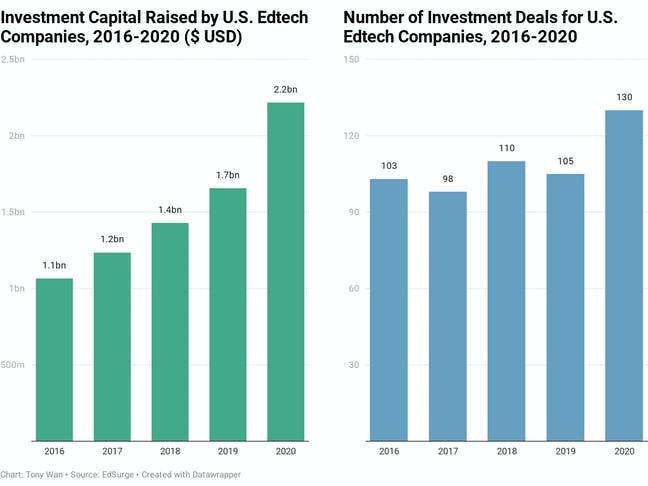 3. Emerging technologies driving the edtech industry
Virtual Reality in education
Virtual Reality in education is used to enhance student learning and engagement. The student is provided with visualizations that wouldn't be possible in the traditional classroom. Using virtual reality in the classroom creates interest and increases student engagement.
Augmented Reality in education
Augmented Reality in education enhances the learning of abilities like problem-solving, collaboration, and creation to better prepare students for the future.
AI and machine learning (adaptive learning) in education
AI and Machine Learning help teachers find out what a student does and does not know. Then they provide additional support by building a customized study schedule for each learner considering the knowledge gaps.
Robotics in education
Robotics boost students' creativity and practical skills. By using robotics, students increase their collaboration and communication skills.
Blockchain in education
The blockchain helps educational institutions keep a clear digital transcript, the ledger of records and payments for each student.
It provides a database where student's certificates and information can be stored as they further continue their professional qualifications.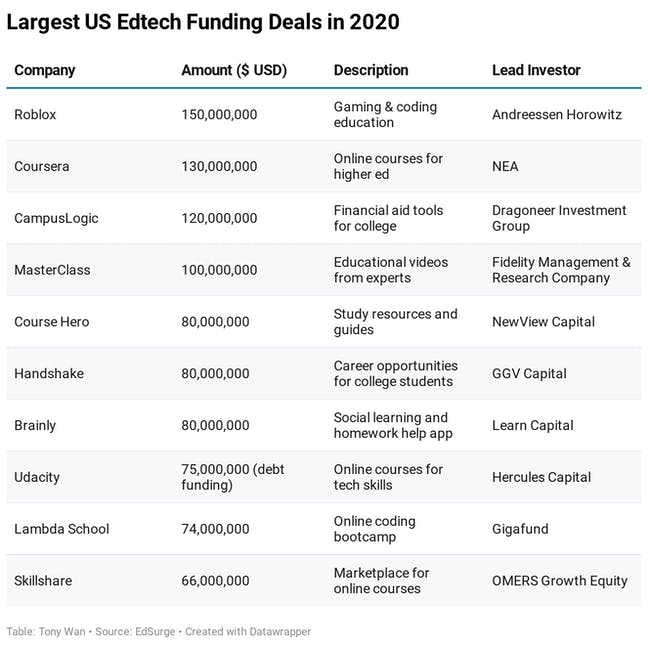 4. Solutions of the edtech industry
Here are a few categories of solutions developed by the edtech industry with a product example for each category:
Adaptive learning platforms
Adaptive learning is a computer-based and/or online educational system that modifies the presentation of material in response to student performance.
Kinteract is a collaborative teaching and learning tool that provides evidence-based learning anytime, anyplace, anywhere.
Behaviour and reward systems
A behaviour and reward system uses gamification in the form of points or badges to reward learners receiving a certain score on a quiz.
Epraise is designed to do three things: motivate students, engage parents and save teachers time.
Careers guidance platforms
A career guidance platform provides a career decision model, career tests and other tools that can help career counsellors and career coaches deliver reliable career counselling services.
Unifrog is a one-stop-shop for whole-school careers guidance.
Continuing Professional Development (CPD) and training platforms
Teacherly is a collaborative teaching platform to plan, create and teach amazing lessons.
Learning platforms
Learning platforms are an integrated set of interactive online services that provide teachers, learners, parents and others involved in education with information, tools and resources to support and enhance educational delivery and management.
Kapow Primary provides inspiring demo videos, lesson plans and classroom resources for subjects beyond the core curriculum.
Parent engagement platforms
Parent engagement platforms enable schools to involve families within their child's education through real-time updates on their teaching and learning.
Learning Ladders is how outstanding schools accelerate learning, improve wellbeing, and save teacher time.
Tutoring platforms
Tutoring platforms are online environments where tutors and learners participate in separate physical locations.
Manning's Online Tuition provides 1-to-1 or small group online lessons in all subjects at any level.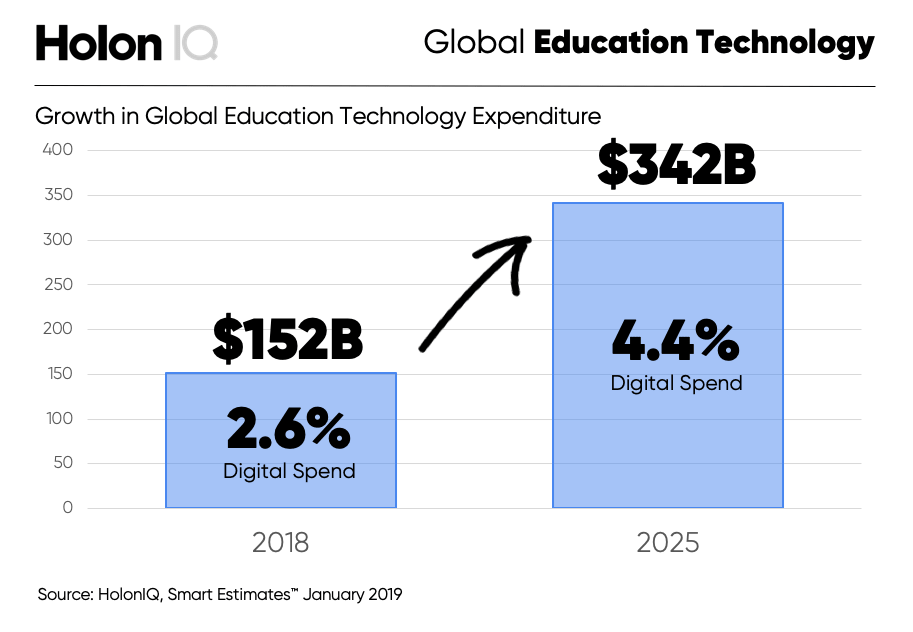 5. Key factors driving the growth of edtech
Increasing penetration of mobile devices
Easy availability of internet
Growing demand for eLearning solutions
Impact of COVID-19 pandemic
The shift from traditional education towards digital formats observed among parents and students
The rise of the inclusive learning environment
The increasing role of digital learning in supporting adults to scale up their skill sets throughout their career.
Lifelong learning is becoming a growing trend among adults and corporate workers
Massive Open Online Courses (MOOCs) are gaining increasing prominence across the globe
Globally declining Data prices
Declining device cost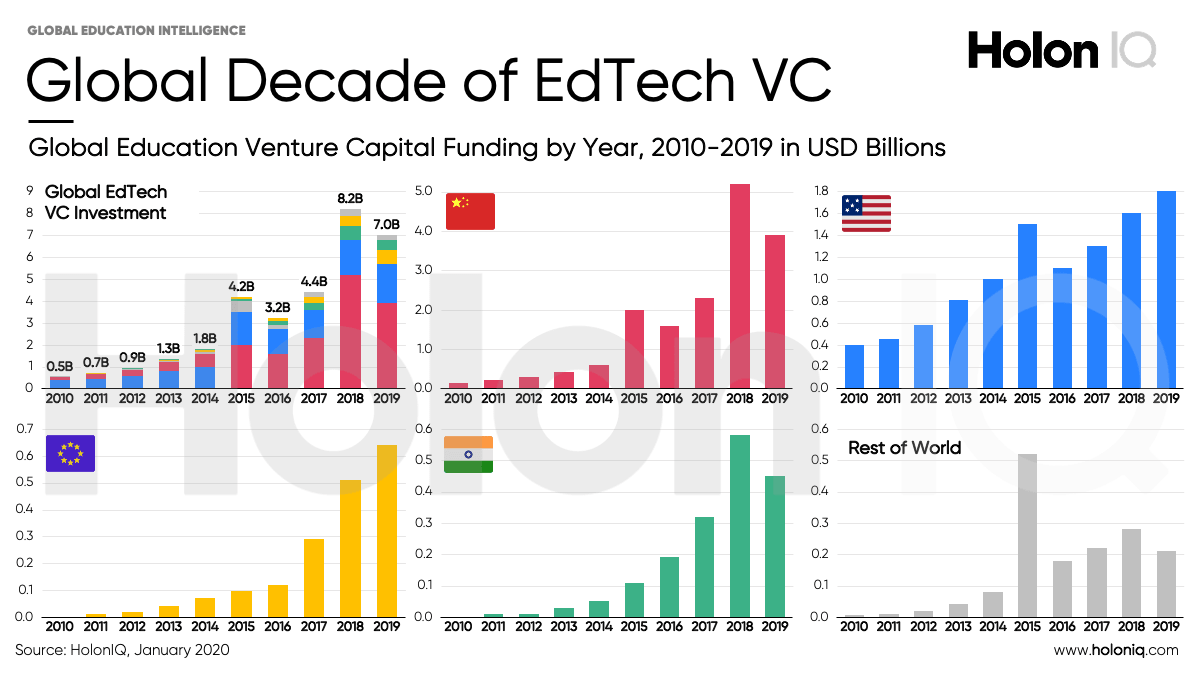 6. Key restraining factors of the edtech industry
Lack of awareness pertaining to the advantages of advanced learning platforms
The high implementation cost of e-learning systems
System security and privacy
Too much time spent in front of a computer screen may be harmful
It requires self-discipline
Can prove challenging due to the lack of personal contact with the trainers
The main challenge facing the edtech industry and its players is the lack of differentiation between solutions.
Join the Conversation
We'd love to hear what you have to say.
Get in touch with us on our LinkedIn Page, Facebook Page, Twitter or TikTok.